With over 1 billion users, Instagram has without a doubt become one of the biggest social media platforms in the world. It's also home to a very engaged user base. But how do you maximize engagement on Instagram?
Well, one crucial element of any social media marketing strategy is figuring out the best times to post, and that's what we're here to show you today.
It's virtually impossible to lay down the best times to post on Instagram that will work for each and every user. You need to do some digging to find out what will work best for your accounts. Analyzing your audience is the ultimate starting point.
You can analyze your audience's Instagram activity using the free Instagram native in-app analytics tool, Instagram Insights. Make sure you have switched from a personal profile to a Business Account – otherwise, you won't be able to access Insights. Here's a quick video tutorial on how to do that:
Make sure your Instagram profile is set to public.
Switch your personal Instagram profile to a Business Account – you will be asked to connect your account with a Facebook Page. If you don't own any FB Pages, you'll need to set one up. Don't worry, you don't have to post anything there, all it needs to do is simply exist.
Being able to interpret Instagram metrics in real-time can help you find out what content performs best and when, and adjust your marketing strategy accordingly, effectively maximizing the undeniable potential of the visually-engaging social platform.
Let's move on to how, exactly, you can pin down the best times to post.
Instagram Insights – Audience
Alright, so once you gain access to Instagram Insights, you'll see 3 cards – Content, Activity, and Audience. When you go to the Audience tab and scroll all the way down, you'll see when your followers are most active – by days of the week and by hours.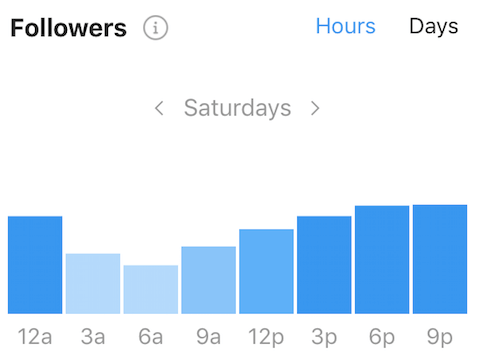 Posting during these times can help you increase your organic reach – it's when your followers are simply the most likely to stumble upon your content. However, there are some limitations to Instagram Insights:
Using the tool you can only access your audience insights from the last 7 days (which are not always fully representative of your account's performance).
You can't analyze longer periods of time.
You can't generate and download reports, and sending basic screenshots to your supervisors or clients may seem a bit unprofessional.
You can only analyze one Instagram account at a time. If you wish to analyze more, then you need to log in to each account and access Insights separately for each profile.
So, is Instagram Insights enough if you're serious about building a foolproof Instagram strategy? Not exactly. Instagram Insights is a very basic tool and as you grow, you will need more specific data.
Here's what we mean by more specific. Your followers' activity is one thing, but you'll get more valuable insights from thoroughly analyzing your own strategy and looking for inspiration in your best-performing posts. You can further narrow down what your audience likes – and when – by analyzing your competitors since you most likely share the same target group.
The bottom line here is that more in-depth social media analysis is a must to create successful social media strategies. Knowing when to post is not going to be enough when we don't know what to post, and which kind of content produces the best results. This is where NapoleonCat's Analytics feature steps in and provides you with all that you need, and then some.
Analyzing your Instagram accounts with NapoleonCat
Before we jump right into the Analytics feature, make sure that you properly set up your NapoleonCat account and connect your Instagram accounts. Here's a short video that will help you get that done in no time:
After you successfully connect your accounts, give NapoleonCat a few hours to collect data. By accessing the Analytics feature, you'll be able to extract detailed datasets – the demographics of your followers, engagement rates, reach, the performance of existing content, hashtag analysis, and even Instagram Stories analytics. Unlike in Instagram Insights, you can also define and analyze custom timeframes.
In order to find the best times to post, check your engagement rates (ER) by days and by hours. ER illustrates how engaging your profile's content is. It is calculated as the number of interactions to each post (likes, comments) divided by the number of followers on every given day.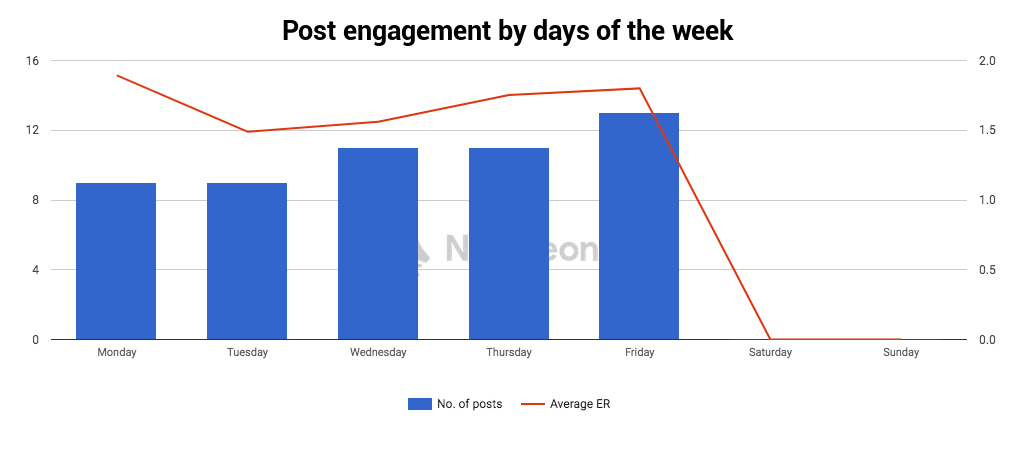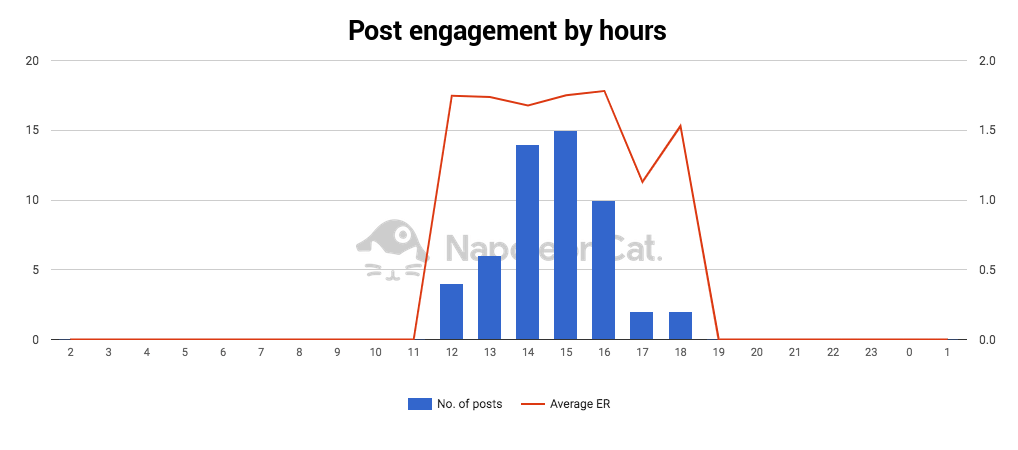 When you go to the Content tab, you'll see engagement by days of the week and by hours, which should point you to those perfect times to post. You can scroll all the way down to check out which exact posts generated the highest ER.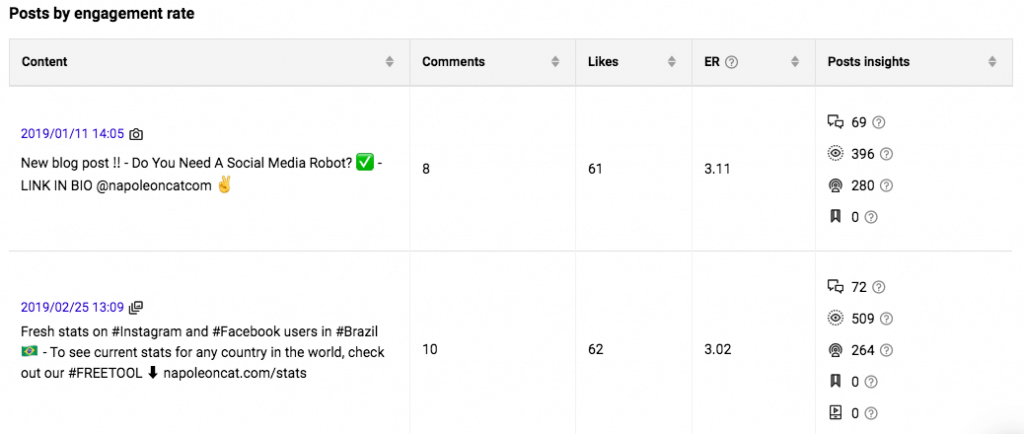 But that's only half of the story. As we already mentioned, analyzing your own accounts is one thing, but you can also easily monitor your competitors in order to improve your social strategy. After all, you likely share the same (or a very similar) target audience, so you can source valuable insights from your competition's social media successes and failures.
Analyzing your competitors on Instagram
With NapoleonCat's comparative sets, you can easily analyze up to 20 competitors in a single easily-digestible graph. Using the tool, you can find out what kind of content they post, when and how often they post, and how their audiences react to those efforts.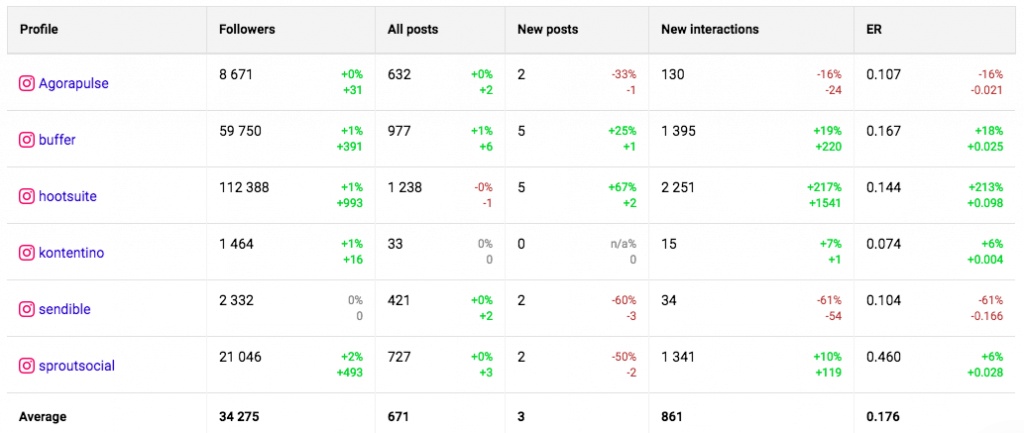 Below, we put together a list of specific ways competitive analysis can benefit your business.
Get a better understanding of your own strategy
Analyzing your competitors on social media will help you put things into perspective and establish your own KPIs. By benchmarking against rivals who have similar resources and speak to similar target groups as you, you'll find out how well your content does in comparison to theirs, and which key performance indicators (KPIs) it may be worth for you to pursue.
Let's assume that you need to find out how often you should post to Instagram – just look at how often your competitors publish content and treat that intel as a starting point for your experiments.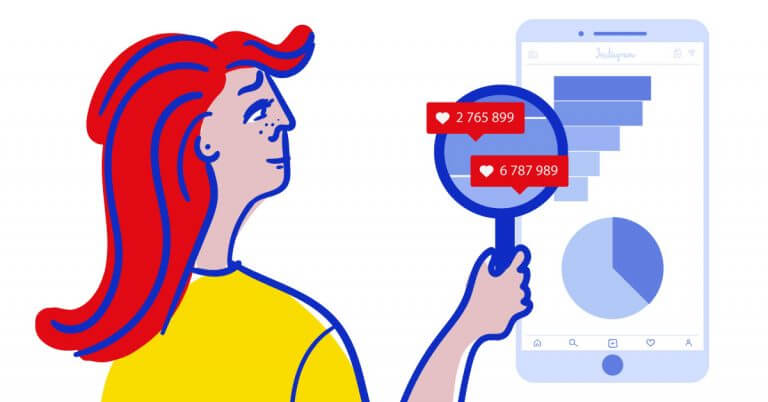 Improve your social engagement
Create data-driven social strategies with in-depth analytics. Keep your audience engaged by reaching them with the right content at the right times.
Try NapoleonCat free for 14 days. No credit card required.
Source ideas for content creation
One of the great challenges of Instagram marketing is consistently coming up with creative content ideas. Observing your competitors will keep you inspired and help you come up with your own ideas so that you can keep posting quality stuff regularly (at least 1 post per day).
Don't overpay for business intelligence
Without tools like NapoleonCat that can conduct a competitive analysis and generate an automatic report within seconds, you'd most likely have to outsource such a task to an external agency for a not-so-friendly price. Keep in mind that you can use set custom time periods for analytics and reports. So, if you're interested in a particular Instagram campaign that your competitor ran, there's no problem in taking a closer look at it.
Find the best times to post
Using the Content tab inside NapoleonCat's Analytics feature, you can easily see on which days and hours our competitors generate the highest engagement rates. This way you'll know at what exact times during the day their audiences are the most receptive to new content.

Take a look at the example above. It seems that for this set of businesses, Wednesdays are a pretty good time to post content. But don't forget that for the best results, you should post content every day. Or at least that's the general assumption. Don't make the mistake of limiting your posting schedule to just Wednesdays, but consider saving them for more important posts, e.g. your current sales campaigns.
Pro-tip: Don't get lost in time zones! In the example above, we're looking at Europe/London. You can easily change the time zone in the general settings of your NapoleonCat account.

Schedule posts and save time
Alright, so you've thoroughly analyzed your own accounts, plus your competitors. This should give you a pretty solid answer on when it's best to post on Instagram. However, you can go a step further and give your social strategy an extra boost with our timesaver, the Instagram Scheduler feature. If you have to post to social media at different times, even in the middle of the night (which might be a real need if you cater to a global audience spanning across several time zones), there's no better solution than scheduling posts on social media.
Our Scheduler allows you to schedule and auto-publish Instagram posts directly from your computer. As Facebook's Official Marketing Partner, we have direct access to Instagram's content publishing API. In layman's terms, when you schedule a post with NapoleonCat, you can be sure it will be automatically posted to Instagram at the defined date and time, without any extra hassle. Here's a video tutorial showing you how the Scheduler works:
On top of that, the Scheduler is designed to streamline internal processes and communication, allowing you to work on your content in a team. You can share your content calendar with team members, have internal discussions regarding your scheduled publications, and more.
Conclusion
Instagram is growing really fast and we need to look for solutions that make marketers' lives easier and help us harness the potential of this social media platform. Automating analytics and scheduling will help you effectively reach your audience with relevant content during their activity peaks and save you a ton of time and effort, so you can focus more on creative ideas and bigger, strategic tasks.
Want to learn more about Instagram marketing? Check out our other articles: