Today, practically every business owner realizes the power of social media to grow an eCommerce store. With a focus on visual content, Instagram is the best marketplace to showcase your products and acquire customers.

Moreover, Instagram has 2 billion monthly active users, 56% of whom represent the largest proportion of online shoppers (aged between 25 and 54 years). It's high time to understand how to sell on Instagram and handle competition in your niche.
The idea of social commerce isn't new, but it has gained popularity in the last few years when the number of social media users has drastically increased. Most social media networks like Facebook, Pinterest, Twitter, and Instagram have features that help eCommerce websites market their products and sell them in-app.
For small business owners who run an eCommerce store, it can be expensive to try every online marketplace when looking for the best social media platforms for eCommerce. If you want to start with one social media website, make it Instagram.
As one of the fastest-growing social media networks with the most engaged user base, it has huge sales potential for eCommerce companies.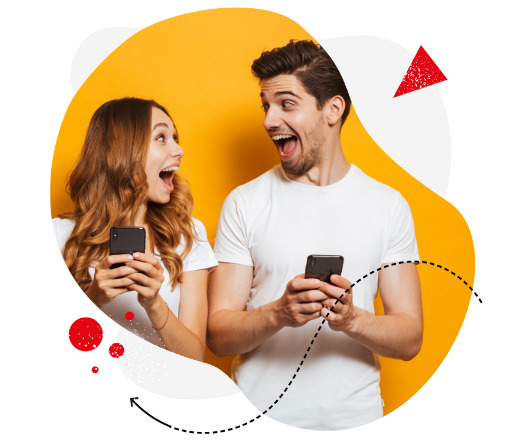 Instagram marketing made easier (especially for teams)
Instagram automation, analytics, reporting, scheduling, and more. Try NapoleonCat and save 90% of your time spent on your marketing tasks. Try it for free:
Try NapoleonCat free for 14 days. No credit card required.
Why Should You Sell on Instagram in 2023?
Instagram is not just a photo-sharing platform anymore. It has great sales potential for eCommerce businesses of all sizes. Here are three main reasons to sell on Instagram:
Your target audience is active on Instagram
The community has over 2 billion users and 90% of them follow at least one brand in-app. No matter what your potential customers are, they are definitely active on the platform, and they are more likely to start a conversation with your eCommerce business in-app.
People discover and buy products in-app
Instagram has a great influence on the consumer decision-making process as Instagram users discover (83%), research (81%), and even buy new products (80%) in-app, research says.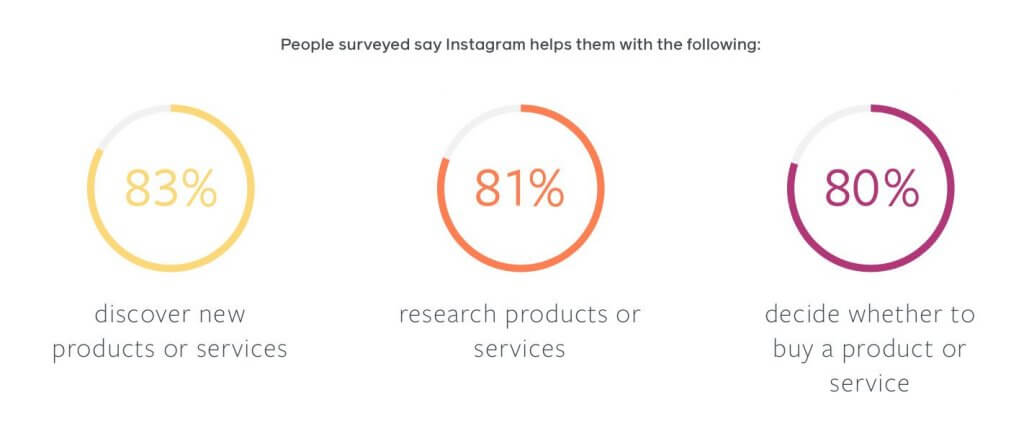 Instagram has various eCommerce tools
Shoppable posts, product stickers, clickable links, and the in-app checkout process are just several Instagram commerce-friendly features that help eCommerce business owners to showcase their products and sell products to potential customers in-app.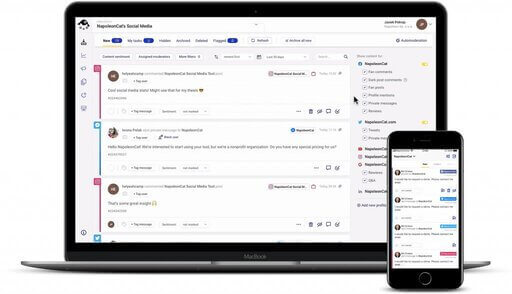 Manage all comments and messages from one view
Use NapoleonCat to manage all of your comments, messages, reviews, etc. – all from one simple dashboard. FB and IG ad comments included. Try it for free:
Try NapoleonCat free for 14 days. No credit card required.
So, wouldn't it be nice if you could learn how to sell on Instagram?
How to Sell on Instagram in 2023
To find out the best way to sell on Instagram for your business, take a look at the top 11 tips that help to drive sales in-app and include at least some of them in your Instagram marketing strategy.
1. Make the Most Out of a Business Profile
As one of the biggest social media platforms, Instagram has become a popular option for social media marketing. Over 25 million businesses make valuable connections with potential customers on the platform, so it's no wonder that the platform offers advanced features with its Instagram business profile.
When you switch to an Instagram business account, you can get the following premium features:
Include advanced contact information in the bio section
Analyze Instagram insights to understand your audience better
Create and open an Instagram store
Boost Instagram posts to reach a wider audience
When you use a business profile, it doesn't take much time or effort for Instagram visitors to understand what your eCommerce business sales if you have the right bio section, like Tree Hut in the example below: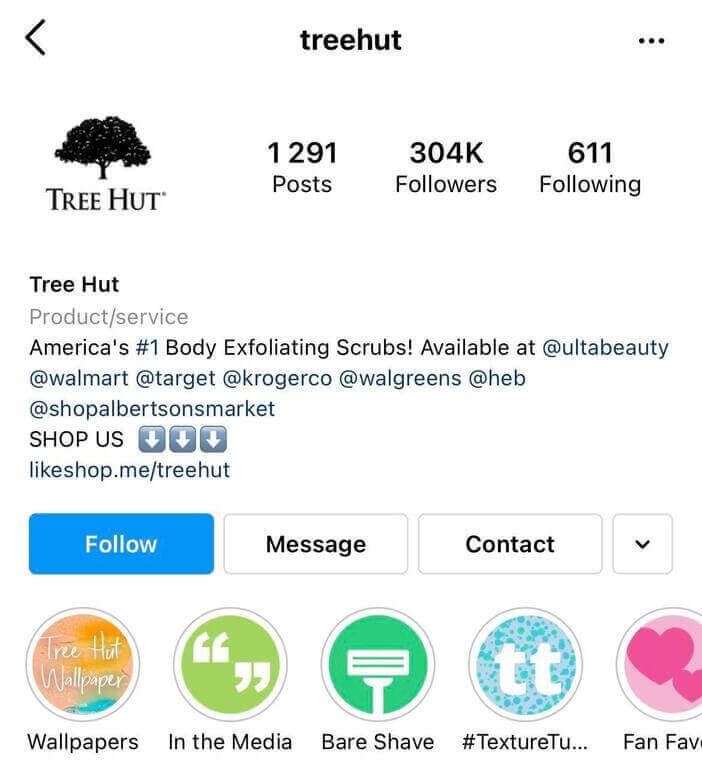 Not only does Tree Hut have its category in the bio that tells about the company, but it also includes information about the shops where to get their products as well as a link with a strong call-to-action that encourages interested visitors to click it and learn more about the products.
An Instagram business account also gives you access to Insights, where you can learn more about your followers and their preferences. This information can help you craft content your audience loves and therefore spark interest in your eCommerce business and products.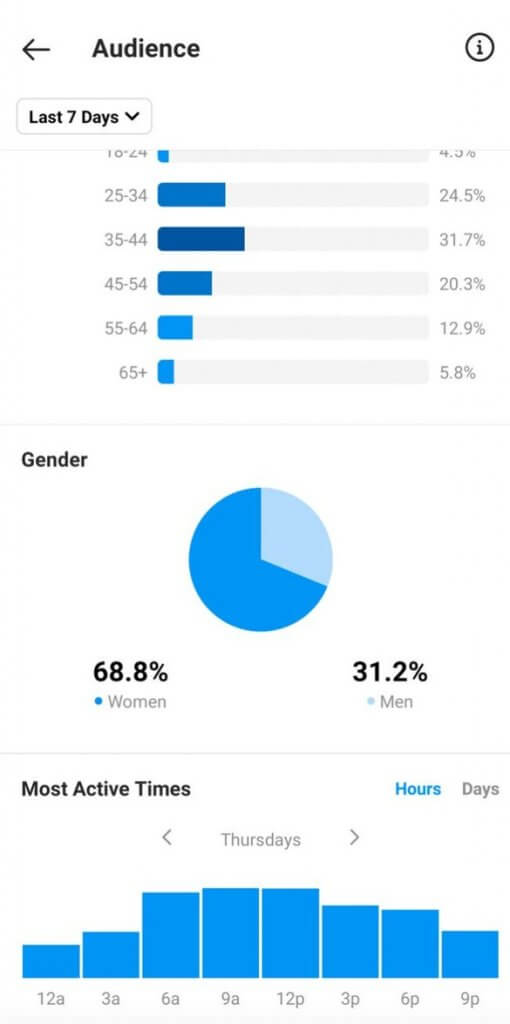 If you would like to access more in-depth Instagram analytics and create custom reports, you can try NapoleonCat. The tool also allows you to perform an Instagram competitors analysis, so you can not only analyze your own account but also any other public Instagram business account.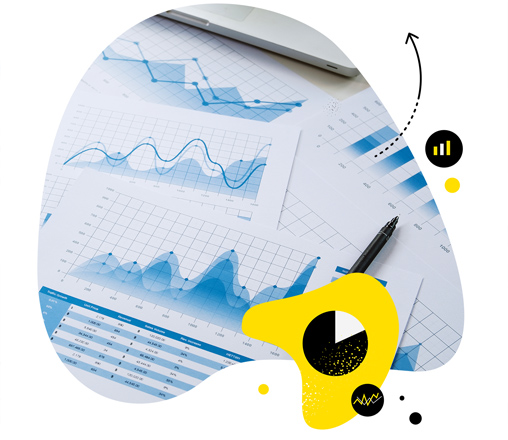 In-depth Instagram Analytics
Get in-depth Instagram analytics for your own accounts and for your competitors, too! Compare accounts side by side, and quickly generate and schedule reports. Try it for free:
Try NapoleonCat free for 14 days. No credit card required.
2. Set Up Instagram Shopping
Around 50% of Instagrammers use the platform to buy products every week. To improve the online shopping experience, it's important to create an Instagram Shop to help your followers shop based on your brand's visual content. Moreover, Instagram has a set of features that help shoppers buy directly on the platform, so it's a good idea to set up Instagram Shopping.
Let's take a look at Cluse. The company is a great example of a well-optimized profile for Instagram Shopping as it has all relevant information about its products in the bio section, a Shop, and Instagram Story Highlights that showcase products: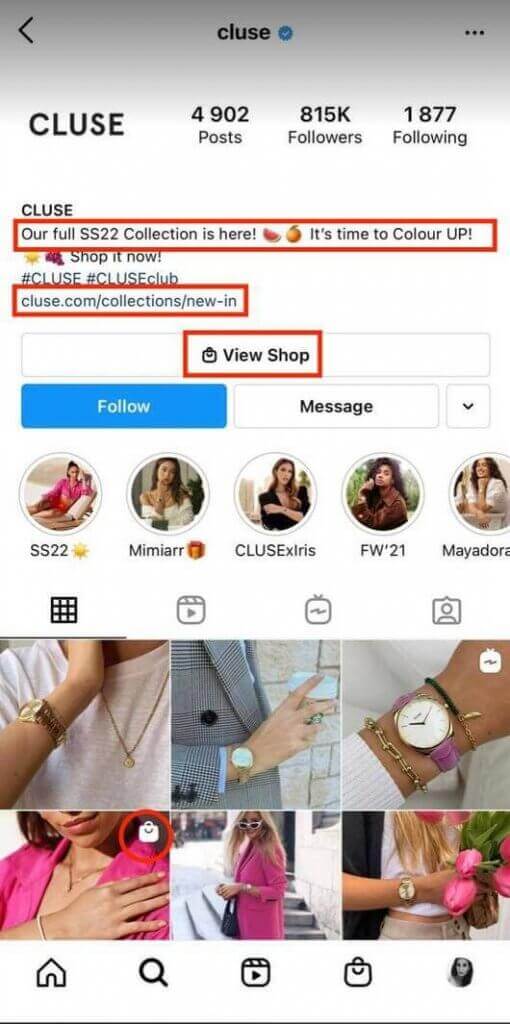 Plus, the company uploads shoppable posts that have a shopping bag icon in the bottom-left corner of the post image. When your followers tap this icon, they can read product descriptions, see the prices, and even make a purchase without leaving the app. All in all, it encourages impulse buying and generates more sales.
3. Turn Your Account into a Storefront
For any eCommerce business, a well-designed storefront matters. People are more likely to buy from your company when it's easy for them to discover your products. Thus, successful eCommerce businesses turn an Instagram profile into a storefront.
First, create an eye-catching Instagram feed to grab the attention of your customers. Why? When buying online, shoppers can't try on the items, so they rely on visual content. It's important to create great product visuals for your account that show off products from different sides and influence customer purchase.
Next, make sure your profile contains all relevant information about your product collections. It's also a good idea to organize Instagram Story Highlights and help visitors find relevant products with ease. For example, you can add Stories that show off new products, women/men's clothes, items on sale, etc.
Any inspiration needed? Take a look at Zappos.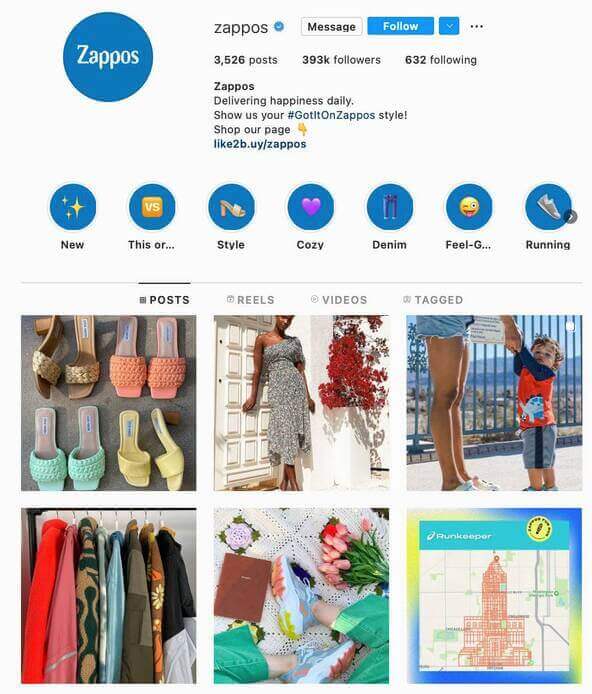 Finally, include hashtags in captions, Stories, and the bio section. It's no secret that businesses use hashtags to increase reach on Instagram, but you can also create branded hashtags that represent your business and help your fans post content. For instance, Zappos also promotes its #GotItOnZappos hashtag in the bio section to encourage fans to create user-generated content and repost it to the main feed.
And if you want to save time and put some tasks on autopilot, you can consider Instagram automation as it gives you an opportunity to create and plan posts in advance. It can give you time to focus on other tasks. Pretty good, huh?
4. Make it Easy for Shoppers to Buy from You
To increase Instagram sales, it's significant to optimize the customer journey and help buyers make purchases. Most people are ready to buy when they find an interesting item and they lose interest in your company if it takes many steps to complete a purchase.
Just imagine: 87% of US customers make impulse purchases. If you have an Instagram store and you create shoppable posts or add shopping stickers in Stories, that's great. It helps your followers buy from you.
However, you can also use captions to write product numbers and therefore help customers search by numbers on your website. Check out how ASOS did it: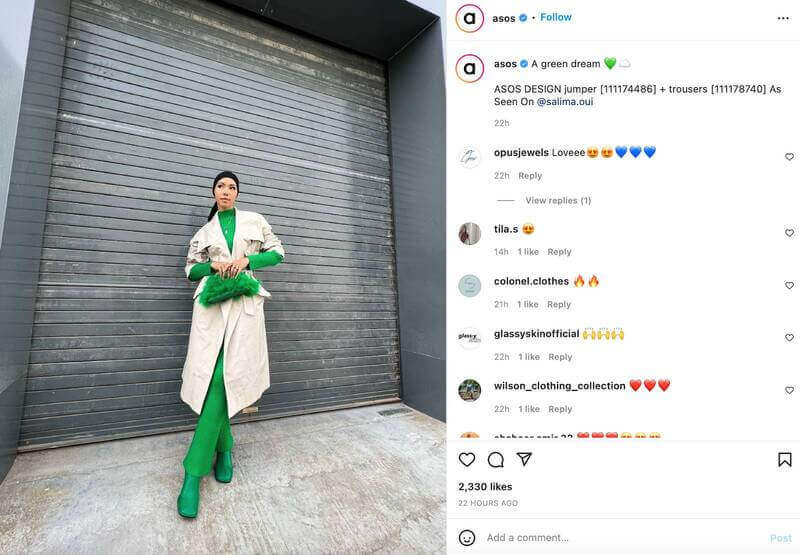 Plus, pay close attention to your customers' needs. Being interested in your product, potential customers may ask questions about sizing or delivery time in the comment section. When you reply to these comments fast, you get a chance to turn an interested follower into a paying customer.
To save time answering repetitive questions (e.g., about delivery time, pricing, etc.), you can give Social Media Auto-moderation a try.
With NapoleonCat's Auto-moderation features, you can set up smart auto-replies for Instagram comments – to improve response time and avoid typing the same replies over and over. You just need to define your keywords which will trigger the automatic reaction.
Moreover, the tool can also automatically hide or delete comments, essentially protecting your content from any kind of spam or hate speech (and it works for both organic posts and IG ads).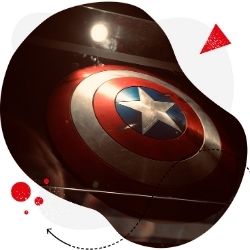 Protect your Instagram from SPAM
Automatically hide or delete comments containing spam under your organic posts and ads. Try it for free:
Try NapoleonCat free for 14 days. No credit card required.
5. Create an Instagram Shopping Event
In the last few years, Live streaming has become extremely popular among users. Since people are afraid of missing out on something important, live broadcasting attracts more video views. As a result, more and more businesses see great potential in this tool.

When Instagram rolled out its Instagram shopping event feature that allows businesses to showcase and sell products during the broadcast, it became one of the most effective tools for eCommerce businesses that want to sell on the platform.
Case in point:
To increase holiday sales, Jane ran an Instagram Live Shopping event and featured a specially selected set of Valentine's Day items. Since holiday shoppers search for gift ideas, this live shopping event generated over 24,000 sessions and $419,762 in incremental sales. It also made 680,618 new visitors, and 80% of total social sales came from Instagram Shopping.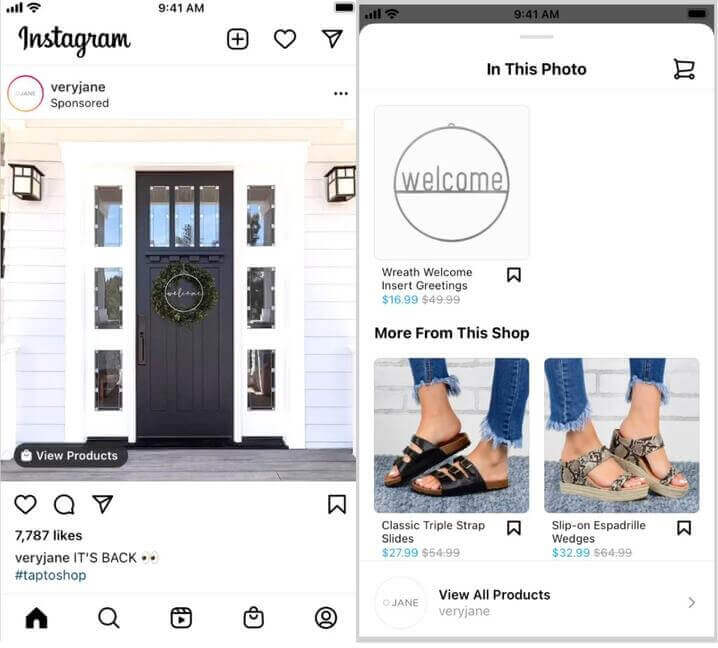 To attract more video viewers, you can also announce your Instagram shopping event in a post and write information about it in the caption. It's also a good idea to write about it on your blog and add a link in the bio that redirects interested users to your lead generation landing page where they can sign up for your event.
Social media platforms have seen the growing popularity of short-lived content like Instagram Stories. With a short lifespan of 24 hours, Stories create a sense of FOMO (fear of missing out), so this content type attracts users' attention, and today Stories have over 500 million daily users.
For eCommerce businesses that want to market their products in-app, this means a great opportunity to interact with an engaged user base of potential customers. Moreover, Stories have business-friendly features like shopping stickers or swipe-up links that improve the customer shopping experience.
For example, ASOS uploads a photo of its product to Instagram Stories and adds an engaging poll sticker to interact with the audience as well as includes the clickable link that lets customers purchase without leaving the app.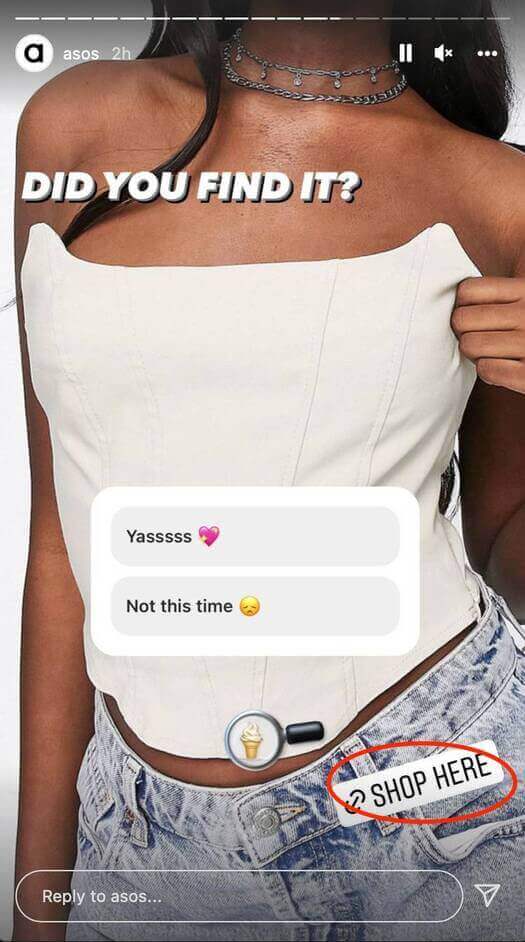 When it comes to short yet engaging Instagram Reels, your business has a chance to reach a wider audience of potential customers as it appears on the Explore Page. Plus, you can add a description with a product code to help interested viewers find featured content with ease.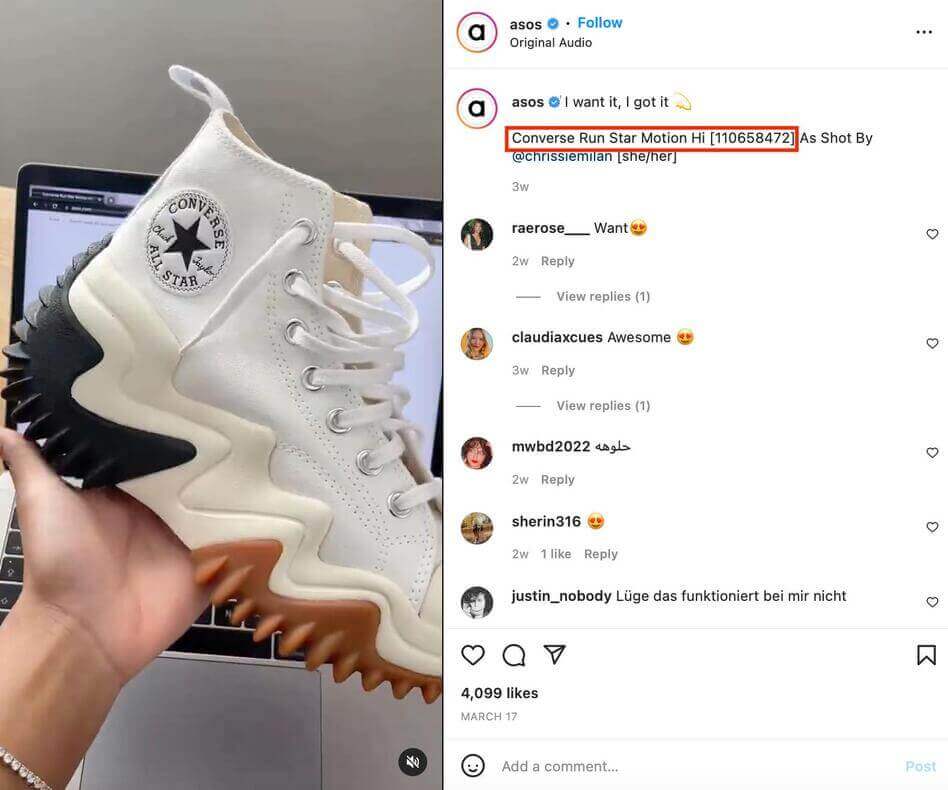 7. Work with Instagram Influencers
Word-of-mouth marketing remains one of the most effective marketing strategies. Today, businesses turn to opinion leaders to promote their products and it gives wonderful results. In fact, 92% of people trust influencers as much as their real-world friends.
No matter what your business goal is, whether you want to promote a new product launch or boost sales, it's a good idea to work with Instagram influencers and send your products for a review. Social media users trust influencers they follow, so they pay close attention to products these opinion leaders promote.
If Instagram influencers switch to a creator profile, they get an opportunity to tag products, so you can also ask your partners to make shoppable posts and therefore help interested followers learn more about featured items.
But if you aim at driving eCommerce sales, you can give your partner a unique code that encourages their followers to save money when buying from you, just like in the example below: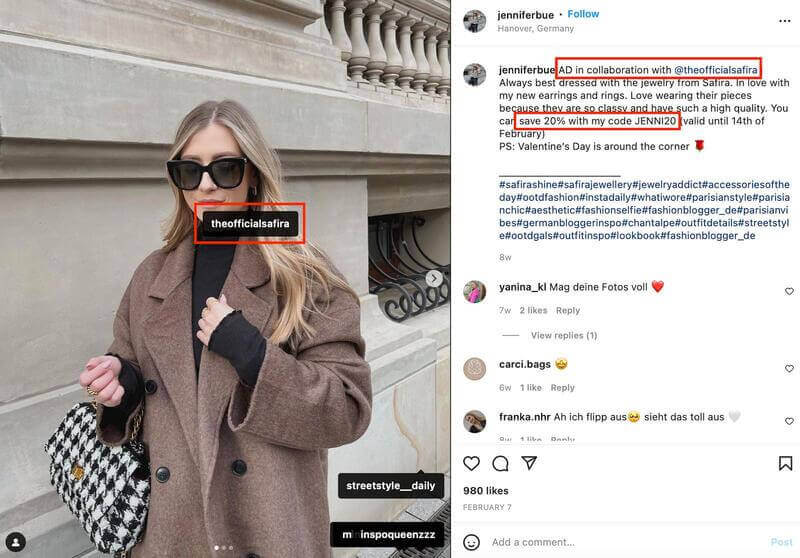 8. Post Customer Testimonials
With a variety of products on the market, modern customers buy from companies other consumers trust, so people pay attention to customer testimonials before making a purchase. In fact, 91% of people read online reviews.
To provide social proof and encourage people to buy on Instagram, it's important to post customer testimonials. Here are several types of customer testimonials you can promote on your Instagram account to gain customer trust:
Customer reviews
User-generated content (images or videos of your product in use)
Success stories
Video testimonials
Case studies
The most popular type of customer testimonials on Instagram is user-generated content – photos or videos that show off your customers with your products. When people create fan-made content for your business, it proves to potential consumers that your company has a high trust level among your existing customers which means your product is worth giving a try.
For instance, Calvin Klein has a branded hashtag #MyCalvins for people who upload photos/videos and the company reposts the best visuals to its feed, tagging the author: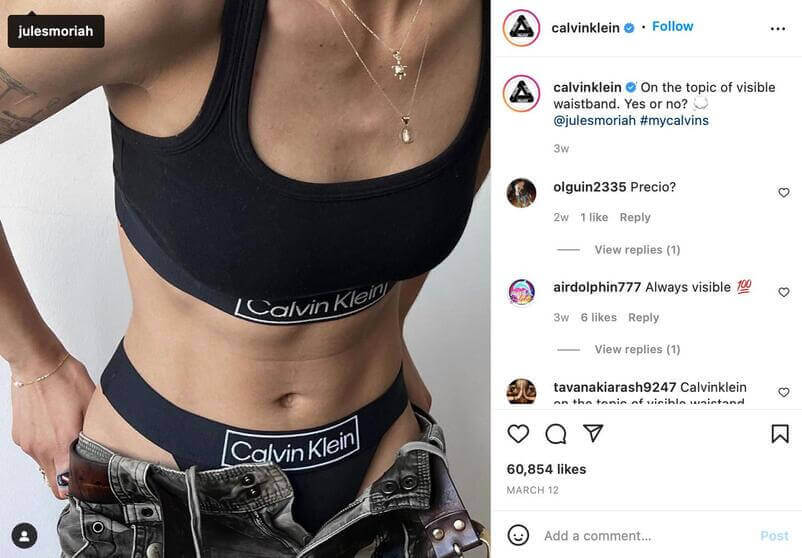 To help your Instagram visitors get access to customer testimonials with ease, you can create a separate Instagram Story Highlight album where you add all customer reviews your company receives.
It makes them 'live permanently' on your account right below the bio section which makes it easy for people to read reviews fast. Check out how Clek did it: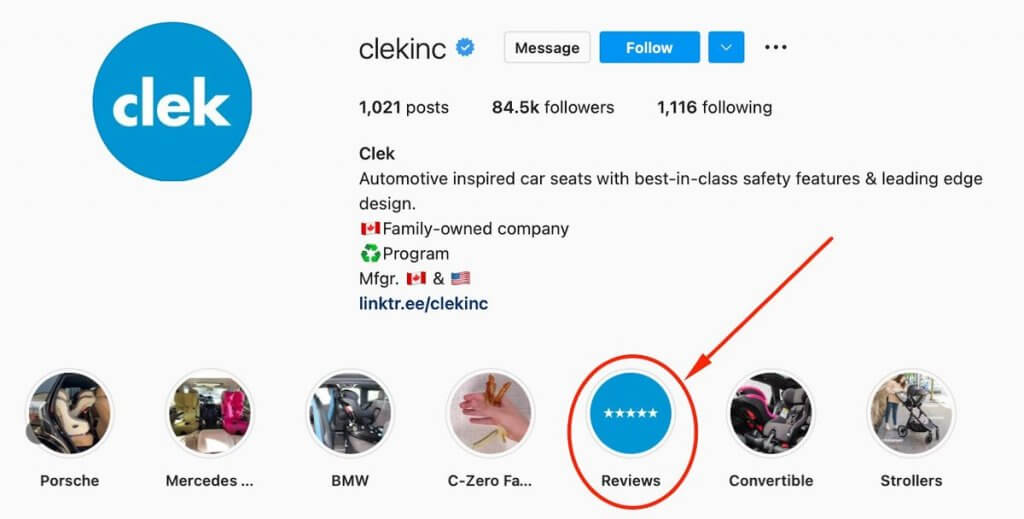 9. Provide Outstanding Instagram Customer Care
When people discover and buy products on Instagram, it's no wonder that they want to stay in constant contact with businesses on the platform. Instagrammers reach out to companies to ask questions about products and purchases – via comments or Direct Messages.
Ecommerce businesses of all sizes should keep up with all customer requests. For example, Lulus always monitors its comment section to communicate with interested followers and turn them into customers: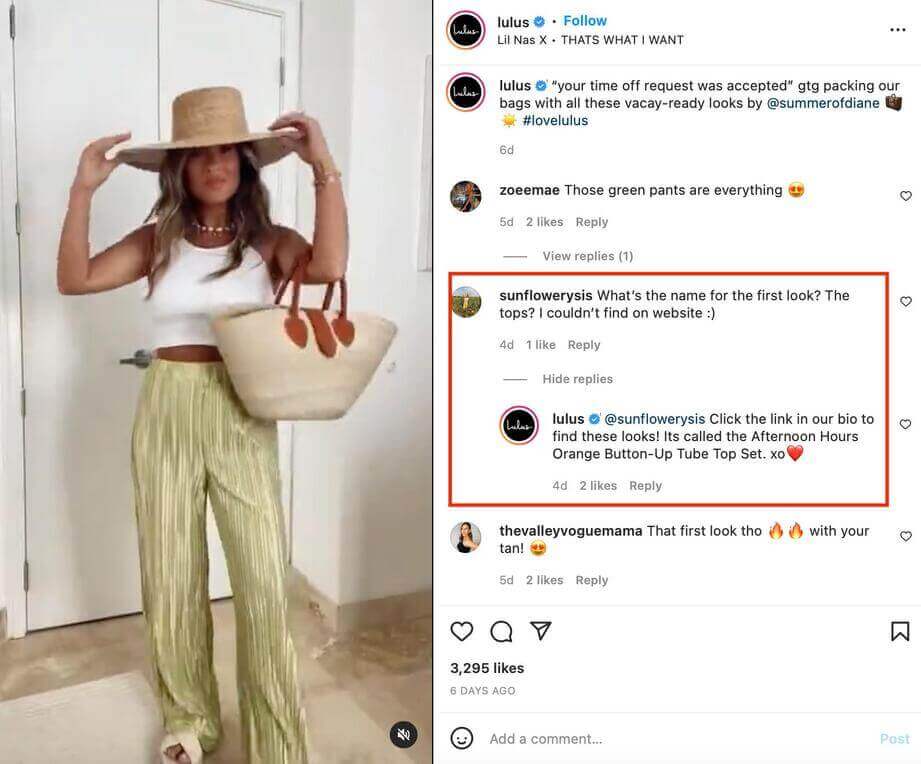 Yes, people send customer inquiries, and your company should be ready to provide Instagram customer service. Moreover, if you ignore people and leave their questions without answers, they are more likely to choose your competitors over you.
Obviously, if you're not a big company with an in-house team of customer service representatives who constantly monitor your Instagram account, it can be difficult to manage all customer inquiries – some comments and DMs may simply get overlooked.
However, NapoleonCat's Social Inbox gathers all Instagram comments and DMs (even from multiple accounts) in one customizable view. It works for both organic posts and the elusive ad comments.
The tool also has a built-in translation feature that can help you translate and reply to your fans and customers in any foreign language.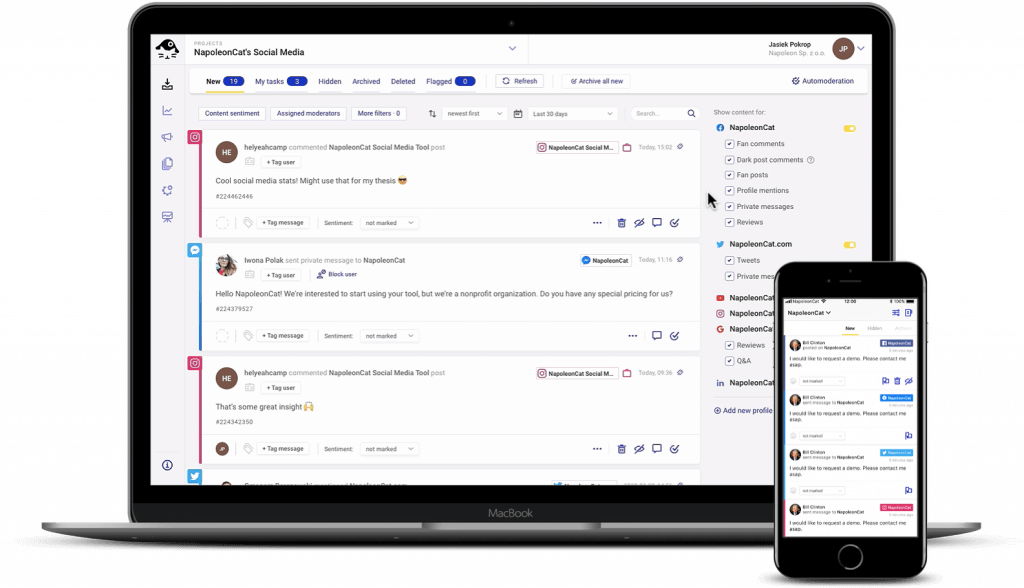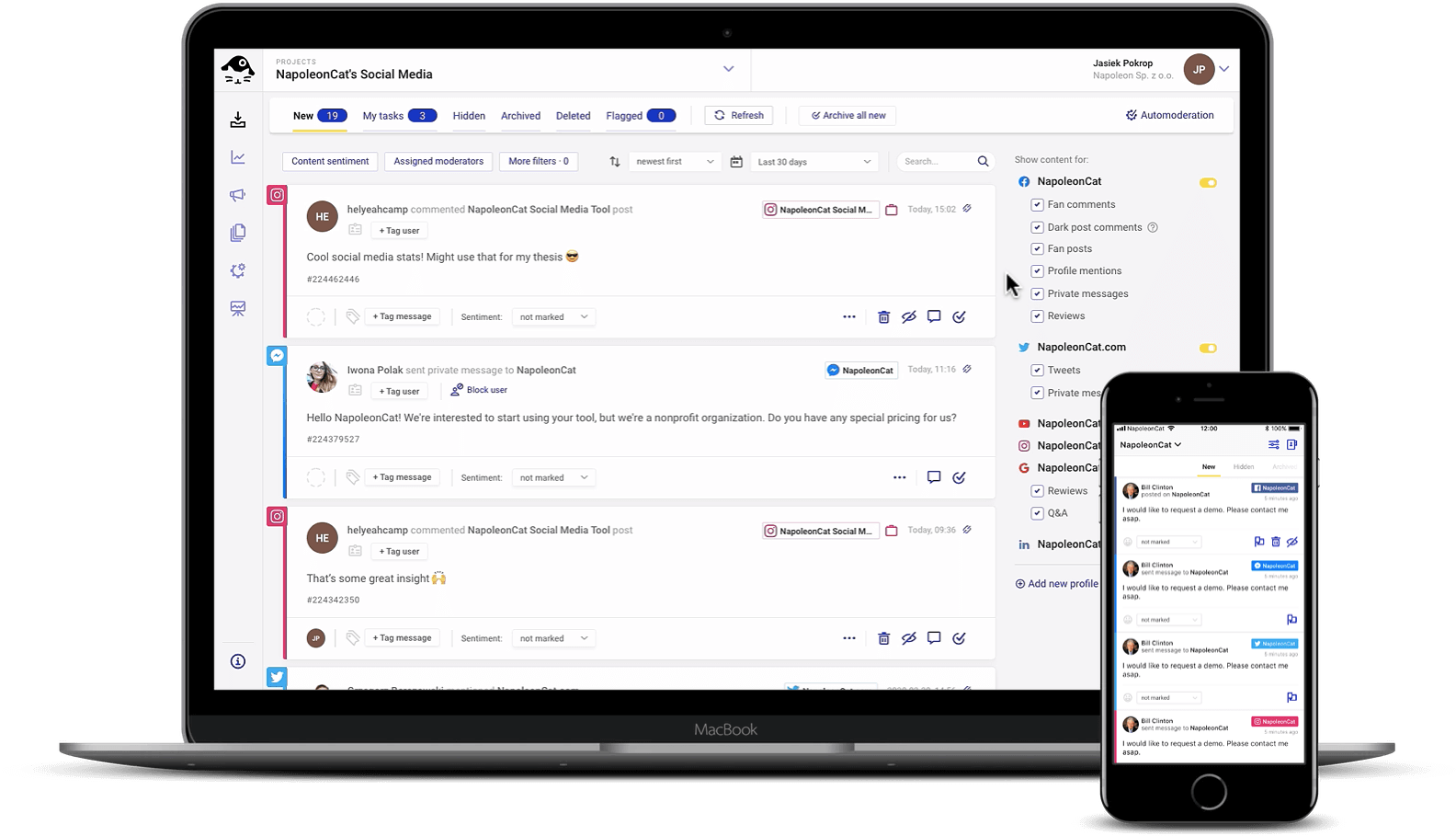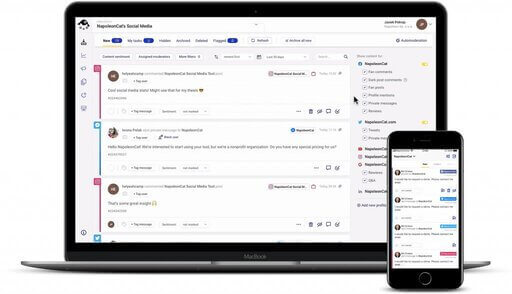 Manage multiple Instagram accounts from one place
Monitor and manage all your Instagram comments and DMs across multiple profiles – all from one place. Try it for free:
Try NapoleonCat free for 14 days. No credit card required.
10. Share Unique Offers and Discounts
Having a solid Instagram following isn't enough to start selling on the platform. Sometimes it's important to persuade followers to give your product a try and sharing unique offers or discounts can be a great incentive for people to buy from you.
Practically every marketer knows that discounts work well for shoppers who seek out actionable ways to save money when buying items. When you sell on Instagram, you can also use this tactic.
To encourage people to make a purchase decision, you can set deadlines for your offer and include a call to action in your caption, just like People Tree did it in the example below: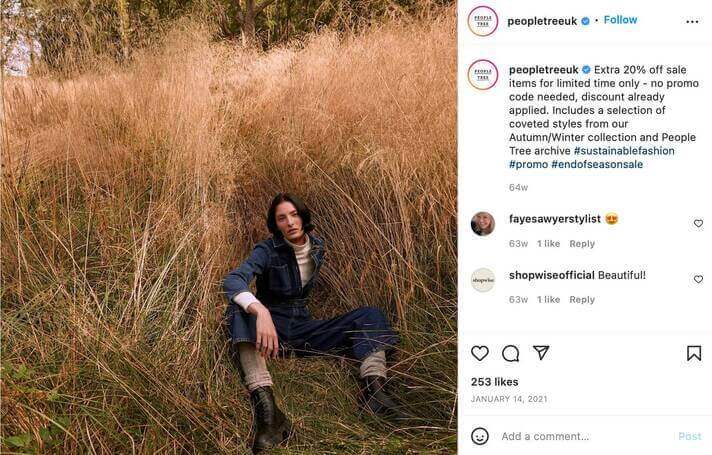 And if you want to reach a wider audience of potential customers, let more people see your offers – give exclusive discounts for influencers or include a promo code in your ad campaign. After all, not all of your customers are your Instagram fans.
11. Run an Instagram Ad Campaign
Who else wants to find the easiest and the fastest way to reach your target audience on the platform? Learn from 2 million monthly advertisers who see great potential in Instagram ads!
Instagram has advanced settings for ads that allow eCommerce businesses to interact with existing customers or reach a lookalike audience. When you create paid ads in-app, you can also set specific goals for your business – increase brand awareness, generate leads, or drive sales–that can take your business to the next level.
Case in point:
Milton & Goose decided to reach more customers with Instagram ads, so the company created a visual post that informed people about its seasonal sale as well as provided users with a unique code that gave an additional discount.
As a result, 50% of customers discovered Milton & Goose on Instagram and the platform referred 38% of unique visitors to the website.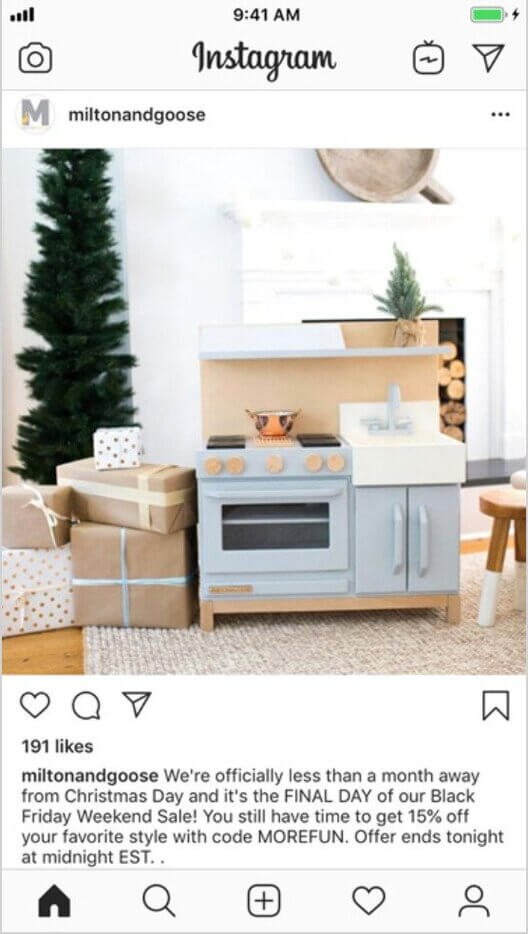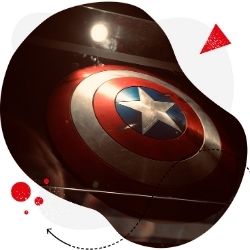 Protect your Instagram from spam & hate
Automatically hide or delete comments containing spam under your organic posts and ads. Try it for free:
Try NapoleonCat free for 14 days. No credit card required.
Wrap Up
Online shoppers consume with their eyes. As a visual platform with a focus on images, Instagram has become a powerful marketing tool for eCommerce businesses that want to market and promote their products.
The platform has a wide array of eCommerce-friendly features that improve the online shopping experience as companies can create an Instagram shop, add product tags, use shoppable stickers, or include a website link in the bio. What is more, Instagram has many potential customers for any product as its community remains one of the fastest-growing, and users claim that they shop on platforms they use daily.
So, wouldn't it be great if you could start selling on the platform? Although many big companies like Nike or Lacoste sell their goods on Instagram, it's not too late for aspiring businesses to learn how to sell on Instagram and generate more sales. Moreover, we've gathered actionable tips that can help your eCommerce business boost sales and get to the next level. Good luck!