93.5 % of Internet users around the world have purchased products online. That only goes to show if you're not selling your offerings on the web, you're leaving money on the table.
But e-commerce has become even more competitive of late. Throw in the fact of how hard it is to keep up with rapidly changing consumer behavior. Sure, e-commerce tools like Shopify help a great deal, but that doesn't mean you can put up an online store and expect sales to start rolling in.
How do you stand out in such a competitive and dynamic environment?
This is where social commerce can help.
In this blog post, we talk about social commerce: 
What is social commerce?
Social commerce vs. eCommerce
Why social commerce matters in your overall eCommerce strategy.
The best social commerce platforms.
And how social commerce can help grow your business.
I'm also throwing in some examples to serve as inspiration as well.
Ready? Keep reading.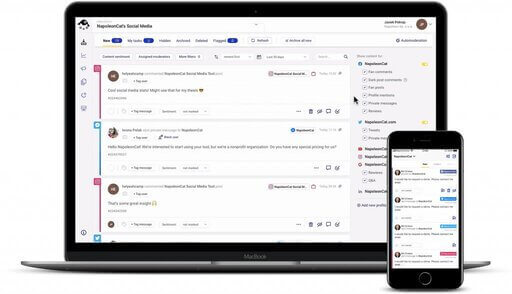 Manage all comments and messages from one view
Use NapoleonCat to manage all of your comments, messages, reviews, etc. – all from one simple dashboard. Try it for free:
Try NapoleonCat free for 14 days. No credit card required.
What is social commerce?
Social commerce is the process of selling products and services directly within social media channels.
The operative word there is "directly." It's different from eCommerce transactions where social media users are redirected to an online store.
With social commerce, the entire shopping experience happens within the social media platform – from "window shopping" to customer engagement to app checkout.
If you've ever clicked on an advertisement on Facebook or Instagram and purchased a product and continued browsing your feed as if nothing had happened, then you've taken part in social commerce.
Of course, social commerce doesn't only happen via ads. Social media platforms like Facebook, Instagram, and Pinterest have rolled out social commerce-friendly features like shoppable pages, live shopping, etc. over the last few years, allowing brands to provide seamless shopping experiences within social media platforms.
Social commerce vs. eCommerce – what's the difference?
While social media platforms can fuel your e-commerce campaigns, social commerce is NOT eCommerce. With eCommerce, the shopping experience happens through a website or a branded app. Social commerce, on the other hand, happens within the social media platform, from product discovery to checkout.
You can think of social commerce as a combination of e-commerce and social media marketing, but in a way that creates a frictionless shopping experience.
But while social commerce is not e-commerce, it's important to recognize its role in the broader e-commerce ecosystem, most particularly on how it boosts visibility and increases sales.
To make that role clearer, let's go into the different ways social commerce can fuel your e-commerce business.
Benefits of Social Commerce
So, why is social commerce a big deal? Here are some of the biggest benefits of the growing marketing channel.
1. Social commerce creates a frictionless buying or shopping experience
You can't sell effectively if you're putting your customers through many hoops. Customers are lazy. Allow them to wander elsewhere and chances are they'll never look back.
This is often the case with social media networks. When customers are scrolling through their social media feeds, the last thing you want to do to grab their attention is to ask them to visit your online store. Even if they like what you're selling, they'd rather keep scrolling than get off Facebook or Instagram to take a look at your products.
It's different with social commerce where the shopping experience feels native to the social media experience. By showcasing your products in a way that removes any friction in the shopping experience, customers are more likely to check out what you have to offer and buy it.
Protip: Create stunning visuals. When social media users are browsing their feeds, you are competing for their attention. A stunning image rendered in high-quality photography is just the thing that could grab their attention.
Here's a Pinterest image that makes users sit up and take notice.
2. Reach your target audience where they are most engaged
Let's face it. People don't go on social media to shop for the hottest kicks in town or the trendiest designer summer watches available on the market. They go there to interact with friends, to be informed of the latest news, and to be inspired.
Of course, they're also there to discover new brands, but it's not the foremost in their mind. Still, online selling has grown so ubiquitous that customers won't mind discovering new brands if it's not badly interrupting their experience.
If you want to "interrupt" them in the right way, you have to show relevant offerings to customers at the right moment. Thanks to their deep targeting algorithms, social media platforms have become instrumental in driving product discovery for brands.
So much so that businesses can engage with their audience at every stage of the sales funnel, and at a time or place where they are most engaged – which leads to more conversions and sales.
Protip: Use influencer marketing to bolster your social commerce campaign. When your audience sees an influencer you admire and trust use or support your brand, they're more likely to use your products and support your brand, too.
As an example, here's Lululemon featuring figure skater and Olympian Piper Gilles to promote and showcase their Team Canada collection.
3. Create personalized shopping experiences
Customers expect personalized experiences from brands. If you're not making your customers feel special and appreciated, they're not going to give you the time of day.
Social commerce is one of the best marketing channels to create personalized experiences. In fact, nearly half of retailers (49%) say that engaging in social commerce helps them deliver personalized customer experiences based on purchasing behavior and social activity.
Social commerce presents personalization opportunities because it offers content based on customers' needs, preferences, which are gathered from previous interactions within the platform. By presenting "shoppable ads" that reflect a user's interests while they scroll through their feed, a brand is more likely to generate a sale because the ad is relevant and useful.
4. Social proof
More often than not, we look to others for cues on how to behave, and the same applies to our buying behavior. This is a phenomenon called social proof. And it's even more apparent on social media.
After all, when we see a friend recommend a product on Instagram, we are more likely to check it out.
The great thing about social commerce is it presents many opportunities for brands to leverage social proof. For one thing, social media platforms are built in a way where users can see the social activity of their friends, and that includes brand interactions.
Protip: One effective way to leverage social proof in your social commerce strategy is to gather, curate, and publish user-generated content. With a solid UGC strategy in place, you can increase social shares, likes, comments, etc, presenting opportunities to get your brand in front of new audiences.
The best social commerce platforms
Here are the 4 best social platforms you can use to leverage social commerce for your business.
1. Facebook
Facebook gets 1.79 billion visits daily, making it the 3rd most visited website in the world, just behind Google and YouTube.
Imagine if you can use that reach to your advantage and put your products front and center as you engage with your audience.
The best way to go about it is to set up a Facebook Shop. For starters, it allows you to set up a native, customizable storefront for your brand on Facebook and Instagram.
Facebook Shops include the following features:
Upload as many products as you want to your product catalog.
Customize your product inventory
Select which collections or products to feature
Customize fonts, images, colors, layouts, etc.
Interact with customers
Import products from your eCommerce website
Repurpose your most popular live content for shoppable feed posts.
Etc.
Once your Facebook Shop is up, you can access it from multiple locations, including your Facebook Page, Instagram page, shoppable posts, and Stories. Pretty convenient, huh?
When a user visits your page and checks out your product catalog, Facebook shows that user products are based on their interests and preferences, creating a personalized shopping experience and increasing sales.
You can offer customers two choices when buying, either through the checkout option within the platform or redirected to your e-commerce website.
2. Instagram
With 50% of customers looking to Instagram to discover new products, it only makes sense for brands to use the platform in their social commerce campaigns.
As a visual platform, Instagram is the best place to showcase your brand and its personality. If you can produce high-quality and attention-grabbing photos and videos and accompany your visuals with compelling Stories, you have a leg up on the competition.
Instagram Shopping puts you in a great position to turn that engagement into action. Not only does the platform make your products more visible on Instagram, but it increases sales by redirecting your audience to your product pages with a single click.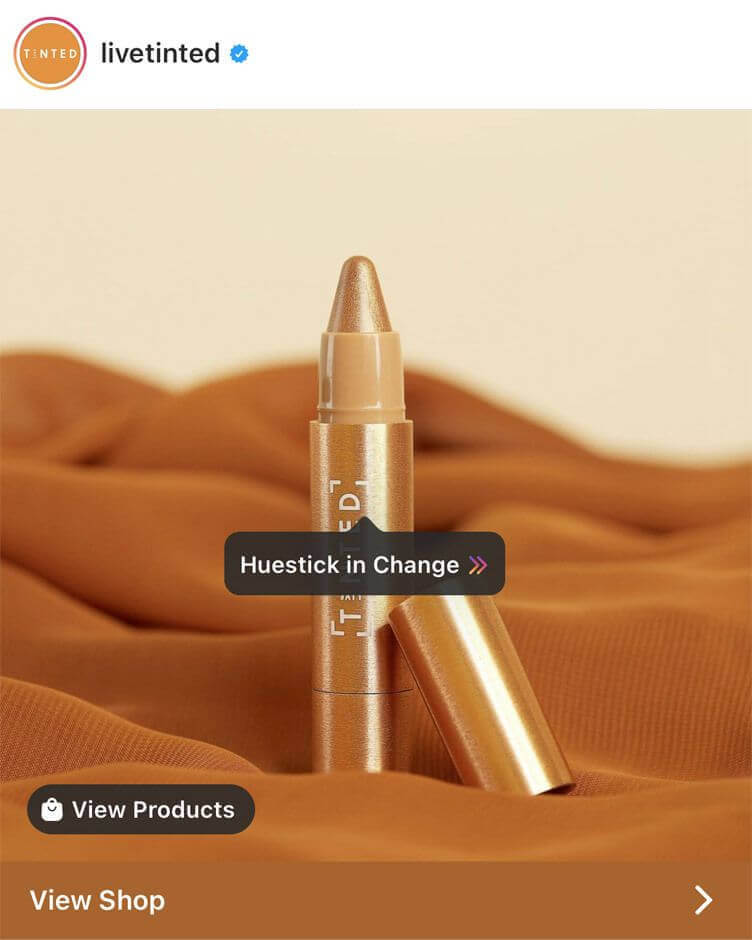 To activate Instagram Shopping, you need to set up an Instagram Business account that's connected to a Facebook Page.
With that done, you're ready to start selling on Instagram. Simply upload your product catalog and create product tags for each item. Once they're uploaded to your Facebook product catalog, you can create Shoppable posts and Stories. You can split your products into different categories, stock status, or type.
3. TikTok
How many times have you heard the phrase "I saw it on TikTok so I bought it"? No wonder TikTok users are 1.7 times more likely to purchase products they discover through the platform.
TikTok is making a lot of headway into the social commerce space. In August 2021, TikTok expanded its partnership with numerous third-party partners by launching TikTok Shopping, which brings organic product discovery and in-app shopping to TikTok. This feature is eligible for merchants with a TikTok Business account. If you work with one of TikTok's third-party partners, you can connect your product catalog to the platform seamlessly.
What makes TikTok Shopping effective is the way it leverages TikTok's influence on buying behavior. By launching a dedicated commerce solution within the platform, merchants get to enjoy features that support conversion and more.
Kylie Jenner's brand, Kylie Cosmetics, is one of the first to set up shop on TikTok. Makes sense considering the brand has nearly 35 million TikTok followers.
"I built my business on social media; it's where my fans go first to look for what's new from Kylie Cosmetics. I have so much fun creating TikTok videos, and I love sharing posts of my fans using the products. That's why I'm excited for Kylie Cosmetics to be one of the first to let customers shop directly on our TikTok!"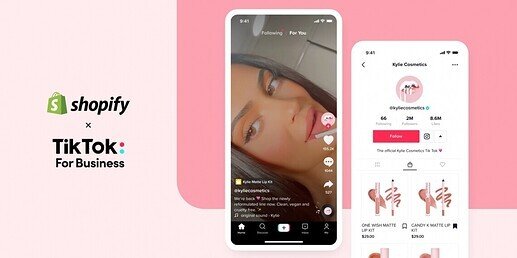 4. Pinterest
Pinterest is becoming a powerful platform for social commerce. Considering how many brands are using Pinterest to run targeted campaigns for niche markets, it's not in the least surprising. What's more, small and independent brands are more likely to be rewarded in leveraging the platform since Pinterest users use the platform to discover new products. In fact, 97% of searches on Pinterest are branded.
What makes Pinterest more effective as a social commerce platform is the high buying intent of its users. Did you know 93% of Pinterest users plan their purchases?
Add Pinterest for Business in the mix, and you have a recipe for social commerce success. Once you're set up for it, you can create Product Pins and set up a Pinterest Shop, allowing you to showcase your products so that users can browse and buy from your shop without leaving the platform.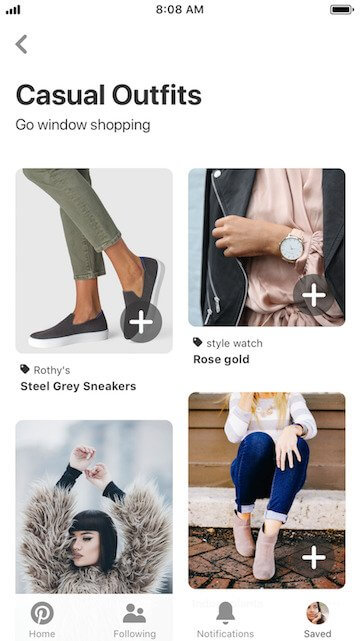 One nifty feature of Pinterest Shop is its slideshow for collections, which automatically assembles personalized video ads that showcase your products based on users' interests and preferences.
Maximize your social commerce efforts with NapoleonCat
Now that you know the best social media platforms to fuel your social commerce efforts, let us show you how NapoleonCat can help you optimize your social commerce campaigns.
Social inbox – manage all social interactions in one place
If you want algorithms to push your content to the top of Shopping feeds, engage with customers in every stage of their customer journey. But doing that can be difficult if you're trying to keep up with multiple social media accounts, platforms, and ad campaigns.
Thankfully, Social Inbox lets you handle all social interactions (messages, comments, etc.) from across multiple social media accounts, platforms, and campaigns using one simple, customizable dashboard.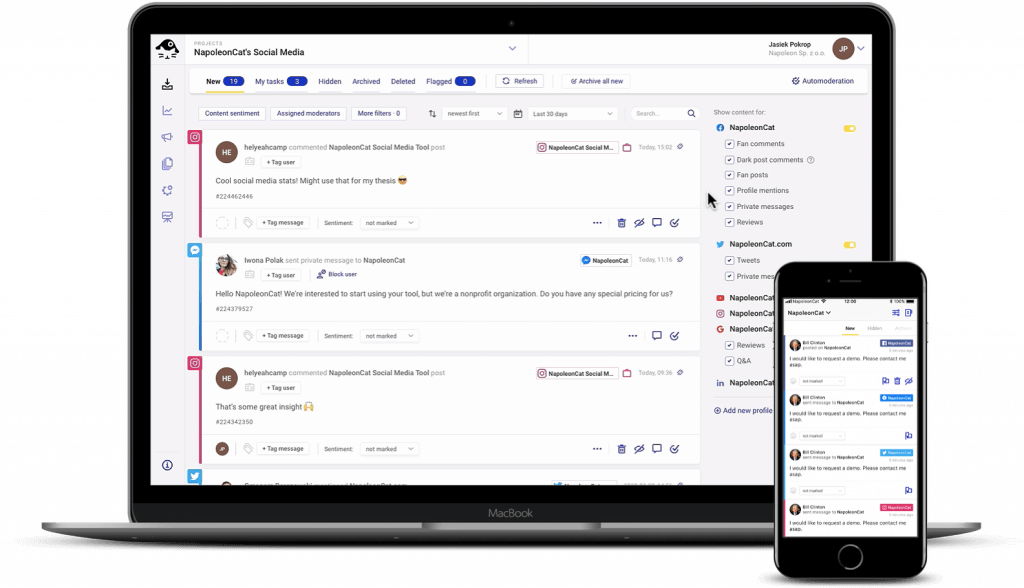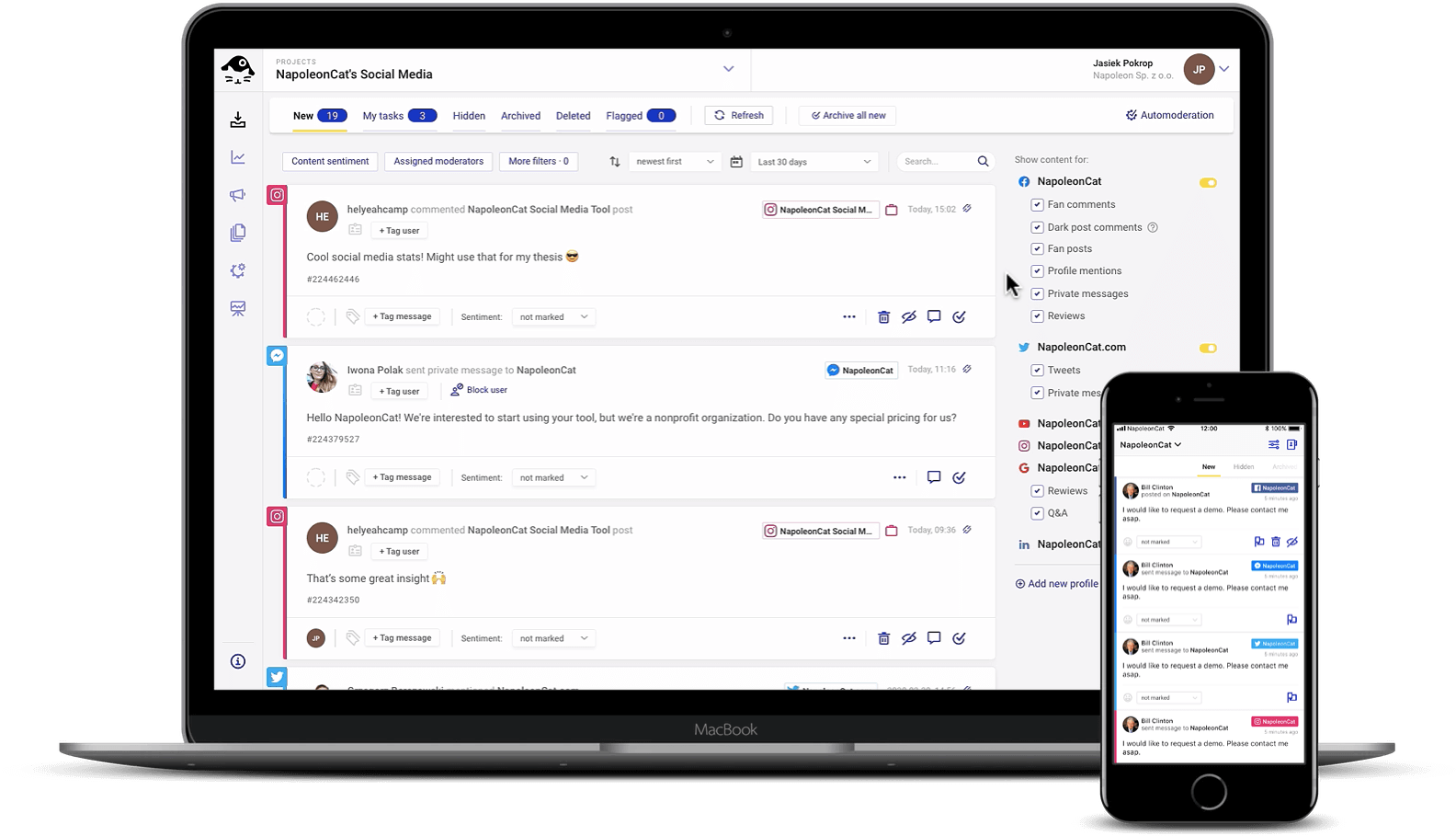 Trying to reach international audiences? Social Inbox has a built-in translation feature to help you communicate with customers no matter what language they speak.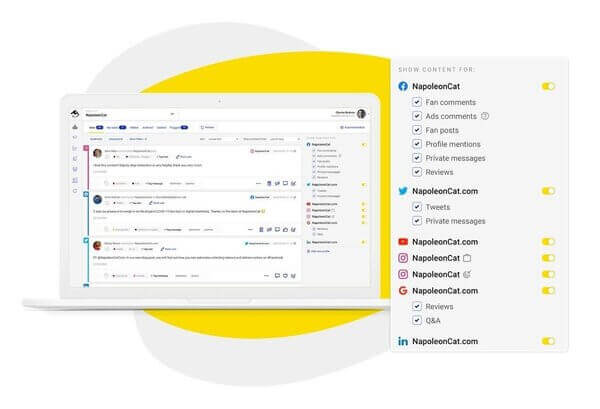 The best social media moderation tool
Manage all your comments, messages, and more – using one simple moderation tool. Instagram DMs and ads included! Try NapoleonCat for free:
Try NapoleonCat free for 14 days. No credit card required.
Auto-moderation — set up smart auto-replies and protect your social campaigns from spam
The more you interact with users, the more likely they will want to click on that "Buy Now" button.
If your social media campaigns are getting more comments, messages, and spam than your team can handle, NapoleonCat's Auto-moderation feature helps you automate your social customer service via smart auto-replies, not to mention hiding or deleting inappropriate comments that could ruin the shopping experience for your users.
Here's a very quick video tutorial showing you how to use Auto-moderation: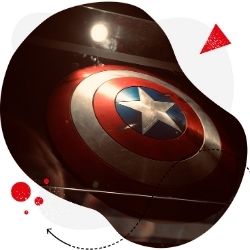 Protect your social media from offensive comments and SPAM
Automatically hide or delete comments containing spam under your organic posts and ads. Try it for free:
Try NapoleonCat free for 14 days. No credit card required.
Over to you
Because these days, simply meeting customers where they are via social media marketing is not enough. You need to meet them where they are in ways that feel seamless and convenient, so much so they can't help buying right then and there. The road to converting prospects into paying customers is more often than not a winding one, but social commerce can help you provide them a shorter path to getting there.
You may also like: