If you run an online store, you probably think about new sales channels and the ways to reach new customers more effectively. We perfectly understand that. That's why today, we're going to show you the best social media platforms for eCommerce businesses.
In this article, you'll learn:
Which social media are the best for eCommerce,
What benefits these social platforms offer for your business,
How to manage your social media more easily.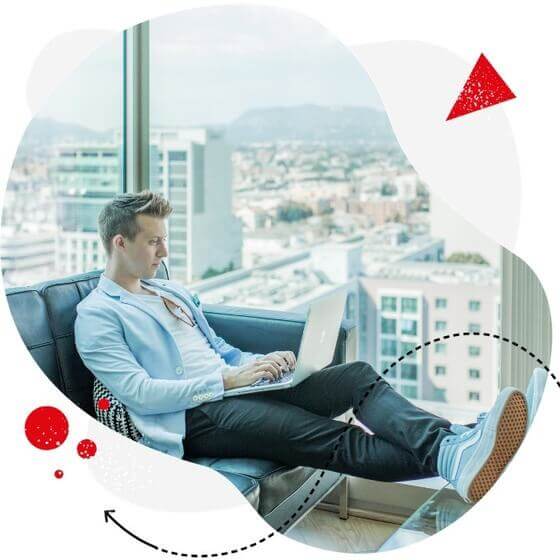 Social media marketing made easier for eCommerce
Manage all your social media accounts with an all-in-one social media tool. Improve customer service, automate repetitive tasks, generate reports, and more.
Social media loves eCommerce
Today, eCommerce is one of the fastest-growing sectors of online business. That's primarily because of the covid-19 pandemic, but the trend is bigger than that as it started way before covid. Customers buy products or services online mainly because it's quick and convenient. Online stores are open 24/7, you don't have to drive anywhere, the inventory is well-listed – you get the picture.
However, there is always the other side of the coin. And when it comes to eCommerce, that's fierce competition and ever-growing customers' requirements. Creating an offer that's attractive to potential buyers and keeping all the right boxes checked requires a lot of attention and time. One of the most important things you have to take care of is related to sales and communication with your customers. And, well, there's no better channel for that than social media.
The best social media for eCommerce
In this article, we shortlisted three of the best social media for eCommerce. No matter what kind of products or services you offer, who's your target audience, or what your marketing strategy is, you will surely find these three platforms extremely useful.
And these social media platforms for promoting eCommerce businesses are:
Facebook
Instagram
Pinterest
Let's start with Facebook.
Social media platforms for eCommerce: Facebook
When we talk about social commerce, Facebook comes to the forefront every single time. It's hardly surprising; with almost 3 billion monthly active users, it's an undisputed must-have in your marketing strategy. Mark Zuckerberg's platform perfectly realizes its social commerce potential. That's why they continually expand their offer for online stores.
How can Facebook help you get to your target audience? Well, there are three elements:
The way people use Facebook
Facebook Ads
Facebook Shops
The way people use Facebook
Today, Facebook is something far more than just a social media platform. We use it as a daily news source, a marketplace, and a gig/job searching tool.
Did you know that, on average, customers spend almost 20 hours each month browsing the Facebook app? And that nearly 60% of all social media users have an account on Facebook? That really says a lot.
Facebook has become the primary tool that we use every single day. There's more. According to eMarketer research from June 2020, 18.3% of US adults made a purchase through Facebook in the last year: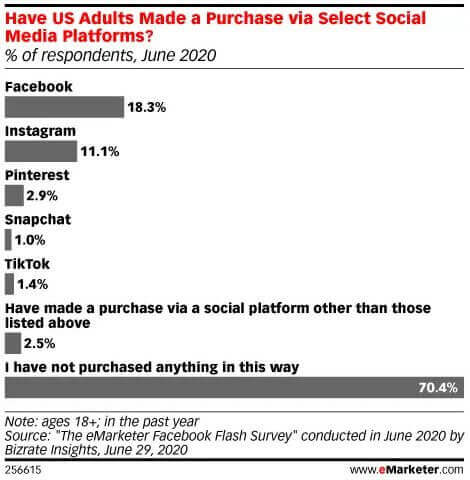 And according to Oberlo, almost 80% of American consumers discover retail products to buy via this social media platform. The bottom line is obvious – Facebook is the place to be. Especially given that they have a broad offer for eCommerce businesses.
Facebook Ads
It's one of the most effective and versatile performance marketing techniques. Facebook Ads enable you to reach customers that ought to be interested in your offer based on their specific characteristics. If, for instance, you sell snowboarding equipment, you can easily track snowboarders in your city, country, or even the whole world. In fact, Facebook offers over 1,000 different targeting options and a whole selection of ad formats.
If you run an eCommerce store, you should be primarily interested in:
Photo ads
Messenger ads
Collection ads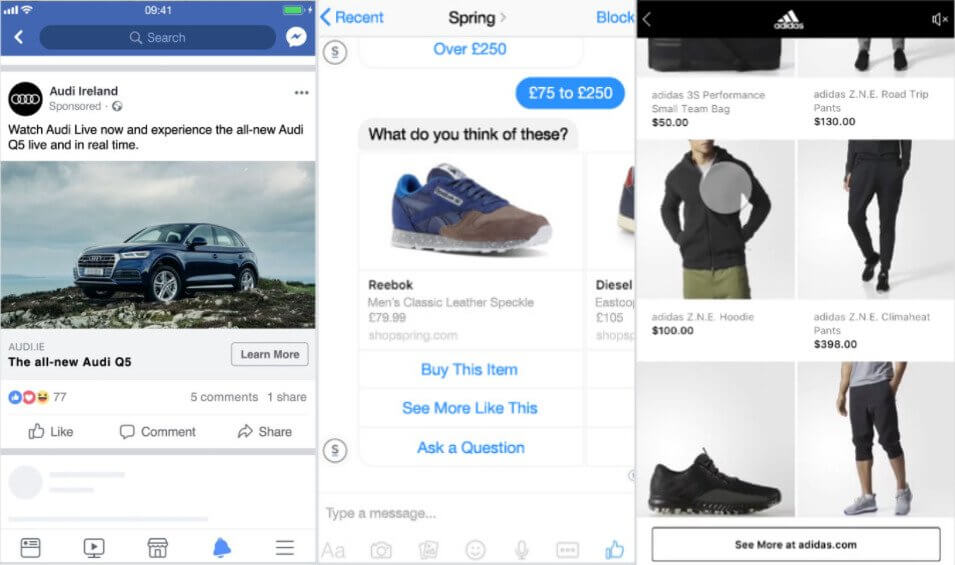 With these ad formats, you can use Facebook Ads to share photos and video content to your potential customers, and that includes product unboxing, tests, presentations, and many other forms to showcase your products in the best way possible.
Facebook Shops
As we told you earlier, Facebook perfectly understands the potential of social commerce. Their "career" with this sector of online business started with the Marketplace – a section where both individual users and companies can present their products.
However, the potential of Facebook's marketplace was severely limited from day one. The only thing you can do is add some photos, a product description, and… that's it. Online store owners need something more. And that's why, back in May 2020, Mark Zuckerberg's platform announced Facebook Shops – "a mobile-first shopping experience where businesses can easily create an online store on Facebook and Instagram for free."
Today, Shops are integrated with your Facebook/Instagram profile. This section can also be accessed via Facebook Stories and, of course, ads.
Within the Shop itself, your customers can:
Browse all the published products
Save their favorites
Place an order
And even pay for it without leaving FB (currently, this feature is available only in the US)
And because Shops is a part of a much larger ecosystem, you can easily communicate with your customers via Messenger, WhatsApp, and Instagram Direct. And there's more. Facebook promises full integration with eCommerce platforms (such as BigCommerce and WooCommerce) and loyalty programs. This project is still in the making, but once it's ready, Facebook Shops will be a fully-fledged social commerce sales tool.
Plus, you can use it both in the B2C and B2B setup (almost 50% of B2B decision-makers use Facebook for research).
Take a look at some examples of well-designed Facebook Shops: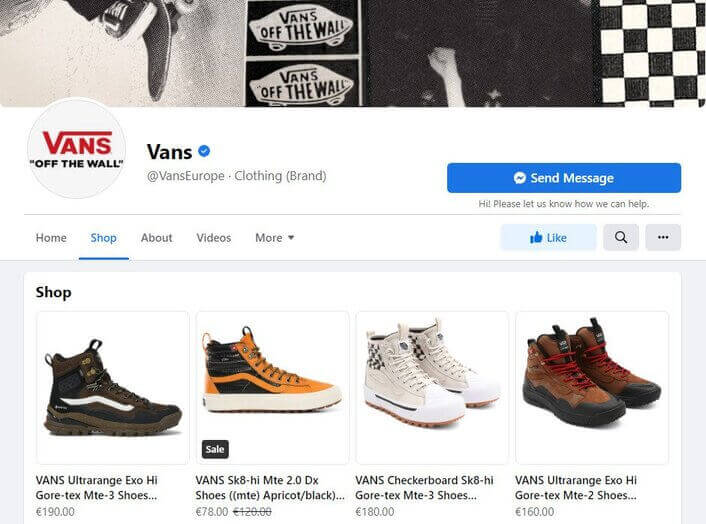 Vans' Shop has all of their most popular models. You can browse them by collections, availability, and prices. Each product comes with a photo, a price, and a direct link to buy it online.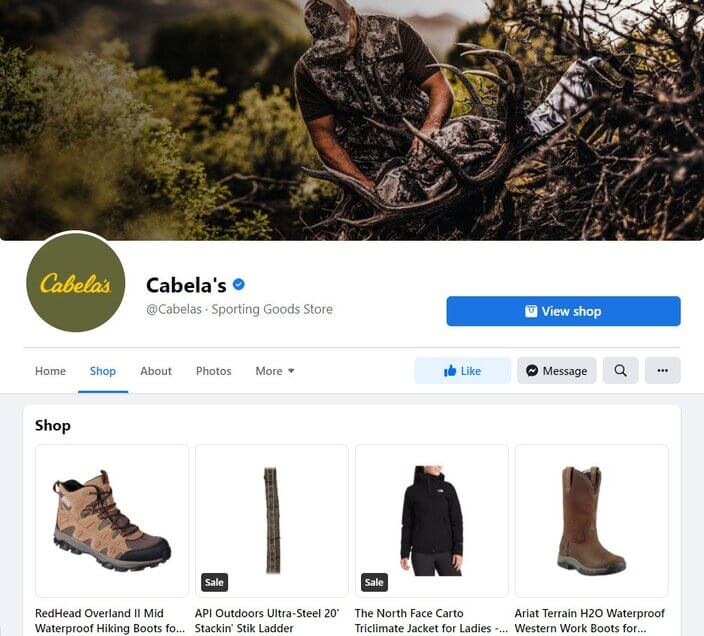 It's the same story with Cabela's. Their offer is neatly showcased, divided into several collections. If you are interested in camping, you can browse products only from this category. Their offer is also divided by product type (clothing, footwear, etc.).
One of the most important pros of Facebook Shops is that this service is quick and easy to get up and running. There are no hundreds of options that only complicate everything. On the downside, since Shops are still a novelty, they are not a primary sales channel, and you can figure that out by looking at some of the existing Shops.
With Facebook done, we can switch to Instagram.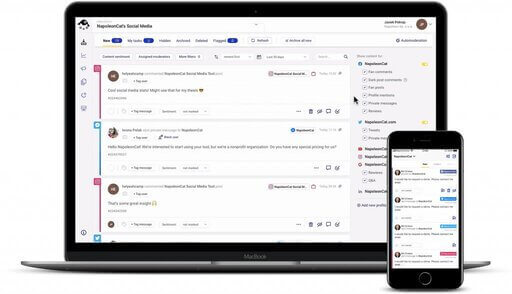 Manage all comments and messages from one view
Use NapoleonCat to manage all of your comments, messages, reviews, etc. – with an all-in-one social media tool.
Elevate the online shopping experience with Instagram
According to data from late 2021, Instagram has over 2 billion MAUs (monthly active users). It's a social media platform that shares a lot of functions and options with Facebook (which, since the same company owns it, is quite obvious). However, Instagram is an entirely different beast.
If we had to compare these two platforms, we'd say that Facebook is more versatile. You can use it to publish posts, participate in discussion groups, share photos and videos, etc. On Instagram, it's all about visual content, and pictures and videos are at the very center of each post and profile.
That said, if you don't have top-notch visuals, you probably won't win much attention. Plus, Instagram is designed strictly for mobile devices, and there are some limits to what you can do via the desktop version. Enough about cons! What can you achieve with this platform?
It all starts with your store on Instagram – a place where you can sell and share your brand history, allowing users to browse your products and collections. Collections allow you to personalize the store's offer by assigning your products to specific themes and occasions, such as new arrivals, gifts, seasonal trends, etc.
Next, you have product information pages, where you can publish all relevant information about the products in your catalog (prices and product descriptions). And just like on Facebook, there is a checkout feature so that you can finish the whole purchasing process without leaving the platform (available only for US-based users).
So, essentially, yes, you can spot the jacket you like, go to the linked Instagram store, choose the version and size you want and purchase it. All within just a few seconds!
Where does Instagram stand out? For starters, it's a brilliant place to make the most of your product photos. If you have really captivating, high-quality pictures of your products, there's no better place than Instagram.
Secondly, thanks to product tags, you can tag products in different photos and direct users interested in them to your profile. You can also increase the efficiency of this technique by using Instagram Ads with product tags.
Finally, you can also announce special promotions and new arrivals with so-called product launches (again, this option is for US-based profiles only).
Moreover, Instagram has a dedicated shopping tab. It's a place where users can discover new brands, products, and offers chosen by the editors, personalized to specific users' preferences. If you want, you can promote your products here as well:
Let's take a look at some great Instagram eCommerce profiles: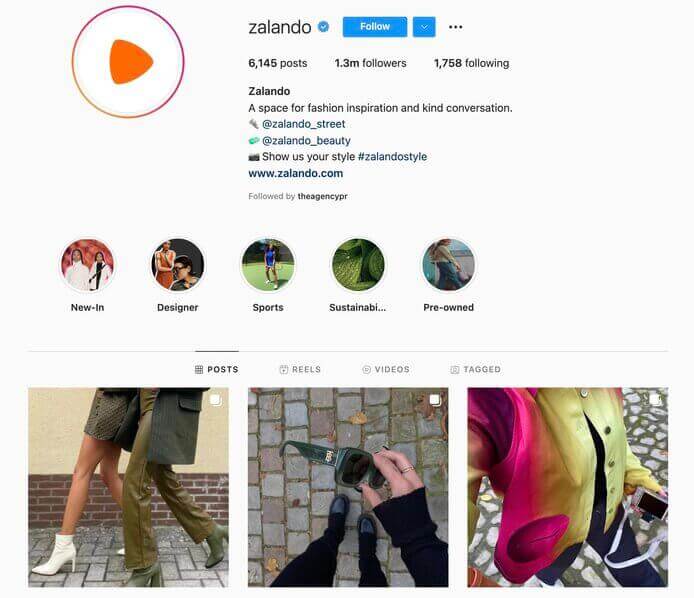 Zalando is like Amazon for clothing. Hundreds of brands, worldwide reach, and a broad offer for both men and women are the reasons why this brand is so popular. Every product they showcase can be easily identified and bought online.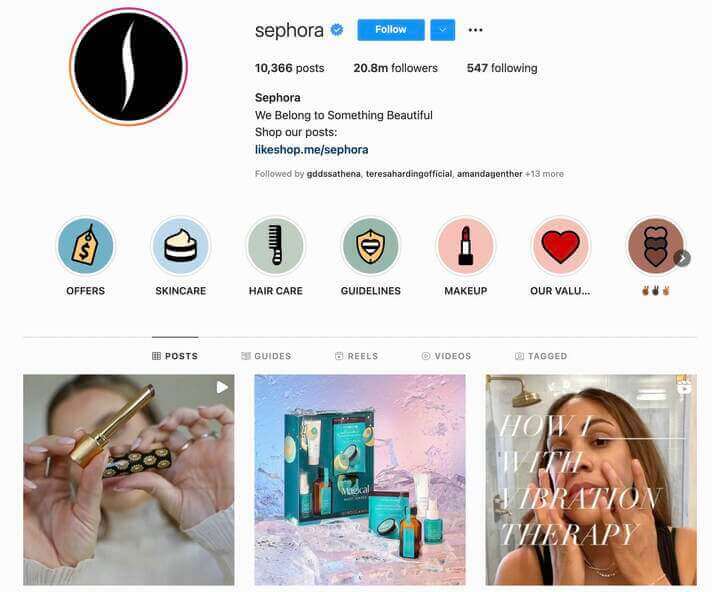 Sephora features beauty products and cosmetics. They show both product photos and short videos explaining how to apply their products and what effects you can expect. And since their offer is quite broad, their Instagram profiles have as many as ten different categories (i.a., skincare, new products, and makeup).
The time has come to show you the last platform on our list – Pinterest.
Pinterest – a vital part of your marketing and social commerce strategy
With "just" 444 million active users, Pinterest doesn't look like much compared to Facebook and Instagram. Interestingly, according to Statista, Q1 2021 was a breaking point for Pinterest.
At that time, they had a record-breaking 478 million users. And that number has been decreasing ever since. However, Pinterest is still a place to be for every online store. It has a lot in common with Instagram. Just like there, you can showcase your products and content in a vertical or square image format. You can also publish short videos and product collections.
In 2019, Shopify published a large article on marketing on Pinterest. According to data cited there:
90% of Pinterest users say this platform helps them to make purchasing decisions
78% find branded content published on this social media platform useful
66% buy products after seeing the brand's pins
How can you start an activity on Pinterest? For starters, you need an account, which is free to set up. Next, you can upload a product catalog and turn it into product Pins. Once you upload a catalog, you'll get a Shop tab on your profile. You can even upload multiple feeds to the same account to control which products show up in different markets.
Pinterest also offers the possibility to integrate your account with the Shopify platform. And their Pinterest tag (which is a lot like Facebook Pixel), once it's integrated with your website, enables you to measure conversions and optimize ads for an improved shopping experience.
Pinterest Ads allow you to achieve four different goals:
Awareness (build brand or product awareness)
Consideration (get more traffic)
Conversions (drive online sales, signups, and subscriptions)
Offline sales (increase in-store purchases)
If you want to know more about Pinterest's offer for eCommerce companies, take a look at their guide.
And again, we want to show you two well-designed Pinterest profiles of leading online stores: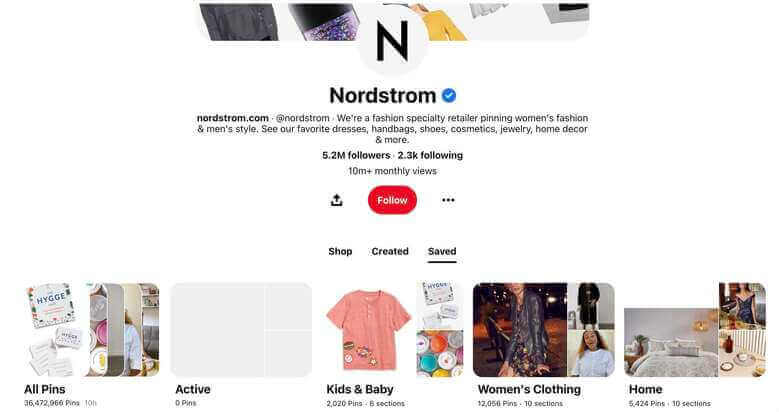 Nordstrom, Inc. is a leading fashion retailer that knows how to make the most of a Pinterest profile. Users can discover thousands of pins and product ideas, e.g., a wedding, college, or home.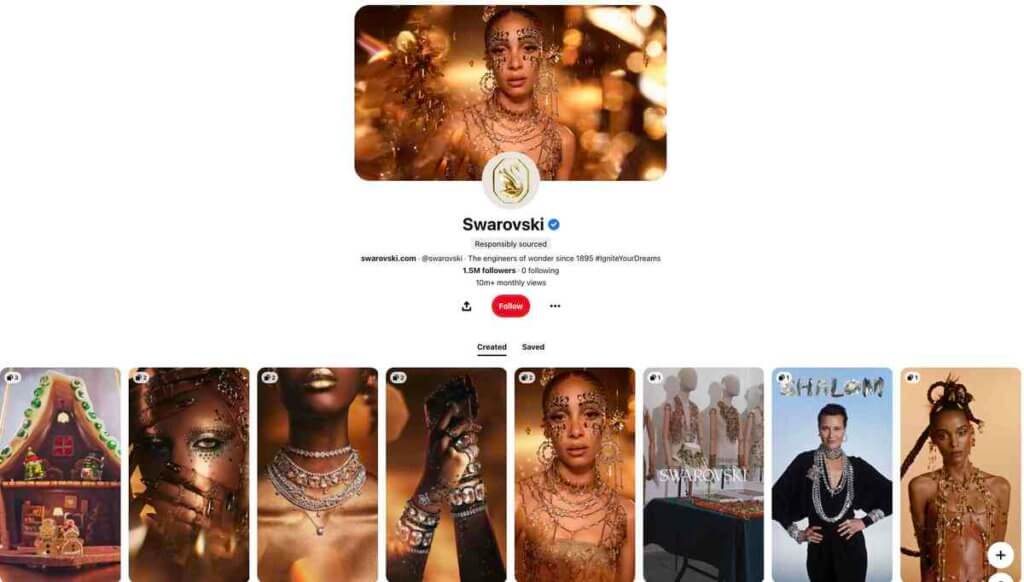 This world-famous Austrian company designs, manufactures, and markets high-quality crystals that can be bought as jewelry or decorations. Their Pinterest profile showcases their products and collections.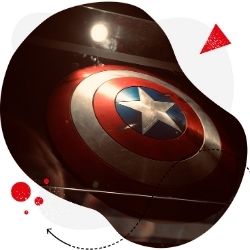 Protect your social media from offensive comments and SPAM
Automatically hide or delete comments containing spam under your organic posts and ads – with an all-in-one social media tool.
Conquer the social media world with NapoleonCat!
We showed you the best social media platforms for eCommerce. Now, let us show you NapoleonCat (and its various features) can help you manage and optimize your social media activities.
Social Inbox – all your comments and messages in one view
The Social Inbox enables handling all social interactions (comments, messages, reviews, etc.) from various social media accounts, platforms, and ad campaigns – all of that is now available in one simple, customizable dashboard.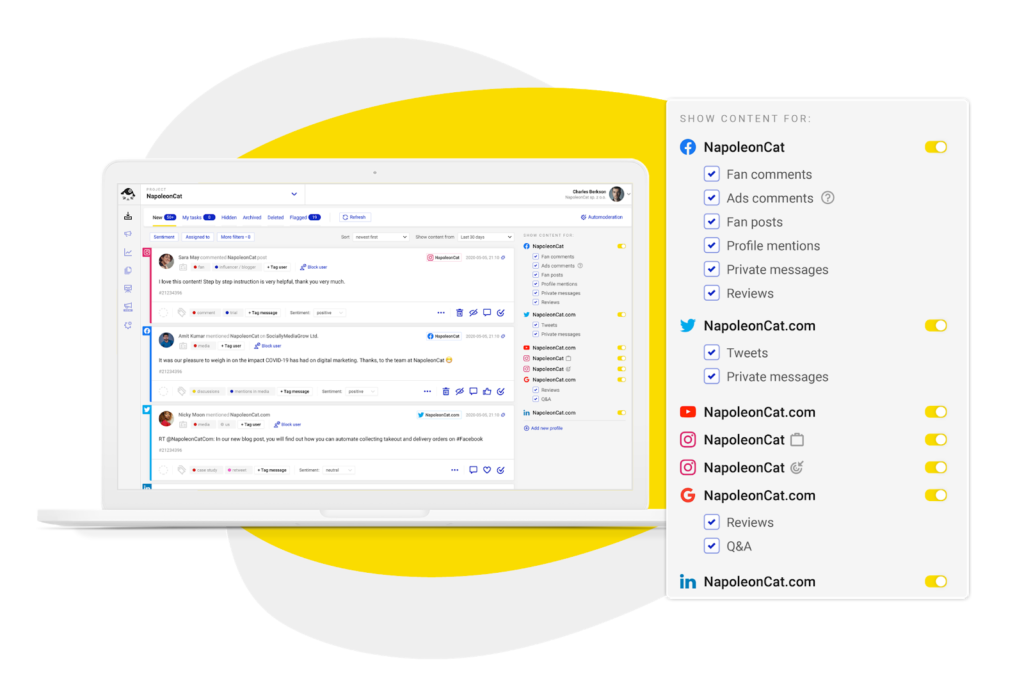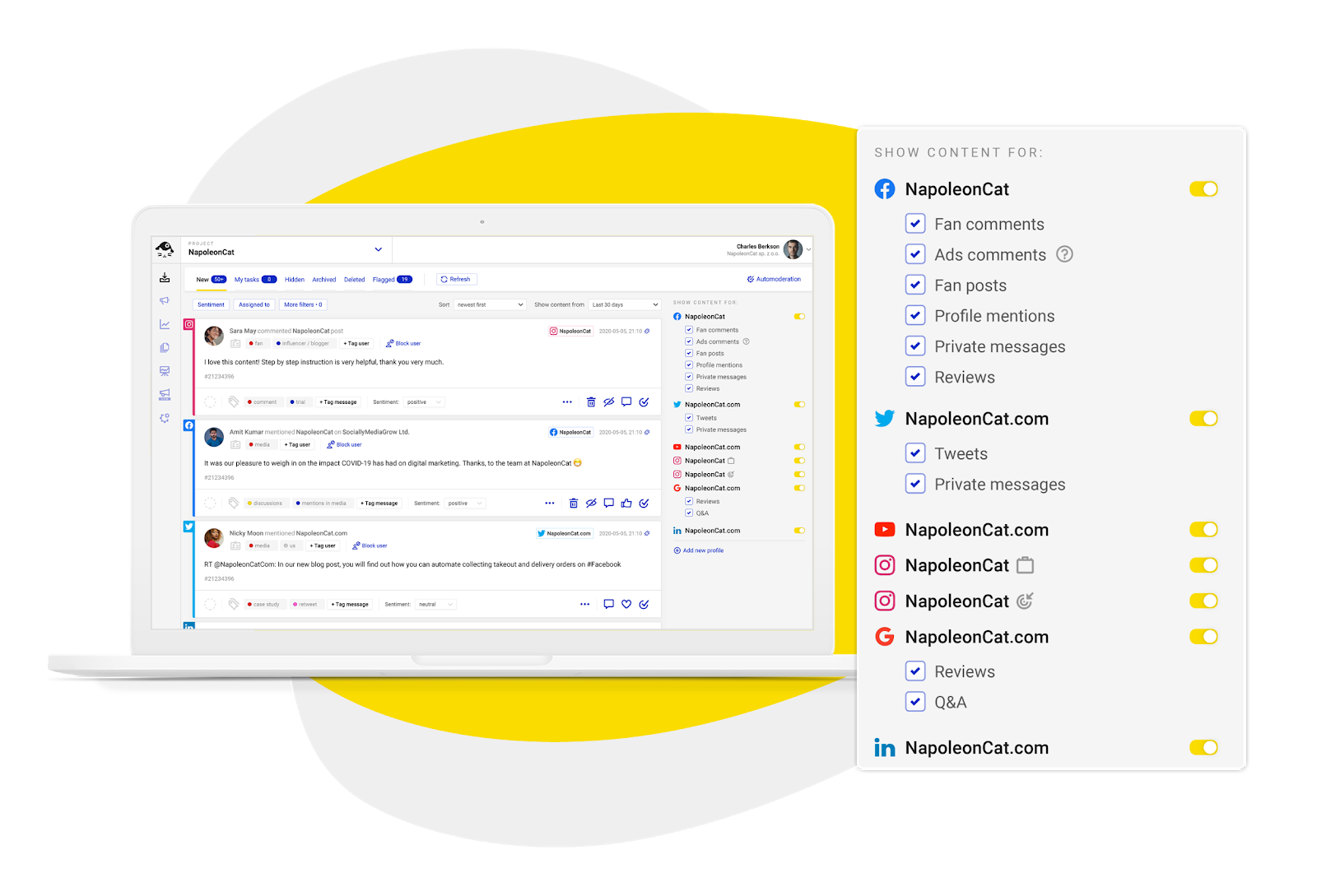 It is worth noting that the Social Inbox also supports multi-language communication with a built-in translation feature, so you can communicate with your followers and fans no matter what language they speak.
Auto-moderation – set up smart replies & protect your social media from SPAM
Auto-moderation helps you with automating the company's social customer service (e.g., automatic replies for comments and messages, automatically hiding or deleting inappropriate comments). Social media automation is where we thrive!
Publisher – automatically publish your social media posts
This tool comes in handy, especially when you run several social media accounts. The Publisher enables you to keep all of your social media publications in one handy content calendar.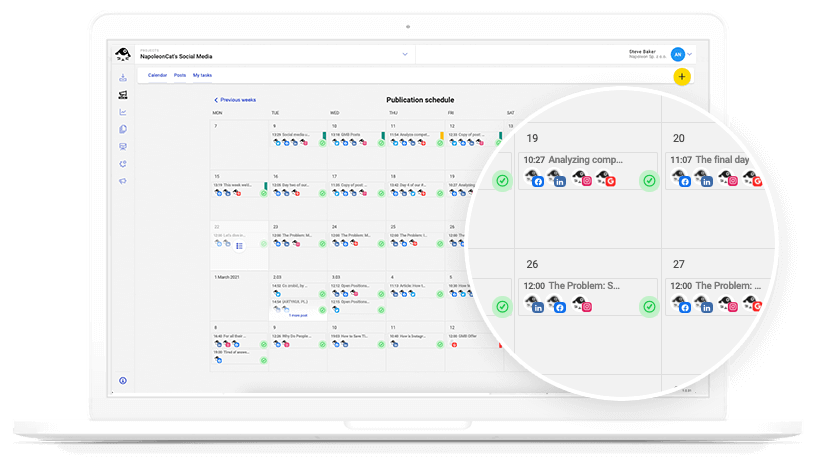 You can create, schedule, and publish posts for:
Facebook
Instagram
Twitter
LinkedIn
Google My Business
All in one go 😉
Analytics and reports – figure out what to post and when
Analyze the performance of your own social media accounts as well as your competitors'. NapoleonCat presents all the key metrics and more in-depth social media statistics for your own profiles and also your competitors.
We've made sure our Analytics feature is fully useful even to less tech-savvy users. You can also facilitate tracking the company's results with automated reports that can be scheduled weekly, monthly, or quarterly.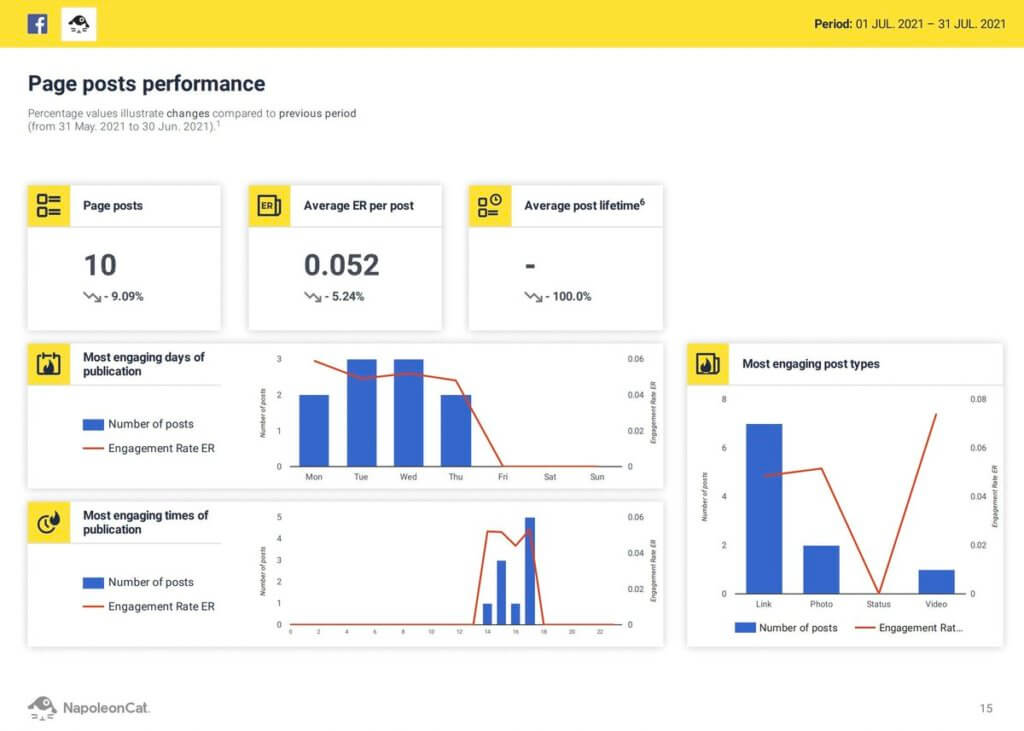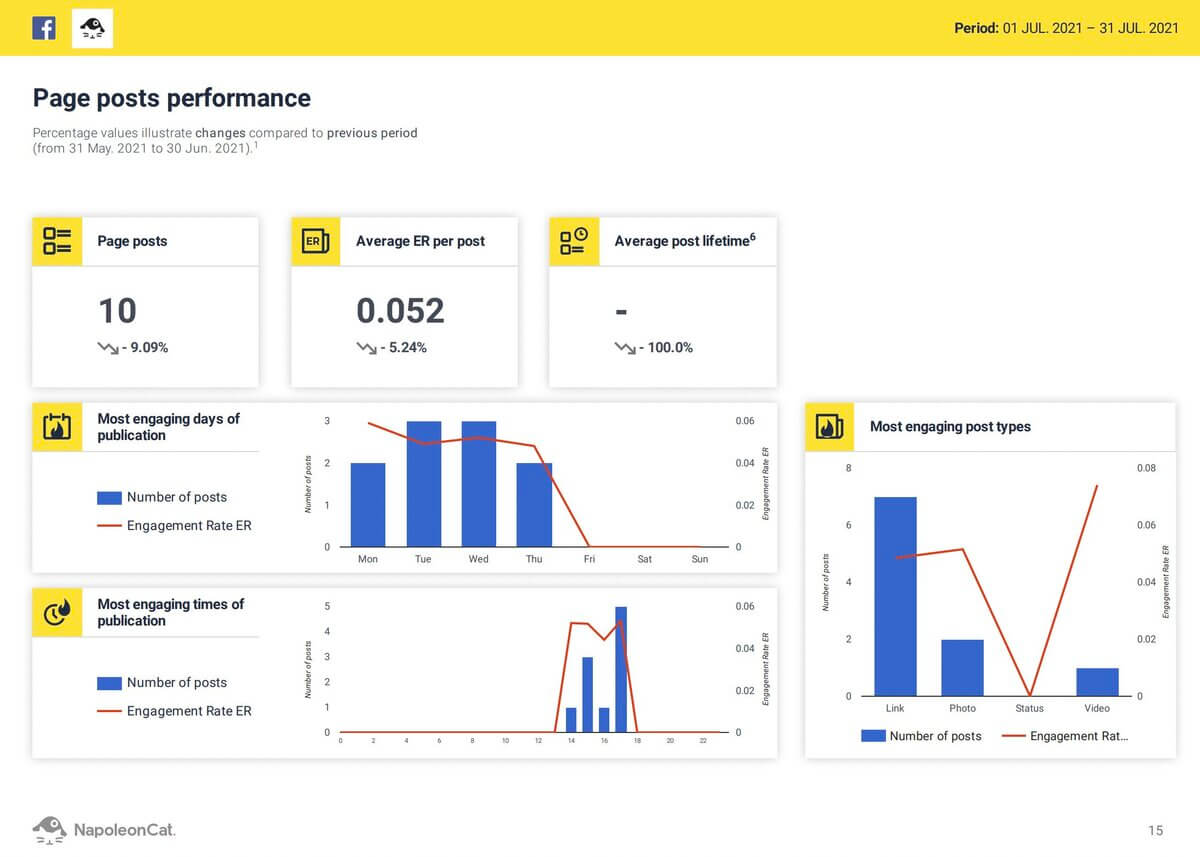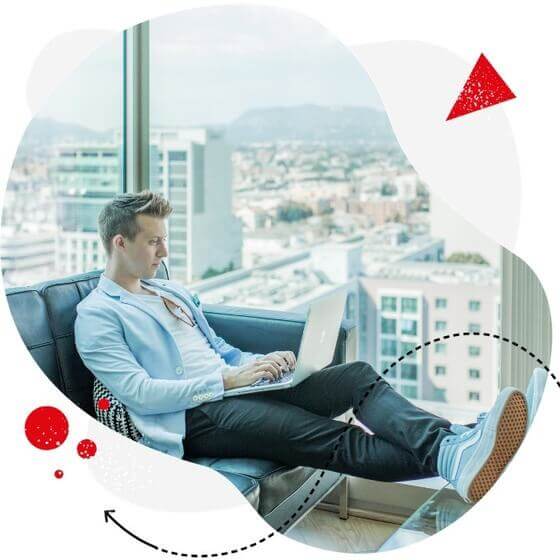 eCommerce social media management
Automate post publishing, reporting, customer service, and more – with an all-in-one social media tool.
You may also like: