Thinking about using Instagram to sell your products online? You're probably on the right track! With over 2 billion active members, Instagram has the reach you need to turn your online retail store into a sales machine.

That said, you need an Instagram eCommerce strategy that works if you want your prospective customers to discover your online store and consider buying what you're selling.
But where do you even start?
You probably have a few questions like:
How do I set up my Instagram shop?
How do I promote my products on the platform?
How do I drive sales on the platform?
This is where we come in. In this guide, we'll cover everything you need to know to get started with your Instagram eCommerce journey. We'll also look at some of the advanced strategies and tactics you can use to make your shop stand out.
Let's get cracking.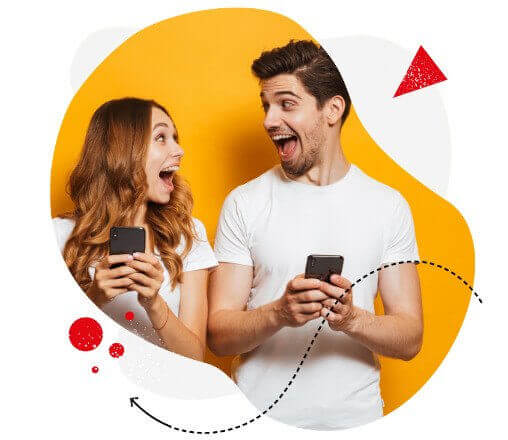 Social media marketing made easier (especially for teams)
Social CRM, automation, analytics, reporting, scheduling, and more. Try NapoleonCat and save 90% of the time spent on your marketing tasks. Try it for free:
Try NapoleonCat free for 14 days. No credit card required.
But first, what is Instagram eCommerce?
Instagram eCommerce is a business model that involves promoting and selling products or services through the Instagram platform. It enables businesses to reach potential customers, build relationships with them, and convert them into paying customers.
Think of it as an extension of your online store – but with an emphasis on visuals and a larger, more engaged audience.
By creating an Instagram profile and posting content, you can quickly build an audience and increase your brand awareness. You can then use various tactics to drive traffic to your online store and make sales through Instagram.
There's more to Instagram eCommerce than what's mentioned above, of course. Before we dive into the details, let's talk about why Instagram eCommerce is a powerful tool for businesses.
Pros of using Instagram for eCommerce
Why use Instagram as a platform for selling your stuff? Let us count the whys.
Instagram increases brand awareness
If you want to get your brand out there, consistently publishing on Instagram is an effective way to do it thanks to the platform's large user base and visual nature. In fact, more than 200 million Instagram users visit at least one business profile daily.
With a sound eCommerce strategy, your brand visibility will increase and, consequently, more people will be aware of your products and services.
Instagram is an engagement goldmine
Reaching your audience is one thing, but getting them interested in what you're selling is another.
And how do you get them interested? By keeping them engaged.
From Stories and Reels to Carousel posts and video posts, Instagram offers the tools you need to create more interactive and engaging content that your audience will enjoy.
According to a study by Social Insider, carousel posts get the highest engagement rate, at 4.90% for profiles under 5K followers.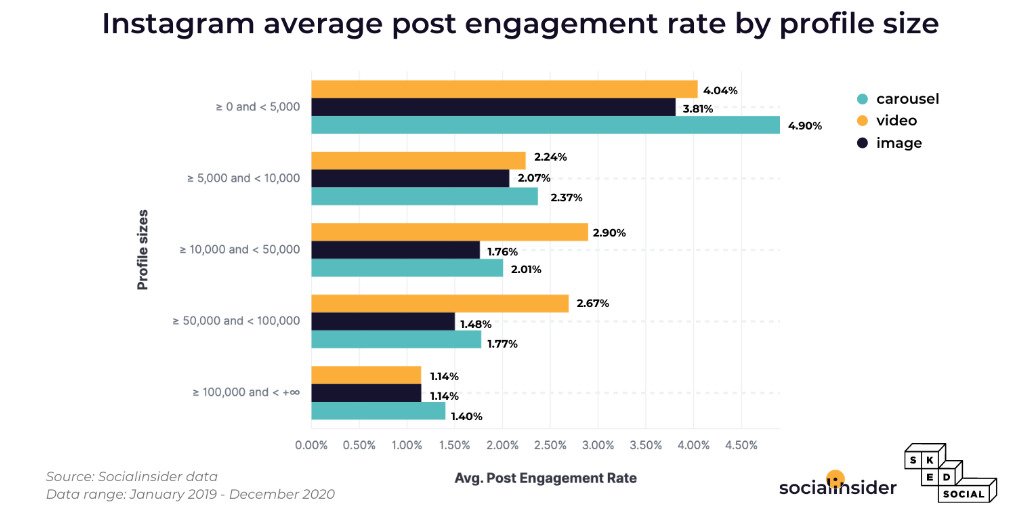 What's more, you can also use polls, quizzes, and user-generated content to keep them glued to their screens.
By keeping your audience informed or entertained or inspired with Instagram's tools, you're creating the interactions you need to spark a meaningful relationship with them. Nurture that relationship, and you're giving them more reasons to check out what you're selling.
Instagram draws users with high-purchase intent
Many Instagram users are trigger-happy online shoppers. In fact, an Instagram study shows that 70% of users go to the platform to look for new products.
This makes sense given Instagram's visual-first focus. Before buying, people want to see what they'll be getting. No wonder 91% of businesses are using video in their marketing in 2023.
And when it comes to video, Instagram has a lot to offer when it comes to helping you build your brand in ways that compel users to buy.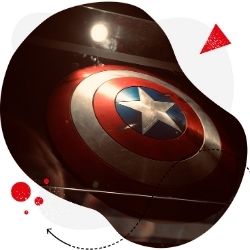 Protect your social media from offensive comments and SPAM
Automatically hide or delete comments containing spam under your organic posts and ads. Try it for free:
Try NapoleonCat free for 14 days. No credit card required.
How to build an effective Instagram ecommerce strategy
Now that you know why Instagram eCommerce is a big deal, let's talk about how you can use it to grow your business. Here are the steps you need to take to develop an effective Instagram eCommerce strategy.
Set up your Instagram shop
To sell directly via Instagram, you need to set up your account for Instagram shopping using Business Manager. Before starting, set up your Instagram profile as a business account.
From there, you'll want to set up a Business Manager account to start creating your shop in Commerce Manager. It's a crucial step to take to ensure that your shop is optimized for the best possible results.
Now that your Instagram shop is up and running, your audience can easily browse through your products and explore your collections without ever having to leave the app.
It's social commerce in action, offering a seamless and convenient way to showcase your products and create an engaging shopping experience for your audience.
Set up an Instagram content plan
You're unlikely to launch a successful Instagram eCommerce strategy without a solid plan in place.
By creating an Instagram content plan and setting clear goals and objectives for it, you can keep track of your progress and adjust your strategy as needed, not to mention help you stay focused on what you need to do to reach them
If you already have a social media strategy in place, now's a good time to review it and see if there are any changes you need to make as you set your sights on Instagram eCommerce.
To set up an Instagram content plan that will serve your Instagram eCommerce strategy, you need to:
Get clear on your target audience: Understand your target audience so you can create Instagram content that resonates with them, and that will nudge them on a path to purchase.
Set SMART Goals: Use the SMART criteria to set measurable goals for your Instagram eCommerce strategy. Common objectives of an Instagram marketing strategy include brand awareness, online community building, engagement, and driving traffic to a website.
Establish a visual identity and brand voice: Establish a distinct visual identity that will help you stand out from the competition. Choose colors, typography, and graphics that reflect your brand so they can be easily identifiable by your followers.
Create an Instagram posting schedule: To set up an Instagram posting schedule that works, decide how often you want to post and stick to it. You can adjust the schedule as you grow. You should also create an Instagram content calendar that outlines content topics and scheduled posts. This will help ensure that your content is consistent and engaging.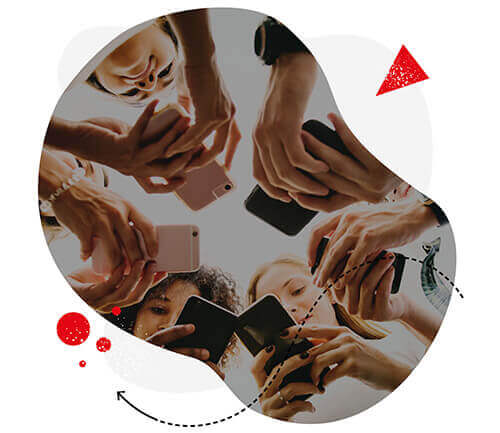 Cross-network social media scheduler for teams
Craft, schedule, and automatically publish content to all your Facebook, Instagram, Twitter, LinkedIn, and Google My Business accounts. Try it for free:
Try NapoleonCat free for 14 days. No credit card required.
Post user-generated content
User-generated content (UGC) is any content created by users that's posted publicly. It can be in the form of reviews, photos, videos, and more.
User-generated content is one of your most powerful sales tools. Because let's face it – customers are more likely to believe their fellow customers. In fact, a CMS study shows that 90% of consumers' purchasing decisions are influenced by UGC (user-generated content).
The great thing about Instagram is that it gives you the perfect platform to share user-generated content and show off your customers' reviews.
Here are a few ways to incorporate UGC into your content plan:
Feature customer photos in a "Customer of the Week" post
Share customer reviews in your Stories
Ask customers to share their photos with a designated hashtag
Host giveaways and contests and ask participants to share their entries
To give you an example, here's Starbucks sharing user-generated content featuring two happy customers inviting users to try out the new Red Velvet Loaf.
Leverage influencers
Influencer marketing is one of the best ways to get more eyes on your brand and generate more sales. Influencers have large followings that trust their opinions, so when they share about your products, it can go a long way in boosting brand awareness and driving conversions.
When working with influencers, make sure you partner with ones whose followers match your target audience. If you sell yoga apparel, for instance, you should look for influencers who specialize in yoga and fitness.
You also want to make sure the influencer's post is tailored to your brand's style and tone of voice. Collaborate with them on the messaging and visuals before they promote your brand on Instagram. Give them a detailed brief of what you need, but at the same time, make sure they also have creative freedom.
Aloyoga, for example, partnered with blogger and yoga instructor Holly Bentley to create content that features one of their products.
Use Instagram ads
You can't possibly reach all of Instagram's 2 billion active users, but you can run targeted ads to get your message across to the ones that matter: your target audience.
Running an Instagram ad campaign is also a great way to bring more people into your funnel and convert them into paying customers. In fact, 50% of users are more interested in a brand after seeing ads for it on Instagram.
To launch an effective ad strategy that gets your audience buying, make sure you:
Choose the right format: Instagram offers a range of ad formats, including image, video, carousels, and Stories. Choose the format that best suits your content and your audience. For example, if you want to showcase multiple products, carousel ads may be the best option.
Write compelling copy: Use a clear and concise message that speaks directly to your audience's needs and desires. Focus on the benefits of your product or service ("Say goodbye to painful sunburns with our natural sunscreen" for example) and make sure your call-to-action is clear and compelling (e.g., "Learn more", "Shop now").
Test and optimize your ads: Once your ad is live, monitor its performance and make adjustments as needed. Experiment with different visuals, copy, and targeting options to see what works best for your audience.
Remember to keep track of your campaign performance and adjust your strategy accordingly. With the right Instagram ad strategy, you can reach more customers and drive more sales for your eCommerce business.
Use social customer service to support your customers:
Even in an age where customers do most of their shopping online, customers still like to feel valued and appreciated. In fact, 88% of consumers have even higher expectations than before when it comes to customer service.
To show your customers you care, incorporate social customer service into your Instagram eCommerce strategy. This means responding quickly to direct messages and comments from customers who have questions or complaints about your products or services.
That way, you can demonstrate that you truly value their opinion and want to help them. This can help create a positive impression and build customer loyalty for your eCommerce business.
Integrate social media into your customer service workflow
Now keeping customers happy and engaged on social media via customer service at all times is as difficult as it sounds. Even more so if you manage multiple Instagram accounts, which involves manually switching between accounts or scrolling through multiple comments and DMs.
To make this task easier, incorporate Instagram directly into your customer service workflow. There are a variety of tools and services that allow you to do this.
NapoleonCat's Social Inbox, for example, can ease the burden by having all comments and DMs from customers in one place.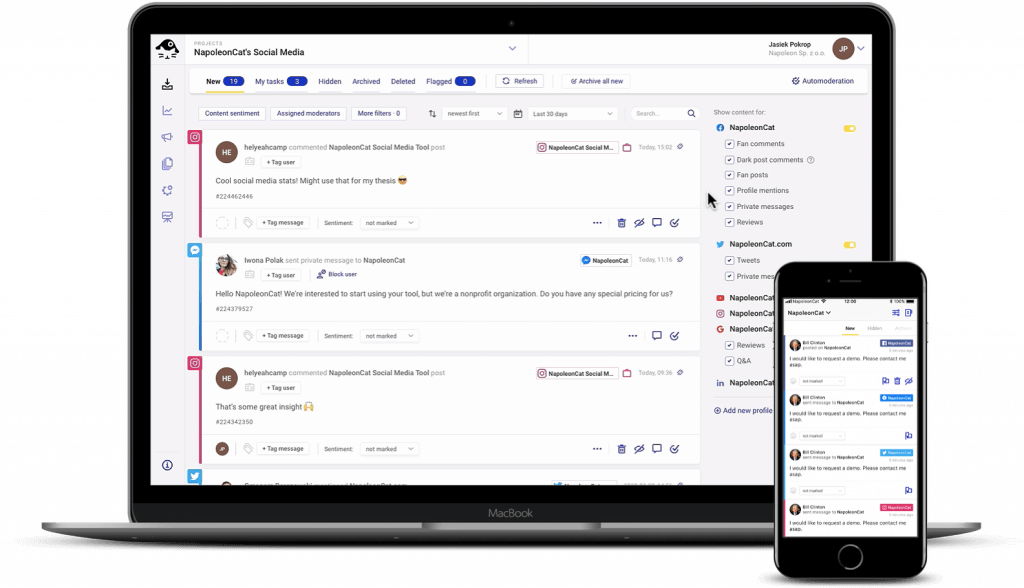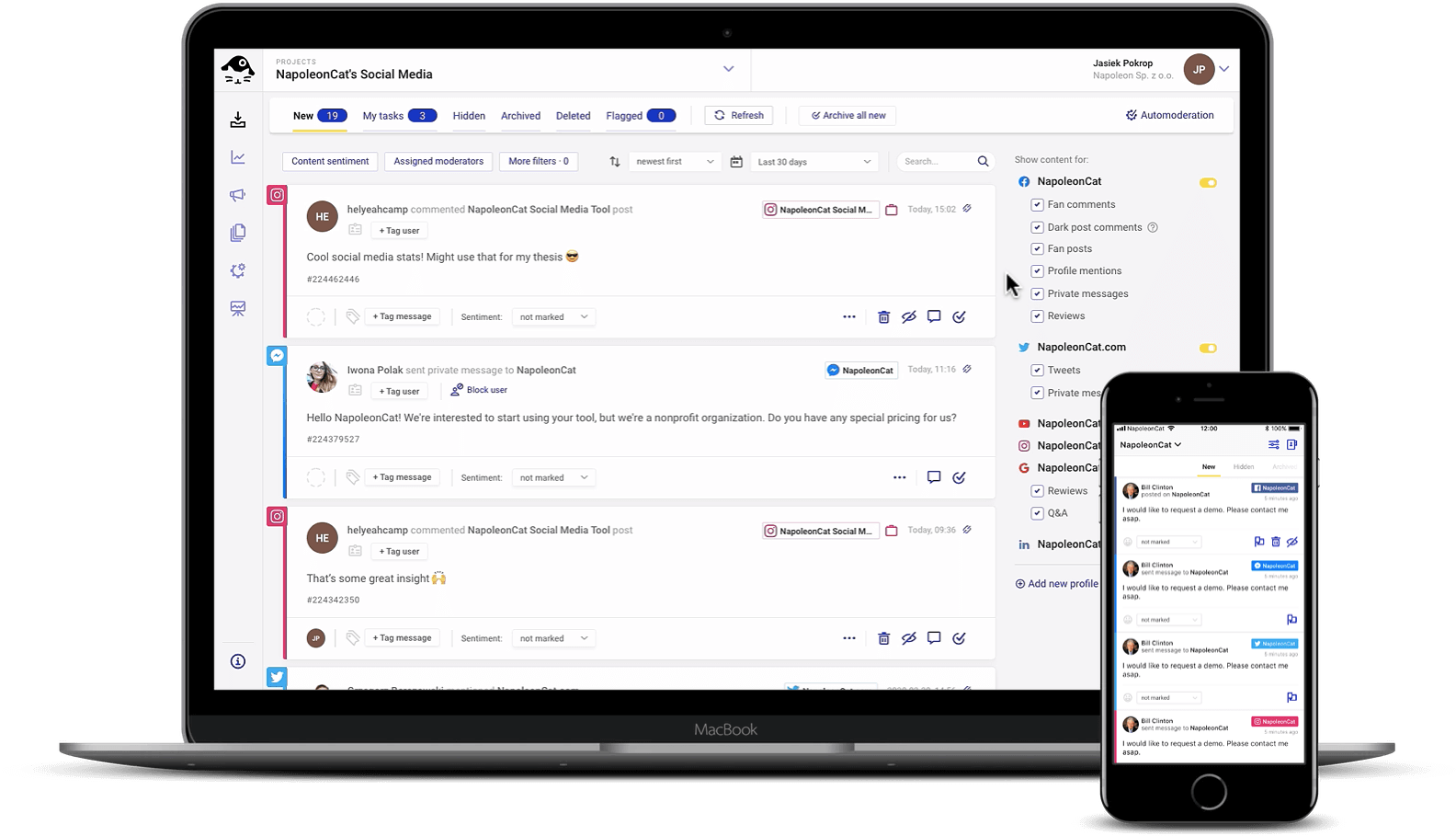 Because you're able to access all of your social media accounts in one single place, it becomes much easier to respond quickly and efficiently to customer queries.
What's more, this tool turns each interaction into a customer service ticket that can be assigned to team members, making it easy to track who is working on each issue and ensuring that no comments or complaints are missed.
Set a customer service workflow where personalized responses become the norm
However, good customer service requires more than just quickly responding to messages. You should also create personalized customer service experiences, just like you would if a customer came into your physical store.
To pull this off, create Social CRM profiles of the customers who contact you via DMs or comments. This way, you can get access to the entire conversation history for each customer, which gives you all the context you need to anticipate their needs and make informed decisions.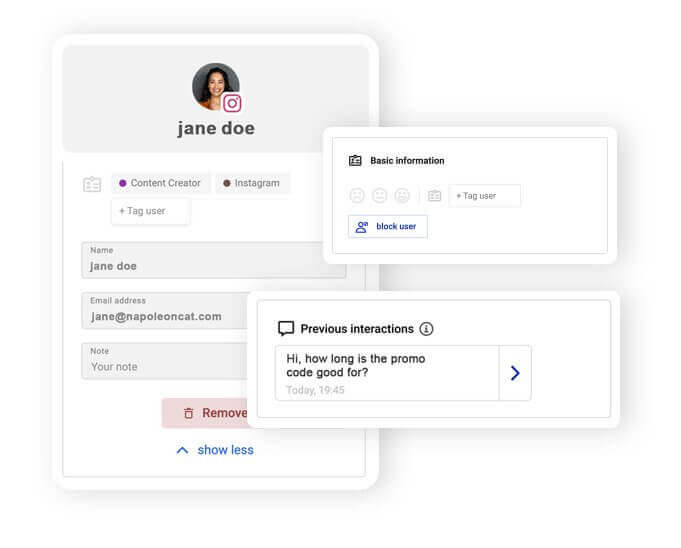 This, in turn, helps you develop more personal customer relationships and inspire brand loyalty.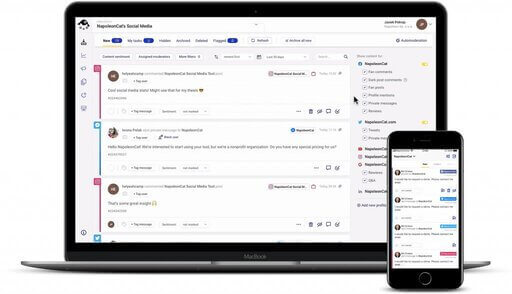 Manage all comments and messages from one view
Use NapoleonCat to manage all of your comments, messages, reviews, etc. – all from one simple dashboard. Improve your social customer service and work in a team. Try it for free:
Try NapoleonCat free for 14 days. No credit card required.
Auto-moderate repetitive conversations
Let's face it. Customer service can get repetitive. How many times have you answered questions like "What are your business hours?" or "When will my order arrive?"
In order to free up time for complex customer inquiries and enable your team to focus on more meaningful conversations, let automation tools take over the task of moderating repetitive questions. Such tools are programmed to detect common queries and respond with pre-created messages when triggered.
This is where NapoleonCat's Instagram Auto-moderation feature can help. With this feature, you can set up smart auto-replies for common questions (for both ad and organic comments) like delivery times and business hours so that customers get an immediate response without your intervention.
We made a short video tutorial that shows Auto-moderation in action:
This way, your customer service team will have more time to focus on complex service requests and interact with customers in ways that show you really care about their experience.
Final Word
Instagram is a powerful tool for eCommerce businesses – you just need to know how to use it correctly. By creating engaging visuals, running effective ads, and providing excellent customer service, your business can grow its presence on the platform and drive more sales in the process.
Follow these tips to leverage Instagram and watch your eCommerce business reach new heights. Good luck!