These days, power lies with the customer. Markets have never been as competitive as in the globalised, digital world, with the result that consumers now set the tone of their relationships with businesses, and the whole process happens in real-time. Oh, how the tables have turned!
So, now more than ever, you – the brand – need to know your customers. This is where traditional CRM systems have always been important. But now that more and more businesses are learning about their target markets through social networks, updated social CRM solutions are on the rise.
Gathering and tracking customer information is a vital component of effective CRM, and on social networks, there are more opportunities to interact with and learn from people than through any other marketing activation. Employing a social CRM strategy creates a great opportunity for brands to build informed frameworks for dealing with client interactions, managing current and potential customers, and optimising business relationships in general.
But let's take a step back to make sure we're all on the same page…
What is social CRM?
Social media CRM is a customer relationship management software with a focus on social customer care. A good social CRM system will help you:
streamline communicating with customers through social media
track how social media users engage with your brand online
perform social listening for online mentions and reviews
label users and conversations
organise team work
report on all your social customer care activities
These functionalities will, of course, make your team's lives easier, but they won't solve any business needs unless they're placed in the context of an overarching social media strategy.
The main purpose of using a social CRM platform is improving the quality of your social customer service – and, effectively, the volume of social conversions. How? By drawing actionable conclusions from the insights provided by your CRM tool.

Let's take a deeper dive into the benefits of implementing a social CRM solution.
Why should you use a social CRM tool?
Good social CRM involves more than a simple social media integration. Savvy marketers use it to find synergy between sales, marketing, and customer service. But the crux of effective social CRM does not lie in how many immediate sales come about as a result. Instead, the beauty lies in freeing up your team to make better decisions and provide standardised, reliable customer support.
As mentioned before, great CRM tools streamline business processes and make the company measurably more able to meet customer needs. This is bound to eventually translate into better sales, but you have to make the effort to analyse and understand the data your solution provides. To make that possible, it's best to define specific goals for your CRM strategy. These might include:
Finding customers and making them happy
One of the most common priorities is naturally lead generation. We know the key here is engaging an audience through interesting content and so on. Within a CRM framework, this means you must listen to what your audience is saying about the brand on social networks, so you can adapt your strategy to better fit what customers want. It should be a win-win!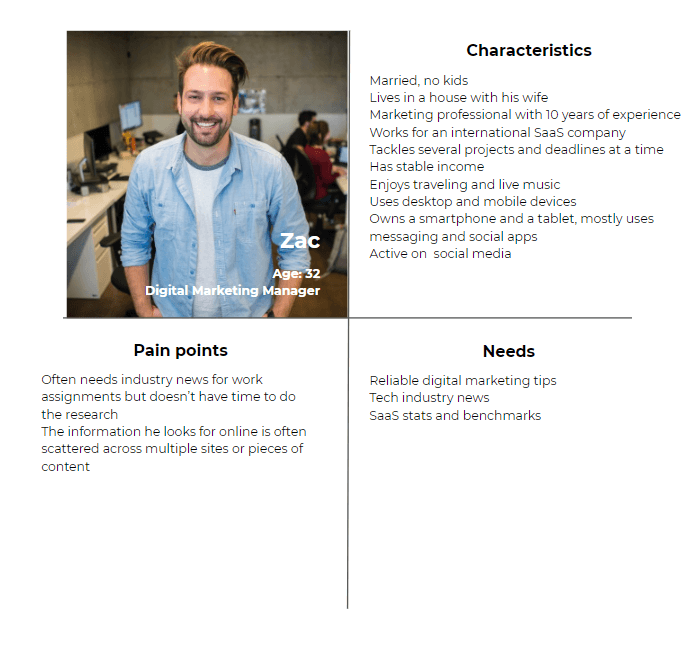 What is important here are broadly two aspects of the customer-business relationship. First, you want to prioritise the right customers. Otherwise, you might waste time and other resources. Only then do you work at building sustainable rapport. A CRM system helps you explore the aims and goals of your customers and then engage those motives in ways you wouldn't be able to without social media.
Maximising customer lifetime value (CLV)
The concepts of CRM and CLV go hand-in-hand and both stress the importance of ongoing interactions between businesses and consumers. Your CRM can be considered a success if you boost your CLV by converting customers and then seeing repeat transactions.
This is especially relevant nowadays as consumers always have the option to buy cheaper online. A well-informed store owner will analyse a customer's social profile and assess their value across the period of time since their first purchase, before providing a tailor-cut incentive for them to return.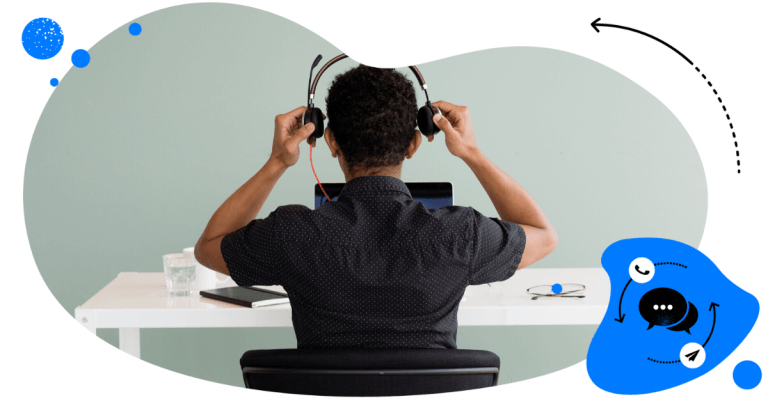 Social customer care
Deliver timely responses to customers in social media. Manage unlimited Facebook, Instagram, Twitter and LinkedIn pages in a single inbox.
Try NapoleonCat free for 14 days. No credit card required.
Scaling, standardising and automating
For mid-sized companies, there is no excuse for not having a scalable way to manage customer interactions. Providing consumers with a personalised experience is a trend which most brands have picked up on. Make sure you have a well-defined structure for talking to customers that keeps in tune with your brand voice, regardless of which social media moderator or customer care agent happens to answer a particular inquiry.
Once you figure out the tone in which you want to communicate with your customers, remember that response time is everything on social media. Ensuring that customers get a response, even if it's automated, can make a world of difference. On occasion, it might even provide a speedy resolution to their issue.
Keep these goals top of mind when choosing your social CRM tool. It's best to aim for a solution that will help you with the entire scope of your relationship management-related KPIs. NapoleonCat's Social Inbox is made for managing all of the discussions happening across your social media accounts. It makes answering, tagging, or hiding messages, posts, and comments or sending tickets to team members or supervisors for review easy and intuitive. Using the CRM functionality, you can create user accounts for extended context when dealing with returning customers. And once all of the work is done, detailed moderation reports will help you assess your team's work and identify potential areas of improvement.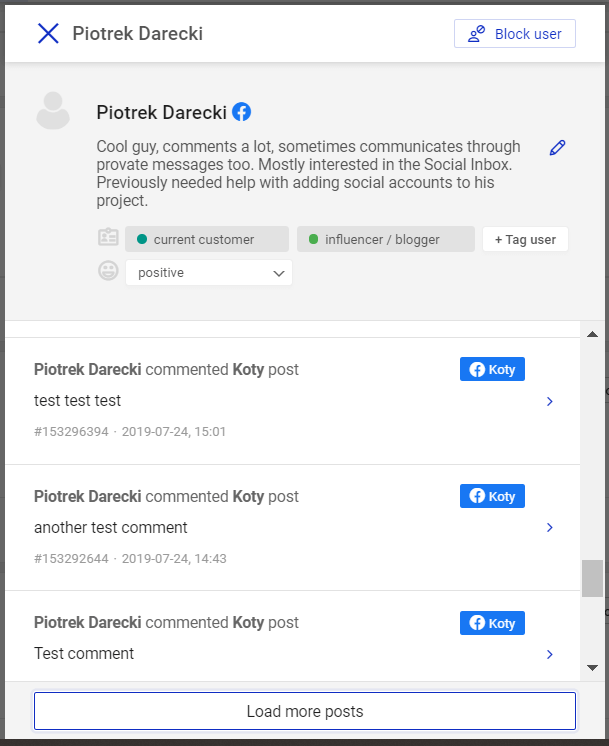 Best practices
Get your 'dos and don'ts' in order! Follow this list as a rough guide to ensure that you're not just making the most of your social media integration, but also working to minimise the risk of social disasters.
Do:
Ensure your customer support team have the knowledge to respond quickly to customer queries
Recognise loyal customers and reward them with discount codes and goodies
Monitor conversations so you can identify problems before support tickets start rolling in
Use audience insights to target the right people with your organic and paid communications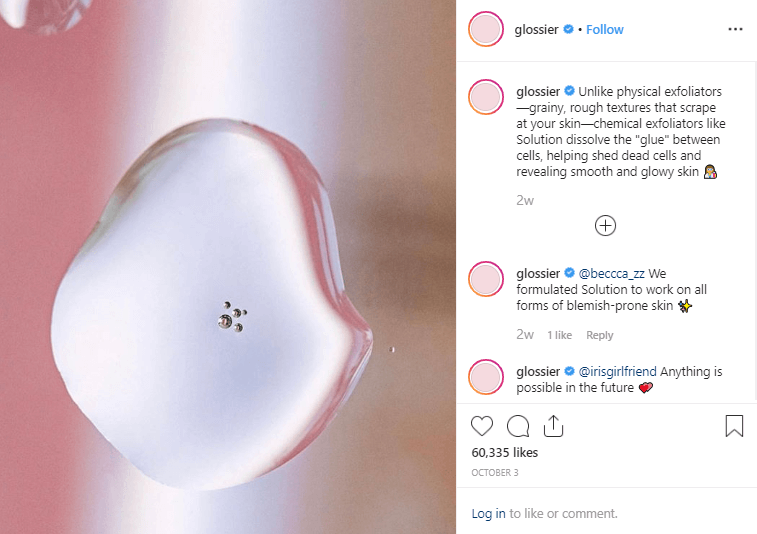 Don't:
Treat your social CRM as a standalone tool – it has to work with your broader social media and social customer care strategies!
Invest in a management tool without creating an action plan and road map
Be impersonal in conversations with customers – talk to them like a human being!
Underinvest in CRM solutions if your budget allows – a good tool really makes all the difference
Round-up
Breaking down the barriers to effective social media management is crucial for those stuck on traditional CRM systems which, while still important, are not adequate for most online platforms. Interactions flow differently on social channels and brands must adapt their strategies in real-time.
Deep knowledge of customer behaviour and opinions can contribute to an efficient system of lead generation and follow-ups with the ultimate aim to convert. Using social media data can supercharge your business operations. It's as easy as knowing what to look out for.
Find synergy between your business and consumers on social networks through a CRM solution that gives you all of the insight needed to understand what your customers want from you. It's simply too valuable to the modern business to avoid!