What are the latest trends in customer experience? Business owners and marketers alike should be asking this question on the regular – if you don't monitor the market, stay on top of best practices, and analyze insights, you risk falling behind your competition.
In 2020, interactivity and ample communication are customer care standards across industries and channels of communication. In this article, we will tackle how you can implement these values into an actionable social customer service strategy that will serve your clientele in their natural environment – on social media.
Connect with your customers on relevant platforms
The digital landscape is rapidly changing and so is business. Recent studies point to well over 3 billion (sic!) people already using social media – it's safe to assume that a large chunk of your customer base is there too. In the age of information overload, it's become especially important to find relevant and meaningful ways to communicate with your consumers – how and where they choose. One way of doing that is making yourself available to answer their questions and provide exceptional service on social media platforms they use in their daily lives.
When approaching social customer care, knowing your consumers is key. Research which social networks they're most active in and accept that your findings might differ for the gender, age, and geographical location groups that make up your target audience.
Observe where your patrons engage with businesses – are they more likely to tweet at a brand or comment on a branded Facebook post? A good rule to follow is to become an active member of discussions around your brand on every platform, even if the buzz is bigger on some social media channels than others.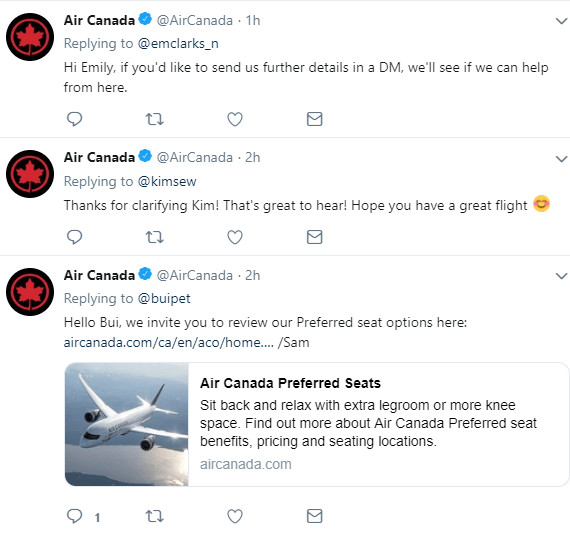 Replying to tweets, comments, and mentions is a good start, but you can and should be doing much more to drive direct communications with your customers – and messaging apps are where it's really at! WhatsApp, Facebook Messenger, WeChat, QQ, and Skype combined have more users than traditional social networks worldwide and using them to communicate with existing and potential clients can be a worthwhile addition to your customer support strategy. Messengers and DMs offer the unique opportunity to create an immediate direct and personal connection with the customer, with relatively little effort compared to traditional techniques: phone and email.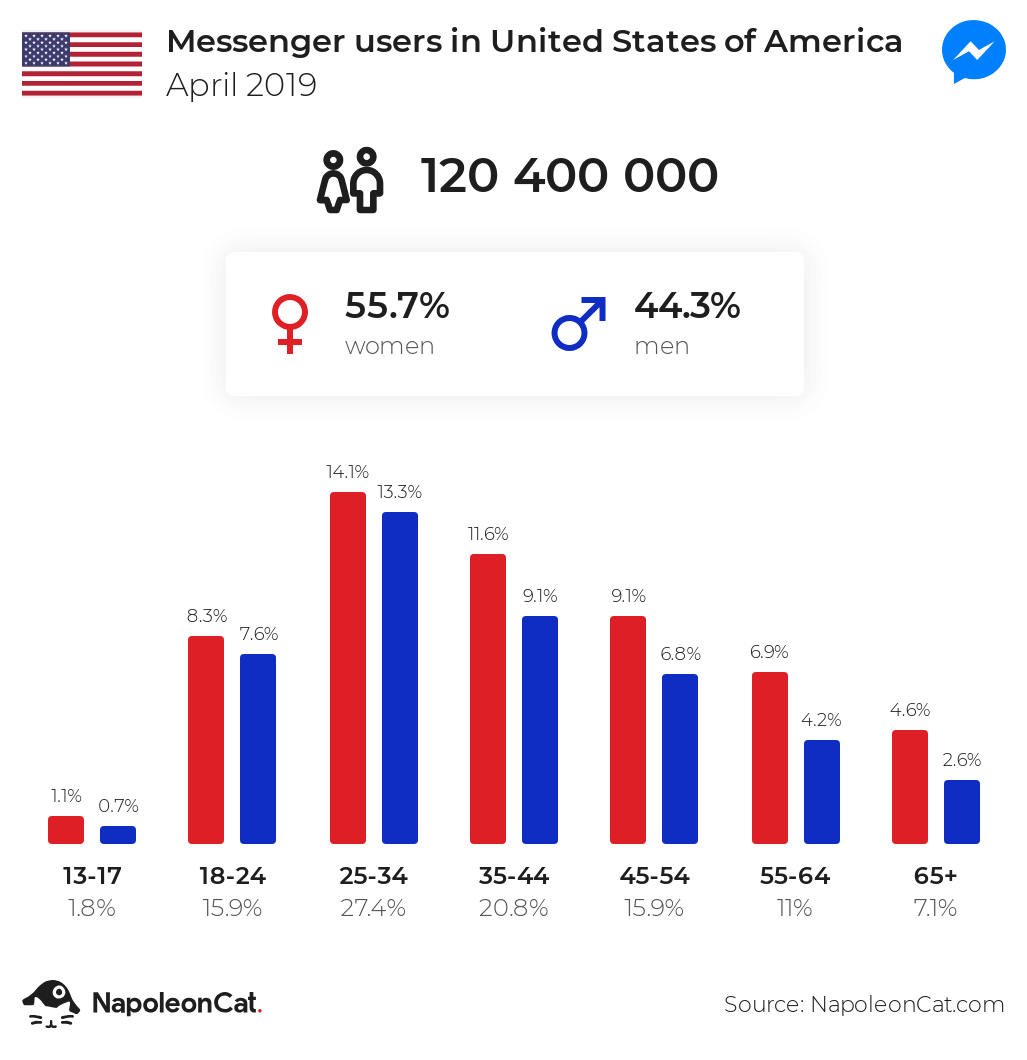 Trust me, your customers will appreciate your social media customer care efforts. After all, *no one* enjoys phone calls to help centers or filling out impersonal web forms. Consumers are increasingly likely to choose social over traditional channels – and there is a growing market of tools that can make your customer service team's transition to social media easier.
Use artificial intelligence and automation in customer care
Social media bots and customer service AI have been generating a lot of buzz in the marketing industry for the last couple of years and it seems like they are here to stay. Automated response tools developed a bit of a bad reputation. Many see them as a blatantly artificial and impersonal means of communication and believe that the lack of human insight results in little value for customers. This might have largely been the case in the early days but it's 2020, and social media automation has come a long way.
The key to successfully using AI to boost your social customer care is knowing where to draw the line – some issues will always require an agent's help, period.
Automatic moderation tools work best when used for simple, predictable issues. Knowing what questions social media users are most likely to ask (e.g. sizing, stock availability, and shipping questions in e-commerce), you can program answers into your automation tool and only hand it over to the customer service team when more complex questions arise. Think of this as an interactive add-on to your FAQ section.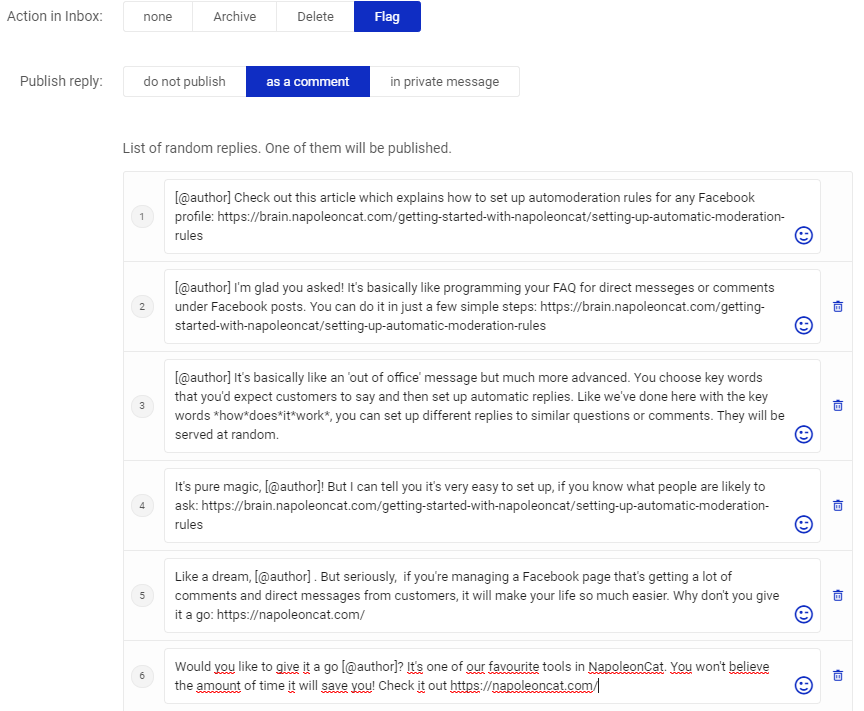 But how do you avoid sounding like a robot when you contact customers through automated responses? Tools like NapoleonCat let you create several answers to any given question or comment under a Facebook post, both organic and sponsored, as well as private messages including specific keywords. It lets you add a personal touch to make the communication seem more personal by including the customer's name tag in the triggered response.
Varied responses make the auto-reply functionality less robotic as fewer customers receive the exact same answer while contributing to a faster response rate.
Resolve issues in real-time
Once you make yourself available on social media, customers will expect that you – as a business – use the platforms in a similar way as they do. Users want to be able to chat with a brand in a similar way they would talk to a friend, which means that quick, conversational reactions are a must.
This can be both a challenge and a blessing for your customer service strategy. Do it right and you'll grow a loyal, returning customer base, sure of the quality of service you provide. Bots and AI tools discussed above can definitely help you with this objective but they will never be able to fully replace human customer agents. The trick is to combine the two into an efficient system your clients will love.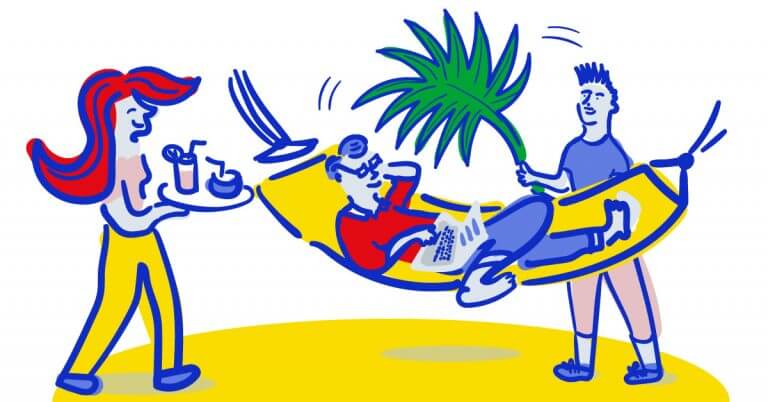 Social customer care
Deliver timely responses to customers in social media. Manage unlimited Facebook, Instagram, Twitter and LinkedIn pages in a single inbox.
Try NapoleonCat free for 14 days. No credit card required.
Maintaining a good response rate is key, but how quick is quick enough? Research findings confirm the urgency of the matter. A recent study from Website Builder quotes that a staggering 40% of consumers expect an answer within 1 hour when contacting a brand on social media, 32% think that 30 minutes is a reasonable response time, and an impatient 11% want to be answered immediately.
How do you deal with such high expectations? Unless you have a customer care team online around the clock, you can't expect your employees to answer every single customer inquiry within such a short timespan. It's a very good practice to track response rates and set realistic guidelines for your team – software tools such as Salesforce, Zendesk, or Intercom can help you organize the workflow, measure performance and make improvements. And when your team is offline or dealing with a high volume of customer service tickets, automation can step in and shine.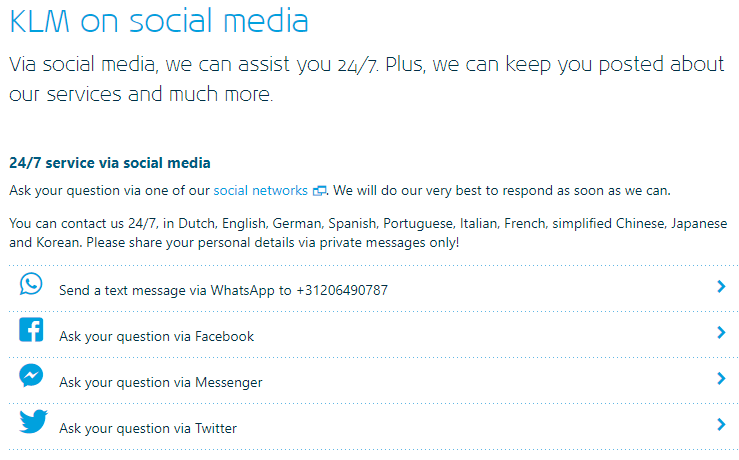 Here are some great ways automated responses can complement your customer care team's efforts:
Automatically notify your customers that their inquiry has been noted and will be answered shortly.
Add an estimated response time for full transparency.
Let customers know if they can reach you using other means of communication if their issues require urgent attention.
All of these steps can be achieved by setting up automated responses to posts, comments, and private messages and will make your team's life easier while keeping your customers happy. Combining human responses with automated moderation makes for a seamless customer experience, which, at the end of the day, is the main goal of social customer care.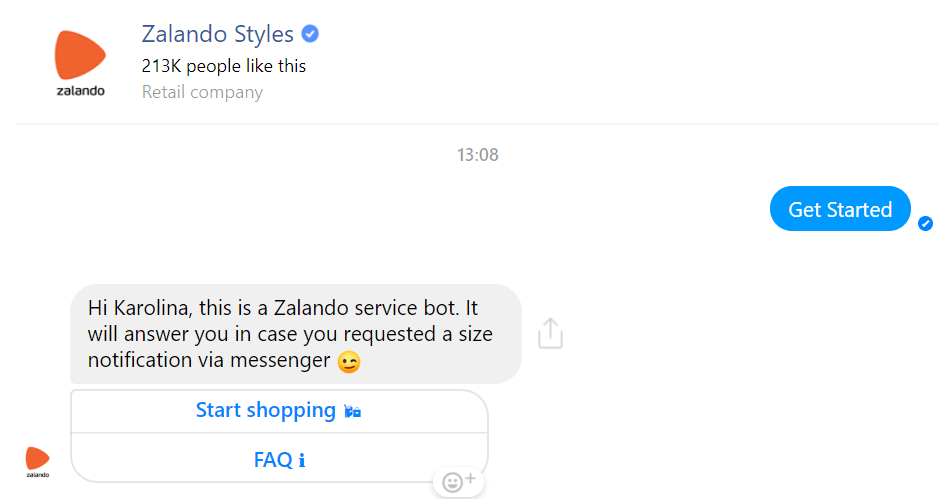 Elevate your customers' experience
Social customer care's main purpose is pretty self-explanatory – you resolve customers' issues and answer their questions on social media. But once you've established a personal connection with a customer in their natural environment, why not make the most of it? Enhance their experience by adding a little bit of magic to the pragmatic exchange of information. To wrap up, we created a list of actions you can take to make sure that the clients you connect with on social media are left with smiles on their faces. Take the opportunity to surprise and delight them on top of providing excellent customer service.
Make it fun – unless you operate in a typically serious sector (e.g. banking, insurance, health care) and your industry has certain standards for the tone of voice used in social media communications, try implementing emojis and gifs into your communication when appropriate. Toning it down a notch makes your brand more relatable and takes the edge off the customer service interaction. Simply speaking, create a social media persona your customers will like.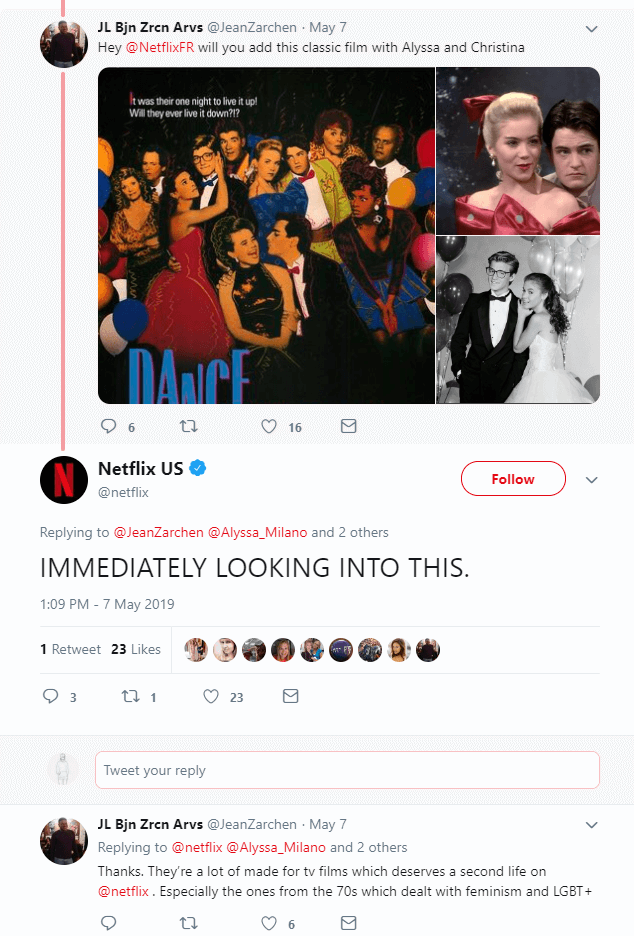 Check in – when dealing with customer service issues such as late shipments in the e-commerce sector or technical difficulties experienced by software users, consider setting up reminders to check in with customers a couple of days after the issue is resolved. Most consumers do not expect this level of involvement from a business and investing time in a follow-up is a powerful strategy to show your clientele that you are ahead of the competition.
Advertise – targeting customers with ads during direct interactions might sound risky, but hear me out. Knowing what a specific customer is interested in and understanding why they are reaching out to your brand gives you the unique opportunity to present them with products or promotions that specifically fit their needs. Thoughtful use of actionable ads can provide your customers with additional value and help your business hit marketing objectives.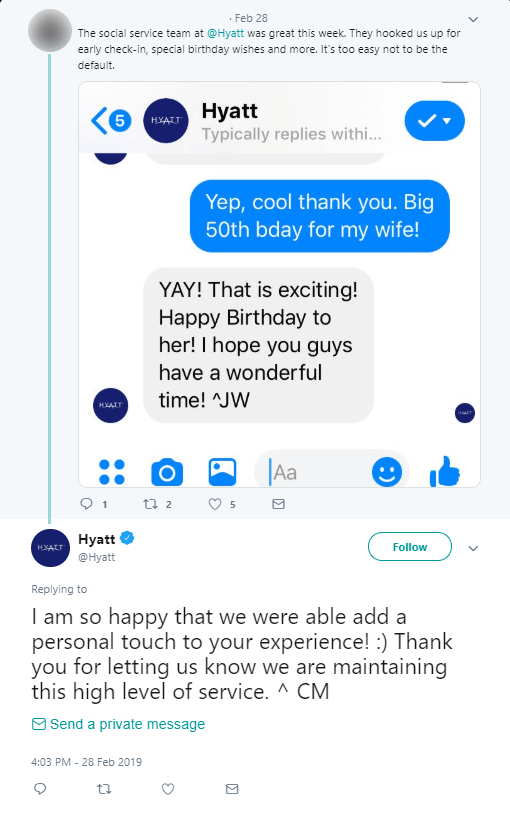 Respect privacy – customers will often reach out to you with questions or issues via Facebook post or comment, tweet, or another form of public interaction. When doing so, they might – often unwittingly – expose sensitive information. Make sure to move such conversations into a private space (DMs, private messages, etc.) and notify your customers of potential risks – they will appreciate your mindful approach to privacy.
Be empathetic – this last and seemingly obvious rule should be a standard across all fields and strategies of customer service. Remember that your customers are real people and treat them with respect and empathy. A friendly, helpful tone across all of your channels of communicating with the public truly goes a long way.
For more reading on social customer service and social media marketing strategies, check out these articles:
Customer Service Response Time on Social Media