Introduction
When choosing a social media management solution, it's important to find one that best fits your specific business needs. NapoleonCat is a versatile social media management toolkit for marketing, community management, and customer success teams. It supports all major social platforms: Facebook, Instagram, Twitter, LinkedIn, YouTube, and Google My Business. At NapoleonCat, we pride ourselves on having our friendly, accessible, and speedy Customer Success team.
With this short introduction out of the way, it's time to compare NapoleonCat to another popular social media management tool – Buffer.
Analytics and publishing
+ much more
It's important to note that NapoleonCat and Buffer are quite different in their range of features. Buffer is mainly used for publishing. NapoleonCat is a feature-rich social media tool that can be used for community management, social customer service, analysis, publishing, and reporting. We also offer automation solutions for social media moderation, publishing, and reporting.
Buffer's analytics tool only allows users to analyze their own social media profiles. At NapoleonCat, we recognize that analyzing competitors on social media can help brands benchmark and improve their digital strategies. Using NapoleonCat's Analytics, you can analyze the social profiles you manage as well as the public profiles of industry leaders or competitors.
NapoleonCat
Buffer
Starting price
affordable customizable plans
affordable
fixed plans
Supported platforms
Facebook, Instagram, Twitter,
Youtube, LinkedIn, Google
My Bussiness, Google
Analytics
Facebook, Instagram, Twitter, LinkedIn, Pinterest
Main focus
Social customer service, analytics,
publishing, reporting, automation solutions
Publishing & analytics
Free trial
Scheduling & publishing to multiple social platforms
Analytics
Competitive analysis
Automated customer service
Automated reports (managed profiles)
Automated reports (competitors' profiles)
Social inbox
Automated customer service
Influencer tracking (dashboards)



+$19/mo

Mobile app
Customer support
Website, chat, email, phone, social
Website chat, email, social
1-on-1 onboarding training
Available to all users
Customer solutions (individual plans)
No credit card required during sign-up
Source: Buffer app, tested June 2020
The Social Inbox:
a social media management essential
At NapoleonCat, we have the Social Inbox – a tool designed to help users manage multiple social media accounts from one dashboard. Using the Inbox, you can react and respond to comments and messages coming from both organic and paid posts (Instagram DMs included). This feature can significantly improve your response time, facilitate better communication, and save you loads of time, as it spares you the burden of constantly switching between different social media platforms. If you have to handle lots of comments and messages, you will find the Social Inbox particularly useful. With many collaboration features, it's also a great tool for teams big and small!
Buffer has recently introduced their Engagement tool which works similarly to our Social Inbox, but with numerous limitations, for example:
Only supports Facebook and Instagram
Only supports comments from organic posts
No Messenger
No Instagram DMs
No ads support
Very limited content filtering options
No built-in translation feature
No collaborative features
No automatic moderation features
Smart automated
social customer service solutions
What's unique about NapoleonCat when compared to any other social media management tool is the Automoderation feature. It can be best described as an automated social media assistant. It's main functions include:
Automatically answering simple questions (asked in comments or private messages) at scale
Automatically hiding or deleting spam and offensive content
Automatically redirecting specific issues to designated consultants
The way this feature works is that you create rules that define automated actions (e.g. sending a reply or hiding a comment) to specific triggers (e.g. a comment or a private message including specific keywords). The process of creating rules is quick and easy, and no programming skills are required. Another cool thing is that you can create as many rules as you want!
Long story short: combining human customer support with automated solutions can effectively bring down your response times and help you keep your customers happy, even if you're dealing with limited resources.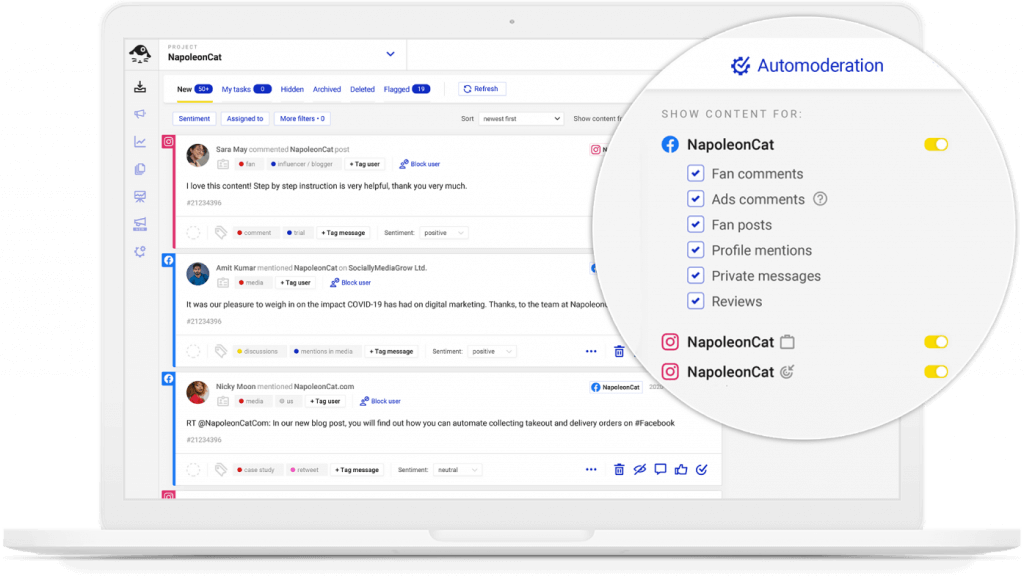 Try NapoleonCat now
or keep reading
Try NapoleonCat free for 14 days. No credit card required.