What's Fresh?

NapoleonCat's Latest Innovations and Enhancements
28 September 2023
Introducing posting Instagram Stories and LinkedIn Reports! Explore enhanced storytelling and insights today!
Now, you can schedule LinkedIn Reports alongside other platforms AND publish Instagram Stories directly from NapoleonCat! Automate, schedule, receive insights via email, and tell your brand's story more effortlessly! Dive in, explore, and elevate your multi-platform marketing game!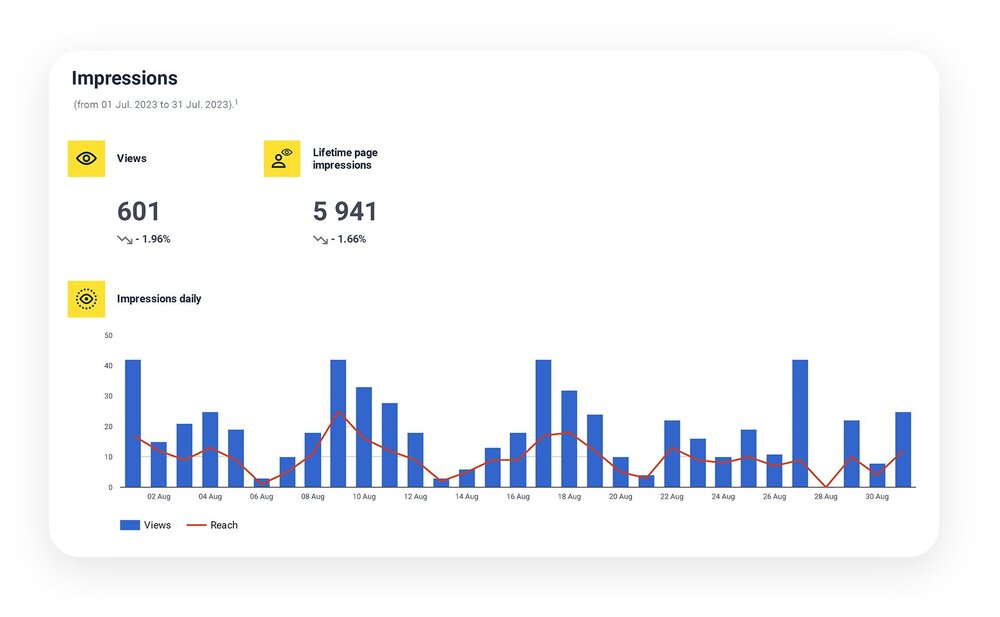 15 September 2023
Say Goodbye to Chaos with NapoleonCat's Notification Center
Look for the new bell icon 🔔in the upper right corner of your NapoleonCat. You know, like in all the social media platforms you're using.
You'll see all the notifications listed on one screen from all the different features of NapoleonCat you're using. This includes:
Tickets and/or content assigned to you in the Social Inbox and/or Publisher,
Consultation activity – e.g. whenever someone answers your question or sends a consultation request to you,
Internal comments on tickets and content,
And more.
In other words, all the activity that's happened in NapoleonCat since you last checked that involves you is there. So, instead of clicking all over the platform to find the different updates and notifications, you now go to one place for all of them.
And the result?
No more toggling between tabs, platforms, and communication channels to send and gather information. It makes it easier to keep everyone in the loop and on the same page, making overlooked tasks and critical updates a thing of the past. Plus, it's a seemingly small change that can save you and your team members literal hours (and multiple clicks) in a day and is bound to speed up internal communication and simplify team workflows. Also, notifications roll in in real-time, so there's no need to keep checking things repeatedly – you'll always know when something needs your attention.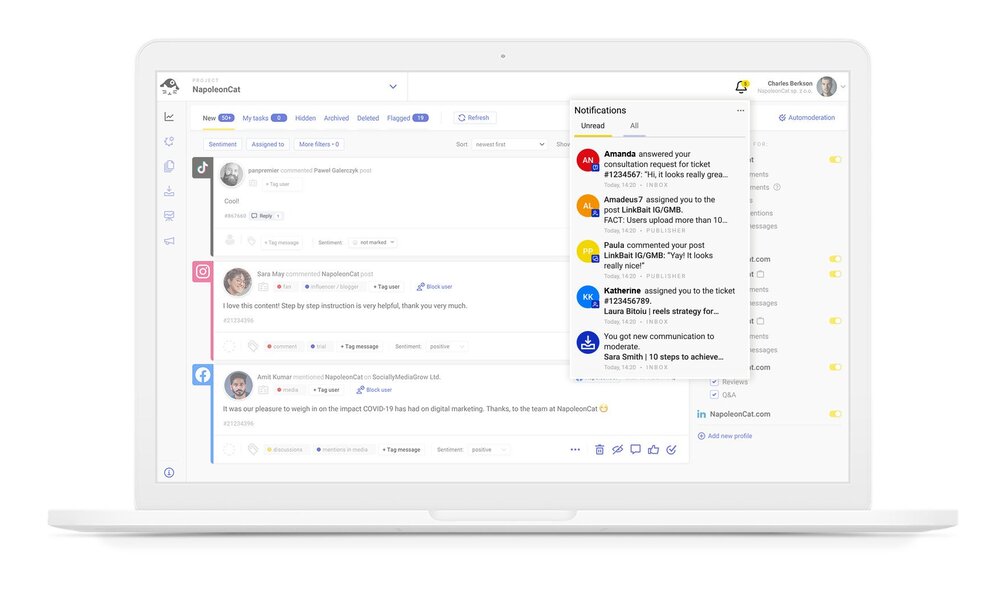 3 August 2023
Bug fixes in the Publisher
We fixed errors in the Publisher: using backspace does not result in the deletion of selected profiles, and we improved the view of the profile.
3 August 2023
Add attachments to external consultations in the Inbox
You can now attach up to six items in the "Send to Consult" space. Those consulted will receive your files in their email, along with your question.
Improved view for connecting social profiles
We have improved the initial views when you connect profiles, and we encourage you to invite your team to NapoleonCat.
27 July 2023
Smoother video uploads
We have improved the ability to upload video clips to NapoleonCat.
24 July 2023
See full profile names in the Publisher
Long profile names in the Publisher are no longer truncated.
Clearer Product Tour icons
The colors of the Product Tours icons reflect their availability for a given function.
13 July 2023
Emojis in DMs fix
We fixed the sending emoticons in messages bug.
You can now safely search for profiles in the Publisher
Searching for profiles in the Publisher bug is fixed.
13 July 2023
Improved Publisher's calendar view
Our Publisher Calendar view just got a makeover. You have a detailed view on a given day featuring thumbnail previews of your posts, platforms and assignee info, and even internal labels.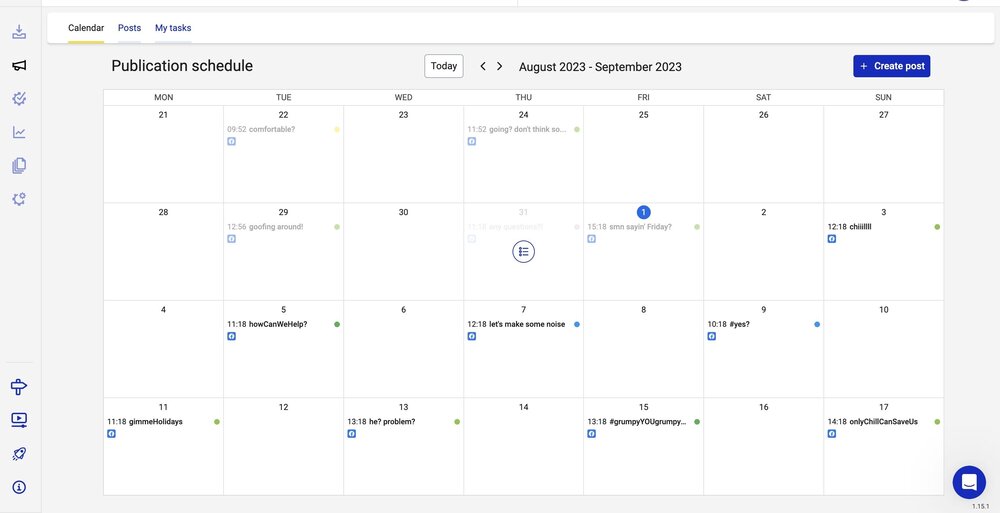 6 July 2023
Manage TikTok ads comments
Respond to comments from your TikTok Ads audience right from the Social Inbox. This centralized interaction will save you time and effort, allowing you to build stronger relationships with your audience and drive better results for your TikTok Ads campaigns. Find out more about managing Ads comments.
No need to connect social accounts to test NapoleonCat
We have introduced so-called 'Empty States' that allow testing NapoleonCat even if you don't want to connect profiles at the beginning.