In 2019, when people ask a brand something via social media, they expect a reply within one hour. And even with the best customer service team, you can't always be there to meet that expectation. Is it time to employ a full-time robot on your social media team?
So you have a social media presence to connect with customers. To them, there's no good or bad time to ask a question or file a complaint. Being everywhere they want you to be is one thing, but are you making sure that you're responsive?
Automation on social media, where people expect authentic interactions, can be controversial. But if used in a smart way, it can support helpful exchanges between businesses and their customers.
Keep the conversation going
As social media marketers, we expect people to always listen and engage, be it click on our Facebook ads, watch our Insta Stories or shower us with likes and hearts. But are we doing enough to provide them with timely responses?
While focusing on outreach campaigns that advertise your products or services on social media, brands often forget that the ultimate goal of any social media presence is exchange. With your friends, you exchange ideas and experiences. With customers, you essentially exchange information that will help them make a decision about buying and using your product or service.
An automated response system should never replace human interaction. It's purpose is to enhance it, by making sure that the social media team can deal with the volume of conversations that need to be managed.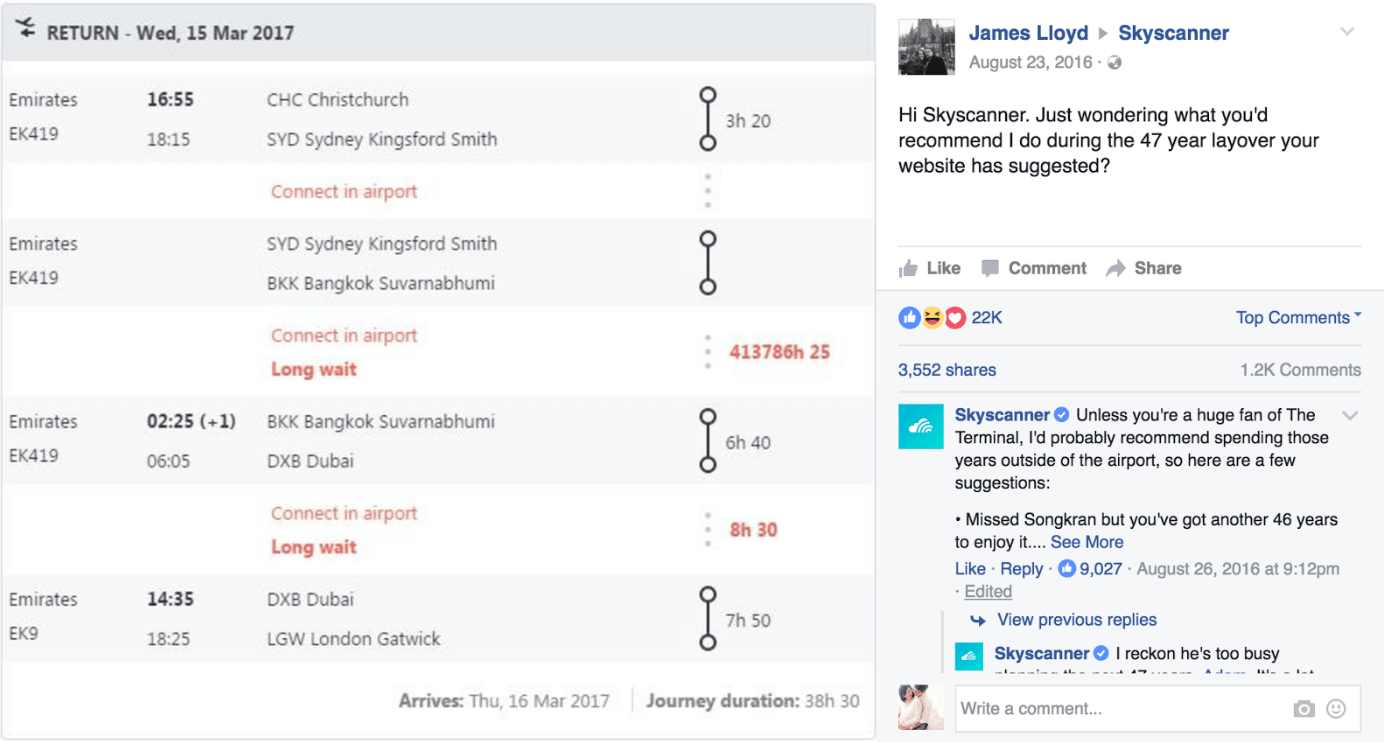 When to use automated moderation?
Consider automating your social media moderation, if you:
1. Receive a lot of similar customer queries through social media
This is the main reason businesses decide to outsource some of the social media chatter to a robot. When you're dealing with multiple questions pouring in from several social media touch points, using automated moderation can be a game changer.
2. Have a small social media team
When the person is creating posts, running campaigns and social customer service, getting a 'robot' to help them out might be advisable. It's cheaper than employing another person and allows for the human part of the team focus on the more creative stuff!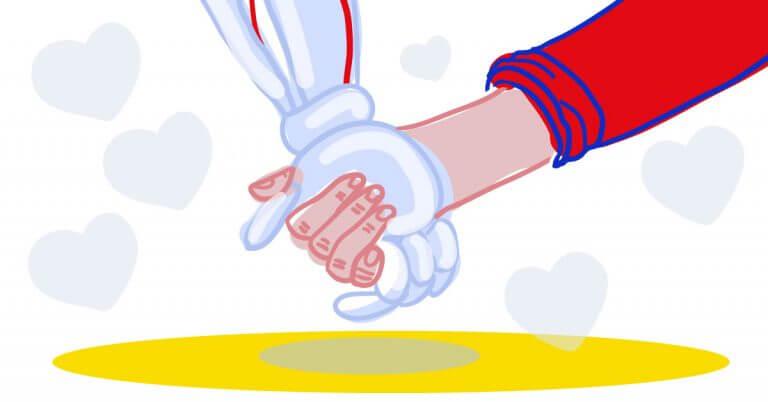 Social media automation
Use smart auto-reply to manage social media in real time. Our customers reduce their response time by 66%.
Try NapoleonCat free for 14 days. No credit card required.
3. Offer your products or services globally (and have no representatives in other time zones)
E-commerce based business often deal with multiple questions about their products, without realising the geographical location of the business. Keep it professional by making sure they get a reply within expected hours and follow up later.
4. You're expecting a crisis situation to be reflected on social media
Are you predicting to get showered with questions from dissatisfied customers? One of the things to put in your crisis management manual should be feeding your social media 'robot' with a stellar Q&A.
5. Your Facebook Business Page is a go to platform for your customers
For some business, their Facebook page is a key platform for communicating with customers. If that's you, Improving average response time will greatly influence the overall score that reflects on the brand's presence on Facebook. You should also take a look at how your managing conversations on Facebook Messenger.
How does it work?
When you think about automated moderation, you're probably thinking of generic messages that brands send to Facebook users after hours. And, to an extent, you're right. Like in the case of chatbots on websites, many companies now have automated replies set up on Facebook Messenger, or are using external tools to automate replying to comments on their Facebook pages.
These are helpful if you're getting a lot of questions (sometimes way outside your work hours) and just need to let someone know that you will deal with their query. But did you know you can make your automatic replies on Facebook more relevant to your customers' questions and actually deal with a lot of issue in real time?
In NapoleonCat you can set up your automated replies so that they address specific words of phrases. If you know what customers are likely to ask, you can set up what we call 'moderation rules' to define specific replies.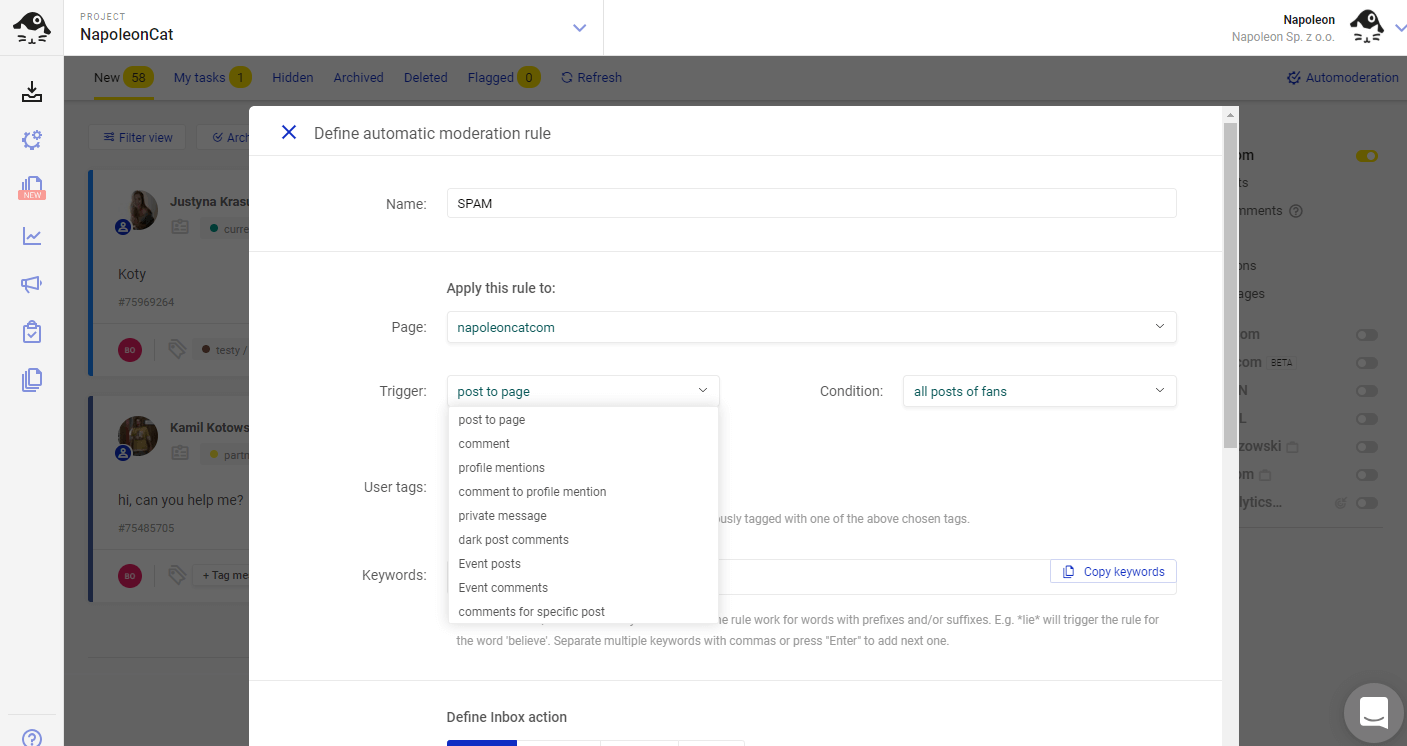 No more generic 'out of office' messages! You can redirect your customers to a relevant article on your website or simply provide them with more adequate information that will meet their need in real time.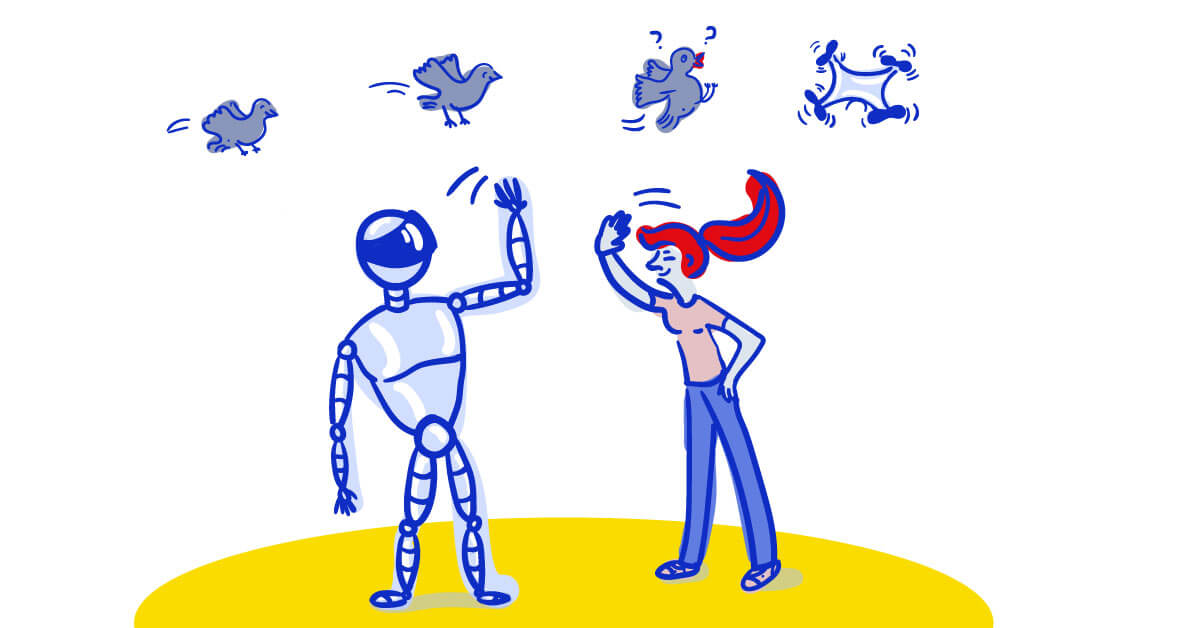 Think you might need a social media robot? Find out more about automated moderation for Facebook from this BLOG POST.
Ready to give it a go? Start your FREE 2-WEEK TRIAL.