Times are changing and steadily, more and more consumers reach out to businesses on social media platforms. According to a survey, an estimated 54% of all social media users utilize these platforms to look for different products, provide feedback, and request customer support. And by now, you know where this is going — as a modern business, you can't afford to be absent where a vast majority of your customers is.
In this article you'll learn:
What social customer service is,
Why you should provide customer support on social channels,
What social customer service trends to follow.
Let's start with the basics:
Social media customer service is all about offering support to your customers over social channels like Twitter, Facebook, LinkedIn, etc.
Back in the days in the pre-internet era, when the world was still too big to comprehend, we relied on word-of-mouth to make a purchase decision. The very same concept lives on, albeit in an amplified sense of the term, through social media.
Offering your services on social media platforms gives you the advantage of being in control (to some extent) of what is being said about your brand.
Why should you use social media for customer service?
If you own and run a business — any business, and you still don't use social media, then it's time for you to start. Again, if you indeed have a presence, ensure you're proactive and increasingly responsive. Here's why:
Social media places you right along with your customers
With almost every one of us reaching out to check our phones every five minutes, the extent of what social media can do is only limited by imagination. Businesses have a lot to achieve, and knowing this, many brands now offer 24/7 customer support on social media, and you should consider that too.
More than that, adding new and unique pages and uploading shops and menus on Facebook is a cakewalk. And even if you don't plan on doing that, the comments shared on your social media posts can serve as a channel to offer valuable insights and help you position your brand better.
Social media improves customer engagement
Building your brand is a delicate process and requires you to create a community and engage your customers.
And when it comes to customer engagement, there's nothing that can beat social media. Whether it's Instagram, Twitter, or LinkedIn — you can engage with your customers immediately, and constantly.
You can run offers, giveaways, live sessions, quiz sessions, and whatnot — take your pick, the options are infinite.
Social media facilitates shorter response time
Customers use social media to complain about everything. It can be their work, relationships, and yes — your products and lapses in your customer service. And if they vent their frustration in a comment, that means their poor experiences are not limited to their friends. Anyone on the platform has access to their opinion. And if they tag you in their posts or direct message you to resolve the issue at hand, it means they expect you to revert quickly.
As much as we'd all like never to receive complaints, they're inevitable and essential for raising your game. So, when a customer mentions you in a post or directly sends you a message, you can respond right away instead of having to sort through a universal inbox.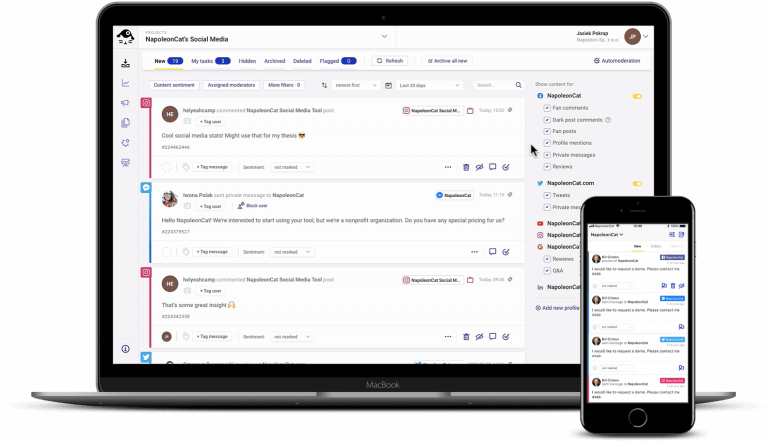 All social media conversations in one place
Use a single dashboard to track and answer all social media comments and messages in no time.
Social media gives voice to your customers
Getting authentic customer feedback is a tricky business. Companies have been trying to fetch responses from surveys and feedback forms, but more often than not, satisfied customers don't readily participate or provide feedback, making the operation biased.
On the other hand, social media allows users to voice their opinions of their own volition, entirely unsolicited. This makes the feedback process more authentic, which helps to improve the customer experience.
6 social media customer service trends to watch out for
Now that we understand the role of social media in customer service, let's take a look at the trends in social media customer service we can look forward to in 2021 and beyond.
Artificial intelligence in customer service
Yes, bots have a huge role to play to build the future of online marketing, but not just any bots — but the ones powered by AI, and adopting this tech is a major social media trend. Why?
Artificial Intelligence can automate a substantial chunk of your redundant jobs and can learn on its own from its experiences. This ensures that all the repetitive tasks are done right, if not better.
According to a report from Genesys and MIT Technology Review, almost 91% of leading companies with high brand recognition and customer satisfaction rates were found to be leveraging artificial intelligence for improving their customer support infrastructure. Some of these companies include Alibaba, Nubank, Lexus, Uber, among various others. These firms are industry leaders and are actively using AI tools as a means to supplement the effectiveness of their customer support team.
24/7 customer support
Whether it's 2021, or a decade into the future, this will always be a trend. There's nothing that beats the convenience of an all-around available business, especially when we know that 66% of customers switch companies due to poor service.
Not being able to find an essential piece of information can be frustrating. If, as a business owner, you're not available to serve your customers at this time, you'll soon see its impact on your retention rate.
This is all the more relevant if you serve customers in multiple time zones. For people living on the other side of the world, you'll always be unavailable if your social media team is active only during the day.
Now, having a team for the night shift is overkill, especially if you're a small business. Your best bet here would be to leverage social media automation to engage your customers when your human agents are unavailable.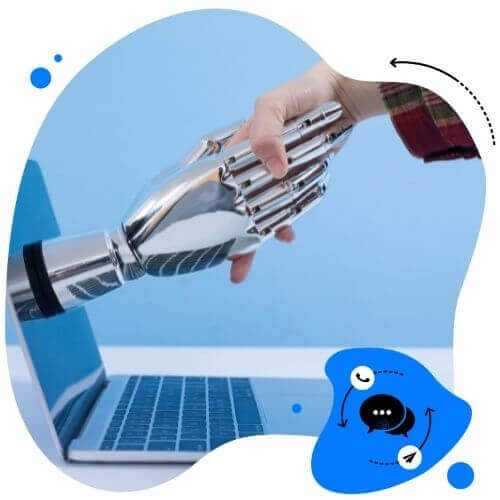 24/7 Social customer service (and within budget!)
Increase the quality of your social media customer service without growing your team or extending working hours. Social media automation will do the job for you.
If the query is matched by FAQs or keywords, the issue can be resolved immediately. If not, ask the customer to hold on until the agents return. This will not only help reduce the number of service calls you receive but will also demonstrate commitment on your part.
Personalization
The concept of personalization is one of the trendiest in 2021. We all browse social media and follow things that appeal to us the most, and that's something every business should take advantage of.
Personalized marketing leverages user data to create more targeted and relevant advertisements for your audience but it can also be used in customer service automation. For example, when you set your automatic responses in NapoleonCat, you can answer with the comment author's name, just like in the example below:
It's time to take the smart approach. One size doesn't fit all.
Improved analytics
For any team or business to succeed, it's imperative to gauge its effectiveness in managing a situation or daily tasks. In the past few years, as customer service evolved, so have methods of assessing how well you're performing. Brands want effective social media teams that excel in customer care.
The way to measure this "effectiveness" is relatively straightforward. You can start by comparing response times, response rates, and the number of interactions between the customer and the individual agent or team.
With such data, you can now see the bigger picture — understand your team's capabilities, whether you're under- or over-staffed, and so on.
Demand for shorter response time
According to a report, 40% of consumers who use social media to register complaints expect brands to respond within the first hour. In 2023 and beyond, the percentage of people demanding shorter response time is expected to rise unprecedentedly.
Messenger from Facebook only lets businesses respond to 90% of messages within 15 minutes, and that just shows how tough the market is. Social media has conditioned people to expect quicker responses; failing to cater to these expectations means having to deal with frustrated customers all the time.
If you lack staffing, the best option would be to go for automated responses. You can use a social media automation tool or a chatbot to solve customer queries from a knowledge base you might have in place.
Acting on customer feedback
This is more of a best practice, and honestly, common sense to act upon the received customer feedback. Inherently, taking requisite action is the very driving force behind asking for feedback.
In a sense, the reviews and feedback from customers are sacred and if it's a complaint, let the customer know that the matter is being taken seriously, and prompt action will be taken.
Final thoughts
Of course, there are even more social media customer service practices that are trending this year. However, the ones mentioned will suffice when implemented well. While at the end of the road you'll have to take the necessary steps to solve customer issues, it will get impossible for you to cater to them at scale as your business grows.
In almost every trend mentioned above, automation has a key role to play. Social media automation can solve most of your social media customer service woes and is a must-have for any growing business active on social media. However, you must go for a more well-rounded approach.
You may also like: