Modern social media specialists have to be more than creative marketers, community managers, and content moderators – the profession is slowly but surely evolving, and customer service is becoming an important part of it.
These days, customer care is an integral building block of any branded social media presence. This means that if you use Facebook to promote your brand, you have to be ready to use your Page as a customer service platform. In this article, we will try to bring you closer to making that happen.
Facebook is massive. The platform currently sits at 2.6 billion monthly active users worldwide. In the United States alone, over 70% of the population is on Facebook. It's safe to assume that a big chunk of your target group uses the OG social network. And while most people don't use social media with the sole intention of connecting with brands, Facebook users do expect to receive assistance if they ask you a question or report a problem on the platform. A whopping 90% of consumers report that they use social media to communicate with brands!
Put two and two together, and it becomes clear: your customers are on Facebook, and they want to be able to connect with your brand on the platform. In this article, we will help you create a solid social media customer service strategy by listing the dos and don'ts of helping your customers on Facebook, pre- and post-purchase.
The dos of Facebook customer service
Let's start with a list of best practices that will help your Facebook customer service shine.
Set up a Facebook Business Page
First thing's first – make sure that you're using a Business Page to promote your business on Facebook. While this may seem obvious, many small business owners use their personal profiles to promote their brands. And that's okay – as long as a personal profile is just an extra platform for sharing content about your business and getting the word in front of your network.
Pages come with a set of tools businesses can use to better promote their brands on social: the Ad Center, Creator Studio, Insights, and more. With a Facebook Page, you can build a community, analyze your performance, and manage advertising on the platform.
But you might wonder what all this has to do with social media customer service. The answer is simple – a Facebook Page will help your customers easily find some of the information they're looking for, leave reviews, and know where to reach out if they have any questions.
Populating the Page Info section is a great start to making your business seem accessible to anyone who comes across your Page. Go to your Facebook Page, click 'Edit Page Info' on the top bar, and fill in as much information as you can: a description of your business, your hours, location, website, email address, phone number, price range, etc.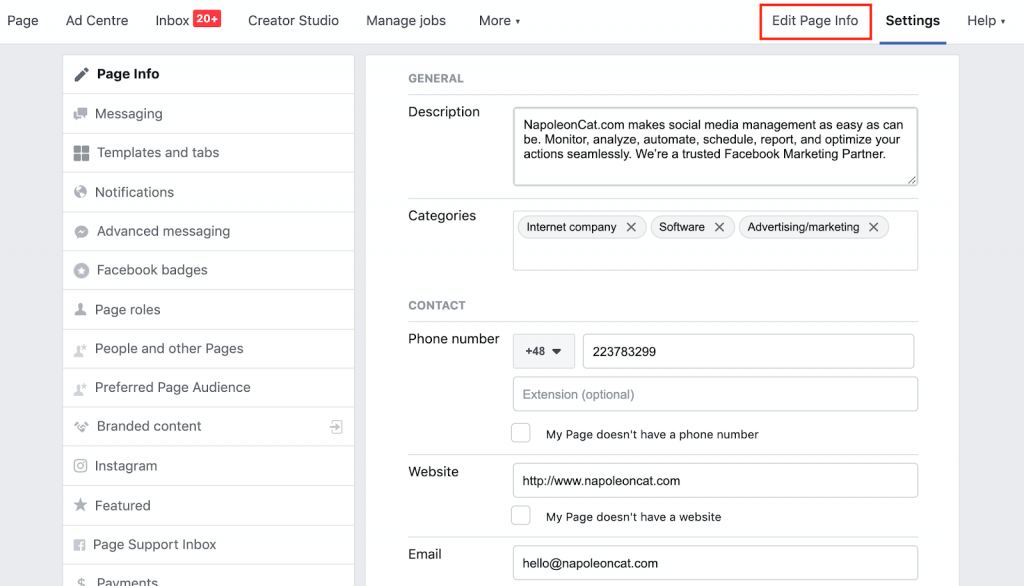 Look for the right skills when building a social media team
When assembling a social customer service team that will manage your Facebook Page, make sure to look for the right skills. Even if you start small, with one or two agents, getting it right from the beginning will help you develop good practices and effortlessly scale your operations when the right time comes.
Empathy
Empathy is a trait necessary to provide good customer service using any medium. Look for people who are good listeners and will be able to put themselves in the shoes of an unhappy customer. Kindness and understanding go a long way when handling complaints and other tricky inquiries.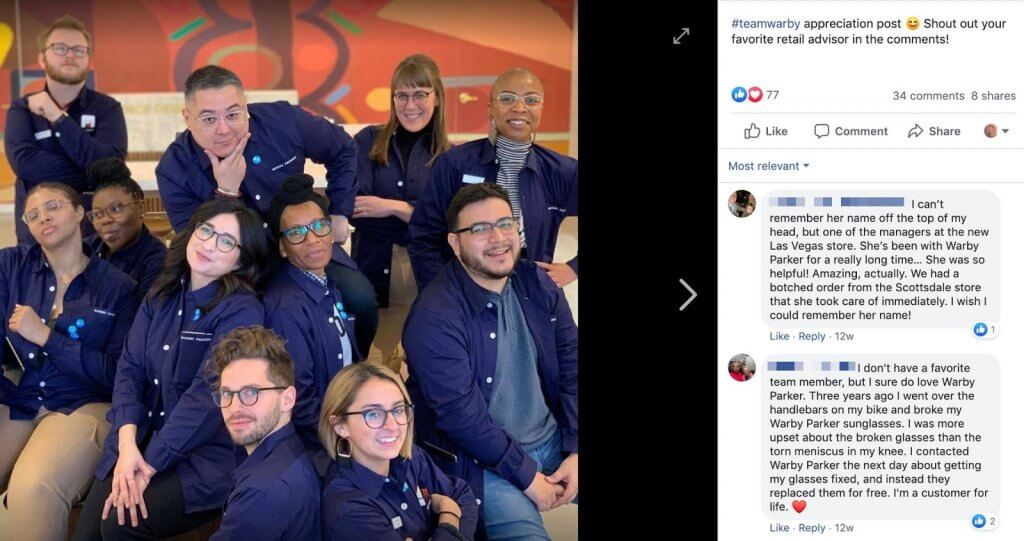 Attention to detail
Your Facebook customer care team will mostly communicate with customers in writing – through comments and private messages. This means that they should really pay attention to the little things – sloppy grammar, spelling mistakes, and missing punctuation can be seen as disrespectful and only make things worse with upset customers.
But attention to detail means more than just good grammar and punctuation. Make sure your team tracks ongoing open cases and is able to follow through with solutions, even if sorting things out takes some time.
The ability to multitask
Each of your customer service agents will likely be dealing with many customer inquiries every day. The ability to juggle multiple conversations at once is a crucial skill that will help you avoid leaving questions unanswered.
The ability to prioritize
While each opinion and comment matters, some conversations are more time-sensitive than others. Your team should have clear guidelines as to how to prioritize their work. A general rule of thumb is that troubleshooting is more urgent than, for example, thanking customers for sharing their positive experiences. Unfortunately, this sometimes means that the least pleasant work has to be done first. Agents with good prioritization skills won't have trouble getting tricky tasks out of the way ASAP.
Be proactive
Sometimes, your business may encounter unexpected trouble. Outages, problems with your supply chain, a backlog of orders – issues like these can send many upset customers to your social media accounts.
In such cases, don't wait for the complaints to start pouring in. Proactively publish information or an apology, explaining the issue and letting your customers know how it will be handled. In extreme situations, you won't be able to answer each individual customer manually (more on automated solutions in a bit), but you should still do your best to keep everyone well informed about what they can expect from your business.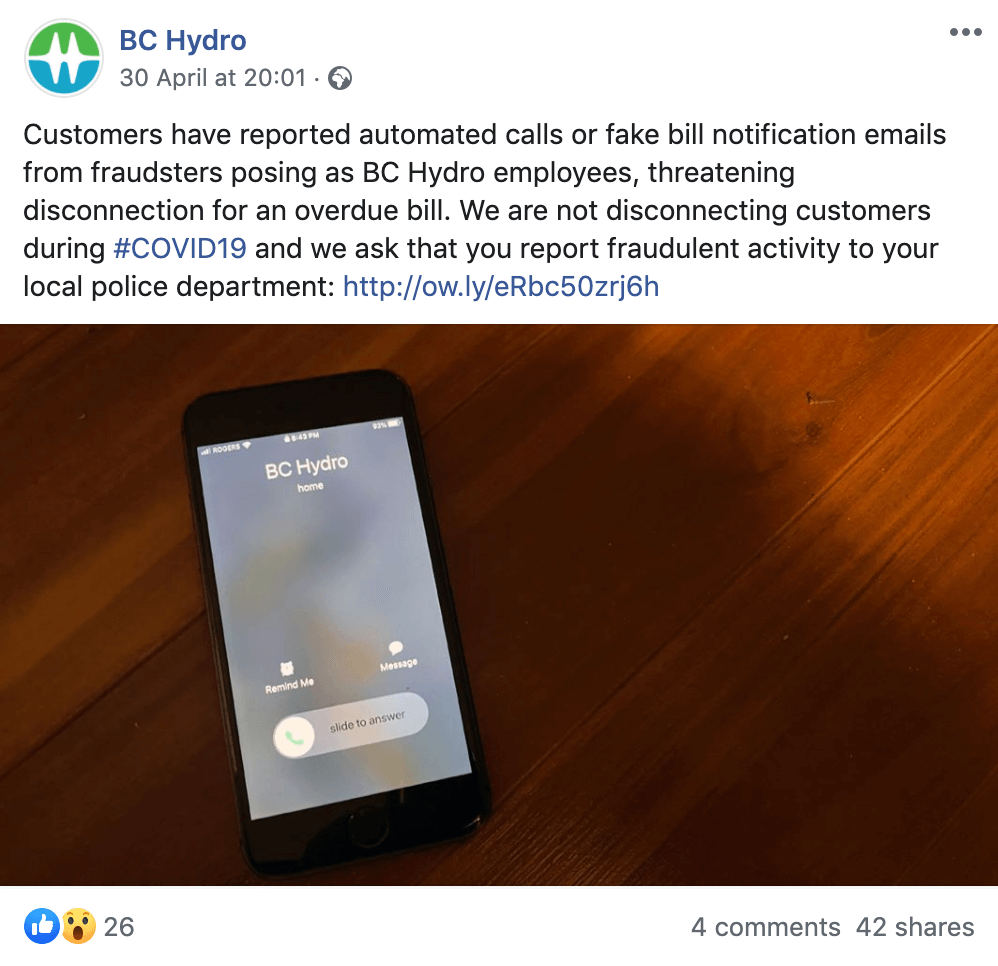 Time matters – work fast
Facebook is a platform where users interact in real time. Facebook Groups are active 24/7, Messenger is always buzzing with private conversations, and organic posts usually get the most reactions and comments soon after they are published. Facebook users are used to fast-paced personal interactions, and research proves that the same goes for communicating with businesses
Customers who ask questions or leave complaints on your Page want to hear back from you soon – really soon. 46% of social media users worldwide expect an answer immediately or within an hour. Making them wait for hours or days will not make their complaints go away – in fact, it might make things worse.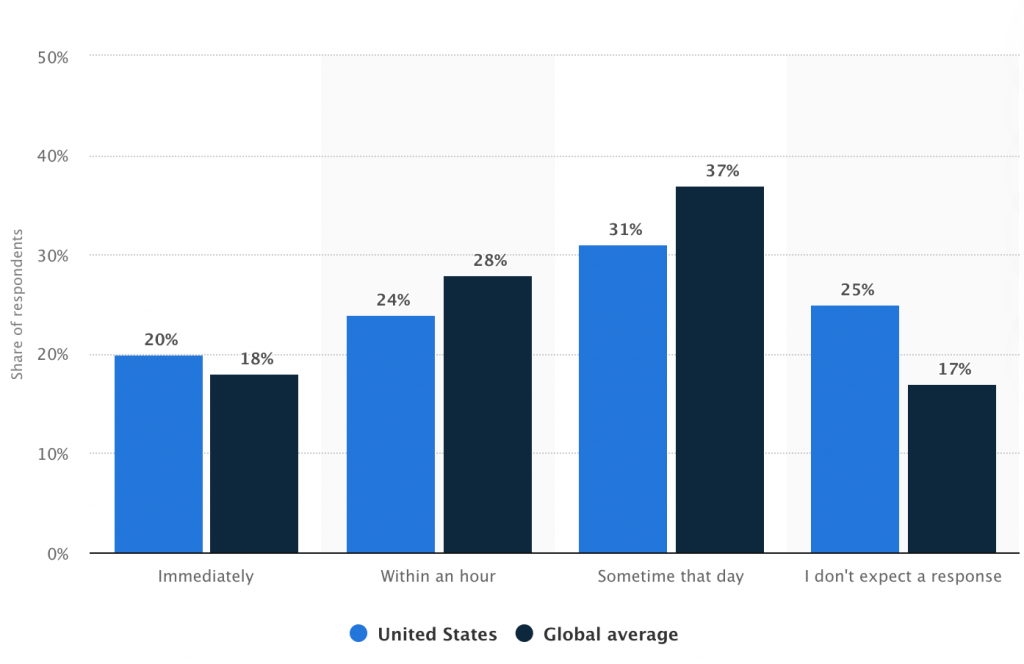 Use social customer service tools
As mentioned above, improving response rates should be your social customer care team's top priority. Using the right social media management tools can help you achieve this goal, even if you have a small team or struggle with limited resources.
NapoleonCat's Social Inbox is an advanced social customer care solution. It collects interactions (comments, private messages, mentions, reviews) from all of your connected social media profiles and allows your team to easily handle them from one user-friendly dashboard. You can use the Social Inbox to manage a single Facebook account or multiple profiles from several platforms (TikTok, Facebook, Instagram, LinkedIn, Twitter, and Google My Business).
The Social Inbox can help your team streamline community management and social media moderation processes. Each new interaction is a ticket that can be assigned to a member of your team, answered, tagged, or sent to a supervisor with a request for consultation.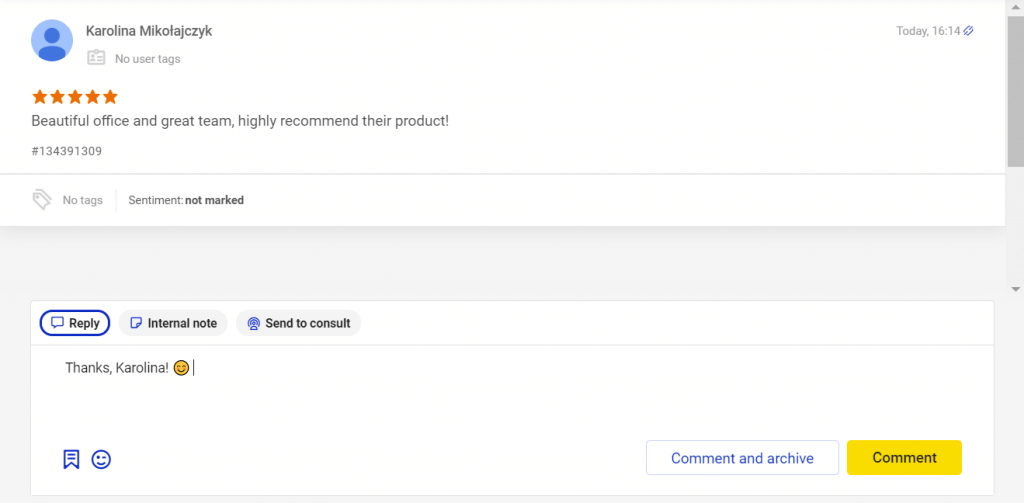 You can also assign sentiment to comments and tag messages and users. This information can then be included in moderation reports that give you an overview of the different types of interactions you handle as well as your team's performance.

Finally, there's Automoderation – NapoleonCat's automation solution that will help you deal with predictable and repetitive interactions at scale. Using automated moderation, you can:
set up auto-replies to comments and messages based on defined keywords,
automatically hide comments with links and flag them for manual review,
automatically delete offensive comments,
automate ad moderation, effectively protecting the ROI of your Facebook campaigns.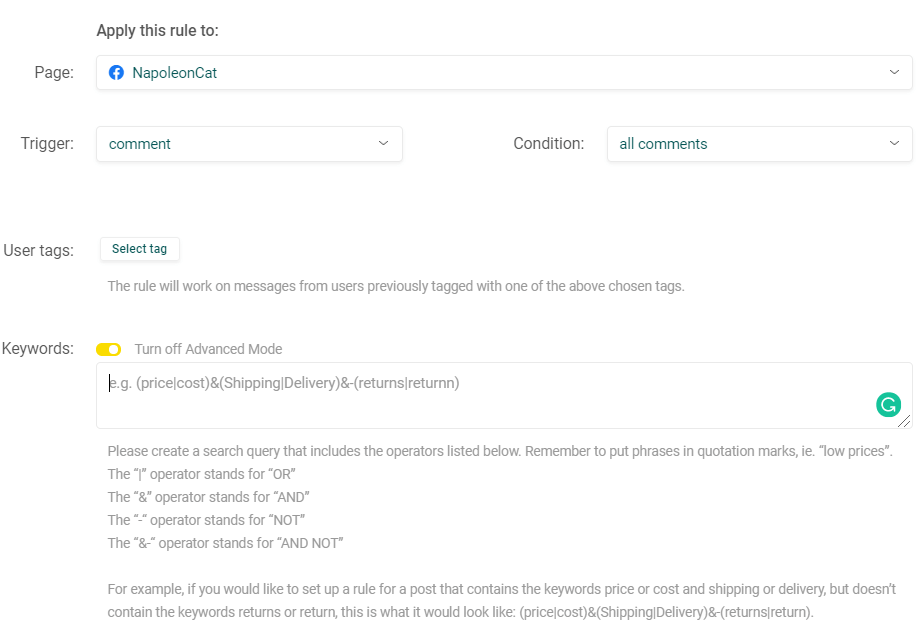 The list of possible uses goes on – check out this article for inspiration. The bottom line is that automating the somewhat predictable aspects of community management will give your team more time to deal with complex and sensitive customer inquiries.
Automate Facebook customer service
Set up auto-replies to simple questions. Improve your response rates and never leave a comment unanswered.
Try NapoleonCat free for 14 days. No credit card required.
The don'ts of Facebook customer service
So you already know what you should do to provide your customers with great service on Facebook. But this guide wouldn't be complete without a heads up about what could potentially ruin your efforts. Here's what you shouldn't do when using Facebook as a customer service platform.
Don't delete negative opinions
Even if the quality of your products or services leaves nothing to be desired and you have a great customer service team, you will likely hear from a dissatisfied customer here and there. It happens to the best – and when it happens to you, it's important that you handle the situation with care.
You may be tempted to hide or delete negative comments and reviews so that they don't affect how other customers and followers think of your business. This is a big no-no. Deleting a negative opinion will only make the person who posted it more upset and is likely to backfire. They may go looking for other outlets to express their frustration – ones that are out of your control (public forums, social platforms where you don't have a presence, etc.). Before you know it, you could be dealing with a full-blown crisis.
Think of negative opinions as an opportunity to showcase the quality of your customer service. In each case, publicly thank the dissatisfied customer for their opinion and assure them that you will look into their complaint and try to provide a solution. Then, move the conversation to Messenger and handle the nitty-gritty in private. The upset customer will feel well taken care of, and your online community will see that you take every complaint seriously.
It's important to note that this only goes for constructive criticism and legitimate complaints. If you receive spiteful, offensive comments that use foul language or otherwise violate Facebook's Community Standards, you can go ahead and delete them. At the end of the day, you have to make sure that your Facebook Page is a safe space for your online community.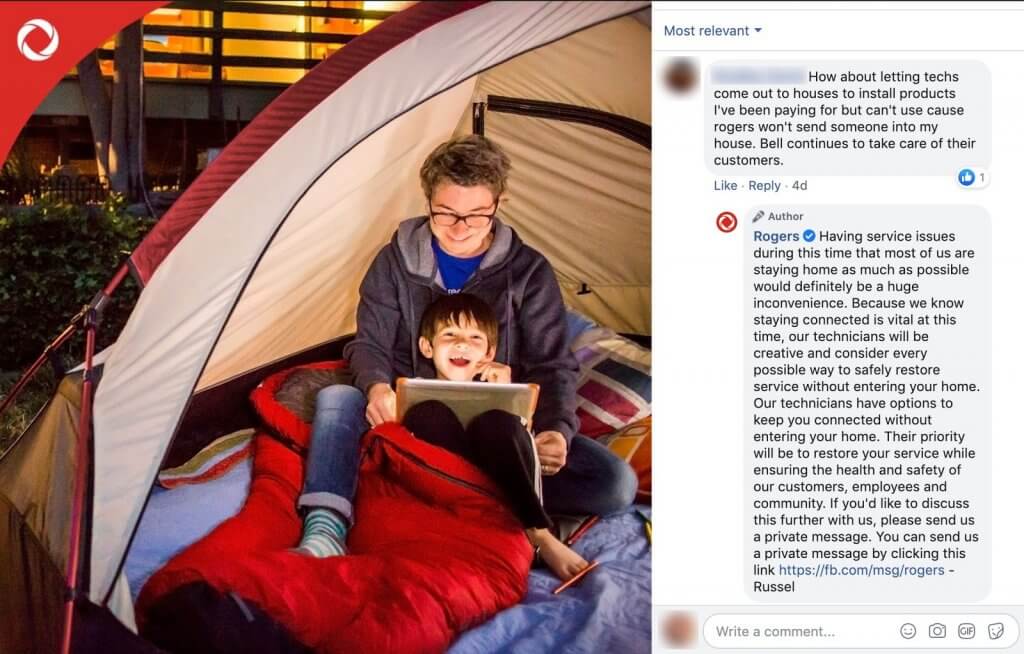 Don't use generic replies to similar questions
If you deal with a high volume of similar comments or questions, you may be tempted to answer each of them with a generic, copy-pasted answer. And while this is better than leaving such questions with no reply at all, it might hurt your online image and give your followers the impression that they're dealing with bots rather than real humans.
This doesn't mean that you have to type out each answer individually – simply create a few answers for each predictable question to give your Facebook customer service a welcoming, human feel.
Using NapoleonCat's Automoderation, you can randomize your auto-replies to questions containing defined keywords. For a natural effect, create as many as you can think of in each automated moderation rule. Use emojis and [@user] tags for some extra oomph.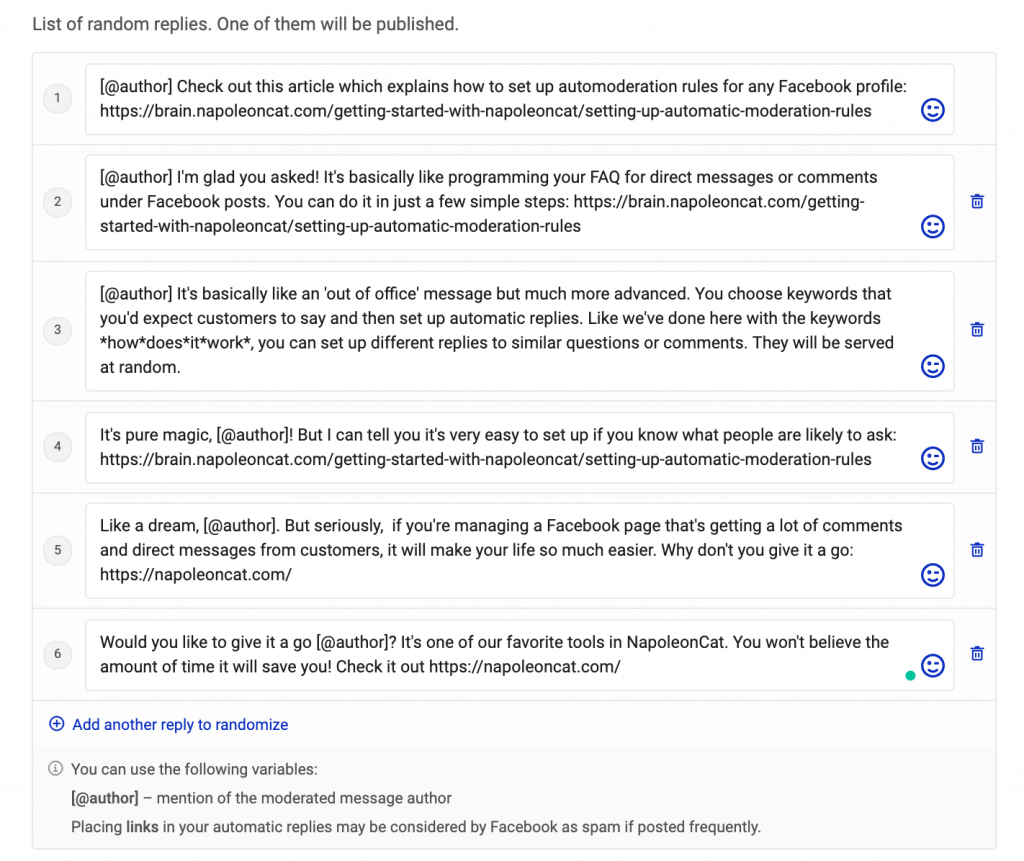 Don't overcomplicate things
If a lot of customers contact you on Facebook, make your customer service team available on Facebook. It might seem like this is easier said than done, but listen to your customers. If necessary, adjust your internal processes to answer their needs and expectations. Don't settle for redirecting questions from Facebook to email or a hotline. Adding extra steps to the process can only annoy a customer looking for quick assistance.
Creating a seamless pre- and post-purchase experience for your customers should be your team's top priority – and if your target group demands assistance directly on Facebook, make it happen.
The bottom line
Serving customers on Facebook is no longer just an option – it's a must. The majority of modern consumers use social media and expect brands to make their customer care agents available on platforms such as Facebook, Instagram, and Twitter. Follow our list of good practices, use social media management tools, and stay clear of the don'ts to make sure that your team is well equipped to handle customer inquiries on Facebook – and that your customers leave your Page happy with the support they've received.
You may also like: