In 2023 and beyond, excellent customer service is not just necessary for your business to thrive, but it can also be your most powerful brand asset.

According to PwC, if customers have multiple bad experiences with a company, 59% of them will leave. Heck, even just one negative customer experience can cause 17% of customers to look for a new provider.
So let me state the obvious: if you want to gain an unfair advantage over your competitors, look for ways to improve your customer service.
But the task can be daunting when juggling between multiple departments and dealing with a flood of customer inquiries.
Here's the good news: with the right set of customer service tools, you can help:
Streamline workflows
Facilitate better team collaboration
Provide efficient and round-the-clock moderation of customer inquiries/complaints
Boost customer engagement
Strengthen customer relationships
In this blog post, we'll explore the 9 best customer service tools available in 2023 to make sure your customer service team can do their best work in delighting your customers. We'll discuss the features and benefits of each one so you can decide which tool is best for your business's unique needs.
Let's get rolling.
1. NapoleonCat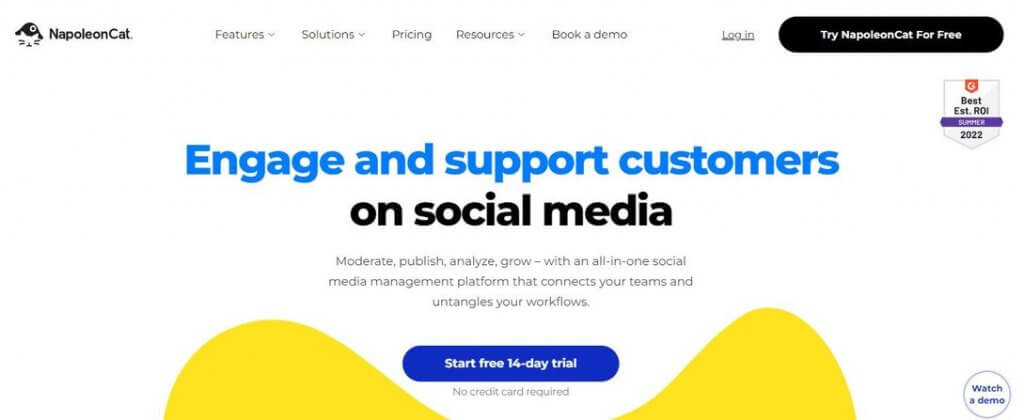 NapoleonCat is a powerful all-in-one social media management platform that helps businesses engage with their customers across social networks.
This handy tool connects all your social media accounts, lets you assign tasks to team members, and helps you respond to customer inquiries faster than a speeding bullet.
NapoleonCat does all this and more thanks to the following features:
Social Inbox. NapoleonCat's Social Inbox feature allows companies to keep track of messages, reviews, and comments (Instagram and Facebook ads comments included) across different platforms (including TikTok) in one centralized dashboard. With this feature, you'll never miss a beat, keeping track of all customer service inquiries and previous conversations in one place. You can also create Social CRM profiles of your customers, to keep the conversation and order history in one place.
Auto-moderation. NapoleonCat's Auto-moderation allows you to automatically reply to private messages and comments with smart auto-replies, effectively cutting down response time. It can also keep your comments sections clean from any profanity by automatically deleting and hiding inappropriate comments under organic posts and ads. This gives your customer service personnel more time to focus on tasks that significantly improve customer experience.
Publishing. Teams can easily plan and manage content publishing across different accounts and social networks through the platform's shared calendar.
Analytics. Companies can monitor their content's social media performance and analyze the channels of competitors. This allows businesses to align their strategies with their goals.
Reporting. Scheduling automated reports is an easy street on NapoleonCat, which also allow users to customize and brand them before sending them. You can finally say goodbye to excel sheets.
Given how social media allows us to connect with customers in real-time, not to mention provide opportunities to address customer inquiries and complaints on a public platform, there's no question that NapoleonCat is an invaluable social media engagement and automation tool for supercharging your social media customer service.
You can give NapoleonCat a go by signing up for a free 2-week trial, no credit card required, no strings attached 😉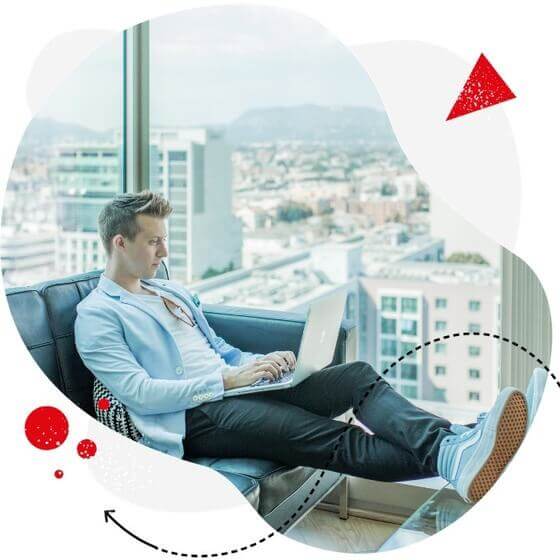 Improve your social customer service experience
Manage all your comments, messages, and more – using one simple moderation tool. Instagram DMs and ads included! Automate common questions & more. Try NapoleonCat for free:
Try NapoleonCat free for 14 days. No credit card required.
2. ZenDesk Support Suite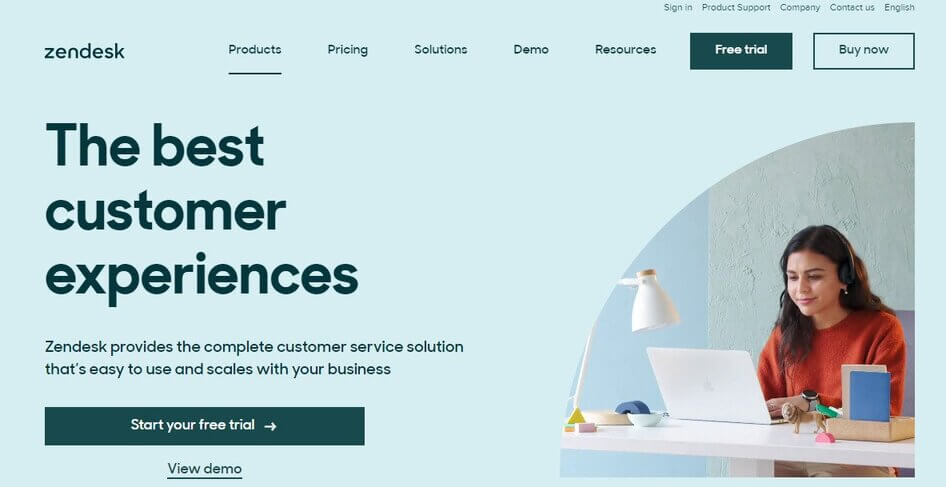 If you're looking for a way to streamline your customer service operations, you might want to check out Zendesk Support Suite. This software is designed to help businesses provide multi-faceted support solutions for their customers.
With Zendesk, you can manage customer interactions and communications on multiple channels, like email, voice, chat, and social media messaging apps like Facebook, WhatsApp, and Apple Business Chat, all in one unified agent workspace.
This means you can provide faster and more personalized customer service experiences while reducing your workload.
The Zendesk Support Suite comes with a range of features and benefits, such as:
A ticketing system
Sophisticated messaging capabilities across web, mobile and social media platforms
Email, voice, SMS, and live chat support
Analytics dashboards
Pre-built reporting
With these features and benefits in mind, it is no surprise that businesses around the world have turned to Zendesk Support Suite as their go-to solution for streamlining customer service operations.
3. Confluence by Atlassian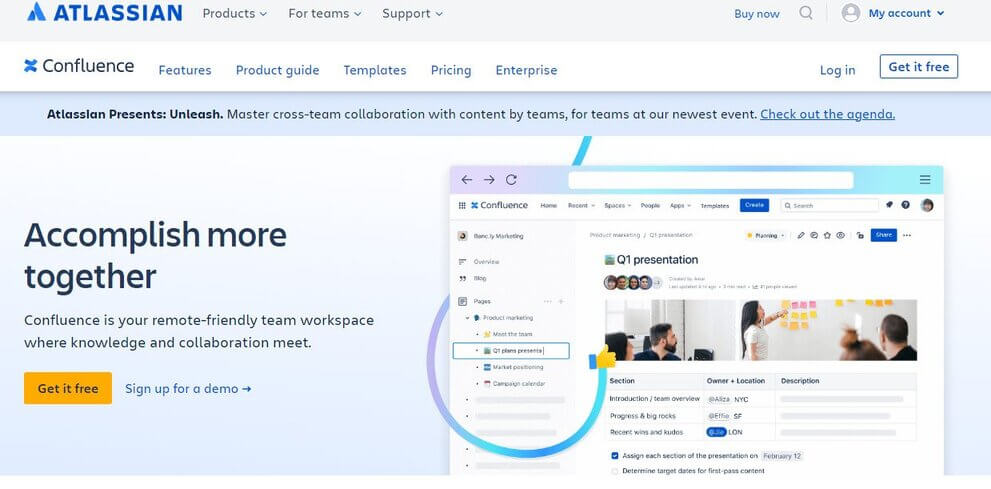 If you're looking for a way to streamline your customer service operations, Confluence by Atlassian might be worth checking out. This knowledge base software is designed to help businesses maximize the efficiency of their customer service teams.
Confluence allows companies to store, organize, and access information quickly and easily, which can help customers find answers to their questions without needing assistance from customer service personnel.
With Confluence, teams can:
Create content quickly with easy-to-use templates
Organize information in a structured hierarchy for easy access
Employ powerful search features to find the answers they need
Engage in proactive communication via RSS feeds, page watching, and blog updates
Track customer service performance with the help of metric data analytics and user permission capabilities
Overall, Confluence is a valuable tool that can help businesses provide their customer service teams with the best possible resources.
4. WhatsApp Business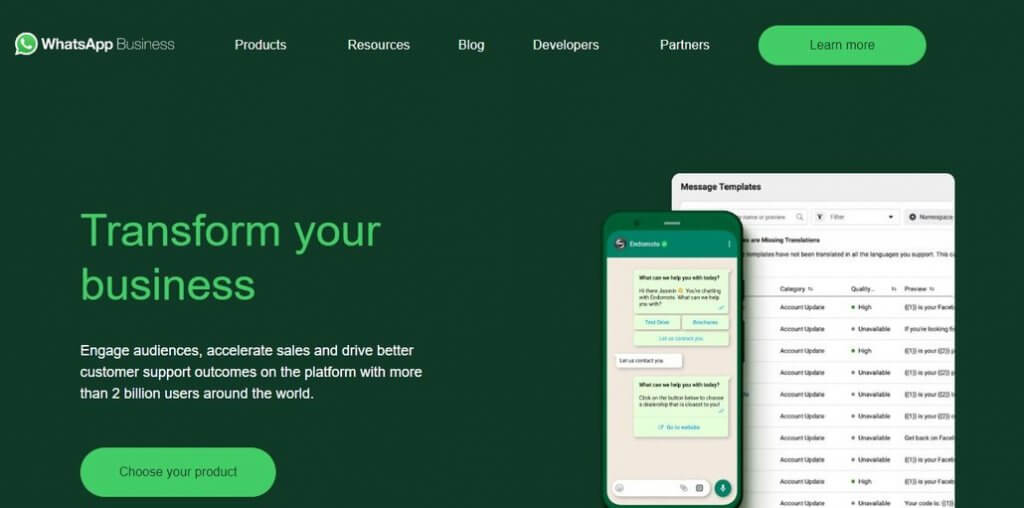 WhatsApp Business is an enterprise messaging platform designed to help businesses of all sizes better connect with customers, drive business outcomes, and build long-lasting customer relationships.
WhatApp Business allows businesses to engage with their customers in a variety of ways, including:
Two-way conversations
Order confirmations
Updates about shipment
Appointment availability and other reminders
Personalized promotions
Product browsing and ordering
Automated conversational flows for customer support
Smart routing for live agent support.
Better yet, WhatsApp Business enables businesses to leverage the API to deliver compelling conversational flows with interactive CTAs, product lists, rich media, and more.
By providing businesses the ability to engage with their customers in meaningful ways, WhatsApp Business optimizes support costs and increases efficiency.
5. Aircall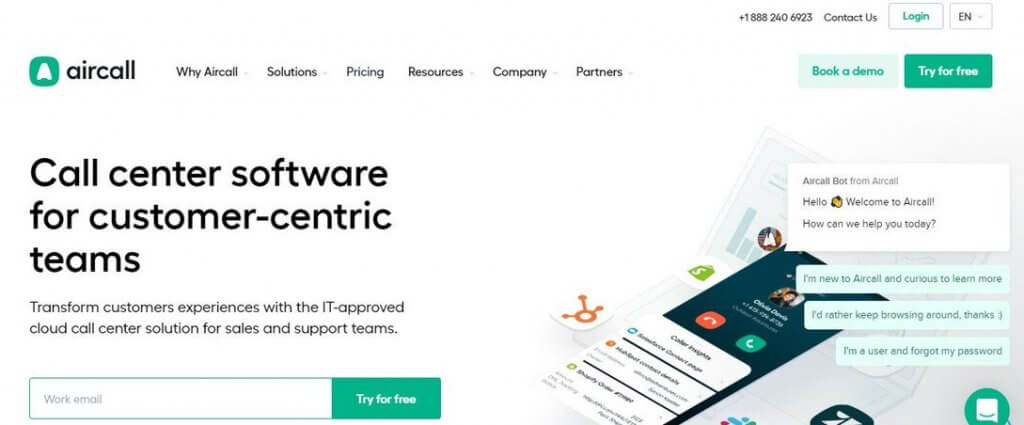 Aircall is a customer service tool that provides cloud-based call center solutions and business phone systems to businesses of all sizes. Aircall was founded in Paris in 2014, and now has offices in major cities around the world like New York City, London, Sydney, Madrid, and Berlin.
Their phone systems are based on Voice over Internet Protocol (VoIP) and integrate with dozens of business productivity apps. This makes it perfect for teams that work across international borders and need to stay connected with remote workgroups. Plus, their packages are affordable and come with essential phone support features like IVR, custom business hours, and call queuing included.
No matter the size of your customer support team, Aircall's phone systems can benefit you. With customers often preferring to troubleshoot complex issues with a live representative, either over the phone or in person, Aircall is worth considering in 2023. So if you're looking for a way to improve your customer service, give Aircall a try.
6. Help Scout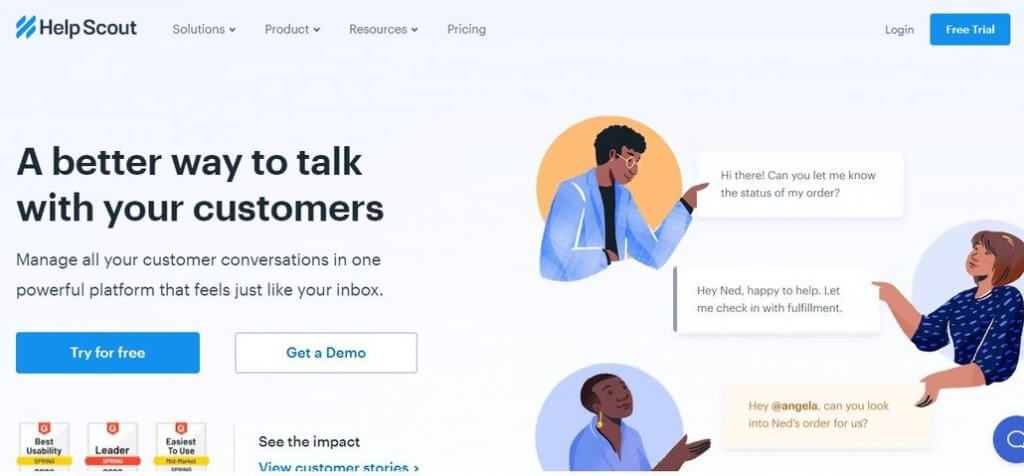 Help Scout is one of the leading customer support tools available on the market today. Since its 2011 launch, Help Scout has risen to the top of the customer service industry, providing solutions that are designed to streamline processes and help teams work better together.
Help Scout's shared inbox tool offers powerful collaboration features such as:
Private notes
Collision detection
Assignments
Saved replies
Pre-built reports
Automated workflows
With all these features, teams are able to work together with ease. Customer profiles give agents extra context, allowing them to provide better support faster.
Productivity tools like Saved Replies and Workflows help teams automate repetitive tasks quickly and easily, while pre-built reports provide insight into team performance.
It doesn't hurt that Help Scout's world-class support team is available 24/6 to answer any questions you may have. What's more, Help Scout's simple setup makes it easy to get up and running in just a couple of hours, and the intuitive interface makes it easy to become a power user.
7. LiveAgent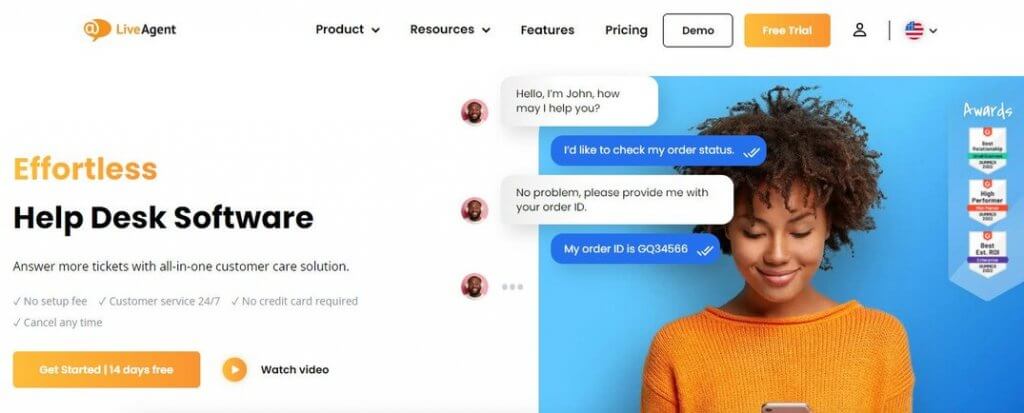 LiveAgent is a powerful customer service and helpdesk software that can revolutionize how your team serves customers.
How? For starters, LiveAgent offers a variety of features and tools to streamline the customer service process, maximizing productivity and efficiency, and ensuring your customers have the best possible experience.
The live chat system is the fastest on the market, making it ideal for customer service teams who need to respond quickly and efficiently.
Plus, it has a range of proactive communication options such as unlimited call recordings, IVR, and agent availability management that allow for more personalized customer service and increased resolution rates, which can in turn increase earnings.
It gets better: the ticketing system is designed to save you time and resources by consolidating all communication channels into one unified hub. This helps further reduce costs, potentially saving up to 95% more than other ticketing systems.
Additionally, the knowledge base feature helps you create self-service options for customers who don't need to speak directly with a customer service representative. This can help handle the majority of customer traffic, as most customers prefer to find advice in knowledge-base articles.
8. Wix Answers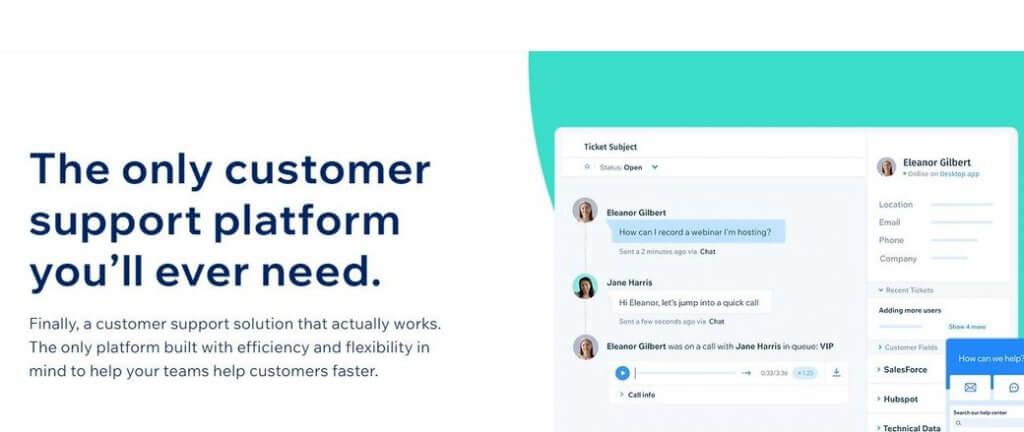 Wix Answers is a cutting-edge customer service solution that provides all the tools and features needed to efficiently manage customer inquiries in one place.
If you have a small team who has to deal with high volumes of customers and needs to resolve issues quickly while also maintaining quality service, then this tool should be at the top of your list.
The one feature that sets Wix Answers apart from other help desk software? Its one-tab workspace, which provides all the necessary tools and info that agents need to service customers in an organized manner. Use it and you can reduce resolution time and increase customer satisfaction in no time.
Here's a breakdown of Wix Answer's top features:
Inbox view that allows agents to manage support requests and access customer timeline for historical context
AI-powered reply box to suggest articles and save replies for faster responses
Ability to leave internal notes between agents and stakeholders
Access customer info right on the same workspace
Automation features to reduce manual work
Real-time dashboards & reports for monitoring agent performance & workloads
Scalable and cost-effective solution ready to be used right out of the box.
With Wix Answers, your customer service team can save time and resources while delivering reliable, top-notch support to customers.
9. Zoho Desk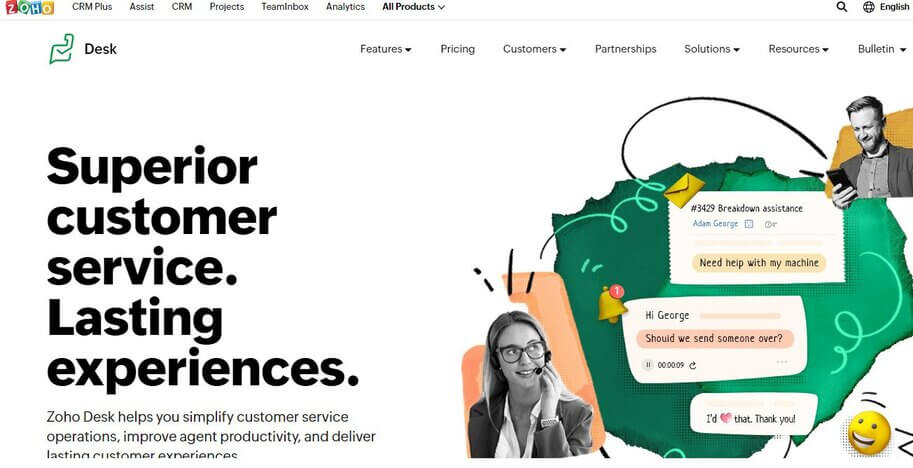 Zoho Desk is an IT and help desk software that provides comprehensive customer service solutions. It is designed to address customer service challenges across industries and works for businesses of all sizes, from small or medium to enterprises.
Zoho Desk streamlines customer support operations, allowing businesses to manage tickets from multiple channels, brands, products, departments, and more, in one place. With Zoho Desk, you can:
Utilize Zia, a contextual AI feature, to find solutions faster.
Create self-service portals for each brand's customers.
Respond quickly and effectively with the Response Editor that provides customer context, FAQs, templates, and more.
Automatically inform customers and agents about progress on their tickets.
Extend the platform to build a customer community and enhance brand image.
Save up to 2 hours per agent per day with faster ticket resolution.
If you want to simplify your operations and optimize customer satisfaction, Zoho Desk hits the spot.
Take your customer service to the next level with the right tools
No two ways about it – customer service is critical to running a successful business. And if you want to deliver experiences that will make customers fall in love with your brand, you need to invest in the right tools to help you streamline operations and unlock opportunities for increasing customer satisfaction and loyalty.
If you want to take your social media customer service team to the next level, sign up for our 14-day free trial to get started!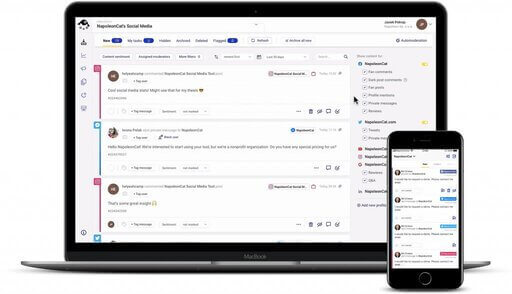 Manage all comments and messages from one view
Use NapoleonCat to manage all of your comments, messages, reviews, etc. – all from one simple dashboard. Improve your social customer service and work in a team. Try it for free:
Try NapoleonCat free for 14 days. No credit card required.
You may also like: