Customer service is probably one of the most challenging parts of running a business. Definitely an underrated one, at least sometimes, as it impacts the entire business, brand image, and reputation.

But how do you navigate the difficult conversations out in the open, like on Facebook? Here are some tips.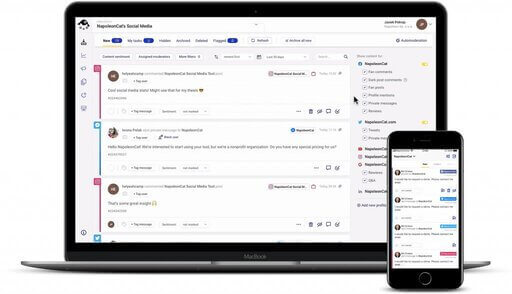 Facebook comment moderation tool (ads included)
Use NapoleonCat to manage all of your Facebook comments (ads included), messages, reviews, etc. – all from one simple dashboard. Try it for free:
Try NapoleonCat free for 14 days. No credit card required.
Customer service on Facebook is now the norm, not the exception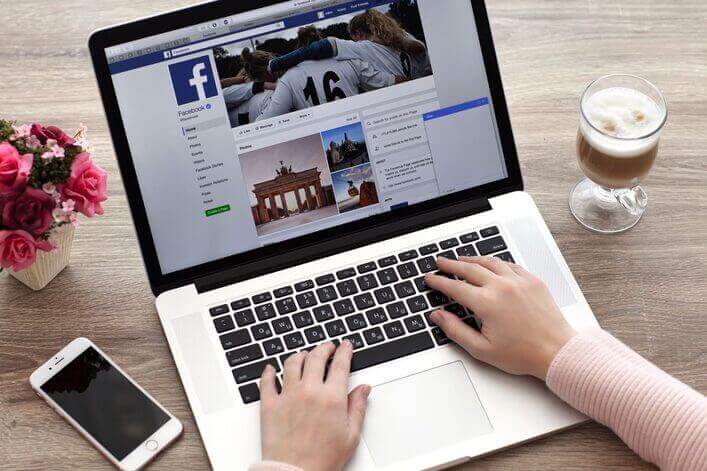 And that applies to your business, too. Of course, if your business is on Facebook in the first place. (Which, in turn, it probably should be, if your customers are there.)
These days customers often look at social media first before looking for your customer service phone number on your website. And it makes total sense
Social media is convenient. It's where people hang out. And it's where they communicate with friends and family. And brands, as it turns out.
The numbers vary, but some say even 80% of customers engage with brands on social media. And the way brands were forced to go even more online with the pandemic, this number will most likely not go down.
(Plus, social media has the benefit of not having to make that dreaded phone call. If you know, you know.)
But anyone who's worked in customer service will know how demanding this job is. And if you're in marketing, or you're a small business owner, you might not be prepared for what's coming when you open yourself up to direct interactions with customers on Facebook.
Plus, in today's world – especially on social media and really because of it – marketing, sales, and customer service all blend together. And sometimes you need to be prepared to do all of it.
Including preparing yourself for the fact that…
Customers are not always nice (and they have their reasons)
There are many situations where you can be up for a negative comment or a message from a really upset customer.
This includes things like:
Your customer has a problem with your products or service (And it's usually on you. Unless they don't know how to use it – which, sometimes, is also on you.)
There's an issue with the delivery – which might be out of your control, but not exactly in the eyes of the customer.
They can't reach you on other channels (and maybe they've tried multiple times and got stuck listening to elevator music.)
They're generally frustrated with their experience with your brand (maybe it's not the first time they're having problems.)
And so on.
Add to that things you can't control, like what the customers feel, including "having a bad day", being generally frustrated, or having problems outside of their connection with your brand, all accumulating into a lash out on Facebook.
(I mean, these days, who can blame them.)
As you already see, there are some things you can and can't control. But you are definitely in control of how you handle complaints on Facebook (and any other channel). Even if it sometimes doesn't seem like you are.
So let's take a look at what you CAN do to make this easier on everyone – yourself, your team, and your upset customers.
How to handle difficult customers on Facebook
Let's take a closer look at how to handle upset customers on Facebook so that the whole situation doesn't get out of hand.
First: stay calm
So, it's already happening. An upset customer complained in public. Maybe others are already chiming in, too. This obviously needs your immediate attention.
But before you respond, take a deep breath. You're human, too, just like your customer is. And you might be feeling all the feels right now. You might be feeling it's unfair, might want to get defensive, etc.
Don't.
Wait for a second as the initial wave of stress passes. Only then start acting.
What to do:
(After the few initial deep breaths)
Stay collected when you respond, but also show some compassion. Don't forget, though separated by a software user interface, this is an interaction between two human beings.
Leave an initial comment saying you're looking into the issue to win yourself some time while letting your customer know you're resolving the situation. (Especially important if resolving the issue turns out to be the more complicated kind and you can tell it's going to take time.)
If you need sensitive details like an order number or login details, move the conversation to Messenger on Facebook.
Do it also if the customer is verbally abusive (which, unfortunately, can happen). First, take even more breaths first and stay neutral in your responses. If they keep doing that, they might not be looking for you to solve the problem but just want to vent.
Get systems in place that will help you react quicker to comments like this – even before things blow up. A tool like the Social Inbox will help you keep all incoming comments and complaints in one dashboard, together with comments from your other social media profiles, e.g. TikTok, Instagram or Twitter. This is priceless if you have more than one social media profile, or even multiple Facebook Pages for different products, brands, or clients.
Don't wait too long with that first response
Even if you know you'll need to contact other teams or check the customer's history internally, that first interaction from you is crucial. Keeping an upset customer waiting is obviously never a good idea – their frustration will only build up, and the whole thing can snowball if others find the original complaint relatable (which, btw, is always a sign you need to dig deeper and fix things.)
And with the instant nature of social media, people will expect to get an answer quickly – and not wait for hours or days. So even if you don't have a fix yet, acknowledge the complaint and let people know they're seen and heard. Sometimes it's all it takes to considerably lower the frustration levels.
What to do:
Have a clear plan for what's happening when someone's complaining on Facebook. You can draft templates for the initial responses to make this easier and help you gain more time to act.
If people complain about specific things that you can easily predict, look into social media automation. It'll let you reply instantly, based on some keywords you specify, even if you're away from your computer or your phone, letting the customer know you've received their message and will be in touch with more details soon.
And don't be afraid of automation – as long as you stay human and compassionate in your responses and take time to figure out possible scenarios to use Facebook automated messages, you'll most likely be fine. And tools like NapoleonCat will allow you to create different versions of the automated replies, so you can additionally rotate them and avoid always posting the same canned response. (Just make sure none of them are robotic. We don't want that.)
Plus, it really comes in super handy when you have customers in different time zones, or someone complains late at night because they're so frustrated they can't wait until the next morning.
Using a social media management platform, you can also automatically assign issues to the different team members to start working on. This will cut down the response time by eliminating a bottleneck that's usually created when one person has to redirect every social media conversation to others.
And you can do it in the Social Inbox, too. It's designed to work in teams (but also on your own) and make the social media customer service a seamless part of the entire customer service workflow.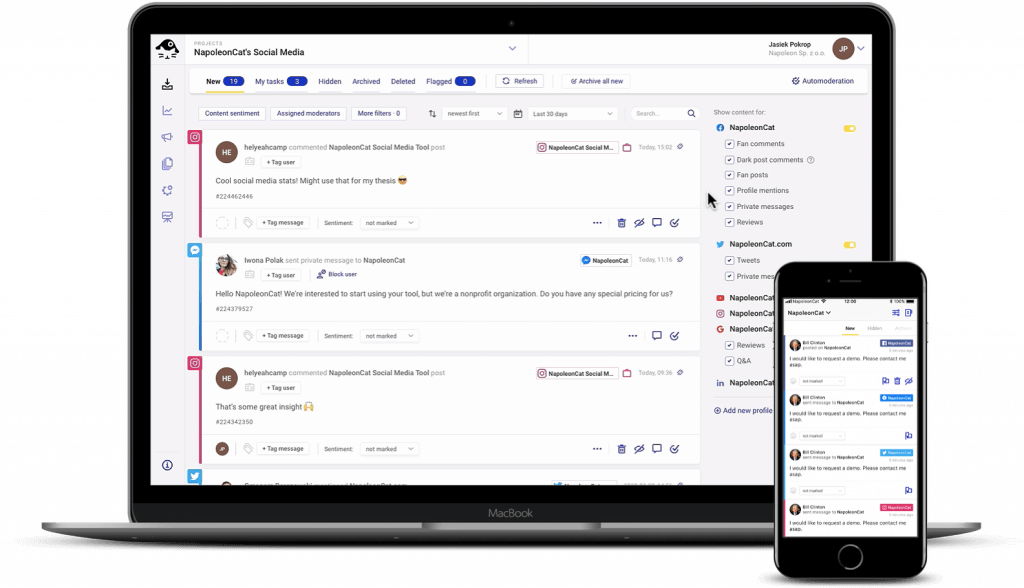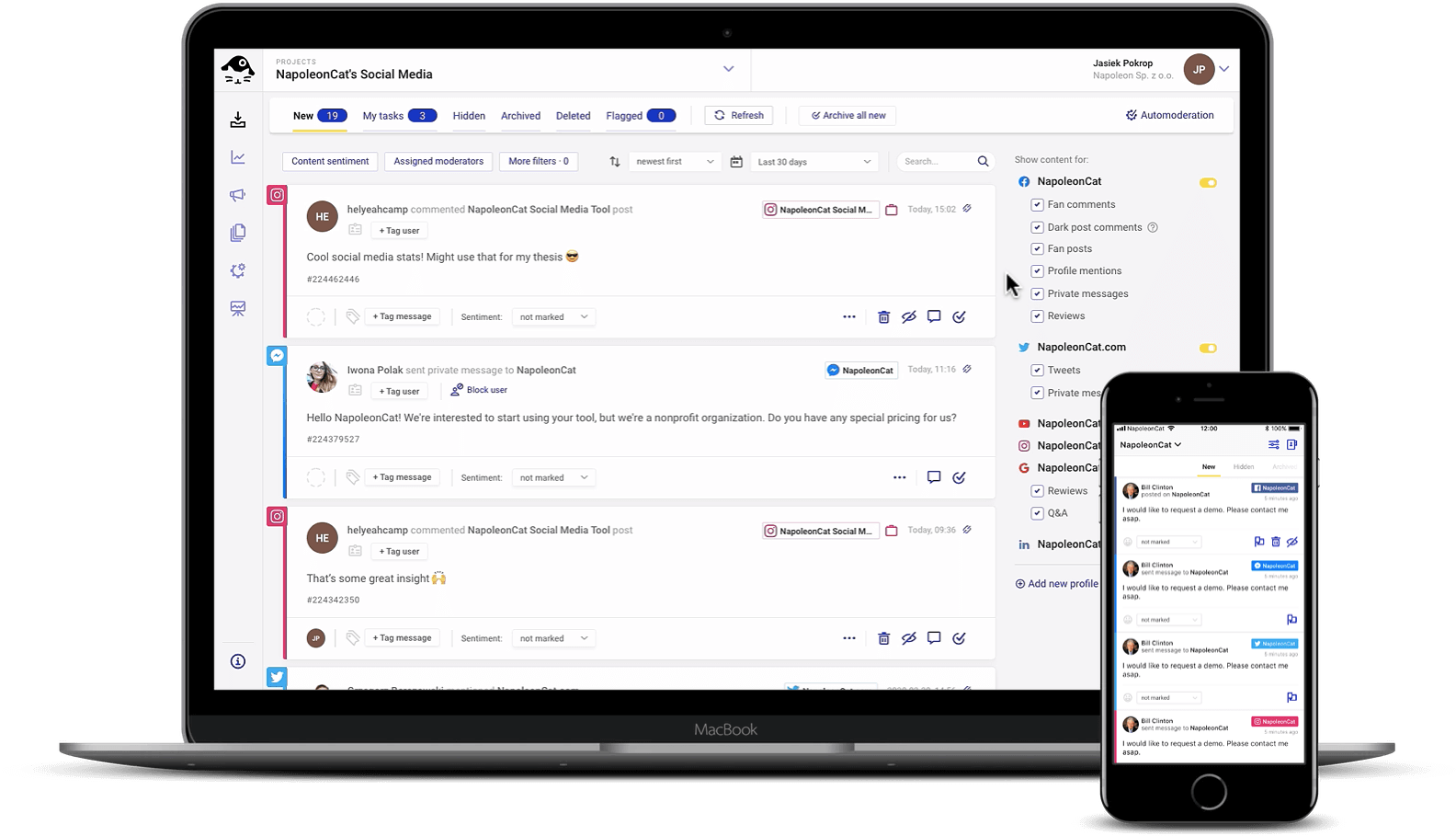 Which is directly related to my next point.
Optimize your social media customer experience in general
What happens later can depend on luck or accident. OR you can have a solid, reliable workflow that works every single time. No matter how many unhappy customers complain on your Facebook Page or how many Facebook Pages you manage (in addition to all the other social media profiles you run for your brand or client.)
And that workflow needs to include clear team responsibilities – you know, who to turn to about what. And, again, software that will help you automate some of it and make the whole process much more transparent and efficient.
What to do:
Have a Facebook comment moderation tool to handle Facebook comments at scale, so you don't miss any and can respond quicker. This will also save heaps of your team's time (or your time if you're in it on your own), improve internal communication, and make social media customer service a much better experience for everyone involved. (Because guess what can happen if a frustrated customer meets a frustrated customer service rep.)
Don't forget your Facebook ad comments. It's so easy to miss those, especially if you run multiple ad campaigns, and maybe there's a dedicated person doing that, who's not, however, authorized to respond to comments. And then you have ads reaching more and more people (for which you obviously are paying), letting them also see an unnoticed complaint from a customer (not to mention the ruined conversion rates and the impact on your brand reputation).
So look for a tool that includes those (like NapoleonCat's Social Inbox does), and possibly lets you automate your responses, too.
This way, instead of deleting comments or looking for ways to disable comments on Facebook ads, you'll be able to improve processes on your end, so it's easier to deal with a difficult customer and any kind of negative comment or complaint in the long run. And yes, they will keep happening.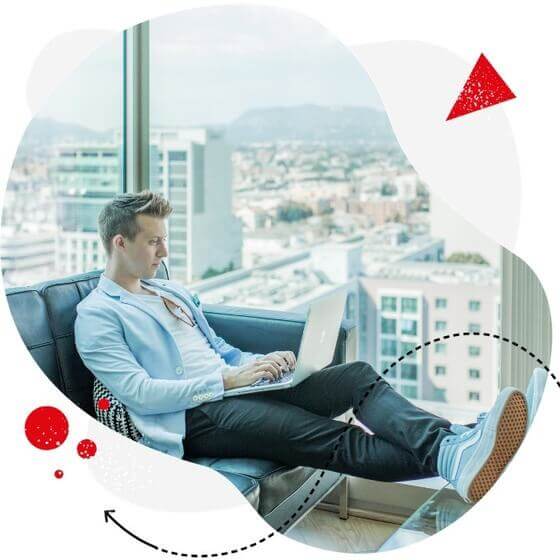 The Best Facebook Moderation Tool
Manage all your comments, messages, reviews, and more – using one simple FB moderation tool. Facebook ad comments included! Try NapoleonCat for free:
Try NapoleonCat free for 14 days. No credit card required.
Brace yourself, angry customers are coming
And they will be, so get used to it. Dealing with angry customers might not be your dream job, I get it. But your job is to actively listen to them, keep improving your customer service and overall brand experience, react in a timely manner, and draw conclusions from past experiences with handling angry customers.
They're probably not complaining just for fun (though, you never know these days.) So focus on finding ways to solve the problems people have with your product/service/brand. You'll have more time to do that if you automate some of the moderation and get software tools that organize what can grow into a true comment mess on social media. (Some of you might know exactly what I'm referring to.)
If you're prepared and backed up by solid tools, you'll be good. And so will your customers. You can try by starting your free 14-day trial with NapoleonCat 😉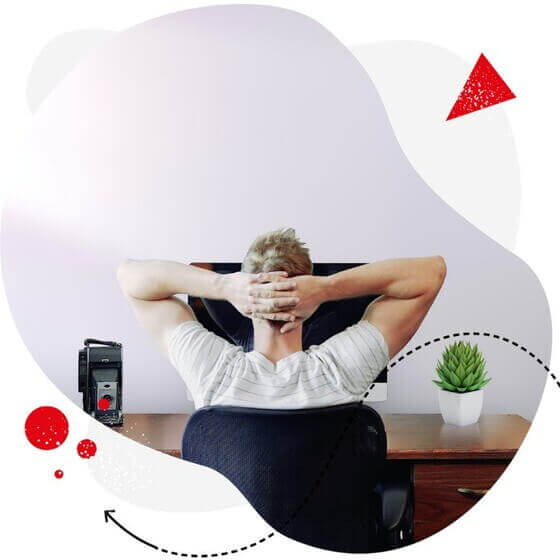 Automate and save time – with one simple tool
Automate replying to repetitive comments and messages on Facebook. Automatically delete spam under your ads. Try it for free:
Try NapoleonCat free for 14 days. No credit card required.
You may also like: