If you use Facebook Ads as part of your social media marketing strategy, you know that you need to carefully monitor and thoughtfully moderate the comments users leave on your sponsored posts. In other words – you should not only listen to your customers but also make sure that you're always listening.

This means you should react, answer questions, reply to suggestions, and engage in discussions – always.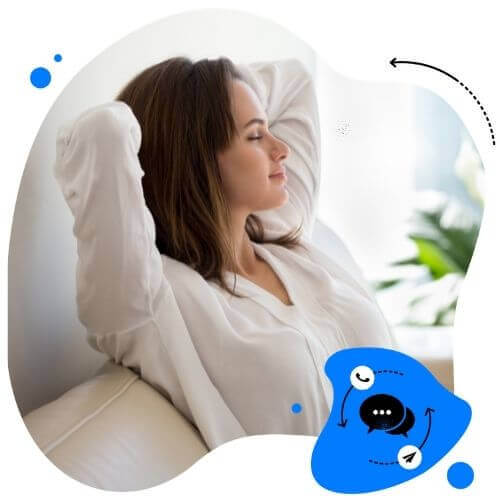 Automate Replies or Automatically Delete Your Facebook Ads Comments
Set up smart auto-replies for the comments under your ads. Automatically hide or delete spammy comments based on keywords. Or automatically delete all comments on specific posts – with an all-in-one social media tool.
And you need to do it quickly, as response time is one of the key drivers of customer satisfaction. That can be challenging as some ads may get much more engagement than organic Facebook posts. Here is where Facebook Ads automation comes with help.
In this blog post, you will find out why Facebook comment moderation is crucial to any company and how you can use third-party tools as a great assistance.
We will also show you how to turn off comments on Facebook ads, so bear with us.
Here's a little table of contents for your convenience:
Let's get started on Facebook Ads!
Why you should take care of Facebook comment moderation
According to the PwC Global Consumer Insights survey1, social networks are the most influential medium when it comes to finding inspiration for purchases.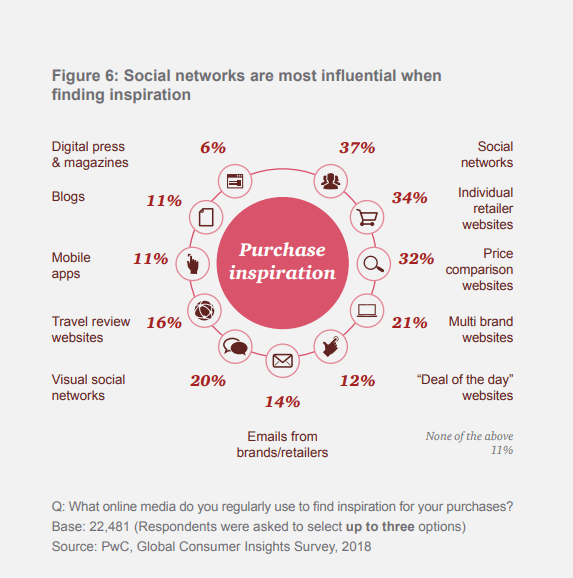 Moreover, more and more people use social media as a great source of opinions, reviews, and recommendations concerning products and services. You most likely pay attention to all the positive ones, which is great.
But the question is – what do you do with all those negative or spam comments? Hopefully, you don't ignore Facebook comment moderation. Doing so can be a big mistake.
Just think about what you do when you're using social media to find a product you want to buy. Imagine that you see an ad for this product. Even if it looks great in pictures or on videos, and it has a well-written description, do you buy this product right away, or do you read some of the Facebook comments and opinions added by others first?
Most users start by checking others' opinions. If they see many negative comments, they start to look for an alternative product. That's why it's so important to monitor comments under your Facebook posts and ads and moderate them.
Without doing so, you can lose the money invested in your Facebook campaign and potential customers.
If your campaign works great and you get high engagement under your ads, can you respond to all the comments manually? One by one? Even if you have hundreds of them?
And what if you are offline and can't monitor nor moderate comments on Facebook? And you know that current consumers are more and more demanding and expect really quick responses.
It's really much more effective to automate your Facebook comment moderation if you're dealing with a high volume of comments. If you can answer comments under your Facebook posts quickly, not only are you driving more engagement for your campaign, but you're also showing that you are responsive and helpful.
Moreover, you get a chance to provide information that can be useful for those reading the comment thread and considering a purchase.
Automatic Facebook moderation for organic posts and FB ads
You can easily moderate comments on Facebook Ads with NapoleonCat's Auto-moderation feature.
This Facebook comment moderation tool can automatically detect keywords or specific types of content (for example, spam comments) and react with preset replies or actions like hiding or deleting a comment. It can be set up for multiple Facebook Pages at once.

BTW. You can easily test it yourself by setting up a free trial account – no credit card required 😉
Auto replies can streamline dealing with complaints or negative opinions (e.g., by leaving a 'thank you for your opinion' note and moving the conversation to private messages), or even hide comments from trolls or your competitors (e.g., comments with links).
You can also define the message type for your Auto-moderation rules. You can set a rule that will work for all Facebook Ads comments and specify it by choosing different conditions:
All comments
Text only comments
Only comments with links
Only comments with a picture or a video
You can make your automatic replies on Facebook more relevant to your customers' questions and actually deal with their issues in real time.
Each time an Auto-moderation rule is triggered, you will receive an automatic email notification. This way, you'll also discover negative comments on Facebook much quicker than if you were to do that all manually.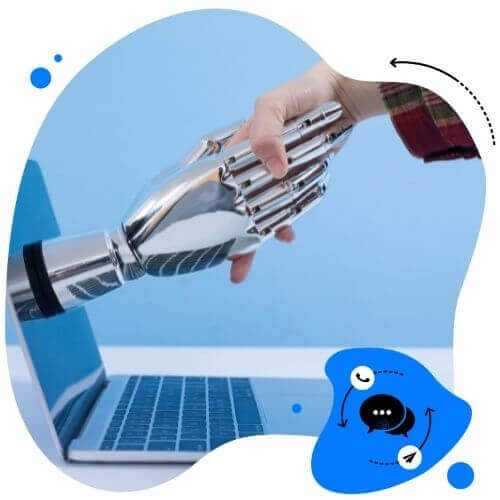 Automate Replies or Automatically Delete Your Facebook Ads Comments
Set up smart auto-reply systems and deliver timely responses to customers on Facebook. Protect your ads from spammy comments, or automatically delete all comments on specific posts – with an all-in-one social media tool.
How to manage comments on Facebook Ads with NapoleonCat
The screenshot below shows the Social Inbox feature, where you can manually manage all your Facebook Ads comments from one customizable view. But let's focus on Auto-moderation to automatically moderate comments under your FB Ads.
Here you can create your specific rule by clicking Create new rule button.
Let's try and create a rule that will automatically hide offensive or inappropriate ads comments with automated moderation. You can also watch this video tutorial to see how it's done step by step:
The setup is pretty intuitive. Name your rule and choose the Facebook Page (or multiple Pages) for which you want it to work. Then, define the message type and additional conditions.
Choose Ads comments as the message type, and the condition can stay at All.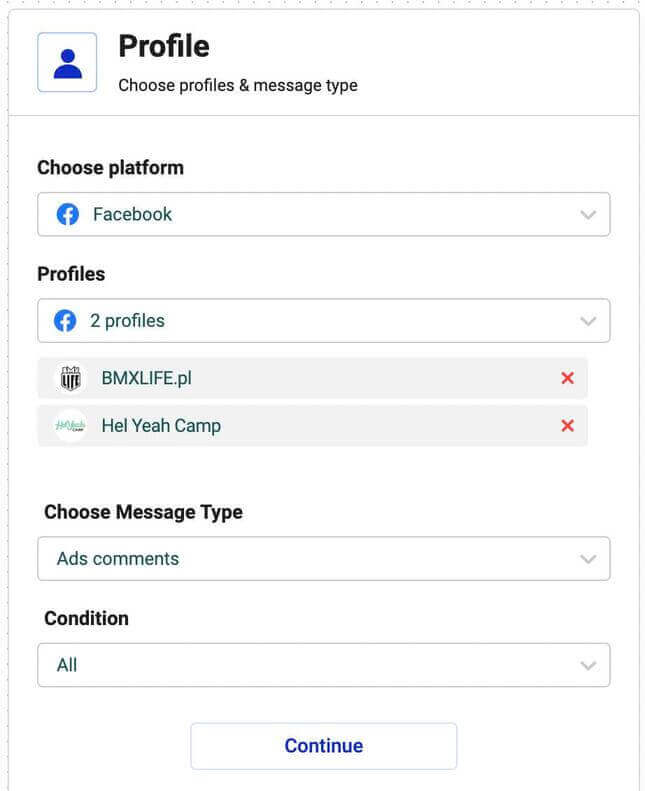 If you want your rule to work for specific users only, you can select a user tag. User tags can be defined in the Workspace Settings (formerly Project Settings) and are applied manually in the Inbox by moderators.
Once a user is tagged, any of his/her future messages will be marked with this tag. For example, you can tag your competitors or trolls and automatically hide their comments.
If you are worried about offensive language showing up in your dark post comments, you can set up a moderation rule to hide comments containing specific words or phrases. This way, you can reduce the risk of your company's image being defiled by some Internet anti-heros.
Next, you should choose the automatic social media action. You can choose multiple actions simultaneously. For example, your rule can automatically hide comments and, at the same time, reply in a private message.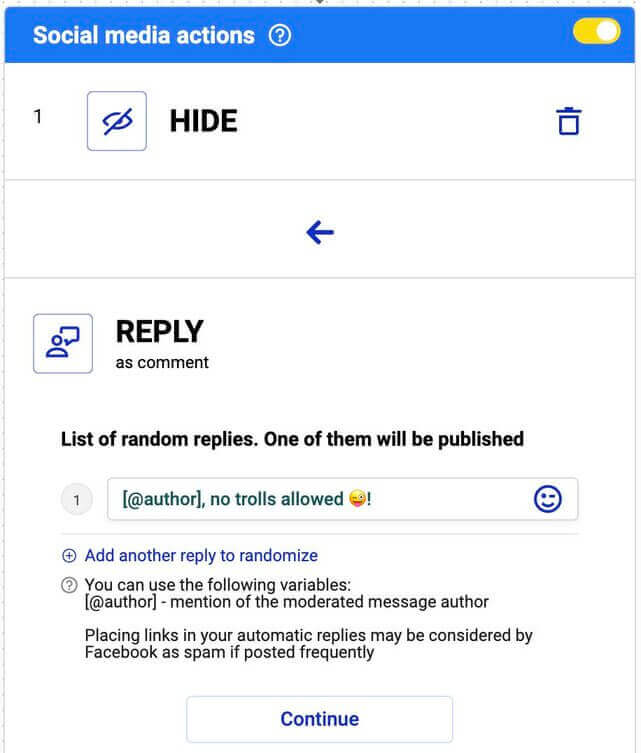 Then you specify the internal action that NapoleonCat will take inside its Social Inbox. Again, you can choose multiple actions, e.g., the offensive comment under your FB ad will be automatically flagged, marked with negative sentiment, and tagged as spam.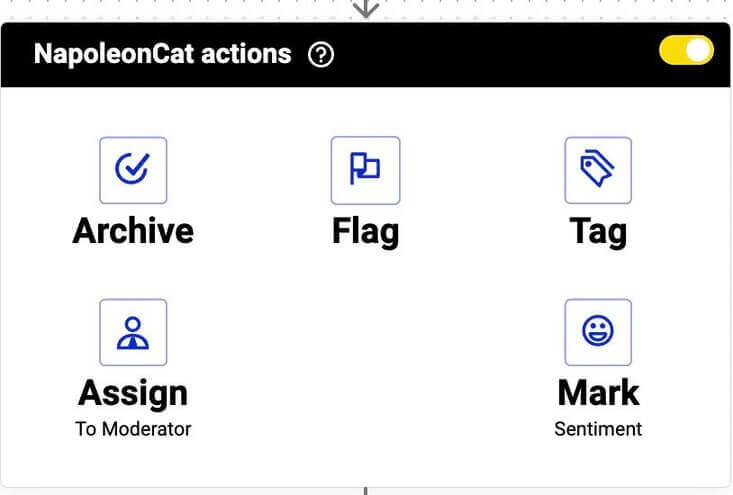 Moreover, you can automate your moderation process by setting up automatic email notifications (once a rule is triggered) to the people who should help deal with specific customer queries.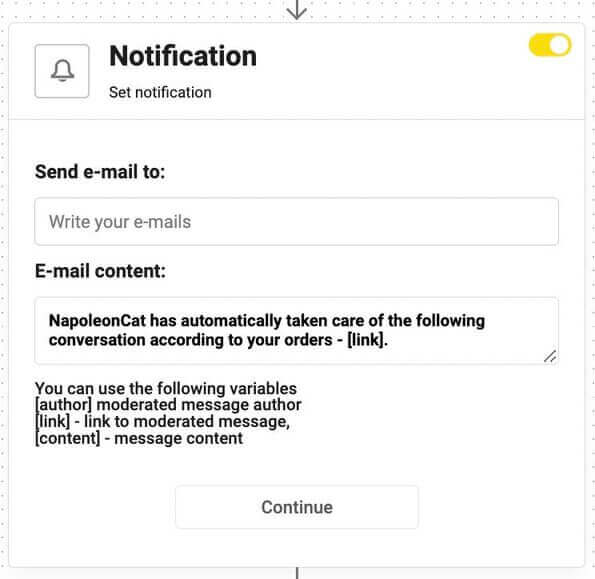 You can also schedule your rule to work during certain days and hours. For example, if you have a big team of social media moderators keeping an eye on your social media during traditional office hours, you probably won't need auto-replies during their shifts.
In such cases, you might want to set up a rule schedule that will cover the times of the day when your team is offline. To do so, check the Rule schedule box and mark the time slots to activate the rule. If it's marked yellow, it means that the rule is active.
However, we generally recommend setting your rule to work 24/7 🙂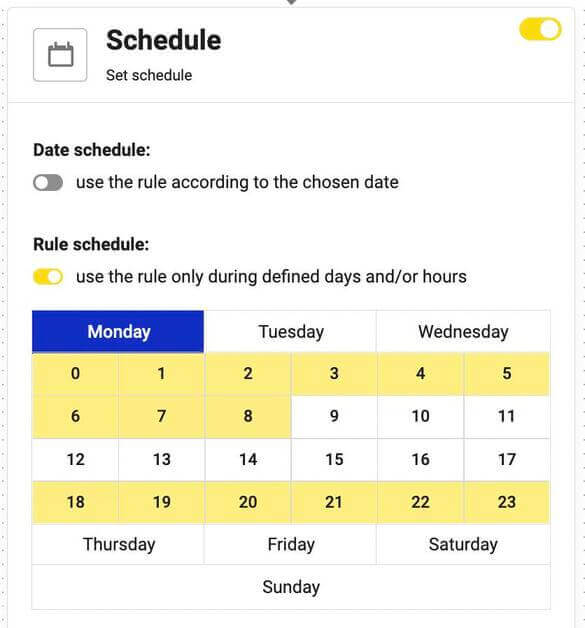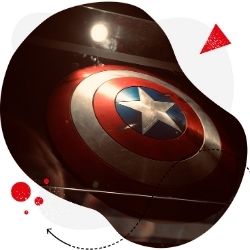 Protect your Facebook Ads from hate & spam
Set up Auto-moderation rules and protect your Facebook Ads from hate speech, inappropriate comments, and spam. Or automatically delete all comments on specific posts – with an all-in-one social media tool.
Conclusions
Of course, social media automation won't replace real human interactions. But it will help you to provide customers with fast response times and a positive experience, as people are more inclined to stay with a brand if they're quickly taken care of. Moreover, it will help you filter those queries that need an individual approach and more attention.
FAQs – Disabling comments on Facebook Ads
Wondering how to turn off comments on Facebook without using any third-party tools? It is somewhat possible but very limited in its features.
But don't worry; we still have a fitting solution in NapoleonCat 😉
How to disable comments on Facebook Ads & organic posts using Facebook
Here's the thing – Facebook only allows us to easily turn off comments in Facebook groups.
For a Facebook Page, that option is unavailable. You can use Facebook Page moderation to disable comments under all your ads and organic posts using keywords. Go to Facebook Page Settings > General > Page Moderation and type in the most popular words like "do", "to", "you", etc.

The drawback to that feature is that it will turn off comments on all of your ads and Facebook posts. Plus, you can't be sure that all the comments will be disabled, given that some users may use words that are not included in your Page Moderation rules. Read on to find out how to easily disable comments on specific Facebook posts and ads.
How to automatically delete all comments on specific Facebook posts (organic posts & ads)
Now, using NapoleonCat, hiding and deleting comments on a specific Facebook post will take you just about 10 seconds. Here's how to do that:
Sign up for a free 2-week trial to test our social media tool (no credit card required, registration takes just a few seconds)
Go to Auto-moderation in NapoleonCat
Create a new rule and name it
Choose the Facebook Page where you want to disable comments
Choose "Comments for specific posts" as the trigger
Select the specific post where you want your comments to be disabled, you can choose from both organic and paid posts.
Don't include any keywords; this way, the rule will work for all comments under your marked posts.
Select "Delete" as the action in Inbox
Type your e-mail address to receive notifications each time an Auto-moderation rule deletes a comment.
And that's it! Simple and efficient. I've also made a video tutorial on how to do that in NapoleonCat 😉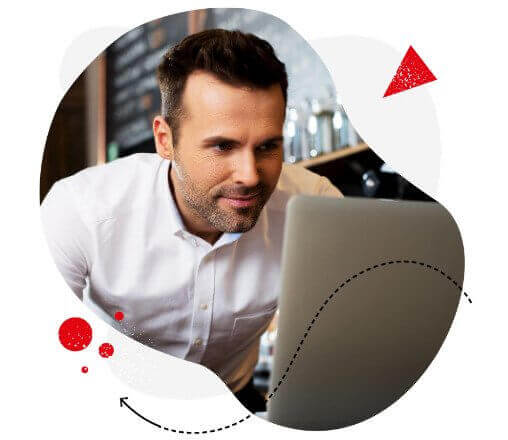 Facebook comment moderation made easier
All your Facebook comments in one dashboard. Organic posts & Ads included. Automate replies, automatically delete spam, or auto-delete all comments for specific post – with an all-in-one social media tool.
Should you disable comments on Facebook Ads?
Disabling comments on Facebook completely is generally not recommended. Customers are usually happy to be able to give you feedback, whether positive or negative – it's valuable.
If you turn comments off on Facebook ads, or on your organic posts, you risk frustrating and alienating viewers who may have something good to say about your brand.
Moreover, Facebook ads without comments look suspicious. Plus, there's no social proof of engagement (which makes an ad less interesting). Proper Facebook ads automated moderation is a much better option if you're afraid of spam or hateful comments.
And this is what NapoleonCat offers. You can test it yourself for free, no credit card required 😉
For more community management tips, check out our other articles:
If you want to learn more about social media automation, we recommend the following articles:
---