Run a local coffee shop or work for a national (or even international) footwear store chain? Google My Business is your friend. Here's how to handle Google reviews moderation, so you don't turn it into your enemy.
So let's say you're a coffee fanatic like I am, and you're visiting Berlin or, I don't know, Valencia, Spain (#truestory) and want to know the best spots to get coffee in the vicinity of your hotel or Airbnb. (Or sometimes even across town if it looks especially yummy.)
What do you do? You google it. Or, if you're like me, you go on Google Maps and look for coffee shops in a selected area.
What you'll find are the coffee shops' Google My Business profiles. And what are you going to look at, specifically? Yes, Google reviews.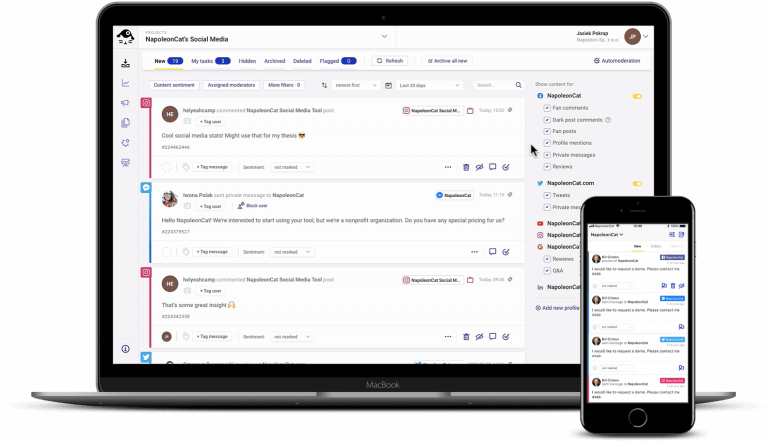 Google reviews moderation for multiple Google listings – all in one place
Monitor and reply to all your reviews from Google with an all-in-one social media tool – even if your business has hundreds of locations.
And not just the number of stars (though ratings are important, too – you'll probably only look at the ones with upwards of four, right? And this is typical – research shows the most common filter applied to customer reviews is to see only companies with 4-star ratings and higher.)
You'll also want to see what customers actually say and maybe the photos they add. (These are usually more "real" than the styled photos brands put on their websites or social media.)
Was the coffee good? Do they offer milk alternatives? How's the customer service? Is it crowded (and when?) Which item on the menu is to die for? And are those churros really worth the trip? Or is it all just hype?
You'll probably find all of the answers to your questions in there (if not the reviews, then the Q&As). Or, actually, your potential customers will – before they decide to visit your shoe store, your pizza place, or your coffee shop.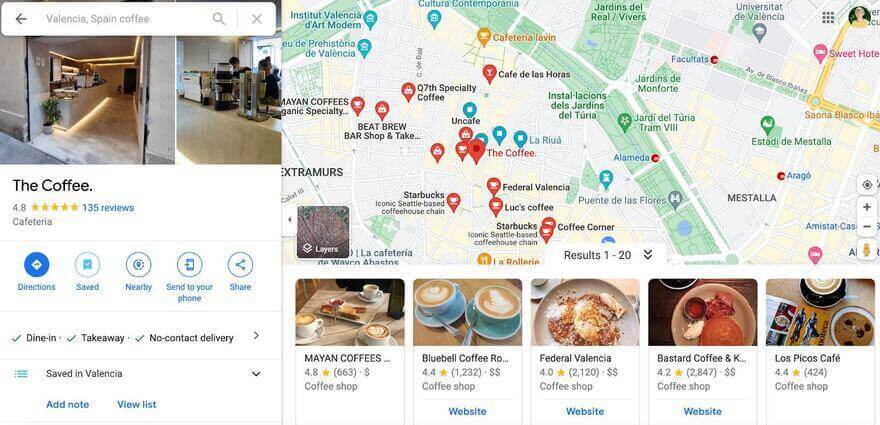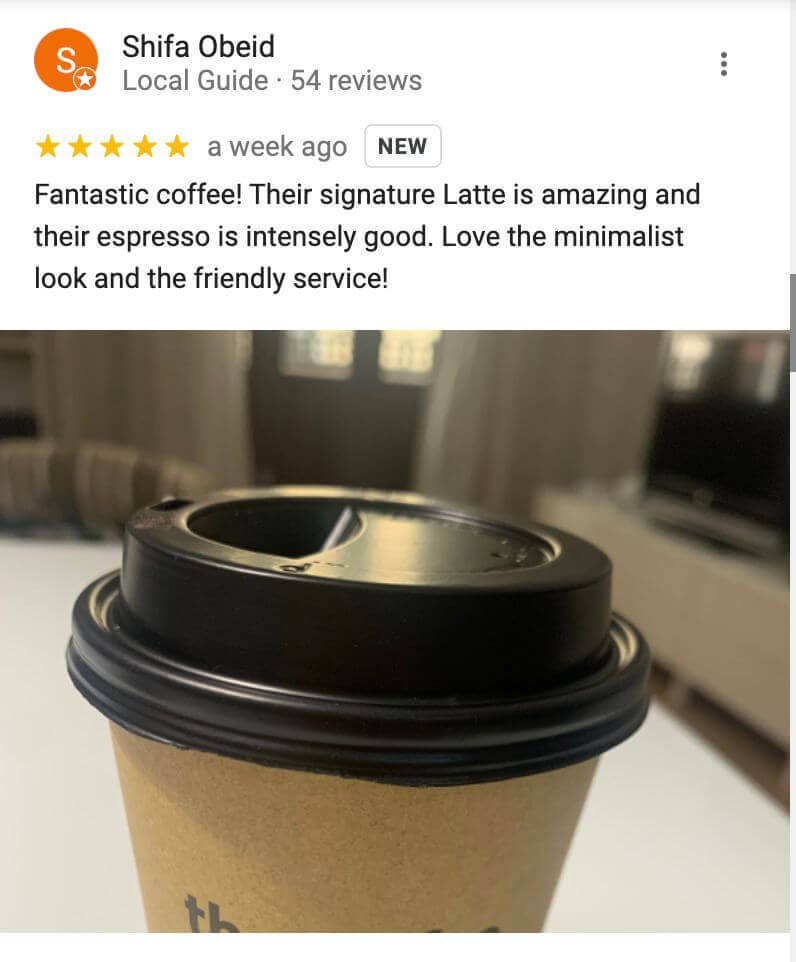 And that's why you need an active Google My Business profile. And to actively manage Google reviews that will appear there over time.
But first, get that Google My Business profile in order
If you haven't claimed your Google My Business profile, it's high time you did it. First of all, you don't want your Google Maps listing to just be there without your knowledge or control (including over what's happening in the review section.)
And you do want all the benefits that come with it, like:
A boost in local SEO
Higher chances to convert the people who are already looking for a service like yours into actual customers
More ways to reach customers with special offers and your regular offering
Keeping in touch with customers with regular updates on your page
Building a consistent image of your brand in a place many people don't go beyond when looking for a service like yours in the area.
Yes, people will often stop at your Google My Business page to decide whether you're worth their time (and money), usually based on customer reviews (especially if it's all they'll see besides your location and opening hours).
So you might as well provide them with all they need to make that decision, like your menu and specials, photos of food and interior, and updates on new additions, events, and anything you want to catch their attention with.
If you're wondering how to do that, here's a Google My Business guide with all the information you need to get started.
And here are some examples of what to post on Google My Business.
Now, let's get to the reviews – a huge part of your Google My Business presence and a way for you to interact with your customers after they've visited your store and show potential visitors it's worth visiting you in the future.


How to manage Google reviews for your business
Let me go through some of the best practices for moderating your Google reviews.
First of all, ask for them
Yes, that's kind of scary. 👻 But in the end, that's what helps you improve (if you do get bad reviews – and care about them enough) and attract more customers with the good reviews.
So ask your customers – in the store, by the checkout, on product packaging, in your newsletter, wherever you connect with them. Encourage them to include photos (I mean, who doesn't like to take pictures of their particularly instagrammable dish before they eat it?!) – the more helpful info for your future customers, the better. This way, they'll also help you build an attractive, compelling Google My Business profile.
You might even think of rewarding customers for the reviews – whatever works to encourage them. Because you need those reviews.
(Bonus fact: Google has a worldwide community of Local Guides, who write reviews, add photos, and answer questions – and get rewarded for it. Encouraging them to leave a (positive) review of your place is probably a good idea.)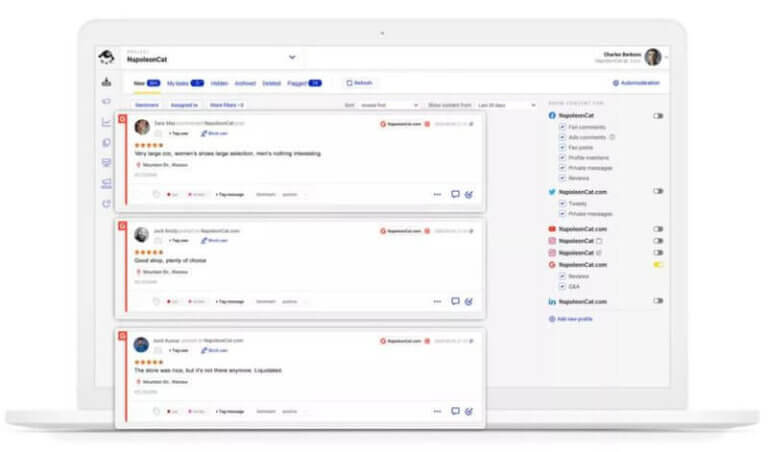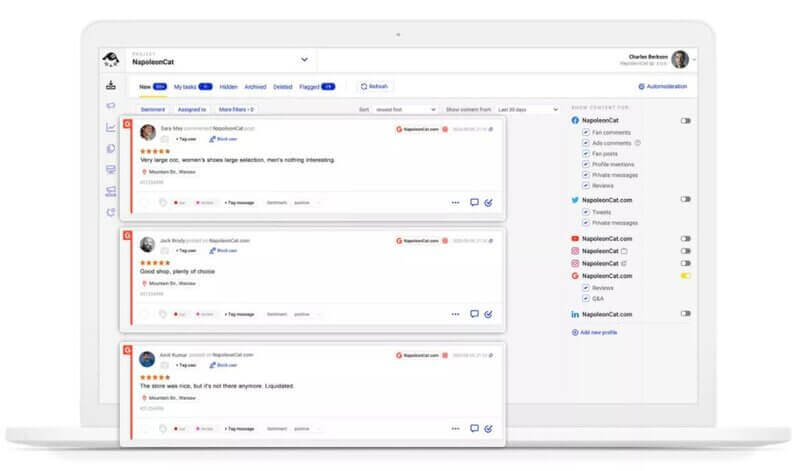 Easily manage Google reviews for multiple locations
Monitor and reply to all your Google reviews. Easily manage reviews written in foreign language, work in a team of moderators, and more – with an all-in-one social media tool.
Reply to them – as quickly as you can
And I mean both the positive and negative Google reviews. People read other customers' reviews on Google – that's a fact. According to some sources, as many as 9 out of ten customers read reviews before buying a product in general.
And they also read your replies.
This is a great way to build trust and show people you care about your customers' experience (not to mention it's just a decent thing to do.) Even if it's just a thank you (or a muchas gracias.)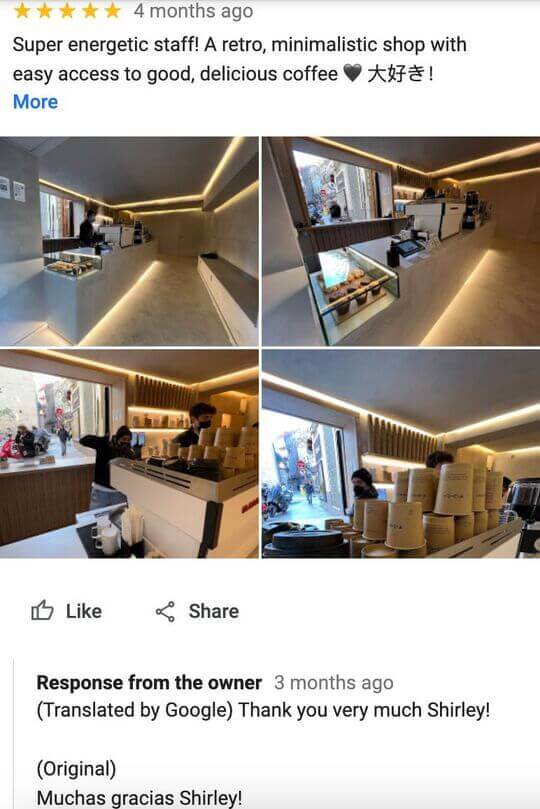 It's also a great way to stand out with your customer service. Stats show that 53% of customers expect businesses to respond to negative reviews within a week. 1 in 3 expect it in 3 days or less. And many companies still don't reply at all.
Now I know this might be challenging, especially if you have multiple locations or even a single, very popular place – and never enough time.
That's when you should look into Google My Business management tools that will help you make the process much more straightforward and less time-consuming. While you still get plenty of reviews for your business.
Read this case study for an example of a huge store chain that optimized Google reviews moderation for – wait for it – 1000 Google reviews for 500 locations every month, handling them in 1–1.5 hours, 3–4 times a week. (Without a platform to manage that, this could – and did – take days.)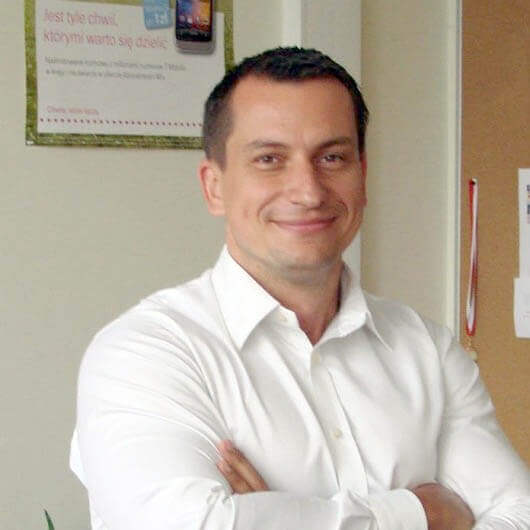 Sign up for a
14-day free trial