If you own a Google My Business (GMB) account, you're probably eager to know how to keep making the most of it. Growing your business online is all about making constant improvements and staying open to innovations. And keeping your business listing appealing is no exception from this rule. Well, we've got you covered!
In this article, you'll find out:
some of the best Google My Business tools – both native to Google and independent
how to use Google My Business tools to boost your digital marketing results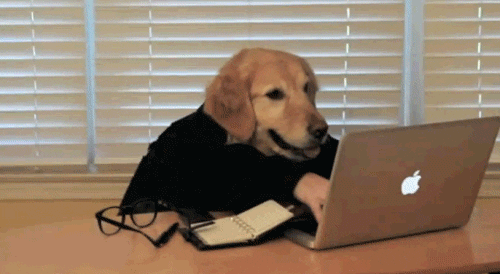 Before you start exploring our Google My Business tools list, you need to get off on the right foot…
Make your Google My Business listing shine
Before you learn how to use some new, more advanced Google My Business management tools, you should check if your business's listing in Google search results is up to date and complete. If you haven't been updating it regularly, now it is a good time to do it. Make sure that your listing includes all your basic business information:
name,
category,
summary,
localization,
opening hours,
phone number,
website address,
and logo.
If you need a reminder on how to update or create a Google My Business profile, we've got you covered – you can find all the important information in our guide.
Remember that some Google My Business features are only available for verified accounts, so complete the verification process right away if you haven't done it yet.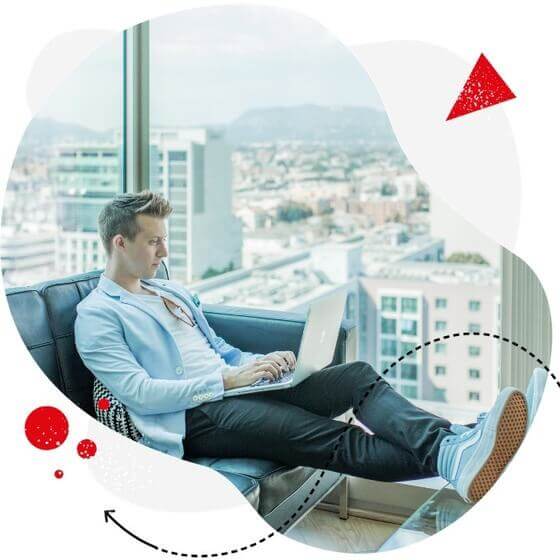 Manage countless Google reviews from one place
All your Google Reviews in one inbox – even if you have hundreds of locations. Try it for free:
Try NapoleonCat free for 14 days. No credit card required.
Use Google's suite of tools
These days, businesses working towards improving their professional online image and visibility in search results have a lot of tools to choose from. A wealth of free and paid software is already available, and new solutions are being created every day. But sometimes simple is best – that's why we will start with Google's proprietary tools that can help you boost your results for free.
1. Google Ads
Google offers one of the most powerful online marketing tools on the market: Google Ads. This complex advertising system with advanced targeting options will help you reach customers all around the web including Google partners' websites, Youtube, and, perhaps most importantly, Google's search results.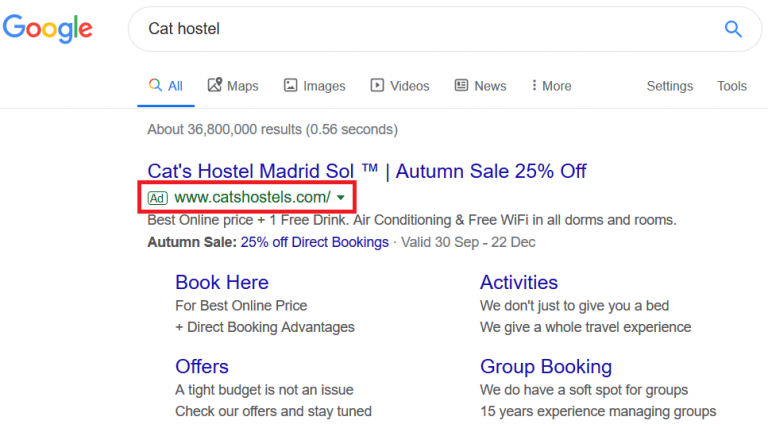 You can start building your ads step by step by clicking the button in the left sidebar menu of your Google My Business administrator panel. It is fairly easy to set up your first campaign just by following the instructions that are embedded in the ad-building process.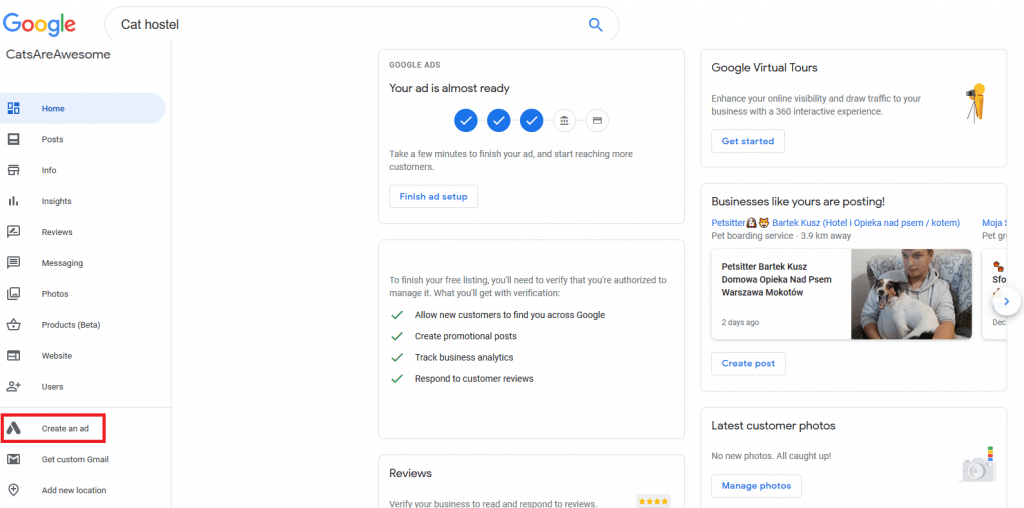 We do, however, recommend that you get a bit more familiar with the mechanics of the Google Ads system to maximize the effects of your ad campaigns and allocate your budget in the smartest ways possible – especially if you run a small business and you're unable to spend large sums of money on advertising.
2. Google Reviews
Regardless of what you're selling, customers and prospects will eventually try to contact you about your products or services. And, in the name of great customer service, the best thing you can do is to make it easier for them to reach you.
The first good practice here is to stay connected to your customers by keeping your GMB reviews section alive. Interact with them by replying to their reviews no matter if they're positive or not. This way you'll show that you care about what people say about your business and that you acknowledge and act on your customers' feedback.
Remember that people rely on ratings when deciding on where and how they will spend their money. That's why it's crucial to list your products on Google Shopping and encourage users to leave Google shopping reviews.
The other way to make your business more discoverable and approachable is setting up a custom company email address. Click the Get custom email button on the left side of your GMB administrator panel and follow the instructions. Creating a custom email address will make you look more professional whenever you respond to your customers' messages.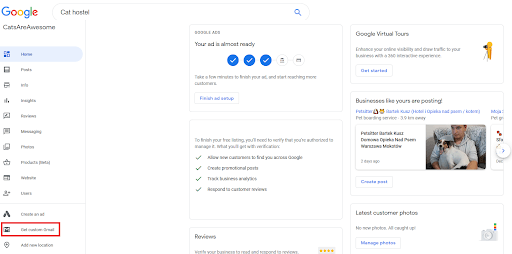 The last and the most useful tool for business messaging in Google's offer is the Chat. You can think of it as a GMB Messenger app as it allows you to reply to messages from your clients in real-time. 


3. Keyword Planner
Whether you advertise your business through a website, blog, or other forms of content, search engine optimization is definitely one of the most important components of a successful online marketing strategy. You don't need to become an expert right away as SEO is a complex field of digital marketing. Luckily, Google provides some great tools to make your life easier here. Use them while preparing content for your website to make it more discoverable.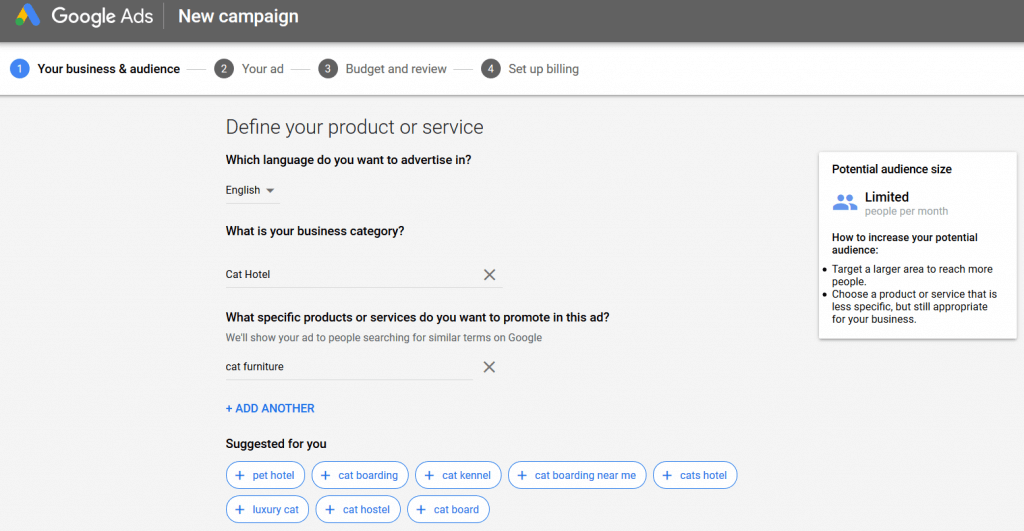 To do so effectively, you'll need to optimize the copy of your website, publish meaningful blog posts, and so on. Weaving in keywords relevant to your niche and to the search phrases your target audience uses to find businesses similar to yours is a great practice.
Your best friend here is Google's Keyword Planner – a tool that'll help you choose the right keywords. Input your business profile, industry, and examples of products and services you offer and you'll get useful keyword suggestions in return.
This feature is also embedded in the Google Ads creator.
4. Google Analytics
Google Analytics is yet another powerful tool among Google's numerous products. If you want to grow your business, it is essential that you measure your results and draw conclusions. This process enables you to come up with countermeasures whenever something's not going as planned and make improvements.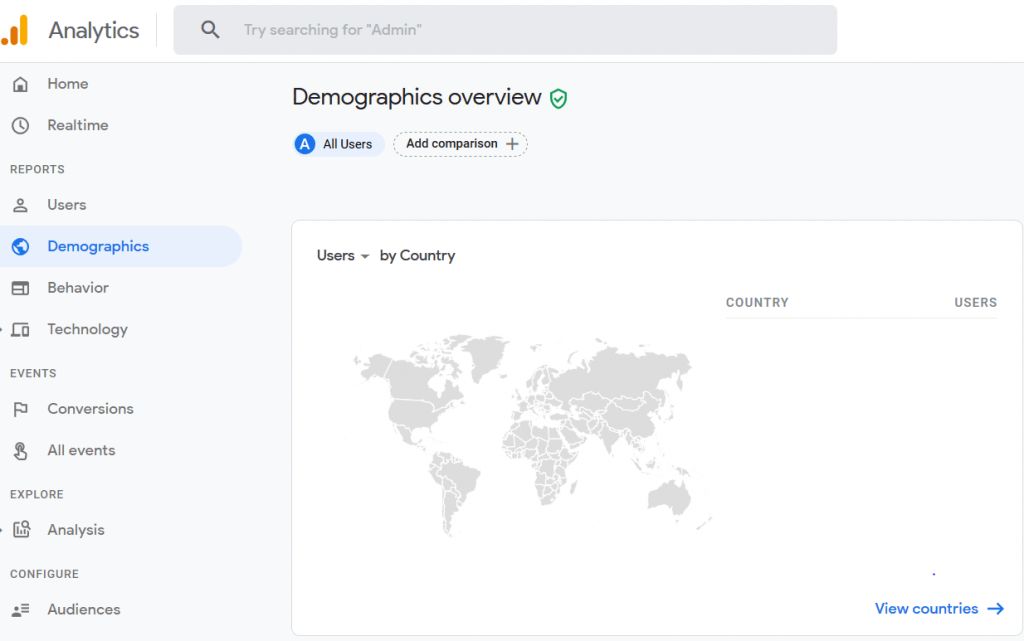 Google Analytics is able to measure the results of your website, mobile app, online store, social media channels, and more. The best thing here is that when you get comfortable using it, you can set up pretty advanced measurements, including cross-platform, user-centric analytics. Proficiency in Google Analytics comes with access to a world of insights that, when skillfully used, can lead to serious improvements to your digital ROI.
5. Google Trends
Getting attention for your business on the internet is about being where your audience is. To achieve that, you don't need to spend hours digging through online forums and relevant threads on social media. Meet Google Trends, your new assistant for researching trending topics.
Google Trends analyzes all of the searches Google users perform and displays summaries in easy-to-read forms like diagrams and heat maps. Thanks to that you can not only see what is trending on the internet in a certain period of time but also check how frequently phrases connected to your business are searched.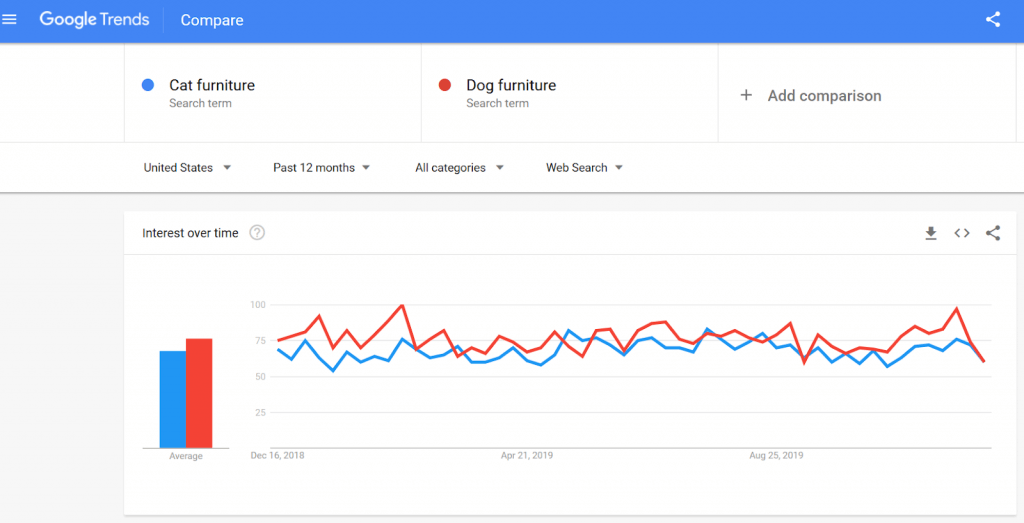 If you ever found yourself not knowing what to write your posts about, Google Trends is a great source of everyday inspiration.
Explore independent solutions
While all of the Google products described above are solid free solutions, they might not solve all of your business needs. If you would like to further expand your digital toolbox, exploring third-party solutions is the way to go.
Here are some handpicked ideas that will take your Google My Business strategy to new heights.
1. NapoleonCat's Social Inbox
A problem often encountered by growing businesses is the inability to answer to all the attention they receive. If you feel like responding to the customers' reviews is starting to take too much of your time, it might be a good moment to automate the process with an external Google My Business management software.
NapoleonCat's Social Inbox enables you to manage all your social interactions – including Google Reviews – in one dashboard, making it significantly easier. This means no more switching between tabs and social profiles to participate in conversations with your customers! The tool also allows you to treat every online conversation like a support ticket that can be assigned to a team member and accounted for in moderation reports.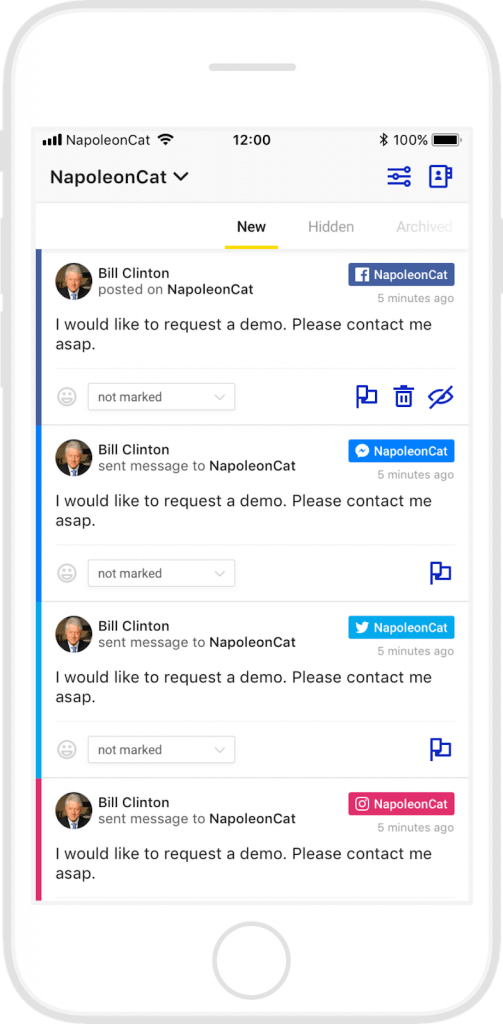 2. NapoleonCat's Publisher
With NapoleonCat's Publisher, you can easily schedule and auto-publish posts across multiple social platforms. And of course, it supports Google My Business.
You can use the Publisher's calendar tab to have a broader picture of your whole strategy and organize your content: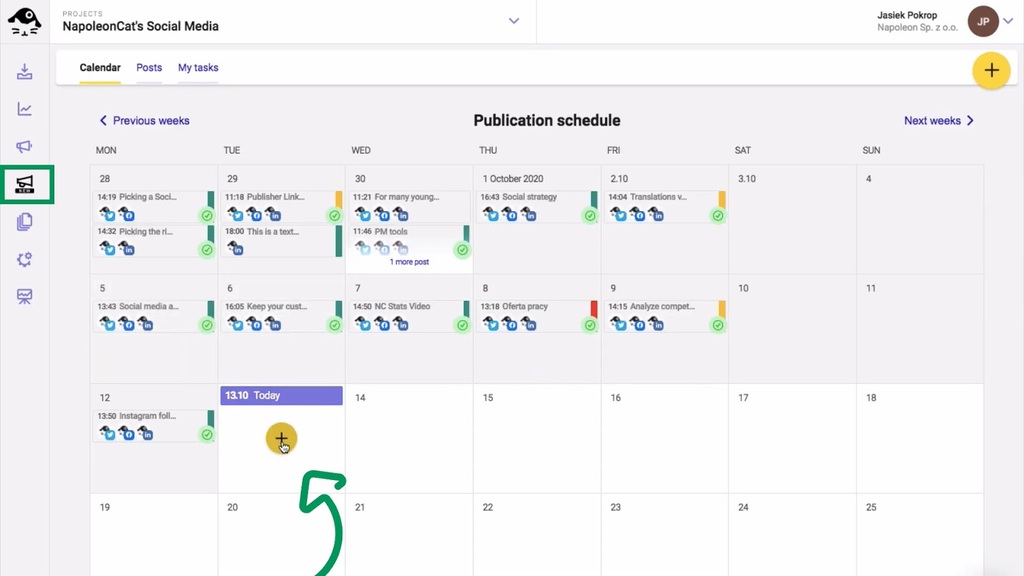 When it comes to crafting your posts, the Publisher makes it a very intuitive process. All of the Google My Business native features are available in NapoleonCat. For example, you can easily create a What's new, Event, or an Offer post: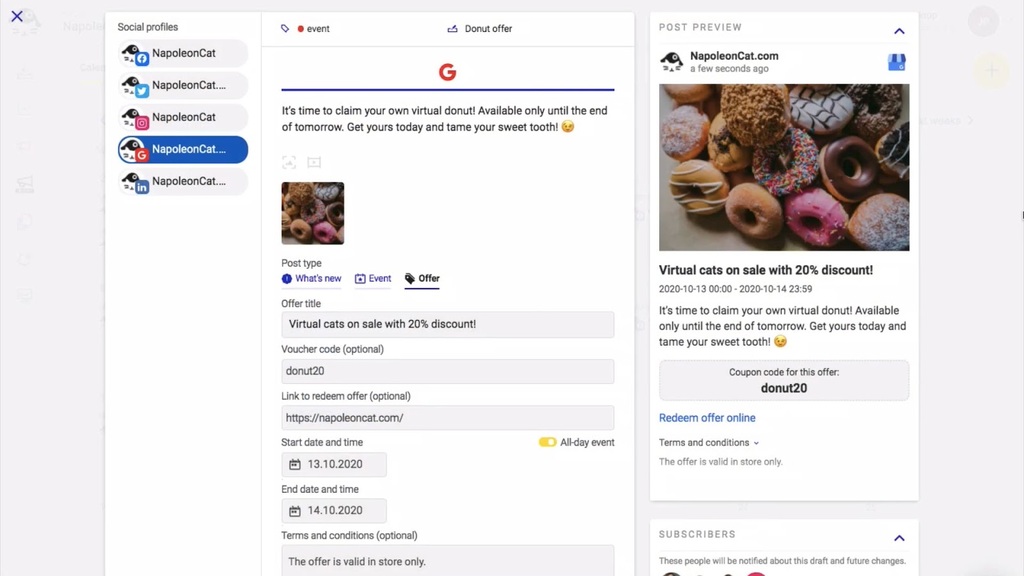 The Publisher is also great for social media teams – you can assign tasks to other users, have internal discussions under specific publications, and more. It's quite the time saver, and makes remote work truly efortless.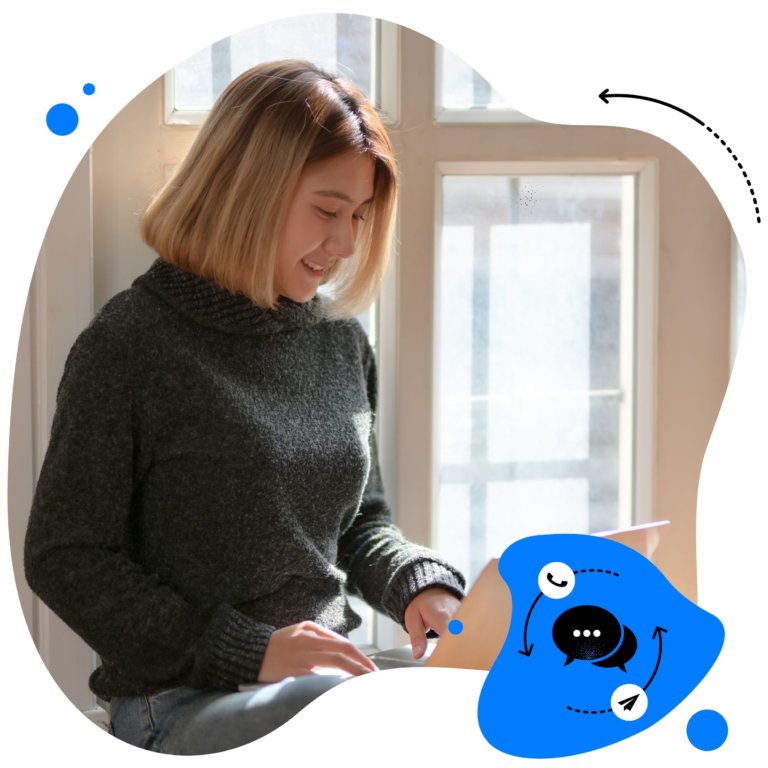 Easy Google My Business management
Manage all your Google reviews from one place. Schedule GMB posts and save time. Try it for free:
Try NapoleonCat free for 14 days. No credit card required.
3. Uberall Location Marketing Cloud
Another great solution for expanding your business online, especially in Google's local search results, is the Uberall Location Marketing Cloud. As Uberall is a certified Google partner, their app enables you to bypass the verification process and claim your Google business listing directly from the platform! If you plan to expand, this is a great solution to make your way to local communities' search results pages.
4. Ahrefs
We already mentioned the importance of search engine optimization in having your Google My Business listings rank well in Google search results. And as much as Google's Keyword Planner and Google Trends are both extremely useful in getting your SEO strategy off the ground, you might want to turn to a more advanced tool as your business grows.
Increase your chances of showing up in the Local 3-Pack (top 3 local businesses to appear in search results) by investing in off-site SEO. Check out tried steps to getting started with your link building efforts using Ahrefs here.
If you want to discover more SEO tools, check out this free SEO tools list.
Wrap up
Google My Business is a powerful solution that can help you grow your business online. If you combine Google My Business's features with other Google tools and third party products, you may see some significant improvements in your business statistics.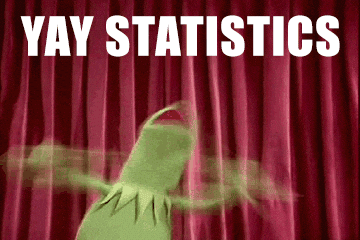 Try out different strategies and mix and match to find the best combination for your business. Stay tuned for more articles about online marketing best practices.