If what's in the title of this post is roughly what you typed in your Google search before you got here, you're in the right place. Let's take a look at how (and why) to optimize and improve your Google My Business ranking to get the most out of it.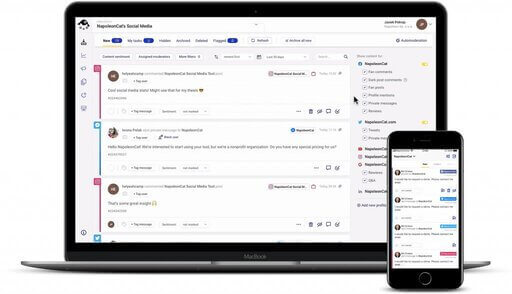 Manage all your Google reviews in one place & schedule GMB posts
Monitor and reply to all your reviews from Google with one simple tool, even if your business has hundreds of locations. Schedule and auto-publish different kinds of GMB posts. Try it for free:
Try NapoleonCat free for 14 days. No credit card required.
Why have a(n optimized) Google My Business listing
As a business, you're already probably spending money on Google ads and website SEO optimization, so it's more searchable and gets enough traffic.
But you might – like many other businesses – overlook your Google My Business presence. Which also means missing out on all the local SEO benefits it can bring you (and we'll look at those in a second). And which, btw, is completely FREE to use.
And if that's the case, you're not alone. In fact, one research study showed that business profiles on Google get just a tiny fraction of the overall billions of monthly views from Google search. But not because Google My Business is just ineffective.
Rather, because businesses fail to take advantage of all that it has to offer and improve their GMB ranking.
And the benefits are plenty:
Improved local SEO rankings
An optimized Google My Business listing is your best friend when it comes to acquiring foot traffic for your business. When someone searches for local businesses like yours in the area, Google will rank you based on geographical proximity and relevance.
But it will also look at the activity on your Google My Business profile and the quality of the information you provide, which are all Google ranking factors for local search results.
A poorly optimized Google My Business profile would rank lower than it could if you kept it active and full of high-quality, relevant info for your potential customers. If you need help with optimizing your profile, most agencies offer local SEO services.
Improved engagement
These days, Google search results are more optimized for search intent than ever. Meaning potential customers often don't have to enter actual websites to get the info they need – it's all there on the search result page.
To compete in the so-called "zero-click searches", you – guess what – have to have an optimized Google My Business profile, enabling more interactions with your profile (sometimes even more than with your website) and, ultimately, more conversions.
More customers
If you don't have an optimized Google My Business profile, your potential customers will essentially see your location on Google Maps and maybe read your customer reviews (we'll talk about reviews in a sec, because that's a big one).
But when you manage your listing actively and consistently, it can become a much more effective tool for customer acquisition.
An optimized Google My Business profile will let them take up your special offers, book appointments, research your offerings, and more – all often without having to visit your website at all. So, the path to conversion gets much shorter in many cases. Who wouldn't want that?
So, "how to improve Google My Business ranking", you'll ask (maybe that was your Google search? ;))

Here are some helpful tips.
How to improve Google My Business ranking
Let's take a closer look at the most essential GMB ranking factors and how to improve them – so that your business can rank higher in search results.
First of all, claim it for your business (if you haven't yet)
If your business has been on the market for some time, chances are the listing already exists (if you're not sure, just try Googling yourself). And that's even if you haven't created it yourself. But you can't optimize it until you've officially claimed it. Here's how to do that.
If you don't have a Google My Business Account, you can create it here after logging in with your Google account.
Carefully complete all the sections of your Google Business profile
(Btw, Google Business will now be the official new name for Google My Business going forward. Complicated, I know. Here's some more info to clarify)
Provide your potential customers with all the relevant info, including:
Your business name
Industry category (for example, mine's "Marketing consultant"). This is really important if you want to get found in relevant discovery searches – which is when people search for a specific product or service in the area rather than your business name. And which is also where the majority of Google Business profile views come from.
Hint: you can have more than one category.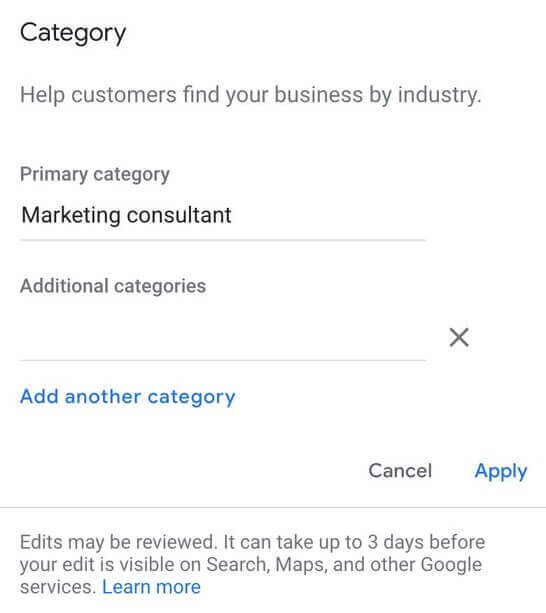 Physical address
Business hours (if relevant, especially if you have a physical location people can visit, and not just an address for your online business – like me. Google will ask you about that, too).
Hint: Make sure to add both weekday and holiday hours so that they're always relevant.
Your service area (if you provide your services outside of your physical location).
Your e-business card with contact information, including phone number and website address (and don't forget, your Google My Business account, though helpful, is not really a replacement for your actual website.)
Appointment links
Products
Services
Attributes – to make your profile even more relevant. For example, I could go for "Identifies as women-owned" and add "Online appointments" to service options.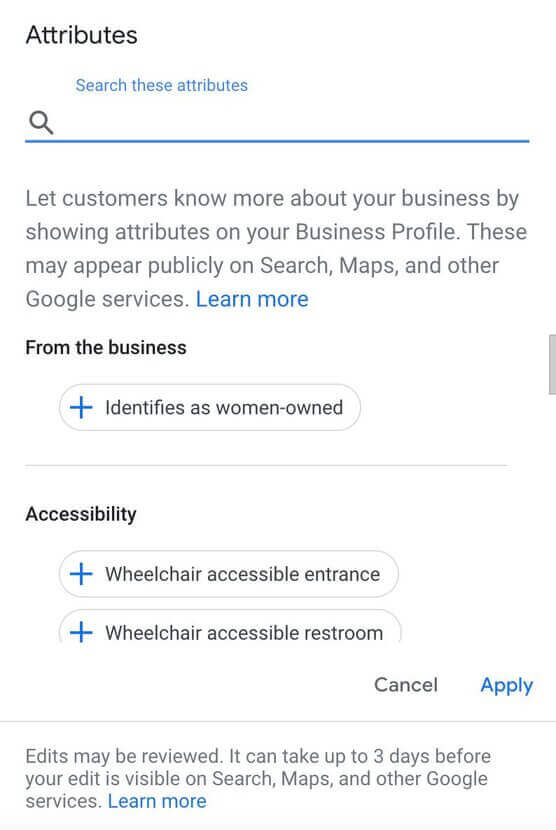 Your business description (up to 750 characters)
Photos. Make sure they're high quality and show you in a favorable light (quite literally). Photos are proven to drive more customers: Google says people are 42% more likely to request driving directions to a business if its Business Profile has photos, and 35% more likely to go to its website.
If you're a cafe or restaurant, for example, photos of food (and drinks) along with the interior will definitely be a good idea.
Opening date (if relevant).
Remember that Google verifies all the info and updates, claiming to take up to 3 business days for the verification.
Keep your Google My Business profile active
This means regularly posting new information – updates, special offers, discount codes, new service launches, etc. Think of it as another social media profile for your business – one people easily find in search results (as opposed to all the other social networks, which actually makes it all the more important).
Things you can post:
Special offers
Product or service showcase
COVID-19 updates
Company news
etc.
You can add call-to-action buttons to your posts, letting customers perform instant actions like:
Buy a product
Book a service
Order online
Sign up
Or call you, and more.
Here are some great examples of the different types of Google My Business posts from actual businesses taking that opportunity.
Keeping your profile active with engaging, relevant, and regular posts will help you get your customers more engaged before they decide to buy or book from you.
And since they're already qualified leads when they reach your profile (because they're most likely looking for you or a business like yours in the area, meaning they're already interested in what you have to sell), it's your unique opportunity to capitalize on this with additional engagement ultimately leading to an easier sale.
Automate your Google My Business posts
I get it: adding another social media profile to your daily schedule doesn't sound like great news. More content to create, more work to do, I can relate.
But that's why getting a social media automation tool that handles Google My Business profiles – like NapoleonCat does – is a good idea. (Because leaving it is not – unless you're ready to abandon an effective local SEO and customer acquisition tool, which Google My Business definitely is).
Here's more info about the platform's Google My Business management tools.
With NapoleonCat, you can plan your posts alongside your other social media platforms like Twitter, Facebook, Instagram, or LinkedIn – in the same shared calendar:
Create all the different types of Google My Business posts, with photos and call-to-action buttons
Schedule them for later to post automatically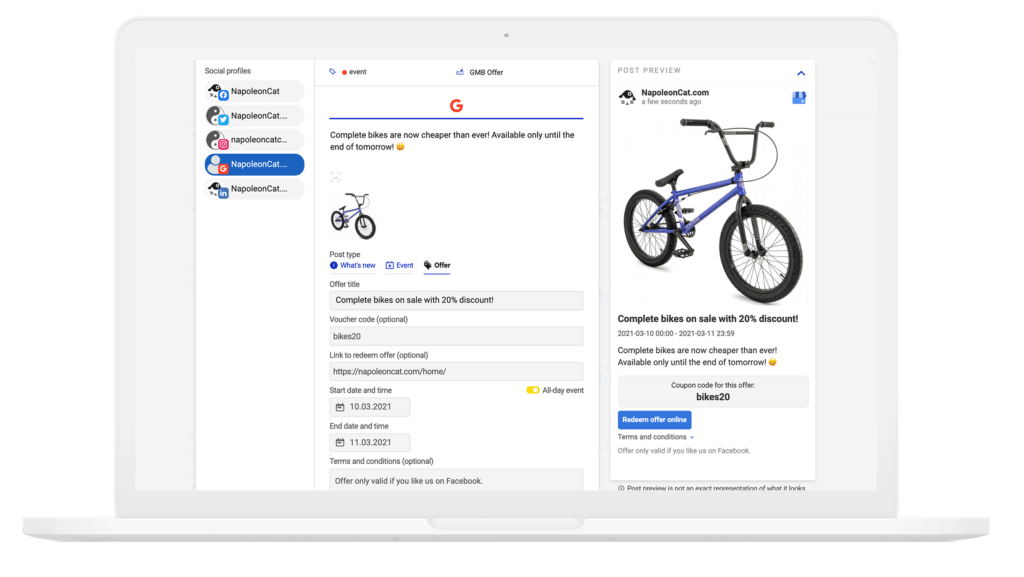 The video below shows exactly how it works:
Genuinely helpful if you're planning to really hit it off on Google and post regularly. (And you can sign up for a 14-day free trial to test it yourself.)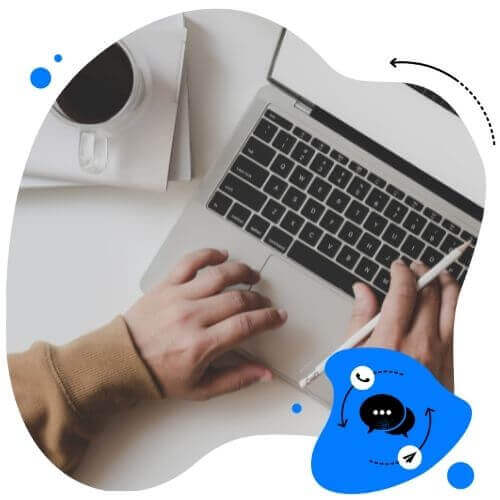 Google My Business Management
Monitor and reply to all your Google reviews from one place. Schedule and auto-publish different kinds of GMB posts. Try it for free:
Try NapoleonCat free for 14 days. No credit card required.
Manage and respond to Google reviews from one view
This is a key feature of Google My Business – and a powerful tool in your brand-building arsenal if you use it right.
People check Google reviews – that's a fact (you probably do that, too.) Whether you run a hotel, a restaurant chain, a tiny specialty café, or an international clothing brand with stores in multiple countries, people will leave positive and negative reviews: about your customer service, your products, your amenities, and in general, about their experience with your brand.
And though you probably dread it (I mean, reviews can be both good AND bad), being able to manage them puts you in control (well, at least partially. ;))
And according to a study by BrightLocal, up to 82% of consumers read online reviews when they're looking for businesses in the area. What's more, even 97% of them read your responses to those reviews. And at that point already, they have a pretty clear picture of whether they want to buy from you or not.
The problem with reviews is that managing them and responding to them takes time (duh!). And it takes more time the more locations and customers you have.
But – again – there are tools you can use to make that process easier. Much easier.
One of them is NapoleonCat (the same tool you can use for content publishing on your Google My Business profile) and its Social Inbox. You can actually monitor and collect all your reviews from all your Google My Business locations in one dashboard, alongside all other customer interactions from Facebook, Instagram, Messenger, etc.
This means you (as a business owner or social media manager) or your customer service team have an easy way of tracking all your reviews and promptly responding to them.
Without getting lost, having to constantly switch accounts, or spending days doing all of it (which they probably don't have anyway, so the reviews go unanswered.)
You can also respond to reviews written in foreign languages as the Social Inbox has a built-in translator.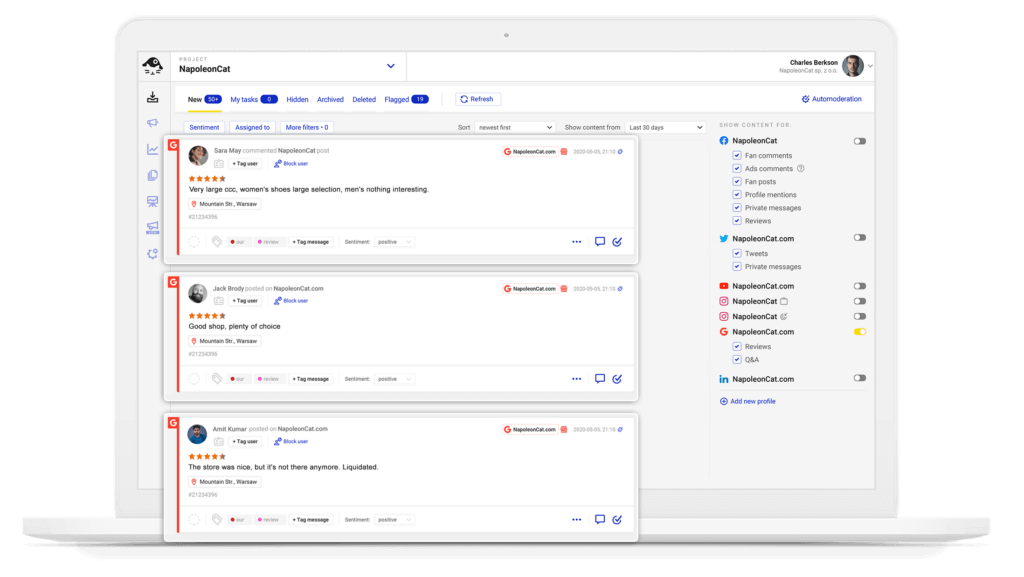 In fact, a case study of one business using NapoleonCat to manage Google reviews for nearly 500 locations showed they went from days to just 1–1.5 hours, 3–4 times a week managing and replying to about 1000–1500 reviews each month. If that's not impressive, then I don't know what is.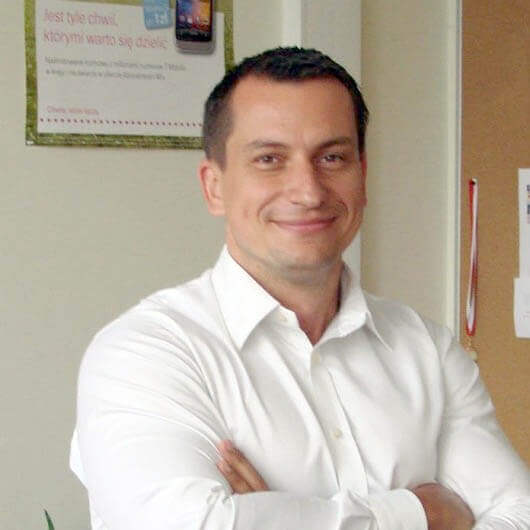 Sign up for a
14-day free trial