If you have a brick-and-mortar store: a coffee shop, a fitness club, or maybe a drugstore, you probably already know how important it is to show up high in Google search results, especially locally. (Sorry for stating the obvious.)

And to do that, you need to spruce up your Google My Business profile. If you're looking for ways to improve your GMB presence – or get started with it – and get more people coming to your physical location(s) as a result, this article is for you.
---
Before we get down to Google My Business post examples, let's first start with the basics.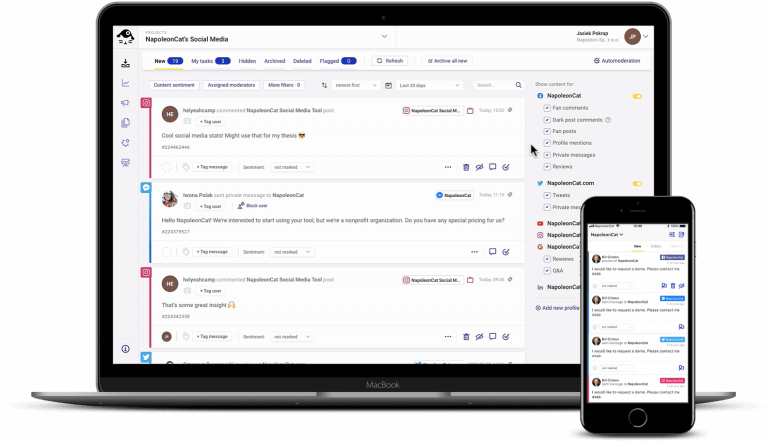 Schedule unlimited number of all kinds of Google My Business posts & manage reviews
Schedule and auto-publish different kinds of GMB posts. Reply to all your reviews from Google with an all-in-one social media tool – even if your business has hundreds of locations.
Why do you even need a Google My Business profile?
First of all, it's your free digital storefront. It's what your potential customers will see when:
They search for your business on Google
They search for businesses like yours in the area
They click on your business on Google Maps.
It might look something like this: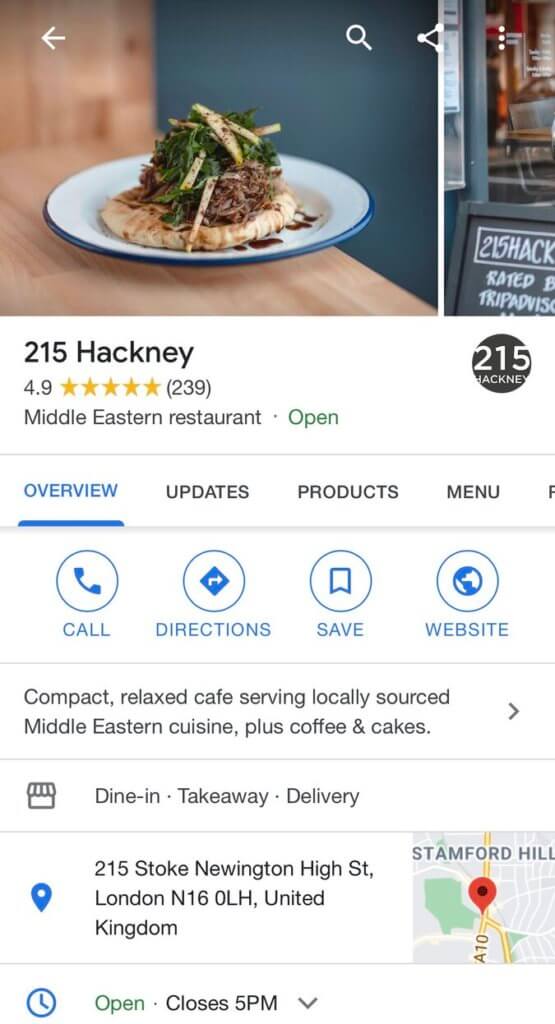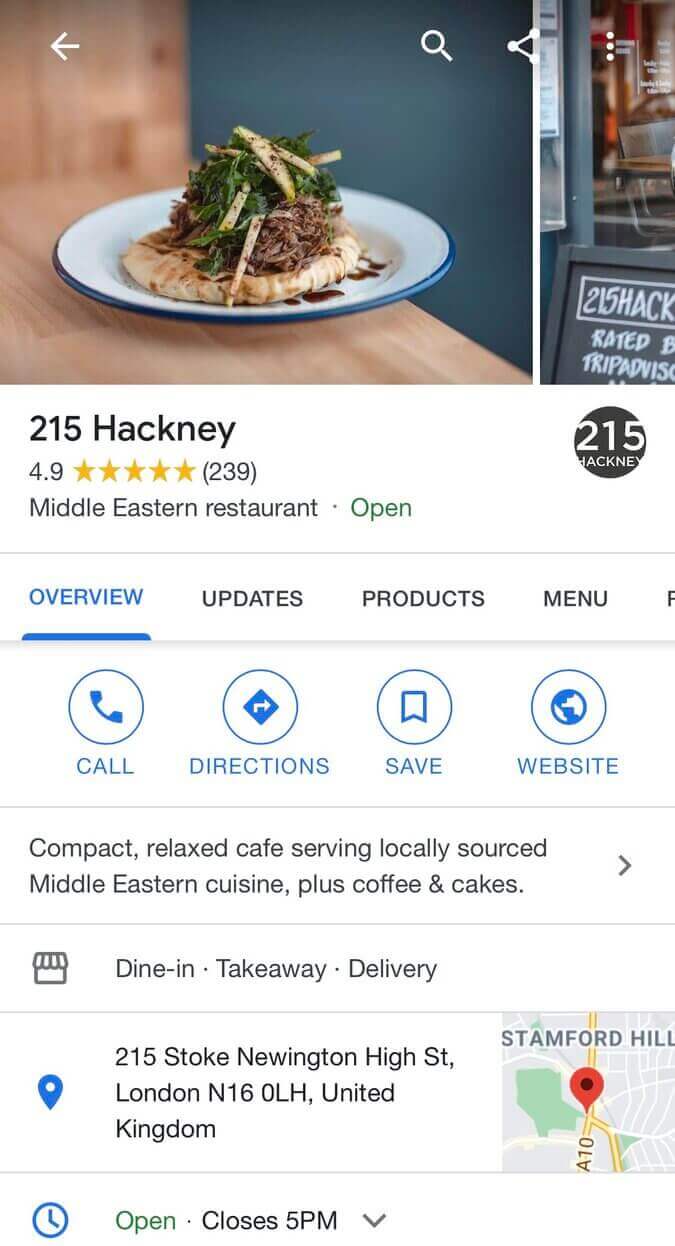 This means people who visit your Google My Business profile are already your qualified leads – people who are actively interested in using your services or buying your products. And even if they haven't decided to visit your location in particular yet, it's your chance to convince them to choose you instead of competing businesses. Much easier at this point because of the purchase intent that's usually already there.


One important factor in these decisions will, of course, be the Google ratings people are looking for to decide whether it's worth visiting your location and buying from you. But another one will be a compelling profile, with all the information they need to make their purchasing decision, appealing photos, and maybe seasonal discounts that might entice them.
Your updates will appear in a separate tab, right next to your general profile.
Here's an example of a Google My Business post: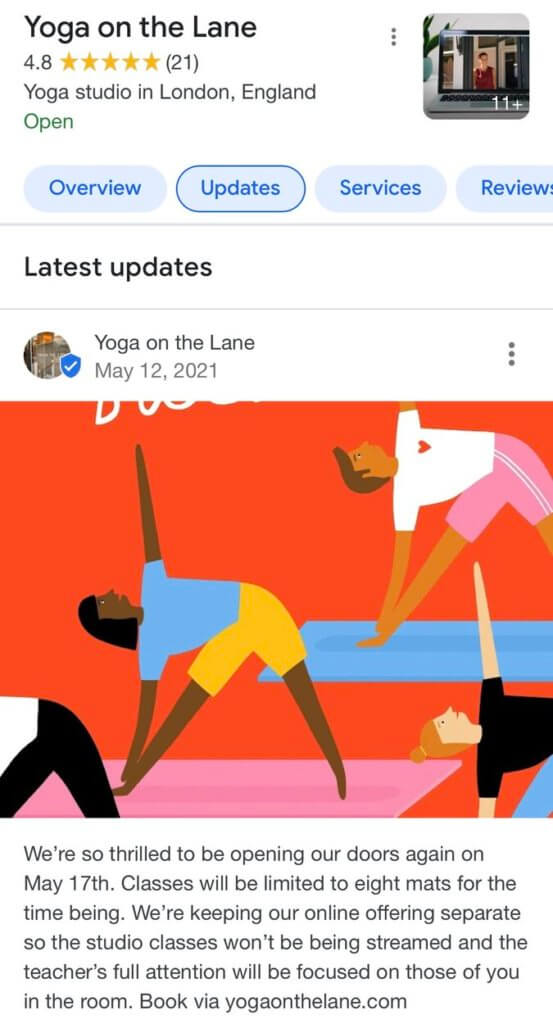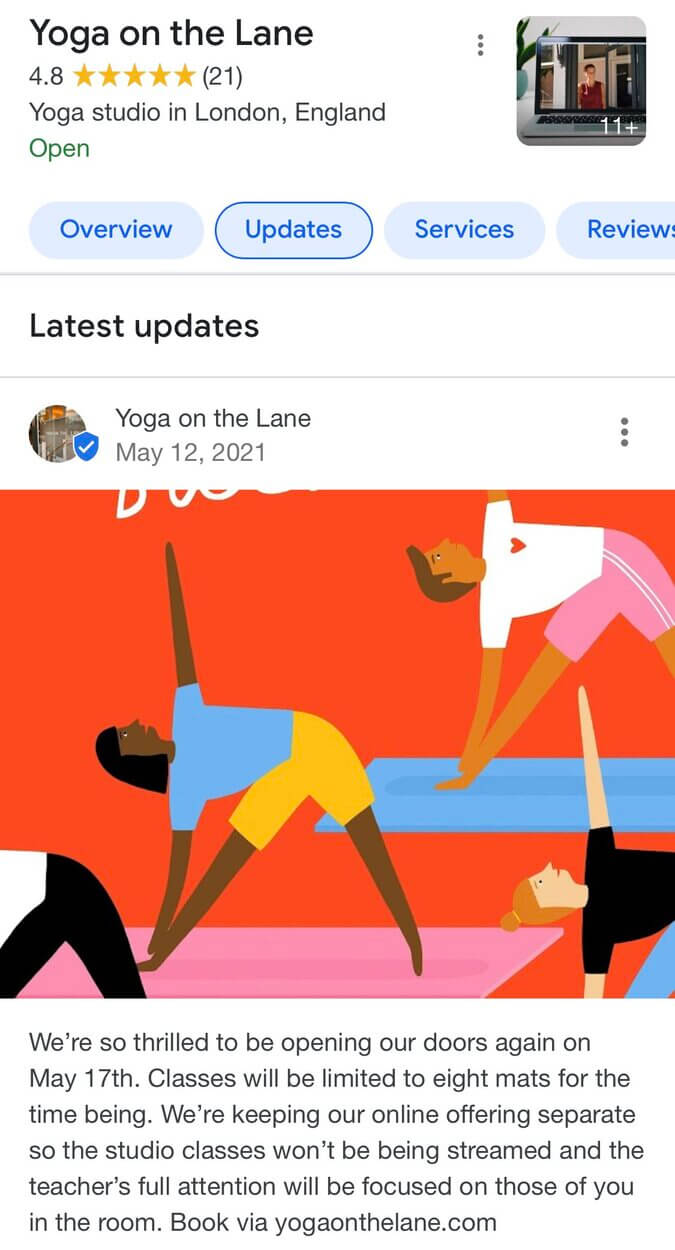 An active Google My Business profile will also boost your local SEO rankings, helping you appear higher in local search results when people are looking for your service in their area.
Most importantly, unlike running Google ads, posting to Google is free.
Think of your Google My Business profile as your first touchpoint with your customers and a way to meet their expectations even before they visit you.
And if you don't know what to post to your Google My Business page, here are some examples to get you started.
17 Google My Business post examples
Let's take a closer look at our 17 examples of engaging Google posts.
Google My Business post ideas for cafes
The last years haven't been easy on cafe and restaurant owners in particular. Whenever troubles arise for your business, keeping in touch with your customers is really helpful. And your Google My Business page is a great place to do it.
An active Google My Business profile offers a unique opportunity to:
highlight specific information like dine-in/takeaway/delivery options
list safety precautions, especially with pandemic restrictions changing so frequently
showcase your best dishes and menu
post special offers and deals while they're happening
allow reservations.
Here are a few examples of Google My Business posts.
Google My Business post example: Special offers
Like this one from a Berlin-based Hashtag Cafe. Add the dates of the promo so people know when to come to get the offer.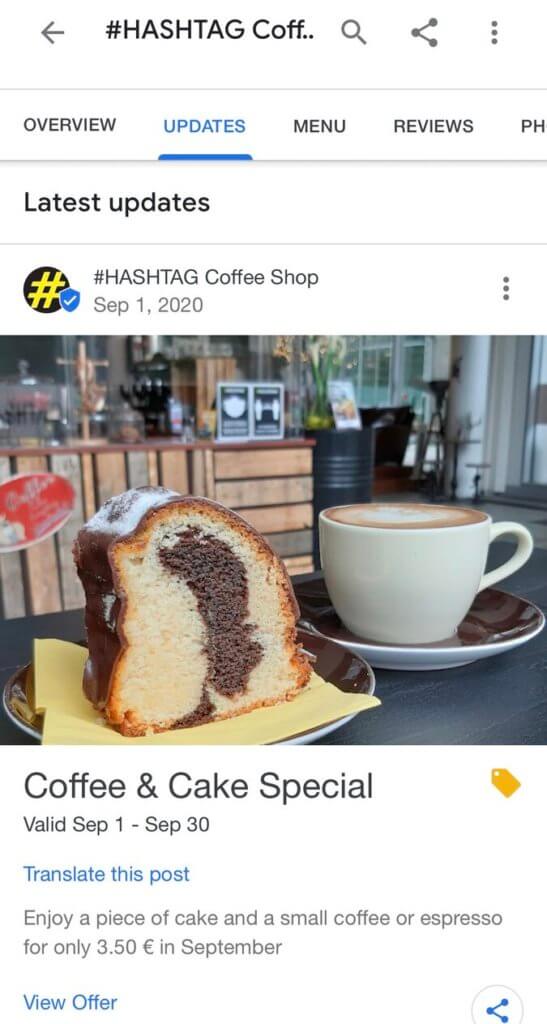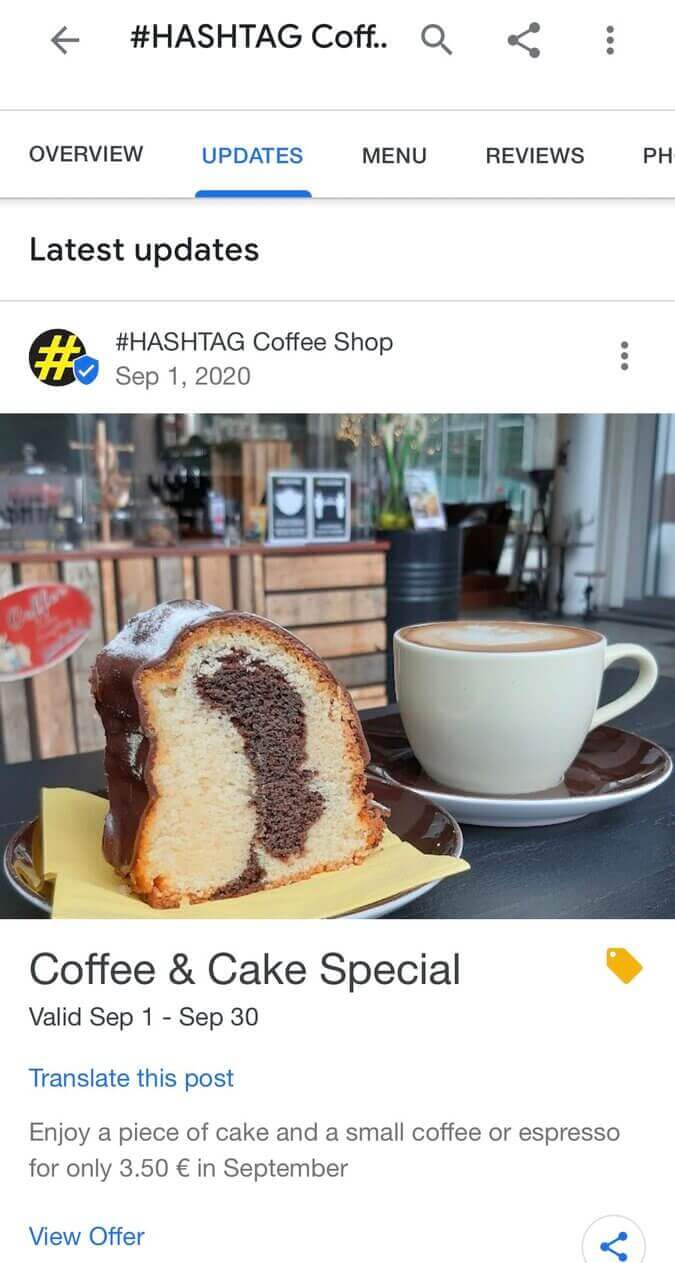 Google My Business post example: Online orders
If you're allowing online orders – or for those times when curbside pickup is your only option – let people order straight from your Google My Business page. This is the quickest way to make the sale – they google coffee shops in the area, view your profile, see the ordering option, and they can order instantly and come pick up their food.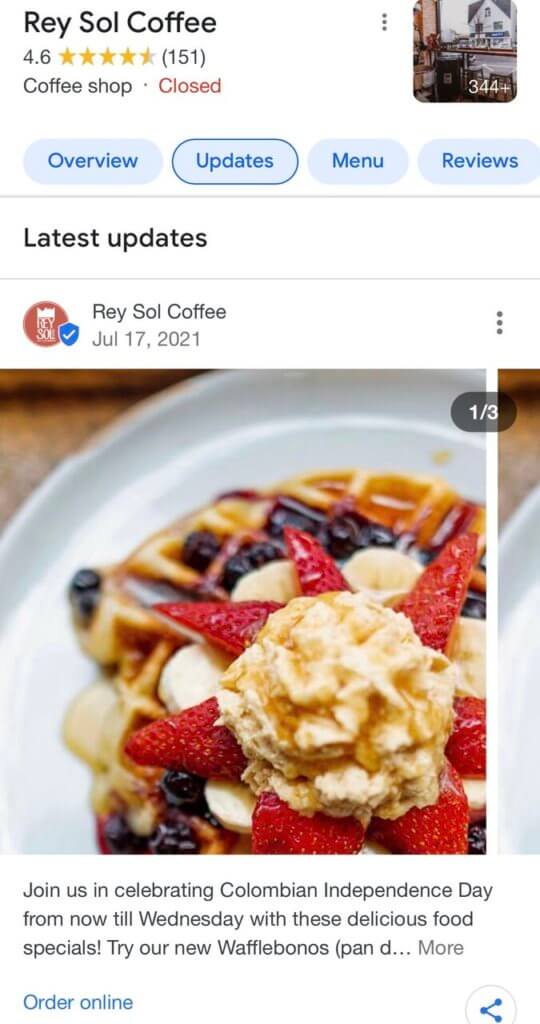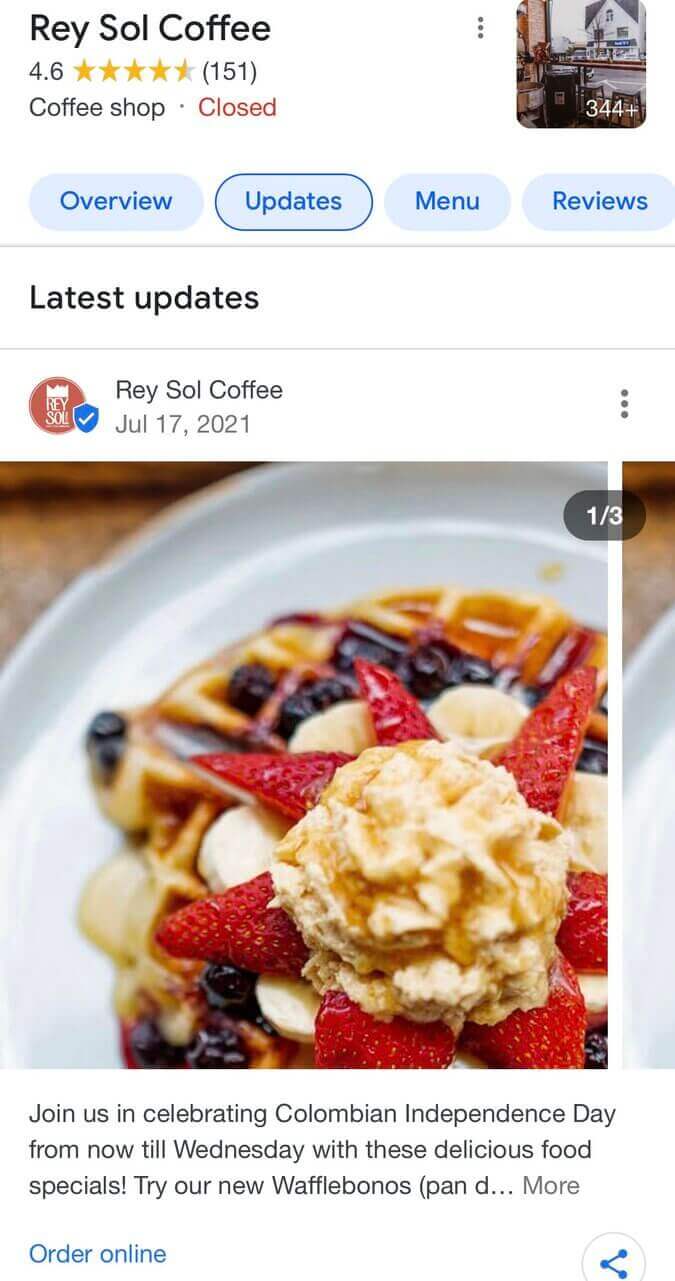 Google My Business post example: Introducing your staff
Now, this is a clever idea and a great example from The Visit Coffee and Eatery in Berlin. Competing with some well-known Berlin coffee shops and roasteries, they enticed potential customers with specials, new additions to the menu, or introducing their baristas.
With the last one, you're heading for a coffee already knowing who might be serving you your favorite coffee drink. Imagine knowing what your barista likes, for a change 🙂 And, of course, it's an excellent relationship-building tactic.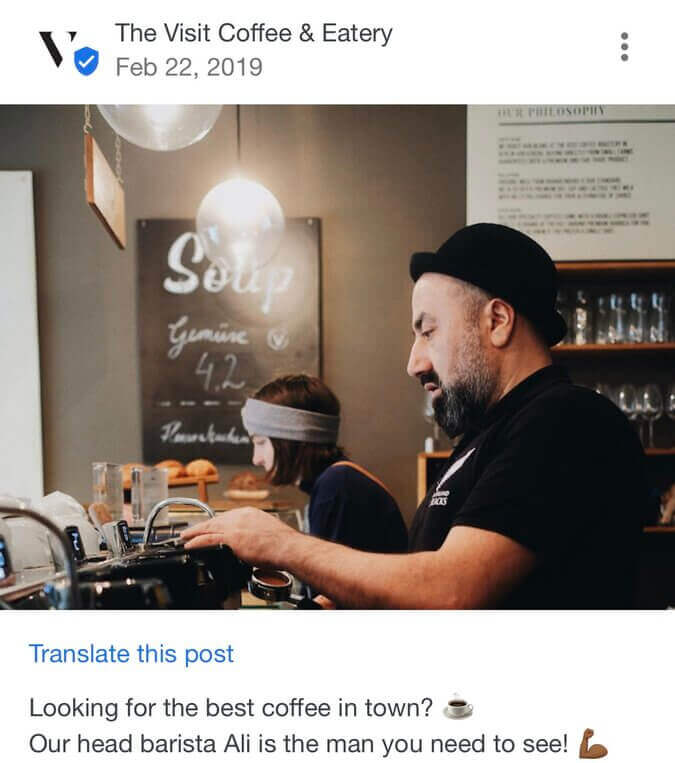 Google My Business post example: Introducing new products on offer
Got some new beans that will be available for a short time? Or a seasonal drink, like cold brew in the summer, or – more appropriate for the current season – your own specialty version of pumpkin spice latte? Let your customers know before they come through your doors.
Who knows, maybe they're googling to find the best iced oat latte just now?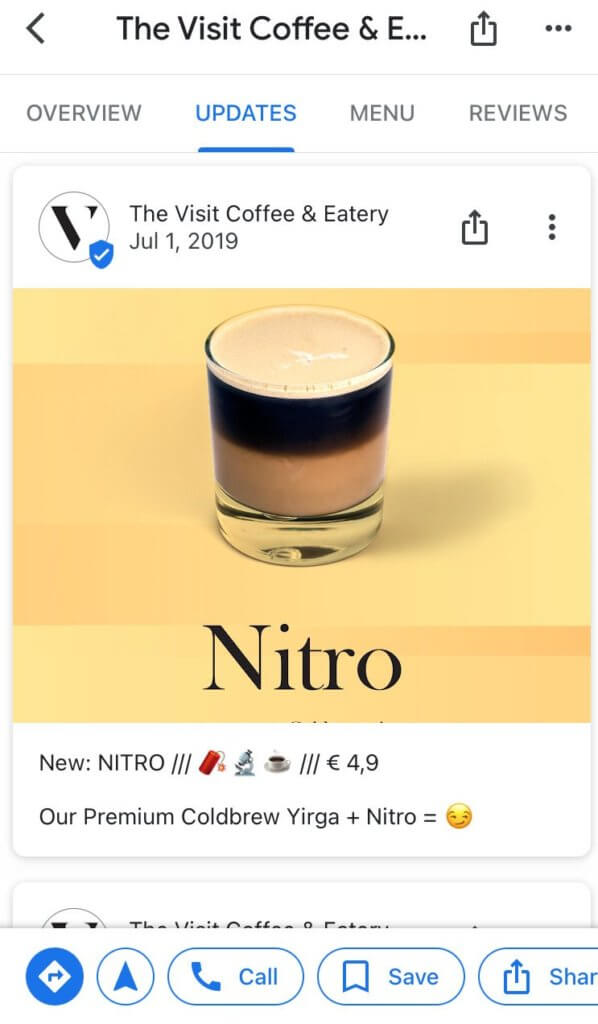 Google My Business post ideas for jewelry stores
When it comes to buying jewelry, you can bet your customers will research your offerings before they go to the store to see if you have what they want. They also probably have high shopping intent, so it's an excellent opportunity to show off your offering and nail that final deal.
Here's what you can post:
GMB Post example: Gift ideas
Local businesses like London's Stephen Einhorn use Google to show specific product categories before sales holidays like Christmas. This post went straight to their website with gift ideas for men. You can order them online, but you can also go to the physical store to see and touch the product before you buy – and maybe get some advice from the store staff. That's still a little harder when shopping online, which hasn't exactly been able to replace the in-person experience, especially with luxury products.
In addition, a Google success story of the brand shows they saw an increase in local interest in their products thanks to improved visibility on Google Maps.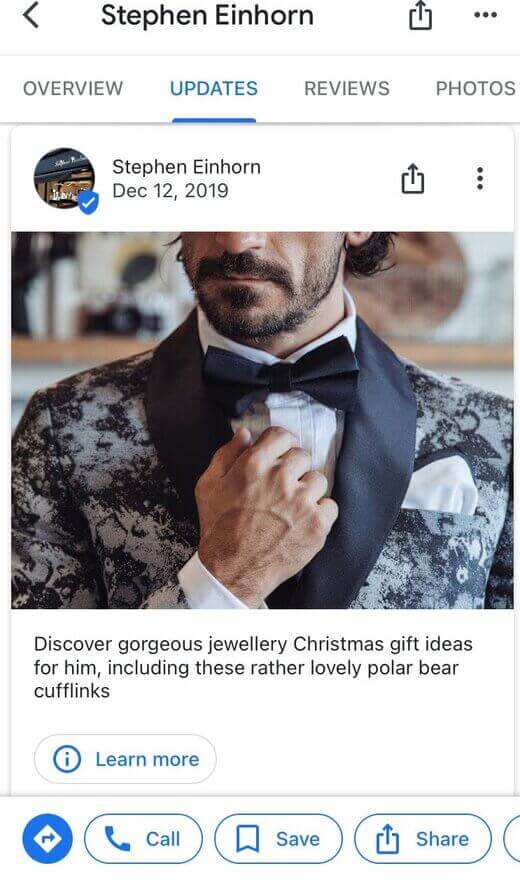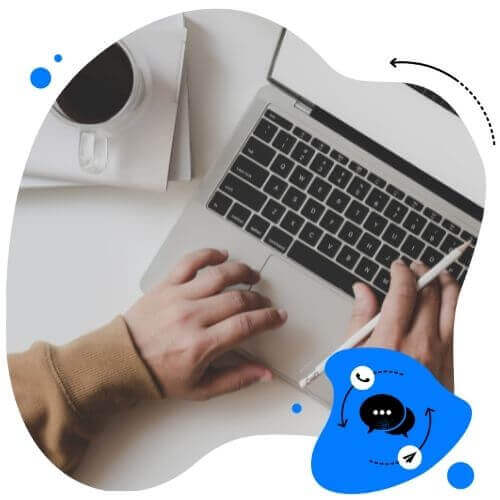 Schedule unlimited Google My Business posts & manage reviews
Schedule and auto-publish different kinds of Google My Business posts. Manage all your Google reviews with an all-in-one social media tool – even if you have multiple Google locations.
There's nothing quite like the recommendation of a happy customer. And when you're selling jewelry, there's a ton of emotional stories out there your customers might be willing to share. Plus, it's a way to highlight and honor your customers, so it's a win-win for everyone.
Engagement? Wedding? Unexpected birthday present? Show others the emotions behind your products, like in the example below.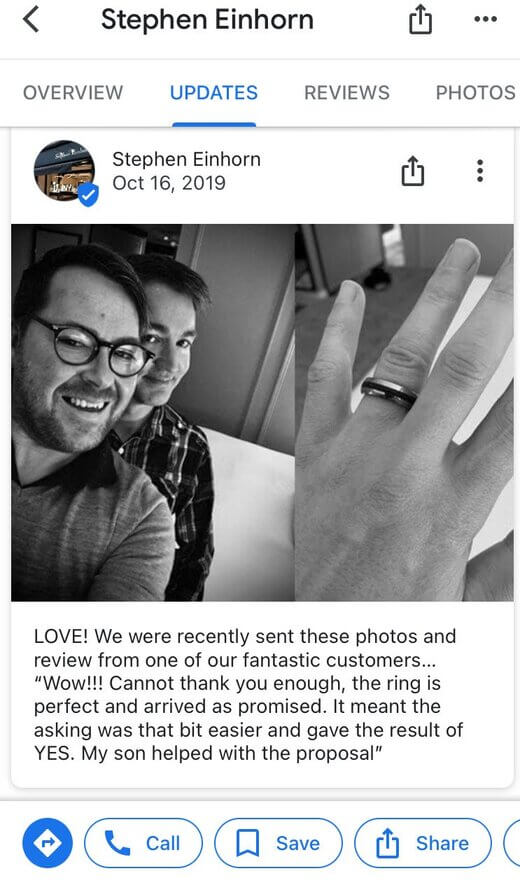 GMB Post example: Educational content
Any business can give their customers some helpful advice on selecting or using their products or services – whatever the industry. Like in the post below including some tips on ordering wedding bands – with a CTA button leading straight to a phone call.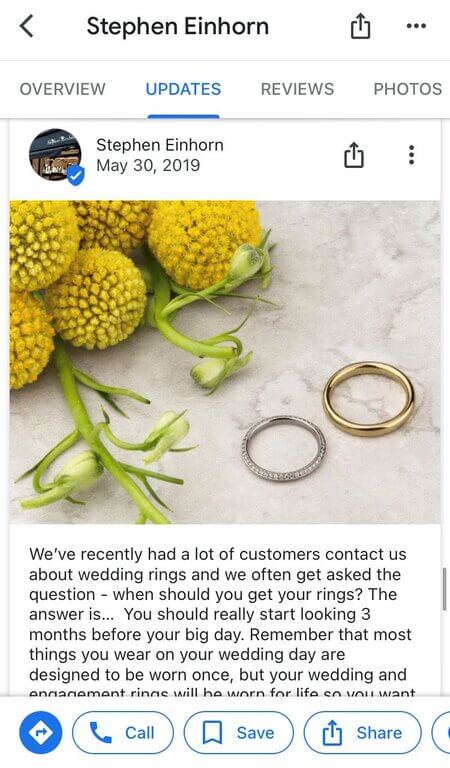 Google My Business post ideas for drug stores
If you're running a drug store or pharmacy (depending on where you are in the world), Google My Business might actually be your best friend – and help you get more customers through your door.
Like with the examples below:
GMB Post example: Product and service offers
Showcase your services or products with a CTA button to buy a product or book an appointment. While you're at it, add some extra helpful tips for your potential customers to show them the benefits upfront.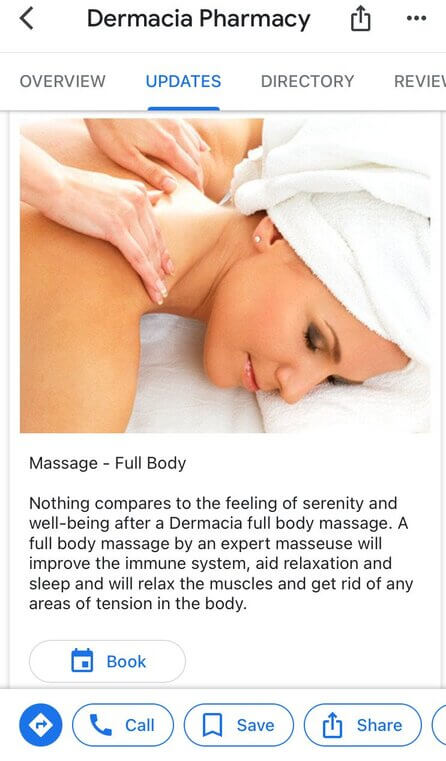 GMB Post example: Covid test updates
If you're providing COVID-19 tests – something people might be searching for online these days – let your customers know when they can come in and what the wait for results is.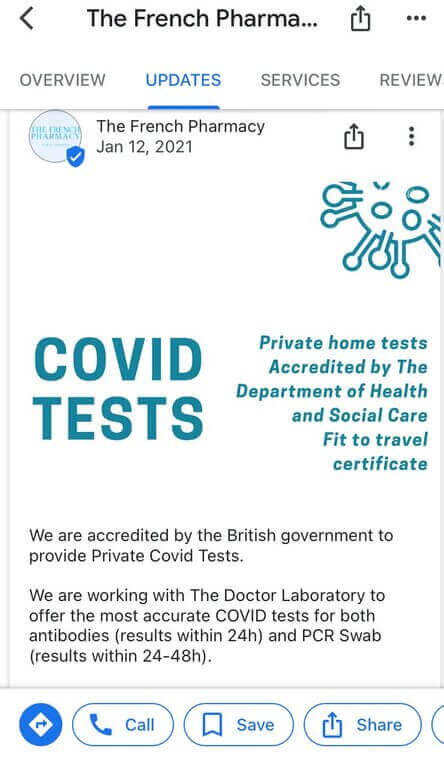 GMB Post example: Opening hour changes
Or anything related to any changes caused by the pandemic restrictions (but really even a holiday your staff is going on.)
Set the time in your post, so people know what period this update relates to.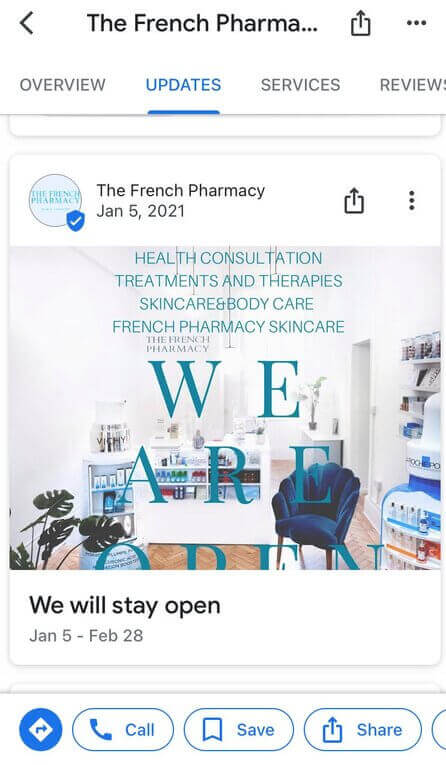 GMB Post example: Educational content on health-related issues
There's tons of helpful information you can give your customers – and your Google My Business page can be another outlet for your content marketing activities, like in the post below.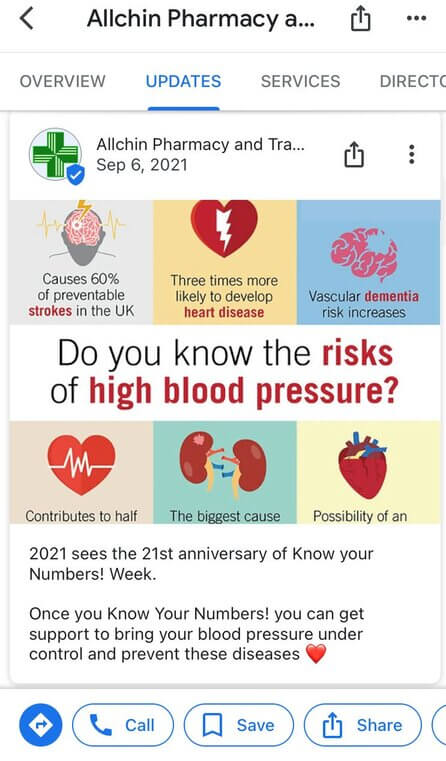 Best Google My Business post ideas for fitness clubs
Updates on opening hours
Like with any other business affected by the pandemic, it's crucial to keep your customers up to date with your availability. And Google makes it that much easier. (Notice the compelling visual – an essential part of a successful Google My Business update.)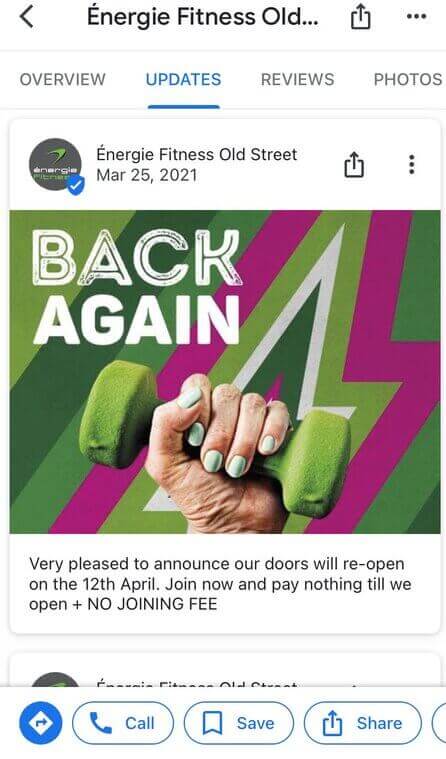 Invites to online workouts
When your gym is closed, but you're still providing online workouts or yoga classes, let people know. It's a great tactic for even when you're a one-person show, e.g., yoga teacher or personal trainer, helping let more people know about your Zoom sessions.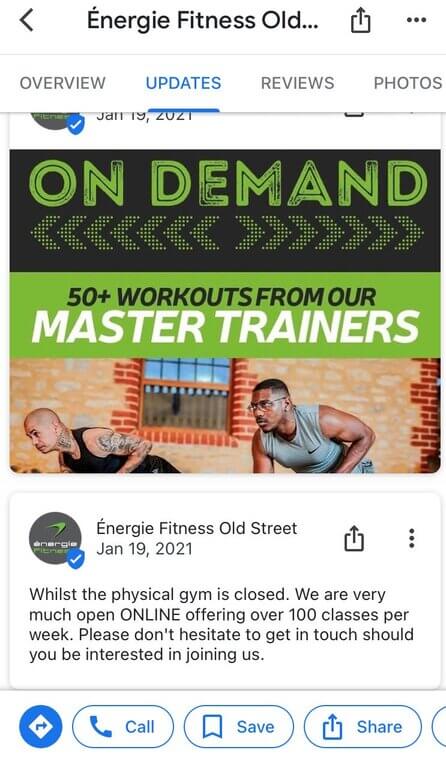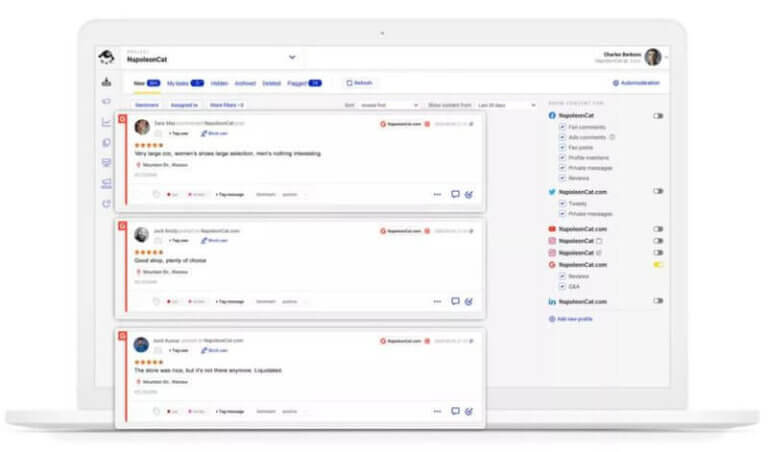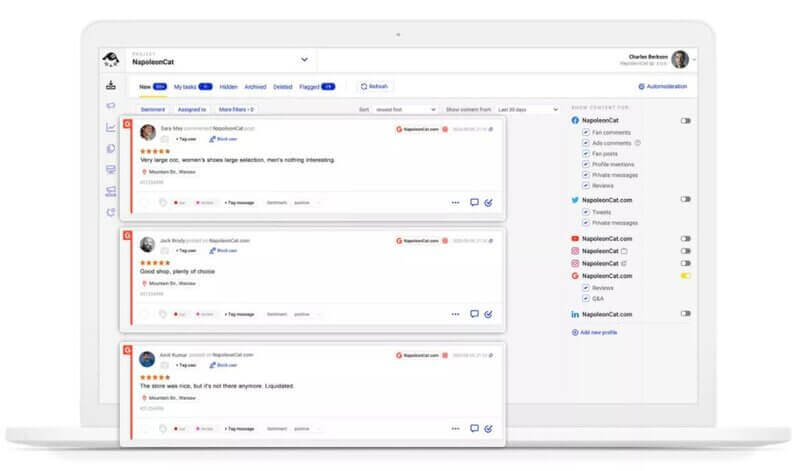 Schedule unlimited Google posts & manage reviews for multiple locations
Schedule and auto-publish your Google posts. Reply to all your Google reviews – with an all-in-one social media tool.
Special offers
Got discounts for the first few classes? Just like with any other service, you can (and should) post about your deals, discounts, and limited-time offers on your Google My Business page.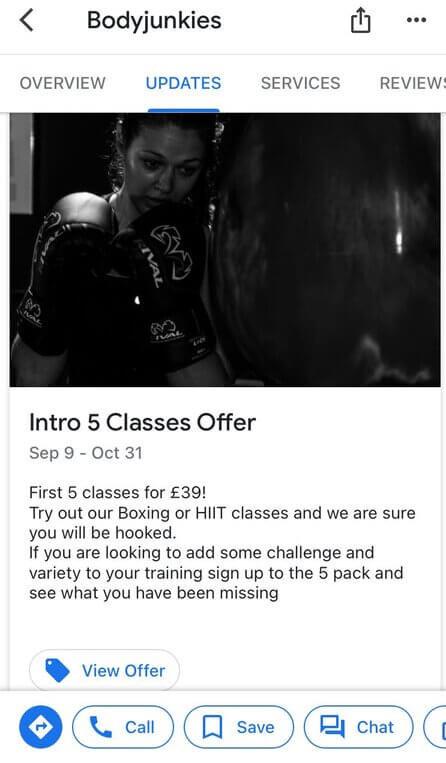 Schedules
Posting about individual classes and hours will help people decide if they can join without doing too much digging on your website. A signup button below an update will help you get those customers who are already convinced they need your class.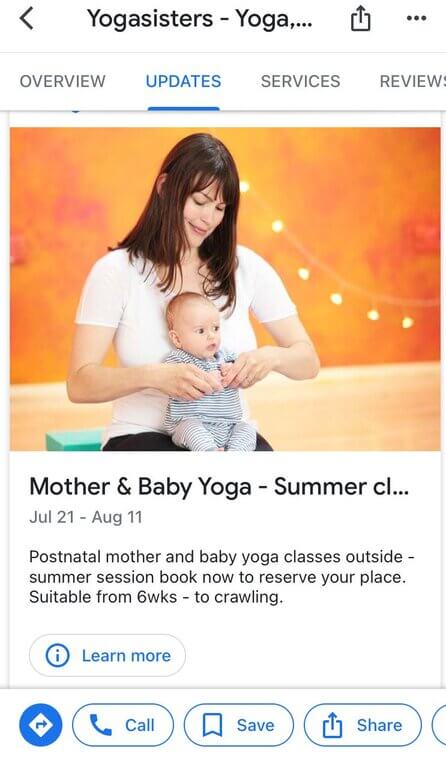 Behind-the-scenes
Your potential customers might be worried about the atmosphere at your gym and whether they're going to like it. After all, working out is a very personal preference. Showing people what the insides of your club or gym look like might convince those who are still on the fence.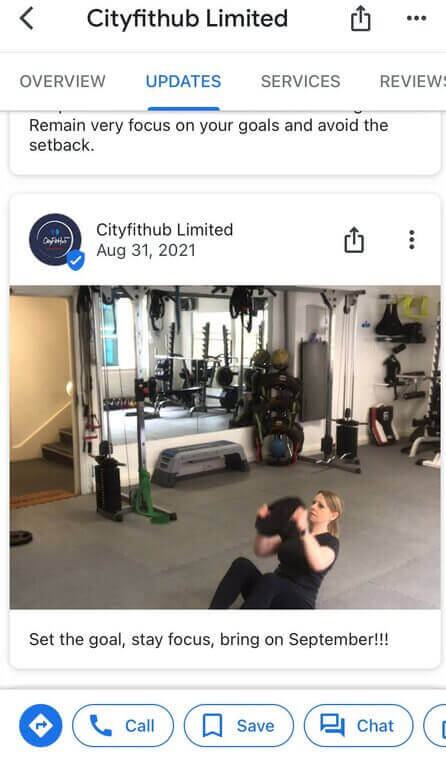 Motivational content
Try giving your customers and prospects a little pep talk. If they're browsing gyms in your area with the intent to sign up for a class, chances are they'll respond well to content that encourages them to get off the couch and work out or take your yoga class and feel better.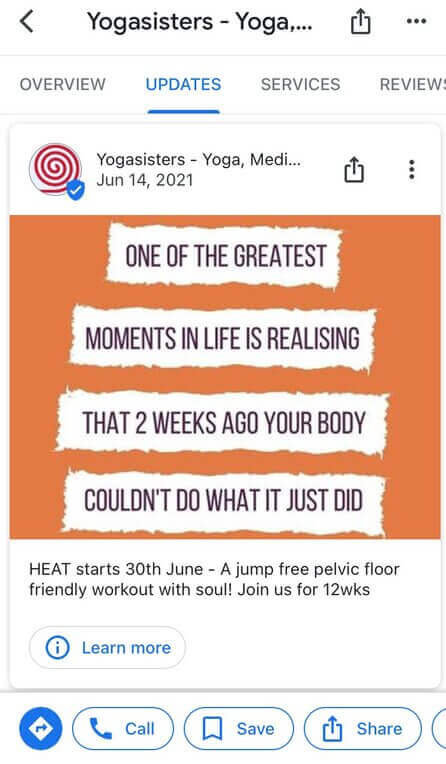 So, how to post to Google My Business?
You now have an idea about what to post on your Google My Business profile. But how do you do that?
Well, you can do it with NapoleonCat, for one. With the platform, you can do two things:
You can test NapoleonCat for free here – no credit card required during signup 😉
But let's focus on posting content to your Google My Business profile.
First, use a Google My Business scheduler. In NapoleonCat, you can schedule your Google posts in advance, along with other social media content, e.g., your TikTok or Facebook posts.
Using the Publisher, you can:
Create a Google My Business post
Add an event
Add a special offer
Add photos to your Google posts
Add call to action buttons, including "Book", "Buy", "Learn more", or "Order online" – the same ones you would be able to add directly from the Google My Business app.
Include links to your website
Essentially, you can post all the content I mentioned above. Plus, you can work on your Google posts in a team.
With Google's event posts, you can set the date and time when the event starts and finishes. This works great for in-store events like promos, classes (including online classes), special limited-time offers in your restaurant or cafe, etc.
With Google's offer posts, you can also add a discount code, a link to redeem the offer, and the terms and conditions of the promo.
All of the above Google posts can be scheduled in advance or published right away. Planning them in your calendar will help you (and your team) clearly see all the upcoming promos, events, and classes and have your promotional updates ready way in advance.
Most importantly, you can publish your post across multiple Google My Business locations with just one click.
Think about how much time that could potentially save you. With a bonus of using the same tool for managing all the reviews and ratings for all your Google My Business profiles if you have multiple locations.
To see exactly how to post to Google using NapoleonCat, take a look at this video:
What's the best Google My Business post image size?
The recommended minimum Google My Business post image size is 480 x 270px, and the default image size is 720 x 540px, with an aspect ratio of 4:3 – and the aspect ratio is crucial. Otherwise, the post will be revised by Google and not appear properly in search results.
Images can have a minimum file size of 10KB and a maximum file size of 5MB.
For videos, the maximum upload size is 100 MB.
Promote your business on Google My Business
Hope these tips inspired you to create more content for your Google posts that will resonate with your audience. And, of course, bring more customers to your physical location – the ultimate goal of all Google My Business activities.
Now it's your turn – decide what and how often to post on Google My Business and give it a try. Then let us know about the results!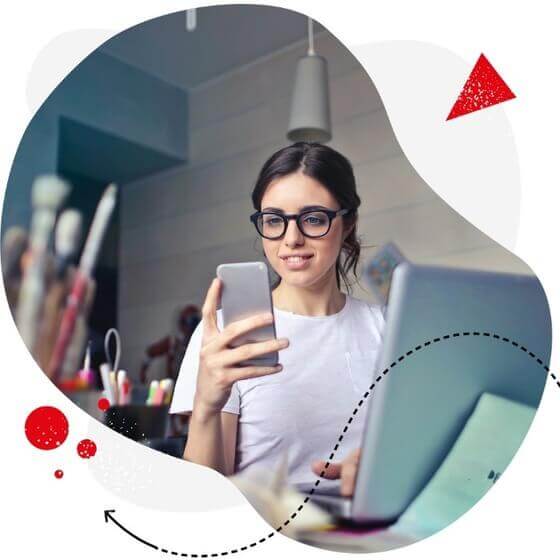 Schedule unlimited GMB posts & manage all reviews from one place
Schedule and auto-publish all kinds of Google posts. Easily manage all your Google Reviews with an all-in-one social media tool – even if you have hundreds of locations on Google.
Here are some other articles that you may like: