Managing multiple social media accounts can be a frustrating job when it's done without a solid plan. Quality and consistency are the key to social media success, and it's really easy to get overwhelmed if we're only "posting in the dark", especially while working in a team. That's where a social media content calendar steps in and saves the day.
Sure, you need to be ready for real-time marketing, live posts, etc. But what if there is nothing real-time to publish about, or you run out of fresh pieces content, or your social media content simply becomes a hectic mess with no coherency? You should always mind the big picture and the general message you'd like to convey on your social media channels. Figuring out what and when to post, and then applying specific content ideas will help you organize your social media management, save your time and most importantly, your sanity.
Planning your social media calendar months in advance and scheduling your posts will spare you tons of hard work since you won't have to be constantly brainstorming ideas for new content. It will also help your brand's social media accounts stay more coherent and unified in terms of tone and voice. And aesthetics matter, especially on Instagram!
In order to create a content calendar, you'll have to answer three questions of immense importance – The What? The Why? The When?

What kind of content should I post?
What are my main objectives behind each type of content?
When are the best times to post for my target audience?
As short as it is and as simple as it sounds, beware – it takes quite a lot of tinkering to figure out this puzzle. Let's break it all down.
What kind of content should you post and why?
As a social media manager, you need to know what to post. If you have already shared some content in the past, it's best to analyze its performance and draw conclusions to better adjust your social media marketing strategy. Figure out which posts generated the highest engagement on each social media platform. This way you'll know what kind of content resonates the most within your audience.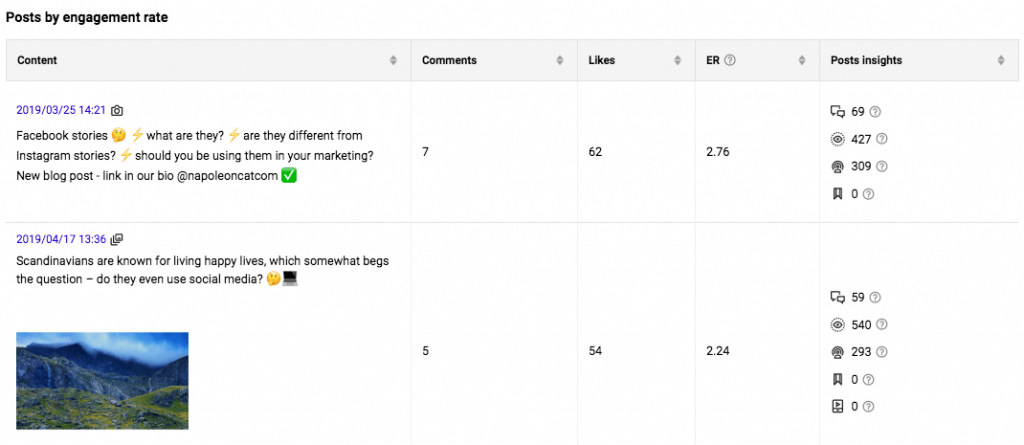 If you're starting from scratch and don't have any prior content of your own to inspect – try and analyze your competitors on social media.

However, one doesn't exclude the other, and it's best if you analyze your own social media profiles as well as your competition. There are quite a few reasons as to why analyzing your competition on social media is a tremendously helpful practice in designing a solid content strategy.
It helps you set your own goals
By analyzing your competitors on social media, you put things in perspective – you find out how your content is performing in comparison to competing brands. Benchmarking your business against a successful company of similar size and resources will help you set your own business goals across different social media networks. This benchmarking process is crucial in deciding which key performance indicators you wish to pursue. Let's say you need to know what kind of content generates highest engagement in order to post more interesting content – just take a look at top posts from your competitors and draw conclusions.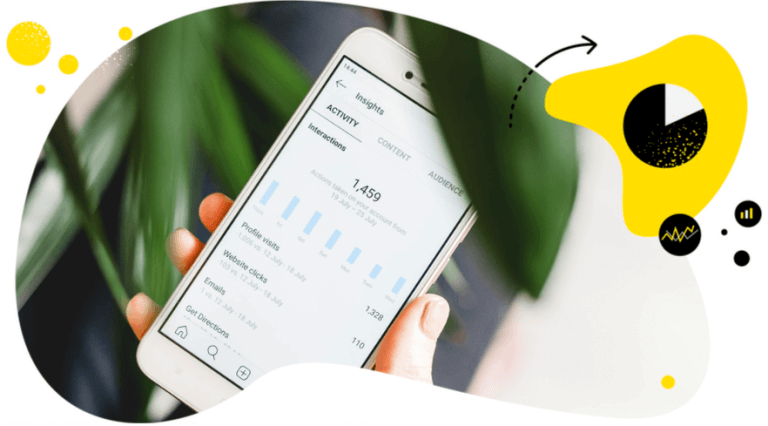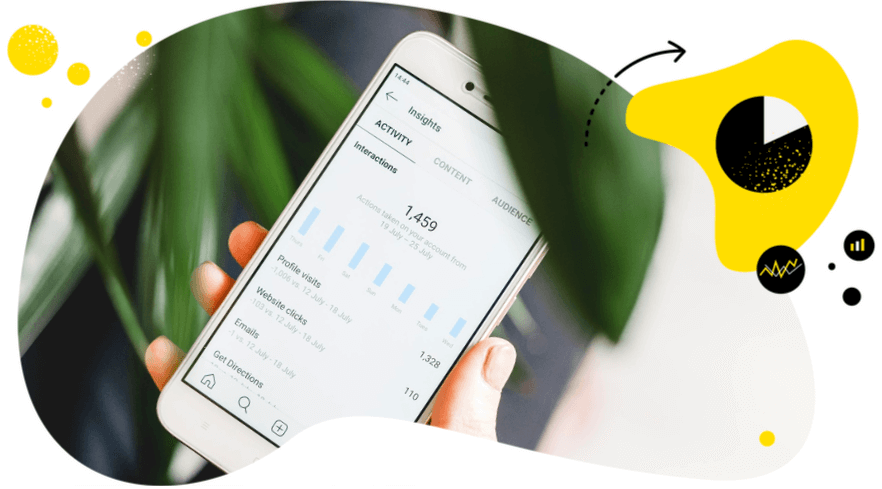 Social media analytics
Measure your social media marketing results. Track competitors and improve performance using simple dashboards.
Try NapoleonCat free for 14 days. No credit card required.
It gives you ideas for content
The key objective here is figuring out what kind of content your target audience holds most valuable. Sure, you can go and explore the unknown by publishing different types of content and experimenting with it, but this may turn into a trial and error nightmare. Instead, see what kind of content works best for your competitors. If you notice anything peculiar, don't copy it – take notes and try to apply similar techniques into your own top-notch content management strategy.
If you don't have any ideas for your content's caption, you might as well get inspired with our well-researched Instagram captions.

It saves your money
Competitive analysis can be a daunting task, which is often outsourced to external agencies for a high price. Doing it manually could take you days or even weeks. In order to spare you countless hours of petty work, try using social media management tools like NapoleonCat – it will do all the heavy analytics for you and even generate an in-depth report for any social channel you'd like. A sample report can be seen below.

Setting up a posting schedule
Once you know what to post, you'll need to find out when your content will perform best. You should figure out which days and hours tend to generate the highest reach and engagement among your target audience. And since you and your competitors share the same – or very similar – target groups, you can easily extract such data using NapoleonCat.



But that's not all. Once you crack The When, you'll also have to face The How Often. Different social media platforms have their own set of rules regarding the frequency of posts. Thanks to Louisem, a rough idea of how often we should post on specific social networks can be seen below.

Facebook: 1-3 posts a day
Twitter: 3-30 tweets a day
Instagram: 1-3 posts a days
LinkedIn: 1 post a day

Keep in mind that these are very general statistics. What works for one brand won't necessarily work for the other. While designing your social media calendar, take a look at how often your competitors post on each social media platform.

Social media calendar templates
We're all busy people. We sometimes run late, or we run to urgent meetings, etc. The question is, how on earth can we take care of our socials when we have our hands full of different tasks? Even if we already know what and when to post, we still need a social media content calendar template to organize our social media posting in advance.

We created a free social media calendar template that you can download here. You'll not only be able to fill in a general snapshot of your social media strategy, but also create more detailed schedules for each social media platform. Just use different colors to differentiate between platforms.
In order to make your calendar work, include the time, the caption, and information about what other media or links you will add to the post. If you work with others, add collaborators and set permissions.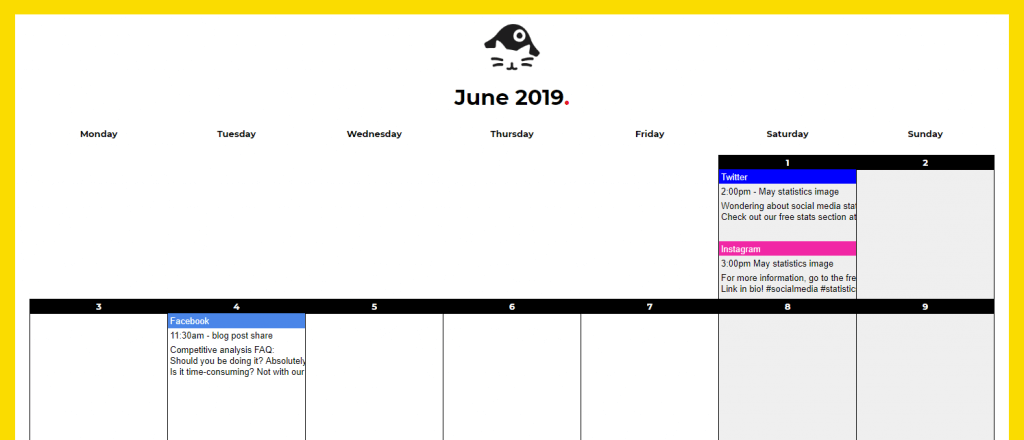 Choosing the right publishing tool
Introducing another cheat code for marketers – social media publishing tools. They can help you design and schedule posts. You can also schedule posts for multiple dates. Some tools, like our very own NapoleonCat, can even automatically adjust your design ideas to each social media platform.
Below we've listed more publishing tools for your consideration:

ContentStudio – a powerful content marketing and social media management platform for publishers, brands, agencies and startups who want to share the best content consistently and increase their reach.
Loomly – a collaborative social media planning tool that helps marketing teams of all size create, approve and publish better content, faster.
CoSchedule – a complete editorial and marketing calendar tool to enable you to plan out all of your online marketing efforts – from blogging to social media to podcasting to videos and more.

Post Planner – the tool provides scheduling and content curation applications for businesses on Facebook.
So there you have it folks. Crafting a social media content calendar is a comprehensive task. However, if you carefully follow our tips and use the right tools, you'll save time and quite possibly come up with a killer social media calendar. Good luck!