Need a way to plan and schedule your social media content that actually makes the process smoother and easier? Let's take a look at how to create a content calendar for your business – one that you and your social media team will appreciate.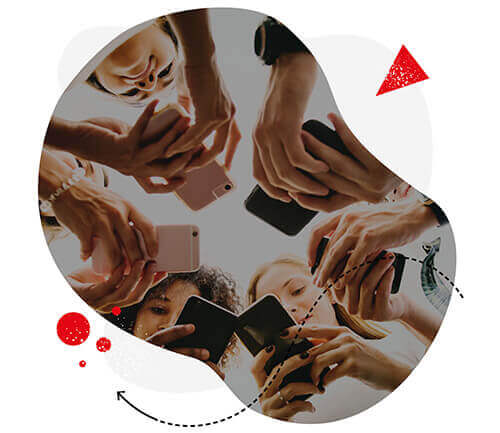 Cross-network social media posting schedule for teams
Craft, schedule, and automatically publish unlimited number of posts to all your TikTok, Facebook, Instagram, Twitter, LinkedIn, and Google My Business accounts. Try it for free:
Try NapoleonCat free for 14 days. No credit card required.
Wait, can't I just post whenever I want? a.k.a. why use a social media calendar
Well, yes, you can post whenever you feel inspired (or, more likely, whenever – in panic – you remember you really should post something today, because you haven't posted in a week.) But you're not here because that's worked for you so far for your social media publishing, are ya? 🙂
The problem with not planning your social media content in advance gets bigger as you need to post more on more social media channels or for more clients and expect better results.
Planning and scheduling social media content in a content calendar gives you several key benefits you don't want to miss as you get serious about your social media:
You can set aside some time just for content planning and scheduling, so you can spend the rest of your time doing something else (like engaging with your community or working on your marketing strategies) without worrying about the post that needs to go out tomorrow.
You can also post more consistently – both when it comes to the topics and the frequency, the latter also important for all the algorithms you're up against. The more consistent you are, the more people you're likely to reach and engage.
And the more in advance you have things planned, the more peace of mind you actually have.
Besides being less stressful (anything you do in advance rather than last minute tends to be that), you can rely on automation and organize work across your team in a much easier and friendlier way.
So, let's take a closer look at how creating and using a social media calendar actually works, and the tools you can use in the process.
First, decide what to post
This is where all the creative stuff happens. But there's a but. Social media content creation is NOT just about creativity (sorry if I just ruined it for you!)
You need to know things like:
Who your audience is and what they're looking for on social media
What kind of content works best with them
What type of content works best for the different social media platforms in general
And then how to tie all this together to fit your business goals. (Yes, as a business, you're on social media to achieve business goals – let's not forget that.)
Here are a few simple steps to get all that information and create a content base for your social media calendar:
Research your audience on social media. What channels they use, and what types of content they tend to engage with the most.
Define your most important goals for your social media content – and then turn them into measurable KPIs. How big of a community you're looking to build? How many new customers do you want to get from social media? These are just a couple of the questions you should ask yourself.
Get as specific as you can (think: website visits, post comments and shares, products sold as a result of social media campaigns.)
Research your competition for some benchmarks – both when it comes to the content they post and how their audience reacts to it. After all, it's most likely also your audience.
Then create content categories (or what I like to call "buckets") – what types of posts you're going to publish (e.g., a product launch, behind-the-scenes posts, seasonal, conversational, inspirational content, or a blog post promo, etc.) and what formats (Reels/TikToks, Instagram photos, simple questions to your audience, Q&As, etc.) 
Code each type and topic with a different color for easier navigation in your content calendar.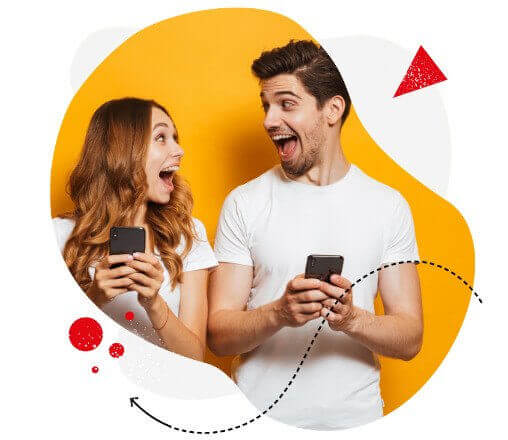 Best social media posting schedule for teams
Schedule unlimited posts for TikTok, Facebook, Instagram, Twitter, LinkedIn, and even Google My Business – using one simple tool. Try it for free:
Try NapoleonCat free for 14 days. No credit card required.
When and how often to post it, a.k.a. setting up a social media posting schedule
When you know what to post, time to decide when to do it and how often to post on your different social media accounts.
When is the best time to post on social media is probably one of the most frequent questions you'll ask yourself when putting together your social media schedule. And there's no definitive answer, BUT there are some things you can do to nail that time down. (Or, more likely, times, as you'll be posting more than just at one time.)
Here are some things you should do:
Decide how often you want to and can post. This will depend on individual social media platforms, your team's capacity (IF you have a team at all), your external content creators, etc. Testing posting frequency is also a good idea. And you can find some great guidelines in this article on how often to post on social media.
Now, to choose the best days and times to post on social media, it's best to look at the data, a.k.a. your social media analytics. You can check both using NapoleonCat (both for your profiles AND for your competitors' profiles)


Looking at how your content has performed so far will help you see your audience's activity patterns and predict when they're most likely to engage with your future posts And it might not be the "industry standard."
(Oh, and speaking of standards, here's an article about the best times to post on Instagram.)
Also, decide when to post different types of content (also taking into consideration the data you see in your analytics.) When's the best time to post lighter content to build engagement, and when's the best time to get more sales and conversions from promotional posts?
Check your stats and keep revising your schedule as you go to make sure you're making the most of what social media has to offer.
Find a tool for your social media content calendar
Now let's get to the mechanics of creating a good and functional (and preferably automated) social media posting schedule.
I mean, you could, of course, create your social media calendar in a Google spreadsheet, sure. Create a column for the social media platform, the topic, the contents of your post (and possibly links to Dropbox with images and videos), the date, the category/label, the name of the person on your team responsible for creating and posting the photo, the CTA.
And then copy (or have people copy) the posts manually to all the social media channels every time you need to post stuff.
(Been there, done that, that's so 2010!)
OR, you could get a social media publishing tool – a cloud-based social media calendar that lets you plan and schedule your posts to get published automatically while assigning tasks to your team and exchanging feedback all in one place. And one that your entire team has access to, no matter where they work from.
Which is what we're going to talk about now. 🙂
There are a bunch of social media scheduling tools – some are free (usually limited in functionality or the number of users/social media accounts), and some are paid monthly.
Let me focus on NapoleonCat's social media content calendar – here's what it will help you do:
Publish automatically to all your social media profiles at once, in one calendar. That includes TikTok, Facebook, Twitter, Instagram, LinkedIn, and even Google My Business. This means all your content sits in one calendar, and everyone on the team can see what's in the pipeline.
Color-coded labels and titles help make post categories and channels super clear at first glance. And you don't need a spreadsheet (I mean, who even likes spreadsheets?)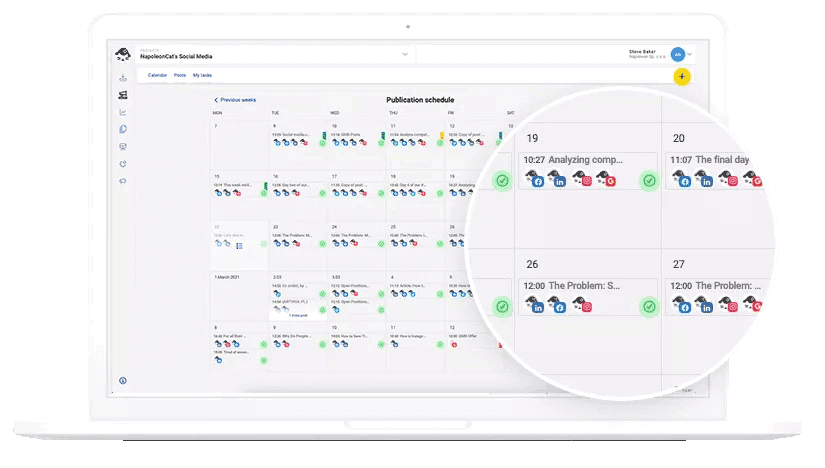 Publish all kinds of content – including Instagram Reels and Instagram carousels, along with your first comment for your Instagram posts (where you can place, for example, your hashtags, so they're not inside your Instagram caption. And, I mean no spreadsheet can do that.)
Collaborate with your entire social media team in one calendar. So, for example, as a team leader, you can assign different post ideas for the week that are drafted in the calendar to your different team members. Then you can exchange feedback, preview your images and videos (yes, you don't need to keep them on Dropbox or anywhere else), and then approve them for posting.
Not to mention, they will then all get posted automatically.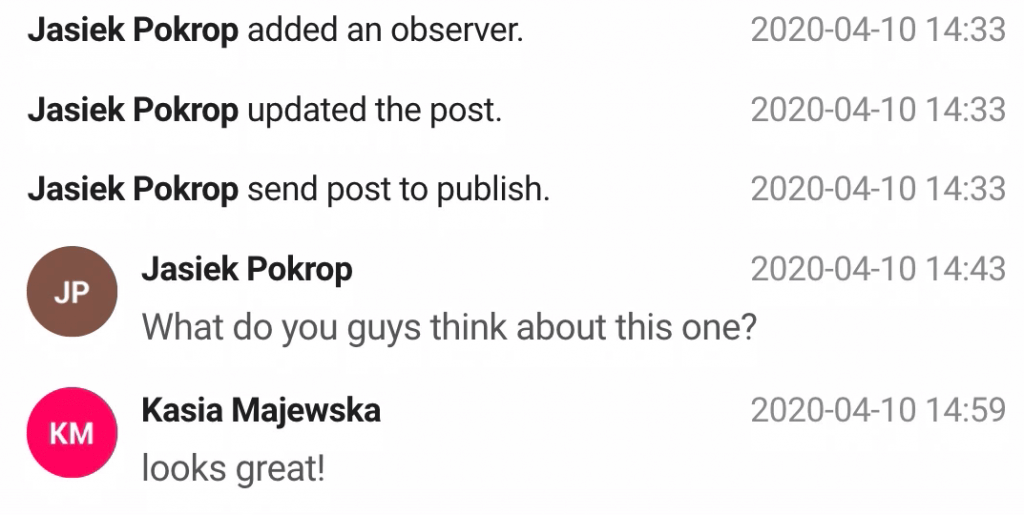 You can also watch thie video below to see how all of it actually works.
And I have to mention that the additional benefit to using NapoleonCat, which is that you have other tools in the same subscription:
Social media analytics for your profiles and your competitors' profiles (to nail down those best times and days to post)
Social Inbox to moderate all the comments, DMs, Google reviews, etc. you'll get when you engage your audience with your content
Automated reports to have a quick view of how well your social media strategy is working and what you need to improve.
And multiple team collaboration features to help your team stay organized and avoid potential mishaps.
Which is way cooler than having many separate subscriptions to cover all of these with different tools on top of your social media posting calendar.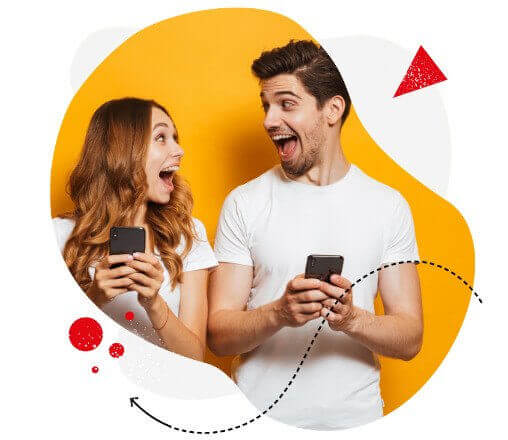 Social media management for teams
Moderation, automation, analytics, reporting, scheduling, and more. Try NapoleonCat and save tons of your time spent on marketing tasks. Designed specifically for teams. Try it for free:
Try NapoleonCat free for 14 days. No credit card required.
Looking for a (free) social media calendar template?
If you do insist on a spreadsheet, though (I mean, who am I to judge anyone?), and came here to look for social media calendar templates, here's something for you.
A free social media calendar template you can use to save yourself some time creating it from scratch.
And I mean, you can use it as a draft calendar for your content ideas before you take the final ideas to the actual social media scheduling tool.
You can download it by clicking on this link – or copy it into your own Google Drive to use it.
And don't forget to include:
the time,
the caption,
the color for your category or social media platform
information about what other media or links you will add to the post.
If you work with other team members or contractors, add collaborators and set permissions.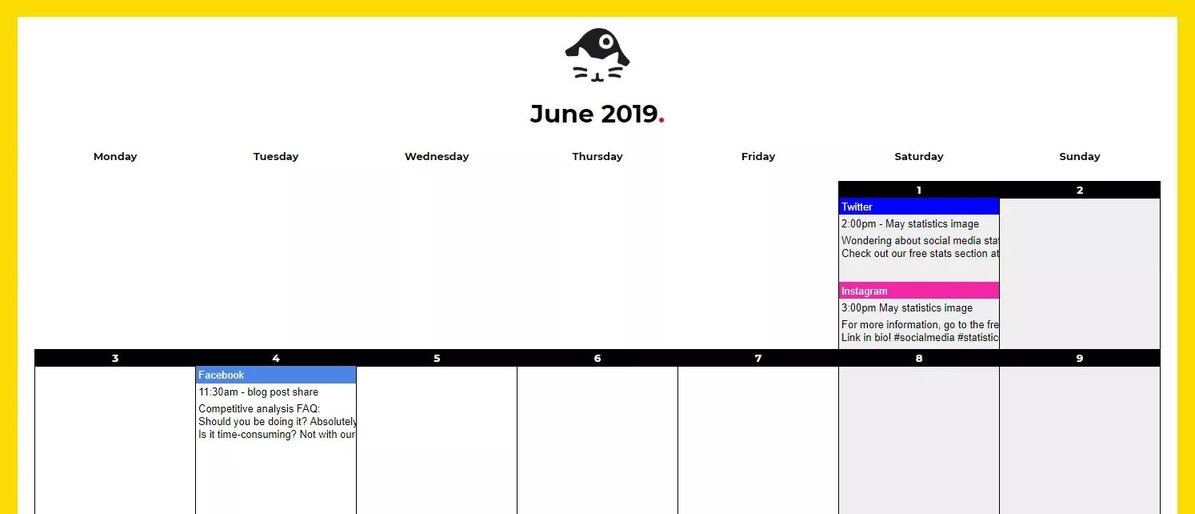 And if you want to know more about scheduling and posting content on social media…
… and some more social media content calendar ideas, check out one of the articles below: