Looking for ways to automate publishing your Google My Business posts? First of all, congrats on using one of the easiest tools to boost your local search rankings! And second, here's how to schedule Google My Business posts in advance if you want to save yourself some time (and don't we all need that!)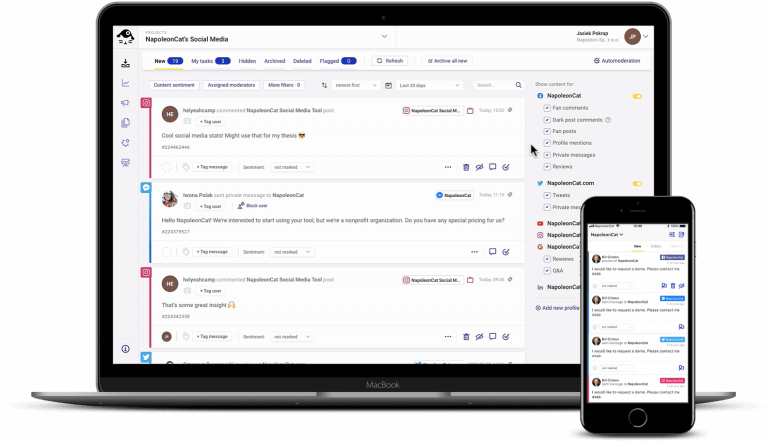 Schedule unlimited number of all kinds of Google My Business posts & manage reviews
Schedule and auto-publish different kinds of GMB posts. Reply to all your reviews from Google with one simple tool, even if your business has hundreds of locations. Try it for free:
Try NapoleonCat free for 14 days. No credit card required.
Why is Google My Business important for your business
You know how they say that sometimes the best hiding place is in plain sight?
Well, as a marketer, I often see businesses start new social media profiles and do all kinds of things on different platforms. Instagram Reels, TikToks, and all sorts of content on all sorts of platforms. But they totally ignore their Google Business profiles (formerly Google My Business, and I'll use that former name, too, just because people still do.;)) Which often is the first online profile for their business that people see.
Just try googling your company and see what comes up first in Google search and maps. It's going to be your Google Business profile, complete with your map location, details, and often customer reviews. Yes, those reviews that, for many, will be the biggest deciding factor for whether to visit you and buy from you.
Admittedly, Google hosts 73% of online reviews for businesses. And 89% of consumers read reviews before buying. That's not something you want to ignore.
So, since they're more than likely to visit your Google My Business page anyway, you might as well have a say in how that first visit goes. When you actively run a Google My Business profile, what people will see on Google is also going to be things like your special offers, service updates, events, photos, etc.
Also known as creating more opportunities to engage with your potential customers right when they're in the right mindset for that. Because, when someone visits your Google Business listing, they're usually actually considering becoming your customer.
Plus, let's not forget that an active Google My Business account will also help you improve your local SEO rankings.
Now, I know this is yet another profile to manage and post content to. But that's what scheduling tools are for – to make this a much easier process that's an integral part of your social media management overall.
So let's look at…
How to schedule Google My Business posts: updates, events, and offers
With social media scheduling tools like NapoleonCat, you can include your Google My Business content in your overall social media calendar.
Here's how you can schedule your Google My Business posts.
Connect your Google Business account first (Thank you, Captain Obvious!). Then go to the Publisher, where you'll see your content calendar for all your social media profiles. This makes it much easier to organize and plan your content across teams and social media networks (and we'll also get to teams in a moment.)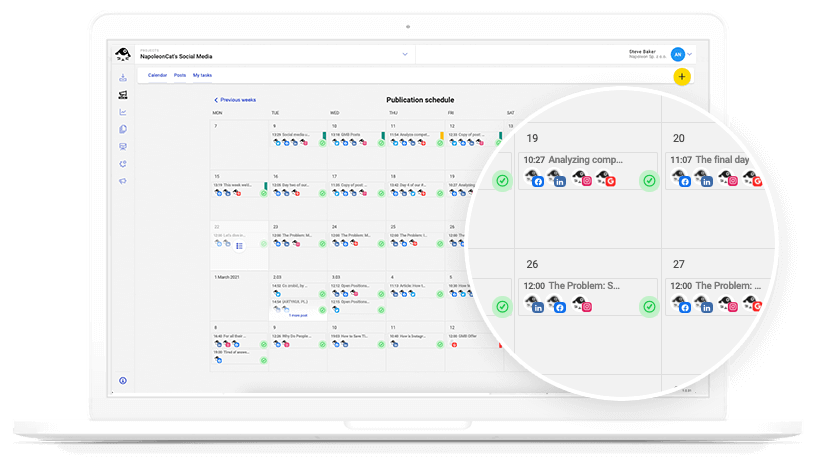 Hover on a date in the calendar and click on the '+' sign to create a GMB post, then select your Google My Business profile. Write your post, add your image(s), and select the Google My Business post type for additional options. (All of them work just the way posting directly on Google My Business works.)
Here are the types of posts you can choose:
What's new? – which can be a company update with the latest news, for example, about changes in opening hours or a new product launch. Then add a call to action button: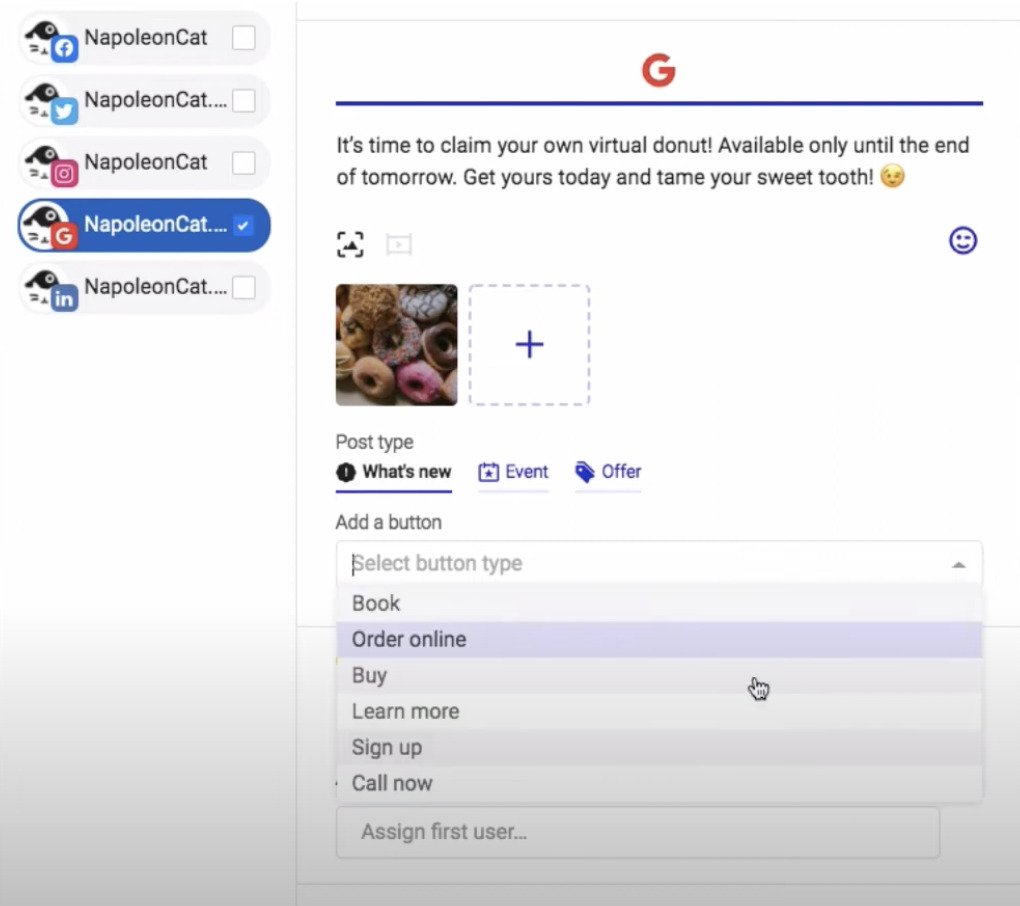 For example, if you run a restaurant chain, and one of your locations has a new menu, you can post about it here and add the option to book a table with a link to your website.
Events – Let people know about anything special going on, from seasonal offers to happy hours and other events. You can select the period for the event or select an all-day event in the post creator.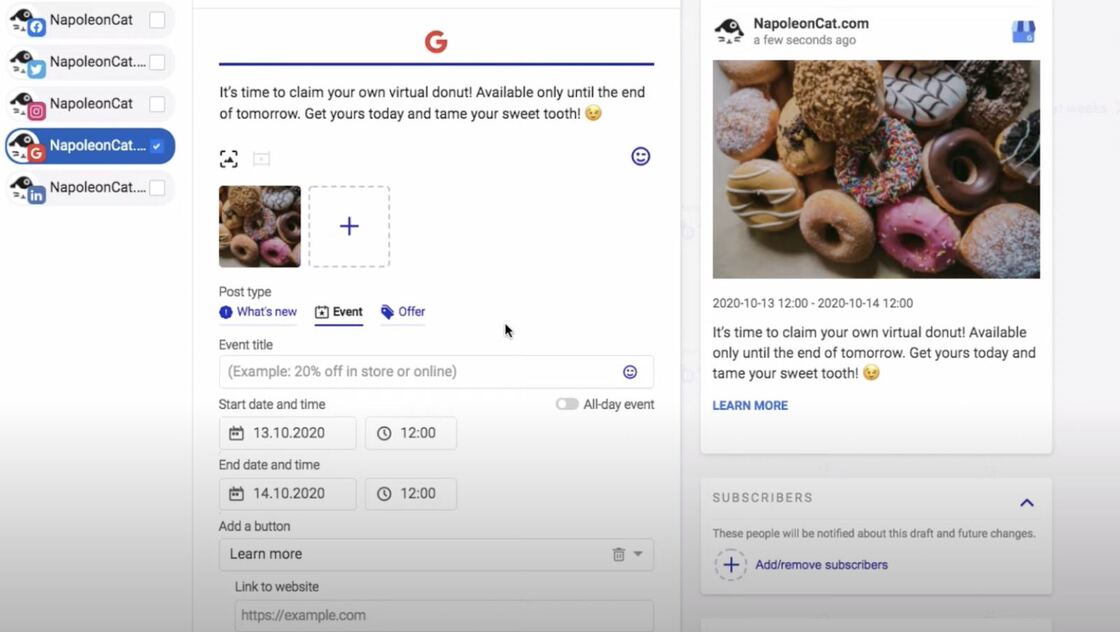 Offer – Got a special promotion coming up? Let people who are looking at your business know about it. Add the title, your discount code, link, and timeframe, along with your terms and conditions.
Each post can have an internal label, so it's easy to tell what it's about at first glance when looking at the content calendar.
If you want to see the entire process of creating and scheduling Google My Business posts, take a look at our video below:
And you can also read this article to see real-life examples of Google My Business posts.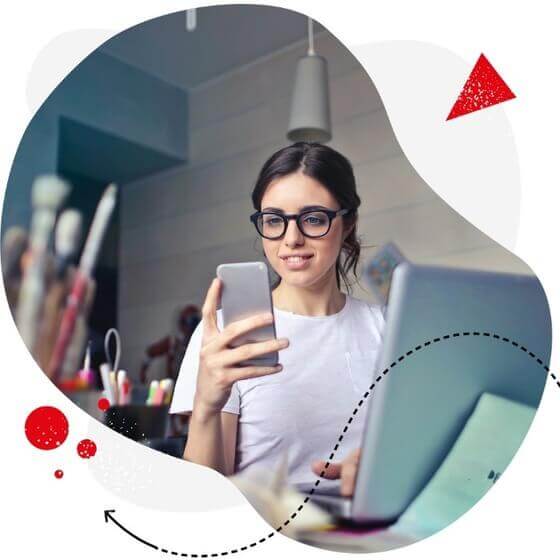 Schedule unlimited GMB posts & manage all reviews from one place
Schedule and auto-publish all kinds of Google posts. Easily manage all your Google Reviews from one simple view – even if you have hundreds of locations on Google. Try it for free:
Try NapoleonCat free for 14 days. No credit card required.
How to manage Google My Business profiles in a team
Now, if you have a team and maybe several locations on Google, managing your Google My Business profiles might get a little more challenging. Which is again why using a Google My Business post scheduler with a shared scheduling calendar is a great way to avoid what otherwise might turn into chaos. Especially when you have different locations with different teams taking care of each one.
Here's how it works with NapoleonCat:
Everyone on your team can have access to your social media calendar and see what's in the pipeline, and what's already published, including on your other social media profiles, like Facebook, Instagram, or LinkedIn.
You can plan all your content there, including creating drafts for different days and assign them to your team members to complete.
When they create their posts, you can exchange feedback and approve the post for publication.
You can also add watchers to each post, so other people know when a post is updated or someone adds a comment. This is also helpful if you need someone from another team involved in the process.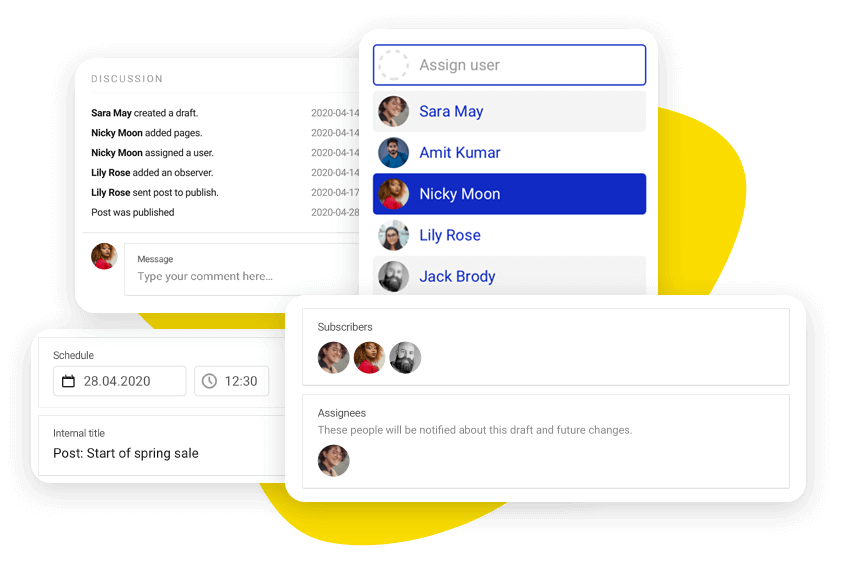 And how do I manage Google reviews for all my locations?
The really cool thing about NapoleonCat is that it includes more comprehensive Google My Business management tools. So you can also use the same platform to manage your Google reviews and also do it as a team. For all your Google locations, which is all the more helpful the more locations you have for your business.
Here's how that works:
When you connect your Google Business profiles to NapoleonCat, all your reviews from the connected locations will appear in the Social Inbox, along with your comments and messages from other social media platforms.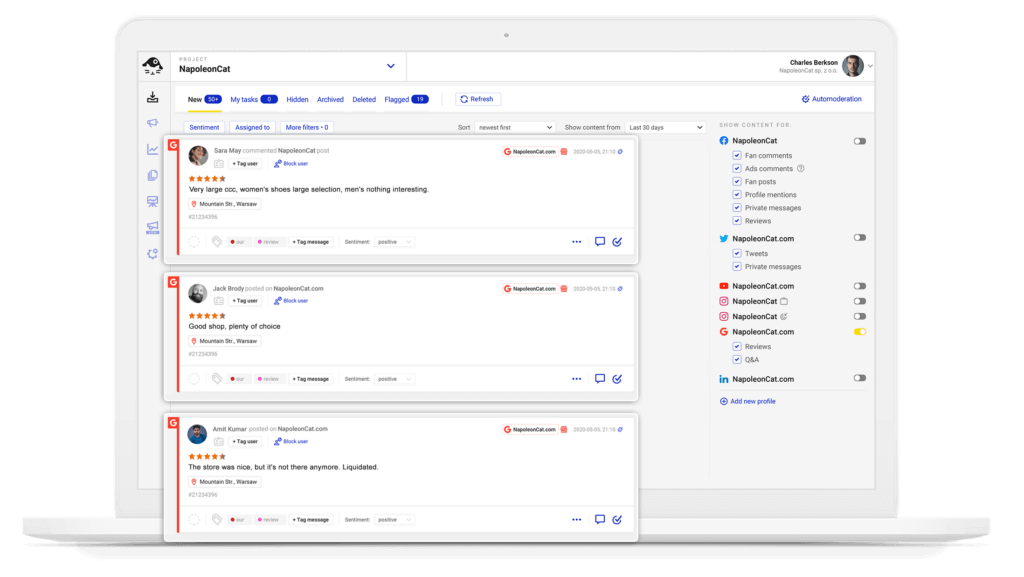 So you get everything in one view, which means: a) it's harder to miss a review, and b) it's easier to reply to all the reviews. (Read this Google My Business case study to see just how much time you could actually save.)
And when you have a team, you can assign handling individual reviews to team members as tasks, exchange feedback, and monitor their progress. Essentially making Google My Business an integral part of your customer service workflows.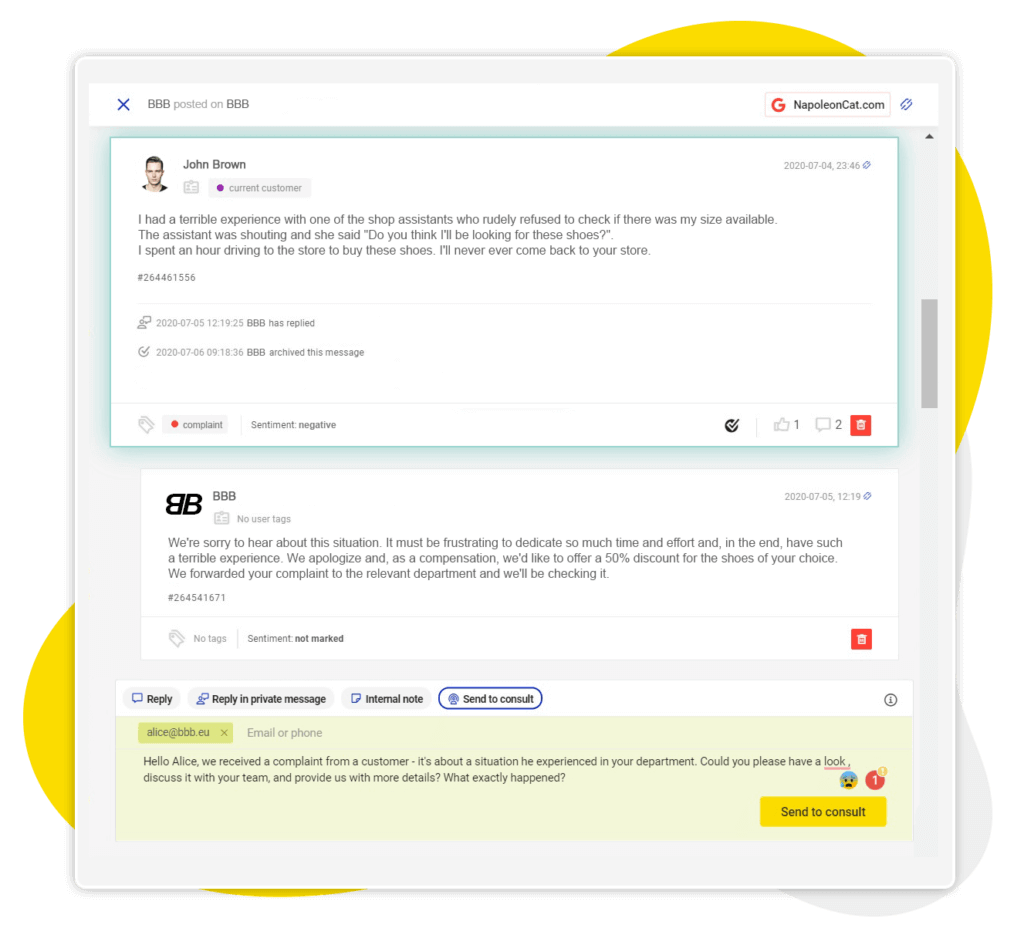 Over to you
Hope this helps in your search for a Google My Business scheduling tool and lets you create engaging Google Business profiles that get you more engaged customers. See you on your Google Business profile, right? 😉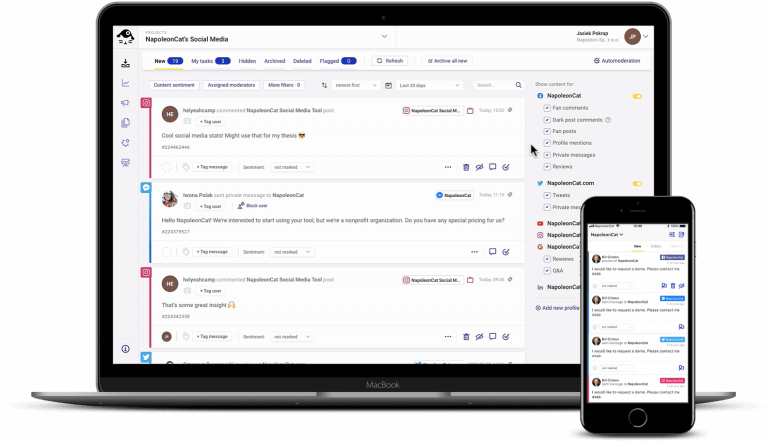 Schedule unlimited number of all kinds of Google My Business posts & manage reviews
Schedule and auto-publish different kinds of GMB posts. Reply to all your reviews from Google with one simple tool, even if your business has hundreds of locations. Try it for free:
Try NapoleonCat free for 14 days. No credit card required.
Here are some other articles that you may like: