If publishing social media content is your bread and butter, you're probably well familiar with all the hardships of the profession. Multiple social accounts on multiple platforms promoting multiple products. Wondering what to post, when to post, and why your posts don't get the engagement you wanted?

Read this article to learn how a social media scheduler might help – and save you the precious time you'll need for other social media-related tasks.
Why would you even use a social media scheduler?
Say you run an e-commerce store or are a social media manager for a small business (or several small businesses). Your daily duties might look like this:
– You plan what to post. If you're lucky, you're doing it once a week (or maybe once every two weeks). If you're swamped with work (which is more like it), you sit down every morning scrambling to find something to write about, because you didn't really have time to do all the planning and researching on Monday (or any other day). Maybe because you were replying to your customers' messages and comments on previous posts. Or putting out social media fires.
– You write your post(s). Again if you're lucky, you just sit down and write. But more likely, you look for exciting topics your audience will respond to, do the necessary research, and find sources to back you up. Which takes time. Don't have it? You might just think of something off the top of your head and hope for the best.
– You hit "publish", hoping people will engage with your posts. (Which might be a game of roulette, especially if you haven't really had the time to research, plan, and strategize.) Then you go and repeat the same thing over and over again on all of your business profiles and social platforms.
And that's just the content publishing process. In theory, it's not complicated. But in practice, it's much more complex than it seems. Plus, it's only a part of what needs to be done (next to moderating comments, analyzing results, and doing a whole bunch of other marketing-related things.)
Anyone who's ever tried to maintain consistent engagement on social media knows this. For this process to be successful, you need to:
have an overall plan,
post regularly,
write about what people are actually interested in,
and then optimize based on what works and what doesn't.
Of course, you can post manually, organize everything in an excel sheet. And then get frustrated every time there's just not enough time to do it.
Or:
You can use a social media scheduler and literally save hours every day.
Let's ditch that first option, and talk about the second one in greater detail.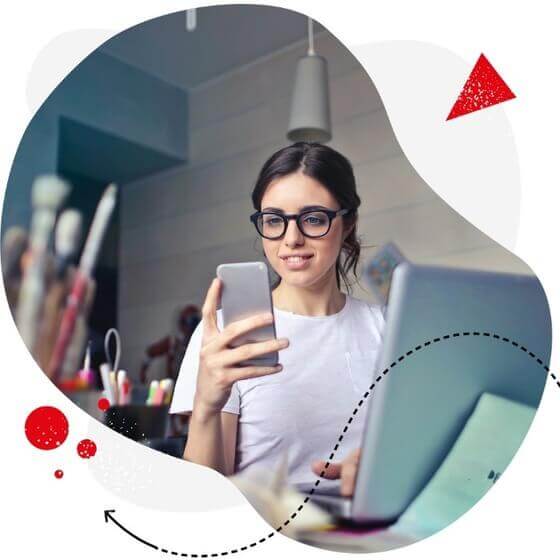 Best social media scheduler for small business
Schedule unlimited posts for TikTok, Facebook, Instagram, Twitter, LinkedIn, and even Google My Business – using one simple tool. Try it for free:
Try NapoleonCat free for 14 days. No credit card required.
What is a social media scheduler?
A social media scheduler is an online social media marketing automation tool helping you:
plan your social media posts for different social media networks in advance, usually organized in a calendar
post them automatically at an assigned time on a selected date
post in bulk on multiple social profiles at once
easily repost and curate content
assign individual posts to different team members, while the entire team has a bird's eye view on all the scheduled posts
see the performance of your posts to improve your content – and the engagement it's supposed to bring for your brand.
It might be a standalone app or part of a more comprehensive suite of social media marketing tools, like in the case of NapoleonCat, with comment moderation, analytics, and reporting included.
How does a social media scheduler work and what are the benefits?
Let me give you a detailed walkthrough based on NapoleonCat's Social Media Publisher, its scheduling features, and the benefits they can bring for your business. Ones you're bound to see immediately after you start using a social media scheduling app.
Schedule content across platforms
In NapoleonCat's social media scheduling tool, you can plan and publish content to TikTok, Facebook, Instagram, Twitter, LinkedIn, and Google My Business.
You can schedule your content in a handy social media calendar, picking the dates and times for your posts to go out. You can publish posts to different accounts at the same time, using one dashboard, and preview them on the individual social media platforms as you create them.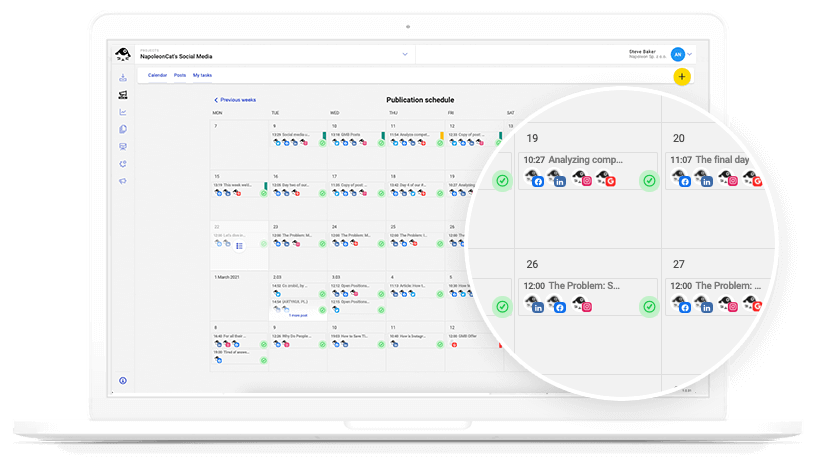 The publication is easy from the calendar view – pick a day, select the platforms you want to post your content to, and add your content. Then publish immediately or schedule for later.
You can also easily tailor your content to the needs of individual social networks, including making sure your content is within the character limit for each one.
The post creator is easy to use, even if you never played with social media scheduling tools.
Here's a quick review of the things you can do in the Publisher:
Publishing posts on Facebook
Add up to 30 images in one post,
Add a video
Add links
Add UTM tags to your links to measure your posts' performance in Google Analytics
Add emoji in the post contents
Publish as a hidden post to promote it without it organically appearing in your fans' feeds
Target your post to selected groups of fans by age and location (country/region/city)
Adjust image ratio
Publishing posts on Instagram
Add an image
Add a video
Select a custom thumbnail for your video
Tag location
Schedule the first comment, e.g., to add your hashtags outside of the main post
Tag other accounts in the photo
Adjust image ratio
To see how Instagram scheduling works in detail, watch this video.
Publishing posts on Twitter
Add up to four images
Add a video
Add a link
Add UTM tags to your link to track the performance in Google Analytics
Adjust image ratio
Publishing posts on LinkedIn
Add a photo
Add a video
Add a link
Add UTM tags to your links to track the performance in Google Analytics
Adjust image ratio
To see precisely how our LinkedIn post scheduler works in NapoleonCat, watch this video.
Publishing posts on Google My Business
Add a photo
Add a video
Add any of the three types of posts available in Google My Business: What's new, Event, or Offer
Add a call-to-action button followed by a link to your website
Add a discount code or link to redeem an offer
Add your special offer's terms and conditions.
These work exactly the same as scheduling your content directly from Google My Business. To see how to schedule Google My Business posts with NapoleonCat, watch this video.
And the benefits?
These seem all too clear:
You're doing everything in one place. No logging, relogging, changing from desktop to mobile to share content on Instagram, then back to your desktop browser to do the same on Facebook.
You can schedule content for automated publication for days in advance and simply not think about it, taking care of other things that need your attention. (Especially if you have a lot on your plate, which I'm sure you do.)
You have more time to think about the big picture – your social media marketing strategy and how you can execute it post by post with engaging content.
With NapoleonCat, you're also using one and the same tool to moderate the comments under your posts and analyze your content's performance.
In most cases, all of the above will save you hours every week. Who doesn't need hours saved every week? (Let me know if you know anybody.)
But that's not all.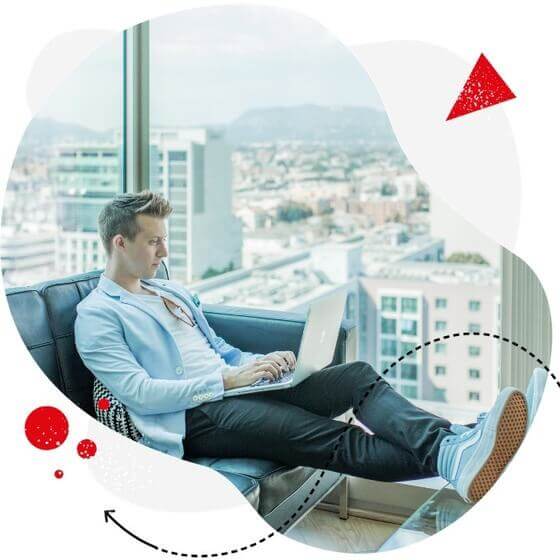 Cross-network social media scheduler for teams
Seamlessly schedule unlimited number of posts to TikTok, Instagram, Facebook, Twitter, LinkedIn, and Google My Business. Try it for free:
Try NapoleonCat free for 14 days. No credit card required.
Make teamwork easier
If you're working with a team of people on your social media communication and customer service, NapoleonCat's social media post scheduler will make it easier and more effective for everybody.
Here's how:
The social media calendar helps keep everyone on the same page, so no one's working on duplicate content, and your social media strategy can stay consistently engaging.
Color-coded labels and post titles help organize the content and see what posts are scheduled for which day.
Each post can be assigned to an individual team member. They'll see them neatly organized in their "My tasks" tab.
The social scheduler also helps streamline the approval process, with space for comments and feedback. This way, the entire work on social media content can happen within one tool instead of exchanging comments via email, Slack, and multiple other channels.
You can assign subscribers to individual posts, who will be notified of any changes made to it.
This is so much better than copying and pasting content from shared excel sheets. While also helping you avoid human errors with the wrong content posted or content that's simply "forgotten" because of too much work or because the person in charge is unexpectedly off work.
And this brings me to another significant reason why you should be using a social media scheduler:
Improve the effectiveness of your social media marketing
Planning and posting your content is one thing. But optimizing it to fit the needs of your audience is another. Social media strategies are never set in stone, and you need to be flexible enough to respond to the ever-changing preferences of your audience and the algorithms of the individual social networks.
And to do that, you need to see how your content performs to help you choose the direction to go in. Which is, by the way, another great thing about the social scheduler as part of NapoleonCat.
The social media scheduler is directly connected to the social media analytics tool within the same platform. And this means you can:
– Check the best days and times to post on different platforms. If your content falls flat and doesn't garner enough reactions, the timing might be one of the reasons (though, not the only one.) With NapoleonCat, you can analyze your best and least performing content based on the timing and post more when your audience is most active.
– Monitor metrics against the KPIs that matter to your business. You can track your post's reach and engagement, including comments, reactions, and shares. This will help you decide on what to post more of to keep the momentum and eliminate content that doesn't seem relevant to what your audience wants to read about.
– The UTM tags you can add in the social media scheduler will help you monitor clicks and conversions in Google Analytics. This way, you're not just looking at the so-called vanity metrics but getting accurate data about how your content helps sell your products.
A social media scheduler is a must for effective social media marketing
If you look at all of the above, you'll see that there are really no benefits of doing all that work manually instead of going with a social media scheduling tool for e-commerce business (but also, any other business, really.)
The time savings are clear. And as you can see, it's not just about saving time. It's also about improving the quality of your content, the effectiveness of your team, and your overall social media strategy.
To see how to use NapoleonCat to schedule content across multiple social media platforms, check out the video tutorial below:
And if you want to try it out yourself, sign up for the 14-day free trial here. No credit card required.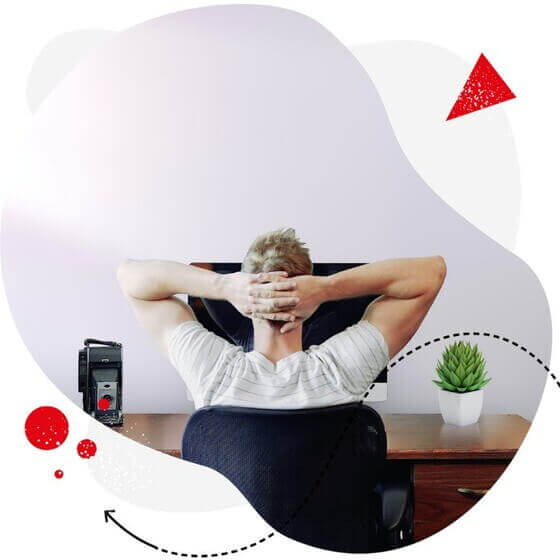 Cross-network social media scheduler for teams
Craft, schedule, and automatically publish unlimited number of posts to all your TikTok, Facebook, Instagram, Twitter, LinkedIn, and Google My Business accounts. Try it for free:
Try NapoleonCat free for 14 days. No credit card required.
Frequently asked questions about social media schedulers
What is the best media social media scheduler?
There are multiple social media schedulers available, but of course, we're going to recommend NapoleonCat. Not just because we use it ourselves, but also because, as mentioned above, it comes with many helpful features that go beyond scheduling, including comment moderation and analytics.
Plus, NapoleonCat's scheduler is one of the few social media scheduling tools that lets you publish posts on Google My Business (and moderate Google reviews, a crucial feature for businesses with multiple physical locations.)
What social media platforms can I schedule content on using NapoleonCat?
You can schedule content on the following platforms:
How do I schedule social media posts for free?
There's a handful of apps you can use to post social media content for free, but keep in mind all of them will have their limitations. These include not being able to:
see your content's performance,
organize your content into a social media calendar,
or assign tasks to other team members.
However, if you want to try out social media scheduling using NapoleonCat's publisher before you decide to commit to a monthly payment, go ahead and sign up for the 14-day free trial.
How much does a social media scheduler cost?
If you like the results you get with NapoleonCat during the free trial period, you can upgrade to a regular account. The pricing is based on the number of social media profiles you want to use and the number of team members you want to add to your account. You can upgrade or downgrade at any time, and no credit card is required.
Go ahead and customize your pricing plan on our pricing page and see how much it will cost your business.
Here are some other articles that you may like: