Wondering how to collab post on Instagram? Here's what collab posts are, how to create an Instagram collab post, and some ideas on using them for your brand.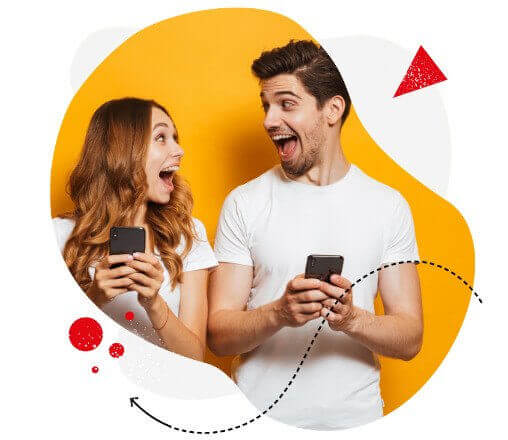 Instagram marketing made easier (especially for teams)
Instagram automation, analytics, reporting, scheduling, and more. Try NapoleonCat and save 90% of your time spent on marketing tasks. Try it for free:
Try NapoleonCat free for 14 days. No credit card required.
What are Instagram Collab posts?
I'm sure you've seen plenty of examples of Instagram collab posts already in your Instagram feed.
A collab post is a post shared by two Instagram creators in their audiences' feeds or their Reels. Which makes it a nice option if you're actually collaborating with another creator or a brand and want to avoid duplicate posts and having to post the same content on multiple accounts.
It looks like this: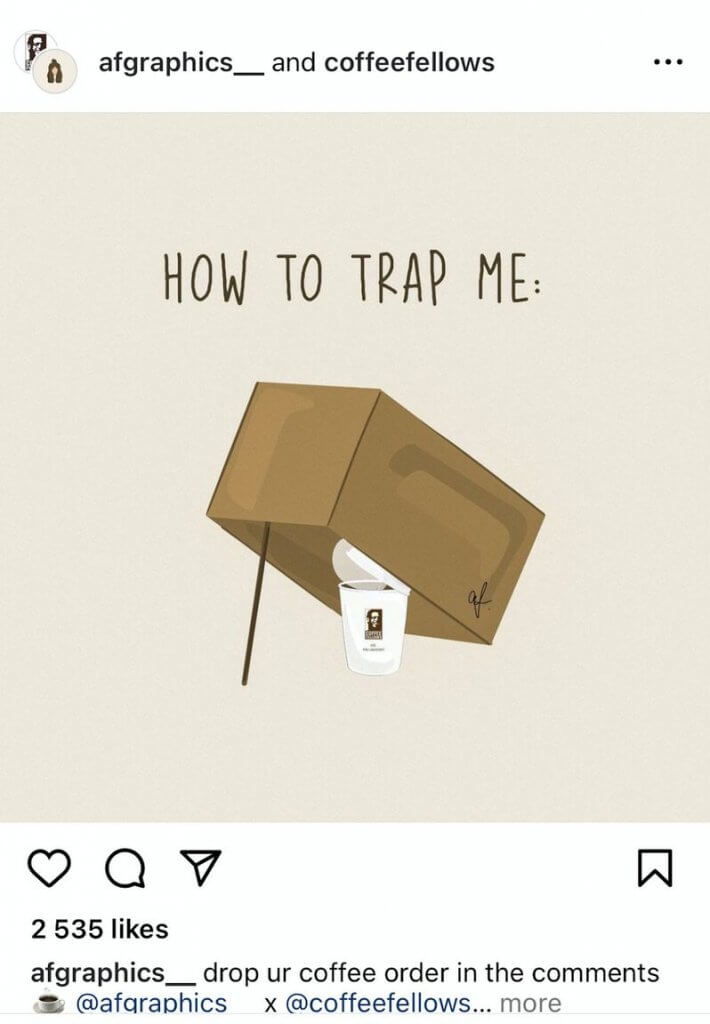 As you can see, the post here includes both creators' handles and is displayed to both creators' audiences.
Yes, that's right – this is the exact benefit of using Instagram collab posts. It lets you expand your reach by showing up in the feeds of people who don't follow you but follow the other account.
In other words, it's a simple way to expand your reach on Instagram, possibly to a like-minded audience. It doesn't have to – but can – be a promotional tool, too. As a brand working with a creator, you get to reach both your audience and the creator's audience (and vice versa.) The kind of a win-win you want on Instagram.
Let's take a look at a few more reasons to collab post on Instagram.
Why use collab posts on Instagram
To reach new audiences
I've already covered that in the previous paragraph, but let me reiterate to keep things in order. Collabs have been known in marketing for years, making them a kind of a "lead swap" activity.
You know, you reach my audience, and I'll reach yours. Everyone's happy. Possibly – if both audiences actually benefit. Because, don't forget, they're taking part in this, too. A crucial part, might I add.
So if you want to actually benefit from this and get new followers, make sure the collab fits your brand, and you're offering some kind of value to the new audience (and your own).
To increase engagement rates
By their very nature, collab posts accumulate engagement from both audiences, which means the likes, views, and comments will typically be higher than if you posted just on your account. Because you're reaching more people, you have better chances at higher engagement in the first place. (Just don't forget it's the content that counts, too, not just a bigger follower count.)
And higher engagement will likely mean a more favorable treatment of your content by Instagram's algorithms, which might mean higher reach for your Instagram posts in the future.
To drive more sales
Obviously, it's the result of the previous two. And because Instagram lets you collaborate using shoppable posts, you're really making it easy for people outside your followers to instantly buy on Instagram.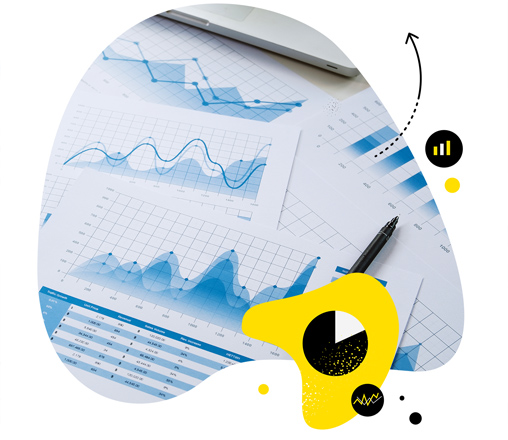 In-depth Instagram Analytics & Reports
Get in-depth Instagram analytics for your own accounts and for your competitors, too! Compare accounts side by side, and quickly generate and schedule reports. Try it for free:
Try NapoleonCat free for 14 days. No credit card required.
How to do a collab post on Instagram
Here are the exact steps to take if you're doing it in the Instagram app directly and not using your social media publishing tool (works for TikTok, Instagram, Facebook, Twitter, LinkedIn, and Google My Business).
The first step is to find the right partner to collaborate with. One that fits your audience and vice versa. It's the key to seeing the results you're after. So don't skip this part.
Create a feed post or reel as you normally would.
When adding your post details, tap on the "Tag people" option.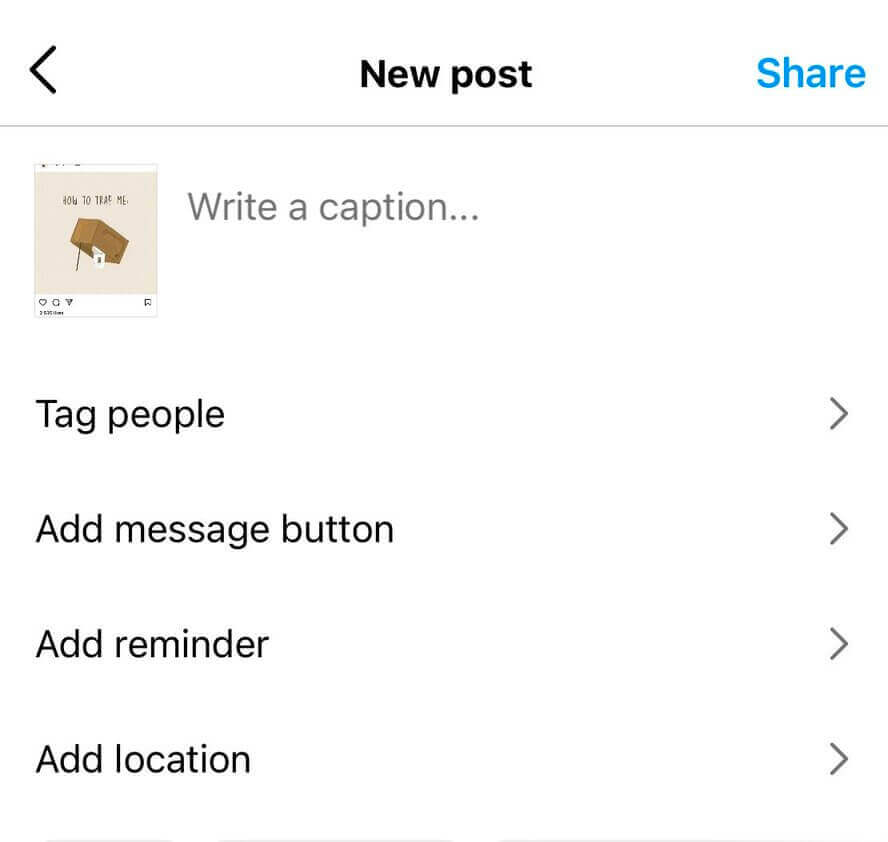 Then, tap "Invite collaborator."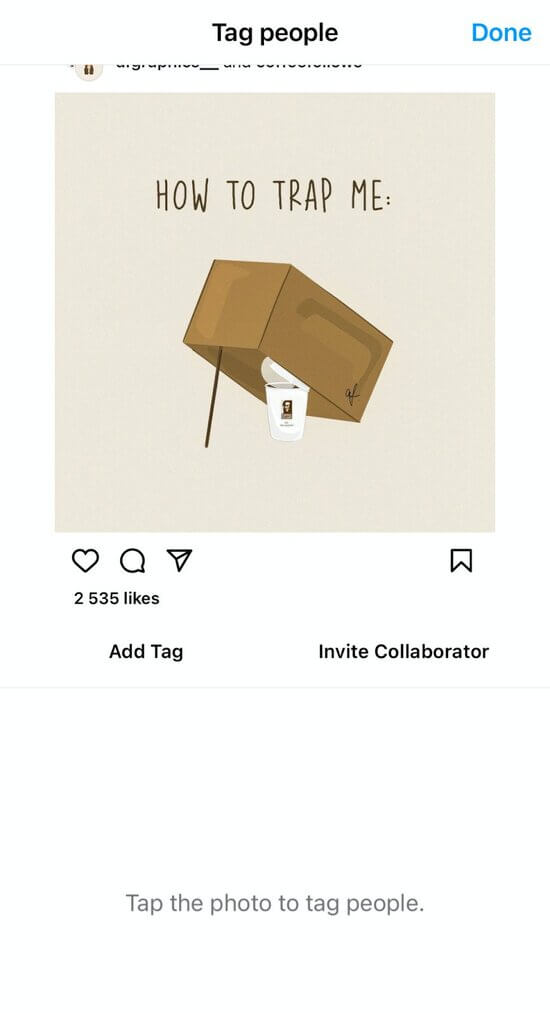 Search for the account handle of the person or brand you're collaborating with.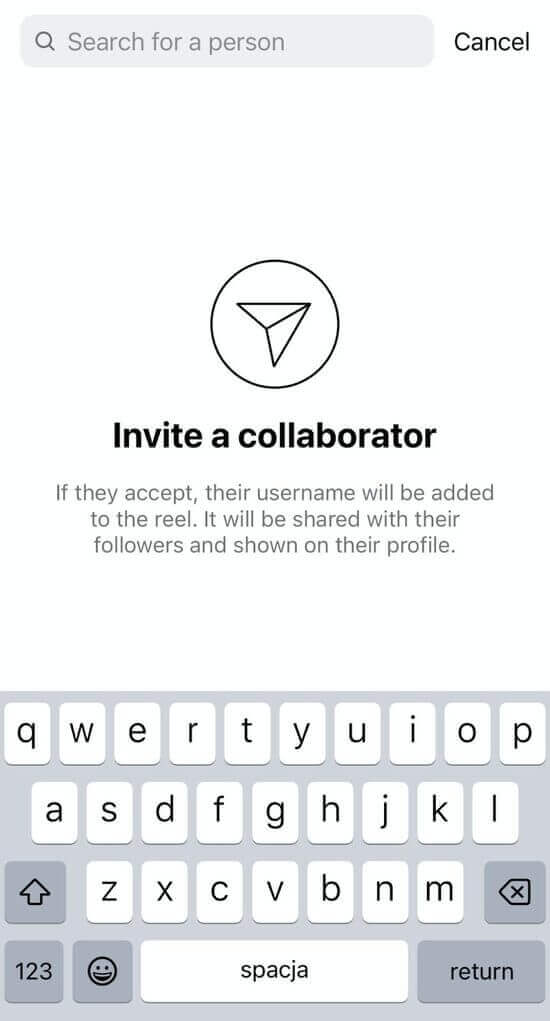 You can add more than one collaborator. Each of them will have to accept your request before they can show up as co-authors of the post. When someone accepts the post, it'll also be shown to their audience as their feed post or reel.
Then add all the remaining post details as usual and share the post with your audience.
If you're on the receiving end of this and are a collaborator someone else adds to a post or reel, you're the one to accept the collab request. Instagram will notify you by sending you a – yes – app notification.
All you do then is:
Tap on the notification to see the request.
Tap "Review" to see the post and accept or decline it.
When you accept, you'll be featured as the co-creator of the post or reel.
And that's pretty much it. How about we take a look at some collab post ideas now, shall we?
Ways you can use Instagram Collab posts
Promote your products to new audiences
The Instagram collab feature is a great way to show your products or services to a broader audience. These can be product tutorial videos, reviews, or any other kind of promotional content created in collaboration with influencers. As mentioned above, you can even use shoppable posts to make buying your products very easy straight from Instagram.
This is an effective way to also increase reach for your special promos and discounts you have running.
And it could look like this: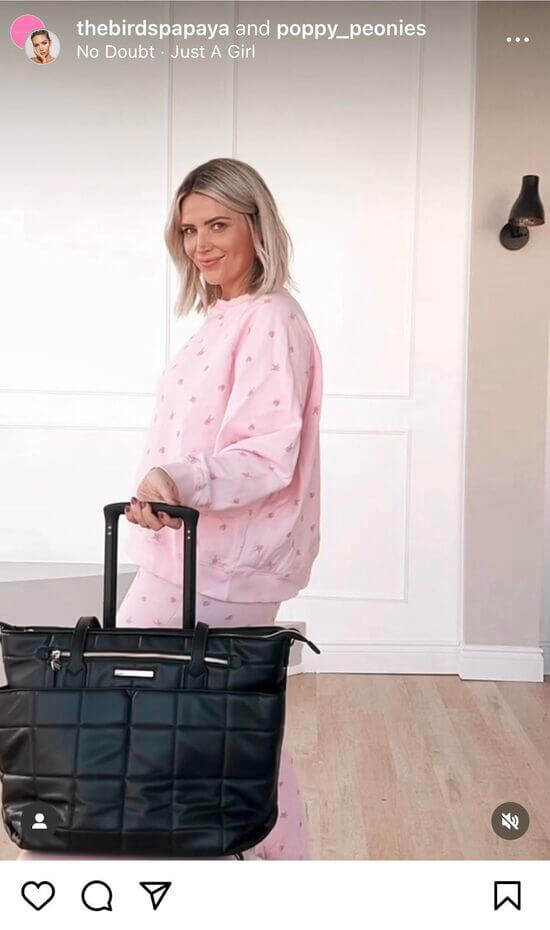 Show off your influencer partnerships
You don't have to promote a specific product to collab post with a content creator or influencer. Doing all kinds of influencer marketing content that highlights your partnership is also a good way to build brand awareness with new audiences (and definitely benefits both sides in this respect.)
Here's an example from NapoleonCat's own Instagram account, working with Dalia for Reels, an expert on all things Instagram Reels. An educational post like that is also an excellent opportunity to cross-promote brands and give your engagement a bit of a much-needed boost.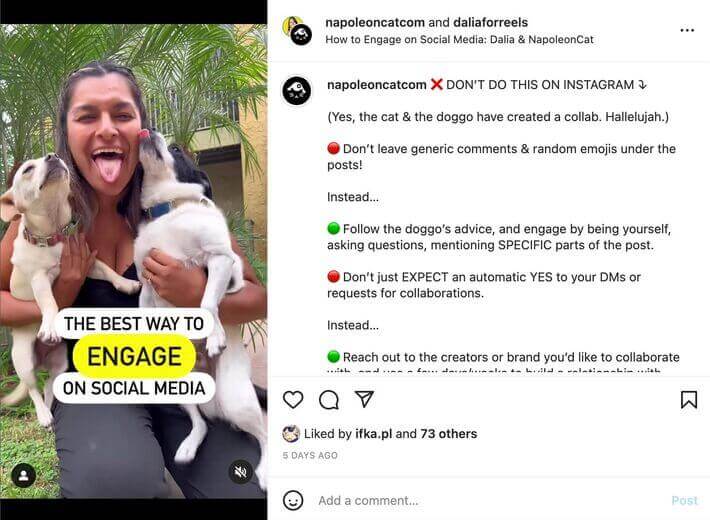 Run contests and giveaways
You can increase the reach of your contests and giveaways by choosing a partner on Instagram. And if you run it with other brands or creators, collab posts will help you easily reach both your audiences (or more audiences if there are more than two partners) without having to post the same content on multiple accounts.
This also makes managing a contest or a giveaway and tracking participants and results much easier this way. Like in this series of collab giveaway posts by Booksy: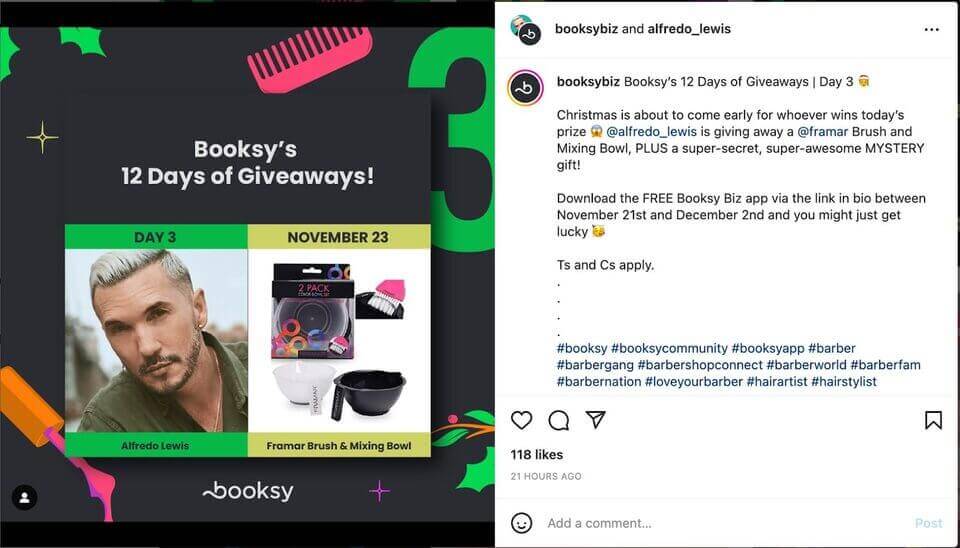 Promote your other accounts
Instagram Collab content will also let you cross-promote your accounts if you have more than one – and often with different audiences. That way, you can easily bring attention to your other account(s) without overpromoting them to your audience.
This also works if you're a creator who has their own brand, being able to seamlessly and transparently include it in some of your content, like in this example of Naomi Watts' personal account and her skincare brand Stripes.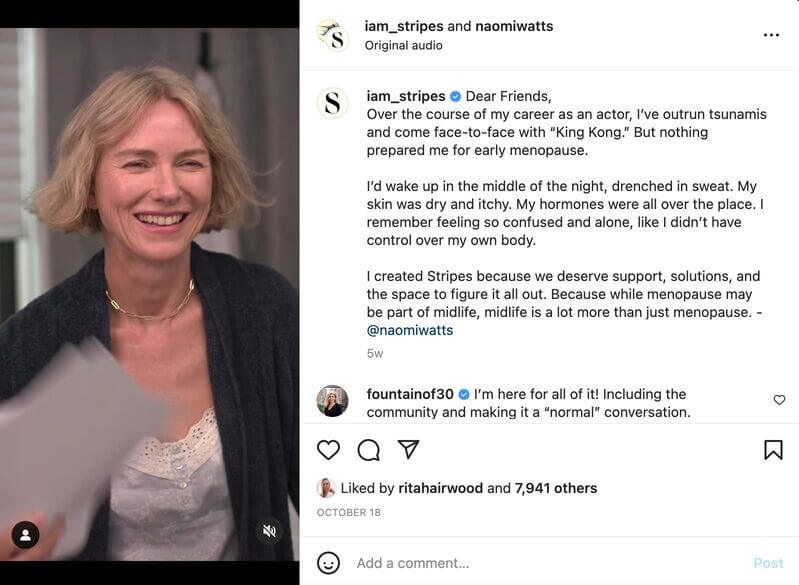 Partner with other brands
If you're working with other brands on things like a product collection, event, or educational content (e.g., a webinar), you can very easily promote it on Instagram with collab posts. Again, it's a super non-intrusive way to do this, and it also makes it easy to track engagement and results with just one source of data.
It will also be a great tool if you want to promote a specific brand that's available in your online store.
Here's an example from Adidas, who collaborated with Rimowa on a capsule suitcase collection.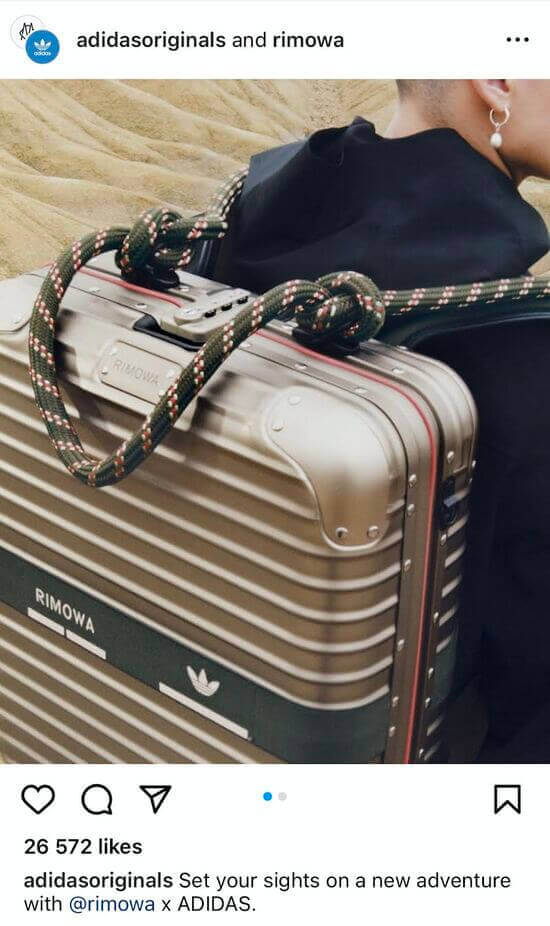 Appreciate your customers and their user-generated content
Collab posts are also a great way to include your customers in your brand's Instagram content. Got a review from a happy customer you really want to share? Want to announce the winner of your giveaway? Or have a particularly exciting piece of content created by a customer with your brand or product in it?
Just collab post it on your Instagram account! That way, you're not only appreciating your customer, but you're also reaching their audience while they get to be featured on your Instagram account. Again, everybody wins.
Don't forget; collab posts are just one way to make Instagram work for your brand
So you now know how to collab post on Instagram. But there are tons of other things you can do on the platform to build a brand community and drive more awareness of your brand and products all the way to actual sales. To make managing your Instagram account easier, including your collab content, and do things like:
Track all comments and reply to them in one place
Schedule and automatically publish content on Instagram, including Instagram Reels
Send automated DM replies to your customers
Analyze reach and engagement (to see if those collab posts are really working out the way you wanted)
Well, to do that and more, look into getting Instagram management tools for business – like a NapoleonCat subscription – that will make your life easier and help automate some of your day-to-day work as a business owner or social media manager.
There's no way you're going to regret it.
And in the meantime, go work on your own Instagram collab ideas. Hope to see some of them out there soon!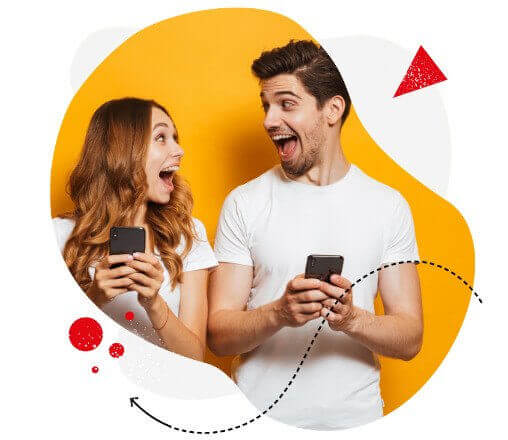 Instagram marketing made easier (especially for teams)
Instagram automation, analytics, reporting, scheduling, and more. Try NapoleonCat and save 90% of your time spent on marketing tasks. Try it for free:
Try NapoleonCat free for 14 days. No credit card required.
Here are some other articles that you may like: