It's a no-brainer: Instagram is one of the best platforms for business owners to reach their target audience and convert them into leads and sales.

But if you want to get the greatest ROI possible, knowing how to make Reels on Instagram is not enough. There's always room for improvement, especially in how you schedule your Instagram Reels.
By the way, you can now schedule Instagram Reels with NapoleonCat, yay!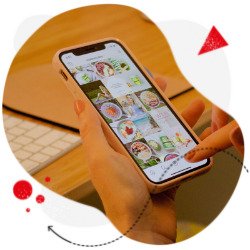 Schedule unlimited number of Instagram Reels
Seamlessly schedule your Instagram Reels to multiple accounts at once – with an all-in-one social media tool.
If you want to get the most out of your Reels, you have to identify the best times to post them.
And this guide will help you do just that.
In this article, we cover:
Why post Reels on Instagram?
Reels are short videos created with a specific purpose in mind – they're designed to captivate your audience and drive them back to your page for more.
Make no mistake, Instagram Reels have become a key driver of growth for brands.
In fact, a 2022 Instagram Reels study shows that Reels have an average engagement rate of 1.95% – the most on any other type of content. The same study also shows that Reels have an average reach rate of 20.59%, outperforming other post types – especially for small businesses.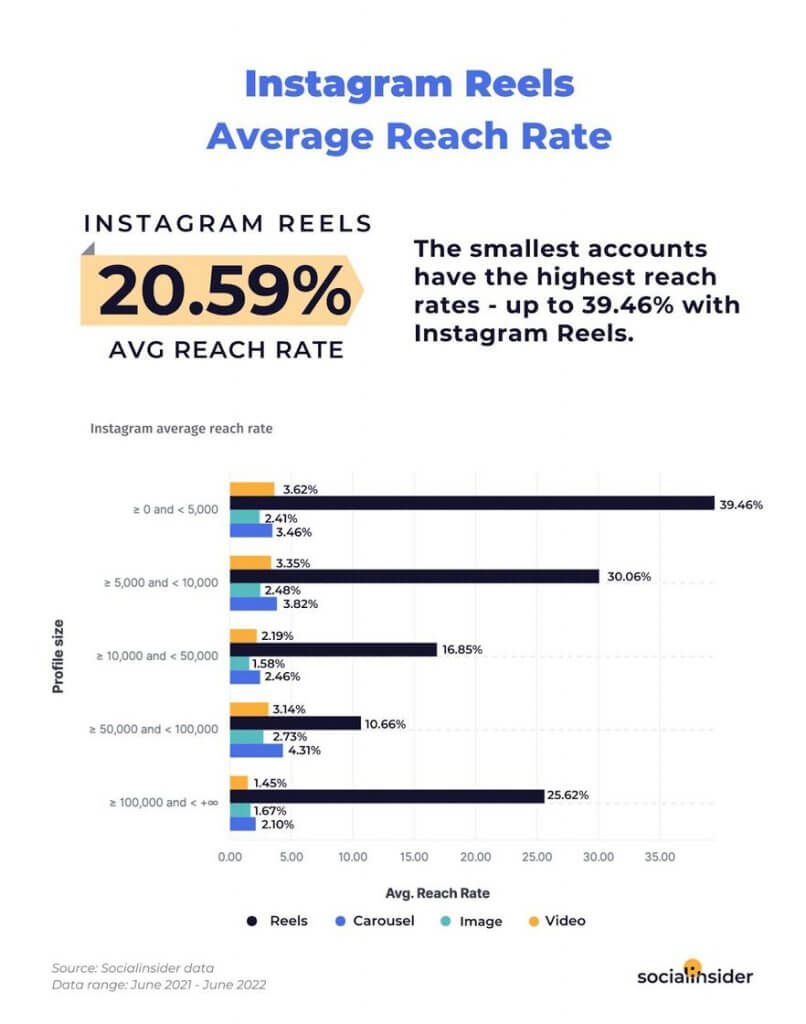 One thing is clear: if you want to grow your audience and get more engagement, you can't go wrong with Instagram Reels.
Posts in this format are compelling, engaging, and shareable – all the things that propel your business forward.
Posting Reels will help your audience engage with your brand by giving them something new to look at every day – something they haven't seen before – which in turn helps build trust with them as well as encourage them to come back later for another dose of content from your brand.
The best time to post Reels on Instagram
According to a 2022 study by Influencer Marketing Hub, the best times to post Reels on Instagram are between 9 AM to 12 PM, from Monday to Thursday.
Here's the overall breakdown of their suggested best times to post Reels on Instagram:
Wednesday at 11 am and Friday from 10 am to 11 am
Monday to Friday, 9 am to 4 pm
Monday 6 am, 10 am, and 10 pm
Tuesday 2 am, 4 am, and 9 am
Wednesday 7 am, 8 am, and 11 pm
Thursday 9 am, 12 pm, and 7 pm
Friday 5 am, 1 pm, and 3 pm
Saturday 11 am, 7 pm, and 8 pm
Sunday 7 am, 8 am, and 4 pm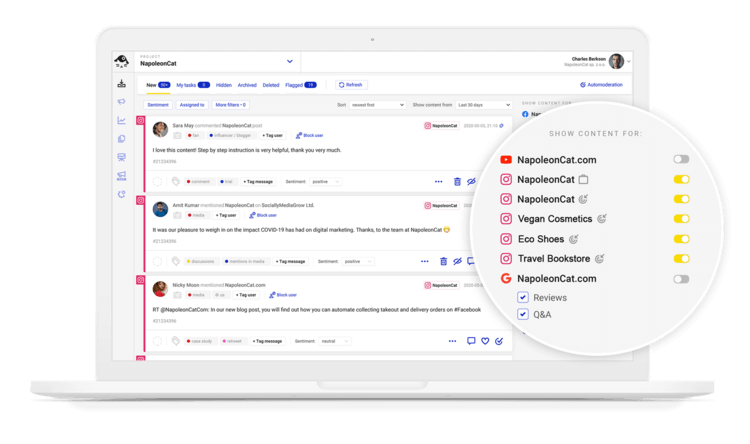 Simplify Instagram Business
Management with One Tool
Manage & reply to comments and DMs in one place.
Monitor ad comments from multiple accounts.
Automate answers to repetitive questions.
Schedule posts to multiple accounts, on desktop.
Analyze performance and monitor hashtags.
Keep track of your competition.
Create or schedule in-depth reports in seconds.
Try 2 weeks for free (no credit card required)
The best time to post Reels on Instagram depends on your target audience
While using the above suggestions as a baseline for predicting the best times to post Reels on Instagram, you'd be wise to make room for discrepancies.
Every audience is different, and there's no one-size-fits-all strategy. As such, the best times to post Reels on Instagram will depend on your target audience.
Instead, you should do some research into your target audience and figure out what times they're online or more likely to be active.
To find out the times your audience is most active, research your audience's demographic information, including location, age, and preferences. It will also be helpful to create or refine buyer personas or to conduct customer surveys to get a deeper understanding of your audience's habits.
This is where Instagram's native analytics tool, Insights, helps.
To access Insights, you'll need a business or creator account. By going there, you can find a ton of information about your followers, giving you a wide range of data you need to find out when they are most active on Instagram. We'll talk about how to use Instagram Insights later in this guide.
How to switch to a business account to access Instagram Insights
You'll need a business account to access Instagram Insights and get to learn more about your audience.
Perform the following steps to switch to a business account:
Set your Instagram account to "Public"
Go to your Instagram profile
Go to settings by tapping the three lines in the top right corner of your screen.
Go to your account and click on "Switch to Business Profile." You'll then be asked to connect your account to a Facebook Page. If you don't have a Facebook Page, you can quickly create one (you don't need to post anything there, it only needs to exist).
You can also watch our 30-second video to learn how to access Instagram Insights:
Determine your audience's location
Are you catering to a global audience or in a specific time zone? If you want your Reels to reach them, you must base your publishing schedules on your audience's time zone.
To determine where your followers are located, use Instagram Insights. This tool will tell you the cities or countries your followers live in and give you ideas of the best times to post your Reels content.
To access Instagram Insights, launch Instagram, go to your profile, and click Insights.
From there, tap total followers. This will take you to the Follower Breakdown page. As you scroll down, you'll see Top Locations. Once there, you can toggle between Cities and Countries to get a full breakdown of where your followers are located.
Conduct a competitor analysis
By analyzing your competitors on social media, you can see how they are performing and benchmark yourself against them, giving you some key insights on how often they post and the times they usually post.
Spying on your competitors' social media activity is another excellent way to find the best times to post Instagram Reels. After all, they have the same target audience as you do.
By creating competitor sets and comparing them side by side, you can extract key insights and use them to inform your own findings. By comparing their data to yours, you may be able to extract key insights that will give you an advantage over your competitors in terms of reaching the audience that you both share.
You can also use your collated data as a starting point for your experiments, which can help you inch closer to finding out the optimal times to post Reels on Instagram.
You can also use NapoleonCat to dig deeper into your competitors' posts, including when they were published, how many comments and likes they received, and their engagement rate.
You can test it for free for 2 weeks here, no credit card required 😉
The best part is that NapoleonCat lets you analyze several competitors side by side, allowing you to extract data sets that enable you to see the bigger picture.
Check out this YouTube video to see how it's done.
Find out when they are most engaged
The times your followers are likely awake aren't always a reliable indicator in determining when they'll watch and engage with your Reels.
This is why it's helpful to find out the times your audience is most engaged. Thankfully, this is another area where Instagram Insights can help.
Once you're on Insights, you'll see 3 cards – Content, Activity, and Audience. Tap the Audience tab and scroll all the way down.
You'll then see your followers' level of activity in two ways:
By days of the week
By hours.
Posting during these times – when your followers are most likely to be active – can help you increase the reach of your Instagram Reels.
That said, Instagram Insights have some limitations you need to keep in mind:
You can't set a fully custom time period for your analysis
You can only analyze your own Instagram account with no possibility of tracking competitors
You can analyze only one Instagram account at a time (if you have multiple accounts, you have to log in separately to access Instagram Insights individually for each)
If you want to get a complete picture, you can use a dedicated social media analytics tool like NapoleonCat.
It helps you track performance over a fully custom time period.
You can analyze your competitors on Instagram to get more insights about your target audience.
You can also analyze multiple IG accounts at once and automatically generate in-depth reports.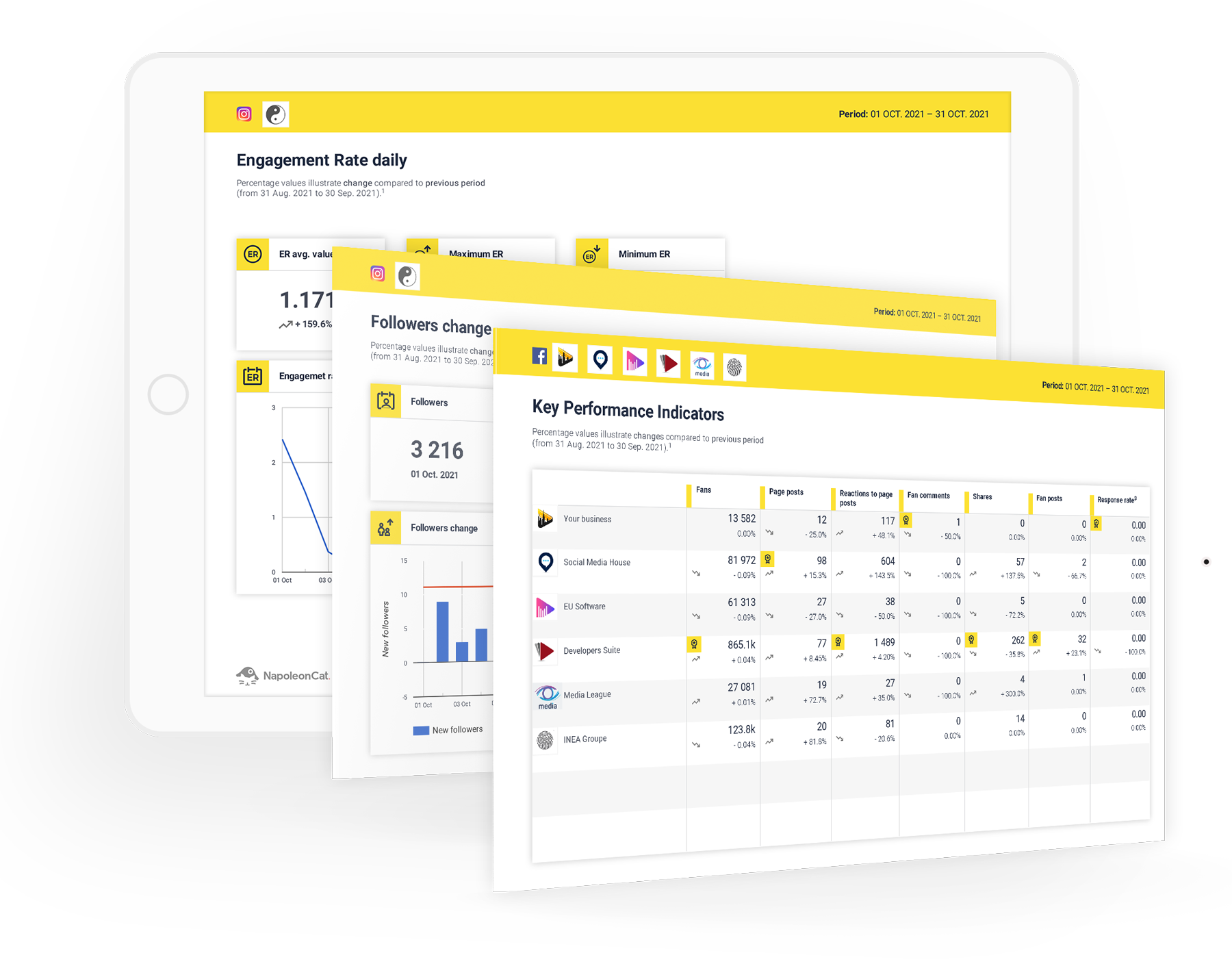 Schedule your content using a handy Reels scheduler
Knowing the best times to post Reels on Instagram is not enough. If you want to stay consistent with your schedule, you must create a content calendar. That way, you can plan ahead and effectively manage your time.
This is the part where you take the results from your efforts to know the best times to post Reels on Instagram.
If you want an easier and more efficient way to schedule your content, use a social media scheduler. NapoleonCat's Publisher, for instance, has a built-in scheduling feature that lets you plan and publish content across TikTok, Facebook, Instagram, Twitter, LinkedIn, and Google My Business.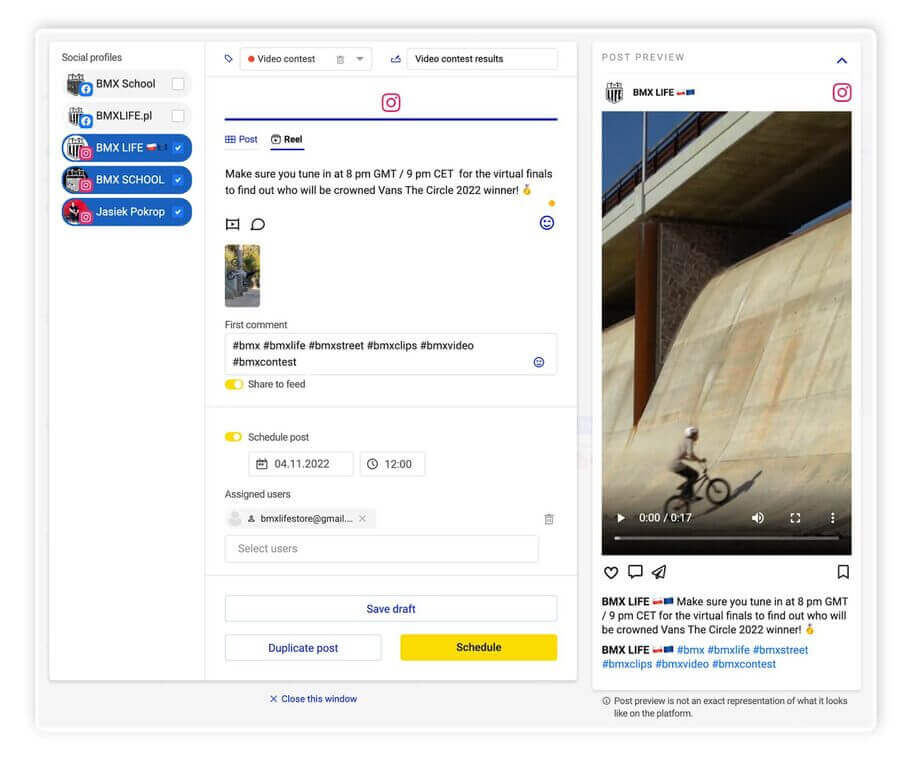 NapoleonCat's scheduling tool also has an easy-to-use interface that allows you to collaborate on your content calendar in a team, assign tasks, and exchange feedback directly under your posts and drafts.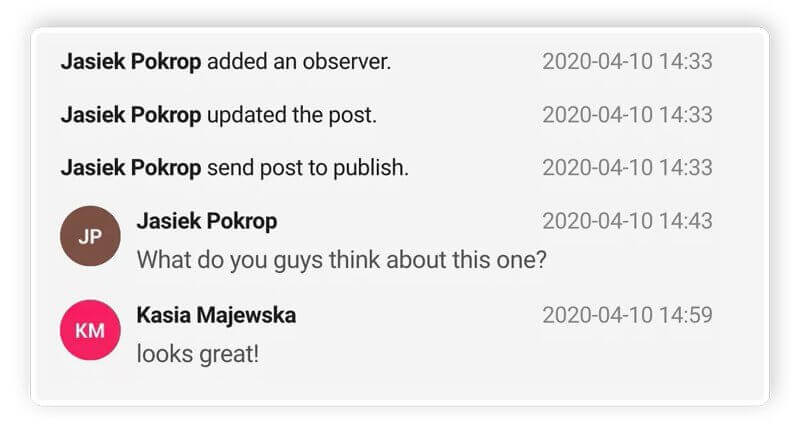 You can also add titles and color-coded labels to your posts – that will give you a bird's-eye view of your entire strategy using the publication calendar.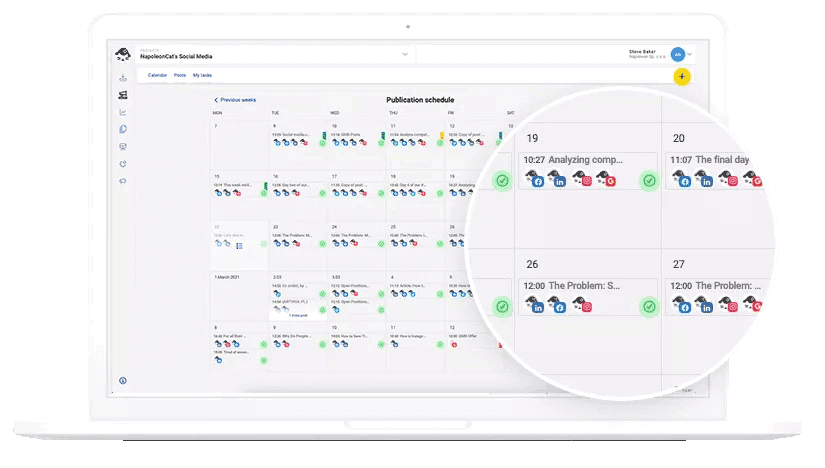 Split-test your Reels to identify the best posting schedules
To get the best possible posting schedule for your Instagram Reels, don't settle with the data you have.
Make some room for experimentation by carrying out split tests at different times of the day throughout the week.
You can start by testing your Reels for specific hours and corresponding days to validate assumptions you have about your audience (based on your audience research).
Test different posting times throughout the week, and mark them in your calendar along with your weekly results. Once you have a large enough sample size, switch the posting times after a few weeks. And so on.
Once you have enough data to go by, you can identify the best times to post Reels on Instagram and make adjustments to your content schedule.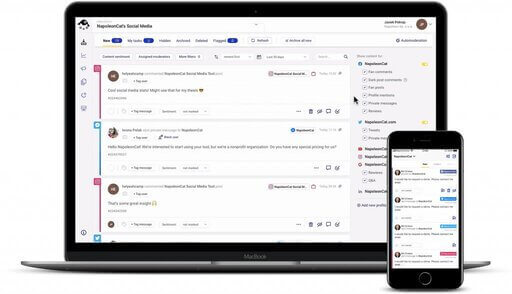 Manage and automate comments from Reels
Use NapoleonCat to manage (and automate) comments from your Reels across multiple IG accounts – all from one simple dashboard.
Wrap up
Finding the best time to post Reels on Instagram can be a challenge. It's best to equip yourself with a solid analytics tool that will do all the heavy computing for you and find when your audience is most engaged.
Once that's done, you can schedule your Reels for the most optimal times of publication, without having to publish them manually each time.
Both the analytics and scheduling features are available in NapoleonCat, so I recommend giving it a try. You can quickly test it out with a 14-day free trial, no credit card is required during sign-up 😉
Here are some articles that you may like: