The question about the best times to post on any given social media platform is about as old as social media itself. And the answer is rarely simple. Let's see if that's the case with TikTok, shall we?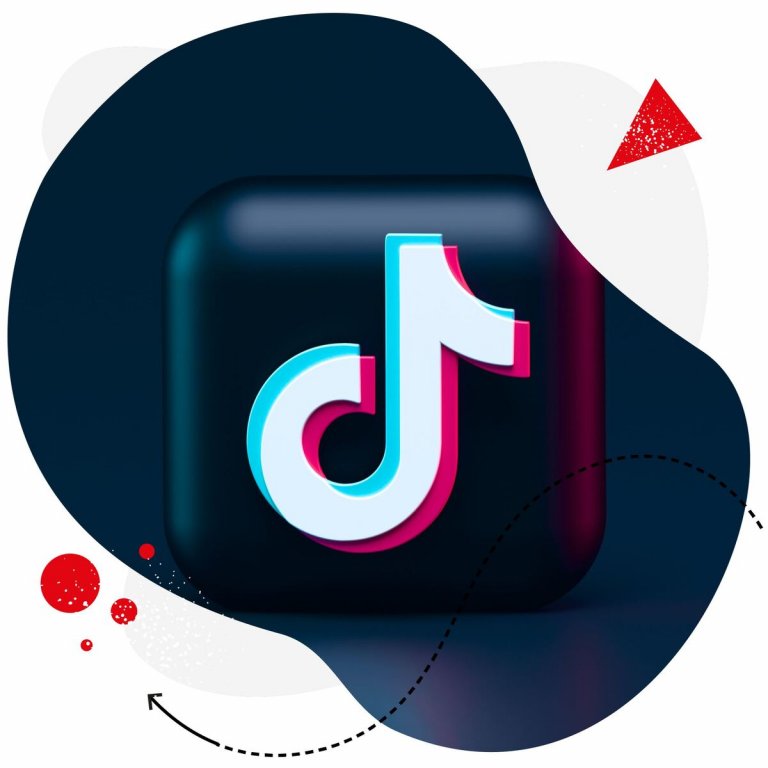 TikTok management tool for teams
Schedule your TikToks and manage TikTok comments (organic and ads) from one place – with an all-in-one social media tool designed for teams.
So, is there a "best time to post on TikTok"?
Let me just dive right in (and do the opposite of the usual "why first, how later." I'll talk about the whys of finding your best time to post on TikTok a little later in this post. Though the reasons are really interesting when you think about it. So stay tuned.)
And according to the Influencer Marketing Hub, there actually is such a thing as the best time. At least, that's what they found in their research, analyzing over 100,000 posts and their engagement rates across different market sectors globally. Here are the results (in Eastern Standard Time):
Best times to post on TikTok:
Monday: 6 AM, 10 AM, 10 PM
Tuesday: 2 AM, 4 AM, 9 AM
Wednesday: 7 AM, 8 AM, 11 PM
Thursday: 9 AM, 12 AM, 7 PM
Friday: 5 AM, 1 PM, 3 PM
Saturday: 11 AM, 7 PM, 8 PM
Sunday: 7 AM, 8 AM, 4 PM
And here's a nice graphic to go with it, courtesy of the Influencer Marketing Hub: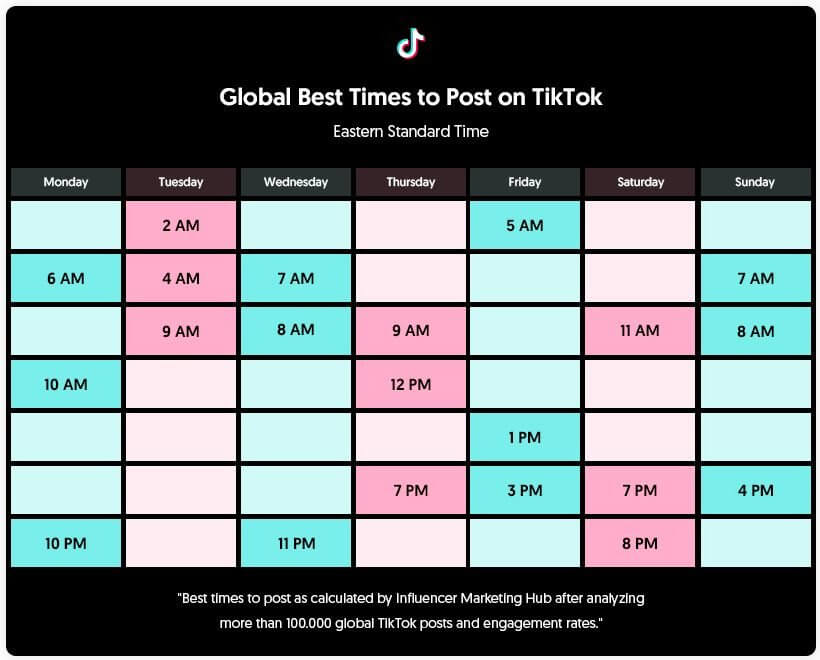 They even have a handy calculator you can use yourself to calculate your best time to post on TikTok.
Now, does that mean that you should take these posting times at face value (possibly converting them to your time zone) and just post away?
Well, they're certainly a good starting point and show a general, global tendency. But they don't consider the specifics like your industry or your specific audience location, so they're certainly not entirely universal. And when looking at what is the best time to post on TikTok for your brand, you'll most probably have to analyze and test more factors that pertain to your account, your content, and your audience to find your sweet spot for posting.
So, let's take a look at what those factors are.
What to analyze to find your best time to post on TikTok
Well, first of all, "analyze" is the keyword here. So, make friends with your TikTok analytics to look for patterns that'll tell you when your audience is most likely to engage with your TikTok videos. Here's what to look at:
Where your audience is located
The best times to post on TikTok, as published by the Influencer Marketing Hub, are averages for a global audience. But there are likely to be geographical differences based on where your viewers actually scroll their FYPs from (location has a big say in what content people see on TikTok.)
And to know that, go to Creator tools > Analytics and tap the Followers tab. You can also access it via Business suite > Analytics if you have a Business account.
You'll be able to see the top territories where your viewers are located, as well as their gender, to complete the picture. And that should give you an overview of the time zones you should accommodate in your TikTok posting schedule.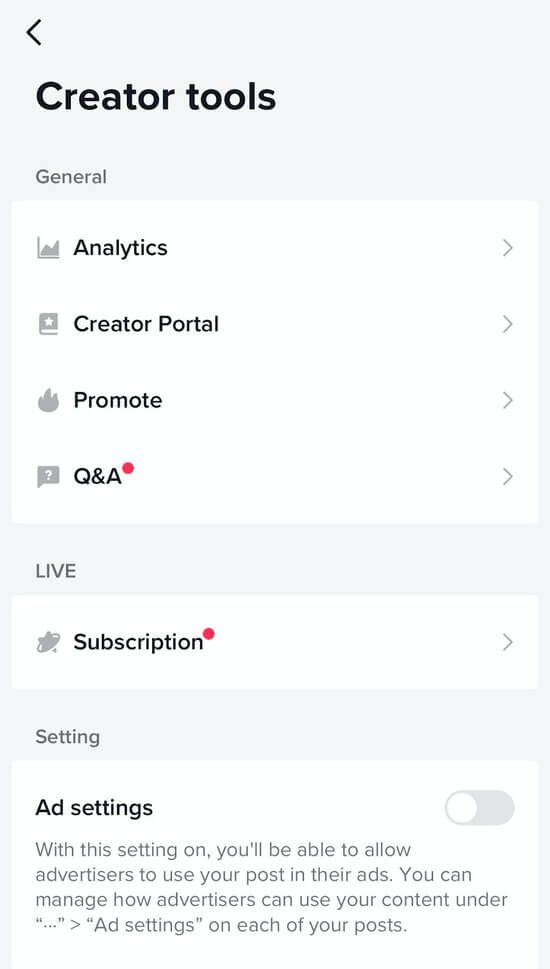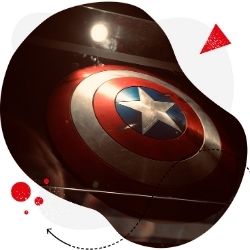 Protect your social media from offensive comments and SPAM
Automatically hide or delete comments containing spam under your organic posts and ads – with an all-in-one social media tool.
When they're awake
Another piece of the puzzle when you know where your audience is located is what time they're awake and actually likely to scroll those FYPs. They're most likely not active in the middle of the night (except for maybe a few random sleepless individuals), so that'll help you narrow down the general best times to the timeslots that your audience is most likely to see and interact with your videos.
To find out what these are, go to "Follower activity" in your TikTok analytics and switch between the day of the week and the time of day.
And that's already a sound basis for your TikTok content posting schedule. Keep in mind that the times in Influencer Marketing Hub's research are in EST. So, if your audience is in, say, Central European Time, the 10 PM Monday slot becomes 4 AM Tuesday (again, not very likely the majority of your audience is up scrolling TikTok, though not impossible either.)
How your content performs
Now add your current TikTok content engagement to the mix. Look at when you've posted your content so far and how that translates to engagement on your posts and your reach.
Which posts get the most views? Which ones get the most comments/likes/saves, etc.? How do they fit in the preliminary schedule you've just drafted in the previous sections?
This will give you much more insight into when your audience actually responds to your TikToks. To find that out, go to the Content tab in your analytics and check the data for individual posts. The tab includes data on posts from the last seven days related to things like:
Average watch time
Total playtime
Reach
Video views
And where the traffic came from – whether it was via people's "Following" feed or their For You Pages. (And, besides reaching your followers, you want to reach as many new people via their FYPs, if you're after growing your following on TikTok.)
Combined with the video posting time, all that data can help you figure out what the most successful individual post timings are for your content. Cross-reference that with your overall follower activity, and you're on your way to pinpointing the best times to post your TikTok videos.
Got the data? Time to test
Knowing the universal best times to post on TikTok along with your specific TikTok analytics will help you test out your content timings and actually find your posting holy grail. Which should be the next step you take.
So, select your timings, post your content, and track how the timing affects your reach and engagement. Then, post more at the times people seem to be responding more and when your content reaches more people.
NapoleonCat, a popular social media management tool, includes a powerful feature for scheduling posts to TikTok. With NapoleonCat's Publisher, users can effortlessly plan and automate their TikTok content, ensuring a consistent presence on the platform.
The Publisher feature provides an intuitive interface for creating, scheduling, and publishing TikTok posts. Users can craft captivating captions, upload content, and set specific publishing dates and times. This functionality is ideal for maintaining a consistent posting schedule and reaching the target audience at optimal times.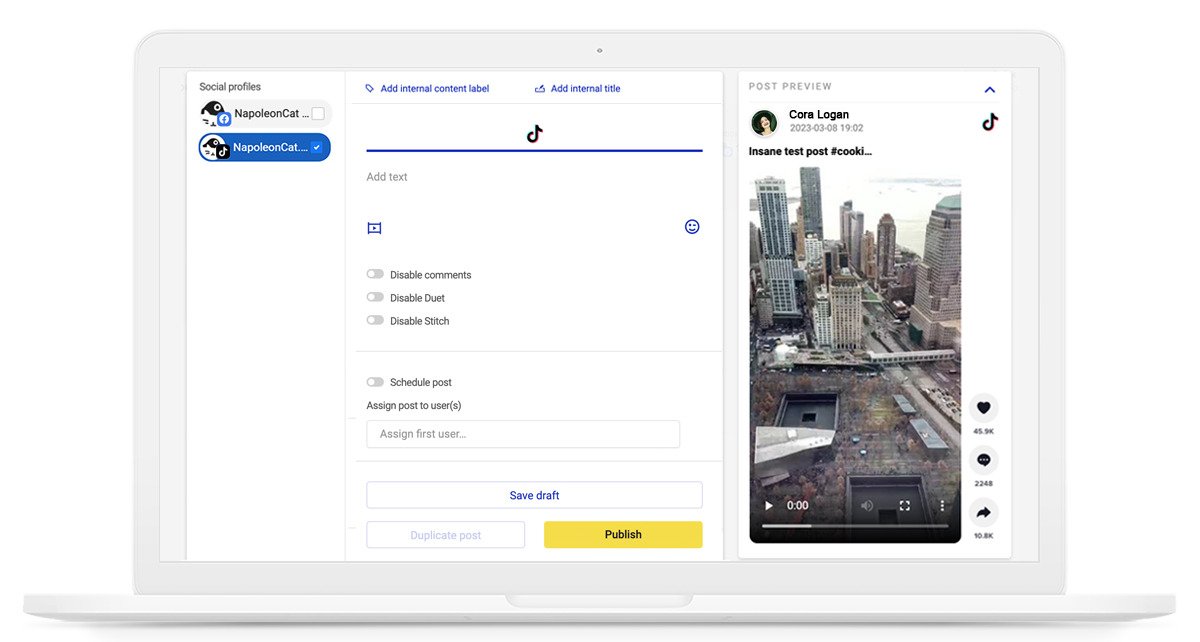 In addition to scheduling, NapoleonCat's Publisher offers robust collaboration features. Users can assign tasks and exchange internal feedback with team members, streamlining the content creation process. This collaborative approach enhances productivity and ensures everyone is aligned.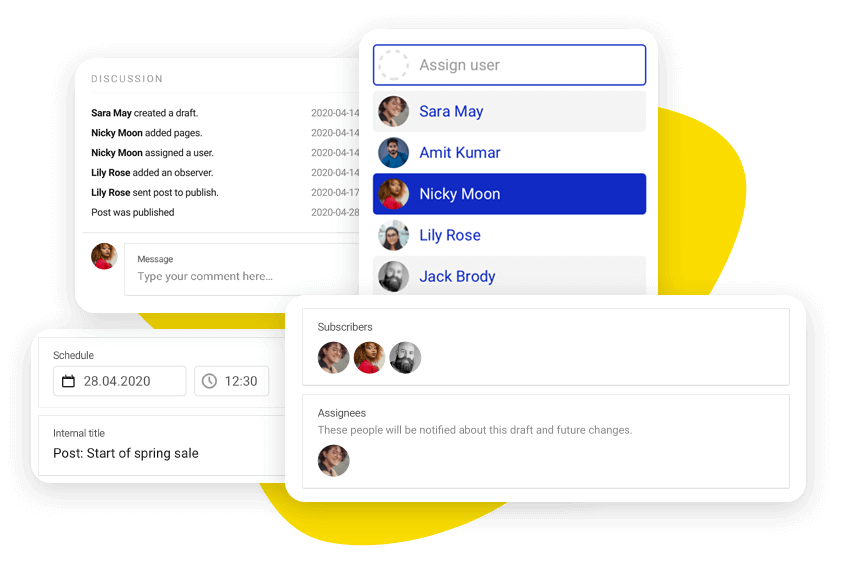 The Publisher also provides an overview of the content calendar, allowing users to manage their TikTok strategy effectively. With a clear view of scheduled posts, users can maintain a balanced mix of content, consistency in branding, and make necessary adjustments to the publishing schedule.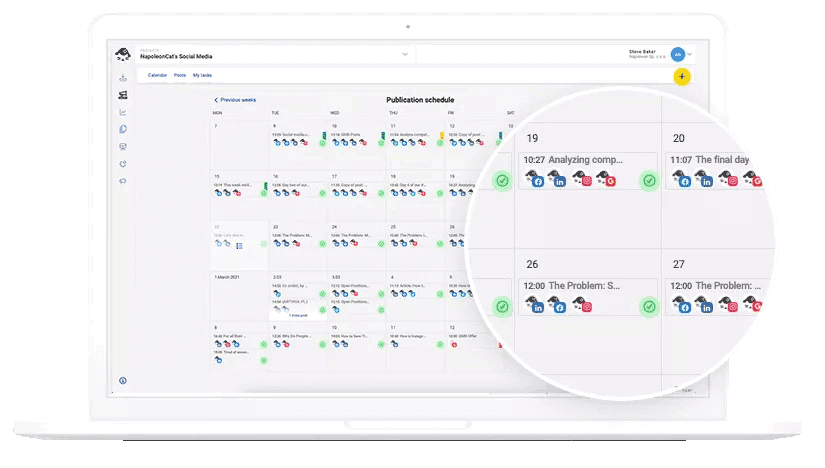 The Publisher feature is a valuable tool for scheduling TikTok posts and collaborating on content creation. You can test it out by starting a free 2-week trial (no credit card is required).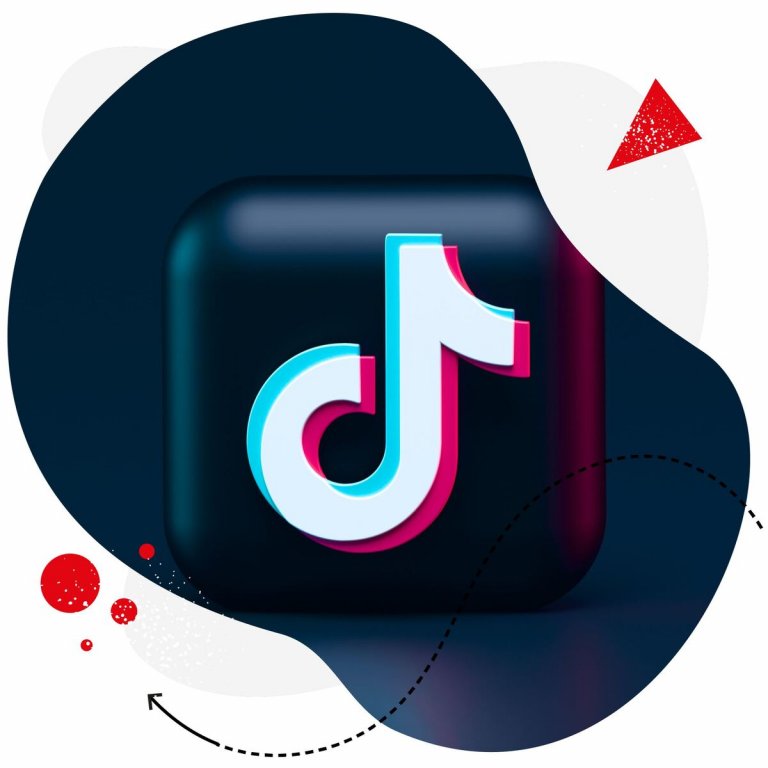 TikTok management tool for teams
Schedule your TikToks and manage TikTok comments (organic and ads) from one place – with an all-in-one social media tool designed for teams.
Now, why you should find the best times to post your TikTok content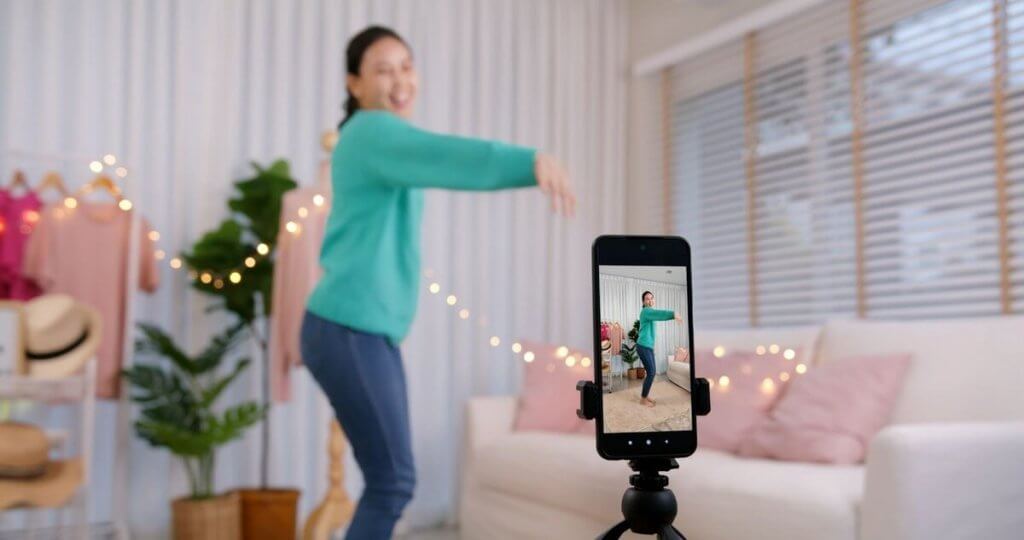 I know, this feels kind of obvious – you'll want to reach as many people as you can and get them as engaged as you can. Of course, timing is not everything – your content needs to be relevant and engaging, too – but it can really change the game for some of your content. And even the most engaging content, when posted when nobody's there to watch it, might fall flat.
And, yes, timing is not all that influences how your posts perform. But the closer you look at your post performance and stats, the more relevant conclusions you can draw regarding the timings, too.
Timing's key for your TikTok content also because TikTok still has the highest organic reach of all popular social media platforms. For example, TikToker Poppy O'Toole, was able to grow her follower base by over 1 million overnight!
And while other platforms like Instagram or Facebook heavily rely on paid reach, where timing is basically a non-issue, the way TikTok's algorithm works places it on the other side of the spectrum.
In fact, TikTok's organic reach is reported to be at 118% compared to Instagram's 9.4% or Facebook's 2.2% (here's the source.) And the FYP has long been like the first page of Google results for many people, especially the younger generations. In getting through to the right audience, timing is undoubtedly one of the crucial factors.
Now, your turn
If you're building your TikTok strategy for the new year, taking a closer look at your timing is definitely a good idea to be able to post your videos at the best times. The best as in: getting you the most views by the right people who are likely to engage with you and your brand.
Of course, don't forget about the rest of your TikTok marketing strategy: the target audience you want to reach, creating content that's relevant to them, and making TikTok an integral part of your overall marketing strategy.
When you have all of those elements nailed down and are willing to learn and adjust your strategy as you go, you'll likely see the results you're after. And if you do it right, they might even exceed your expectations.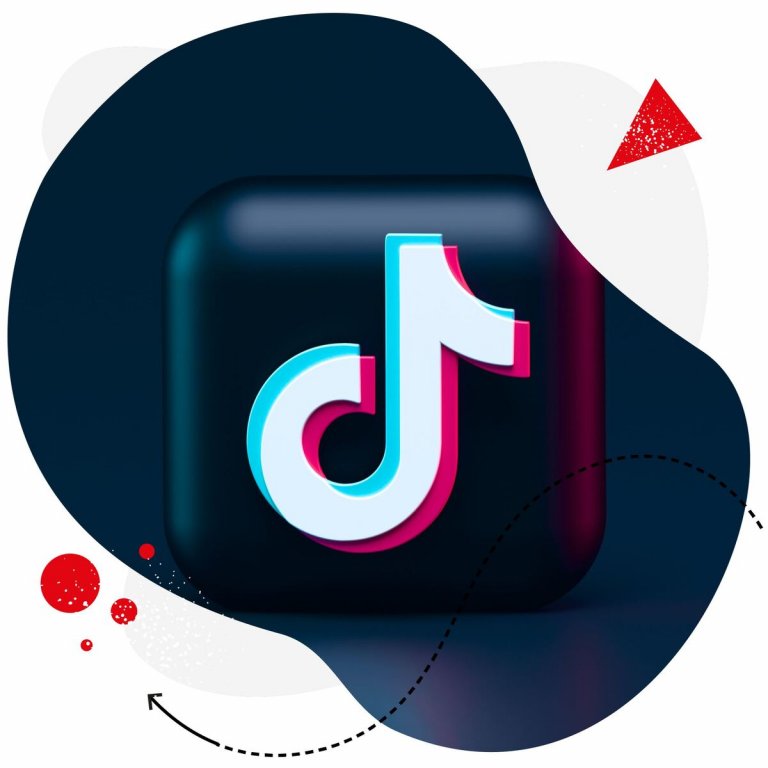 TikTok management tool for teams
Schedule your TikToks and manage TikTok comments (organic and ads) from one place – with an all-in-one social media tool designed for teams.
You may also like: