Managing TikTok comments giving you a headache? Whether that's because there are too many of them, or you're new to that whole TikTok thing, here are a few things that'll help you manage TikTok comments more efficiently.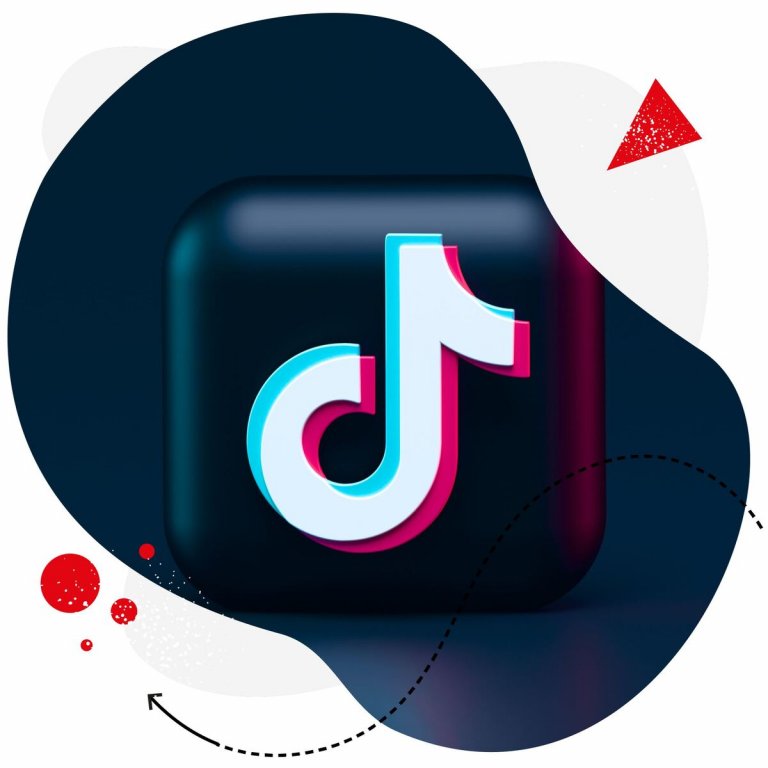 TikTok management tool for teams
Schedule your TikToks and manage TikTok comments (organic and ads) from one place – with an all-in-one social media tool designed for teams.
Let's talk about the TikTok comment section
Yes, TikTok's all about video content. But it's also so much more than that. It's a platform where particularly strong communities form. And these communities are built in no other than the comments section, where all the conversations are happening. Conversations you as a TikTok creator and your brand can be a part of.
And yes, views and likes are important and all, but if you want to build a community and genuine engagement on TikTok, you need to be getting those comments. Answering questions, exchanging opinions, and interacting with the very people you want to be a part of your community.
And, as you (hopefully) get more and more of those TikTok comments, you also need smart ways to manage them. Especially as your account grows or when you have more than just one TikTok account.
Let's take a look at the basics of handling Tiktok comments, including TikTok management tools for business that can help.
How to turn on comments on TikTok
First of all, TikTok allows you to turn on comments globally for all your videos, but also for individual TikToks. Now, if you want to get comments, it's probably smart to leave them turned on 😉
So, when you're posting your content, remember to turn them on for the TikTok you're posting (you can choose not to allow people on TikTok to comment on a selected video, in which case they'll see that "the creator has turned off commenting".)
To do that, make sure you switch on the "Allow comments" toggle when you're preparing to post your TikTok video. You'll find it along other settings like allowing stitching and dueting: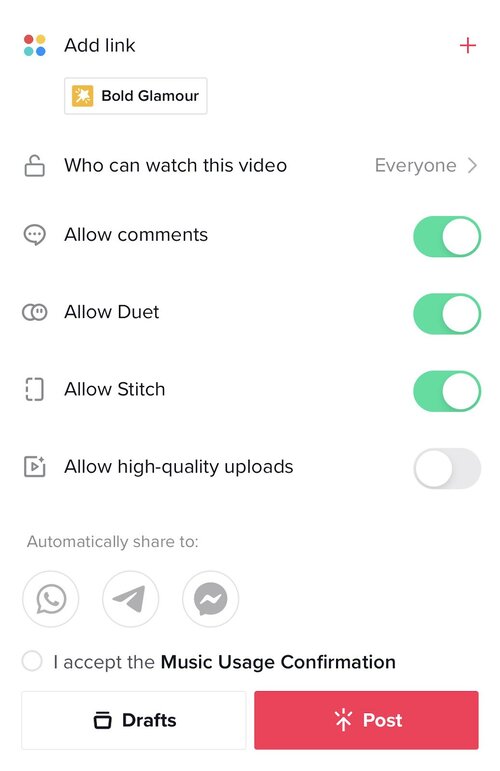 Conversely, if that toggle is off, people won't be able to comment on your videos.
How to comment on TikTok
First of all, if you're just getting started with TikTok, here's a super quick guide to commenting on TikTok.
There are two ways you can do it:
Click on the speech bubble in the menu on the right to add your comment.
Or comment straight in the window below the TikTok video.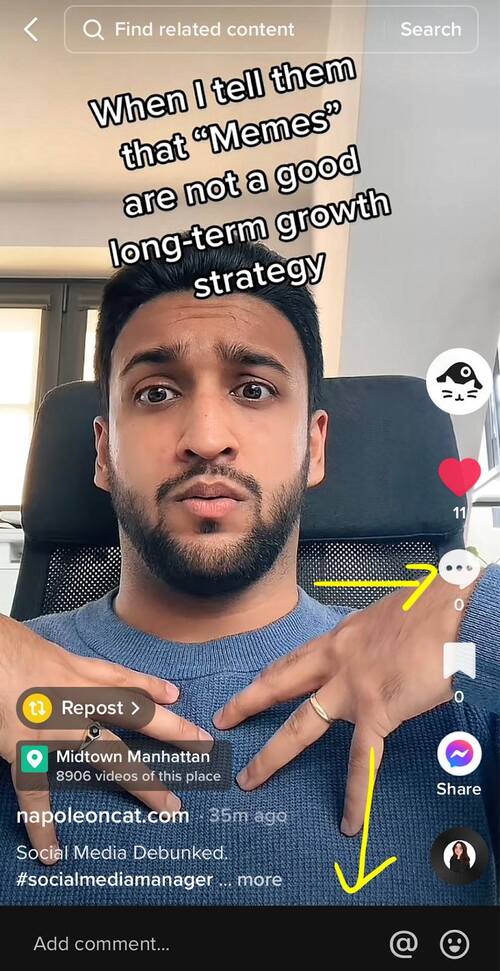 If you want to reply to someone's comment, it works similarly to, for example, Instagram. Click "Reply" under a selected comment to create a thread, instead of just replying to the creator's video: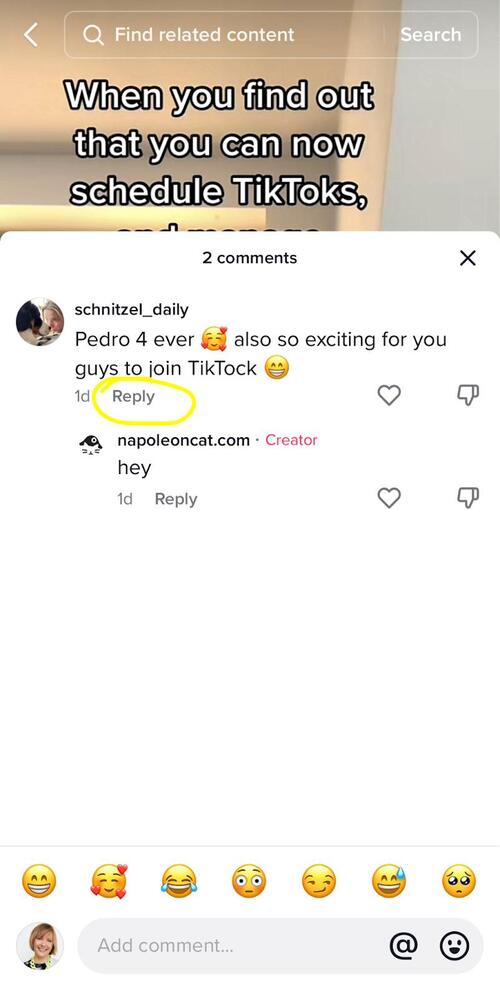 The author of the comment you replied to will also be notified in this case.
Alright, that was the easy part. Now, if you're a brand, you're also more likely to be interested in how to moderate TikTok comments – whether you're just starting out or already have some activity under your TikToks (in which case, congrats!) So, let's dig into that one.
How to moderate TikTok comments
As long as you have little engagement every once in a while, and on a single TikTok account, you can probably be just fine moderating TikTok comments straight in the app, using just its notifications.
But that means, you have to open the app every time you get a notification and then take the action you want to take:
Reply to a comment
Pin a comment to the top of the comments section
Hide a comment
Delete it (e.g. if it's spam or offensive).
Now, the more engagement you get (which is what you want, after all), and especially if you have more than one TikTok account (for example, if you run TikTok accounts for your clients), you could benefit from a social media management tool like NapoleonCat to moderate TikTok comments (organic and ads) alongside comments on all your social media accounts like Instagram, Facebook (including FB and IG ads), Twitter, LinkedIn, YouTube, and even Google reviews.
And then also post your TikToks and other content from the same platform.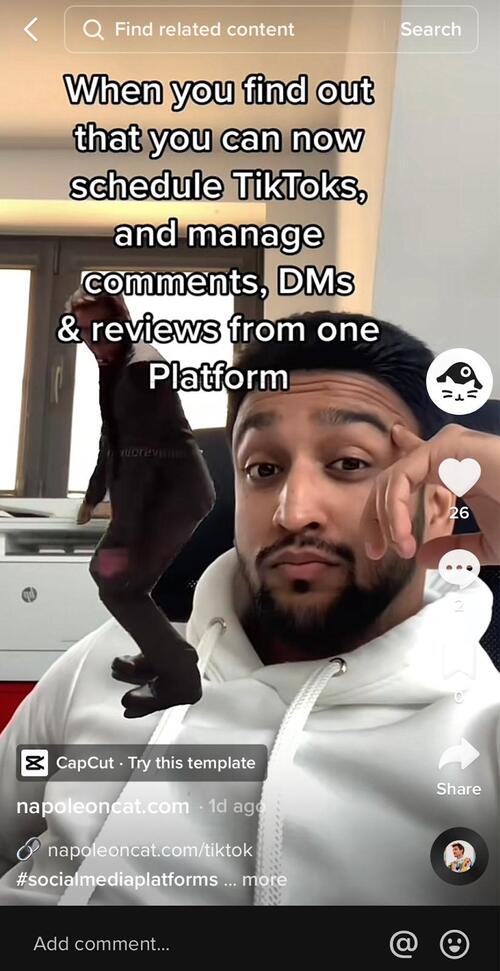 Here's a video with an overview of all the things you can do to manage your TikTok comments with NapoleonCat:
And let's take a look at some of the specific actions you can take to manage TikTok comments overall.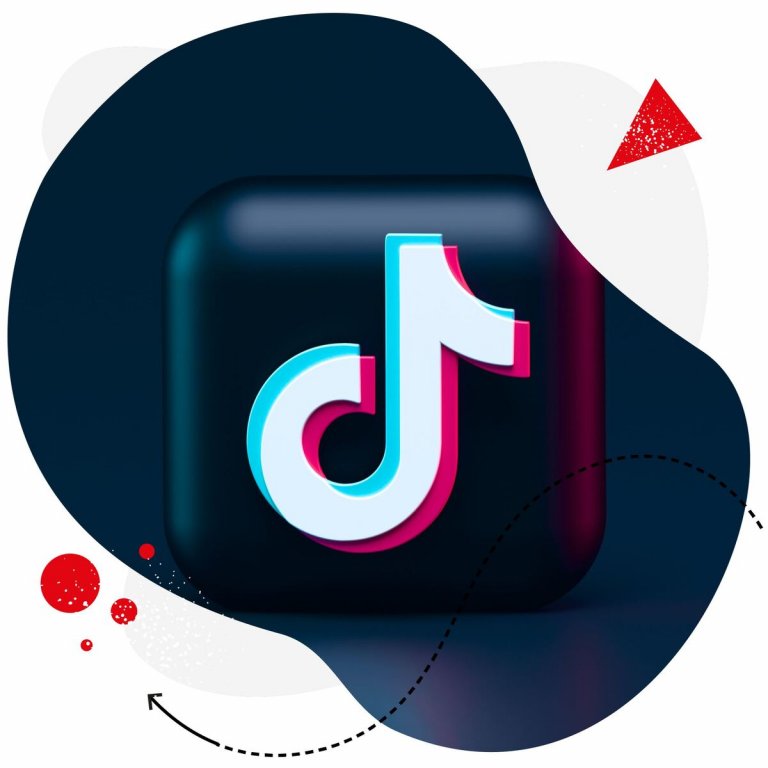 TikTok management tool for teams
Schedule your TikToks and manage TikTok comments (organic and ads) from one place – with an all-in-one social media tool designed for teams.
How to reply to comments on TikTok
In one of the sections above, I showed you the simple way to reply to a TikTok, on TikTok. But let's say you're using NapoleonCat's Social Inbox for this – this actually gets even easier.
First of all, because you get all your comments in one dashboard – no looking under each TikTok. The more comments you get, the more you actually appreciate it.
You can think of your TikTok comments as customer service tickets (which, if your customer service is also dealing with TikTok comments, is what they actually are.)
You'll see new comments (i.e., the ones that nobody's handled yet) in the "New" tab:

Using the speech bubble on the bottom right, you can reply to that comment, and your reply will be posted on TikTok (without you ever having to open the app.)
That way, replying to new comments takes way less time. And if you lead a team, you can also assign comments to your team members like tasks or tickets, and they can work their way through them (while you keep tabs on who's working on what, and nobody risks duplicating anyone else's work.) Smart, right?
Another cool thing with NapoleonCat is that you can automatically translate the comments – and your replies – from other languages, without copy-pasting anything in any other app.
You can also:
Tag your comments to label them, for example, as complaints, praise, or spam
Tag the author of the comment (so that everyone knows whether it came from a loyal customer or a troll)
Assign a positive or negative sentiment to a comment 
How to filter comments on TikTok
Now, that depends on what kind of filtering we're talking about. 🙂
TikTok itself will let you:
Filter all comments (i.e., hide comments until you manually approve them.)
In the same way, filter spam and offensive comments
And filter comments with keywords you specify.
You can see all the options when you go to your account's Settings and privacy > Privacy > Comments.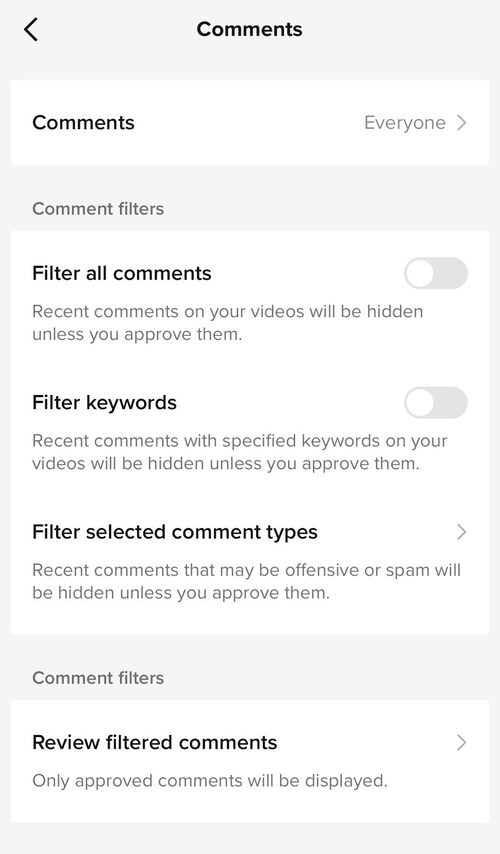 This is also where you can review your filtered comments (just make sure you remember about doing it every now and then if you have any of these settings on.)
Using NapoleonCat, you can also filter your TikTok comments to make comment moderation much easier. You can filter TikTok comments by things like:
Assigned moderator
Content sentiment (which you can set up for your different comments)
Specific posts
User tags and inbox tags
Custom time period, like in the screenshot below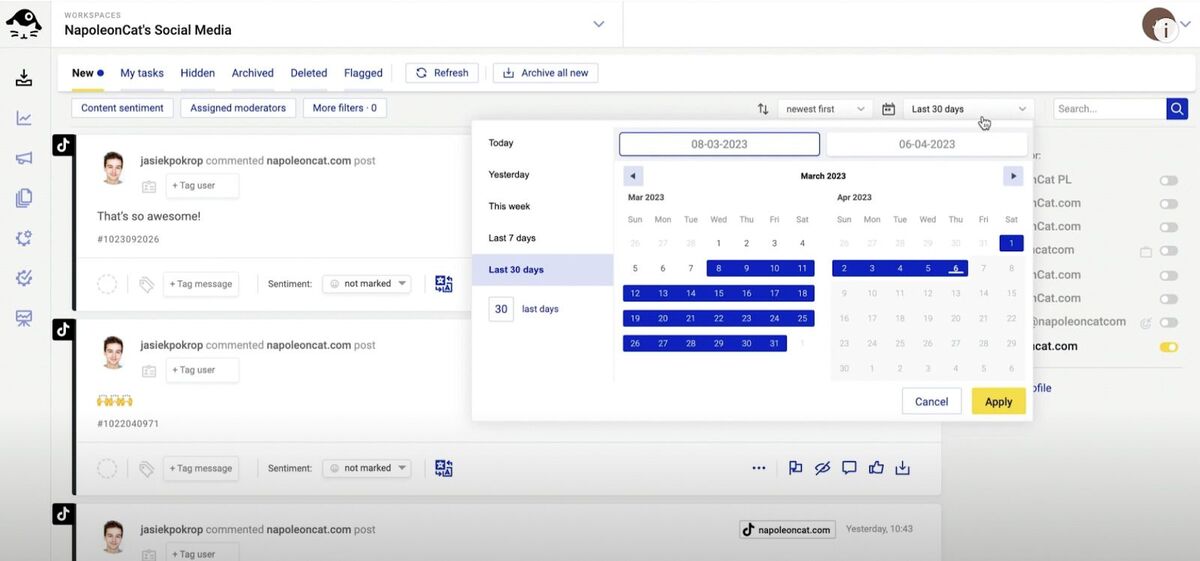 This way, you can easily find specific comments or groups of comments instead of getting lost in them within the app itself.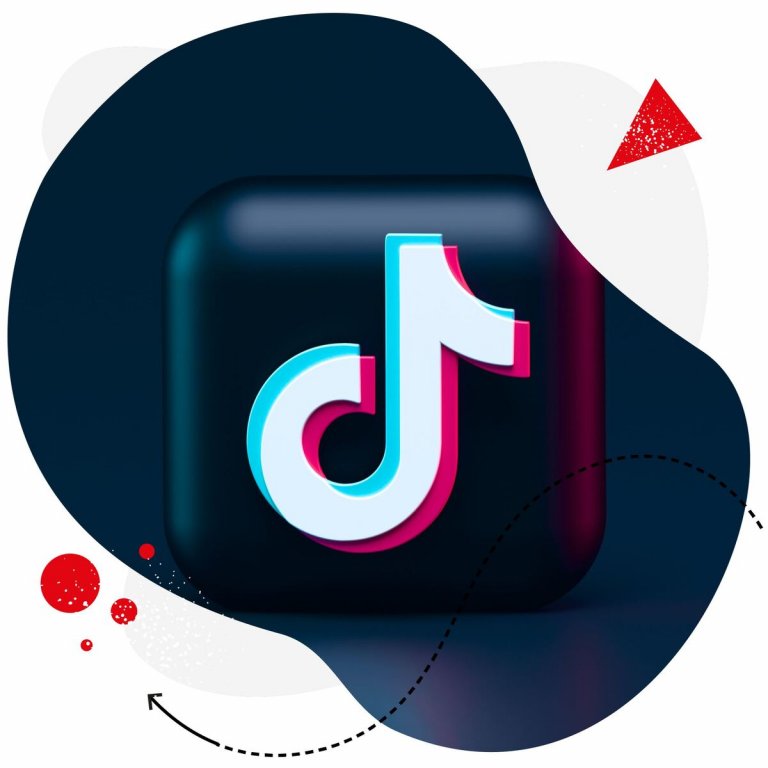 TikTok management tool for teams
Schedule your TikToks and manage TikTok comments (organic and ads) from one place – with an all-in-one social media tool designed for teams.
How to hide comments on TikTok
In NapoleonCat's Social Inbox, just next to the comment button is the hide button. This one right here:

When you use it, a selected comment will no longer be seen by other commenters on TikTok.
Obviously, when you use some of the filters on TikTok mentioned in the previous section, these comments will also be automatically hidden until you approve them (and hence, unhide them.) You can also unhide comments with one click in NapoleonCat, too.
How to hide comments on TikTok LIVE
When you host a TikTok live, you can also select to hide comments, limit them, or filter them like the comments on your regular TikToks.
To do that, while you're hosting your TikTok LIVE:
Tap the filter button next to a comment and select to approve it or keep it filtered (a.k.a., hidden)
Press and hold on the filtered comment and tap "Allow comment" to show it to everyone (or cancel to keep it hidden from viewers.)
During your TikTok LIVEs, you can also:
Mute comments for a specified amount of time
Block comments with selected keywords or phrases from being posted
And send an automated message in the LIVE chat to let your viewers know that you're filtering comments.
How to delete comments on TikTok
If hiding a TikTok comment is not enough, and you want to get rid of a TikTok comment altogether, here's what you need to do.
Hold down on the comment you want to delete until a menu appears.
And then select "Delete" – simple as that.
The comment's author won't be notified you're deleting their comment, so don't worry about it.
How to pin comments on TikTok
The same menu you access by tapping and holding down on a comment is where you can pin a comment to the top of your comment section.
It's a good idea to do it if you want to:
Highlight someone's comment that maybe contains some info that complements the contents of the video
Appreciate a commenter (this is also how you gain loyal followers and brand advocates.)
Add some important information or an explanation to the video yourself.
How to limit comments on TikTok
In that same menu (Settings and Privacy > Privacy > Comments) where you can set up filtering for your TikTok comments, you can also choose who can comment on your TikTok videos for all your TikToks (independently of your individual TikTok comment settings)
You can select to allow commenting for:
Everyone (including people who don't follow you)
Only the TikTok users who follow you back
No one (which basically equals turning off your comments)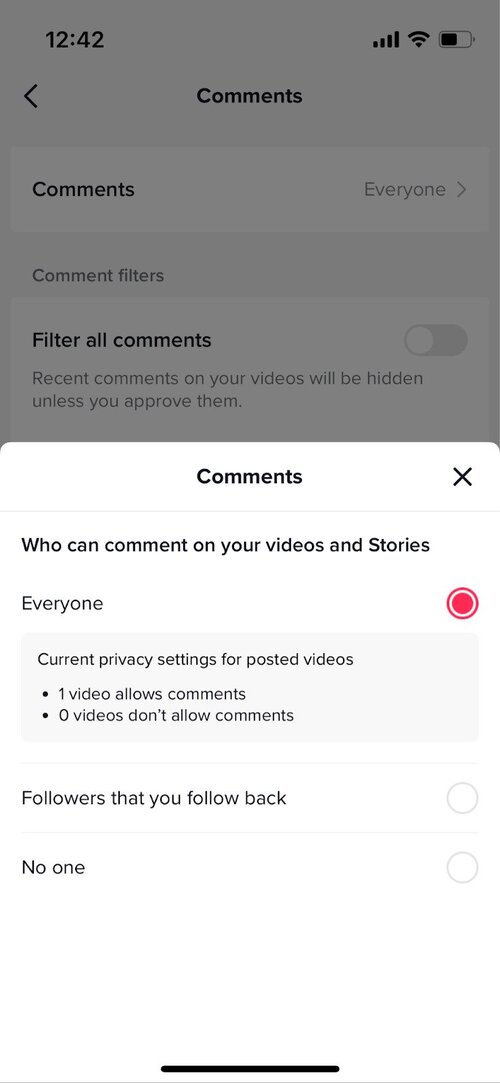 How to turn off comments on TikTok
When you select "No one" in the settings above, you're effectively turning off comments for your TikToks.
You can also turn off the toggle allowing comments for your individual TikToks before you post a video so that people can't comment on them but can still comment on your other videos. This comes in handy, for example, if there's some sort of s*itstorm (pardon my French, but I think we all know what I'm talking about) below one of your videos, and turning off comments seems like the best way to calm things down.
Should you buy TikTok comments?
Perhaps the query you entered in your browser had something to do with 'free TikTok comments' or 'buy TikTok comments'?
(I'm not judging you for asking this question.)
The short answer is "no."
Want the longer one?
Whenever you want to buy things on the internet, like comments, followers, and email addresses, the answer is always "don't do it."
First of all, there's a bunch of scammers around wanting to make money off businesses. Don't let them profit off of yours.
Another thing is you don't want to reach random people with your content – on any social media platform. Or, in fact, with any online marketing activity. It's just not a good use of your marketing budget.
And also, ask yourself a question: What's the point? What results are you hoping to get from it? (And I mean, why are you on TikTok anyway?)
Building authentic engagement on TikTok – as on any social media platform – doesn't happen overnight (unless you suddenly go viral.) And you can't really buy that authenticity. Because it's about building a genuine connection with your TikTok audience more than anything – and certainly more than buying comments, which is basically the opposite of "authentic."
Know what I mean?
Plus, if your content is exciting and relevant to what your audience wants, TikTok's algorithm will help you find your people sooner or later.
So, instead of buying comments, you're better off spending your time and budget on perfecting your TikTok craft and creating exciting, inspiring, funny, informative (pick one or all of them) content people want to talk about in the comments.
How to see all the comments you made on TikTok
You can see all your comment history in the TikTok app. Again, go to Settings and Privacy from the hamburger menu in your app. In the Content and Display section, you'll see Comment and watch history. Tap on that and go to Comment history.
There, you'll see all the videos you commented on.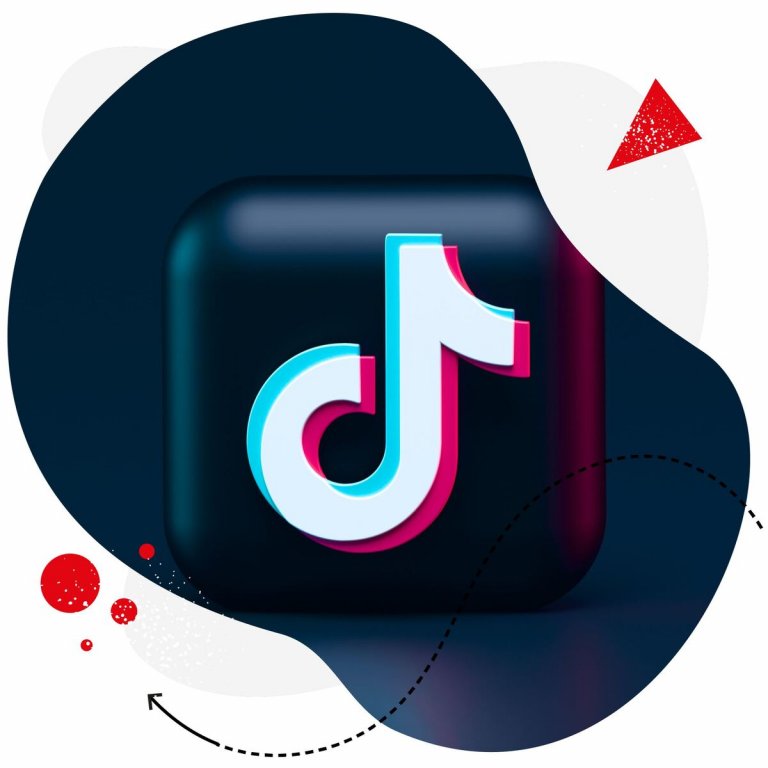 TikTok management tool for teams
Schedule your TikToks and manage TikTok comments (organic and ads) from one place – with an all-in-one social media tool designed for teams.
Over to you
Hope these tips help you make the most of the comments sections under your TikTok videos – and go on to build an engaged community of people who want to have conversations with your brand and with each other, in your comments. Cause that's what TikTok's all about!
You may also like: