TikTok users love to dive into the comments section to see what others think about your video, and by extension, your brand. It's like a virtual water cooler where conversations come alive.

But like any water cooler conversation, not all comments are created equal. Some are gems that deserve to be showcased, while others are best left in the depths of the comment section.
But yes, sometimes you spot that comment that's pure gold – a helpful remark, a hilarious joke, or a genuine compliment that puts your brand in the best light.
That's where pinning comments on TikTok comes in handy. It enables you to curate the conversation so that the most valuable and engaging comment takes center stage.
Here, you'll learn everything you need to know to pin comments on TikTok. You'll also learn how to manage your TikTok comments to make sure your brand maintains a positive and engaging presence on the platform.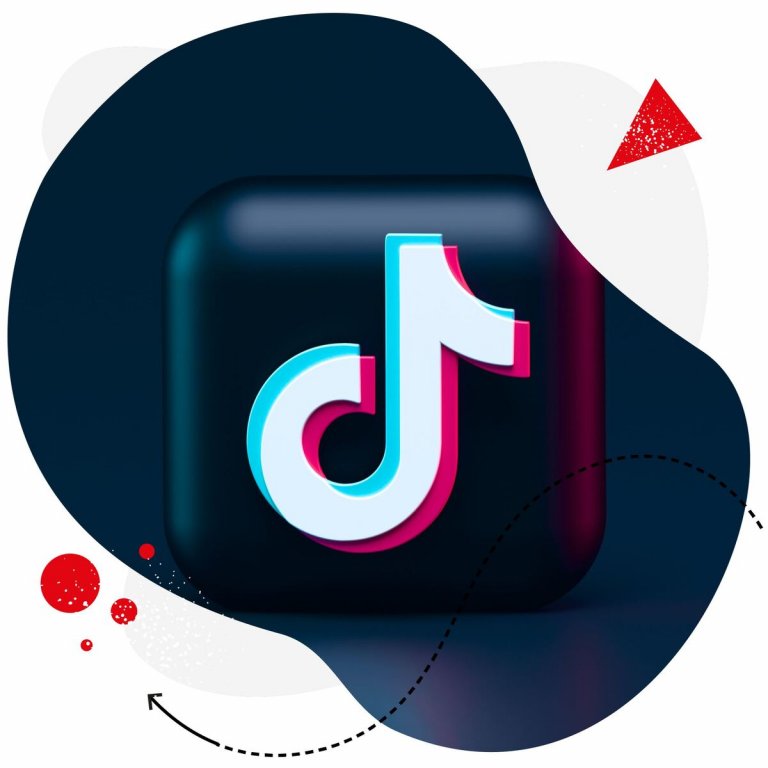 TikTok management tool for teams
Schedule your TikToks and manage TikTok comments (organic and ads) from one place – with an all-in-one social media tool designed for teams.
Why pin comments on TikTok?
TikTok users actively seek comments to see what others think of the TikTok video (or any other type of content) they just watched.
In an age where social validation holds significant weight, comments serve as a virtual stamp of approval. When potential customers see positive comments about your brand, it can sway their perception and influence their decision-making.
According to a joint study by Publicis and Twitter, 56% of customers say that social brand conversations are more impactful than traditional reviews.
This is why pinning comments on TikTok is a powerful tool for brand building. It allows you to:
Showcase positive feedback: Pinning a comment that sings praises about your brand can serve as a glowing testimonial that builds trust around your brand.
Set the tone: Pinning positive comments enables you to create a welcoming and positive vibe in your comments section.
Highlight valuable insights: By pinning such comments, you're reinforcing how important customer feedback is to your brand and showing your audience that their opinions are valued.
How to pin a comment on TikTok on an iPhone (and on an Android device)
You can easily pin a comment on TikTok in just a few simple steps (and these steps apply whether you're using an iPhone or an Android device).
1. Select the video
Open the TikTok app and choose the video you want to manage comments for.
2. Find the comment you want to pin
Scroll through the comments until you locate the one you wish to pin.
3. Click and hold the comment
Press and hold the comment until a pop-up window appears.
5. Pin the comment
In the pop-up window, you'll see the option to pin the comment. Tap on it, and voila! The comment will now be pinned at the top of the comment section for everyone to see.
If you can't see the pin option, don't worry! This feature is currently being rolled out, and you should have it available sooner or later 😉
How to replace a pinned comment on TikTok
TikTok allows you to pin only one comment at a time. What if you see a new comment you want to pin in place of the existing one?
TikTok has a straightforward solution for that too. Here's how you can replace a pinned comment:
1. Go to the comment you want to pin.
Locate the new comment you wish to pin instead of the current one.
2. Press and hold the comment.
Similar to pinning a comment, press and hold the desired comment. A prompt will appear, giving you the option to "pin and replace."
3. Tap "pin and replace."
Tap on it, and the new comment will replace the previous pinned comment.
Remember, replacing a pinned comment allows you to keep your TikTok content dynamic and showcase the latest and most exciting feedback from your audience. So don't hesitate to make the switch when you come across a comment that truly deserves to take center stage.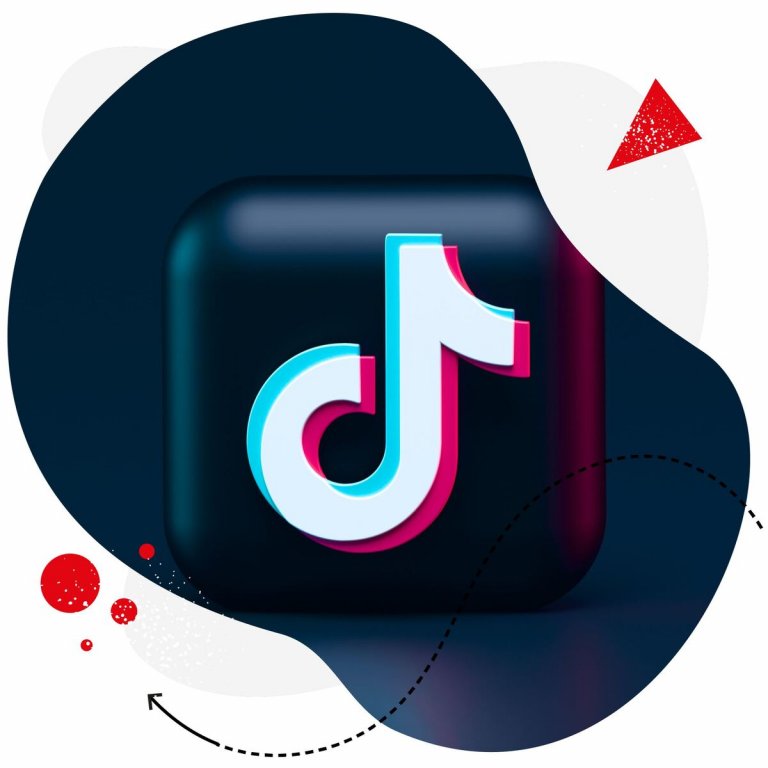 TikTok management tool for teams
Schedule your TikToks and manage TikTok comments (organic and ads) from one place – with an all-in-one social media tool designed for teams.
Can you pin comments on TikTok Live?
Unfortunately, you can't pin comments on TikTok Live. It's a bummer, I know, but TikTok Live operates a bit differently compared to regular TikTok videos.
When you go live on TikTok, the comments come and go in real time, creating an interactive and dynamic experience. The focus is on the live interaction and engagement with your viewers rather than pinning specific comments for everyone to see.
How to manage your comments on TikTok
When you're pinning comments on TikTok, you're essentially managing your comments – as you should. After all, TikTok comment management is an important aspect of maintaining a positive and engaging presence on TikTok. But there's more to comment management than pinning comments on TikTok.
Here are some tips on how to effectively manage your comments:
Be responsive
Engage with your audience, answer their questions, and show appreciation for their support. And since we're on the subject, pin the comments that deserve to be acknowledged to show your appreciation.
These interactions not only build a sense of community but also encourage more engagement.
Moderate the conversation
Keep an eye out for inappropriate or spammy comments. TikTok provides tools to delete or report such comments, ensuring a safe and respectful environment for your audience. TikTok provides tools to help you limit TikTok comments, filter inappropriate comments, and control who comments on your videos. You can learn how to use these tools by going to this TikTok comments guide.
Encourage positive interactions
By pinning constructive and uplifting comments, you encourage others to engage in a similar manner, fostering a positive and supportive community.
Acknowledge criticism gracefully
Not all comments will be positive, and that's okay. When faced with constructive criticism, respond in a respectful and considerate manner. Address the concerns raised, explain your perspective, and show a willingness to learn and improve.
Manage multiple TikTok comments at once
As you continue to grow your brand presence on TikTok and accumulate more followers, you're going to find yourself overwhelmed by a ton of comments.
Don't get me wrong, that's a good problem to have, but it can also present challenges if you're not able to manage them effectively. It becomes even more challenging when you're juggling multiple TikTok accounts, along with other social media platforms.
Here are some risks associated with being overwhelmed by comments:
Missed opportunities: When you're unable to keep up, you're going to miss golden opportunities for engagement, connection, and team-building.
Unaddressed negative comments: If you don't address negative comments or criticisms, your brand reputation may take a hit.
Lack of community management: If too many comments are left unignored, unaddressed, and unresolved, you weaken the bond with your audience.
To mitigate the above risks, set clear goals and priorities for engaging with comments.
Which types of comments do you want to prioritize (and pin, for that matter)?
These comments could be positive feedback, questions, or customer issues. This will help you focus your efforts on the most important interactions.
Form a social media team
If the volume of comments becomes overwhelming, consider forming a dedicated social media team to manage them, then find team members with good communication skills and a deep understanding of your brand.
Define roles, set response guidelines, and provide training. Create communication channels, encourage feedback, and keep tabs on team performance. With this crew in place, you'll conquer the chaos and keep your TikTok presence on point.
That said, your social media team won't be as effective in managing TikTok comments if you don't provide them with great TikTok management tools for business – like NapoleonCat.
This social media tool enables you (and your team) to manage TikTok comments (organic and ads) with ease.
For starters, this tool not only allows you to manage TikTok comments at scale, but it also activates team workflows so that your team's efforts are maximized.
To be specific, NapoleonCat lets you and your team manage multiple TikTok comments in one view, including for other social media networks like Facebook, Instagram, LinkedIn, and Google My Business.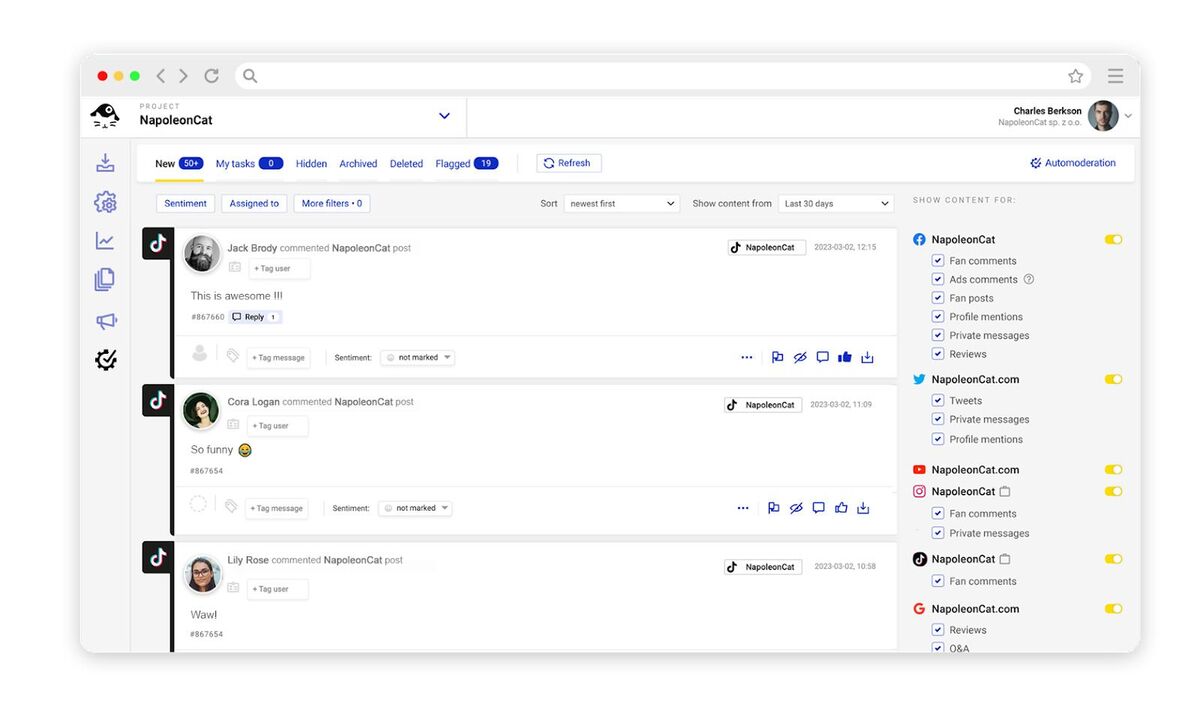 Here are other ways NapoleonCat's Social Inbox can empower your social media team:
Respond to, like, hide, and delete comments from one dashboard
Assign comment threads to specific team members
Add internal notes to give team members needed context when handling particular conversations
Send comments for external consultation
Filter comments based on time period
Flag comments internally
Translate comments and replies to your native language (comes in handy with an international audience)
Archive resolved comments
We highly recommend you test NapoleonCat for free here – no credit card required during signup 😉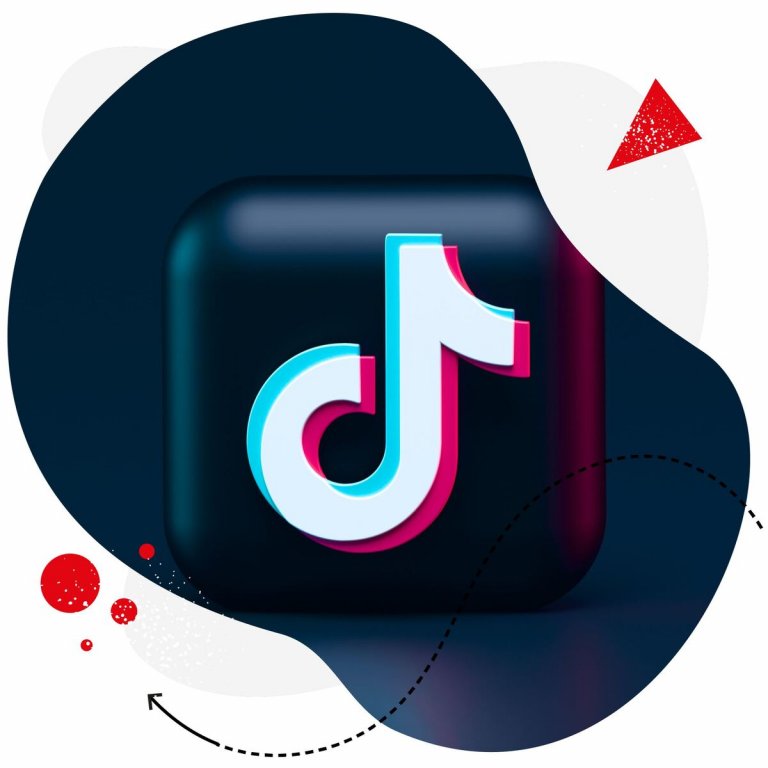 TikTok management tool for teams
Schedule your TikToks and manage TikTok comments (organic and ads) from one place – with an all-in-one social media tool designed for teams.
Wrap Up
TikTok users are always curious to see what others think about the videos they watch. By pinning comments on the platform, you can set the tone and create a positive and engaging atmosphere for your audience.
But you can do more than just pin TikTok comments. Manage the conversation so you can create a vibrant community around your brand. Good luck! 😉
You may also like: