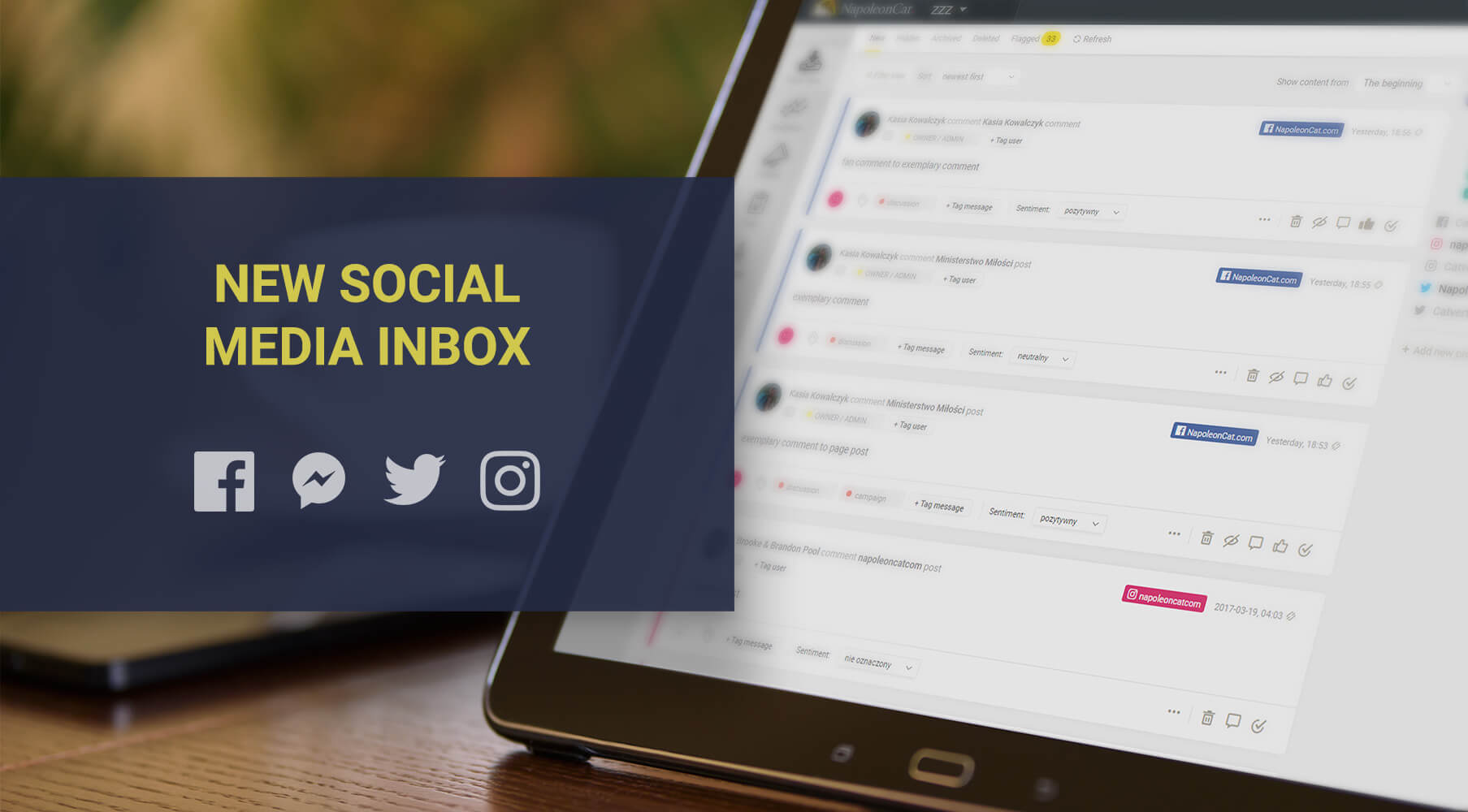 Running social media communication, content moderation, quickly responding to your fans' questions, commenting, following all notifications from different social media channels is not an easy task. If you manage couple different Facebook pages you need to remember to react from the right one. If you have more than one Instagram or Twitter profiles, you need to switch between them to check whether you have some new likes, comments or questions to answer. Fortunately, it is not a problem when using NapoleonCat, as you have one inbox for all your social media profiles and platforms. The Inbox aggregates different types of social media engagements from multiple channels into one stream. This means that you can manage your fans' and followers' messages from Facebook, Twitter, Messenger, as well as comments from Instagram without being logged to all your accounts. Furthermore, you are able to tag your users, content and now also define the sentiment to every single content in the Inbox. You can also use email consultation feature (using "send a note" option). So you may ask for consultation regarding content you moderate by instantly sending an e-mail to appropriate person (not necessarily NapoleonCat user). The response will be automatically shown in NapoleonCat.
So how does NapoleonCat social inbox work and what features can you use?
What's in your social Inbox?
NapoleonCat inbox aggregates all the content from Facebook, Messenger, Instagram and Twitter profiles that you manage. Not only can you see all the mentions regarding any of your profile but also manage them. You can choose what kind of content you want to see in your inbox:
fan comments on Facebook,
fan comments on Facebook,
fan posts on your Facebook page,
dark posts on Facebook,
profile mentions,
private messages,
followers' comments on Instagram,
followers' comments, mentions etc. on Twitter.
All the content is displayed, as in a standard inbox, in a chronological order (but you can also change it to be displayed in the opposite order). Every type of message in your NapoleonCat inbox has some elements that help identify it.

1. Author's profile picture / avatar
2. Name of page/profile that the content regards
3. Content type description
4. Timing of the content publishing
5. Button to tag the user (you can add up to 4 labels to each user)
6. Button to tag the content (max. 4 tags to every single piece of content)
You can define your own user and content labels – depending on your needs and preferences. To set the labels go to the Project settings (in the left-hand side menu). In this module, choose the LABELS tab from the top navigation.


To set the new label, you need to type the name in the selected field and click enter. It will be added to the specific category, you've chosen.
If you want to edit it (change the name or the color) you need to click settings icon to the right of the new label name.


7. Button (drop down list) to tag the sentiment – NEW FEATURE!
You can choose from:
positive
negative
neutral
not rated
8. Actions buttons (depending on the social media channel):
delete,
hide,
replay,
add a note (internal note is added),
send to consult (option to send an email),
flag,
like,
archive.
9. Button to display additional options: flag content, add an internal note, send an email to consult your content).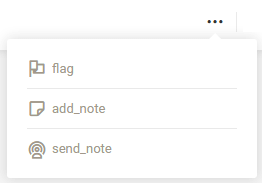 While interacting with other users, it's really important to know the context of the whole conversation. NapoleonCat enables you to see the whole plot that the chosen mention regards, so that you don't need to search for previous messages on your Facebook pages, Instagram or Twitter profiles. You just need to click in the box of content in your inbox feed you see the whole plot in the new window.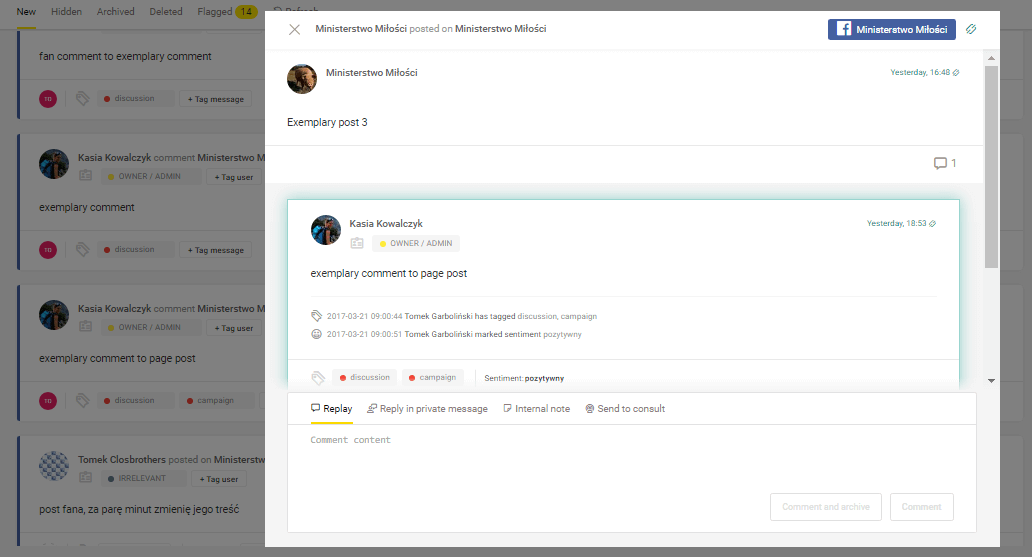 Inbox configuration
It's really easy to choose what types of content you want to see in your inbox. On the right hand side you have all the profiles you manage (using NapoleonCat). You just need to tick those, you are interested in.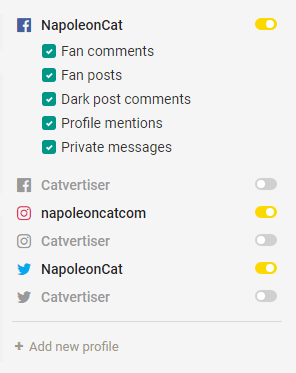 You can also define the time range for your comments display.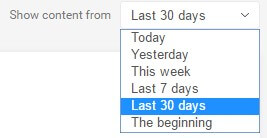 Furthermore, you can filter your content (Filter view button) or change the displaying order (chronological or the opposite – Sort button).

In your filter settings you can choose to display content filtered by user and/or content types, as well as based on the sentiment. You can also choose to see only the content that is assigned to specific moderators.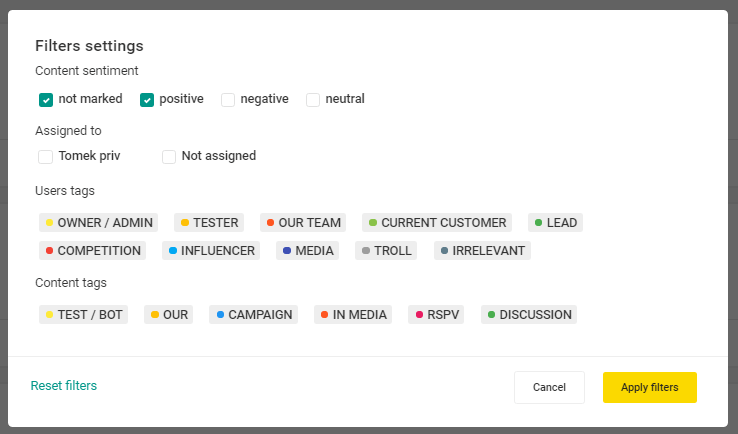 Team work
NapoleonCat simplifies working in a team, especially if more than one person is involved in the moderation process of the same social media pages, profiles. First of all, the contents of the inbox are updated in a real time. Thanks to that, every project member sees only the content that hasn't been moderated yet by any other person. Secondly, there is an option to flag any piece of content. So that you can make other moderators to pay attention to relevant mentions etc., as a flagged threads are moved to a separate tab. You can see the number of them next to the "Flagged" tab name (highlighted in yellow).

Moreover, every NapoleonCat user can personalize his/her own inbox. It's really helpful if some project members are interested or responsible only for private messages or the flagged ones etc. This option is also very useful if your company cooperate with the external agency. The agency is responsible for a daily page moderation but sometimes there are some specific questions (i.e. concerning company services or product portfolio etc.) that require intervention. In that kind of situations, flagging content is a typical solution, so that the customer can see only those mentions, messages etc. that needs his / her indirect reaction. You can also include your clients and co-workers in the content design and decision-making process with customized post flows.
Automatic moderation for Facebook content
Another really helpful option is auto moderation that enables to set the rules to automatically moderate content appearing on your social media profiles. NapoleonCat can publish the answers to comments, private messages, send an e-mail with your fans' questions to the appropriate department within the company (or to your clients' companies), as well as delete spam from comments to promoted Facebook posts. It automates the process, making a team work easier.
If you want to check how to use it and how automatic moderation rules will help to automate communications with your potential clients, go to our previous article concerning this feature. Moreover, check what are the advantages of settings those rules to dark posts' comments.
If you want to check how NapoleonCat inbox works, try one of the 14-days free trial, using one of the available plans: small business, e-commerce or agency one.
We hope that the inbox will make your work easier and save your time. We work constantly on more improvements within this tab, so if you have any suggestions, do not hesitate to contact us on email: hello@napoleoncat.com