If you work for an agency and have multiple clients in your scope or run more than one business profile on social media, then managing multiple Facebook Pages is likely your bread and butter. We know that this is not an easy process, so in this article, we would like to show you how to make it smart to reduce your workload and boost the results at the same time!
At this point, we assume that you have your Facebook business pages set up and running. Although, if you're new to this, keep in mind that you can use your personal account to manage multiple Facebook Pages. If you don't have a Facebook Page yet, have a read this article to bring yourself up to speed before we get down to business!

To start things off, let's have a brief look at Facebook's native tool.
Facebook Native Page Management Tool
Obviously, Meta offers a native page management tool called Meta Business Suite which allows you to run multiple business pages. You can access it here. This is your one-stop shop to take care of your Facebook Pages and if you run more than one page, a must-have tool.

The Business Suite allows you to take full control of your pages and use features such as analytics, publishing, ads management, and many, many more. Although, that's where using it gets a bit tricky.
By the way, the standalone Facebook Analytics tool is not available after June 30, 2021.
Meta Business Suite is a basic business page management tool. Still, its extensive structure can make using the tool troublesome time-consuming. If you're a social media marketer, you already know what we have in mind here.
Even if you're experienced in the field of social media marketing, navigating through those menus and features in everyday work is often not a piece of cake.

In this case, chances are that you're searching for a different way how to manage multiple Facebook accounts. A tool that would do the job just as well but in a much more user-friendly and easy-to-navigate way, right?
Worry not, we've got you covered. In the next section, we'll show you how you can handle all your Facebook business page management tasks with NapoleonCat! Start with creating a NapoleonCat free trial account (no credit card required)! It will stay valid for 14 days – after that time you can decide if you want to continue with a paid plan.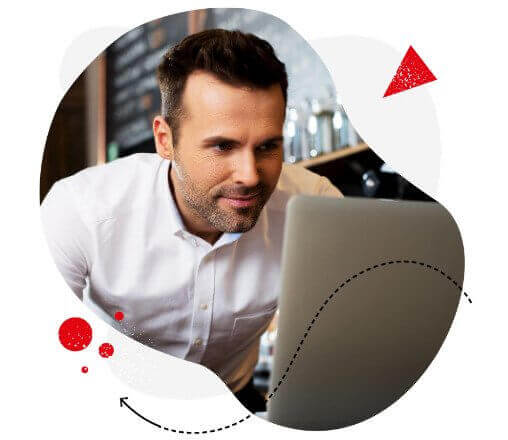 Manage multiple Facebook Pages from one place
Schedule posts across multiple Facebook Pages at once. Analyze your results, generate reports, and much more – with an all-in-one social media tool.
How To Manage Multiple Facebook Pages with NapoleonCat in 3 Simple Steps
To start managing multiple Facebook Pages with NapoleonCat, follow these simple steps:
Step 1: Create your NapoleonCat account
Go to our main page and select the 'Try NapoleonCat For Free' button that can be found in the top right corner of your screen. Once you click it, you'll be taken to the next screen where you'll need to type in your e-mail address and password. You can also sign up with your Facebook or Google account.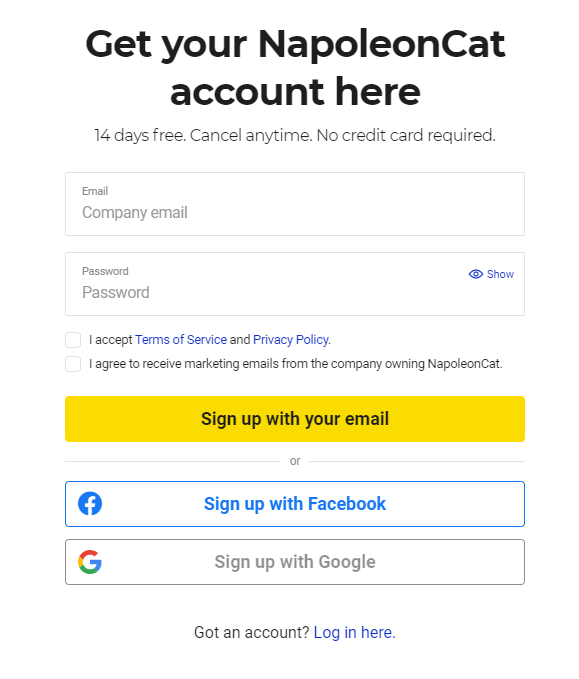 Next, you'll be able to choose what you would like to do first as shown in the screenshot below. After you select one of the available options, you can jump to step 2!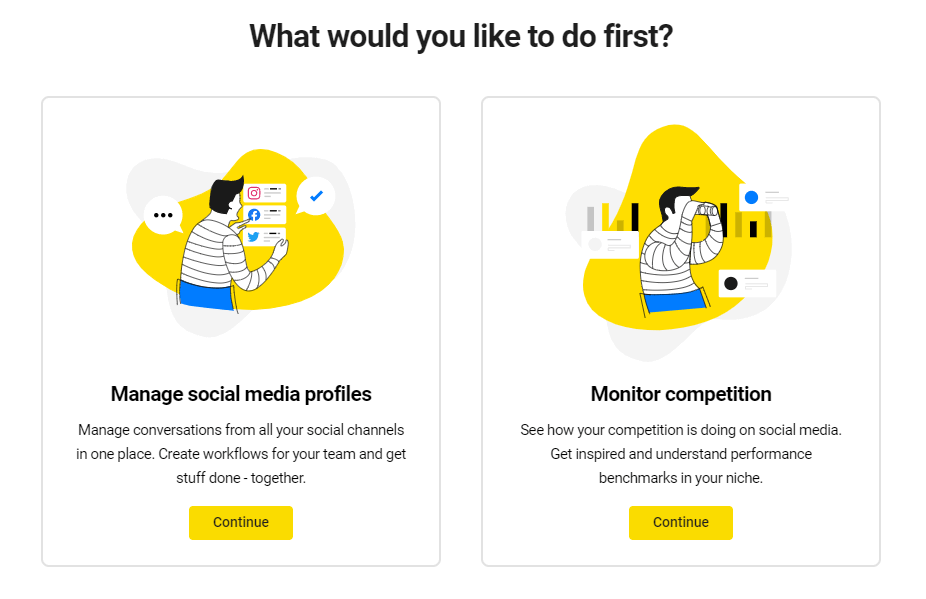 Step 2: Connect your Facebook profile
At the moment of creating your account, you will be automatically asked to allow connection with your Facebook profile. Follow the hints in the account creation process – a piece of cake!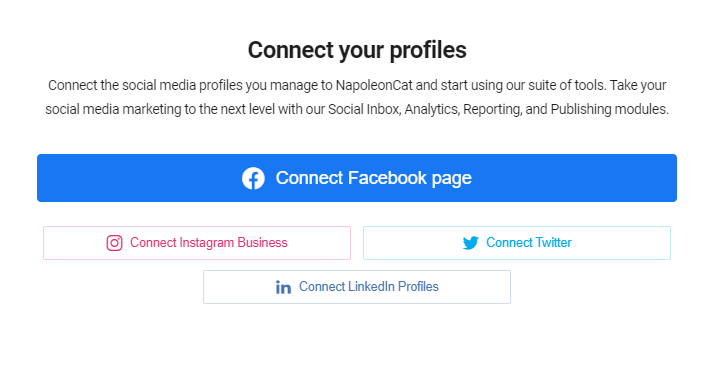 You can already connect all your pages at this moment if you want to. They will be added to your Default workspace, but you'll be able to adjust it later.
Step 3: Connect your Facebook Pages
You can always add more Facebook Pages to your NapoleonCat account. To do that, select the settings icon on the left sidebar menu and click 'Profiles'.
To add another page, simply do the following:
Click the 'Add managed profile' button on the right side of your screen.
A window will pop up for you – choose the social network from available options and click it.
Your managed profiles will show up automatically. To finalize the process simply click 'Add profile to project'.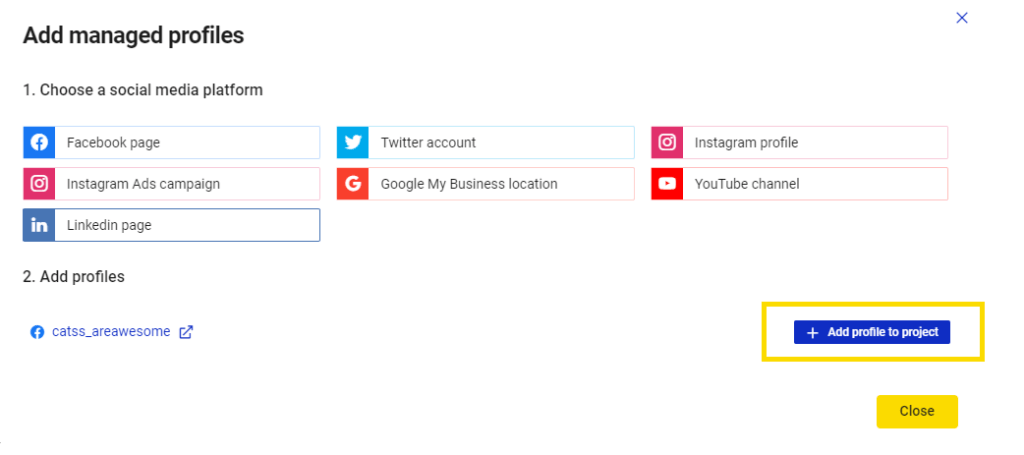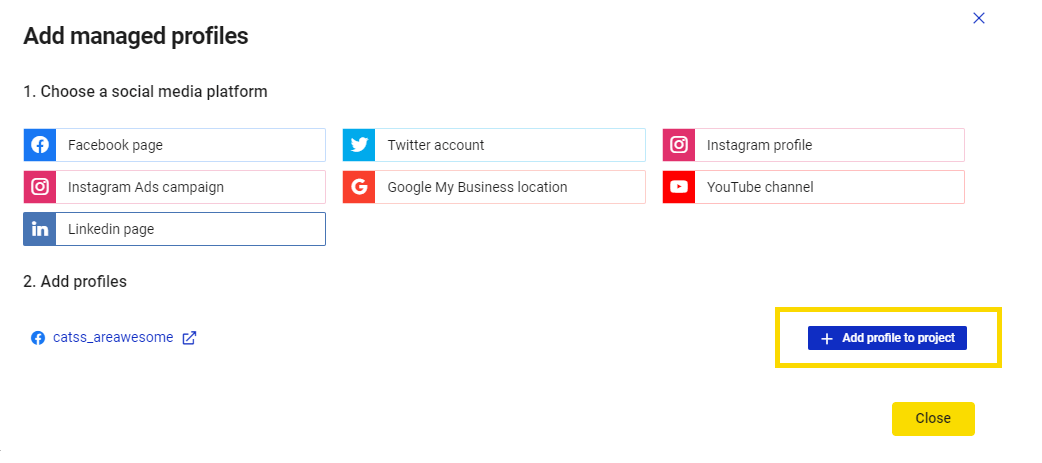 Step 4: Organize your pages into Workspaces
On the top left side of your screen, you should be able to see the 'Workspaces' icon with the current workspace name displayed under it. That's where you can switch between different workspaces.
Our suggestion is to have your workspaces based on your Facebook pages' structure – for example, 1 workspace for each brand that you manage.

To create a new workspace, simply click the 'Workspaces' button and then 'Add new workspace'. Name your new workspace accordingly and repeat step 2 for each workspace to have all your pages perfectly organized!
Publish Posts on Multiple Facebook Pages
Can you post to multiple Facebook pages at once? Yes, you can! Obviously, your first option is Facebook's native tool. The social media giant constantly strives to keep users within their bubble. To achieve that, Mark Zuckerberg's company keeps rolling out new tools and solutions that are meant to facilitate all aspects of running your business page. One of those tools is specially designed to make creating and publishing content on multiple pages easier – the Creator Studio.

The Creator Studio allows users to create collections of Facebook Pages and Instagram profiles that are connected to them. This allows users to control all of their accounts from one dashboard. You can easily create your own page collections in just a few simple steps:

Go to the Facebook section in Creator Studio.

Click the cluster of Pages.
Click 'Create collections'.
Name your new collection.
Select the Pages you want to add.
Click Save.

And you're done! This tool is definitely a time saver but it only covers Facebook and Instagram. What if you'd also like to control your LinkedIn or Google My Business profiles just as easily?

In this case, you might want to consider switching to NapoleonCat Publisher! It's just as easy to use but gives you even more options to control your social media profiles. The tool allows you to create and publish posts through a single, intuitive panel.

TIP: Most social media managers create their content ahead of time – use NapoleonCat's post scheduling feature to assure that all of your posts get published on time! This makes the whole publishing process seamless and automatic!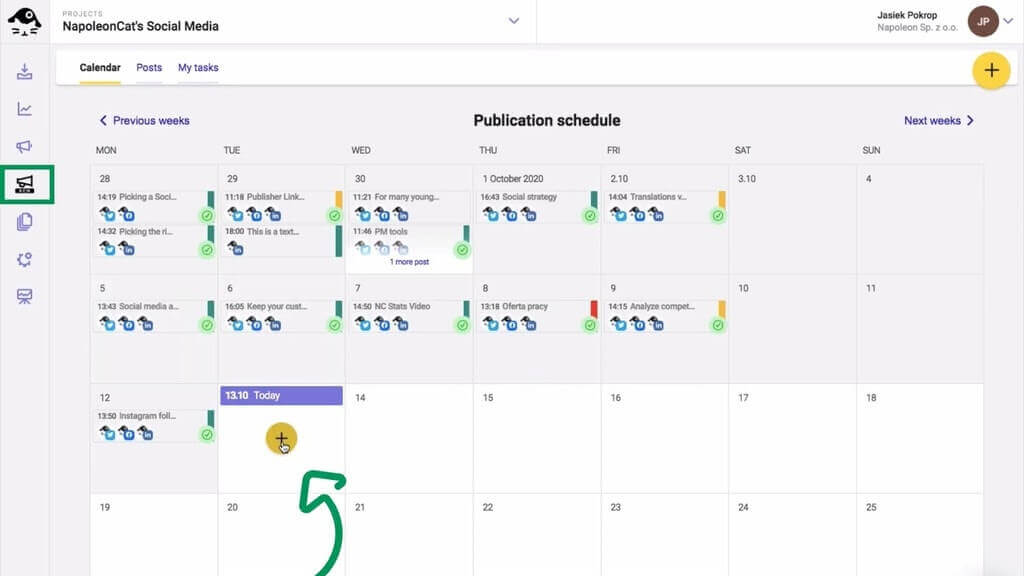 To show you how easy it is to use the Publisher, let's quickly go through the scheduling process. All you need to do is following these simple steps:
Enter your NapoleonCat dashboard
Access the Publisher by clicking the 'Publish' icon in the left sidebar menu
Enter the calendar
Click the Plus button on the date that you'd like to schedule your post
Post Creator to create your post
Choose Facebook pages or other profiles that you'd like to publish your post on.
Click 'Schedule'
After scheduling your posts will immediately appear on your calendar. Thanks to that you can have a very clear overview of your planned communication, regardless of how many posts you have planned!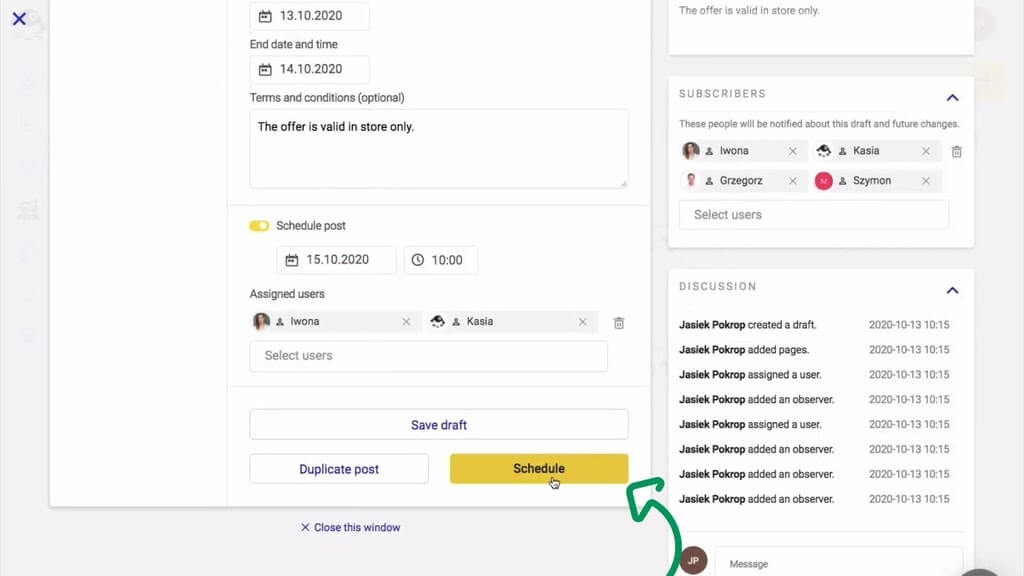 Having all posts across all your Facebook pages and other social media platforms scheduled within minutes? That's easy!
Recently we've made some major updates to the Publisher tool, including a feature that allows you to add platform-specific elements to your posts. Learn more about the newest updates here.
NapoleonCat Publisher allows you to publish the same post on multiple social media platforms – Facebook, Instagram, LinkedIn, Twitter, and Google My Business.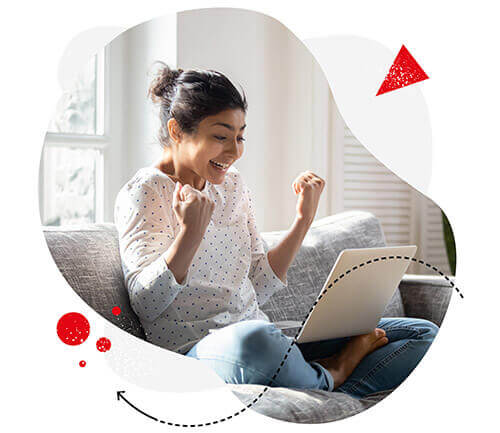 Schedule Facebook posts across multiple profiles
Automate publishing on Facebook. Schedule posts, work on your content calendar in a team, save time, and improve results – with an all-in-one social media tool.
Moderate Comments on Multiple Facebook Pages in One Place
Having your attention pulled in many directions can be really troublesome when it comes to managing Facebook comments, reviews, and messages. Facilitating moderation across multiple Facebook pages or multiple accounts across different social media platforms is one of NapoleonCat's key features.

Our Social Inbox aggregates all of your social media interactions in one place, including those on dark posts and ads. In effect, managing multiple accounts becomes super easy when compared to jumping across different accounts or platforms.
Being able to manage all your interactions from one intuitive interface has 2 major benefits:
It saves you a lot of time that you would normally spend on clicking through different (native) management tools
The probability of skipping a comment or message drops to zero, so you can stop worrying about angry customers who didn't get their message responded to on time
NapoleonCat's Social Inbox allows you to take full control of comments and messages across multiple Facebook accounts
As a result, you not only save precious time that you can use for other tasks but also gain a lot more control over the discussions that take place under your posts, so you can enjoy improved peace of mind!
TIP: Every business gets some negative comments on Facebook from time to time. What's missed by many social media managers is that those can also be turned into added value for your business if you manage them wisely!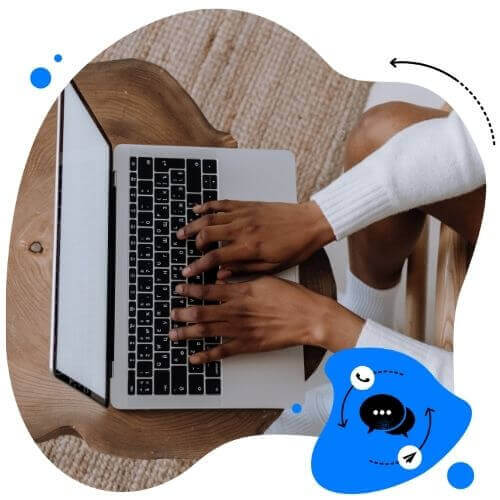 Manage all Facebook comments & messages from one place
Manage all your Facebook comments and messages from one view – with an all-in-one social media tool. (Ads comments included)
Facebook Moderation for Teams
We know that managing social interactions is often a team effort, especially in agencies. That's why Social Inbox enables you and your team to cooperate on interactions' management tasks. Each comment or message can be assigned to a team member along with an internal note or request for help.
Your team can also improve the clarity and facilitate the analysis of comments and messages by adding tags and sentiment to them.
You can come up with your own tags in Workspace Settings (formerly Project settings). Here are some suggestions of how you can organize your comments and messages:
Tags:
complaint
irrelevant
spam
praise
Sentiments:
positive
negative
neutral
How to Automate Facebook Moderation
Being able to make the management of the interactions a team effort for sure makes life easier for a lot of moderators. Although, we know that some Facebook pages receive such a large amount of interactions that even a team of specialists might struggle to answer all of them. Especially when there's a queue of other tasks that need their attention. If you know this struggle, then you'll be happy to hear that our Social Inbox also has an automated moderation feature.
The Auto-moderation feature allows your team to:
Create automatic replies to recurring types of comments and messages (e.g. ones that include a certain phrase)
Automate hiding and deleting spam from comments under your organic and paid posts
Keep offensive language off your page
Automatically forward sensitive issues to dedicated customer support team members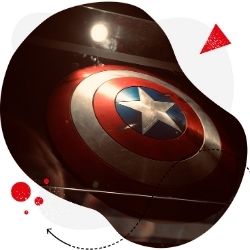 Protect your Facebook Page from hate & spam
Use NapoleonCat to automatically hide or delete hate speech, spam, and inappropriate language under your posts.
Can you calculate how much time would this save you every week? What's more, you can always easily review your moderation and customer care performance by creating moderation reports that contain information about:
the volume of tickets handled,
information on response times,
sentiment and tag analysis.
Reporting
Reporting is an inherent element of social media marketing. That's why we've created a social media reporting tool that makes this process effortless and nearly pleasant. The tool allows you to create detailed reports for all of your Facebook pages and other social media profiles with just a couple of clicks.
As stated above, creating reports with NapoleonCat is a no-brainer. To create a report, hover your mouse over the reporting icon on the left side of your screen and click the 'Create new report' feature.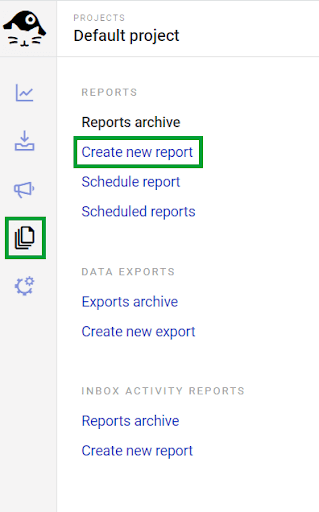 Next, you will be asked to choose the desired features of your report:

Choose the time range for your report. You can choose a custom one or different predefined settings such as 'last week report'
Choose language – currently, the reporting tool supports English and Polish
(Optional) Choose to remove the NapoleonCat branding and upload your company's or client's logo to be included in the report
Choose the Facebook Page (or other social media account) that you want to include in the report. You can include up to 8 FB Pages in one single report.
Choose metrics that you want to include in the report. This gives you a lot of flexibility depending on your KPIs.
Click the 'Generate' button and you're done!
The whole process takes 5 minutes maximum and is as straightforward as it gets!
TIP: If you're not sure which KPIs you should choose for your reports, try to expand your knowledge about their specifics. Once you do that, it'll get easier for you to tie them with specific business goals!
If you manage several Facebook accounts, chances are that you need to do your reporting regularly. Why not automate the whole process then? Read on to learn about the automated reporting feature!
How to Automate Facebook Page Reports
Generating a report will take you 1-5 minutes tops, which gives you time to check out the rest of the features of the reporting tool – including the automation solutions.
NapoleonCat allows you to have your Facebook Page reports automatically generated in desired time intervals and delivered to chosen team members or other stakeholders (agency clients will definitely appreciate timely reporting!).
To set your automated reports, follow these steps:

Select 'Reports' from your left sidebar menu
Select 'Schedule Report'
Type in the e-mail address that you'd like to receive the reports to
Select your desired reporting frequency (weekly, monthly, or quarterly)
Choose the report's language and (optional) upload your logo
Select the profiles that you want to include in the reports
Choose your desired metrics
Click 'Generate'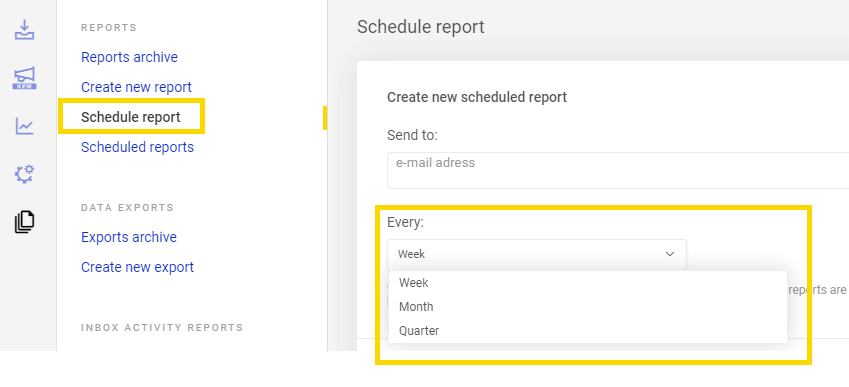 Remember that you can export data by downloading your report (in an easy-to-follow pdf. file format)!
How to manage multiple Facebook Pages with NapoleonCat – video
As a bonus, you can check how NapoleonCat can help you manage multiple Facebook Pages in the video below:
Wrap Up
Managing multiple Facebook pages is the bread and butter of many social media marketers and entrepreneurs whose businesses have multiple locations (e.g. store chains).
Having this type of scale of your social media presence poses multiple management challenges that can't be easily overcome even with a considerable team of specialists.
That's when you should consider turning to smart social media management solutions. Optimizing publishing, reporting, and social media customer service processes is where you can save your time and money.
This smart approach will allow you to further grow your business and make the most of social media marketing. Having a single app to manage multiple Facebook Pages might just be the solution you need to achieve that.

Whether it's publishing your content, managing Facebook ads comments or post comments, or analyzing your results with regular reports, we've got you covered.
We constantly work on improving the NapoleonCat tools to make them the best way to manage multiple Facebook Pages. It's up to you to decide how close we are to achieving this goal.
Try the free trial version of our solutions and let us know your feedback – it might be that we stay with each other for longer!
If you enjoyed this article, feel free to check out our blog. That's where you can find tons of other articles covering a broad range of social media marketing topics based on expert knowledge and best practices.
Good luck with your future endeavors!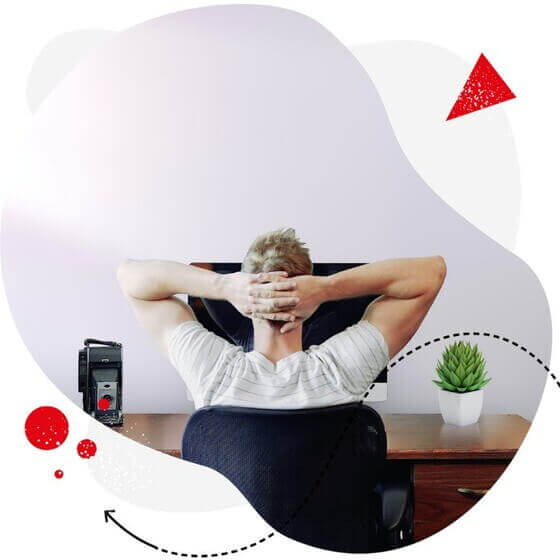 Manage multiple Facebook accounts from one place
Schedule posts across multiple Facebook Pages at once. Analyze your results, generate reports, and much more – with an all-in-one social media tool.
You may also like: