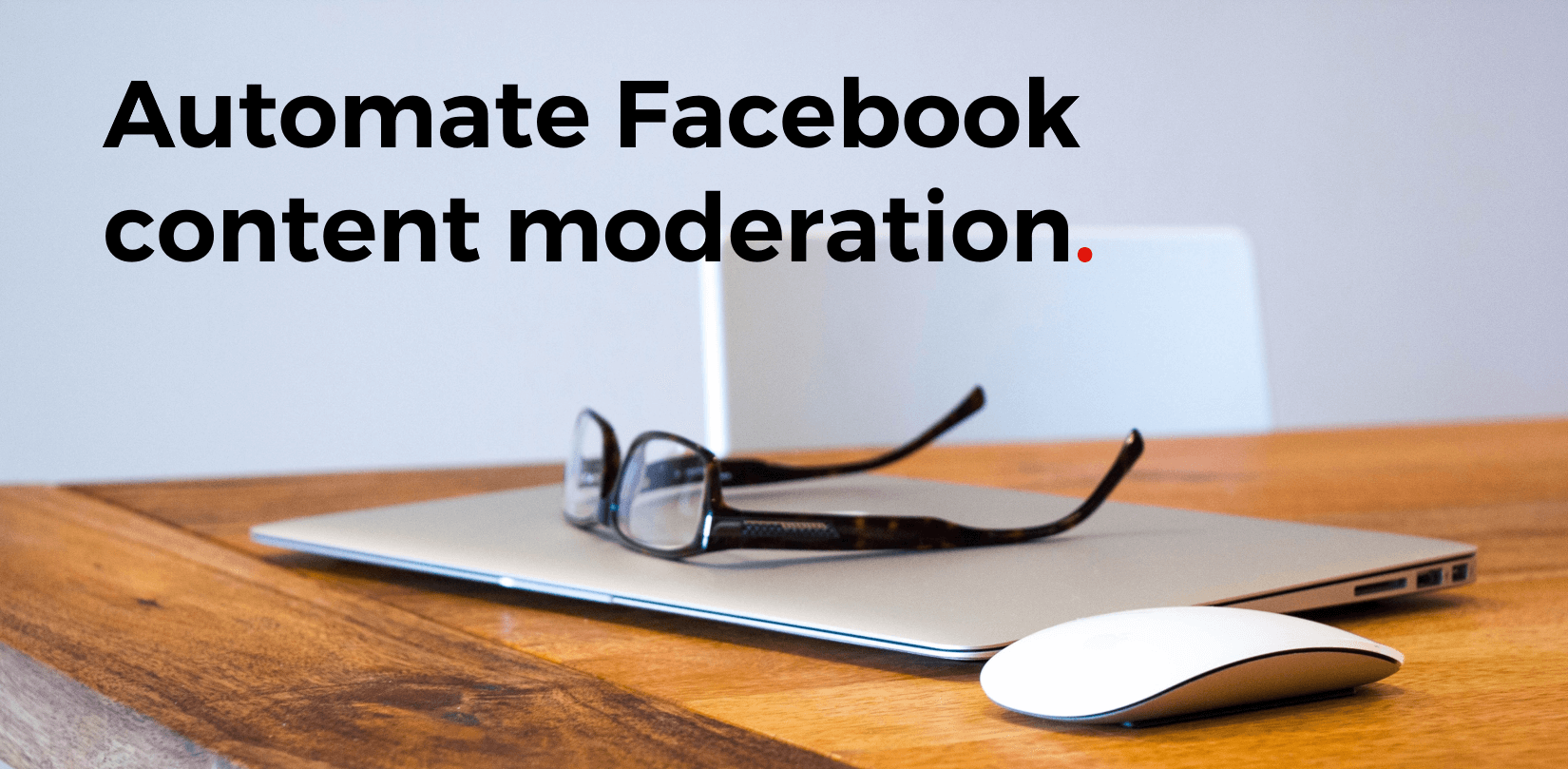 Controlling your Facebook business pages and the content that is added by the users is vital from a social media marketing and reputation management standpoint. So, if you want your Facebook profile reflects your brand's values, you need to moderate the incoming content. Facebook moderators spend a considerable part of each workday interacting with users, answering their questions, replying to their comments, dealing with disturbing content and keeping abusive and inappropriate messages off their pages. It can be difficult for businesses to do it round the clock as hiring more people to work 24/7 is oftentimes just too expensive. To resolve this business problem NapoleonCat offers automatic moderation options, which can detect keywords or a specific type of content such as links, and act according to the rules predefined by you. Today we made another improvement to automoderation rules – from now on they work for all languages (and also for alphabets other than Latin). We also redesigned this feature and moved it to the Inbox module.
If you want to automate the moderation of user-generated content, go to the NapoleonCat's Inbox
and click "Automoderation" button in the top right corner.

To set the new rule, click "Add new rule" button in the top right corner.

Fill the rule name and select your Facebook page, to which the rule will work. Then start to define the trigger. You should select what kind of content your rule will concern (for what type of content the rule will work). Following options are available: post to page, comment, private message, dark post comments. Then you should select the condition, which will depend on the trigger, that you've chosen.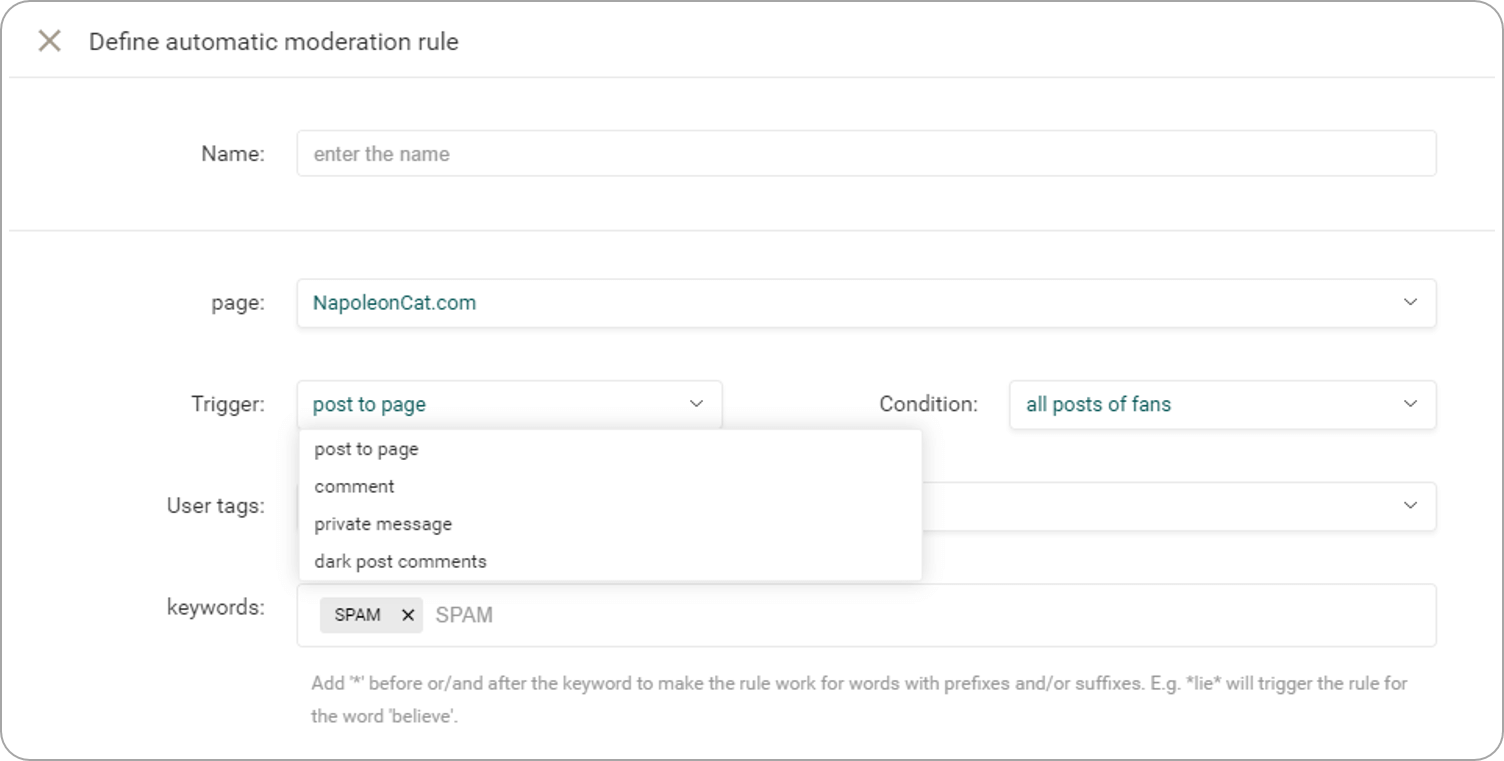 You can also specify that the rule will work only when there is a keyword (defined by you) in the content. If you want to use this option, you just need to define the keywords and fill the right field (called "Keywords" in NapoleonCat). If you want to use more than one keyword, type all of them separating with commas. It works for all languages as we updated this feature and now it's available also for Mandarin, Arabic, Cyrillic and any other alphabet.
After having chosen your keywords specify an action that should be taken to this content. It concerns Inbox actions in your NapoleonCat account so you can choose from the following: Flag, Archive, Delete, Hide or None. The next step is to set a schedule to your automatic moderation rule. Tick the box next to the "Rule schedule" and the calendar will open. If you want your rule to work for a whole Saturday, just click the name of a day and all the hours will be automatically selected. If you want to choose just a few hours a day (i.e. only evening hours in weekdays) – choose them in the scheduling table by clicking in the right field. You should remember to tick the box "use the rule only during defined days and/or hours". In the next step you can fill the "Publish reply" field and type the answer that will be sent to the post, comment, private message or dark post (depends on which trigger type you've chosen). You can also choose to get the notification to your email. If you want to be notified, just type your email address to the field "Send e-mail to". If all is ready, you can save your new rule by clicking SAVE RULE button. It's worth to know that you can set many different rules.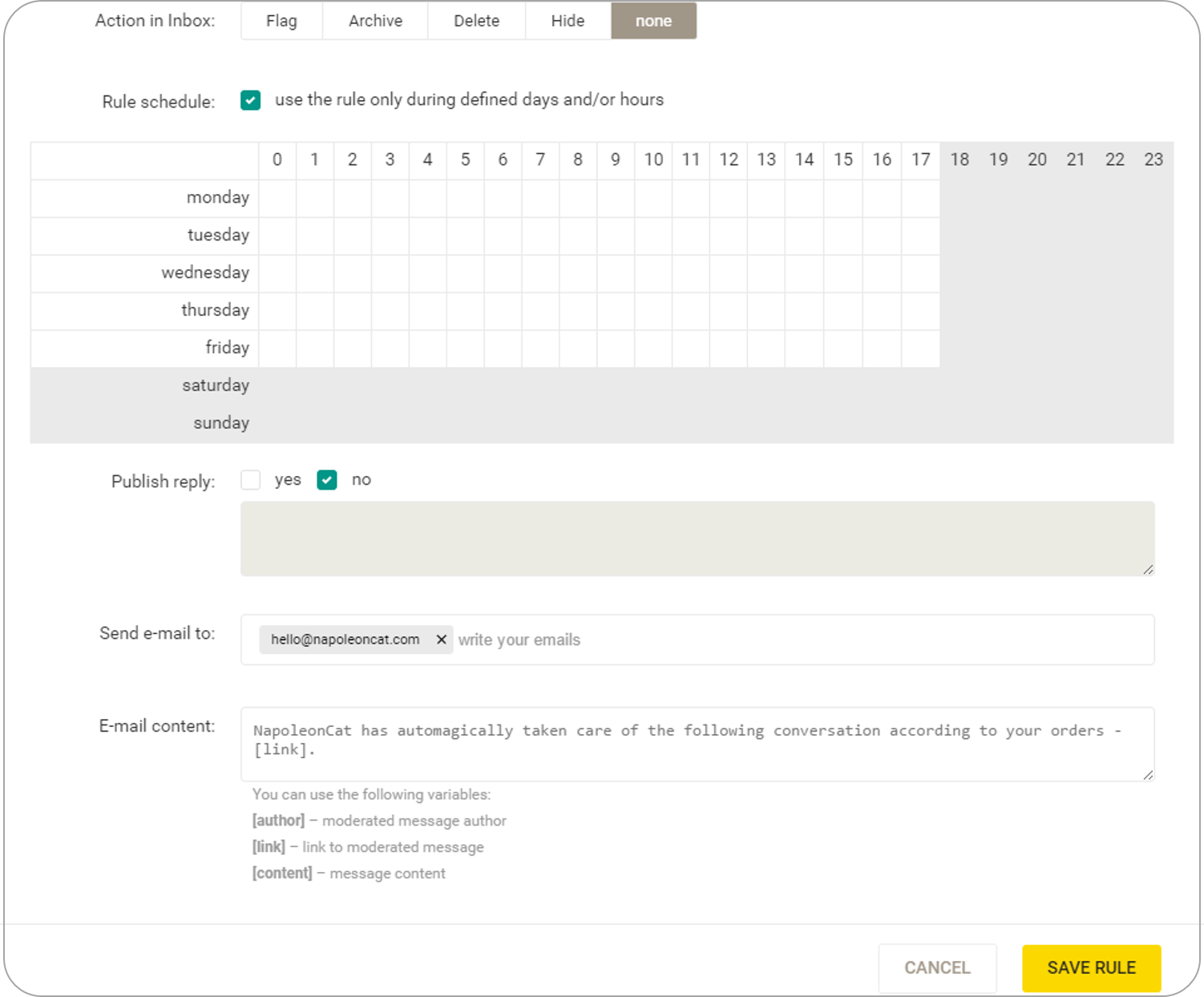 There are a lot of possibilities of using automatic moderation rules:
to protect brand from trolling and spam 24/7 – by hiding or deleting spammy or abusive content,
to interact with your social users by answering their messages 24/7 (so also when you're not online),
to support promotional actions and contests,
to support customer service by replying to all comments and messages sent on nighttime, weekends and holidays (i.e. by sending replies such as: "Thank you for your message. We will
contact you within max. 3 hours / 48 hours."
All depends on a specific situation and your business needs. We encourage to try this feature as it makes it much easier to run your social media communication activities and manage your brand reputation. If you want to check how the automatic moderation rules work, try NapoleonCat by choosing one of the available plans: e-commerce or agency one. You can test both of those plans for free (for 14 days).