Keeping track of all the conversations happening on your Facebook Page isn't particularly easy. If you run a profile with a significant number of engaged followers, moderating all the incoming messages and comments may be a tedious, time-consuming task.
If you've ever wished that someone could answer all of the repetitive questions and deal with spammy content for you, we've got some good news. Our Auto-moderation tool will do all of the dirty work for you while you can stay focused on projects that require more personalized attention.
In this article, you'll find out:
what automated moderation is
how to set smart, personalised auto-replies on Facebook
how to automatically hide and delete spam under your organic posts and ads on Facebook
Automated content moderation – what is it and when should you use it?
You may be a little bit confused as to what automated moderation is, exactly. For many social media users and marketers, chatbots are the first thing that comes to mind whenever the topic of Facebook automation comes up.
NapoleonCat's Auto-moderation is not the same as a chatbot. The main difference between the two solutions is that chatbots only work with messaging apps. There, through scripted conversations, they provide social media users with information and guide potential customers down the sales funnel.
As such, they can be compared to a sales consultant who interacts with customers over Messenger. They're also quite limited in their capabilities of providing relevant information to users.
Auto-moderation is an intelligent social media assistant, an AI moderator, that will help you answer and manage interactions initiated by your social media community across your Facebook accounts in the form of comments, private messages, reviews, or mentions.
Automated moderation employs simple logic to engage with your Facebook community, reduce your response times, improve the quality of your customer service, and ultimately save your time. Most importantly, the solution works for any language and alphabet.
To start using automated moderation, you create fully customizable Auto-moderation rules. Each rule works on the same model: specific user actions trigger specific automatic reactions. User actions are distinguished between different post types and keywords that are used in messages, comments, etc.
Let's take a look at what this means in practice. Using automated moderation, you can:
Provide information. If your team is offline or in a different time zone, auto-replies on Facebook will help you always keep your audience well informed about your process and expected wait times, even if they reach out to you in the middle of (your) night.
Auto-reply to repetitive questions on Facebook. Whenever a customer asks about fixed information like pricing, sizing, or opening hours, you can easily help them and set smart auto-replies without getting your agents involved.
Boost the ROI of your Facebook ad campaigns by constantly monitoring the conversations that happen in your ad comment feeds and automatically deleting spam and competitive links.
Protect your Facebook Page 24/7: prevent users from posting spam, hate speech, and inappropriate content by automatically deleting/hiding their comments based on pre-defined keywords of your choice.
Redirect issues requiring urgent attention by notifying designated customer service agents or providing your customers with specific contact information, i.e. relevant email addresses or phone numbers.
Gather orders and manage takeouts – check out our automated moderation guide for bars and restaurants for more details.
Elevate the customer experience. Whenever somebody appreciates your work or product, take the time to thank them. Well, actually, with automation it doesn't really take any time at all 😉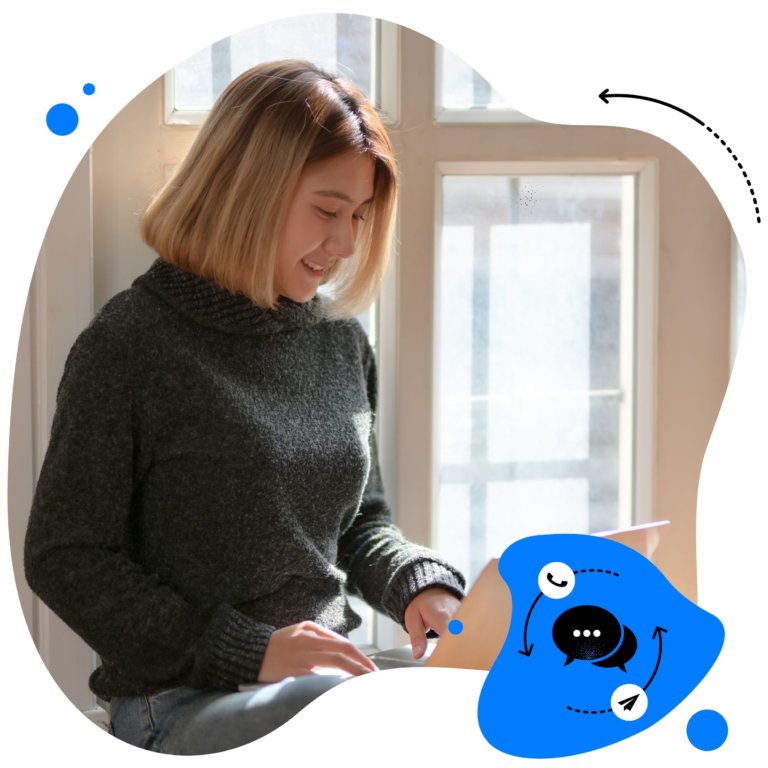 Automate Facebook Content Moderation
Set up smart auto-replies. Automatically hide or delete spam, hate speech, and inappropriate language – with an all-in-one social media tool.
Now that you know when you can use automated moderation, let's move on to the how. Keep reading to find out how to set up your first Auto-moderation rule in a few simple steps.
You can also watch these 2 videos explaining the basic features of our Auto-moderation module:
Setting up automatic Facebook Page moderation
You can set up Auto-moderation rules for your Facebook posts, direct messages, and ads. And as for other social media platforms – you can also set this moderation tool for Instagram (organic & ads posts), but in this article, we'll just stick to Facebook.
Each rule consists of a trigger and a reaction. Triggers are what sets off the automated reaction. Practically speaking, triggers are user actions such as comments, private messages etc. Triggers can be customized with specific conditions – i.e. only comments with links or images, or only comments containing specific keywords.
Once you define a trigger, you set up the automatic reaction that it will, well, trigger. This can be posting an automatic reply, automatically hiding a comment, or automatically notifying a designated customer service agent that action is necessary.
With that out of the way, let's get to it! Here's how to set up an Auto-moderation rule. For your convenience, we broke the instructions down into three steps: setting up the trigger, defining the reaction, and optional extra settings.
Setting up a trigger
Log in to your NapleonCat account and find the Auto-moderation button in the top right-hand corner of your Inbox.

You will see a pop-up window on which you'll be able to create a new rule. Search for the "Add new rule" button in the top right-hand corner.

The first step is naming your rule – the name will be displayed on the list of rules that you have created. If you have more than one Auto-moderation rule, think about a name that will help you easily identify it on the list. For example, if you set up a rule that replies to questions about shipping on your Facebook Page, simply name the rule "Facebook shipping" for example.
Then, head over to the next box and choose the profile that your rule will apply to. Remember that your profiles need to be linked to NapoleonCat, so here's how to do it.
It's time to define the trigger. There are quite a few options that you can choose from – i.e. posts to page, profile mentions, or private messages. If you want to narrow down the span of your rule, then define a condition.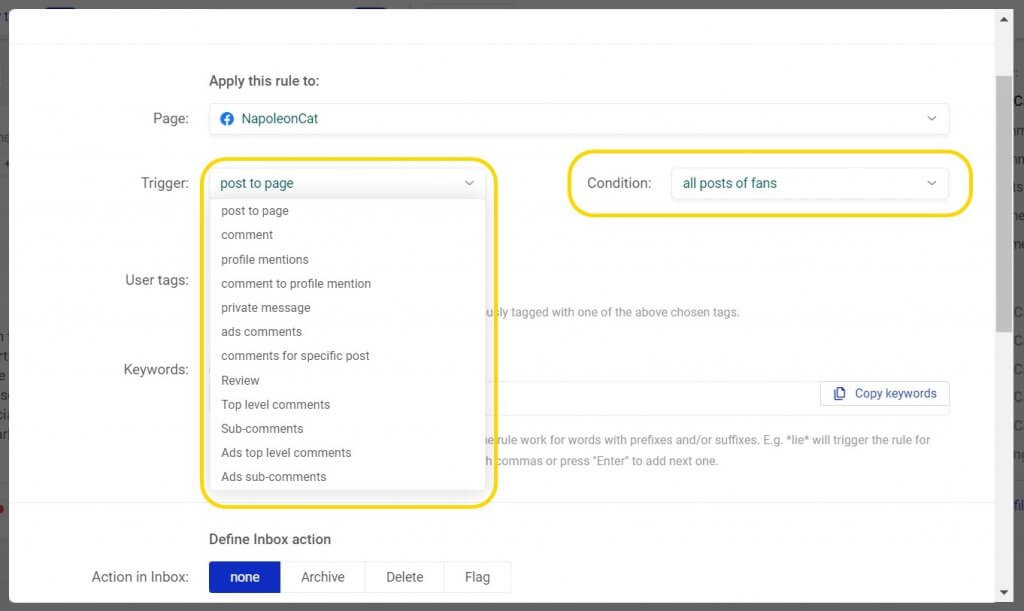 For example, if you choose "comment" as your trigger, you'll be able to narrow the rule down to text-only comments, just comments with links, only comments with pictures/videos, or simply stick to the default "all comments" condition.

Adding keywords is a way to further narrow down comments or messages that will trigger your automated reaction. Simply put, if you want your rule to work solely on content containing specific words, e.g. words of appreciation, you simply need to specify them in the "Keyword" section.

Important: Add an asterisk (*) before and/or after the keyword to make the rule work for words with prefixes and/or suffixes. For example, *lie* will trigger the rule for the word "believe". Separate multiple keywords with commas or press "Enter" to add the next one.
Defining the automatic reaction
Now, over to defining the automatic actions NapoleonCat will perform in response to user interactions that meet your set criteria.
Auto-moderation rules can:
automatically answer comments and messages on Facebook
automatically delete or hide comments under your Facebook posts
automatically notify designated people via email that a rule was triggered
automatically perform internal actions that serve to better organize your team's work, i.e. automatically flagging, archiving, or forwarding incoming communications.
Although you may be tempted to simply prevent negative reviews or public complaints by deleting them right away, it's actually better to try and invite clients to talk to you in private messages, or to resolve their issues publicly in comments.
This strategy will not only help make amends with the dissatisfied customers, but it will also show your Facebook community that you value each opinion and take customer service seriously. We recommend that you only automatically hide or delete comments that are spammy, offensive, or otherwise violate Facebook's Community Standards.
To automatically hide or delete a comment on Facebook or Archive/Flag it in your Social Inbox, simply check the desired action in the Action in Inbox section. If you wish to set up an automated reply, select none and move on to the next section.

If you want to set up an automated reply to the defined trigger, this section is for you. First, select where you would like to publish your reply (as a comment or private message). Then, type out your automatic reply.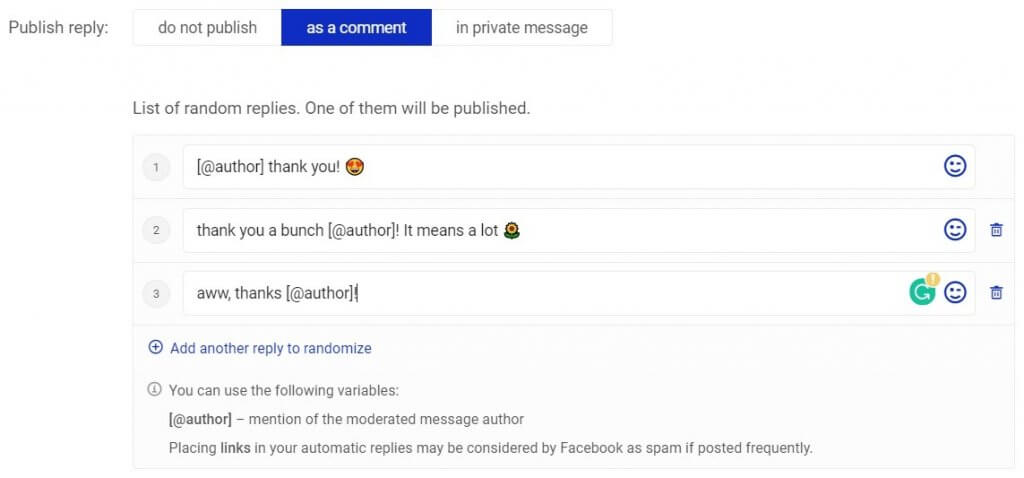 Whether you choose to publish your reply in a private message or a comment, remember that you can create up to 20 templates for your replies. These will be selected randomly and posted on Facebook in reaction to user activity that meets your criteria.
Setting multiple reply templates will add a human feel to your answers and, effectively, make your auto-replies seem less robotic, making each and every follower feel truly heard and respected. You can further customize the replies using the [@author] tag and emojis.
Optional settings
Your rule is all set up and ready to go! But why stop here? Using the following additional page settings, you can make it fit your specific business needs even better.
Rule schedule
In this section, you can define a custom schedule for your rule. This means it can work only during defined days and hours, e.g. on weekends or after your working hours. Tick the box to open the calendar view and select the time slots that work for you by simply clicking on the desired fields.

Email notifications
Last but not least, you can also program e-mail notifications. If you decide to do so, NapoleonCat will send a notification to the indicated e-mail address every time the rule works. Using this functionality, you can notify designated customer service members of cases requiring their involvement, let your social marketing team know whenever sketchy-looking comments were added to your sponsored posts, or notify your community manager whenever your fans publicly praise your brand.

Remember to save your rule and…you're all set! You can sit back and watch NapoleonCat do the work for you. You can create as many rule as you'd like.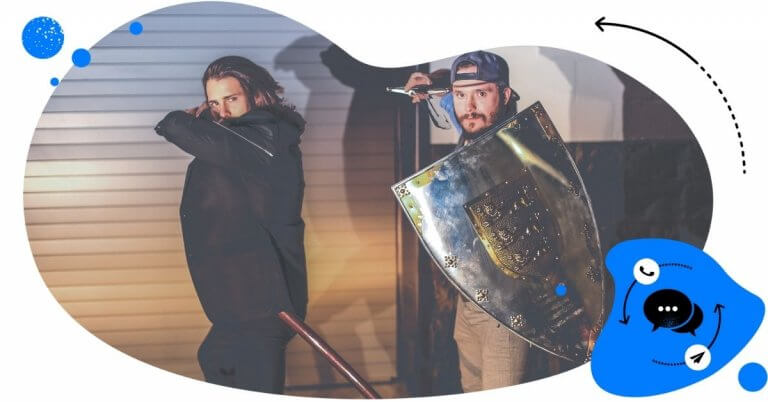 Protect your Facebook Page from spam
Automate customer service on social media, protect your socials from spam, and boost engagement rates – with an all-in-one social media tool.
Wrap up
Automated content moderation is a solution that can be applied in many ways by different businesses. Regardless of whether you use it to keep your Facebook fans engaged, provide users with basic information, deal with spam, or collect orders, your team of human content moderators will thank you for "employing" the new guy who does all of the dirty work. This will allow them to focus on communication that truly requires personalized attention.
If you'd like to learn more about social media automation, we recommend these articles: