You've heard it a thousand times – social media is where your customers are. And with the rapid rise of eCommerce since the pandemic, more and more customers have found social media platforms a convenient place to shop online.
With that said, customers have become more demanding since COVID-19. Customers not only want faster and simpler service, but they also want your interactions with them to be more human and relatable.
But social media and customer service can be a complex combination. When a prospect or customer interacts with you on Facebook (or on other social media platforms), it's open for everyone to see (unless sent via a private message). Fail to respond quickly (and appropriately) and your brand reputation suffers.
Thankfully, using a dedicated Facebook moderation tool can help your business keep up with response rates – even with limited manpower and budget.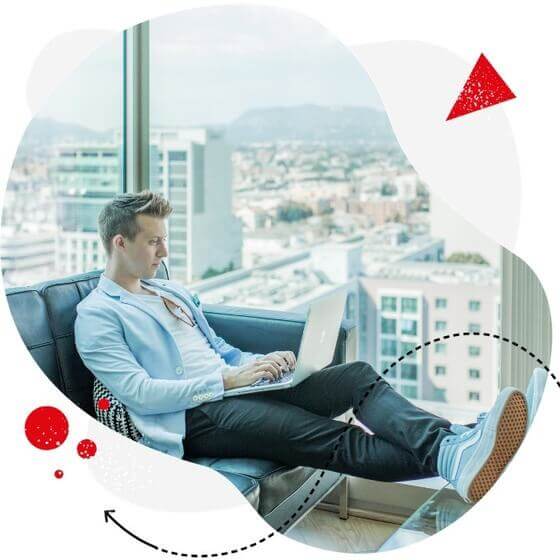 The Best Facebook Moderation Tool
Manage all your comments, messages, reviews, and more – with an all-in-one social media tool (Facebook ad comments included!)
But first, let's talk about why using a Facebook comment moderation tool is critical in eCommerce customer service.
Why great customer service is critical in your Facebook marketing
Facebook comment moderation, or social media moderation in general, is a delicate balancing act if you're trying to grow a social media presence and deliver great customer service throughout the customer journey.
Part of the reason is the nature of social media itself. Every day, millions of global users go on Facebook to share their diverse views. The operative word there is 'diverse' – and if you've been hanging around social media networks long enough, you know that some comments are offensive, inappropriate, and harmful. As a business owner trying to grow a presence on social media, you don't want these comments to poison the well (so to speak).
Even so, social media is a powerful channel for delivering great customer service. According to a Zendesk CX report, the number of consumers who prefer social messaging as the channel for resolving customer service issues rose to 110% The same study also shows that 78% of consumers are more likely to buy from a brand following a positive experience on social media.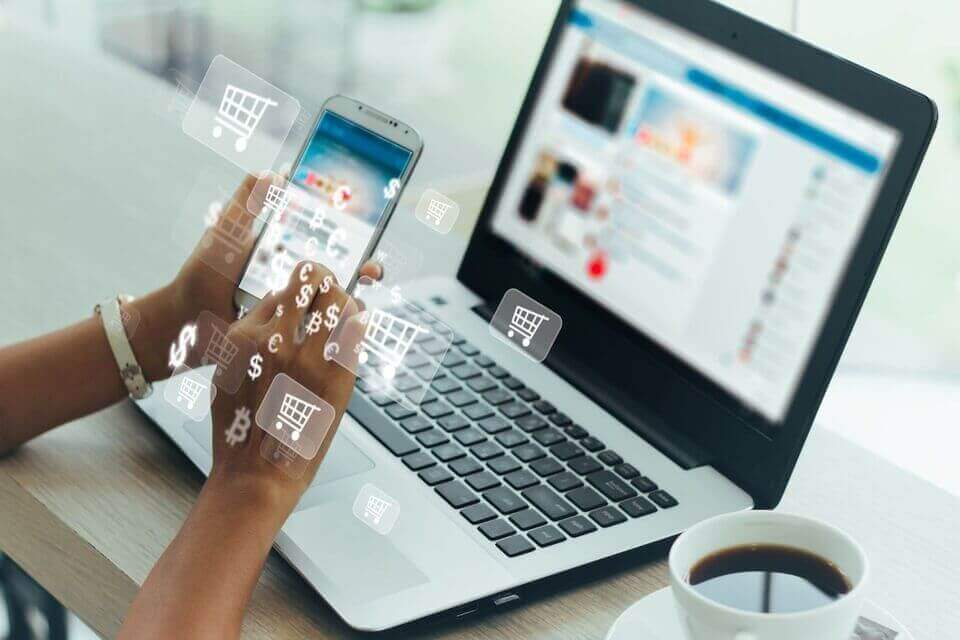 The problem? As already mentioned, customers have become more demanding over the last several years. In fact, 79% of customers expect a response to their posts within 24 hours. And while 63% of complaints on social media are addressed within 24 hours, only 32% of customers are satisfied with the response speed. Tough crowd, right?
Moreover, a fast response doesn't only help build trust among your audience, but it can also spell the difference between a sale and a fail.
In most cases, when customers ask questions, it is a sign they're interested in what your brand has to offer. As such, answering quickly could be the nudge they need to buy your offering.
As a brand trying to grow and nurture a relationship with your target audience, you don't want to come off as a company that ignores its customers. Even more so if the comments you're getting are critical of your brand.
When someone leaves a comment saying "your product isn't working" and you don't take the time to make the appropriate response (in which case apologizing for the defective product and then giving a refund or a replacement would be it), you're not only souring your relationship with the person who posted the complaint but also with those who encounter the comment.
Another reason why delivering great customer service on Facebook is critical is because customers are taking a leap of faith when they buy online. Because they are unable to give products a try before buying them, eCommerce customers are more likely to look for clues in social media comments.
To them, looking at what other people think in Facebook comments provides them the social proof they need to trust a brand. In other words, you can communicate your product's value well in a Facebook post, but if you leave a negative comment unattended, users are more likely to head somewhere else. Hardly surprising, considering that customers trust fellow customers more than they trust brands.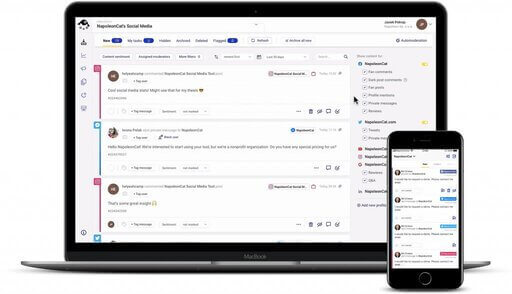 Facebook comment moderation tool (ads included)
Use NapoleonCat to manage all of your Facebook comments (ads included), messages, reviews, etc. – with an all-in-one social media tool.
How to moderate content on Facebook
Before we dive into why Facebook comment moderation is important, let's go over the types of user comments you're expected to receive (and moderate) on Facebook as well as the tasks you need to do when moderating comments on Facebook.
The types of user comments you can receive on Facebook include:
Organic comments
Facebook reviews
Private messages
Fan posts
Profile mentions
And here are some of the tasks you need to do as a Facebook content moderator:
Respond to comments from customers – under both organic and sponsored content
Respond to private messages
Delete or hide inappropriate comments, abusive comments, comments with competitor links, etc.
Contact another team (such as the customer service team or product team), if you receive a question or issue that you can't address or answer.
And more
I can see the gears turning in your head. As you can see, Facebook moderation can be an unwieldy job. When you consider the fact that Facebook operates 24/7, 7 days a week, you can imagine how demanding the responsibility can be. It's even more worrying when you consider the emotional impact of being "on-call" 24/7.
Thankfully, you can moderate Facebook comments and messages without them taking over your life. All you need is a unified social media inbox combined with an automated moderation tool. Both of those are a big part of the NapoleonCat tool – let's break it all down.
By the way, you can test NapoleonCat for free – no credit card required 😉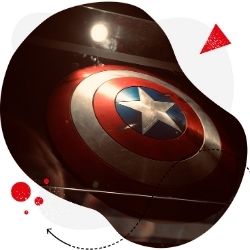 Protect your social media from offensive comments and SPAM
Automatically hide or delete comments containing spam under your organic posts and ads – with an all-in-one social media tool.
Facebook moderation tool – Social Inbox
Chances are you've experienced being overwhelmed with comments, private messages, and (worse) negative comments. It's even harder if you're managing multiple Facebook Pages.
The result? You end up leaving comments and messages unattended. Or you answer them but do it late (in which case the harm has been done). And then the comments still keep piling up so you have to stay up late in the hopes of catching up and then end up failing in the effort.
You can't help thinking: if only I could sort through these messages in one place.
Thankfully, a Facebook moderation tool like the Social Inbox helps you do just that – by allowing you to track and reply to all social media interactions from one view.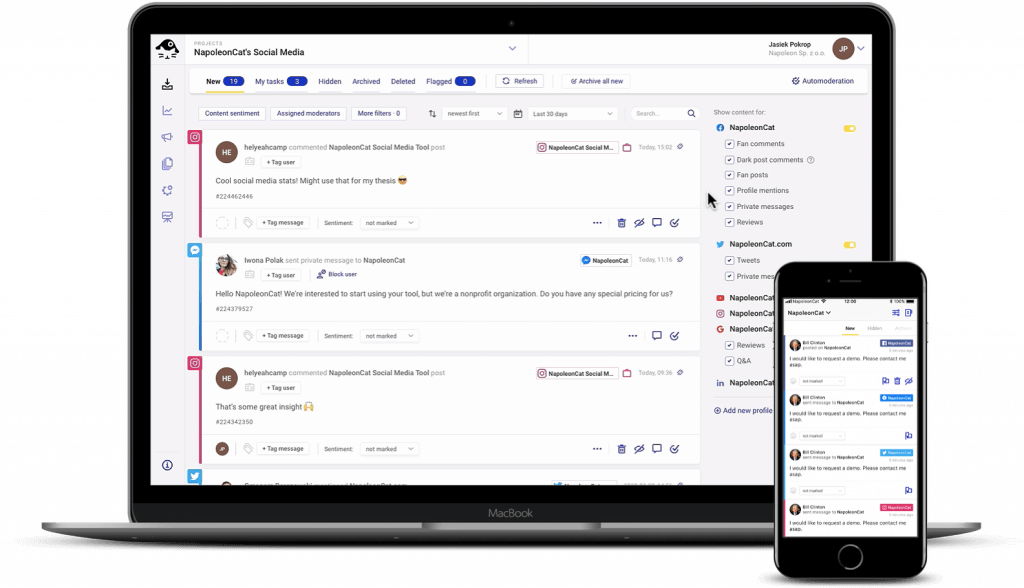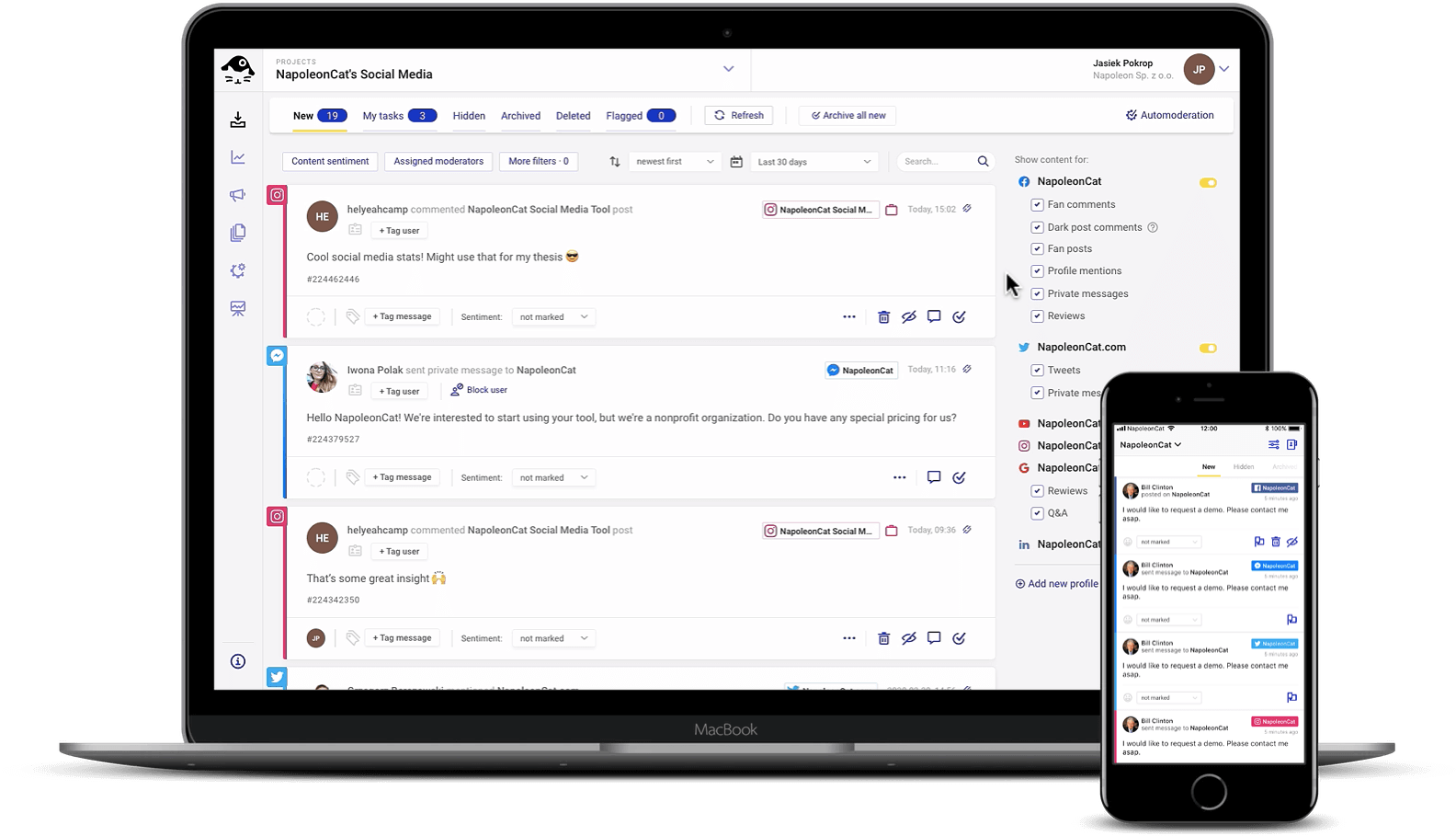 Social Inbox helps you navigate through the chaos by:
Gathering all comments from Facebook (as well as TikTok, Twitter, Instagram, LinkedIn, and YouTube) in one customizable view.
Allowing you to respond to all Facebook comments from one dashboard. No need to switch between different tabs and logins.
Allowing you to reply to messages from Messenger
Letting you hide and delete inappropriate, offensive comments, and spam.
Showing comments appearing under Facebook ads (you know, those comments that don't appear on your Facebook Pages but show up in users' news feeds).
You can also manage your Facebook reviews, profile mentions, and fan posts.
As a bonus, Social Inbox comes with a built-in translation feature that translates any message sent to you and lets you reply accordingly.
By gathering all Facebook comments, messages, and other fan interactions in one place, Social Inbox eliminates any context that can negatively impact your productivity. Everything is unified, allowing you to engage in every comment and message in less time.
You can go through your moderation tasks much faster. And because every message and comment is put in their proper context, you find it easier to prioritize tasks based on importance and urgency.
You can also tag the users and their messages, which will help you later on with setting up automatic content moderation or creating moderation reports in NapoleonCat.
Meet our automatic Facebook moderation tool to back you up
Simply put, Auto-moderation is an intelligent social media assistant, an automatic content moderator, that will help you answer and manage interactions initiated by your social media community across your Facebook accounts in the form of comments, private messages, reviews, or mentions.
Put another way, an Auto-moderation tool like NapoleonCat's Social Inbox can help you:
Reduce response times
Makes sure all customer inquiries are addressed
Improve the quality of your eCommerce customer service and overall customer experience
Be responsive 24/7
Protect your brand reputation 24/7 from comments that defame or misrepresent your brand (like spam or offensive comments)
Make community management tasks a piece of cake.
But how exactly does an Auto-moderation tool help you do all of the above? Let's go over them one by one.
Automate Facebook moderation (whenever appropriate)
Are you tired of answering questions you have answered a thousand times already? Are you being flooded by comments, messages, and spam during non-office hours?
Our automatic moderation tool lets you:
Automate responses to repetitive questions and comments on Facebook based on keywords you define. For example, if you keep being asked "How much does x cost?" you can save time by automating a specific reply rather than answering manually every time.
Automatically hide or delete inappropriate content like spam and comments containing offensive language. You can do this by setting up an auto-moderation rule that removes or hides comments with specific words or phrases.
Alternatively, you can also disable comments on Facebook ads and organic posts as well. This means that any incoming Facebook comment will be instantly deleted (or hidden – it's up to you) from your Page.
Automatically forward sensitive messages to your dedicated customer support team members.
You can set up an Auto-moderation rule by:
Defining a trigger (triggers are specific actions taken by users, including comments, private messages, etc.). You can customize triggers with specific conditions, including only comments with links or images, only comments containing specific keywords, etc.
Setting up an automatic reaction. This is the automated response that is executed after a trigger has been activated. The automatic reaction can be, for example, an automatic reply or the automatic hiding of a comment.
I get that this may sound a bit tricky at first, but trust me, the process of setting up Auto-moderation is really easy. You can just watch this short video tutorial and see for yourself:
As for the automatic replies – to avoid sounding repetitive, you can set multiple different replies to add a better 'human touch'. Once set, the tool will randomly pick and publish one of the replies: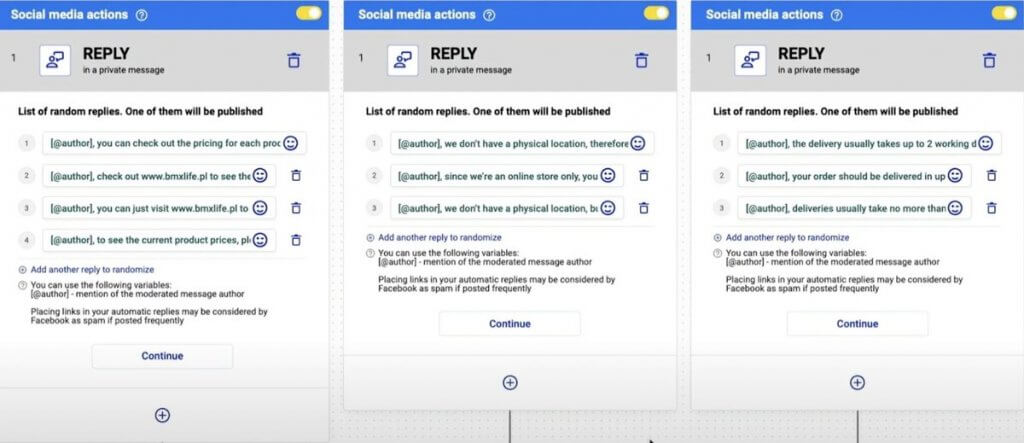 You can also set up an automated response for non-business days and hours of the day when no one in your team is available to moderate Facebook comments.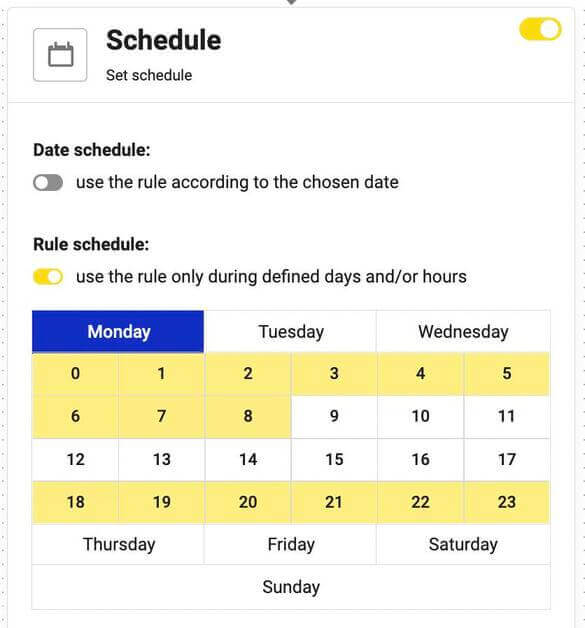 Make Facebook content moderation a team effort
In most cases, a single Facebook moderator can't do it alone. Either a moderator can't keep up with all the comments coming in or he/she doesn't have the expertise to answer all questions (or both).
In other words, Facebook moderation needs to be a team effort to move the needle for your business. That's why it's a good thing Social Inbox has the collaboration features to keep you and your team on the same page and to optimize their collective workflows.
So how does Social Inbox pull this off?
For starters, it lets you delegate comment threads to specific members of your team. In fact, the tool automatically can redirect issues to designated consultants. This cuts down on back-and-forth exchanges between team members, saving you more time.
Moreover, you can tag specific messages and assign them to specific team members, making the delegation of tasks and issues more streamlined.
By consolidating content moderation tasks in a way that streamlines the efforts of your team members, your brand can moderate Facebook comments faster, more efficiently, and in ways that align with your customer service strategy.
It helps that Social Inbox operates in real-time, allowing each member to see what everyone is doing. This removes any cognitive load that may arise in team collaboration and prevents overlapping and duplication of work.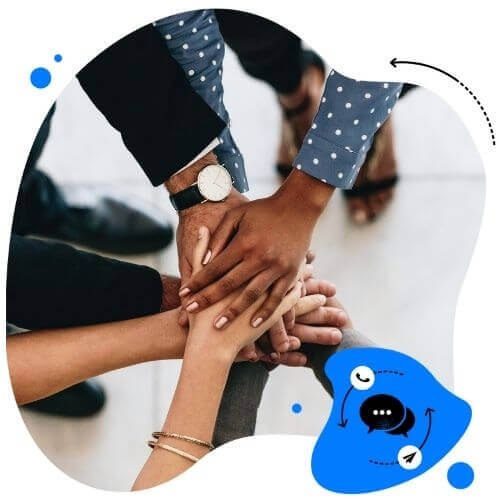 Facebook moderation tool for teams
Moderate all Facebook comments and messages from one dashboard, individually or in a team – with an all-in-one social media tool (Facebook ad comments included)
Wrapping up
Remember, many of your customers will make a purchasing decision based on your social media content. More importantly, they will buy based on how you respond to them when they engage with you.
Social media and eCommerce are a match made in heaven, but they can only move the needle for your business if you strive to provide them with a great experience every step of the way.
It can be a difficult task, but with the right Facebook comment moderation tool paired with team effort to go the extra mile for your customers, you will know how to build a community on social media and stand out from your competitors in no time.
We highly recommend you test NapoleonCat for free – no credit card required on signup 😉
You may also like: