If your brand is on social media, your posts will sooner or later fall prey to trolls and spammers. That's just the way it is. But it doesn't mean you should just get used to the fact. Well, get used to it, but act. Here's how to make it easier for you and your team and protect your brand on Instagram.
Social media is a blessing and a curse
A blessing because it allows people to connect with each other. And from a marketing perspective, it allows brands to connect with consumers in a way that wasn't possible before. It took marketing to a whole different level (though not all brands made the most of it. But that's a story for another time.)
A curse because anyone can come and comment on your company's profile and say whatever they want. And I don't just mean angry customers (there's probably a reason why they're angry, and you should be prepared to handle that.)
But I also mean spammers and trolls that appear by the hundreds or thousands and can completely take over your Instagram posts and mess with your community and your stats. And you need to be prepared, too.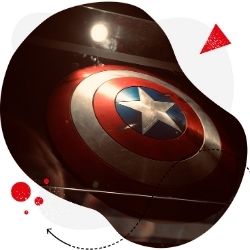 Protect your brand on Instagram
Automatically hide or delete comments from trolls on Instagram (on organic posts and IG ads) – with an all-in-one social media tool.
Now, why do IG trolls do what they do?
Most are there either to spam (and make money off it) or spread misinformation (especially now.) They'll try to trick your audience into money schemes or fake contests, promote their products, sometimes they'll fight competition this way. The scale can be enormous and often not something we can quickly deal with.
And the thing is, actively running your social media profiles and increasing engagement WILL inevitably attract IG trolls – because they feed on engagement. So that's, in a way, a price you pay for successfully running your socials.
And when they do come, they might:
Mess up with your engagement rates
Deter your followers from engaging in conversations, making them uncomfortable
Post links to spammy sites or competition
And make it a pain for your team to moderate your company's Instagram, stealing away valuable time that goes into deleting comments and blocking users.
Luckily, there are ways you can protect your social profiles and save that valuable time. So let's focus on those and make sure your Instagram posts are troll-free and follower-friendly.
How to protect your brand on Instagram
Let's take a look at how you can stop trolls, hate speech, and other inappropriate comments on Instagram – and believe me, it's not that hard 😉
Monitor and react to what's going on under your Instagram posts
"Easy for you to say" – that's what you thought, right? (I heard that.) I know that the bigger your account is and the more accounts you run (for example, for your clients, but also maybe for the different products you offer or different brands), the tougher it gets and the more time it takes.
I get it. But it doesn't really have to be that way when you have Instagram automation tools to help. And there's plenty available, fortunately for all social media moderators out there.
Get yourself a social media engagement tool like NapoleonCat. You'll be able to:
Get all comments and messages from your Instagram followers (and trolls) displayed in one dashboard
Alongside all interactions from your other social profiles, like TikTok, Facebook, Twitter, and LinkedIn. (And even your Google reviews if you have physical locations that can be rated.)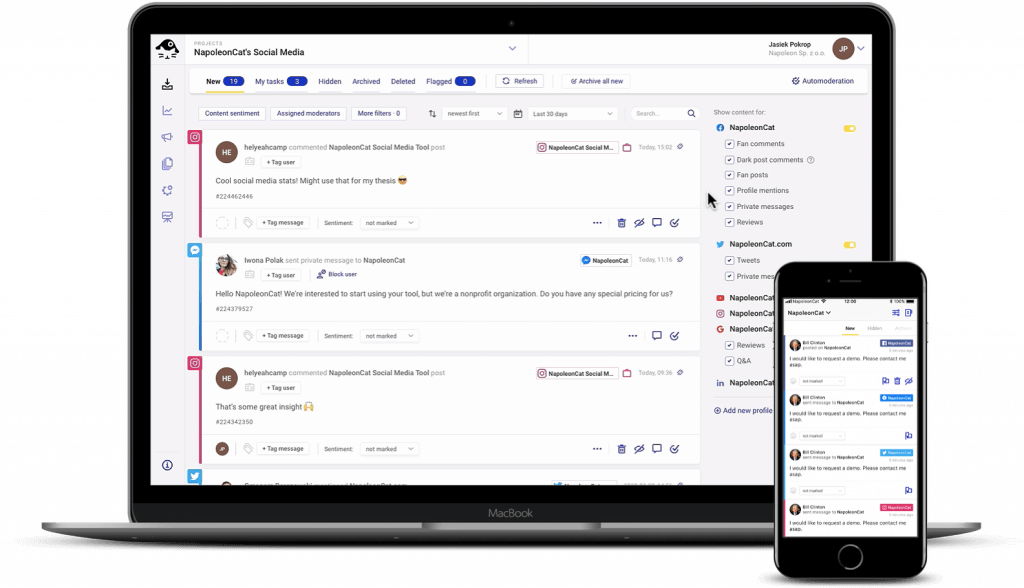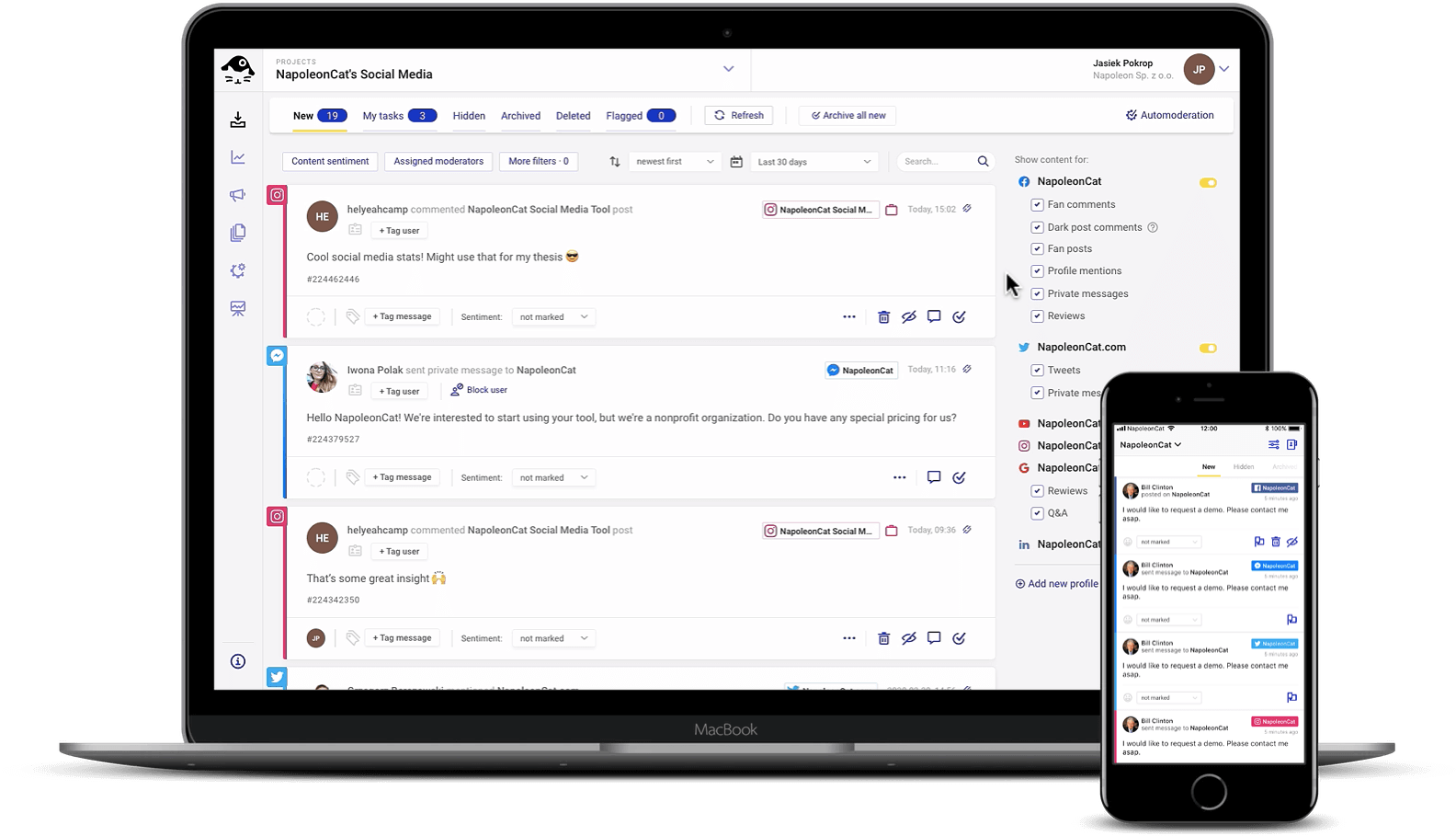 You probably also already know how the Instagram interface is not particularly user-friendly, especially when it comes to messages scattered across different inboxes. Getting all of it in one place is already a huge step forward and a massive chunk of time saved.
Get your team to monitor the inbox and delegate different threads to different team members.
And yes, you can do that automatically. (Or, if you're on your own, have a clear insight into what's going on.)
Automate some of the replies to gain yourself some more time.
You can do it with auto-replies sent using auto-moderation rules that you set up based on specified keywords.
Looking at its customers, NapoelonCat found that setting smart auto-replies can cut the time spent replying to comments by as much as 66%. But auto-replies can also be used to hide or delete comments (more on that in a minute.)
Quickly reply to your fans in their own languages
If you run global accounts or just get comments in different languages (trolls will often do that), NapoleonCat will automatically translate them for you and also translate your replies. If you decide to reply at all – because if it's trolls, we're likely talking about the next bullet point.
Automatically delete or hide offensive comments and spam on Instagram (IG ads included).
Now, this can be a game-changer. Because think about yourself deleting all the troll comments, one by one, on all your posts and all your profiles. Every single day.
(I bet we can all picture ourselves starting the day this way. I know I can.)
You can delete or hide Instagram comments automatically by setting up auto-moderation rules based on specified keywords that you define – the feature works both for organic posts and Instagram ads as well.
Here's how to automatically hide offensive comments on Instagram:
Monitor your Instagram ads
Ads are a particularly sensitive topic. Mostly because sponsored content is often inadequately monitored. It's either because:
You have multiple campaigns running at the same time, sometimes in different languages and in different countries
Someone else, like an agency or a freelancer, is running your ads for you, and they're not authorized to handle the comments (or it's simply not their job)
Comments end up in different inboxes on Instagram, and you can't see some of them at all.
Again, use a social media management tool to handle them, like in the section above. With the Social Inbox, you will also see all comments and interactions on your Facebook and Instagram ads, so your customer service team (or you, Social Media Manager, left to your own devices) can handle them alongside all other comments and messages.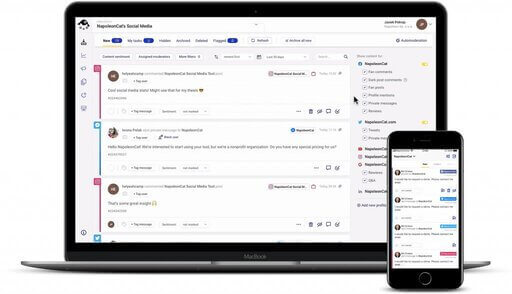 Manage all comments and messages from one view
Use NapoleonCat to manage all of your comments, messages, reviews, etc. – with an all-in-one social media tool.
You can also set up auto-moderation rules to automatically remove spammy comments if they contain specified words and phrases (and they often do) or include links (that's often a clear indicator of a troll comment.)
Identify comments and user account with tags
You should know your customer – but also your troll. What will definitely help is filtering users and tags to know who's who on your social channels and act accordingly (and automatically.)
Using the Social Inbox, you can: 
Tag messages, filter them and assign them to your team members to handle.
Tag users to see trolls and spammers at a glance and know what to do with them.
Tagging is extremely useful for auto-moderating comments, allowing you to take immediate action when a comment or message from a tagged user drops in your inbox. You can tag your followers as customers, leads, top fans, trolls, etc. – and then apply your rule only to these groups.
So if there's an Instagram account leaving offensive comments all the time, tag them as a troll and then define your auto-moderation rule to hide or delete their comments any time they post them.
Unless you want to do the next thing on this list:
Block troll accounts on Instagram
Social media moderators often have second thoughts before permanently blocking someone from posting or even deleting a comment. But if you have a user who's a blatant troll or spammer or repeatedly violates your community guidelines, posting offensive or abusive comments, blocking them is your best option.
Instagram lets you block accounts created from the same email in the future, so you should never hear from that person (or bot) again. Unless they change their email, of course. But then you just repeat the procedure.
And if you're using a social media automation tool, it's luckily going to be really easy.
Turn off all comments on Instagram
During social media and PR crises, sometimes a wise thing to do is to turn off comments altogether (either temporarily or permanently). You can also decide to block comments on some posts that might be controversial or you know will trigger a troll invasion or abusive comments from users.
Though I wouldn't recommend doing this as a permanent strategy (what's the point of posting on social media if you don't want the "social part"), sometimes it's just helpful and can save you some headache.
Here's how to 'block' comments on all your Instagram posts with NapoleonCat:
By 'block' I mean automatically deleting any incoming comments (instantly). This automation rule can be set up in about 10 seconds in NapoleonCat.
As shown above, here's how to turn off comments on Instagram:
Go to the Inbox feature in NapoleonCat, and click on Automoderation in the top-right corner
Click the yellow Create new rule button
Name your rule, choose the IG account for it to work on, choose organic comments as the trigger
Select Delete as the action
Click on Save rule
That's it 😉
Here's an entire post on how to turn off comments on Instagram.
Create community guidelines for your social channels
And make sure both your followers and your team know them. This will make it clear to people what is acceptable and what might ban them from your page., And it will also make it easier for your team to act swiftly and create automated rules that will handle the apparent violations of the guidelines for them. Making everyone's lives easier and a little more enjoyable.
A good idea for your Instagram page is to create Instagram Stories with the guidelines and add them to your story highlights on your profile so that everyone can watch.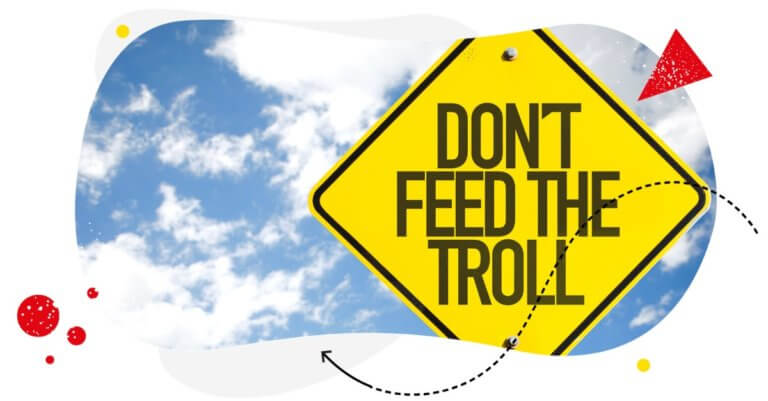 Easily block trolls and protect your brand on Instagram
Automatically delete or hide any offensive comments on Instagram (ads included) – with an all-in-one social media tool.
Don't feed the troll
Trolls and spammers (unfortunately) come as part of the social media package. But that doesn't mean there's nothing you can do about it (or, even worse, that you should waste your time replying, moderating, and most likely getting more and more frustrated with your own social profiles – and your job).
Protecting your Instagram profile is in the interest of your followers and your brand, so get a tool that has your – and your customers'– back, at all times.
For more Instagram knowledge, check out our other articles:
You may also like: