With over 2 billion1 monthly active users, Instagram has grown to be one of the biggest social media platforms out there. It's no wonder that digital marketers are constantly trying to come up with new ways of increasing their organic reach on Instagram.
Today, I'd like to show you my own case study and how I boosted my Instagram organic reach through the roof and beyond.
With a little over 5000 followers, I was able to get 30,000 – 100,000 single post visitors who came directly from the hashtag browser. Let me show you how it's done.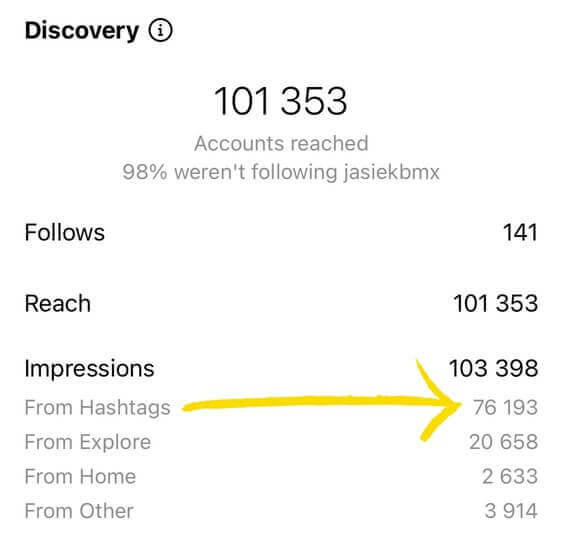 76,193 visitors came from hashtags, whereas only 2,633 of my followers saw this post.
In-depth Instagram analytics & reports
Monitor and analyze your hashtag performance. Refine your strategy with in-depth data and analyze your competitors – with an all-in-one social media tool.
For your convenience, here's a little table of contents:
What are hashtags on Instagram?
Hashtags on Instagram are like keywords for Google – they offer you the opportunity to get discovered by new audiences. They can help you categorize your content, boost brand awareness, and position your brand with authority. Sounds pretty compelling, but does it actually work?
This time I'm bringing some hard evidence to the table.
Sure, hashtags can be confusing – some people love them, some people hate them. Some Instagram users write full sentences with hashtags, others don't use them at all.
If you're a newbie to posting content on Instagram, or you use hashtags and see no substantial results, I will take you through the process of effective "hashtagging" step by step.
Don't worry, it's really simple, you just need to know a few basic things.
Read on to find out how to engage your audience and increase your organic reach on Instagram.
Do hashtags increase your organic reach on Instagram?
You may be wondering about the whole point of including hashtags in your posts. Well, just take a look at my own stats: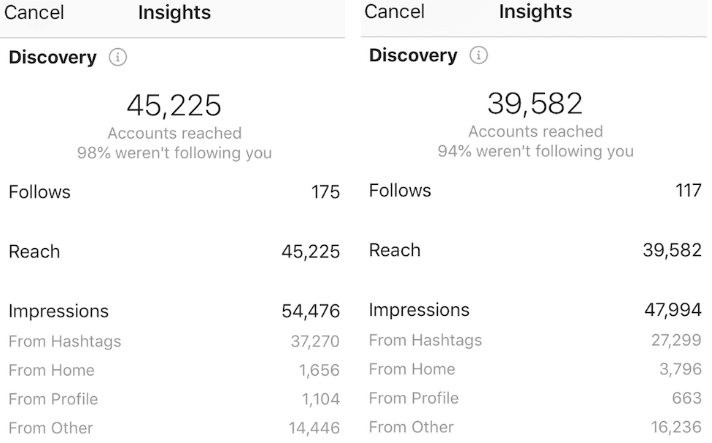 As you can see, I received the majority of impressions directly through my precious hashtags. My Instagram account where I promote myself as an athlete has a little over 5000 followers right now.
It's quite clear that these stats go way beyond this number.
More than a striking 90% of my audience don't follow me, so how did so many people view my post on Instagram if it wasn't even promoted? This may seem a bit baffling at first glance. The answer is rather quite simple.
A while back, my posts started ranking in the Top and Recent sections in the hashtag browser on Instagram. First I could see myself there only once in a while. Now I rank there regularly.
And that's your goal, that's where you want your quality content to land. But how? How do you make that Instagram algorithm work to your advantage? How to create organic reach for your Instagram posts?
How to increase organic reach on Instagram in 2023
How to increase Instagram reach organically? It's all quite simple, but not everyone knows about it. Follow the steps below, and I guarantee you'll see results.
Choosing the right hashtags to increase organic reach on Instagram
One thing you should avoid doing is aiming for the most popular hashtags, e.g., #love #passion #sport, and so on. They are simply too broad, and it's super difficult to rank high among any of them.
Instagram's algorithm isn't gonna cut you any slack with that.
When you use the hashtag browser, you can see exactly how many posts on Instagram are tagged with a specific hashtag: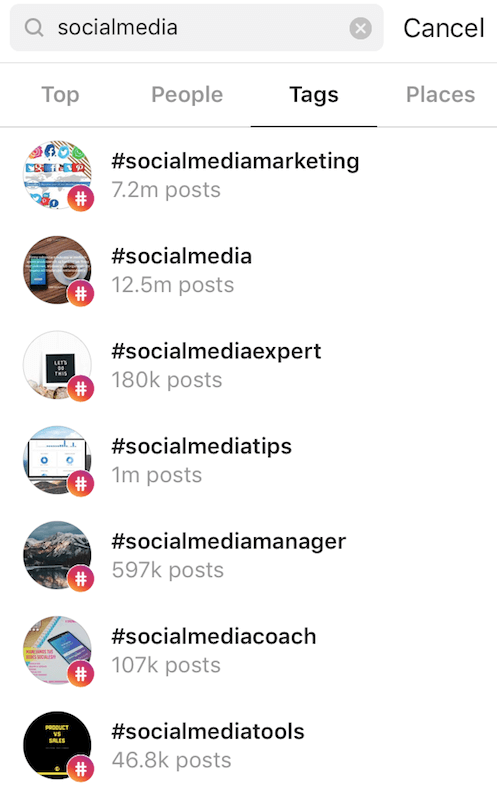 How to increase hashtag reach on Instagram? It's best to aim for medium-sized hashtags.
To be more precise, try to choose those that have at least 20,000 posts tagged with them. Find your niche and create content that's unique within it.
Focus on hashtags that specifically describe the content you showcase on your account and are the best fit for your target audience. You can take one big hashtag and combine it with another word to make it more specific.
The hashtag browser will also help you find similar hashtags, as it automatically generates hashtag suggestions. For example, instead of using #socialmedia, I'd try #socialmediamarketingtips.
You can also use external discovery tools like RiteTag as a helping hand in finding the most powerful hashtags.
Finally, keep an eye on trending hashtags that go viral.
If you can apply these viral tags to your content in a relevant way, that will also increase your chances of getting ridiculous traffic and boosting Instagram engagement through real-time marketing. #2023goals\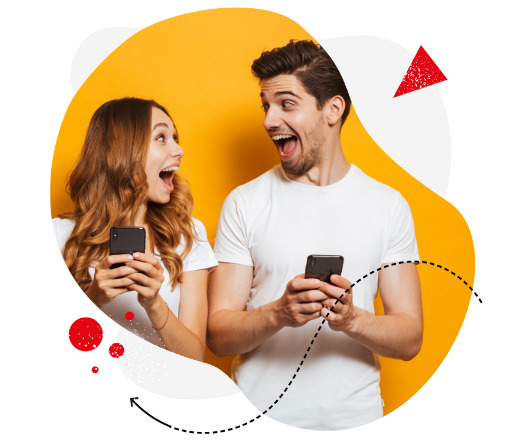 Instagram marketing made easier
Automate, analyze, generate reports, schedule posts, and more. Save time and boost your results – with an all-in-one social media tool.
How many hashtags should you use on Instagram?
When it comes to deciding how many hashtags to use, the general assumption is the more, the better. However, there is an actual limit of 30 hashtags.
If you add 30 hashtags or more to a post, your account can appear on Instagram's radar, and that can be troublesome. You can have your post deleted, or worse yet – your entire Instagram account.
I recommend applying at least 20 hashtags for good measure. 28 is perfect as your content flies just below that infamous Instagram radar.
Keep the caption clean
This tip is mainly for UX purposes. Many Instagram users place hashtags in the caption of their content. It looks a little sloppy and can be distracting.
Thankfully, there is an alternative for it – you can put hashtags in the comments section right after you upload your stuff.
This will have no effect on your ranking, and the hashtags will still work just the same. And your visitors will get the chance to focus more on the content and the caption!
By the way, you can use NapoleonCat to schedule your Instagram posts and also the post's first comment. This is particularly convenient for users who place hashtags in the comment section, and that includes me!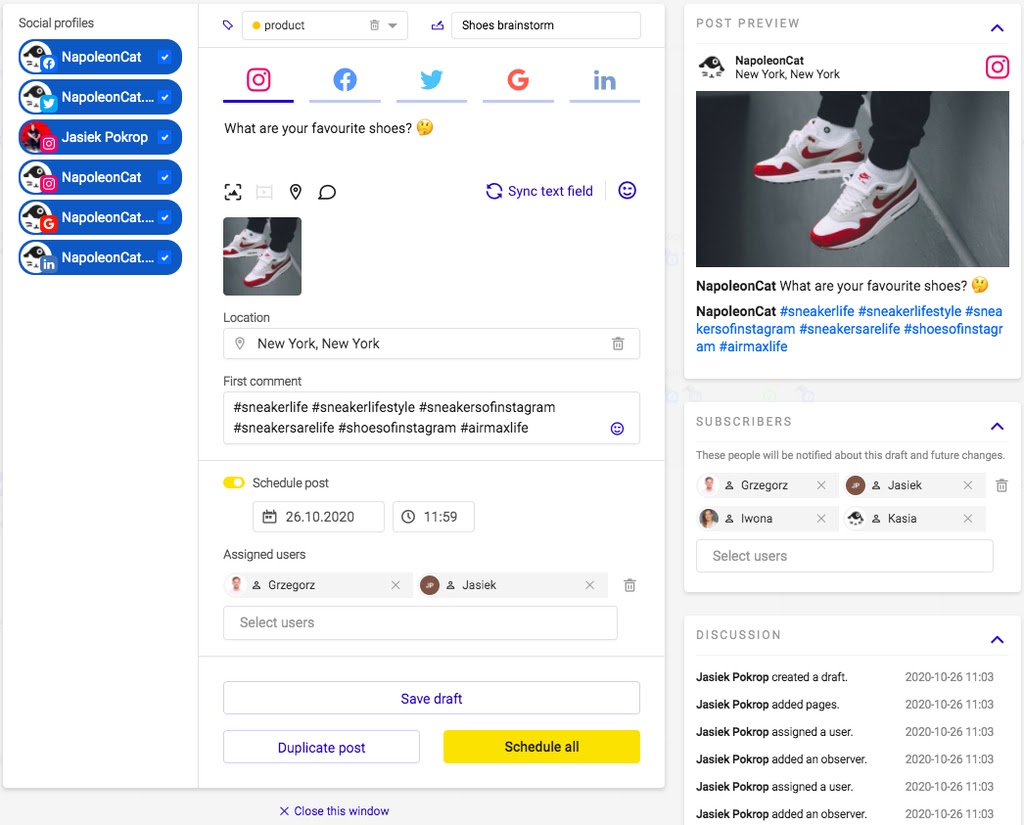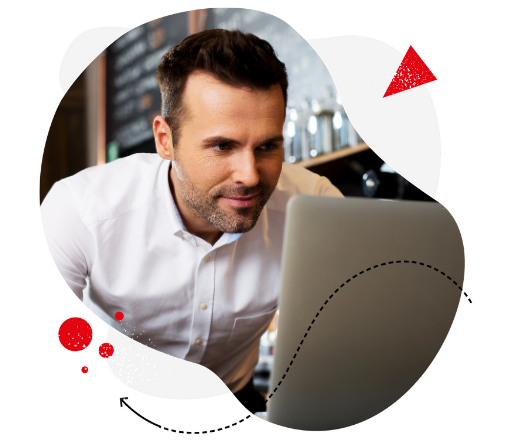 Analyze your own hashtags + your competitors
Analyze the performance of your own hashtags + your competitors' hashtags, too! – with an all-in-one social media tool.
Ready, set, go!
Saving time is good, so try to create a universal set of hashtags that you can simply copy and paste. You can also have multiple sets of hashtags ready to go depending on how varied your content is.
Also – don't use the same set of hashtags all the time. Using the exact same set of hashtags constantly may really decrease their potential.
Try and change it up a bit, taking trends, seasons, places, and other relevant factors into consideration. Or simply change the hashtags' order.
Pro tip: Create a keyword shortcut for each hashtag list on your phone. Then simply type that one magic word and the whole list will be generated for you!
Instagram hashtag analytics tools
In order to better adjust your strategy, you should analyze your hashtag performance. Currently, the default Instagram Insights tool doesn't cover much about hashtags.
It only provides you with the number of post visitors who visited your post through the hashtag browser. And you have to access each Instagram post's statistics individually.
If you need more statistics to find out which of your hashtags work best, you can use NapoleonCat's Analytics (video). This social media management tool has a convenient feature for hashtag analysis.
You can analyze the hashtags used on your account from any custom timeframe. Basically, their overall performance can be seen inside the so-called "hashtag cloud":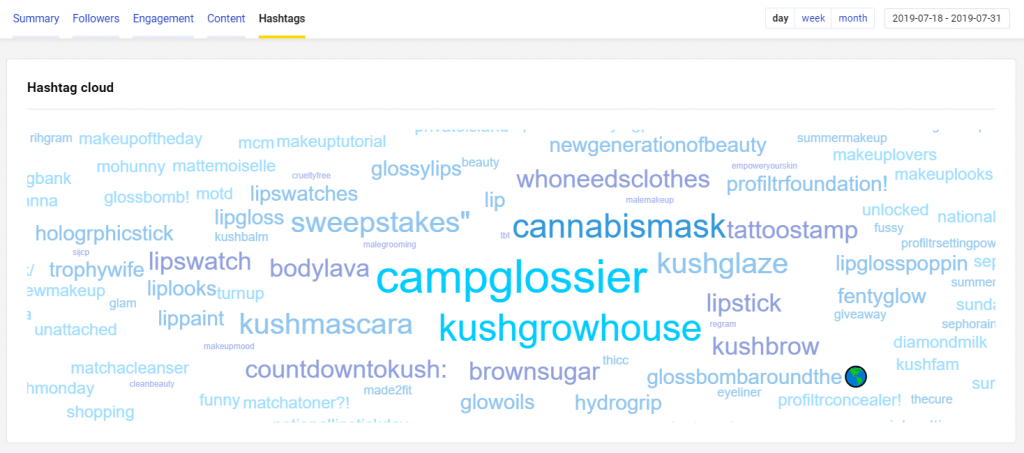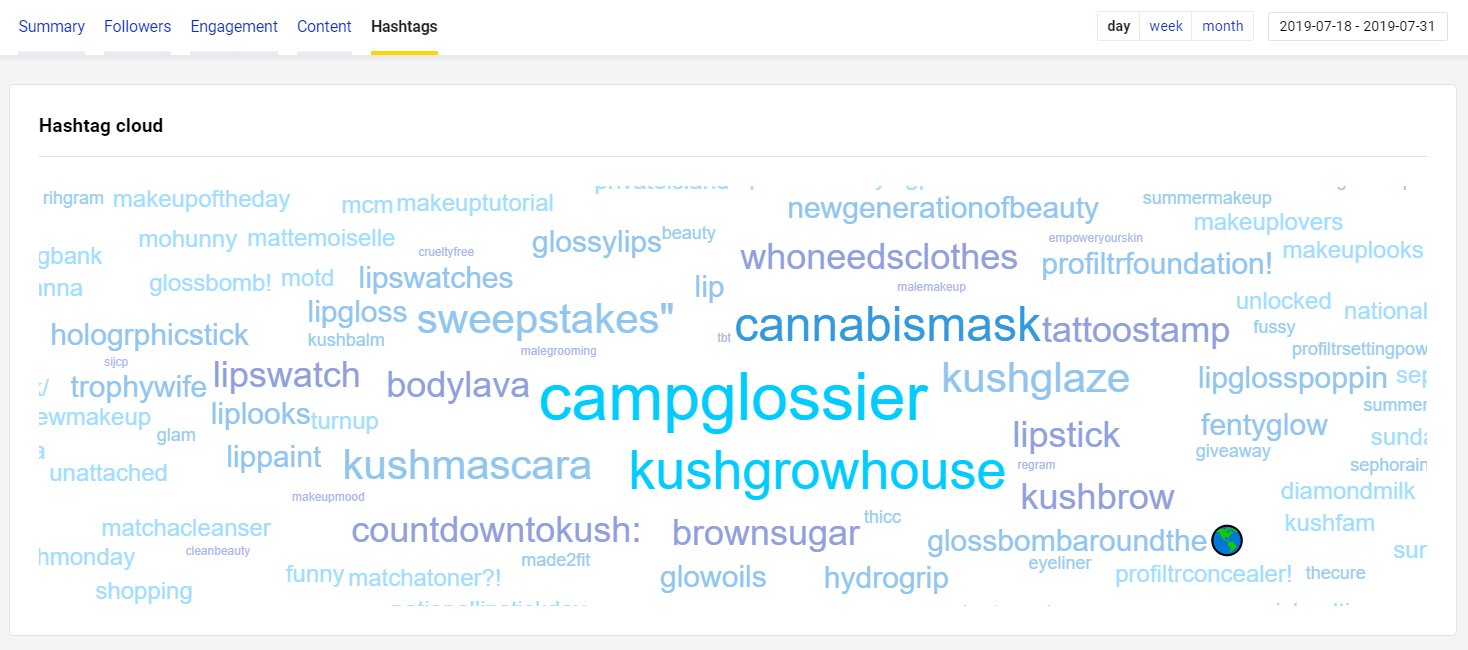 You can also see the performance in numbers. The hashtags' performance is conveniently broken down into metrics: posts, comments, likes, and Instagram engagement rate:

What about analyzing the performance of your competitors' hashtags on Instagram?
With NapoleonCat, you can analyze the hashtag performance of any public Instagram Business account, in the same way as you analyze hashtags for your own profiles.
Since you and your competitors share the same or a very similar target audience, tracking their best practices on social media can prove very useful in improving your own strategy.
In this particular case, you can spy on their best-performing hashtags and add them to your list.
Content is still king
In all honesty, these hashtag strategies will work best under one condition – your content must stand out. High-quality, unique content is always king. The reason I started appearing at the top of the hashtag browser is that I came up with a rare BMX trick.
So just try to be creative and original, but also do it in a relatable way. If more people can relate to something, it is more likely they will comment, share, and generate traffic.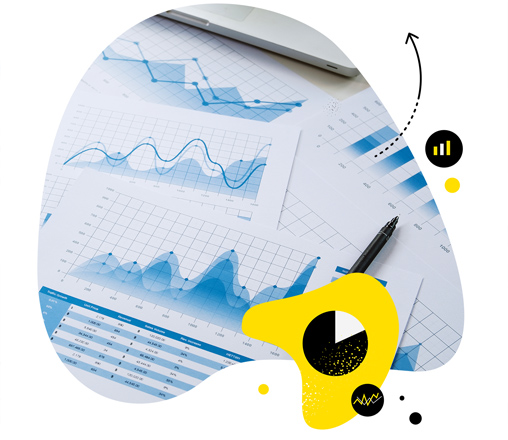 In-depth Instagram Analytics & Reports
Get in-depth Instagram analytics for your own accounts and for your competitors, too! Compare accounts side by side, and quickly generate and schedule reports – with an all-in-one social media tool.
Want to learn more about Instagram marketing? Check out our other articles:
---