Measuring Instagram statistics is one of the keys to success when it comes to growing your business on this social platform.
In this article, we'll show you how to track your Instagram follower growth over time and how your business can benefit from using analytics tools for Instagram.
What is follower growth rate?
Growing your business on Instagram from scratch may not be easy, but if you make the effort to develop a good strategy and produce appealing content, you will definitely start to see some movement on your business profile.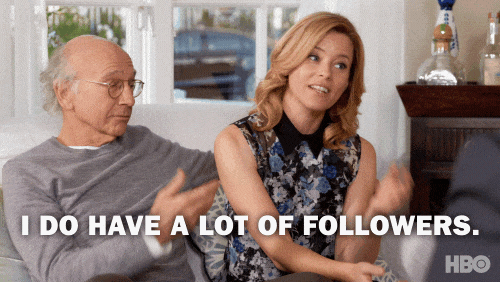 Regardless of whether you are only just developing a new Instagram account or you've already been driving business communication on Instagram for some time, sooner or later you will discover that just staying active is not enough to grow your results effectively. At this point, you will start to seek methods to optimize your account to better suit your business needs.
The first thing that comes to mind here is, of course, measuring your profile's performance, drawing conclusions, and making adjustments to your strategy. This is obviously the right thing to do on every social media platform, although many marketers focus too much on their content's performance and overlook a statistic that might be even more important. That's right – I'm talking about follower growth.
The follower growth rate indicates how fast your follower base grows and may have a positive or negative value, depending on the new follows vs. unfollows ratio. In other words – measuring it gives you clear information if your follower base is growing or shrinking. How do you calculate it, though?
Instagram follower growth rate is based on a simple equation. To make it work, you'll need the following data:
The number of followers at the beginning of the chosen time period
The number of new followers gained throughout the analyzed period
(new follows minus unfollows)
Once you have those written down, perform this simple calculation:

Example: Suppose you gained 100 new followers in a month. If you started out with 1000 followers, the equation would look like this:
Follower Growth Rate = 100/1000 ∗ 100% = 10%
That means your growth rate was 10% – which would be a very good result!
Why is follower growth an important metric to track?
The follower growth rate tells you if your content is reaching new people and grabbing their attention. You probably wonder, how is keeping track of this metric going to help? Looking into your fan base statistics will provide you with insights that can:
Help you assess your content strategy
Inspire adjustments to your communications
Show you if your business is growing at a satisfactory rate
Add another dimension to your competitive analysis
Now that you know how tracking follower growth can support your social media management efforts, let us have a look at how to actually do it!
Using native Instagram analytics tools
Instagram provides a built-in analytics tool for all Business and Creator accounts. You can access it by going to your account and clicking the 'burger' icon in the upper right corner of your screen. Then go to the 'Insights' tab and start exploring your profile's statistics.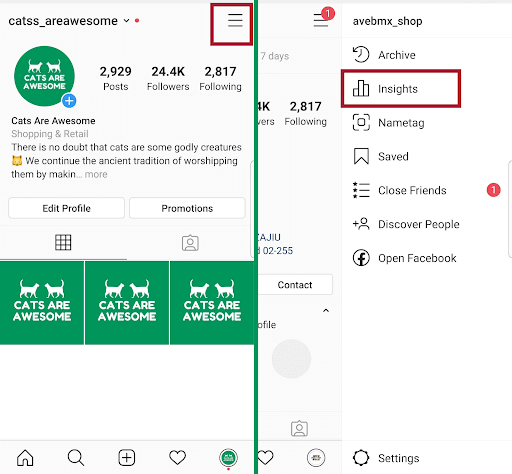 Instagram's free tool organizes data into three categories:
Each one of them gives you an insight into a different category of performance. Let us go through these functionalities one by one.
Content
The 'Content' tab shows your top posts and Stories, and breaks down their results by views and all possible user interactions. Instagram Insights let you sort through data by post type, publication time, and activity type. In the same tab, you can track the performance of your sponsored posts.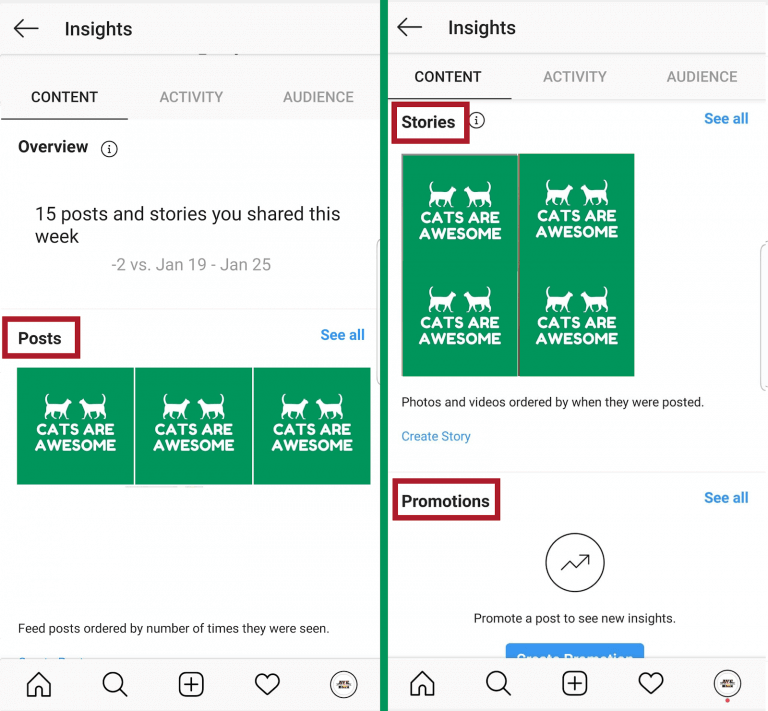 Tip: Identify your best performing Instagram post and Instagram Stories and try to think about what made them especially appealing to your followers. It may have been good copy or an outstanding photo – either way, if you manage to come up with a reasonable and verifiable explanation, you'll likely be able to implement similar ideas to your future posts.
Activity
In the 'Activity' tab, you can peep how Instagram users interacted with your content. This section contains data about reach, views, and interactions spread across the days of the week. Thanks to this you can calculate your engagement rate, which is one of the crucial metrics, as it indicates if the content you post is valuable and if Instagram users like to interact with it.
Although calculating ER accurately is tricky, there is also an easy way to get the approximate value. To do that, simply divide the average number of interactions that your profile has accumulated over one month by the number of followers you currently have.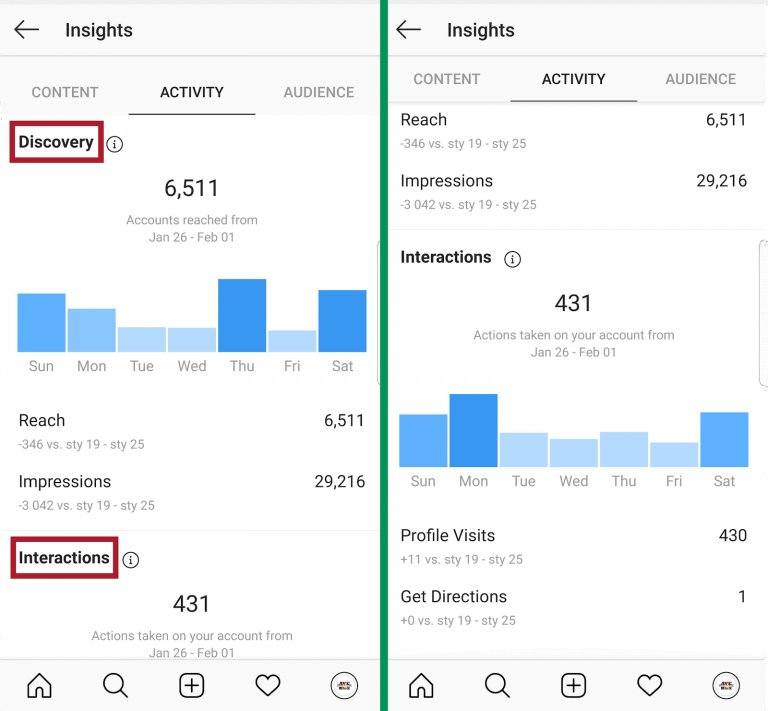 Many of you will probably ask: OK, but how do I know what a good engagement rate on Instagram is? There is no simple answer to this as it depends on multiple factors such as your industry, posting regularity, and a bunch of other variables. In general though, if your engagement rate is anywhere above 2% you can consider it a good result. For a benchmark more specific to your niche, you might want to analyze your competitors' engagement.
At this point, you might be wondering what the first two tabs of Instagram Insights have to do with follower growth. Keep reading to find out, the answer awaits at the end of this section.
Audience
The last tab of Instagram Insights is the most important one in terms of tracking follower growth. Open it to discover your followers' demographics and behaviors.
The first chart in this section shows you the dynamics of your follower base. In general, every entrepreneur would like to see high green spikes here, but the reality is not always so great. For most businesses, growth is quite slow.
That's the reason why you should check this metric quite often and follow its changes for a long period of time to draw conclusions. If a wild green or red spike appears there, make sure to check if you did anything special at that time. Consider this a type of strengths and weaknesses analysis as observing the follower growth dynamics gives you an idea about what types of actions you can take up to grow your account faster.
Moving on, scroll down to the Top Locations chart where you can check where your followers are based. This part of analytics is great for local businesses in particular. In this case, gaining followers from your area would for sure be more beneficial than getting tons of them from other cities, right?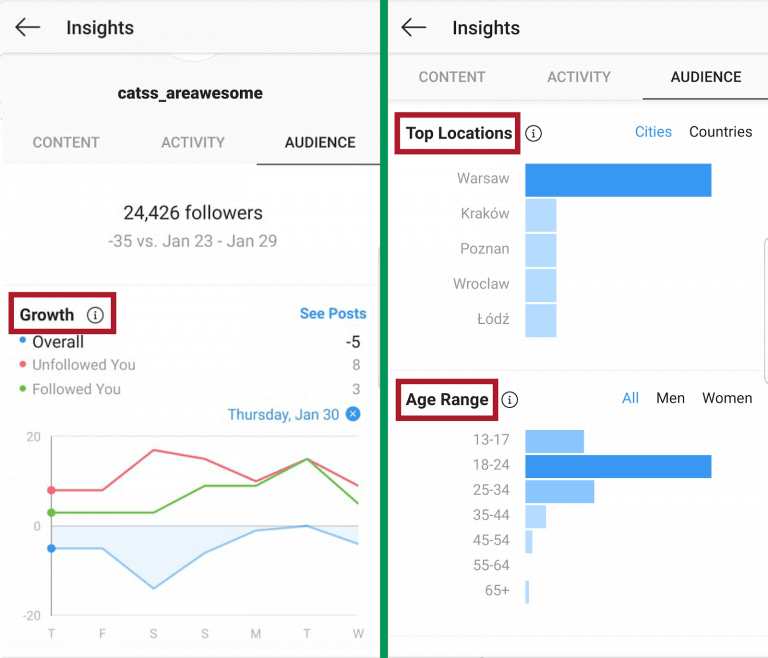 The same rule applies to the next two metrics: Age Range and Gender. Make sure to regularly check if the demographics of your followers reflect the type of your business and be ready to adjust your communication accordingly.
At the bottom of this tab lies arguably the most important chart. Many Instagram users struggle to figure out what are the best times to post. Look no further as the 'Followers' chart tells you when, exactly, your followers are the most active. Taking advantage of this information and posting at the right time will likely help you grow your organic reach and boost your other stats.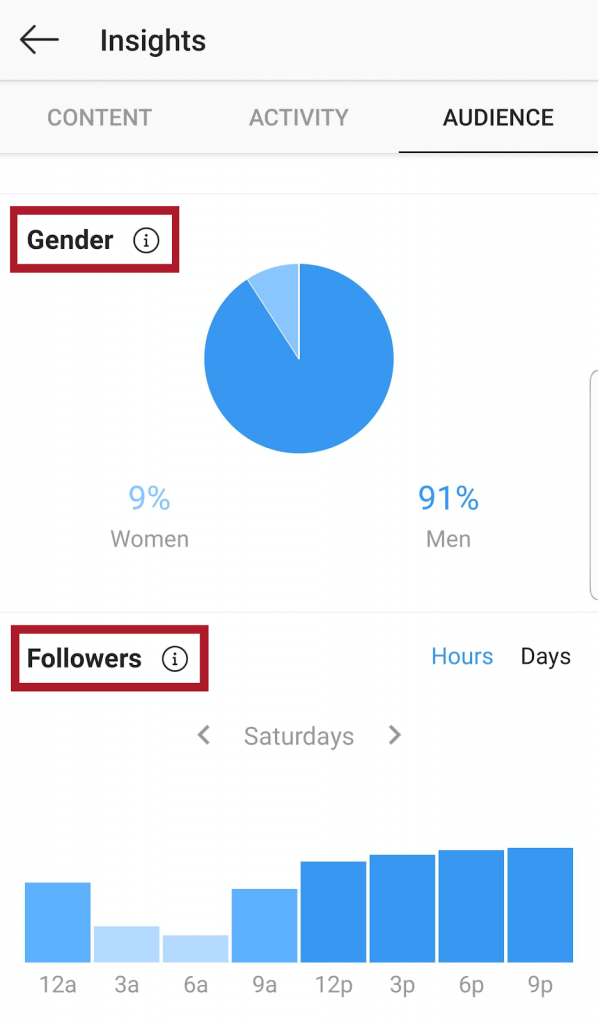 So why can't we just use the last tab of Instagram Insights as it contains the most valuable information and can work as an Instagram follower tracker app? Well, that's because only having a full overview of your account's performance will let you draw the right conclusions. It is not the sole metrics that matter, but the ability to find links and interconnections between them and your actions. If you manage to combine this tactic with other tricks for boosting follower growth, success is almost guaranteed.
Is Instagram Insights good enough?
The free Instagram tool for analytics is for sure a handy feature. Although, one might argue that it is pretty basic and doesn't offer any sophisticated functionalities. Let's have a quick look at the pros and cons of the Instagram native solution.
Pros:
Built into Instagram app = easy access
Free of charge
Covers the basic metrics, good for a start
Let's you track the results of your everyday activities
Cons:
Difficult to establish a broader view of your metrics
Most of the charts aggregate data only from the past two weeks
Tracks only your own account
Doesn't track your business across other platforms
Analysis has to be performed manually
Instagram Insights are definitely worthwhile, but this solution might not meet the needs of dynamically growing companies. Upping your social media game might require using external social media management tools that'll help your business flourish.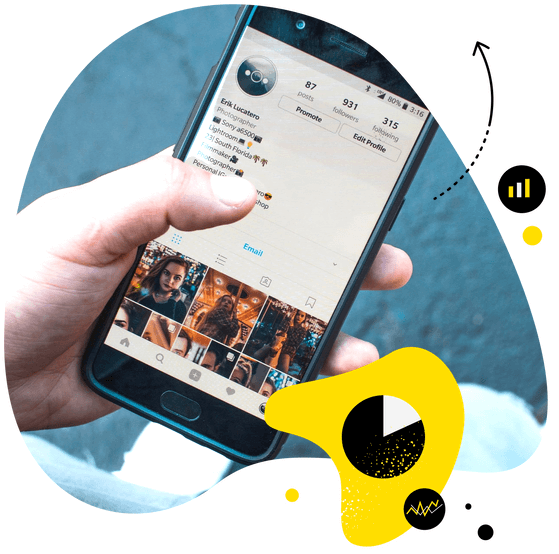 Instagram analytics
Measure your social media marketing results on Instagram and other platforms. Track competitors and improve performance using simple dashboards. Try it for free:
Try NapoleonCat free for 14 days. No credit card required.
Third-party Instagram analytics tools
If you're serious about using Instagram as a business management tool, then you definitely want to use its potential to the fullest. To achieve that, you must not leave anything to chance.
Using the best tools available is one of the cornerstones of success in any environment. And this also applies to Instagram analytics. Where Instagram Insights fall short, third party tools can deliver. NapoleonCat's Analytics tool is a great tool you should try, especially if you manage multiple accounts and use more than one social media platform for your business.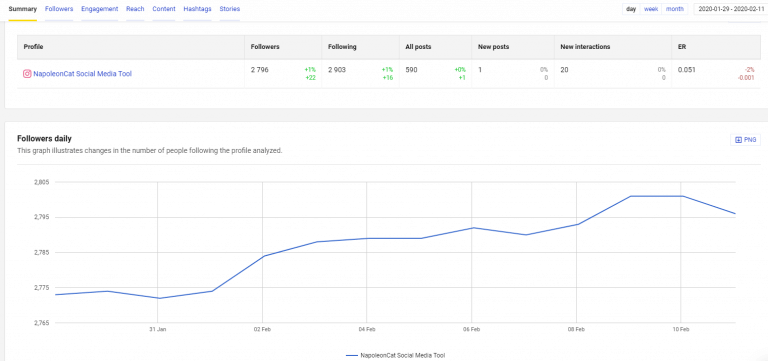 NapoleonCat lets you track your progress on multiple social networks: Instagram, Facebook, Twitter, LinkedIn, and YouTube. Having all of this in one place will save you a lot of time and effort as you won't need to jump between platforms to check your stats. Another handy function is the automated reporting that'll keep you as well as your team, business partners, clients, and stakeholders updated about all your key metrics.
Obviously, NapoleonCat gives you all the functions of Instagram Insights, and more. Measuring your social media reach and engagement, identifying top posts and the best times to post or learning about your audience demographics – all of this found in one intuitive dashboard.

One of the biggest drawbacks of Instagram's built-in analytics tool is the inability to compare yourself with your competitors. This might be especially frustrating when they're far ahead and you just can't figure out what they do better. NapoleonCat's comparative sets enable you to easily set up a comprehensive comparative analysis and peep your competitors' strategies so it is much easier to catch up and outrun others.
Don't use mass follow and mass unfollow apps – here's why
You may have also heard about Instagram follower bots – a seemingly quick way to gain new followers, which has grown especially popular in some circles of influencer marketing. These bots basically follow and unfollow users, making your profile seem like a ghost account. The bots' targeting system is based on hashtags, which can bring somewhat less valuable traffic to your account. But that's not the reason why we strictly don't recommend them. Using such Instagram bots is a direct violation of Instagram's terms of service and can get your account shadowbanned. You can read more about it in our article about Instagram bots here.
Wrap up
Summing up, getting your analytics right is just as important as putting in the effort to produce quality content. Keeping track of your follower growth and other metrics is crucial to manage your Instagram profiles, make educated future projections and maintain good results.
If you're just starting your business adventure with Instagram, get to know the native tool first. Once you get comfortable with different metrics, don't be afraid to try some third-party solutions. This is what will give you a significant advantage over countless competitors who weren't bold enough to invest in this type of solution. Good luck!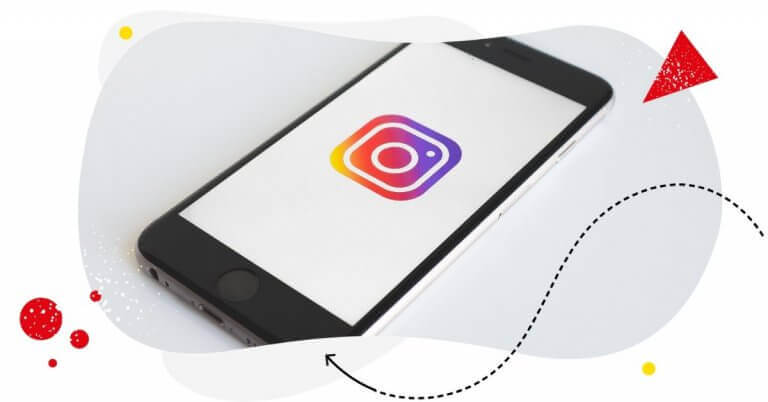 Track Instagram Follower Growth Over Time
Set a completely custom time range for your Instagram analytics in NapoleonCat. Track your own profiles and your competitors, too! Try it for free:
Try NapoleonCat free for 14 days. No credit card required.
For more Instagram knowledge, check out our other articles: