Do you know if your social media marketing actually works? If you're using a social media analytics tool, you probably do. (Why are you here then? ;)) And if you don't, or feel like you don't know enough, here's a list of social media analytics tools you should look into.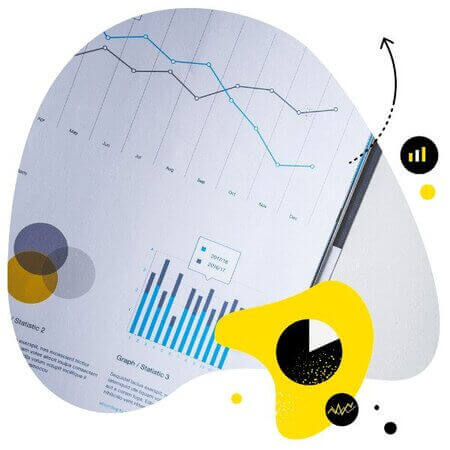 In-depth social media analytics & reporting tools
Analyze your performance across different social media platforms. Generate reports for your own profiles and your competitors', too. Try it for free:
Try NapoleonCat free for 14 days. No credit card required.
Why you need social media analytics tools
There's a saying that if you don't measure something, you can't improve it. And, as with most sayings, there's a lot of truth in it.
So, to put it in very simple terms – you need a social media analytics tool for your social media to work better. Starting with knowing how it really affects your business – and what you can do about it.
Gone are the days when it was enough to just "be" on social media as a company. (Okay, they might not be entirely gone, unfortunately. But I think you know what I mean.) These days, social media is an integral part of marketing and customer service. And as such, its effectiveness and business impact can – and should – be measured.
Looking closer at your social media analytics, you'll know more about:
What to post based on what gets people engaged and how to shape your social media strategy going forward.
What time to publish your social media posts to reach your target audience.
What social media channels to post it on (a.k.a. where your audience hangs out and where you can reach them).
What not to post because it falls flat with your audience.
Your audience themselves, with a plethora of demographic data (that also helps with ad targeting).
And the impact of all of it on your website traffic, your sales, and – ultimately – your bottom line.
And when you have all that social media data, you can strategize, plan, and improve. And make the most of what social media has to offer – both for your company and your customers.
So, let's take a look at some of the best social media analytics tools out there and how they can help with your social media efforts by letting you measure social media data. (Yes, lots of social media in this sentence. You can thank Google.)
The best social media analytics tools
NapoleonCat
Besides being a comprehensive (yet affordable) social media management suite with publishing, moderation, and automation capabilities, NapoleonCat actually includes quite robust social media analytics and reporting tools.
Here are some of the things you can do with it:
Track key metrics on your social media channels over a custom time period, including engagement, reach, follower growth, etc. NapoleonCat analytics works with Facebook, Twitter, Instagram, LinkedIn, and YouTube.
Compare social media channels side by side (including with your competitors' channels.)
Track your competition – you can use NapoleonCat to follow any public social media account and analyze what your competitors are doing and how their (which is probably also your) audience responds.
Monitor your team's activity and response times to improve your customer service on social media.
Plus, create customizable, automated reports (including competitive reports) for Facebook, Instagram, and Twitter, including for multiple accounts. And schedule them weekly, monthly, or quarterly to be sent to your boss, team members, or your clients. And that's without ever touching an Excel spreadsheet. (Which is a huge plus if you ask me.)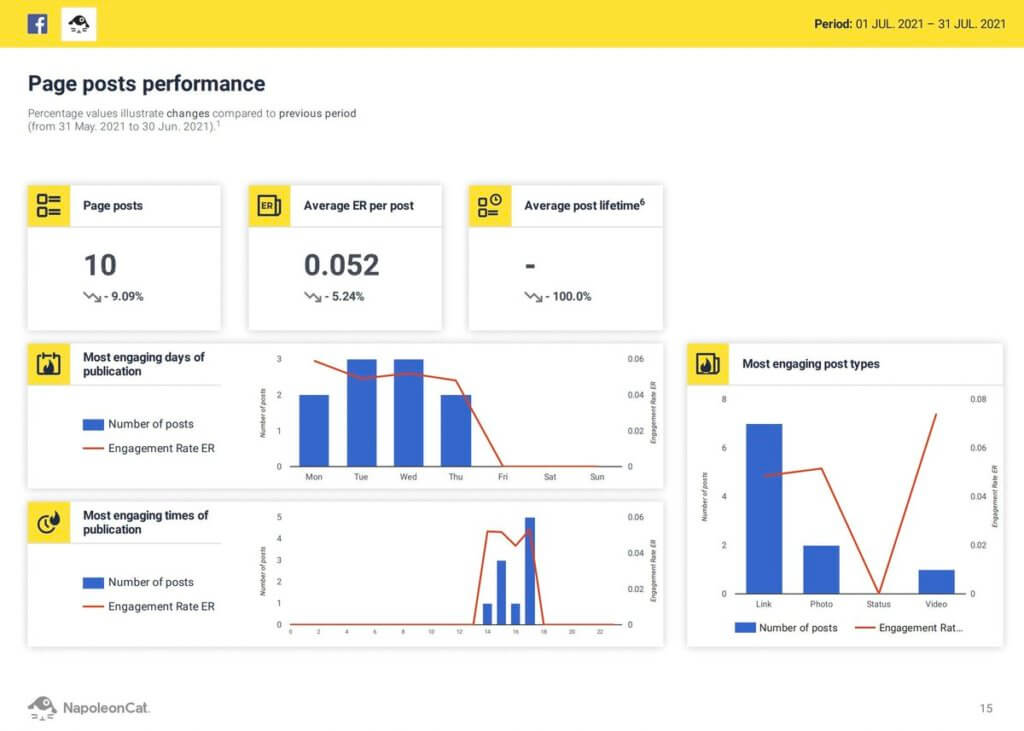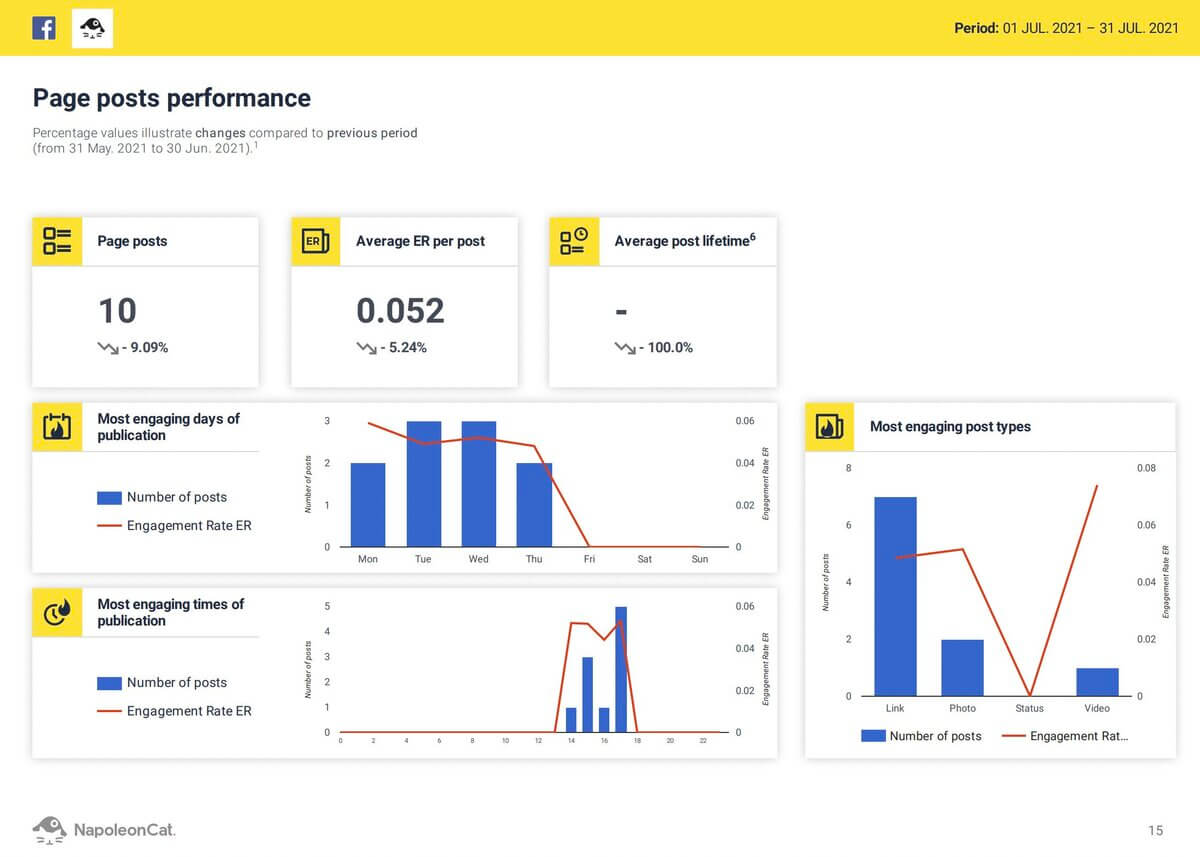 You can choose to use NapoleonCat as a purely competitive research tool or combine it with social media management tools altogether, including analytics. The amount you pay with your selected plan depends on the number of users and the number of social media profiles you want to analyze and manage. Here are all the deets (and a 14-day free trial if you want to try before you buy.)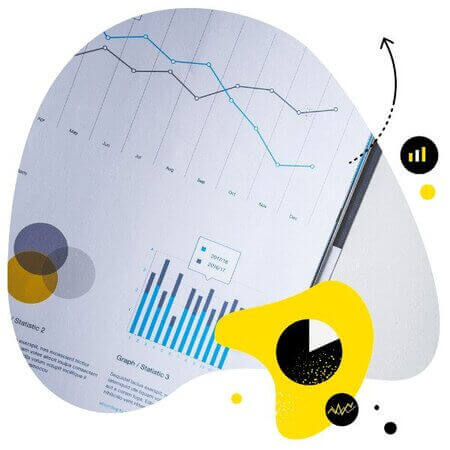 In-depth social media analytics & reporting tools
Analyze your performance across different social media platforms. Generate reports for your own profiles and your competitors', too. Try it for free:
Try NapoleonCat free for 14 days. No credit card required.
BuzzSumo
BuzzSumo is an analytics tool focused on content discovery and research as well as PR and brand reputation. It's used by marketers to inspire their content strategy, look for topics people talk about, and monitor brand coverage across online channels (and not just social media). It includes features such as:
Competitor analysis
Content discovery and trends
A keyword tool with search trends and cost data for PPC campaigns
Top influencer research for your brand
Tracking mentions, and backlinks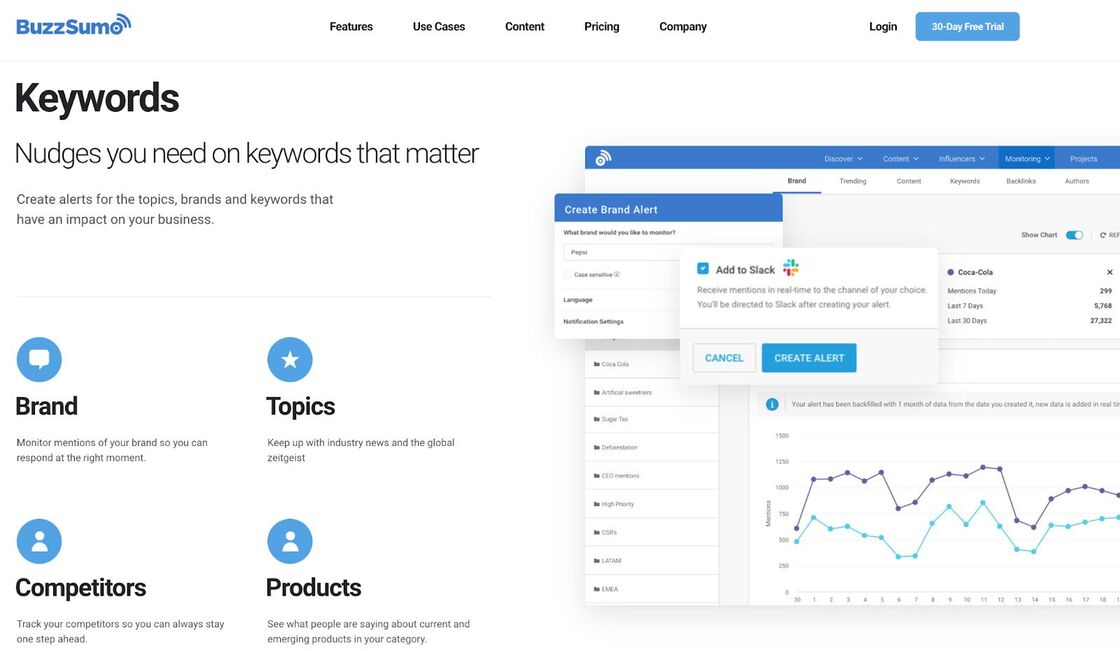 There are several pricing plans depending on the features you're looking for and the number of users, with as many as 30 users in the Enterprise plan.
Keyhole
Keyhole is a social media analytics tool letting you analyze multiple profiles, brand mentions, campaigns, and influencers. It boasts features such as:
Social media profile and competitor analysis, including best times to post, audience analytics, engagement, and performance
Social media trends
Influencer tracking
Plus scheduling and publishing content in a visual calendar and team collaboration tools like adding users, managing permissions and approvals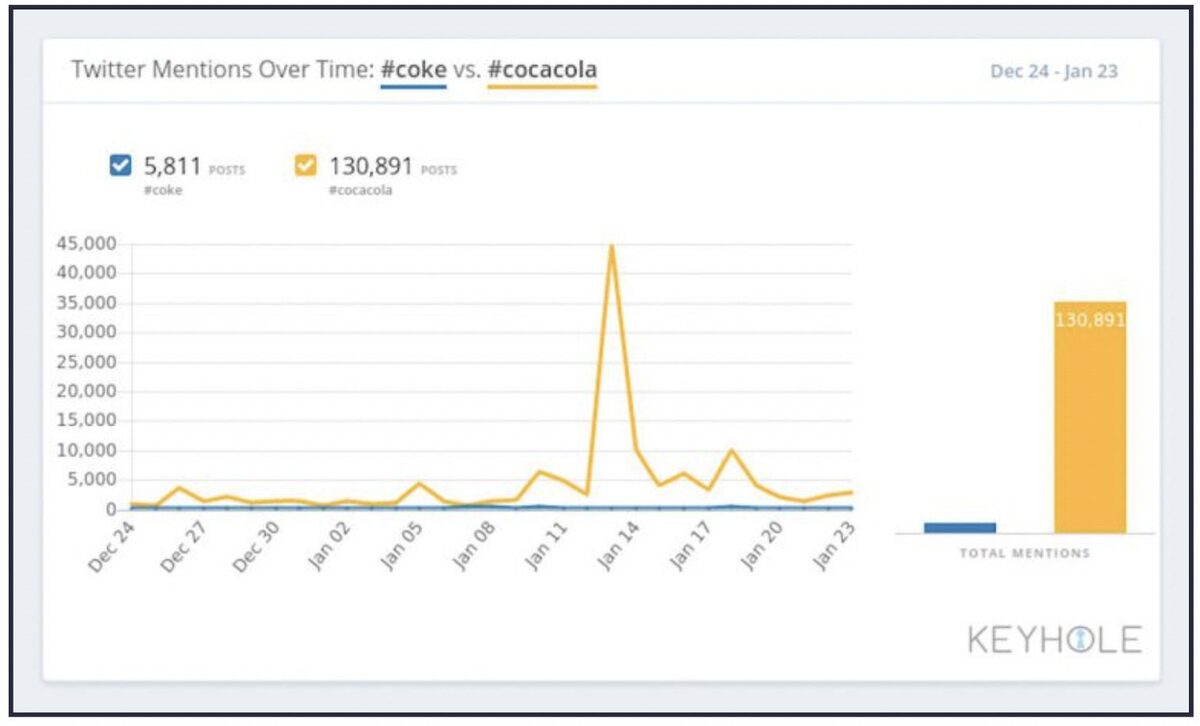 You can go for just the analytics or combine it with other capabilities. The team plan for profile analytics starts at $159 a month for three users.
Brandwatch
Brandwatch Consumer Intelligence is a comprehensive analytics platform meant to help with market research, crisis management, and social media management, too. The tools it provides include:
Customizable analytics dashboards
AI-powered image analysis and search
Instant reporting exportable via Excel, PPT, PDF, or the Brandwatch API
Online review research
Sentiment detection
Plus a social media management suite with a content calendar and social inbox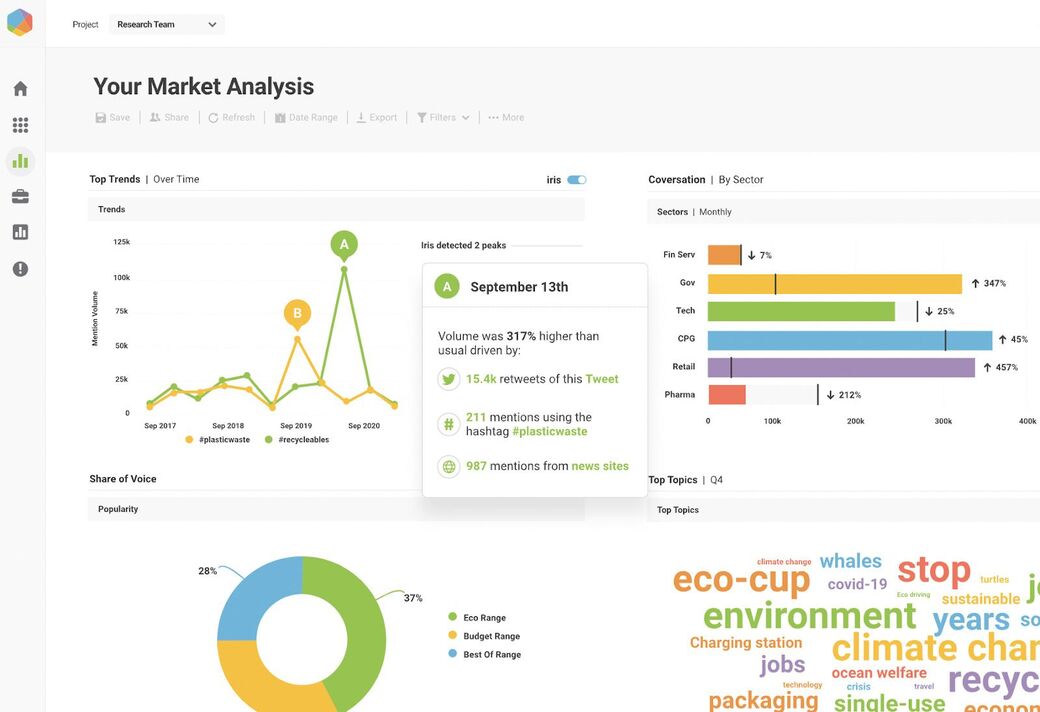 Apart from a basic plan meant for 1-2 users, Brandwatch is addressed to bigger marketing teams and companies, and to find out the price for your company, you'll need to set up a demo with their representative.
Cyfe
Cyfe calls itself "All-in-one business dashboards," and that's what it provides: customizable dashboards for various business use cases. It lets you monitor your clients' social media analytics along with providing Google Analytics, Google Ads, and other types of dashboards.
When it comes to social media platforms, you can do things like:
Analyze performance on Facebook, YouTube, Twitter, Instagram, and LinkedIn
Analyze Facebook Ad campaigns
Import data from sources like Google Sheets or a .csv file using custom widgets
Select from different data visualization methods if you prefer Gantt over a pie chart, etc.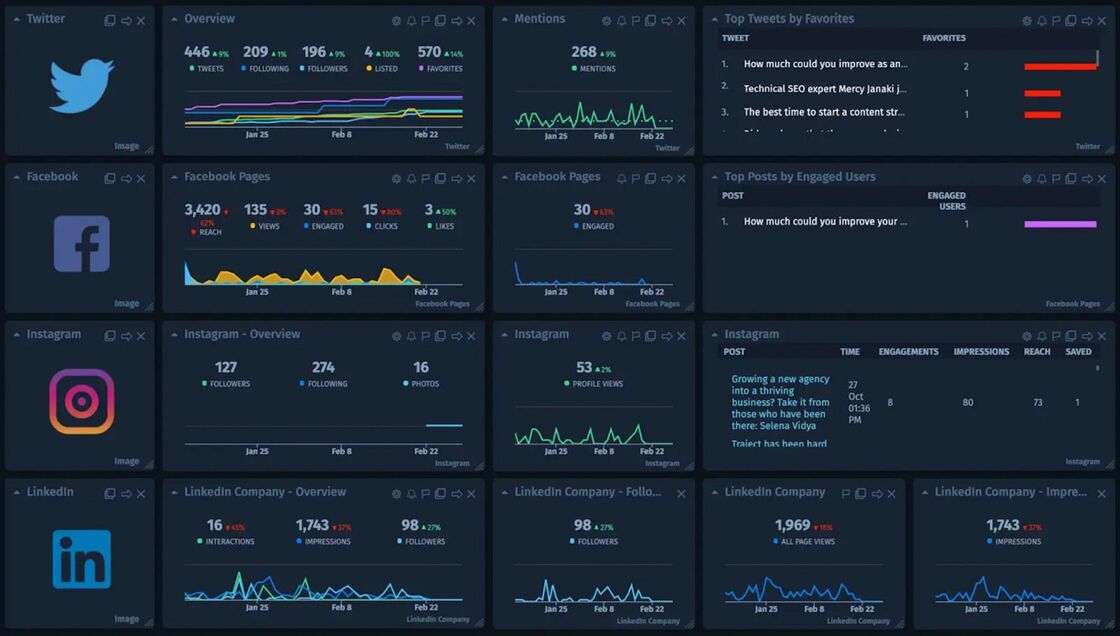 You can use the platform starting from just one user up to white labeling the solution and offering it to your clients in the Agency plan.
SparkToro
SparkToro is a great social media analytics software if you really want to understand your target audience. It follows your visitors' behavior online and analyzes their demographics for a complete picture of your audience and their preferences. Its features include:
Demographic data such as age, gender, interests, geolocation, and even political leanings
Popular hashtags and keywords they use online
Online channels they engage with the most
Tracking publicly available email addresses and social media accounts
Spreadsheet data exports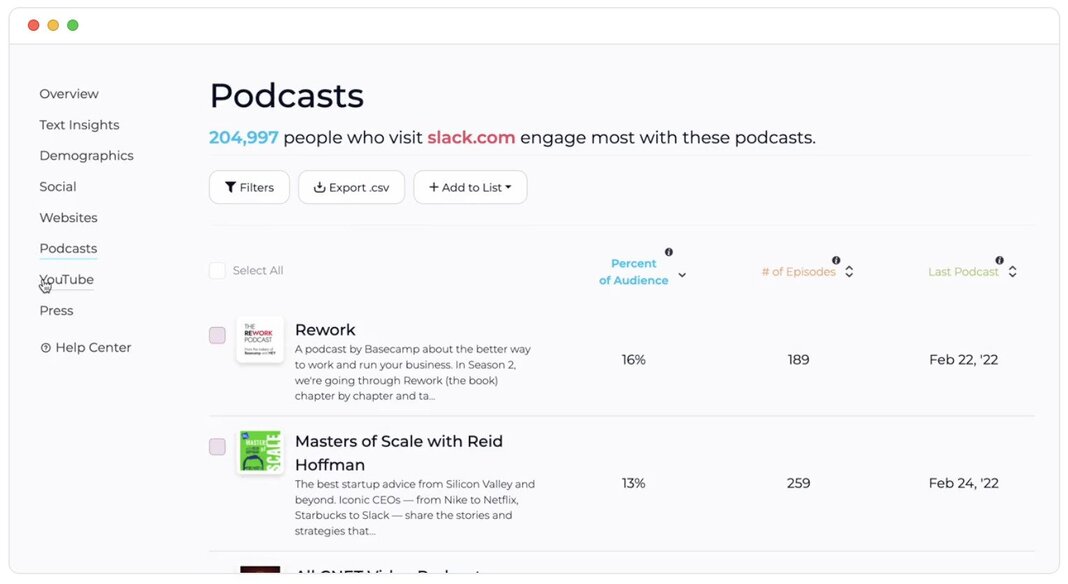 SparkToro has a free basic plan for personal use, but if you want to go beyond just one user and share it with your team, the paid plan starts at $150 a month for smaller teams and agencies.
Audiense
As you might suspect from its name, Audience is another tool to analyze your, well, audience. The platform is made up of two separate products: Audiense Insights for analytics and Audiense Connect for managing your Twitter communications. So if your main focus for your marketing and customer service is Twitter, you should definitely have a closer look.
When it comes to its analytics capabilities, the tool lets you:
Create customer personas based on data
Segment your audience based on interests
Gain insights into audience psychographics, demographics, personality, and content they like
Identify influencers to work with
Target your Twitter ads better with detailed insights into your Twitter audience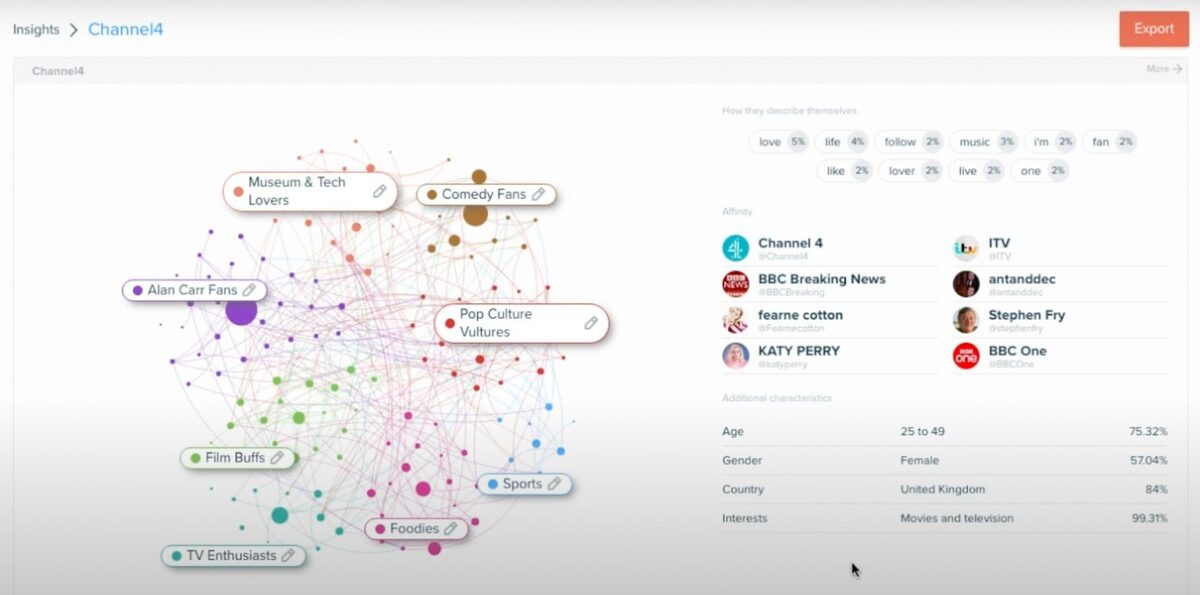 Pricing is based on which product you select and things like the number of reports. For larger teams, you need to set up a meeting to discuss your needs.
Digimind
Digimind is another example of an analytics tool complete with social media listening and influencer marketing tools.
Some of its features include:
Brand reputation tools complete with tracking brand mentions and reach, conversation volumes, and sentiment
Competitive analysis
Analyzing content and campaign performance across your social media channels
Consumer insights with demographic and behavioral data you can use to create your buyer personas and optimize your customer journey
Market trend identification
Influencer analysis and measuring the ROI for your influencer marketing campaigns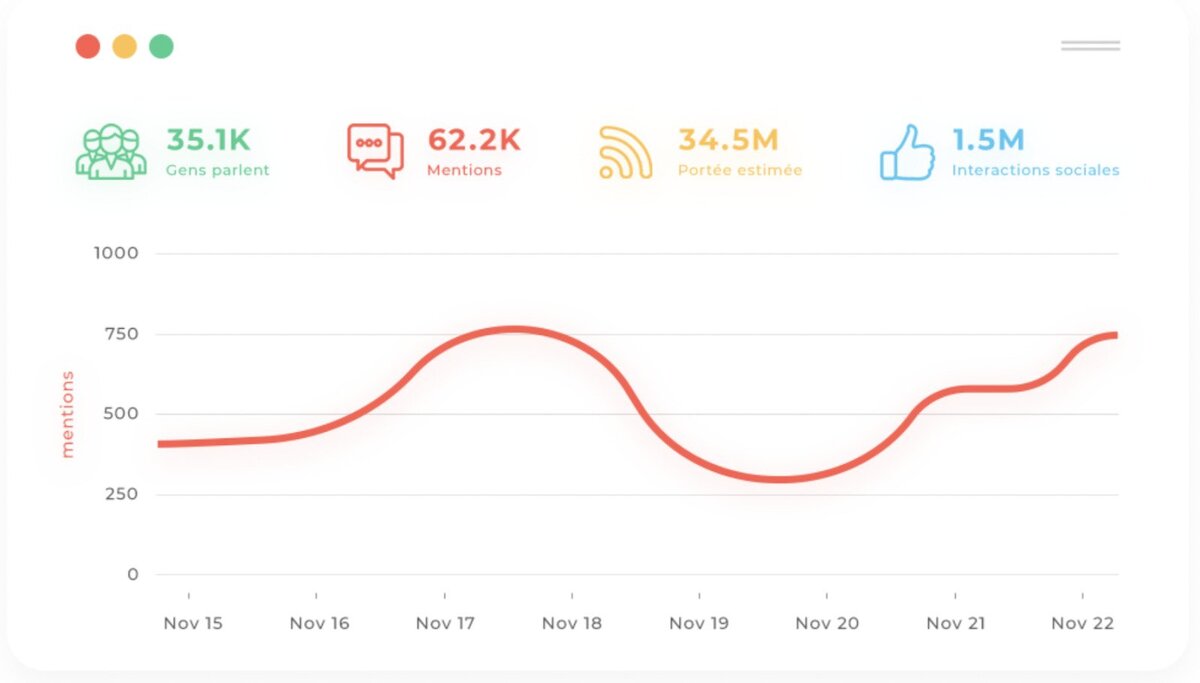 There's no info about pricing plans on their website, so you need to reach out to them directly and set up a demo if you want to have a look for yourself.
Mentionlytics
Mentionlytics is a social media monitoring and analytics platform designed for startups, large enterprises, and agencies alike. Like many similar platforms, it combines social listening with analytics capabilities, letting you:
Track online brand mentions along with engagement, reach, and sentiment
Identify brand ambassadors and trolls
Create a social media analytics report including mentions across social media networks and sentiment analysis, the share of voice, and influencer reports
Track all major review sites including TripAdvisor, Booking.com, Google reviews, and Facebook reviews in one dashboard
It also includes a publishing tool for Twitter, Facebook, and LinkedIn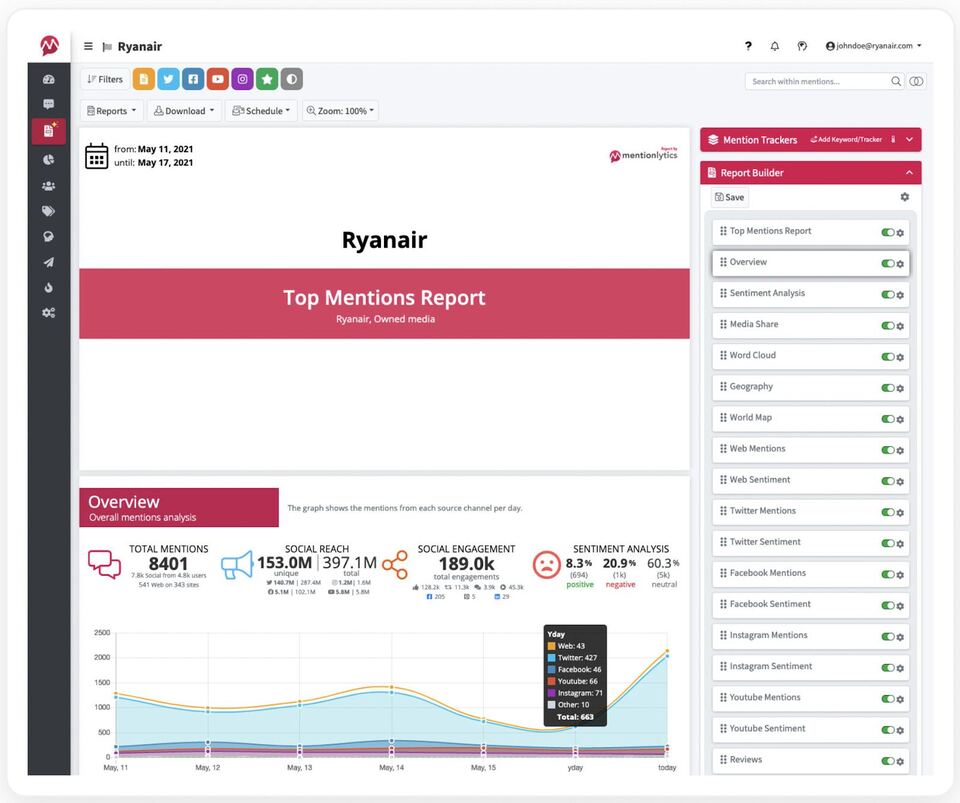 Pricing is based on monitored keywords and the number of users, starting at $49 a month for small teams of up to 5 people.
RivalIQ
Unlike some of the more comprehensive tools above, RivalIQ is specifically focused on social media analytics alone, including:
Competitive benchmarking across social media profiles
Content performance analytics along with best time to post and hashtag analysis
Social media audits tracking organic and paid content performance, detecting sponsored content, and monitoring Twitter mentions
Social media reports you can export and schedule to send automatically

Plans start at $239 a month for just one user account and 10 tracked companies. The higher the plan, the more historical data you can retrieve (up to 24 months for the highest plan.)
Social media built-in free analytics tools
Naturally, most social media platforms offer native analytics dashboards. These are free and often come with basic features that allow you to track performance. If you are a social media marketer, you may need to use a more advanced third-party tool. The built-in social media dashboards though are enough to get you started.
Meta Business Suite Insights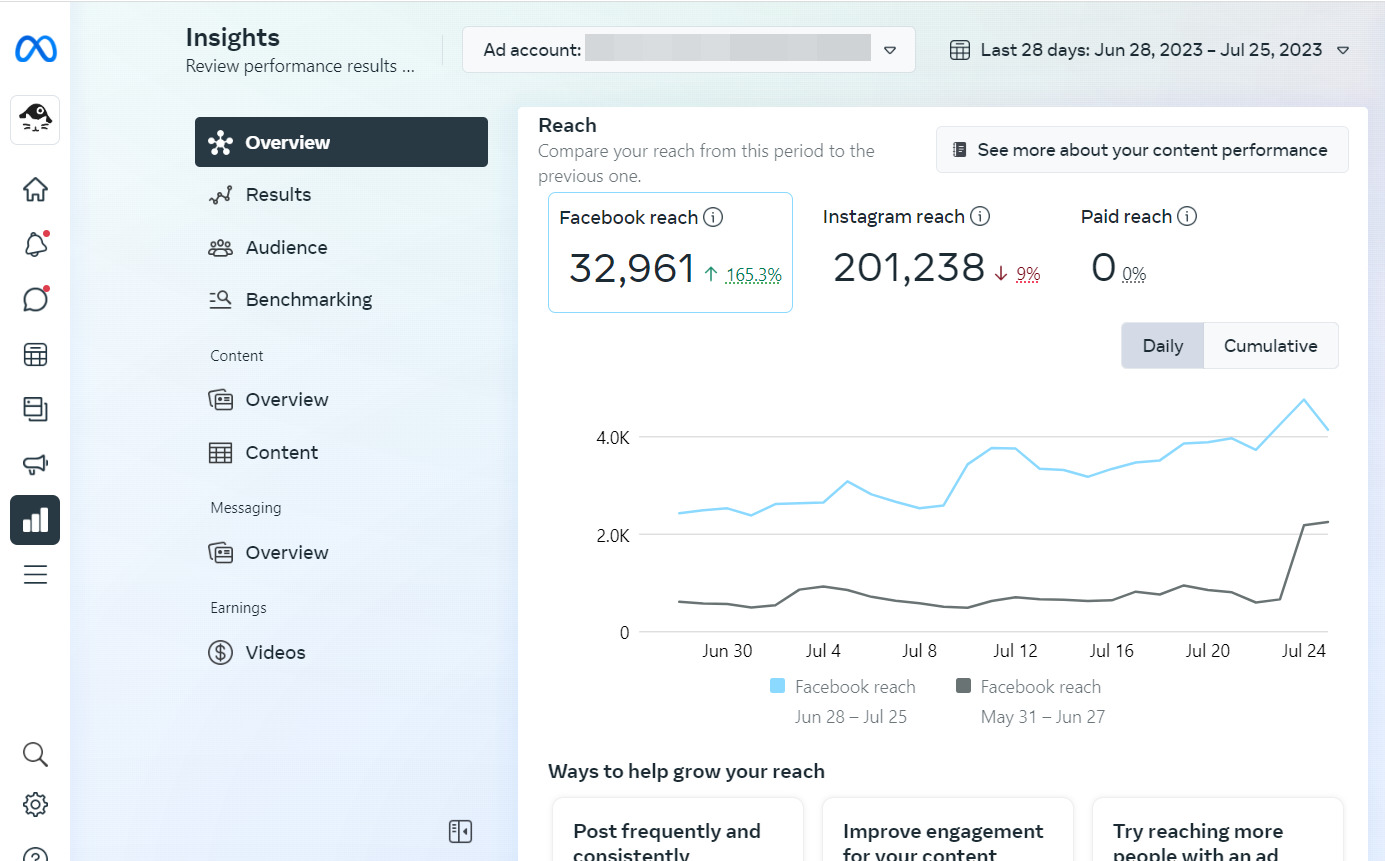 Meta Business Suite Insights help you track your organic and paid social media efforts across Facebook and Instagram in one place. Some of the available metrics include:
Facebook Page and Instagram business profile performance, including reach trends;
Engagement indicators such as the number of likes and comments;
Ads cross-platform spend;
Demographic overviews of people who like your Page and follow your Instagram business profile.
Instagram Insights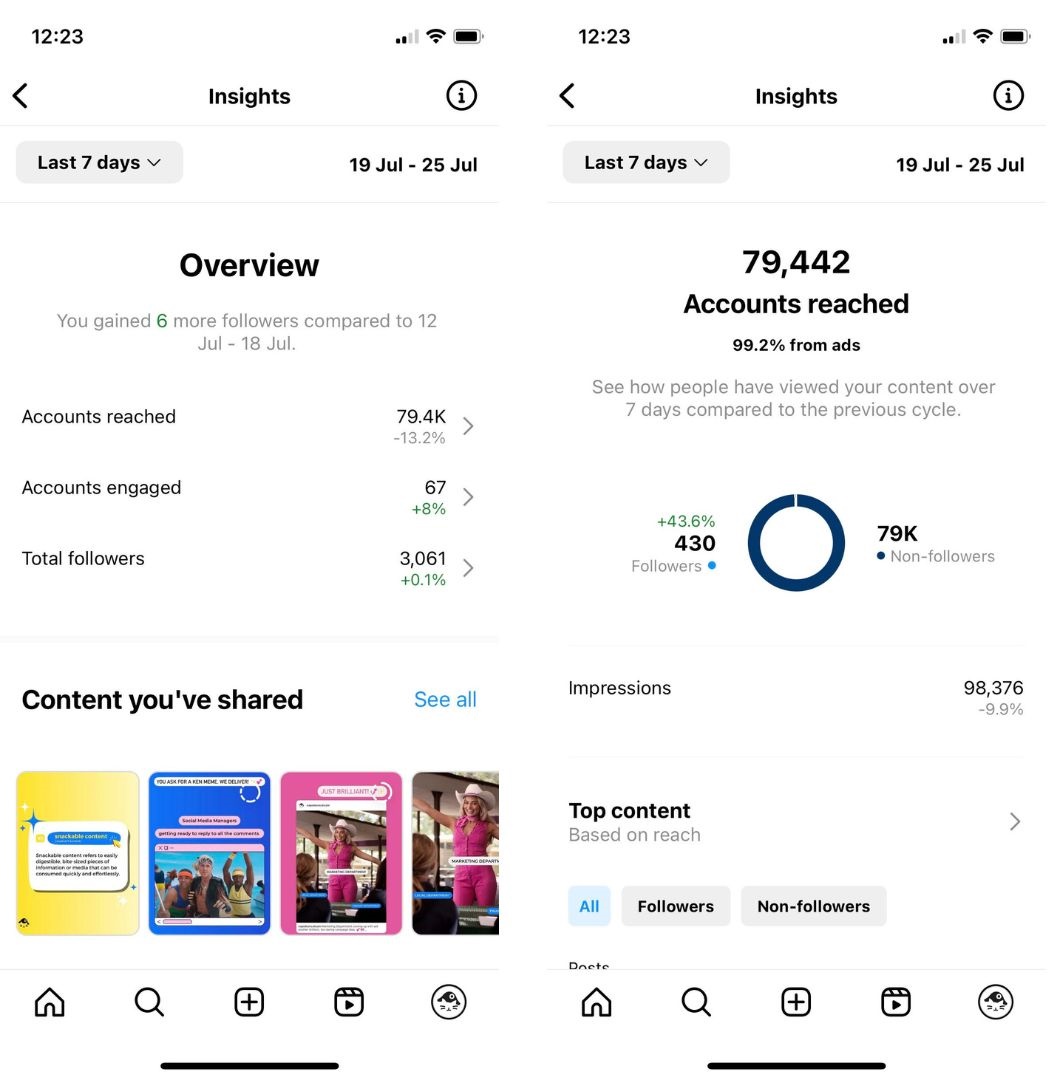 If you have an Instagram business account, you can easily access in-app analytics. It comprises three main sections – reach, engagement, and audience. 
Here are some of the metrics that you'll find using Instagram's free social media analytics tool:
Top performing content;
Engaged audience (both followers and non-followers) from up to 90 days back;
Followers growth from up to 90 days back;
Followers' top locations and age breakdown.
Read this article to learn more about Instagram Insights.
TikTok Analytics
Similarly to Instagram, you can access the built-in analytics for your profile and videos if you have a TikTok business account. TikTok Analytics allows you to track metrics such as: 
Follower demographic data, including age and location breakdown;
The number of times a video has been watched in full;
Live video insights, including how many diamonds you've earned;
Profile views, video views, number of likes, comments, and shares.
LinkedIn Analytics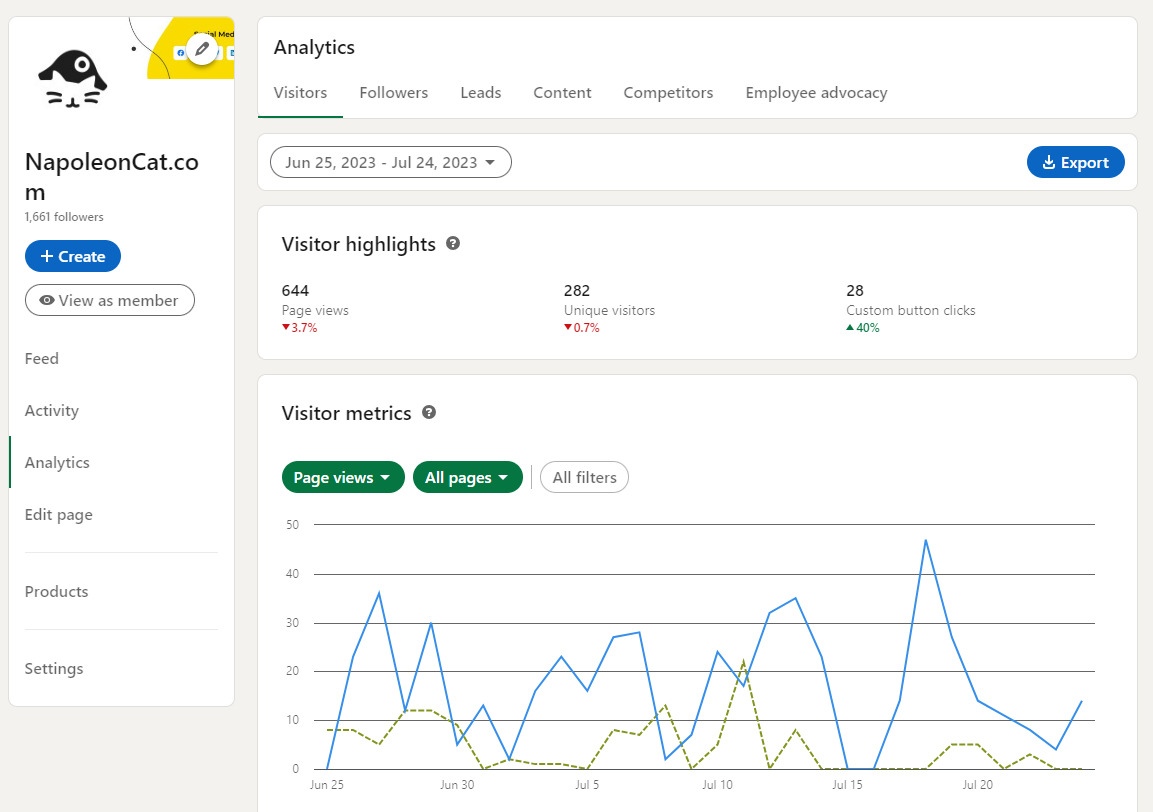 LinkedIn Analytics is available for all Page admin roles. Using this native tool, you can analyze content, followers, and visitors. Track metrics such as: 
Page views, unique visitors, and custom button clicks;
Demographics and sources of followers and visitors;
Engagement details for individual posts;
Information about members who filled out a lead gen form for your Page.
YouTube Analytics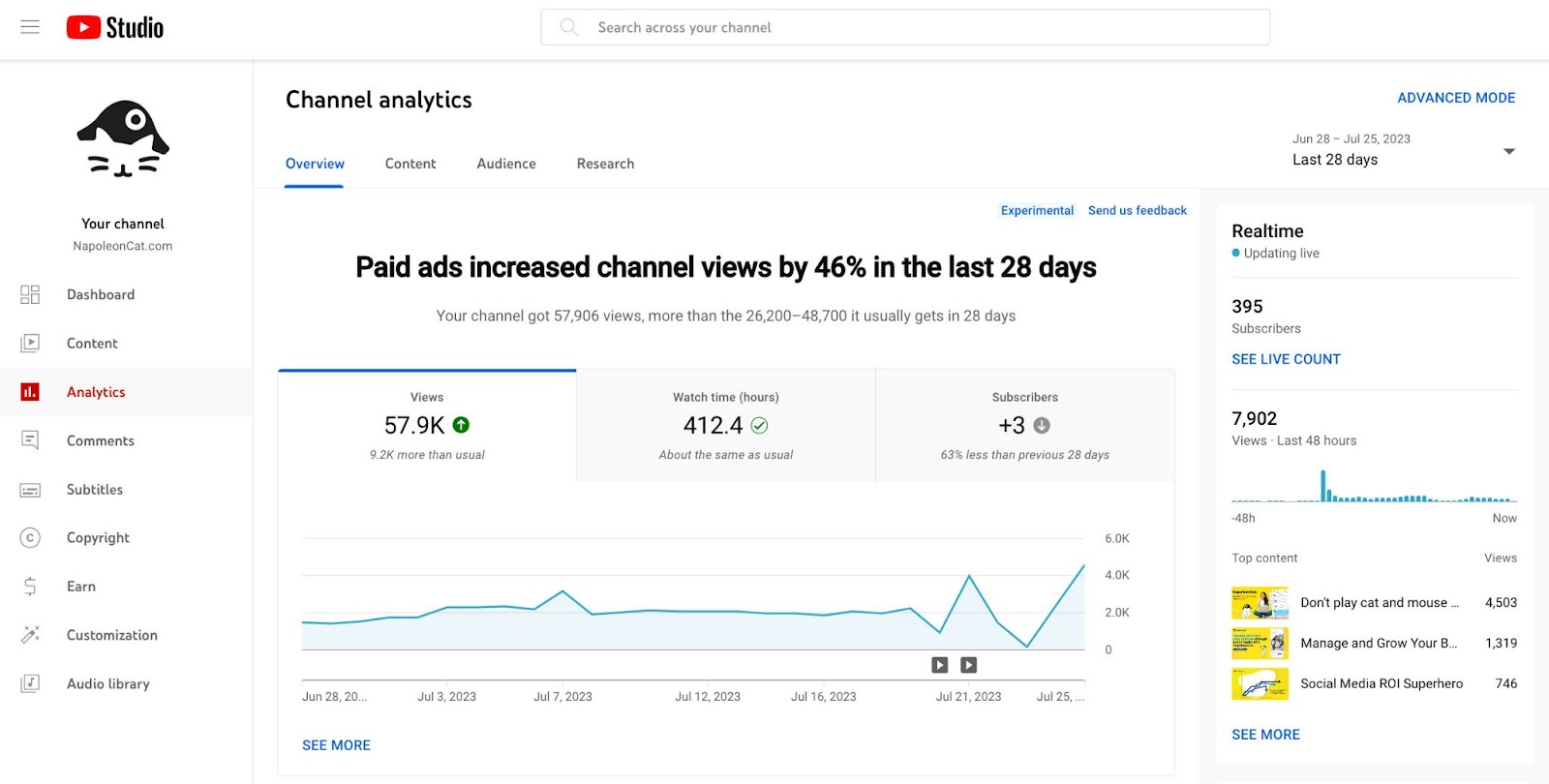 YouTube Analytics is an integral part of YouTube Studio. As a channel owner, you can discover the following:
How viewers found your content, including videos, Shorts, and live streams;
How different parts of your video held viewers' attention;
The number of subscribers that you gained from different content types;
Referral traffic coming from websites that link to videos from your channel.
Pinterest Analytics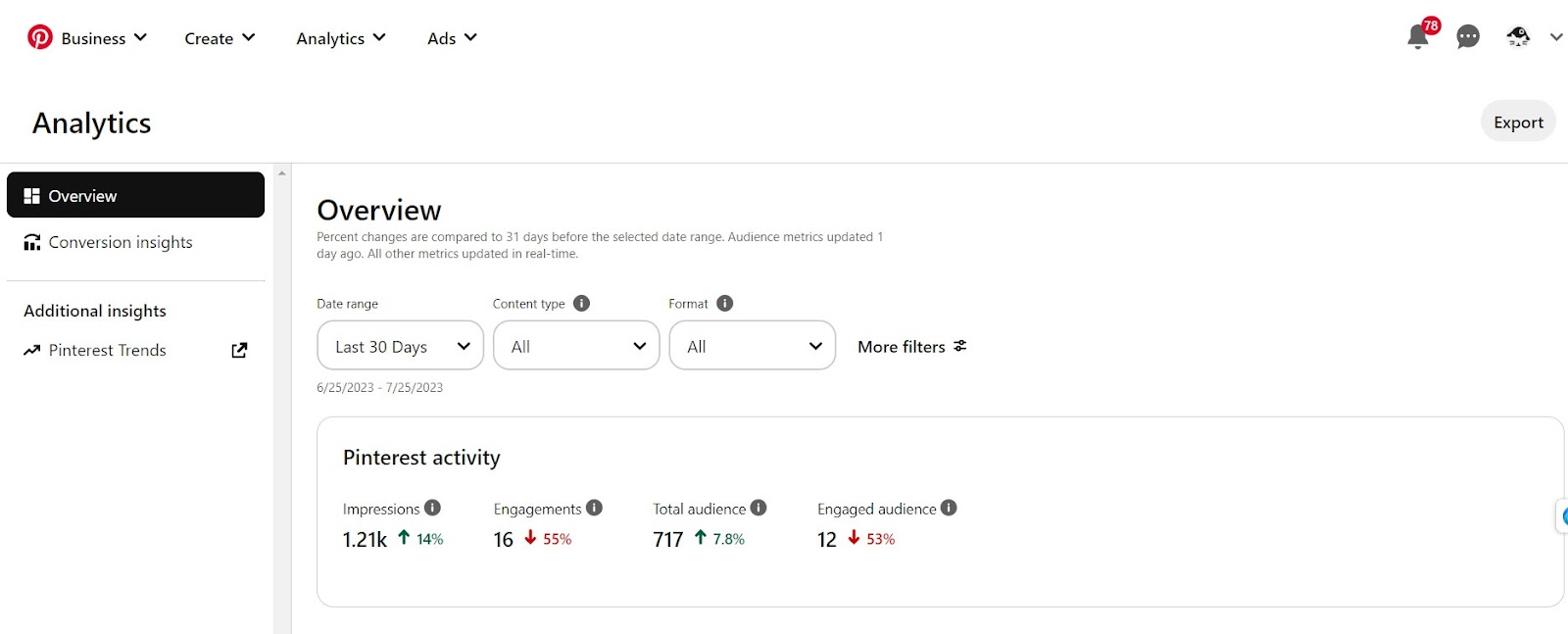 Pinterest Analytics is a free feature available for all business account owners. It allows you to track and analyze key metrics for your organic and paid content: 
The total number of engagements on your Pin, including saves, outbound clicks, and carousel card swipes;
The number of people who have engaged with your Pins;
The number of followers and profile visits.
Social media analytics tools FAQs
What are the benefits of social media analytics?
Social media analytics tools allow you to track wins and quickly spot improvement opportunities. Moreover, you can learn about your audience's needs and preferences and what kind of social media marketing campaigns influence their purchasing decisions.
Data lets you craft personalized social media content, improve your strategy, and enhance customer experience. Social media analytics is necessary to assess your team's social media efforts and use the marketing budget effectively.
What is the best way to track social media analytics?
Social media platforms offer free native analytics dashboards, which are good for starters. But if you want to track data for multiple accounts from different platforms, using a social media analytics tool like NapoleonCat is best.
How can you use social media analytics tools to grow your business?
Social media analytics tools are valuable resources that can significantly contribute to the growth of a business. Here are several ways to leverage these tools effectively:
Identify which content resonates most with your audience;
Understand your audience's demographic information, interests, and online behaviors, and target similar audiences;
Analyze competitors' social media activities to identify trends, successful strategies, and gaps in the market;
Find optimal posting times and schedule posts strategically to increase visibility and interaction with your target audience;
Identify influencers and brand advocates to amplify your brand reach and credibility;
Assess the effectiveness of your campaigns and calculate the return on investment.
Your turn
Yes, not everyone has an analytical mind or even likes numbers (the sheer fact of being a social media manager doesn't guarantee a love of spreadsheets, does it?) But that's why there are tools to do the heavy lifting for you and your team – so that all you have to do is a few clicks to generate a custom report your client or boss will be impressed with.
Not to mention a report that will actually let you do better marketing and customer service on social media.
(And you can actually try right now.)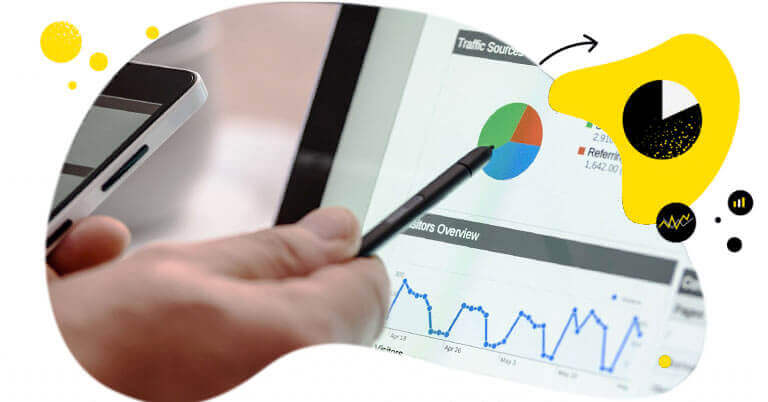 In-depth social media analytics & reporting tools
Analyze your performance across different social media platforms. Generate reports for your own profiles and your competitors', too. Try it for free:
Try NapoleonCat free for 14 days. No credit card required.
You may also like: