With 1 billion monthly active users, Instagram has become one of the most impactful social media platforms. It's known to drive user engagement through the roof.

In fact, this social network generates the highest engagement rates.

But how do you measure engagement if you don't have your Instagram business account switched on?
In this article, you'll find:
a step-by-step guide on how to switch to an Instagram business account
bonus step: how to change Instagram to a business account on desktop
additional features you can gain from a business account
This one simple move can really improve your Instagram marketing – switching your personal account to a business profile brings you to a land of opportunity in terms of measuring and analyzing your performance.
Today we're going to show you how easily you can switch your personal account to an Instagram business profile. We'll also dive into the reasons as to why you should at least try it out!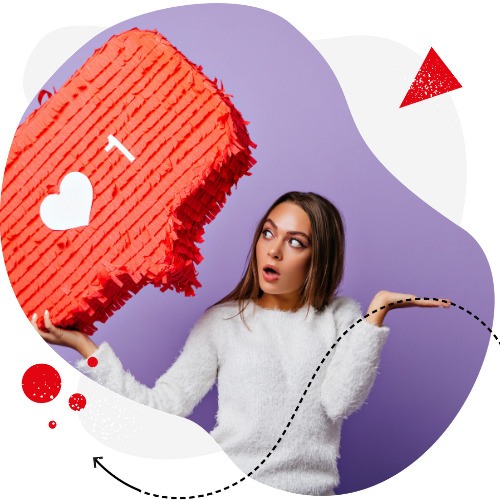 Can't see likes on Instagram?
Use NapoleonCat and check the number of likes under your posts and competitors' accounts as well. Try it for free:
Try NapoleonCat free for 14 days. No credit card required.
How to switch your personal Instagram account into a business profile
Here's our 30-second video tutorial to make things easier:
Make sure your Instagram profile is set to public
Go to your profile
Access settings by tapping on the three lines in the top right corner of the screen
Tap on "account" and then on "switch to business profile." You will be asked to connect your account with a Facebook business page. If you don't own any FB pages, you'll need to set one up using your personal Facebook account. Don't worry, you don't have to start posting anything there, all it needs to do is simply exist.
If for some reason you'd like to switch back to a personal profile, just go to settings and tap "Switch Back to Personal Account". Keep in mind that by doing so, you'll lose all the statistics about your content. If you switch back to a business profile again, some of the insights, e.g. the number of shares from the previous period, will be lost.
How to Change Instagram to Business Account on Desktop
Let's start with a fact. There's no Instagram desktop app that would let you:
either create a new Instagram business account
or to convert a private to a business account.
Sure, there's an official Instagram app for Windows. However, it's just a mobile version of a web Instagram app. It lacks some features and configuration options. For sure, there's no "switch to business profile" button there.
However, there's a hack:
You can change Instagram to a business account on mobile by using screen mirroring on your smartphone.
This way, you can accomplish your task comfortably, using your mouse and PC instead of your finger and touchscreen.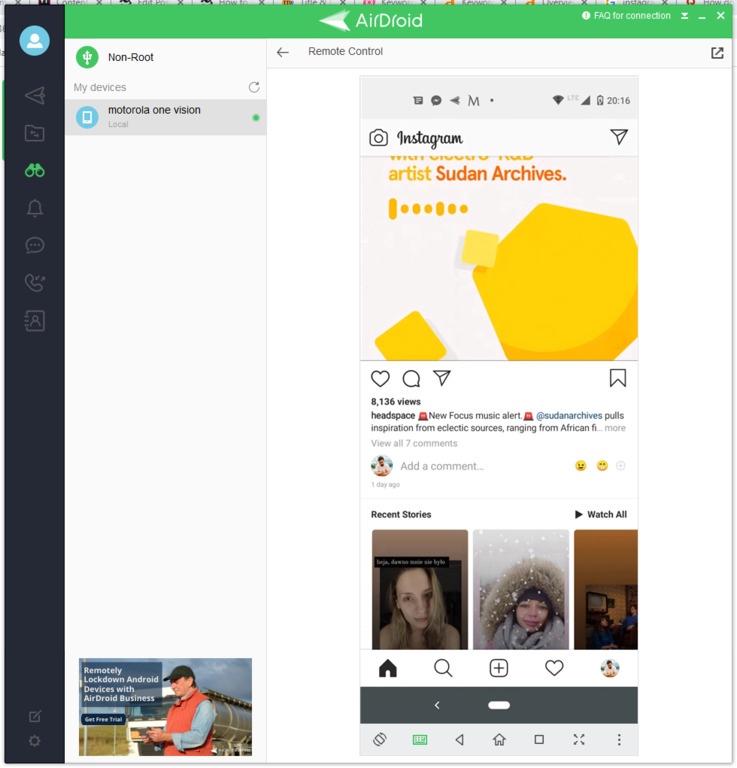 All you have to do is to install AirDroid on your desktop and your smartphone. It works with Macs, Windows computers, Android phones and iPhones.
The AirDroid app is free but it displays ads.
6 reasons to switch to an Instagram business account
1. Access to Instagram Insights – your free Instagram analytics tool
Once you make the switch, you'll instantly gain access to Instagram Insights. It's a free, built-in analytics tool that, despite its simple look, comes in very handy. Using Insights, you can find out which of your posts perform best, when your followers are the most active, and the demographics of your audience: gender, age, and geographical location.
You can check out our complete guide to Instagram Insights here.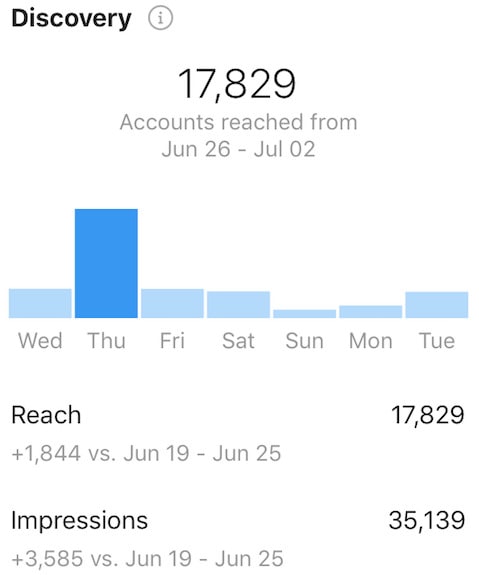 2. Using third-party Instagram management tools for more in-depth data
Now here's where you can really spread your wings when it comes to analytics and social media management. Most of the third-party Instagram management tools available out there truly make social media managers' lives easier – and they only work with Instagram business accounts.
Take NapoleonCat for example – you can analyze your own profile (Instagram Stories included) in greater depth compared to Instagram Insights.

Using NapoleonCat, you can also create automatically generated reports within seconds. But that's not all. Social media management platforms like yours truly can also analyze any business profile out there. This means that creating a thorough competitive analysis will only take you a few minutes instead of a few weeks.
Here's a sample report for a "competing" company:
3. Scheduling and publishing posts from your computer
If you have an Instagram business account, you can fully leverage every feature offered by social media management tools.
With NapoleonCat, you can schedule and publish posts to the Instagram app straight from your desktop.
The more content you intend to post, the more you'll need to utilize this feature.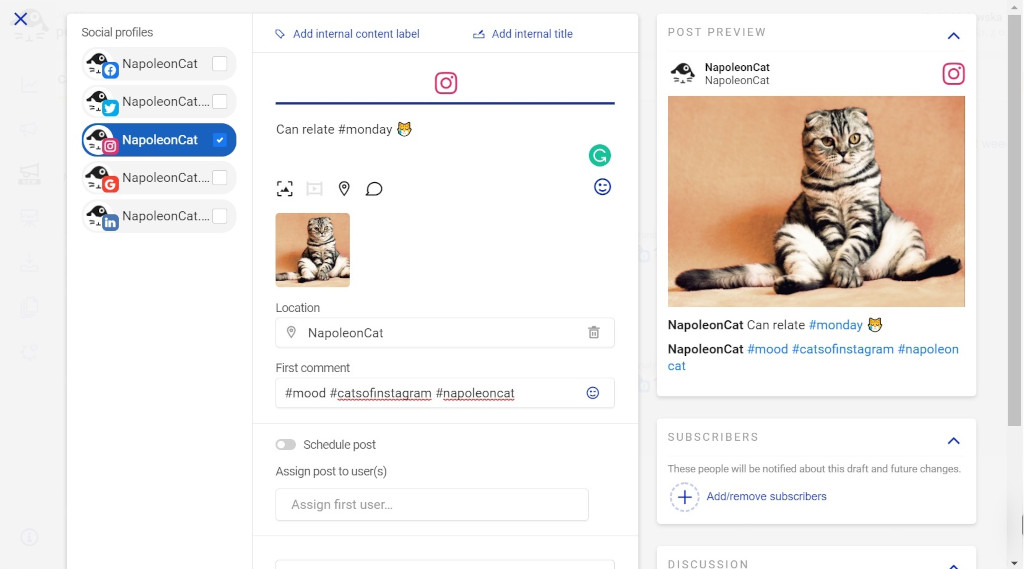 Planning your social media calendar in advance and scheduling your posts will get loads of work off your shoulders. No need to constantly brainstorm ideas for new content means fewer headaches. Yay!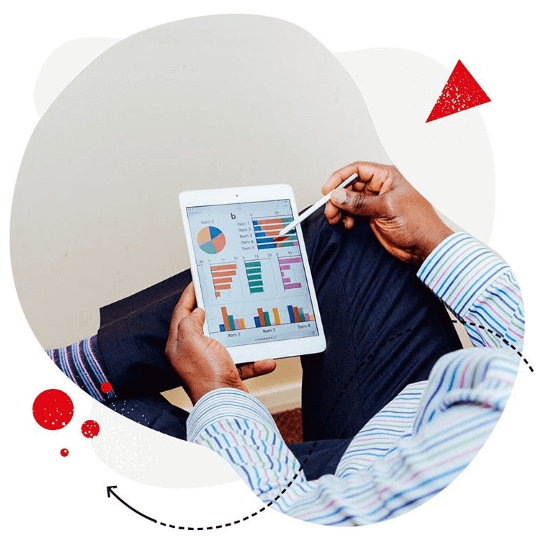 In-depth Instagram Analytics & Reports
Measure your Instagram marketing results. Track competitors and improve performance using one simple tool. Try it for free:
Try NapoleonCat free for 14 days. No credit card required.
Seeing the big picture of your planned social media activity in the form of a social media calendar will help your brand stay more coherent in terms of style and tone of voice. And aesthetics matter, especially on Instagram, where your whole profile page is your digital business card!
Check out our free social media calendar template here.
4. Analyzing the performance of Instagram influencers
Let's say you're a brand looking for a social media influencer. You'll need to analyze your potential candidates' profiles to verify if they've got what it takes. You should find out about the reach of their posts, their engagement rates, audience demographics, etc. Simply put, you should know whether their accounts are legit. You can use third-party social media softwares like NapoleonCat to analyze influencers' Instagram profiles within a few clicks.
Can you analyze a personal account? Not really. And unless you're aiming for a big social media celebrity that needs no introduction nor a background check, make sure you always look for influencers with business profiles.
You can see whether someone has a business profile if there's an occupation under their name in the bio section.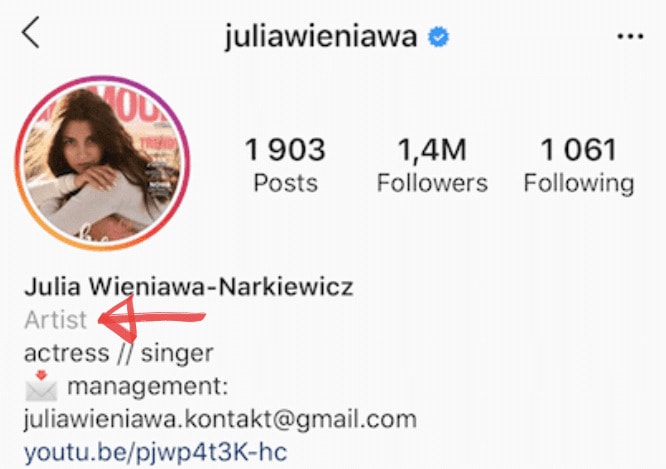 5. Setting up custom buttons in your profile
Back in the day, before business accounts were a thing, users could only contact you through direct messages and the link in your bio (if you had one).
Once you make the switch to a business account, you'll be able to set up different call-to-action buttons that include contact information, e.g. an email or a virtual phone number.
This way your customers can get in touch with you quicker.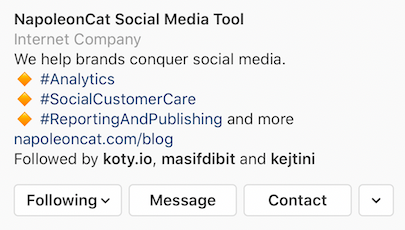 A business account will grant you the possibility of running ads on Instagram and reach valuable, targeted audiences with your sponsored content.
Setting up an ad on Instagram is relatively straightforward.
You can select the text for the call to action button, choose your target audience, set your budget, and choose a time frame for your ad to run.
Keep in mind that it takes some time for an ad to be fully verified. The process between ad creation and full promotion may take up from a few hours to a few days.
Conclusion
If you're running a brand on Instagram, having a business account is pretty much a must-have. It unlocks a bunch of useful perks and opens up new possibilities for marketing. Besides, it doesn't cost you a penny and you can always switch back to a personal profile.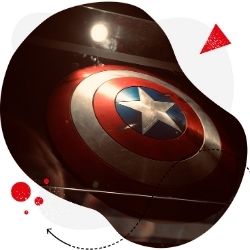 Protect your Instagram account from spam & hate
Set up Auto-moderation rules and protect your Instagram from hate speech, inappropriate comments, and spam. Try it for free:
Try NapoleonCat free for 14 days. No credit card required.
For more Instagram tips, check out our other articles: