According to research by eMarketer, Instagram's ad revenues have been steadily increasing year on year. Which means more and more businesses are spending money to make money on the world's second largest traditional social media platform. And why wouldn't they?
80 percent of Instagram users follow a business on the platform.
And, of all social network users, they're the most primed for purchase, with around three quarters having bought a product they saw in their Feed.
These figures go so way to explaining why 25 million businesses have already claimed an Instagram profile and a further 2 million actively advertise each month on the platform.
Never one to be left out of the loop, you've obviously decided to jump on the gravy train and get your business advertising on Instagram. So, help you kick things off, let's take a look at what ads Instagram has to offer and get an overview of how to set one up on the platform.
Here's a little table of contents for your convenience:
Types of Instagram ads
1. Instagram Stories ads
Stories ads are time-limited photo or video ads that appear between Instagram users' Stories. And, since 500 million of them check in with the feature every day, Instagram Stories ads are a great way to get your business noticed.
Why use Instagram Stories ads?
According to Instagram, one-third of the most viewed Stories on the platform at any one time have been created by a business. What's more, an impressive 96% of those who've used them plan to keep doing so in the future.
That's a pretty strong endorsement if you ask me.
What are Instagram Stories ads good for?
Stories ads dominate the viewer's screen, minimising distractions, and catch people in a highly personal space. One where they're sharing authentic, no-filter moments with their absolute favourite Instagrammers. So, they're great for running high-impact but time-limited offers.
Alternatively, try sharing behind-the-scenes insights to build brand awareness. Or else appear more human by plugging other intimate branded content.
2. Instagram Photo ads
Photo ads are the bread and butter of Instagram advertising. They were the first to arrive and will be the last to die in the inevitable apocalypse. Photo ads appear in a user's Feed and can take on a square or landscape format. As with all Feed ads, they'll only be included in a viewer's browsing experience after they click on a photo.
Why use Instagram Photo ads?
Photo ads are easy to produce and simple to keep on-brand. Just apply the same filter to your images as you would do to your everyday posts. Photo ads also appear native and, like all Facebook family ads, can be highly targeted to your ideal audience.
What are Instagram Photo ads good for?
Photo ads are simple and easy to produce, which makes them perfect for quick win lead generation campaigns. Think deal vouchers, competitions, events, and landing page links. This is not the place to show off your portfolio or catalogue or build brand awareness though, unless you're linking to a tried and tested piece of existing content.
3. Instagram Video ads
Video ads are pretty much the same as photo ads except instead photos your target audience is treated to … well… a video. Like Photo ads, they appear in a user's Feed and all the same audience targeting options apply. Your video ad can be in landscape or square format and run for up to 60 seconds.
Why use Instagram Video ads?
The success of Instagram Stories and IGTV shows just how big an appetite Instagram users have for video content. So, it's no surprise that Video ads are both popular and effective. The clincher though, is that Video ads generate as much as 3x the amount of engagement in the form of comments as do Photo ads.
What are Instagram Video ads good for?
Video ads are highly versatile and brands have successfully used them to build brand awareness and promote webinars and courses, as well as run traditional product ads, offers and walkthroughs. Just remember, research shows that most people abandon video ads within a few seconds, so get to your main point early.
4. Instagram Carousel ads
Introduced to Instagram following their success on Facebook, Carousel ads let the viewer swipe to see additional photos or videos. They're so named because they mimic the function of the above-the-fold carousels used on many website Home pages. You can showcase 3-5 photos or videos per Carousel and each can have its own CTA.
Why use Instagram Carousel ads?
One of the coolest features of Carousel ads is that you can tell Facebook ads Manager to automatically optimise your ads based on which links have been generating the highest click-through rate. Plus, you have multiple chances to make an impression on your viewer and can get creative with product photos and flashy panoramic series.
What are Instagram Carousel ads good for?
There are many creative ways to use Carousel ads. You could keep things simple and present a product range or use them to tell a unique story, showcase different aspects of a single product or service, or create a unified series (see example above).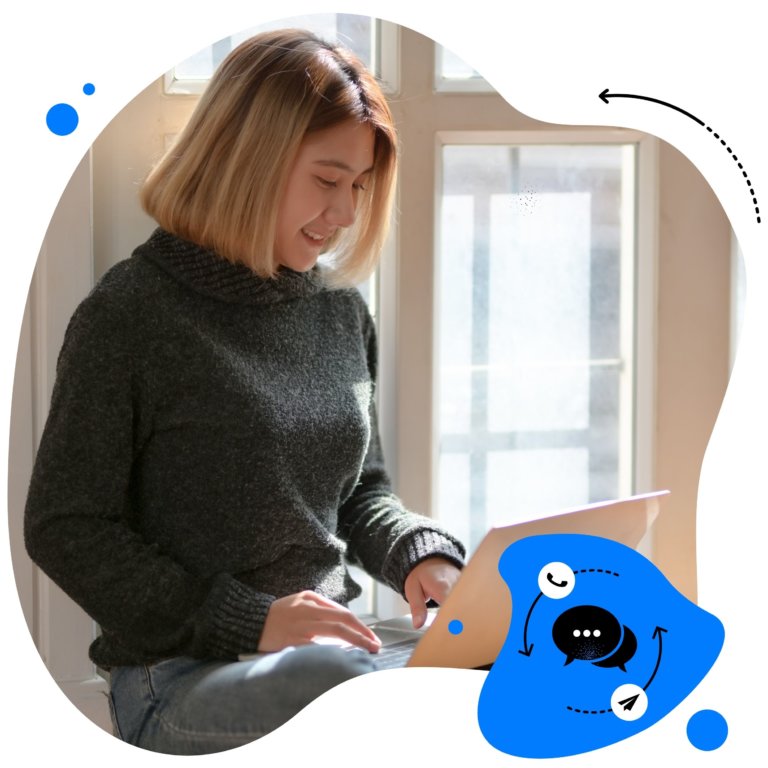 Manage comments on Instagram ads
Manage comments from all your Instagram ads from one simple dashboard. Automatically hide or delete spam under your ads. Try if for free:
Try NapoleonCat free for 14 days. No credit card required.
5. Instagram Collection ads
Like Carousel ads, Collection ads contain multiple images or videos. But unlike Carousels, viewers can make purchases directly through the ad. Your content appears in a group with one highlighted image or video above a collection of smaller images and a CTA that promotes purchase, such as 'Shop now'.
Why use Instagram Collection ads?
Collection ads are Facebook's main direct response ad type and one of only two that allow viewers to make in-app purchases (the other being Shoppable Posts). Since people prefer to shop directly in-platform, rather than following links to a landing page, Collection ads are a solid investment for social sellers.
What are Instagram Collection ads good for?
Collection ads are firmly geared towards eCommerce businesses. Because Collection ads allow you to showcase a product range, they're great for promoting product discovery, especially among lookalike audiences.
6. Instagram Ads in Explore
Ads in Explore appear the same as Instagram Feed ads, but you can use your existing feed ad creative to populate ads in Explore. So, no need to create advertising materials from scratch. Just like other Instagram ads, ads in Explore can be customised with a CTA.
Why use ads in Explore?
In Instagram's own words, Explore is where its users go to 'discover'. Instagrammers in Explore are looking for new connections, creators and brands to follow. And they want them to be related to those they already follow, which makes ads in Explore a powerful marketing tool.
What are ads in Explore good for?
Ads in Explore were only released in June 2019, so marketers are still experimenting with the format. But Facebook suggests that businesses extend their successful Feed content into Explore to reach out to new audiences. So, think of these ads like Facebook's Boost Post feature, but reworked for Instagram.
How to set up an Instagram ad
To set up an ad on Instagram, you need to navigate to the Facebook Ads Manager and, if you don't already have an account, create one.
Thankfully, Facebook offers a guided walkthrough to new users that takes them from start to fully-fledged and active ad in a simple guide.
But, if you don't have access to the newbie content, you can follow these simple instructions to get started.
Open Facebook ads manager and, on the default page, choose an objective from the available options.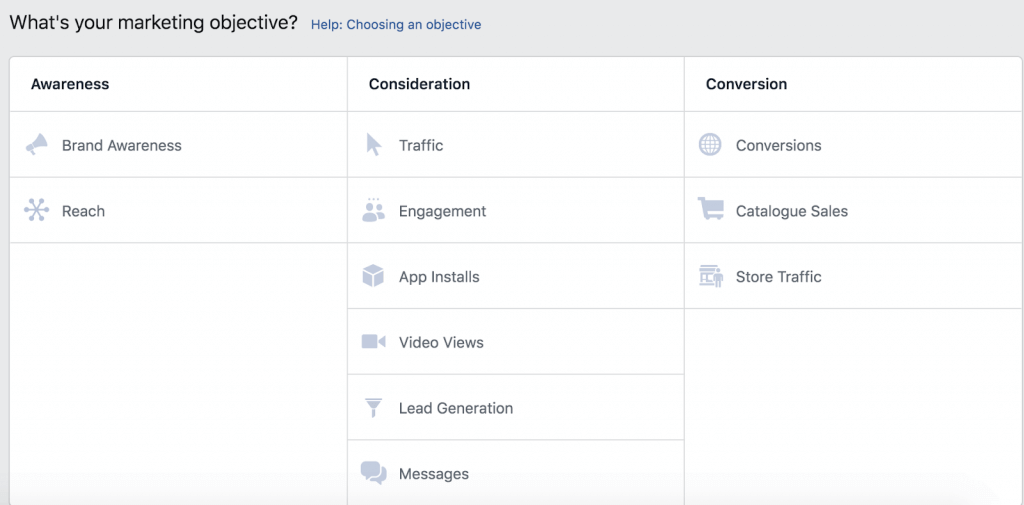 Once you've made a selection, the ads manager will prompt you to name the campaign and decide whether you want to create a split test or optimise your campaign budget.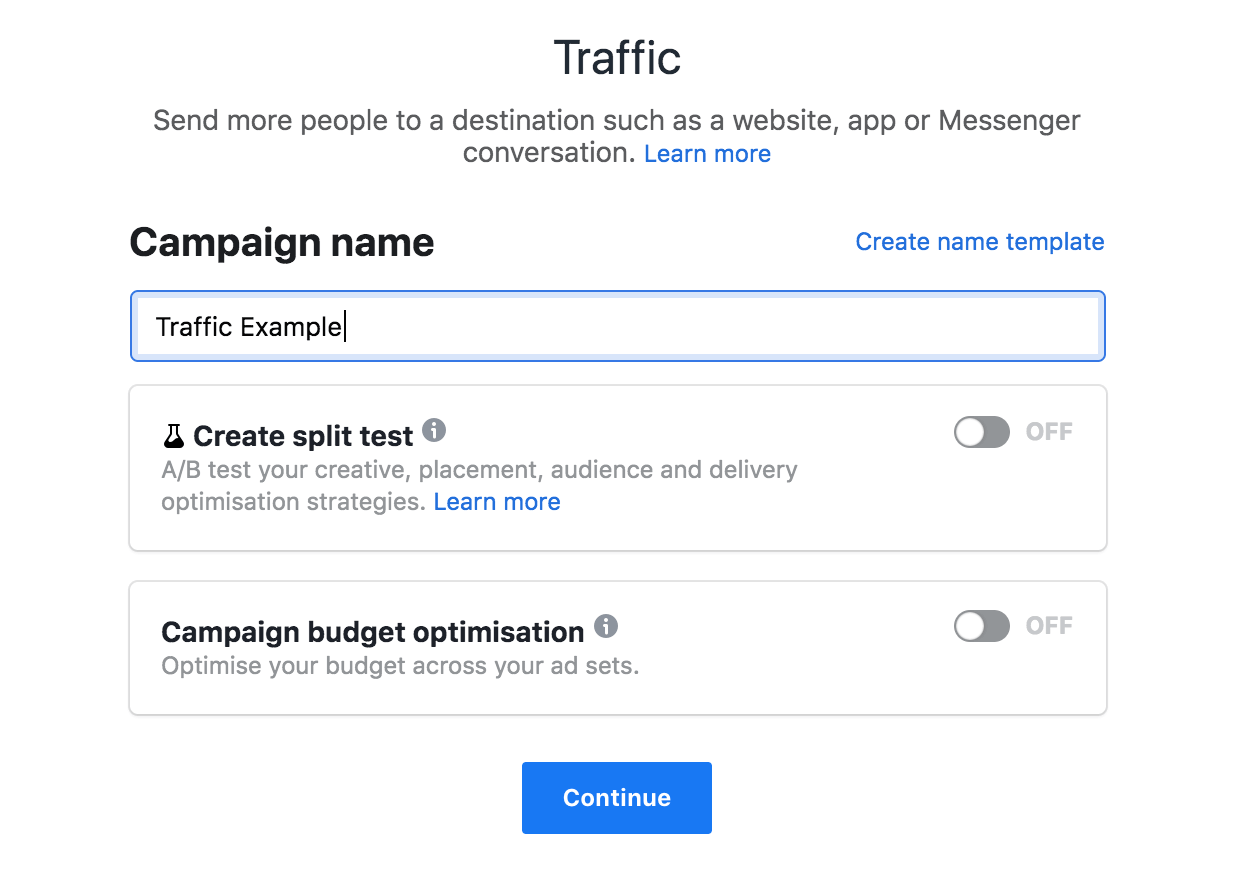 Make your choice and click 'Continue'.
Then set up your perfect audience.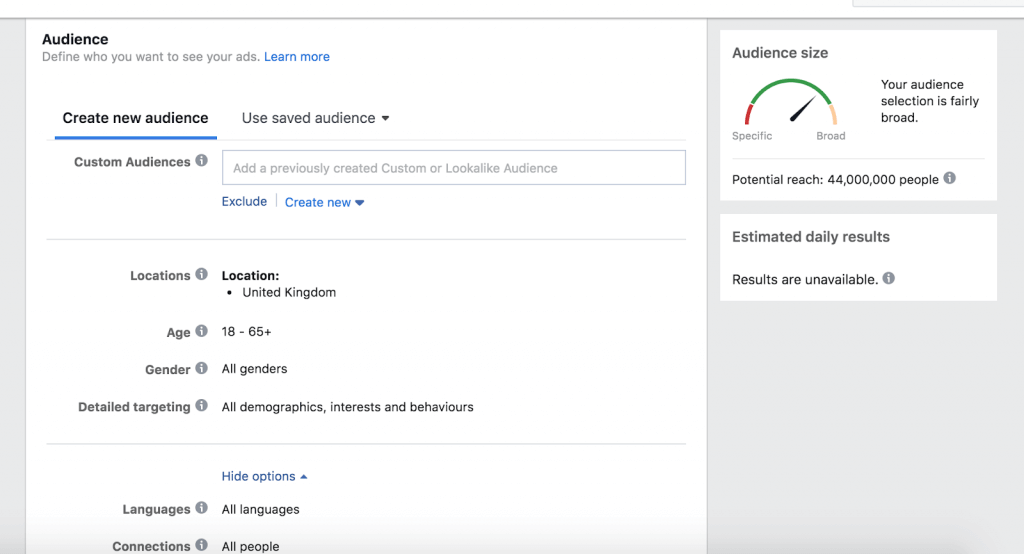 You can niche down your audience's ideal location (by country, region, state, etc.), age (13-65+), gender, languages, demographics (parents, self-employed, home owners, etc.), interests (under 'Detailed targeting', train-spotting, environment, travel, etc.) and more. You can dig deep into the custom audience targeting options available to you here.
Now your audience is defined, you can move on to the most crucial step… choosing your placements.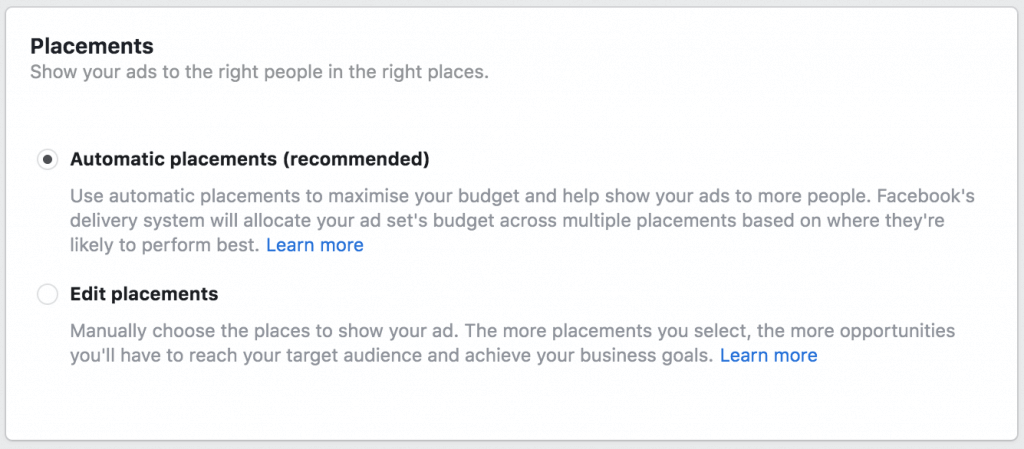 Select 'Edit placements' to place your ad on Instagram only. The Facebook Ads Manager default is to post to both Instagram and Facebook at the same time.
Once you've defined your budget and schedule, the ads manager will prompt you to create your Instagram ad.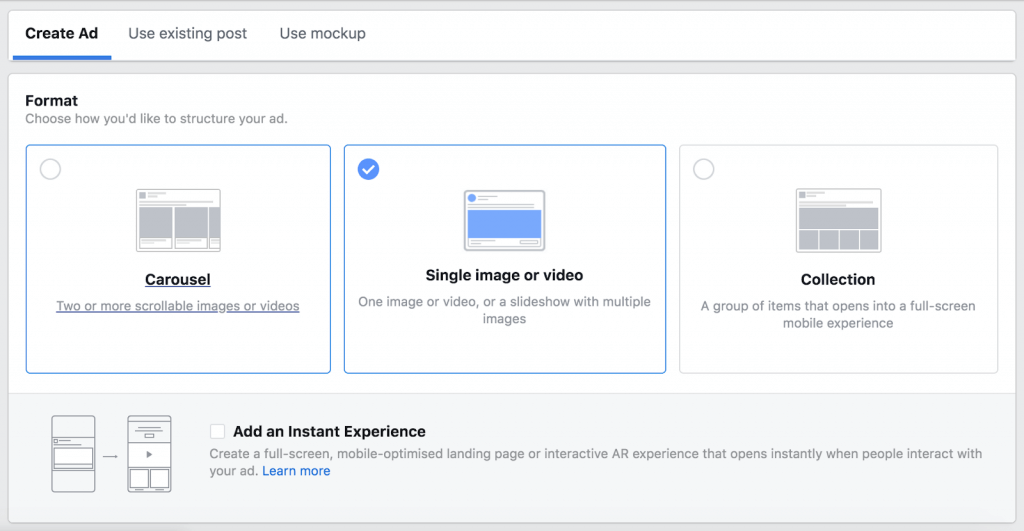 So, select the ad format, add your content, define your CTA and get your Instagram ad out in the mix.
How to manage Instagram ads easier and quicker with NapoleonCat
Managing comments on Instagram ads without the help of any external tools can be difficult, you need to switch between accounts and campaigns, and it's easy to overlook comments and simply get lost.
With NapoleonCat, you can manage Instagram ads comments from one single dashboard. You'll have all of your Instagram ads comments in one place, and no comment will be overlooked.

You can also set up Auto-moderation rules for comments on Instagram. This means that you can automatically hide, delete, or reply to comments based on specific keywords that you define.
You can create as many Auto-moderation rules as you'd like for a limitless number of keywords.
This feature is perfect if you run multiple Instagram ad campaigns and you want to keep the comment section neat. Any offensive language, hate speech, and spam will automatically be detected by NapoleonCat and deleted / hidden.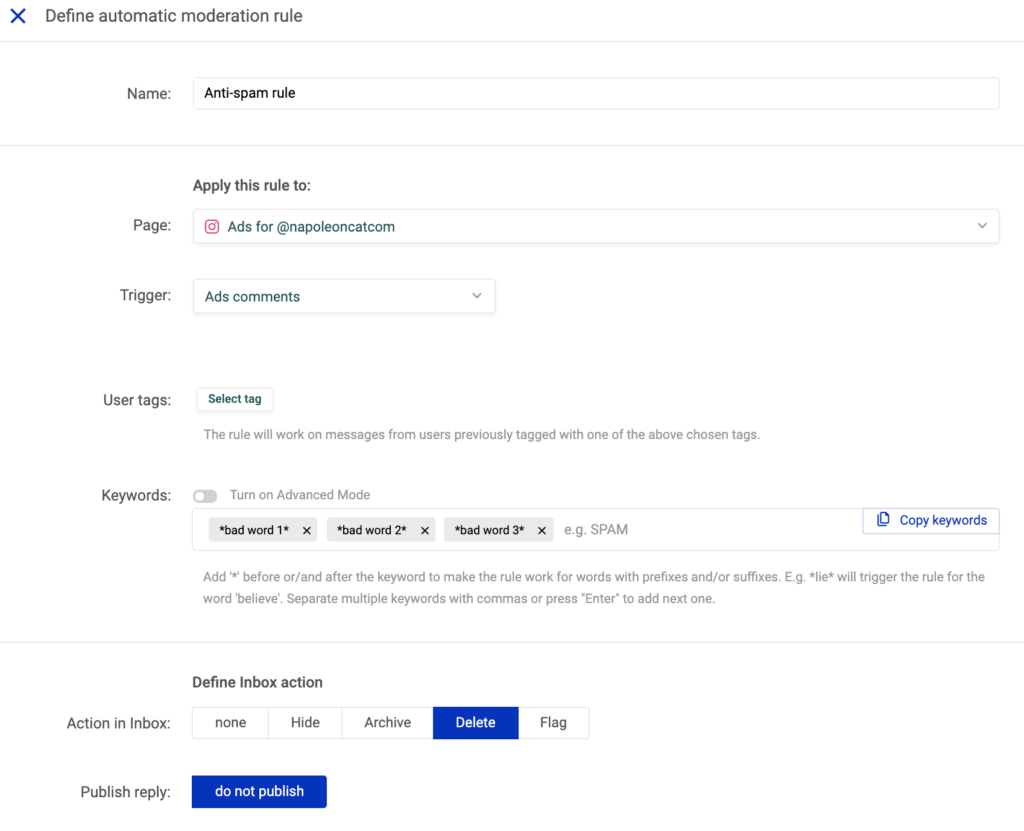 If your ads receive a lot of repetitive questions in the comments section, e.g. questions about pricing, this feature will also work like a charm. You can set up multiple automatic replies to randomize.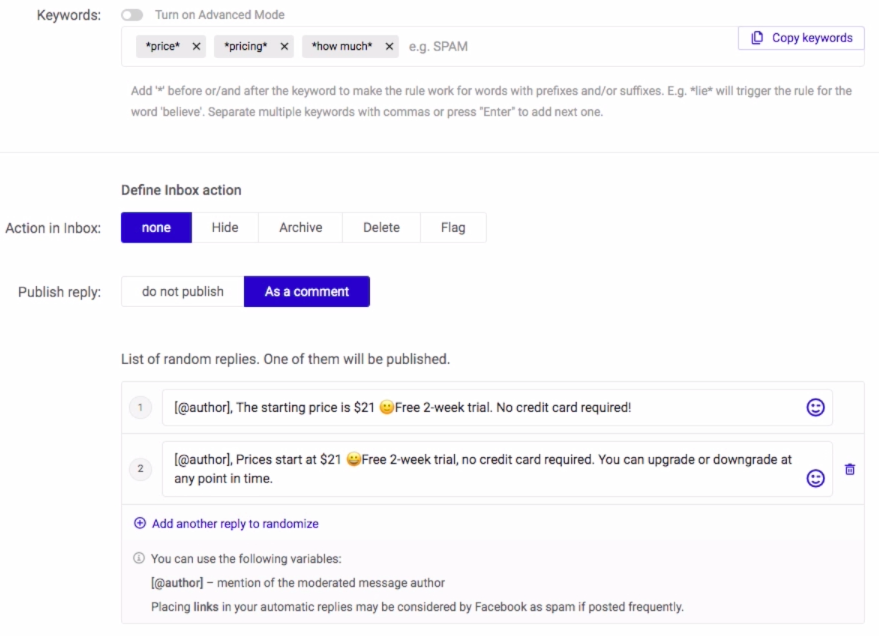 Click here to check out a video showing you how Auto-moderation works on Instagram.
To sum things up
Instagram is the platform for creatives, brands and their fans. Advertising on the platform can drive awareness, increase reach and make your business a shedload of moolah. But only if you know what you're working with. By choosing the right ad type for your business's goals, you will maximise your chance of success.
For tips on managing comments added to Instagram ads, check out our guide to automated dark post moderation.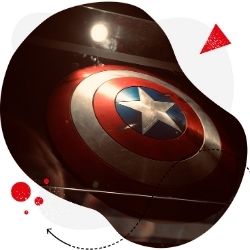 Shield your Instagram ads from spam
Use smart Auto-moderation rules that can automatically hide or delete offensive comments on Instagram, based on specific keywords. Try it for free:
Try NapoleonCat free for 14 days. No credit card required.
For more Instagram tips, check out our other articles: