Your brand is making a mark on Instagram but the organic growth is just too slow?

You see potential for tapping into your target audiences through a platform other than Facebook?
Here's what should be the next stage for growing your brand presence on social: it's time to try Instagram ads.
Last month we listed Instagram's steady growth, the fact that it now has over 1 billion users worldwide and has introduced new exciting tools for marketers to play with. As a response, brands are rushing in to occupy their spaces and battle for Instagram users' scarce attention.
Need current Instagram user demographics for another country?
---
Facebook may still be the more obvious choice for paid social, but Instagram is expected to bring $6.84 billion in global mobile ad revenue, a rapidly growing share of its parent company's pot.
Getting FOMO yet? Good. It won't take long for you to set up Instagram ads and start winning – not just hearts – but actual conversions.
1. Get set up with Instagram ads
The most efficient way to advertise on Instagram is to use Facebook Ads Manager. This is especially useful for brands that don't necessarily have an Instagram but want to test it as an advertising channel. Here's what you need to have in place in order to start advertising on Instagram:
Create an account on business.facebook.com

Go to

Business Manager

and click on Business Settings > Instagram Accounts

Click on

Claim New Instagram Account

, add your username and password and click Next

Authorise your ad account(s) to use your Instagram account by checking the box next to the Ad Account and clicking

Save Changes
You can now start advertising on Instagram using Facebook Ads Manager by choosing either Guided Creation, which will walk you step by step through the process (useful if you're not fluent with Facebook ads) or Quick Creation, which takes you straight to your ad and lets you set it up your way.
Tip:
Go through this process well ahead of planning your Instagram Ads campaign – it will give you some useful ideas!
2. Choose your objective
This will depend on your business objectives – if you are clear on what they are, this stage will only take a few seconds. You can choose from:
Brand awareness

Reach

Traffic

App installs

Engagement

Video views

Conversions
Some of these objectives you will be able to eliminate depending on how suitable they are for your campaign. For instance the Traffic objective is only relevant for clicks to your website or to an app store, Engagement only makes sense if you're looking to boost the engagement rate around your brand content and conversions are only useful if you have a very specific action you'd like users to perform.
Tip:
It's useful to understand the objectives and what you can achieve with them before you create your campaign content.
3. Design your audience
Now it's time to identify the audience you want to target with your Instagram Ads. Facebook Ads Manager lets you do this by defining it by age, gender, location and interests. You can set these up based on your brand's pre-defined target group, but it's also a good idea to consider the specific audience you could tap into on Instagram alone. Keep in mind that that 60% of Instagram users are under 30.
Once you've defined an audience that looks close to perfect, you can click on Save Audience to be able to use it for future ads.
Tip:
Keep a close eye on the Audience Size and make it broader to start with – you can then gradually refine it as you test and learn.
4. Set your budget and schedule
Define your budget by choosing choosing between the the Daily and Lifetime options that give you different ways of controlling your ad spend. You should generally start with a limited budget and then grow it when you can see that your campaigns are performing. If you need a general benchmark, you can start by looking at average CPC on both Facebook and Instagram CPC in your industry or country.
Tip:
The CPC will also vary depending on demographics of your target audience as well as the timing you choose for the campaign.
5. Create your ads
On Instagram you have several types of ads to choose from: photos, videos, carousels, Story Ads and Instant Experience (previously Canvas Story Ads). Choosing the right one for your campaign will depend on:
the types of content that typically work best for your type of product or service

whether you are just raising brand awareness or have a clear call to action you'd like users to perform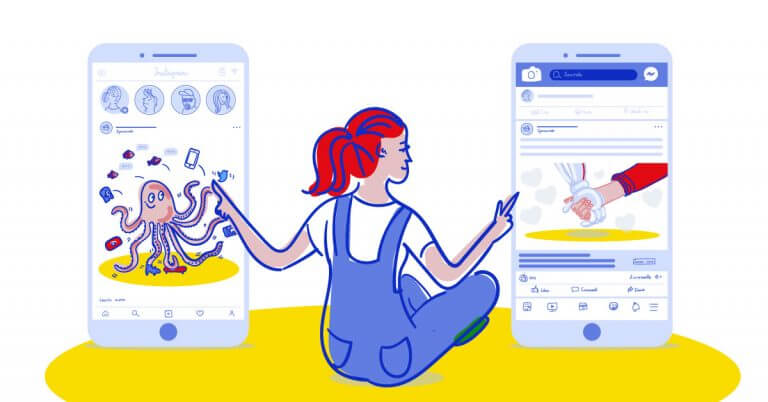 Social media management
Manage unlimited Facebook, Instagram, Twitter and LinkedIn pages in a single inbox. Track competitors and improve performance using simple dashboards.
Try NapoleonCat free for 14 days. No credit card required.
Instagram ads which are just promoting your content and making people go to your Instagram profile are becoming much less popular than those that take users outside of the platform. Most brands will now offer a clear call to action, whether it's to "learn more", "subscribe", "download" or "shop now", etc.
Currently, the two most popular formats on Instagram are video ads and instant experience ads.
Examples of Instagram video ads:
Video ads which – like the ones above – are served in the scroll-down Instagram newsfeed allow for up to 60-second video.
Both video ads and instant experience ads engage the user for longer than a static ad. However, instant experience ads, which are served to users while they're flicking through Insta Stories, are more immersive. They are better optimised for mobile (they take up the entire screen) than Story Ads, which are simply videos played in users' Insta Story feed.
Here are some examples of ads placed in the Stories feed:
Many brands will also use the single static photo ad – as you can see in the examples above, advertisers use very different call-to-action buttons, depending on how they're converting users.
Another popular format is a carousel ad (first from left in the examples below), which lets brands serve up to 10 different images within one ad.
Choosing the right format may depend on various factors, but it's worth keeping in mind that Instagram is becoming more and more saturated with ads. So, in order to stand out, you should make your imagery as eye-catching and slick as possible.
Tip:
Whatever format you choose, make sure to check that your imagery will comply with Instagram ad formats.
6. Optimise through A/B testing
Since Instagram is a very visual channel, the most obvious way of A/B testing different photos or videos to see which drive more conversions in your target group. Serving different images or video clips to similar audiences will give you an estimate on what works better. But there are other things you can try, such as serving the same ads to different audiences or trying using a different call-to-action buttons.
Tip:
Test what you can and use what you know about your existing customers to optimize the ads.
7. Moderate discussions under your ads

Would you leave a potential customer's question unanswered if it was asked over the phone or in a direct message? Well, the same goes for Instagram ads.
Users will often leave comments under sponsored posts on Instagram that will stick to your ad placement for other potential customers to see. So if you want to make sure that you're sending the right message, make sure you have a good way of monitoring your ads and promptly replying to any questions.
Also, if anyone leaves a nasty comment (which, with ads, people often will simply because it's human), you should either tackle it with a joke or delete it if it's offensive. In short: make sure you're not paying for the distribution of thoughtless reactions and rude comments!
Why do so many brands leave un-addressed questions and comments under their ads? Because moderating ads isn't as obvious as moderation organic Instagram posts, you won't get notified about them in the same view so whoever is managing your Instagram account may miss them or simply reply too late.
Tip:
Use NapoleonCat to see all incoming comments and messages (including those under your Instagram ads) in one place. You can read more about how this works in this article.
8. Measure your results
Once your Instagram ad campaigns are up and running, make sure you're keeping track of how the traffic they're generating translates into your end goals. To get a better idea of the demographics and behaviours of your Instagram audience, you can also deep dive into various Instagram metrics.
Tip:
Use NapoleonCat for tracking your progress on Instagram.
Now you're all set to create your Instagram ad campaigns and start counting those conversions!

Want to see current Instagram user demographics in your country?
Want to find out more about NapoleonCat and how it can support your social media marketing? Get in touch on hello@napoleoncat.com.