Throughout 2022, we have been working hard to improve NapoleonCat's Auto-moderation feature and expand its functionalities in automating social customer service and content moderation in general.

Our goal was to help you effortlessly boost the quality of your social media customer service, cut down the costs, and scale your business – all with an easy-to-use software.
As a result, we launched Auto-moderation 2.0 for all customers and migrated data of existing clients using old Auto-moderation. This major upgrade will help you save time on managing your socials like never before!
So, what exactly is changing, and how will it make your job easier?
Let's dive right in!
Auto-moderation 2.0 – what's new?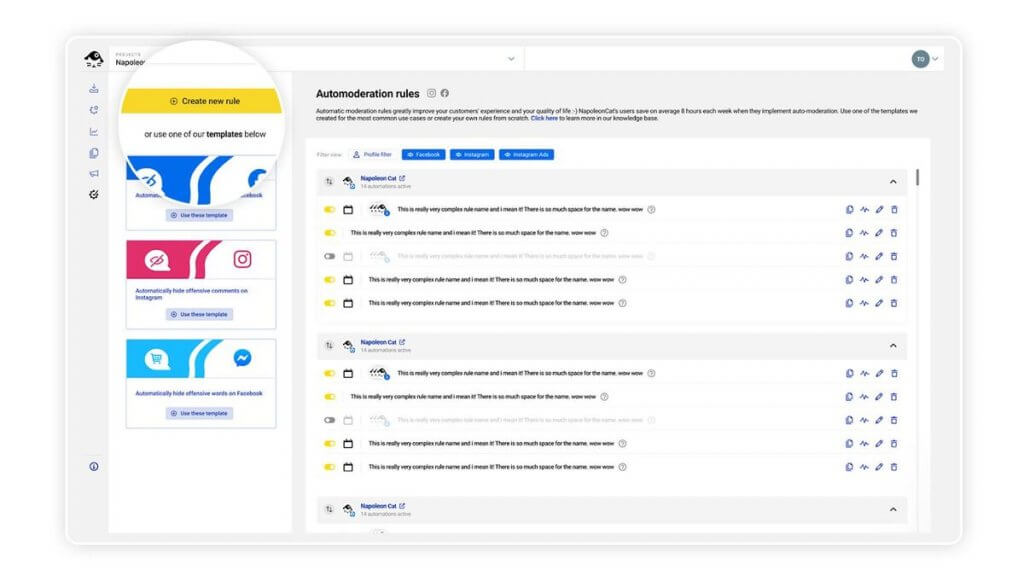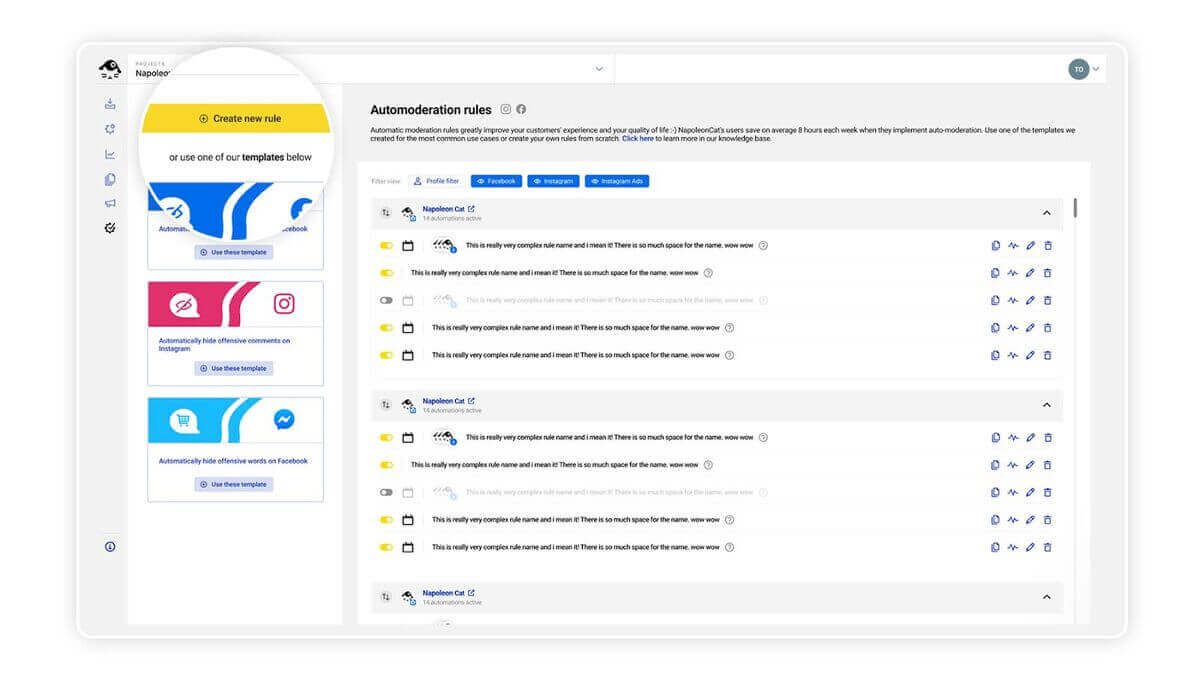 This is by far the biggest update we've ever had for this feature, so before I break down the most essential changes, here's a quick reminder of what Auto-moderation is:
Auto-moderation works like a smart, automated social media assistant.
It works for Facebook, Messenger, Instagram, Facebook ads, and Instagram ads.
You can create automatic reactions (aka rules) that are activated by specific triggers, e.g., keywords.
Some of the main uses of Auto-moderation include:
Automatically replying to comments and messages (and other types of interactions, e.g., profile mentions or reviews) based on predefined keywords or other triggers.
Protecting your brand image on social media by automatically deleting or hiding inappropriate comments and spam under your organic posts and ads.
Moreover, this feature can automatically forward sensitive customer issues to dedicated customer support team members
& more!
Now that we're done with this little introduction, let me tell you more about the upgrades.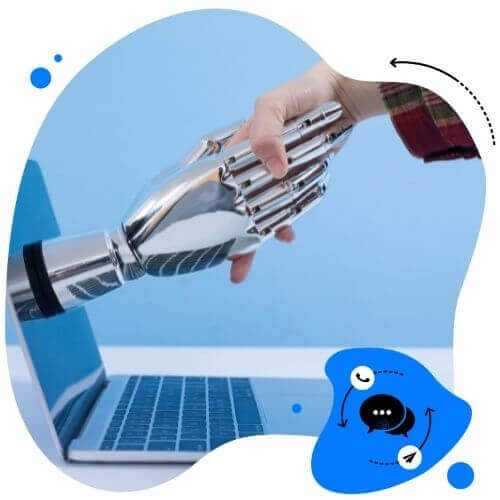 Smart auto-replies on social media
Use automated content moderation to manage social media in real time. Our customers reduce their response time by 66%. Try it for free:
Try NapoleonCat free for 14 days. No credit card required.
Easier access to Auto-moderation
Back in the day (though not so long ago ;)), you first needed to access the Social Inbox to open Auto-moderation.
Given that social media automation is here to stay (and flourish), we'd like it to be reflected in our tool.
With the new update, Auto-moderation becomes a fully-fledged, separate feature that you can quickly find and access from the left-hand side toolbar that shows NapoleonCat's main modules. No need to click through other features to get to that magical holy grail 🏆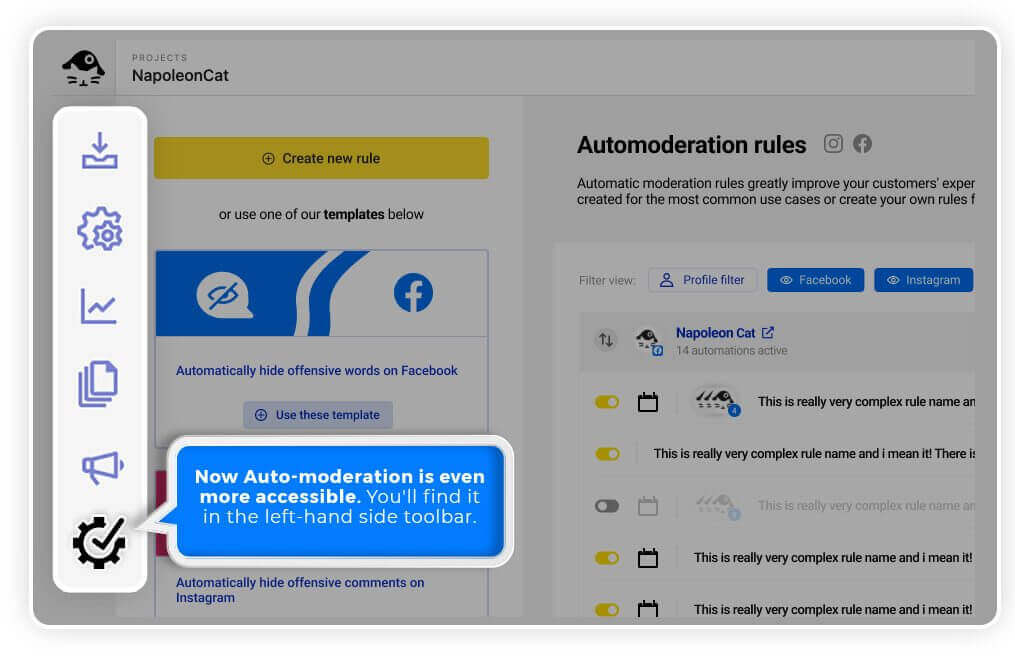 Multi-profile rules
Imagine Joe, a business owner with 20 Facebook Pages, and each of these Pages is being bombarded with comments containing links to Joe's competitors.
Previously, to stop all that spam, Joe would have to take a bit of time and create 20 separate Auto-moderation rules for each of the FB Pages.
For Auto-moderation 2.0, we ensured that this pain point is fixed.
And so now Joe will be able to add multiple social media profiles to one rule that will automatically (and instantly) delete all the incoming comments containing links.
…and there's no limit to the number of profiles he can add – one NapoleonCat rule to rule them all! 😉

He can apply 1 rule to his 20 Pages, shield them from unwanted comments, and save a massive chunk of time already (and we're only starting with our list of upgrades;)).
Multiple triggers and multiple reactions (for the same rule)
(Think trees and branches ;))
You will be able to set up multiple triggers and multiple reactions for the same rule, eliminating the necessity of creating separate rules for each automatic reaction.
Tech talk aside – what does that actually mean?
It means that your automatic rules will be able to take a whole lot more tasks off your shoulders and perform multiple tasks at the same time.
Let's come back to our dear friend Joe.
Joe receives a Facebook comment where a potential customer asks him about pricing.
With Auto-moderation's magic, Joe will be able to create a rule that will simultaneously:
Inform the user about the price in the comment section
Send a private message, e.g., informing about the terms of free shipping
Assign the comment to Joe's customer support team member
Mark the comment with positive sentiment in NapoleonCat
Individually tag the user in NapoleonCat, e.g., potential customer
You'll be able to create up to 6 different triggers and multiple reactions per one rule, which is best illustrated below:
Auto-moderation 2.0 finally supports Instagram DMs!
As Instagram is constantly growing and attracting new businesses, we just couldn't skip IG DMs in our upcoming product update.
So yes, Auto-moderation finally supports private messages on Instagram – you will be able to automate your IG DMs across multiple Instagram accounts and ad campaigns.
For example, if Joe's Instagram accounts receive tons of DMs from customers, Auto-moderation can automatically tag his most valuable customers and then give them priority support by automatically flagging messages they send and forwarding them via email to Joe's customer support team members.
Instagram DMs are supported both as triggers and reactions.
Multi-tagging options
Your automated reactions will be able to assign users multiple tags. Remember that you can create your custom tags in the Workspace Settings (formerly Project settings) module.
This feature will allow for a much more organized and precise customer service workflow by labeling incoming social interactions into different categories.
Another example from Joe's life:
Joe gets an Instagram comment from a user who turns out to be a dissatisfied customer who received a damaged product.
Auto-moderation can apply multiple tags to this customer, e.g., our customer, product complaint.
Auto-moderation sends an automatic comment reply, assuring the customer that the situation is already being handled and there's nothing to worry about.
The customer's comment will be instantly forwarded to Joe's dedicated customer service member, who will quickly react and resolve the issue at that point.
Emojis will be supported as keywords 😁😍😎
Social media are constantly evolving, and so is the way users interact with each other and with other brands, too. More and more people only use emojis to communicate, and we don't blame them for it 😉
So now, Auto-moderation 2.0 also supports emojis as keywords that can trigger an automatic rule.
What can Joe automate in regard to emojis? Well, some emojis (e.g., 🍆🍑💦) are often used by scammers that advertise weird things…
The point is that they pose a danger to your brand image by posting inappropriate content in your comment sections.
But Joe's prepared. He can set Auto-moderation to automatically hide or delete these filthy comments! The problem is solved, and Joe's brand image on social media remains unscathed.
Wow, this Joe fella is an absolute mastermind 🙂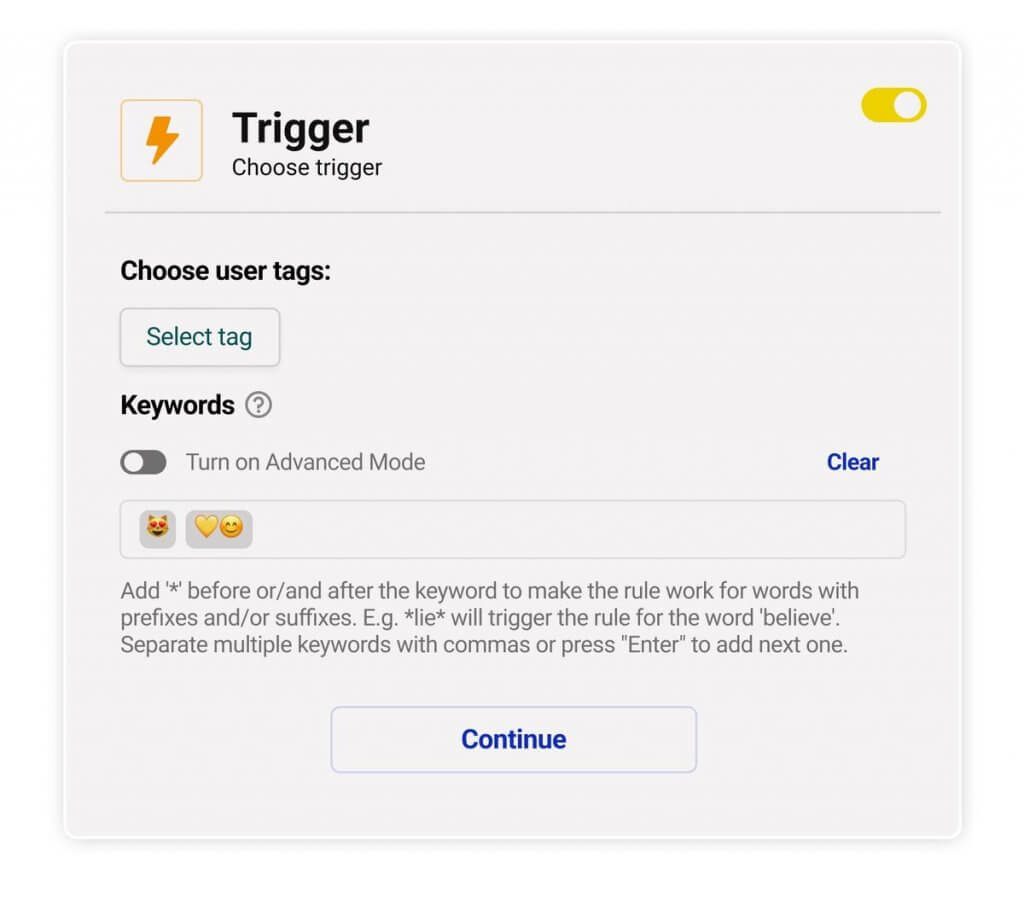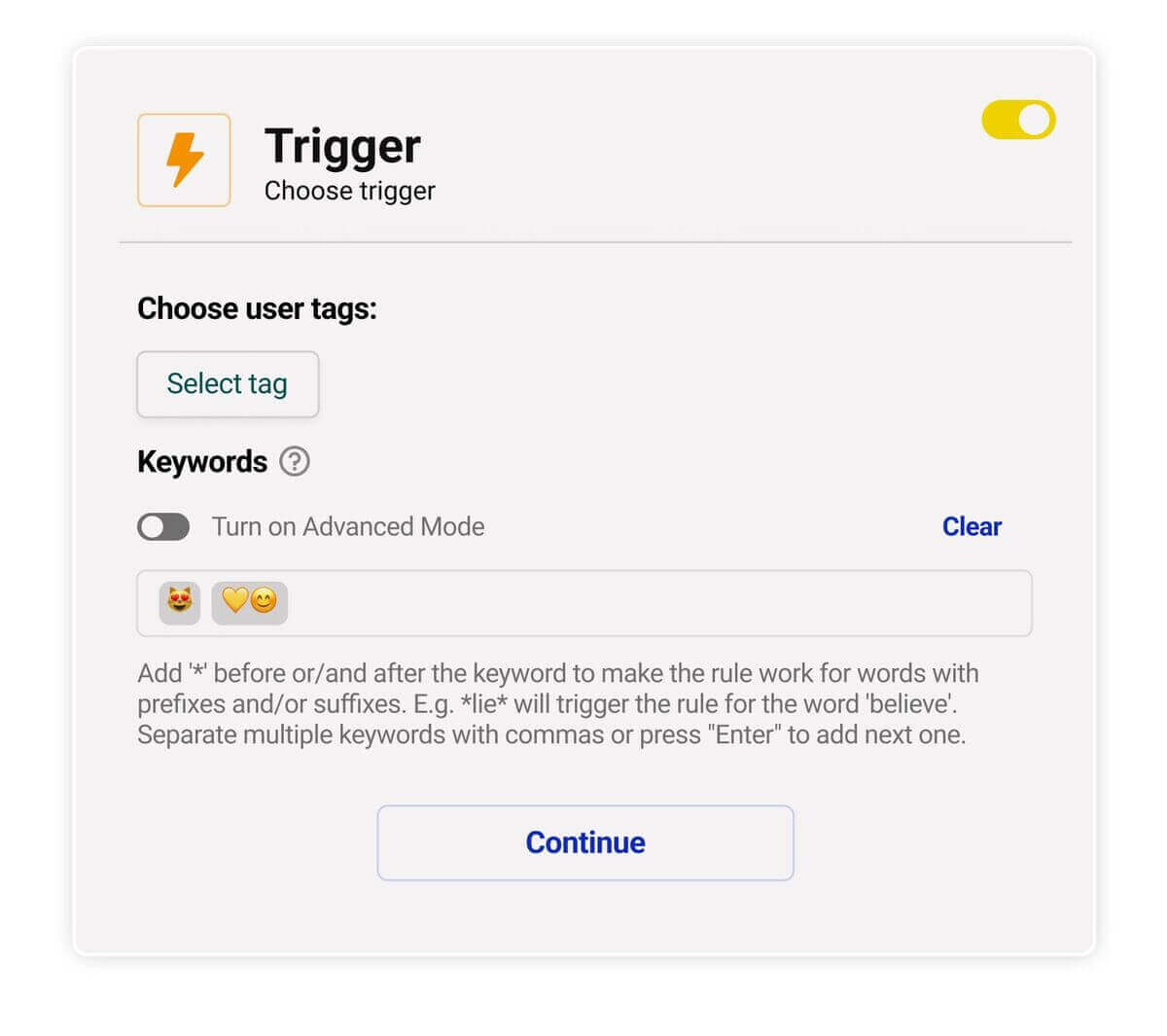 Simplified navigation and a more customizable list of rules
Once you create multiple rules for different profiles and platforms, it's easy to get lost. That's why the whole UI of your list of rules is changed – to make the entire navigation system much more user-friendly.
You'll be able to:
Filter your rules by the social media profile and the social platform
Activate or deactivate your rules with one click, using a simple toggle switch
Easily filter out your currently active rules
Quickly filter out multi-profile rules
Preview internal notes for each rule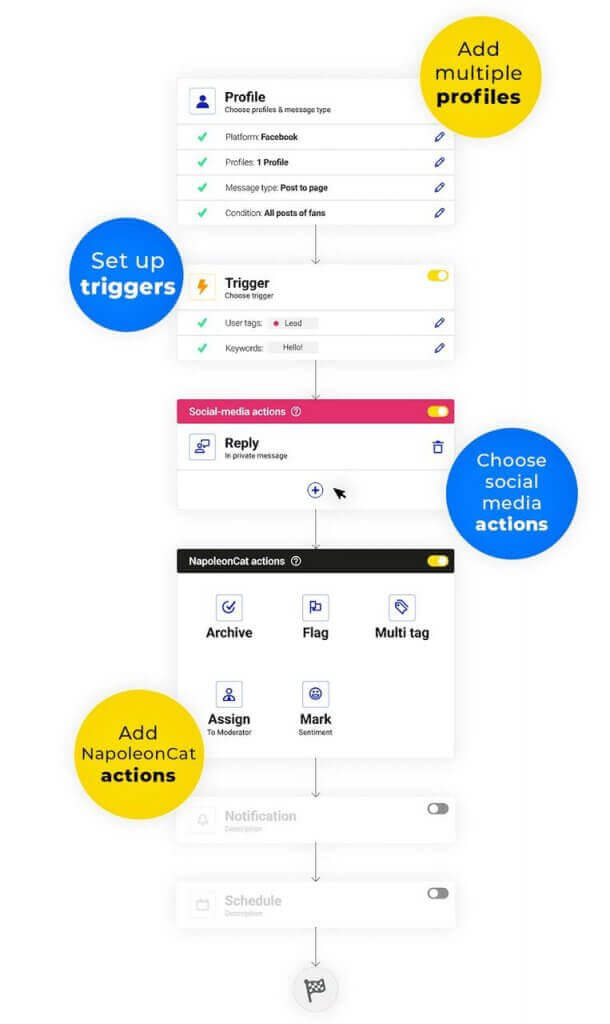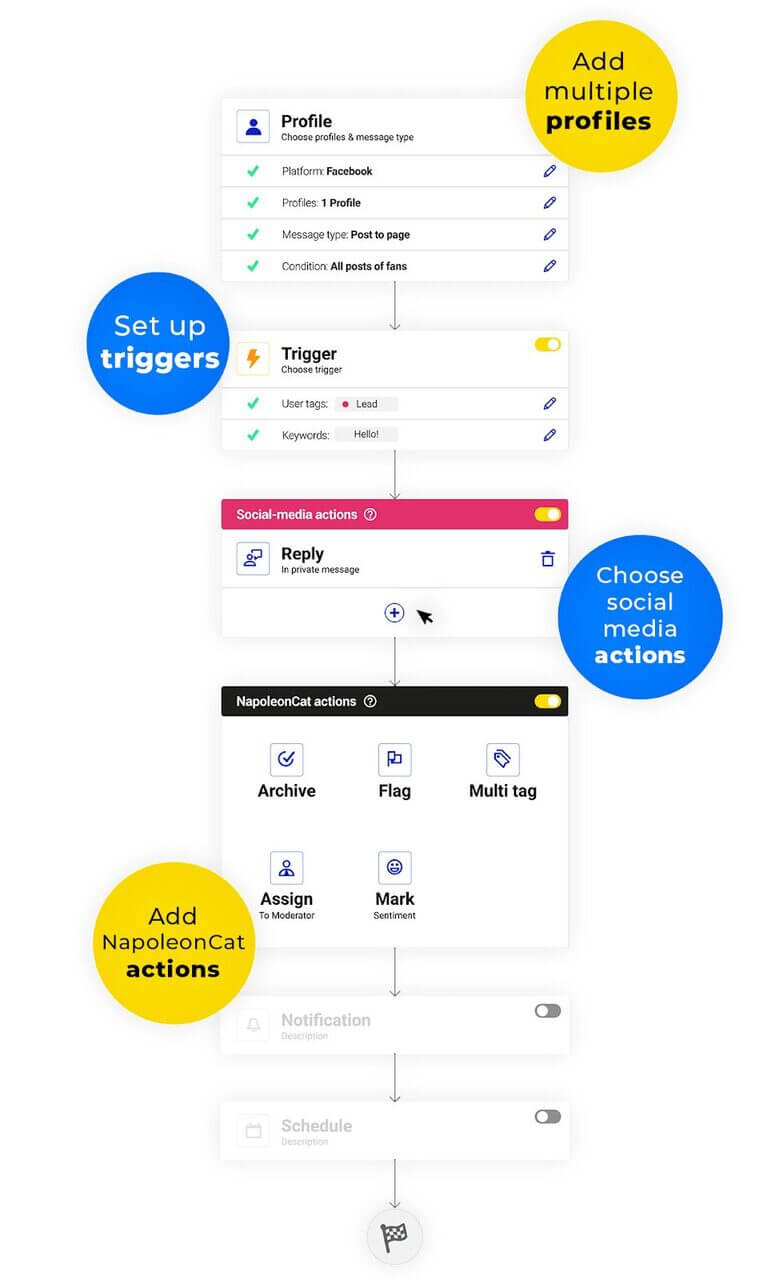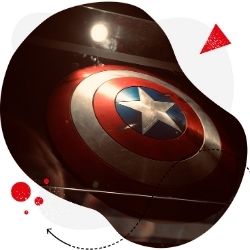 Protect your social media from spam & hate
Automatically hide or delete offensive comments, hate speech, and spam. Try NapoleonCat for free:
Try NapoleonCat free for 14 days. No credit card required.
Auto-moderation 2.0 is ready to support Joe and You
This major power upgrade is going to be a game changer – let's do a little recap.
Just like Joe, you will be able to take advantage of all the new features, which will allow you to:
Apply one automatic rule to multiple social profiles at once
Set up multiple, simultaneous automatic reactions for one rule
Automate your Instagram DMs
Automatically apply multiple tags to your fans and customers
Set up automatic reactions based on emojis
Have a more transparent and customizable list of rules
& more!
For more information on how to use Auto-moderation 2.0, visit our knowledge center 🙂