Keeping Instagram followers engaged and constantly returning for more can be challenging. Especially in 2023, when the changes in the platform hit hard, even the most advanced and knowledgeable Gram users.

The company had to scale back on the number of tests and the rate of introducing them, but we already see two Instagram feeds instead of one. Reels are on a roll, and soon another trial will be live: users shall experience a new format of pictures in their Instagram profiles, as Adam Mosseri, Head of Instagram, announced.
With this in mind, why not try out some unexplored tactics and Instagram hacks and tricks? This article will overview little-known Instagram functionalities that can help you create better content, reach broader audiences, and manage social media workflows.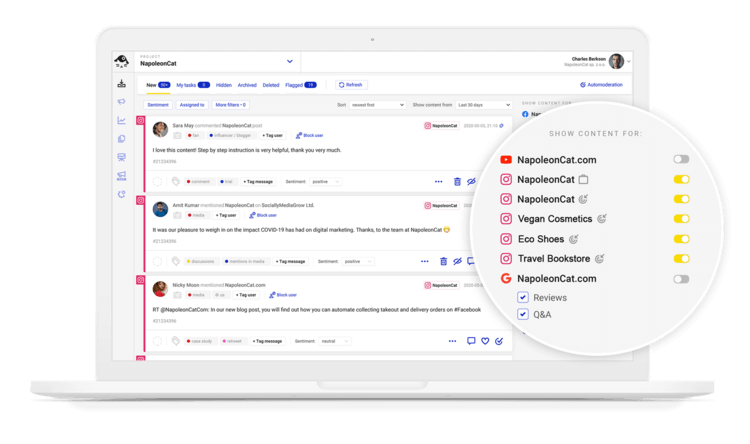 Simplify Instagram Business
Management with One Tool
Manage & reply to comments and DMs in one place.
Monitor ad comments from multiple accounts.
Automate answers to repetitive questions.
Schedule posts to multiple accounts, on desktop.
Analyze performance and monitor hashtags.
Keep track of your competition.
Create or schedule in-depth reports in seconds.
Try 2 weeks for free (no credit card required)
Who shall pay special attention to this detailed list of Instagram hacks and tricks?
Instagram growth hacks detailed below are usable and play well in any niche. Most importantly, these tips and tricks are tested and proven to work. Who could benefit the most from using a good combination of these tactics?
Advanced Instagram users who wish to learn something new about the application;
Instagram pros who wish to impress their audience with outstanding content and improve the efficiency and effectiveness of their Instagram management;
Instagram influencers who are passionate about growing their Instagram presence.
Instagram profile hacks and tricks
The Instagram user profile is your brand, portfolio, and creative space all rolled into one. Anyone visiting your Instagram page will decide in seconds if they want to hit follow or not. Help visitors make this decision as easy and fast as possible using a few Instagram hacks.
Add multiple links in bio (without third-party apps)
This may be the end of the paid link in bio apps like Linktree.
Instagram has recently launched its free feature that allows users to include up to 5 links in their bio.
To utilize the functionality, you need to first tap on "Edit profile" followed by "Links" and then select "Add external link." Afterwards, you have the ability to rearrange the links as per your preference by simply dragging and dropping them into the desired order.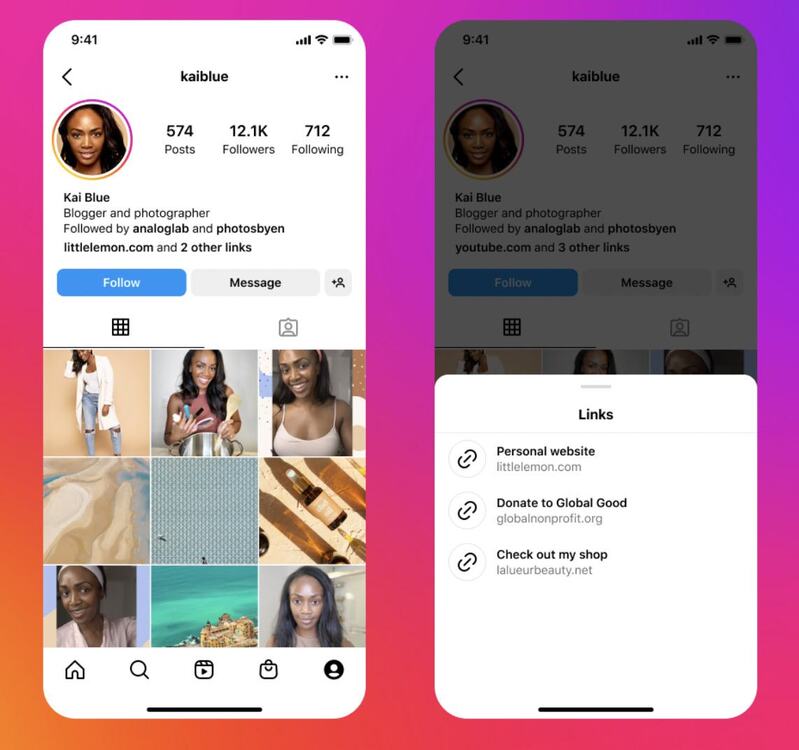 Add keywords to your profile name
The Instagram search tool is more and more practical these days. Type in anything you want to find, just like you would in Google, and tons of helpful content and profiles pop up. This is why Instagram SEO is so important.
Think about keywords that you want to be associated with and type them in the search tool on Instagram. What do you see?
Make sure to use your preferred keywords in your user profile by adding them in the username or name section.
Your Instagram bio is your pitch and value proposition. Incorporate the keywords in the bio so the visitor can instantly know how you can help them and understand your niche.
Pin posts to the top of your Instagram Feed
Pinned posts are a game changer. Before, most recent posts that appeared at the top of the profile may not always reflect the best work or content of the creator.
After introducing Instagram pinned posts, creators can pin up to 3 pieces of their best content. It allows them to showcase offers and collaborations or select and highlight the most important content they ever created. Possibilities are endless.
How to pin posts on Instagram?
Select a post that you want to pin.
Tap on the three dots in the top right corner of the post.
Select "Pin to your profile."
Your selected post is now pinned at the top of your Instagram profile, marked with a small pin icon to distinguish pinned content from the rest of what you have to offer.
You like it? You pin it 📌

You can now choose up to three posts or Reels to pin to the top of your profile. pic.twitter.com/9waQkueckG

— Instagram (@instagram) June 7, 2022
Hide old posts with the "Archive" function
Say you have a collaboration agreed upon and want to remove the ad from your profile after a specific time has passed. Or, after years of Instagram presence, you need to do some tidying up.
You want to do this but don't want to lose any data and still have access to statistics and reactions. The Archive function is perfect in such cases.
How to archive Instagram posts?
Select a post that you no longer want to see in your feed.
Tap on the three dots in the top right corner of the post.
Select the "Archive" option to hide the content.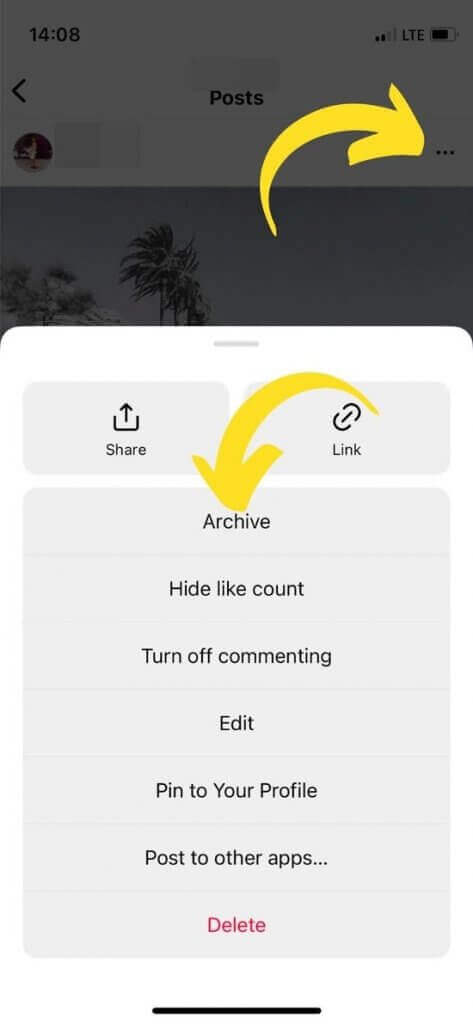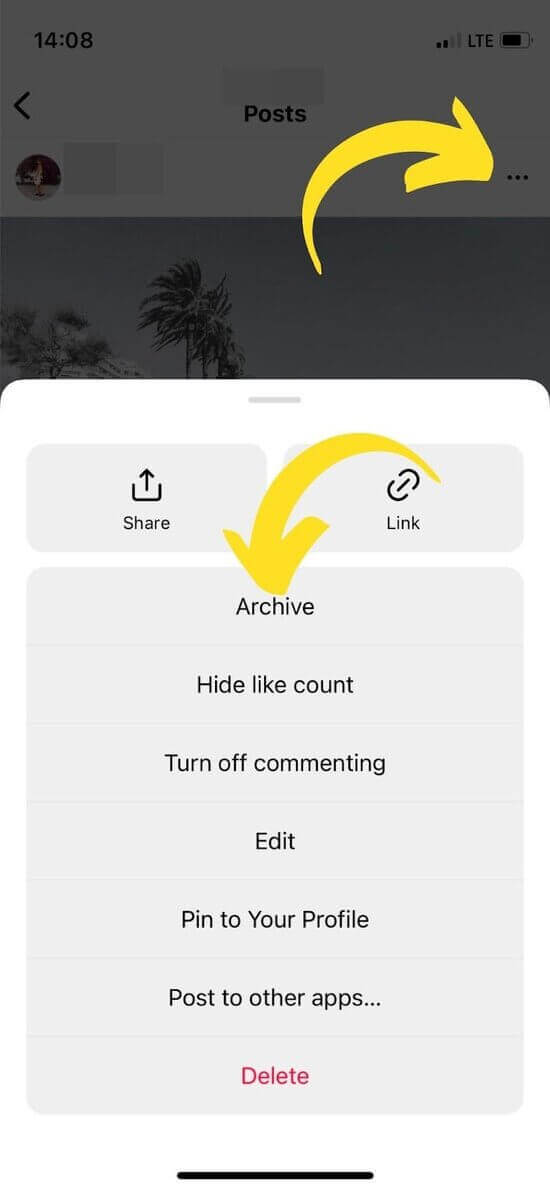 Your old content or ads will not display in the Instagram profile and will remain hidden until you decide to show them again.
Create line breaks in captions for increased readability
Why would you want to add breaks in post captions on Instagram? First off, to make sure your message is readable and straightforward, just like any other text like blog posts or media articles.
Secondly, to control how your captions display to the viewer. For example, to break the first few words that appear under the post.
How to create line breaks on Instagram captions? You will need the Return key.
Add a new photo as a post, and edit it like you usually would.
Go to the next step, i.e., the captions, and write your text.
To access the Return option, enter the text "123" in your caption.
Hit the Return key for an elegant break between paragraphs.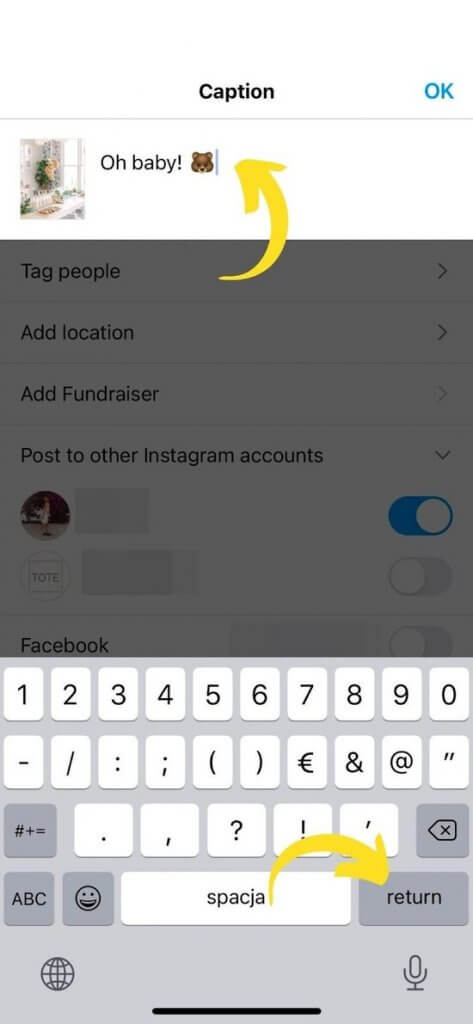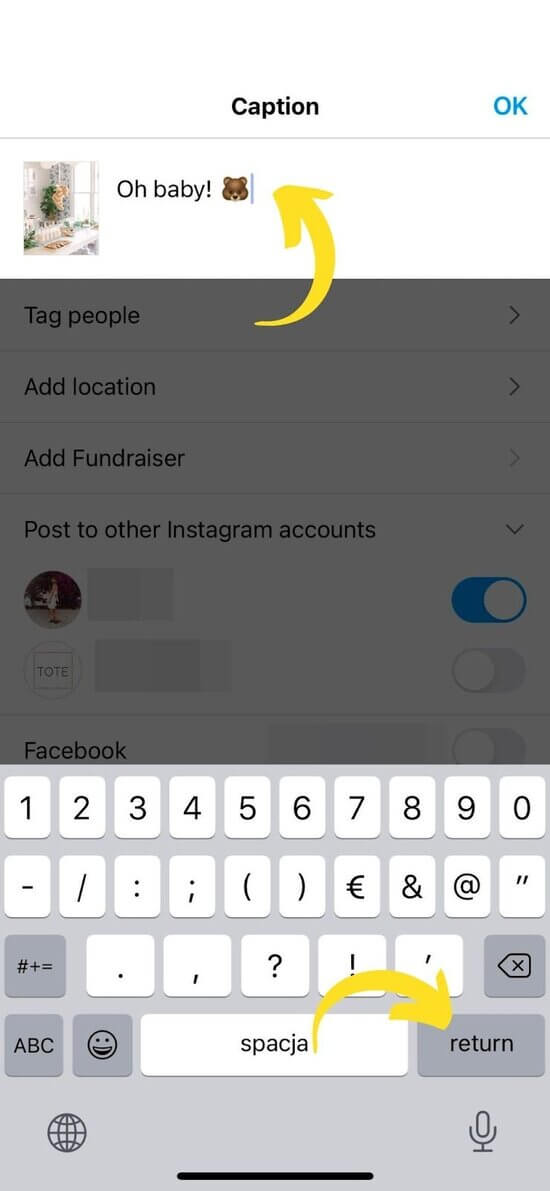 Avoid custom fonts for the sake of inclusivity
Do you know that over 2.2 billion people have a near or distant vision impairment? That does not stop them from using the Internet. Accessibility is increased now with the invention of screen readers and the option to add ALT captions to Instagram posts.
You may be tempted to use custom fonts and special characters in your bio or post captions. But remember that what stands out visually to someone with perfect eyesight makes the content unreadable for such tools as screen readers. Make your message inclusive.
Also, different versions of the device's operating systems may make custom fonts challenging to read by text-to-speech tools. It may be that your perfect text is just empty boxes to someone. It often happens with emojis, as not all the newly released ones are supported by older operating systems.
Use presets and templates to create a consistent Instagram grid
On Instagram, you can either have a visually outstanding profile or a mismatched selection of random visuals. Choosing visuals that fit your style and brand is always better.
You can make a difference in how potential visitors see your brand by paying attention to your brand's colors, fonts, and icons.
And it does not mean you have to pay big bucks to a graphic designer. Don't reinvent the wheel. Create social media content with templates and use Lightroom presets for your photos. Customize the content how you like and stay consistent with the visual side of your posts over time.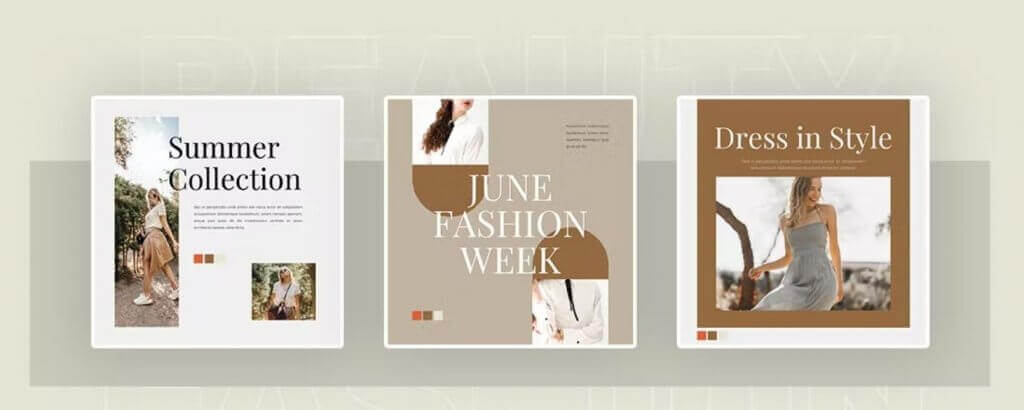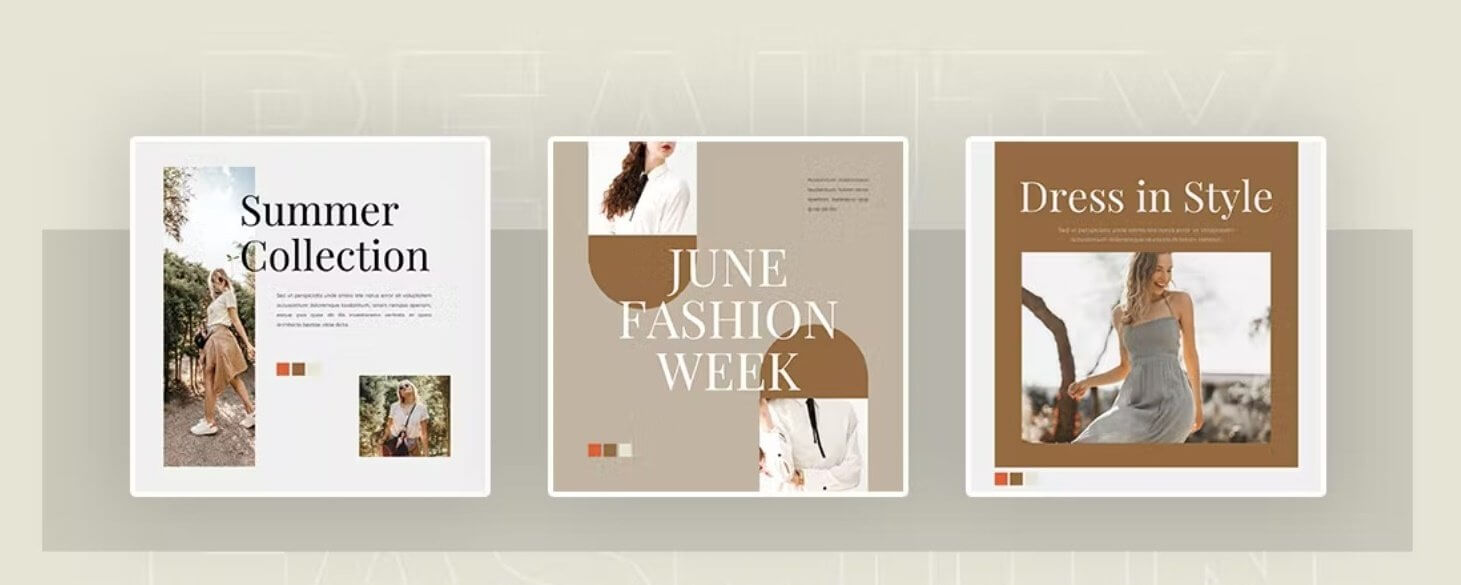 Instagram Story hacks and tricks
Instagram Stories can quickly become boring for your audience if you only stick to the same tested strategies. Stay consistent with your posts and videos, but try to switch it up a bit from time to time. How? See the hacks below.
Add a photo background to Reels on Stories
Adding a photo background to Reels shared through Instagram Stories looks simply fabulous: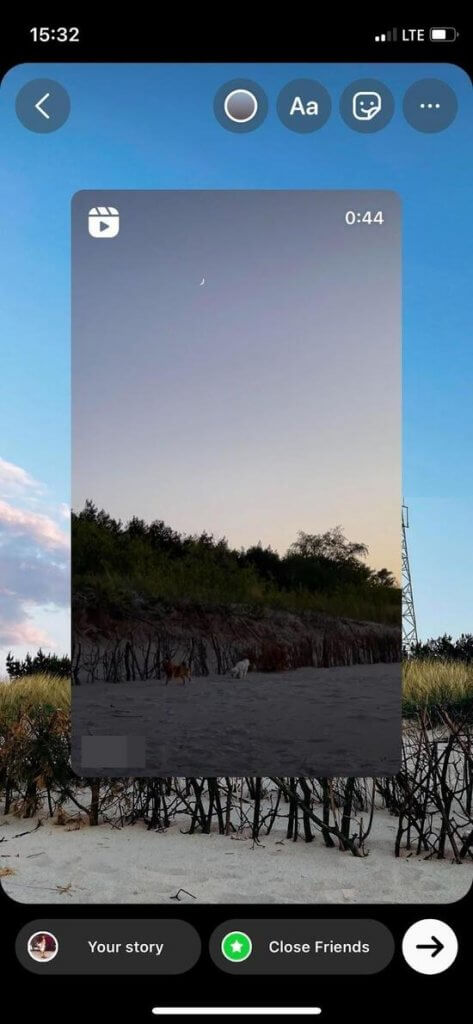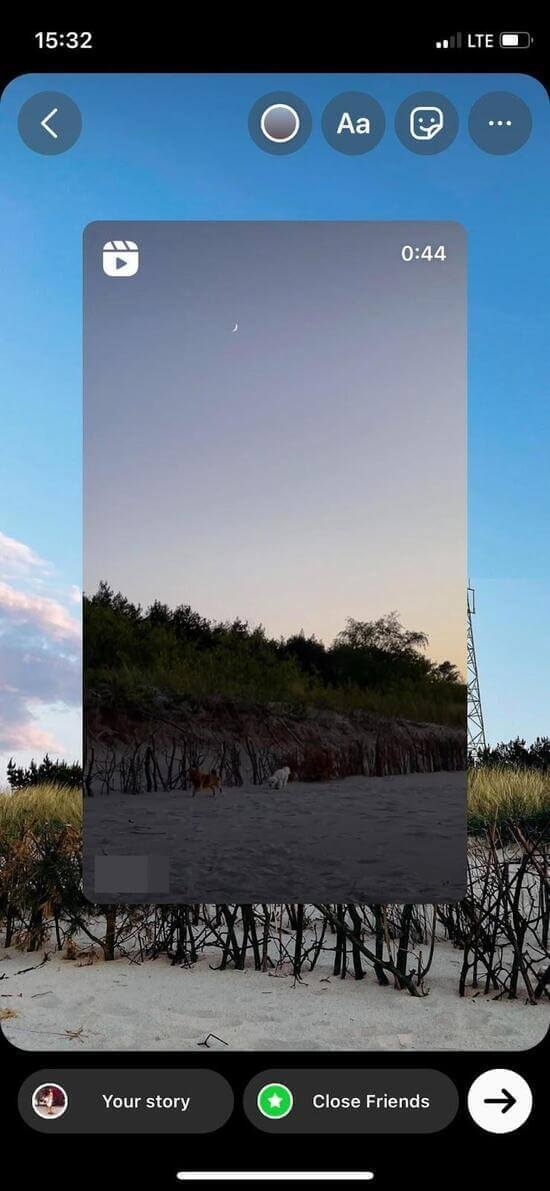 Want to do it fast and hassle-free? Try out this proven hack:
Take a picture or save an image from a website like Unsplash or Death to your camera roll.
Copy the image to your camera roll and cut it crosswise into two halves.
Select and share your Instagram Reel to Stories.
Click on the Sticker icon in the upper right corner, and choose a photo from your camera roll.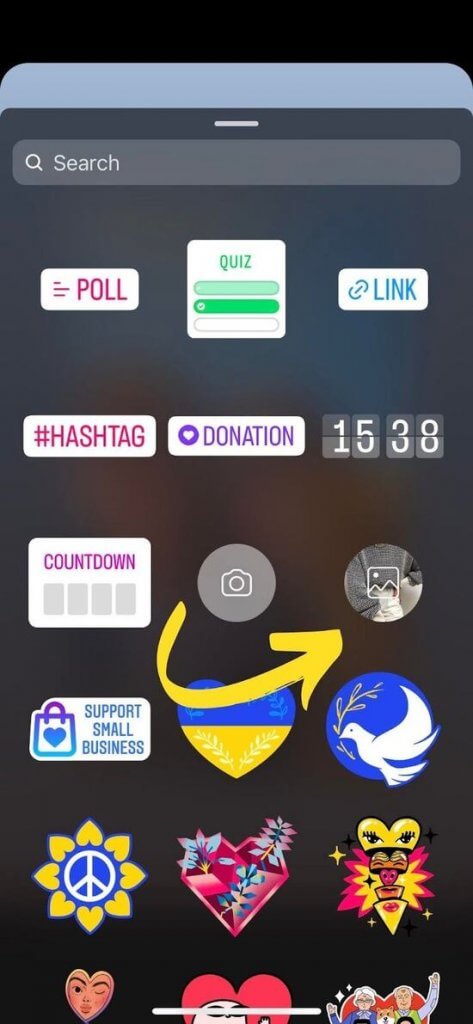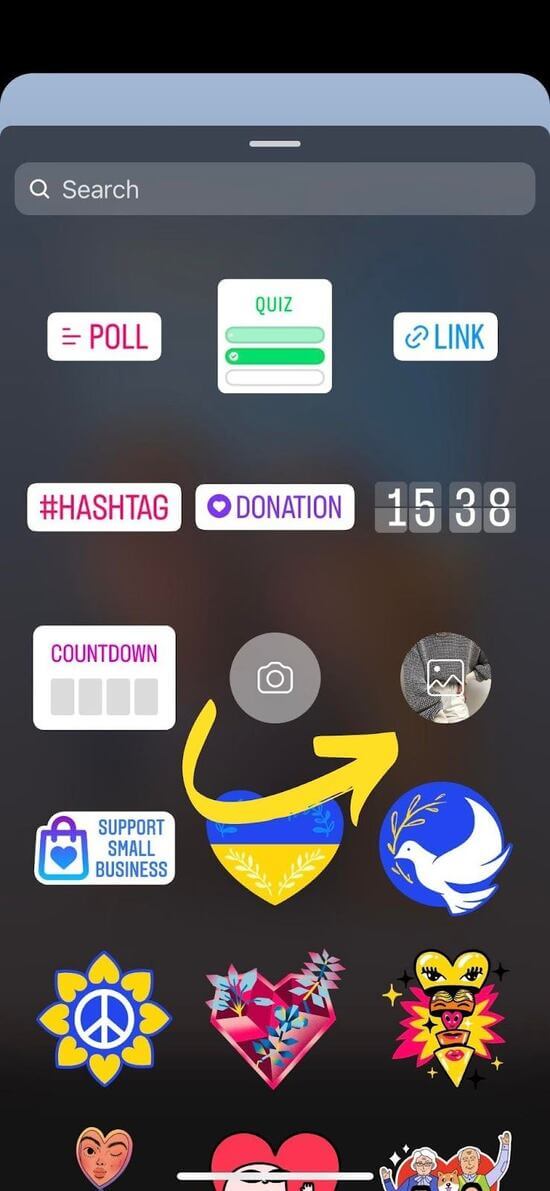 Add the first half of the background picture to your Story, and tap on the Reel to bring it to the front.
Then add the second half of the background picture to your Story, and again, tap the Reel to bring it to the front.
Here's a tutorial from Ela Mazur, who shows how to do it step by step:
Hide hashtags and user tags on Instagram Stories
This trick makes you an Instagram ninja in just a few moves. How to hide hashtags in your Instagram Stories?
Create a Story with an image.
Add your chosen hashtags in text, drag it, and drop, ensuring all text is well-placed over a one-color background.
Tap on the color palette icon and select the dropper icon.
You'll be able to select any color from the image simply by moving the dropper across the Story.
Change the text color by selecting the color matching the background, making sure the text and background blend into one. You can zoom out the text if it's too big to fit into the one-color background.
Ready. Your text with hashtags remains hidden, and you can use the same trick on texts tagging other users or companies.
Create color gradient text
Make your texts stand out with a rainbow gradient. This trick is a bit hard at first, but once you get the hang of it, nothing stops you from recreating the Nyan Cat in your texts.
Add your text to the Story and double tap to select the entire caption.
Once the text is highlighted, select the color palette, tap, and hold on any color until the complete palette tool becomes visible at the bottom of the screen.
Take a deep breath as the next part may be quite challenging initially, but don't give up!
Keep one finger on the beginning of the text and one on the color palette, and start moving your fingers simultaneously to the right. Every letter should get a different color.
Add captions to Instagram Stories
Instagram Story captions are a must. In a world where 80% of American users are likelier to watch the entire video when it has captions, it's no longer a debate about whether to do captions or not. The conversation moved to how to do it quickly. The most efficient way to add Instagram Story captions is by using Gram's native tool.
Record your Instagram Story
Tap on stickers selection and choose the captions option to automatically transcribe your video and select a font format that fits your recording.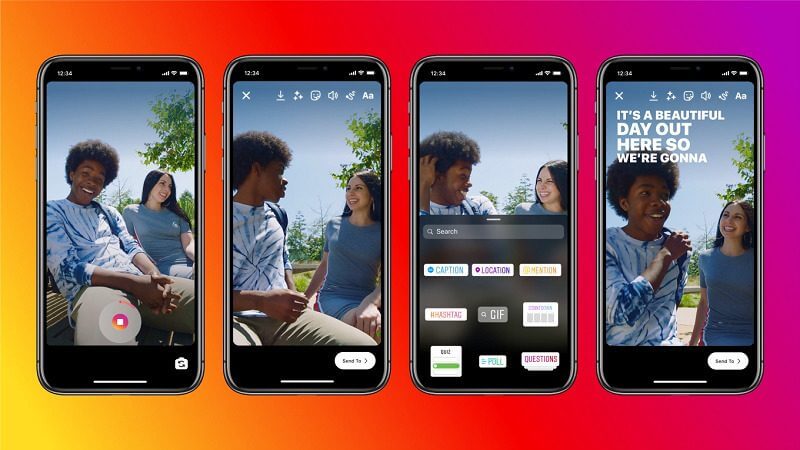 Share creative post previews
A little sneak peek can get the job done when it comes to capturing the interest of your Instagram Stories viewers. How exactly to spark curiosity and drive traffic to your latest publication?
Create a Story using a still shot of your Reel or a picture from your newest post.
Important: this hack doesn't work with content shared on your profile. You need to select a still picture from your camera roll.
Mask the entire screen with one color overlay by selecting the pen icon at the top of the screen, choosing the color, and then tapping and holding your finger on the screen until the entire picture gets covered.
Choose the eraser and erase the color from parts of your picture. You can do lines or dots, whatever your imagination says. This way, you will uncover some details of the photo underneath.
Add the link sticker and link to the actual post. In this way, your followers will be able to easily go to see the entire picture or your new Reel.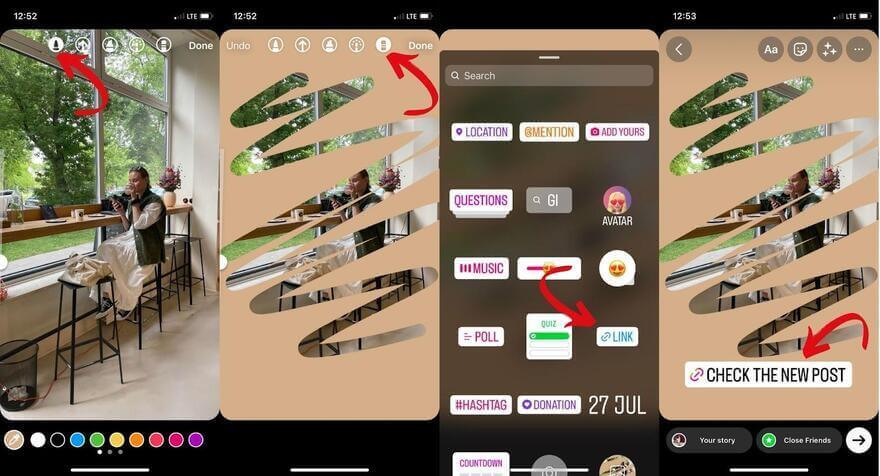 Create stickers from your photos
Adding your own photo stickers to Instagram Stories is fun and easy.
Take some pictures to ensure you have an exciting selection in your camera roll.
Create an Instagram Story and tap on stickers at the top of the screen
Choose the add image option and select your picture from the camera roll.
Change the shape of the picture by tapping on the chosen image.
Repeat the process if you want to add more than one customized photo sticker to your Instastory.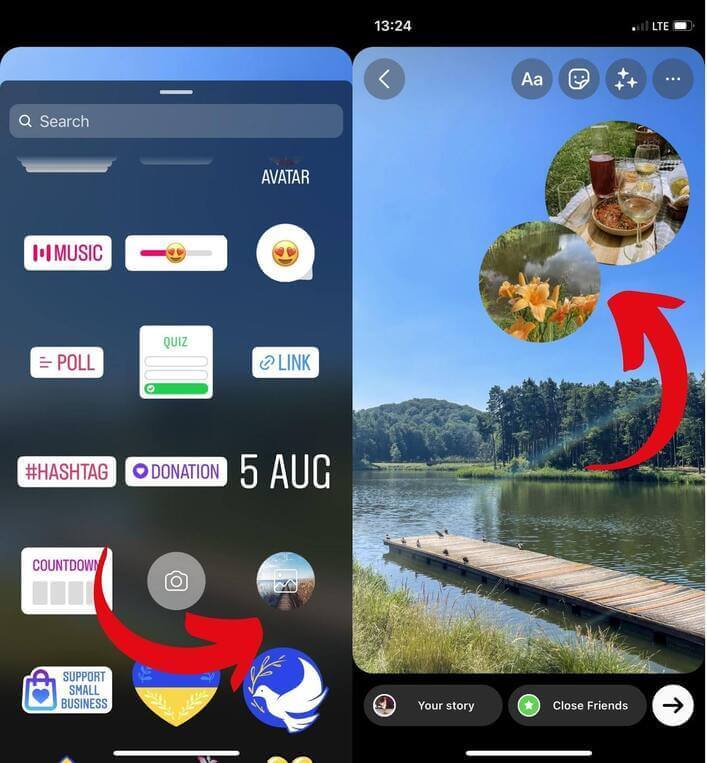 Use portrait mode for Stories and Reels (iPhone only)
Portrait mode means that your video's background will be blurry while the person in front of the camera remains sharp and visible. How to do it?
Open Instagram Stories or Reels tool.
Swipe down on the screen to open the Effects tab.
Turn the portrait mode on and swipe back to the Instagram app.
Now your video will be recorded in portrait mode.
Turn live photos into Boomerangs (iPhone only)
Live photos can be easily added to your Instastory as Boomerangs. How?
Open the Instagram Story tool and tap on the gallery to select a live photo.
Tap and press on the screen, and wait until the loading icon appears.
All's ready to share as Boomerang.
Record videos hands-free
This option lets you record yourself in videos without help from anyone. Very useful.
Open the Instagram Story tool and select the hands-free option from the left side of the screen.
Tap and hold the record button to display a 3-second timer. You can quickly jump in front of the camera and show your entire silhouette.
The video will stop recording after four whole tiles are done.
Turn Stories into Reels
This feature is relatively new but valuable as it extends the lifespan of your Instagram Stories and creates a Reel almost automatically. How?
Go to your profile and select the Instagram Story highlight that you want to turn into Reel.
At the bottom of the screen, tap on three dots to display the menu, and then choose the "Convert to Reel" option.
Edit your Reel as usual by adding music, editing time, and removing unwanted videos, then select Done.
If needed, add text or drawings. In the next step, add your caption and Reels cover photo.
Here's a video guide on how to do it from Tylor Loren:
Instagram Reels hacks and tricks
In 2023, is there still anyone interested in SoMe who does not know how to make Reels on Instagram? According to the Head of Instagram, Adam Mosseri, Reels are the fastest way to grow on the Gram right now. Check out some tricks that will help you make your Reels stand out.
Find trending audio for Reels faster
Using trending Instagram Reels songs is one of the best ways to expand your reach. But how do you find trending audios on Instagram in seconds?
While creating your Reel, tap on the add sound section. You will see all the Instagram Reels songs you can use in the new content.
Go to "See more" to see how many times your favorite sounds were used in Reels. That's how you'll see which audios are trending.
This will give you an overview of how particular Instagram Reels songs perform: are they popular amongst the creators?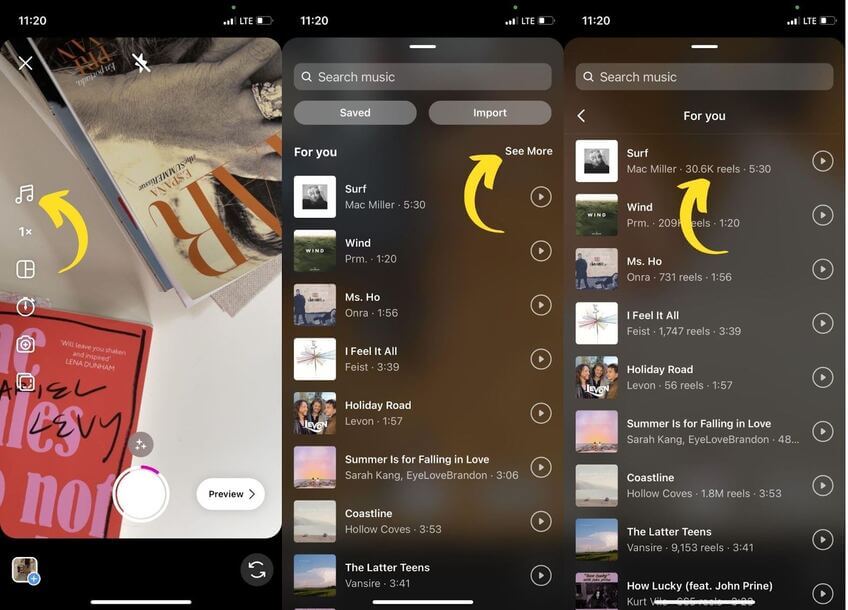 Add text to Reels cover photos
A simple Reel cover that is a thumbnail cut from your video is not enough these days. Users need a clear value proposition from you, so they instantly know what they will learn by watching the content. This is how they decide if your Reel is worth their time.
Show your value proposition by adding text to your Reels cover. How to do that?
Take a picture corresponding to your Reel content, or take a screenshot from your video.
Upload this image to a free app, like Adobe Creative Cloud Express, Canva, or Picsart.
Using in-app features, crop your photo to the Reel size and add texts by selecting free-to-use fonts.
Once you are happy with the result, save your creation to the camera roll.
While creating your Reel, choose the Reel cover photo from saved in the camera roll.
Bim, bam, boom – text in the Reel cover photo is ready to post.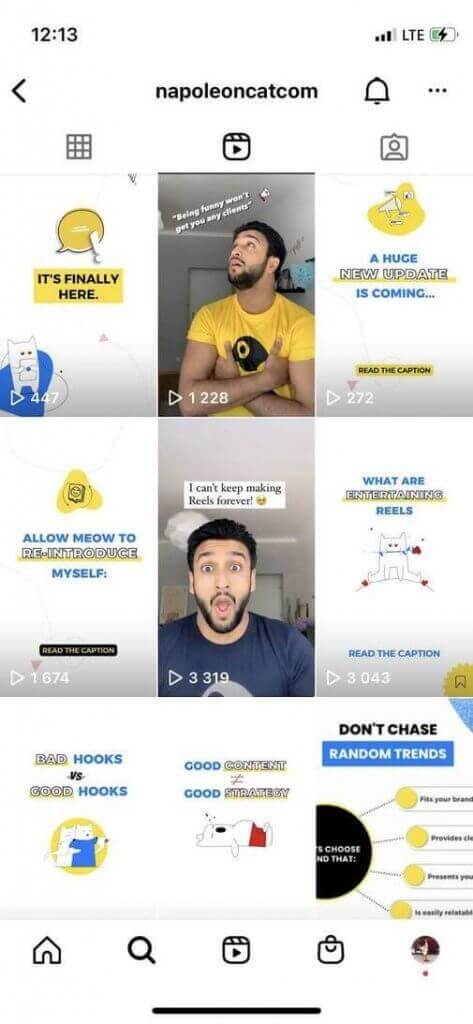 Remove watermarks from content re-shared from TikTok
In the last few months, Instagram has looked and felt more like TikTok with its constant push in favor of video content. No wonder many TikTok creators want to jump on Instagram to test the waters.
While sharing content downloaded straight from TikTok, creators reuse the same videos for two different platforms. But if you download a TikTok video, you will get it with the platform's watermark. And Instagram does not like it; the algorithm favors the original content instead. How to remove the TikTok watermark?
Search for a free TikTok downloader website – there are plenty of such tools on the internet.
Follow instructions and in the end, save your free-of-watermark video to the files/camera roll.
Instagram growth hacks and tricks
Share one post to two profiles at the same time (collabs)
When you do an Instagram collab with another user or brand, any of you can share a Reel or post to both feeds, and your views, likes, and comments will be counted from both profiles and shown as a sum. How do collabs work on Instagram?
Create a Reel or post.
In summary, choose Tag people and tap on "Invite collaborator," then select the account of the co-creator.
Once this is done and the content is posted, the other person must accept your collaboration request. Only then is the content shown in their feed. Once they accept, reactions will count as a sum from both accounts.
Important: Instagram collabs are available for public profiles only.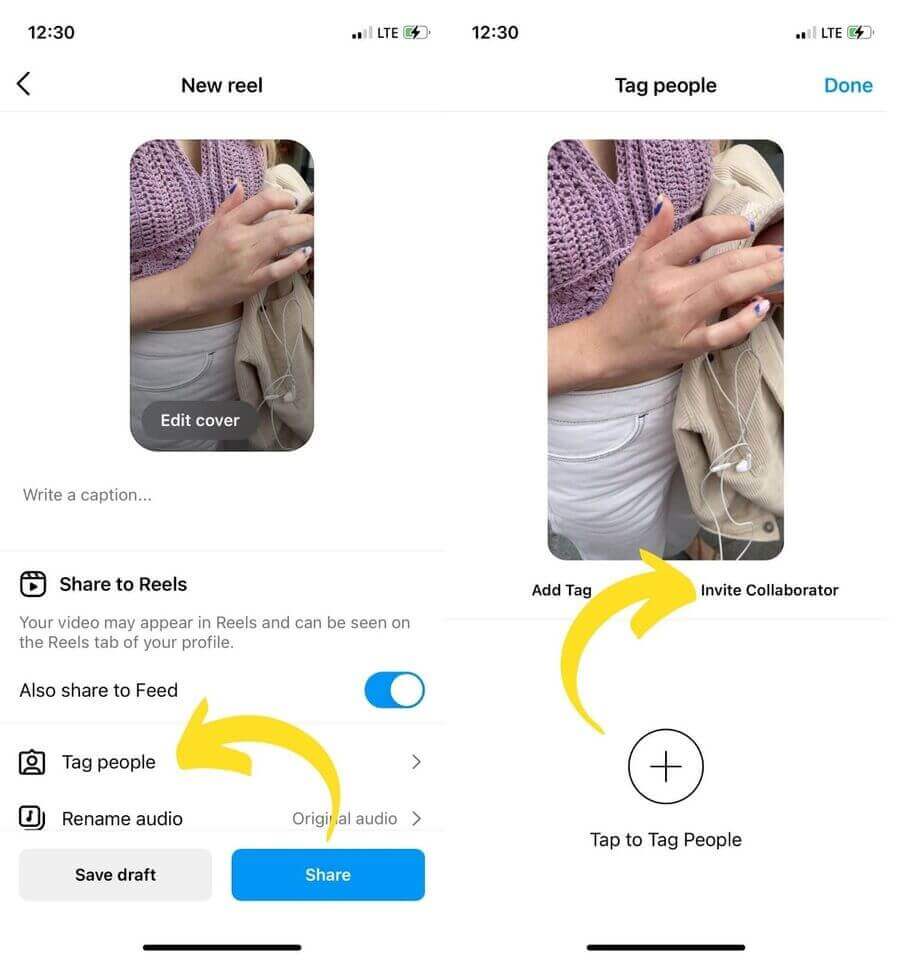 Make Instagram captions SEO-friendly
SEO has come to Instagram, and it is here to stay. The platform needs to understand your niche and who shall see your content to be relevant and on top of people's minds. One of the tactics is adding keywords in the profile bio, which we already covered above. Now, how to make your Instagram captions SEO-friendly?
Aside from hashtags, ensure that your post and Reels captions include relevant keywords.
Hashtags will help your account fit better and get categorized by the Instagram algorithm, so the content you create is recommended to users, who will see your posts as relevant and helpful.
Double (at least!) the number of comments
This is very easy but often neglected by creators. Instagram is about engagement, conversations, interactions with followers, and anyone visiting your profile.
Whenever anyone leaves a comment, make sure you answer. Show up and say thanks for visiting, ask a question, and spark the conversation. Not only will you get more comments counted this way, but Instagram's algorithm will also mark your account as active and engaging. Thus, your profile will appear in more of your followers' feeds and more content recommendations.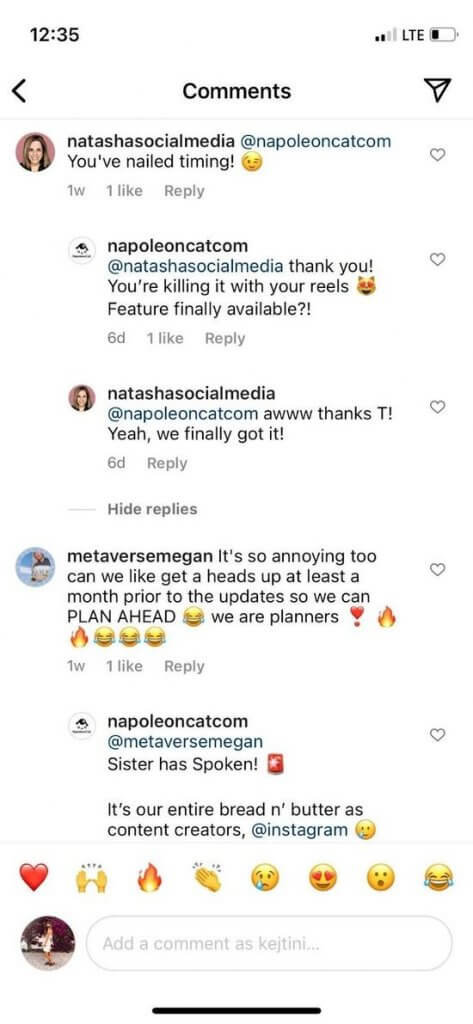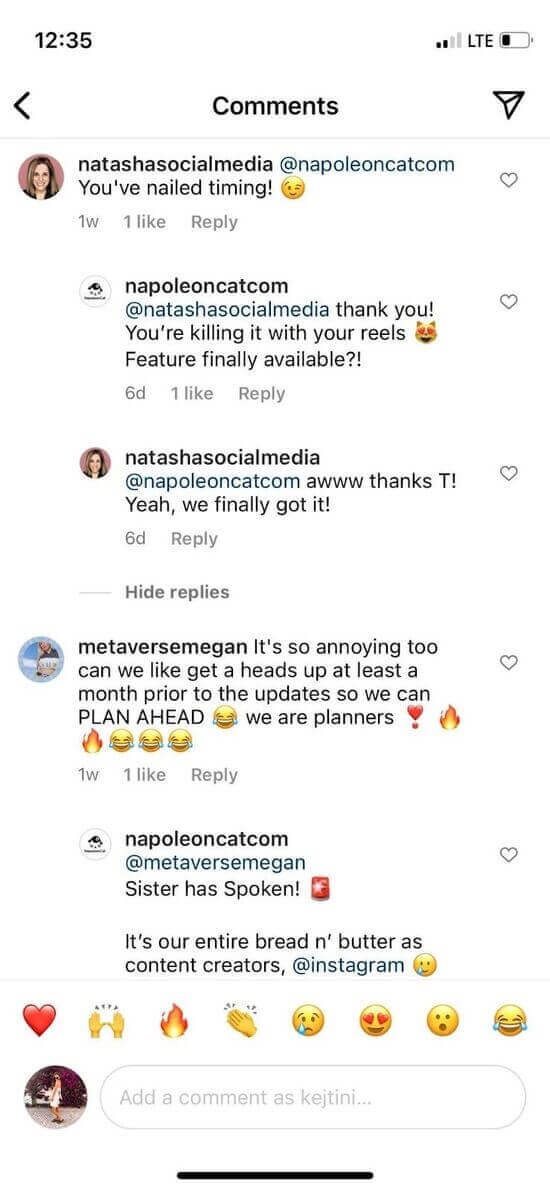 Post at the right time
What does "the right time" mean? When your audience is active. How to get such information?
The best way to get all the scoop on your followers is to check your account stats regularly.
In the Instagram app, make sure in the settings you have the correct type of account selected: it must be a business or a creator account.
A regular Instagram user does not have an option to see advanced statistics and check the abundance of data that Instagram can show you.
If you run a business or creator profile, you'll be able to check your audience's most active times in Instagram's native Analytics.
You can also connect your Instagram profile to social media management tools like NapoleonCat. Analytics and reports are even more detailed and give you specific information about the followers' activity and preferences, allow to export Instagram analytics, and more.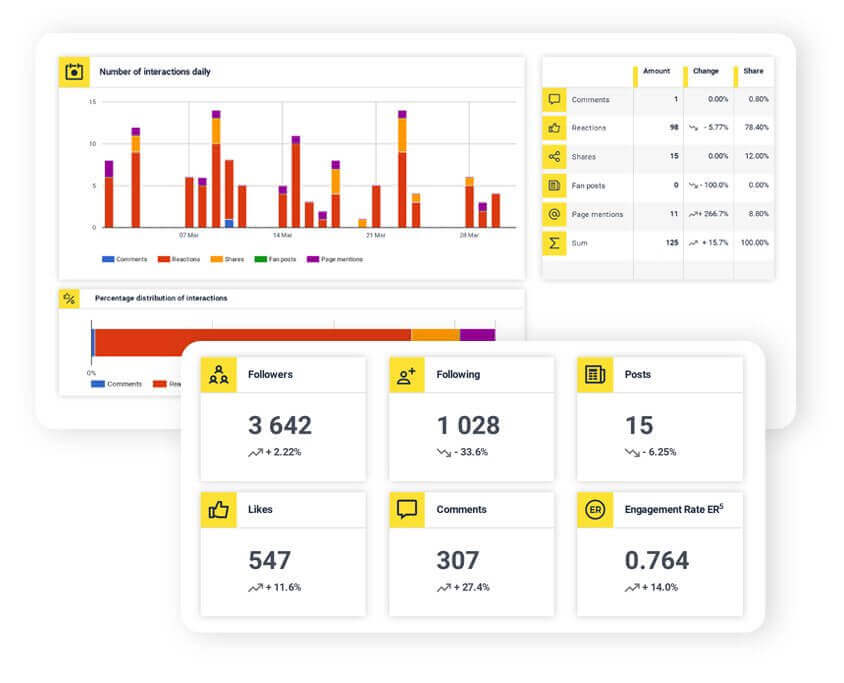 Instagram management hacks and tricks
The more you develop your business, the more time you have to dedicate to social media management.
However, having only 12 hours a day and needing to live a little, we all could use some automation while managing multiple social media accounts. Management tools are here to help, and exploring some of their functionalities is well worth the time.
Post from desktop
Posting daily from your Instagram app can be challenging, especially if you use desktop tools to pimp your posts. Did you think about moving to a desktop completely and posting to Instagram from PC? Easy! And without a phone in hand.
Log in to your Instagram account on the desktop.
Add a post straight from the computer by clicking on the "+" in the top right corner. This will show several options, including adding a new post.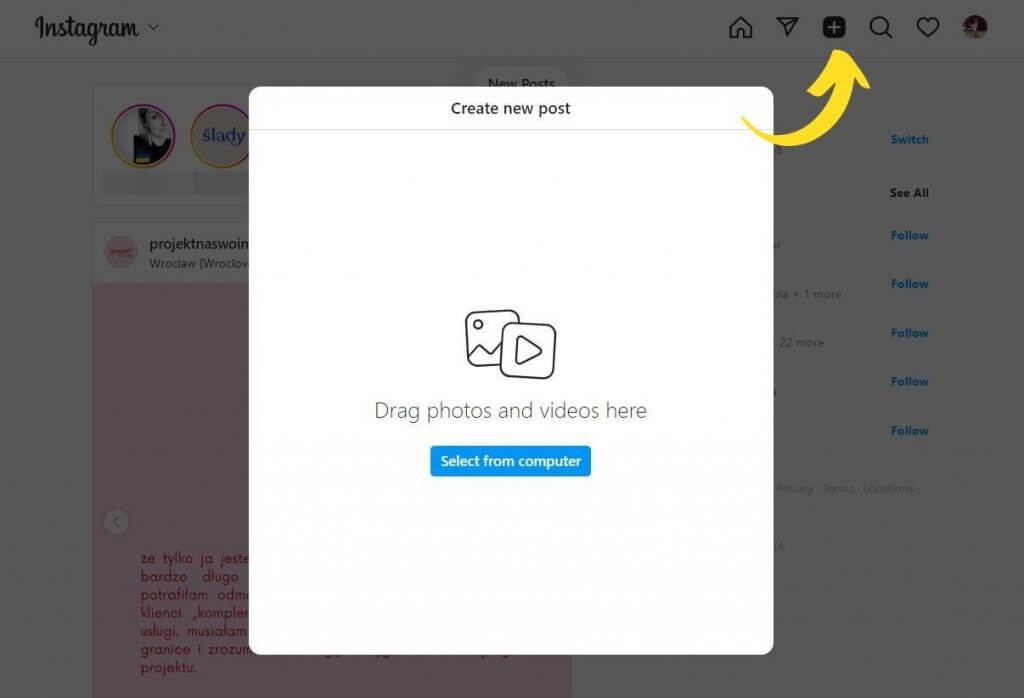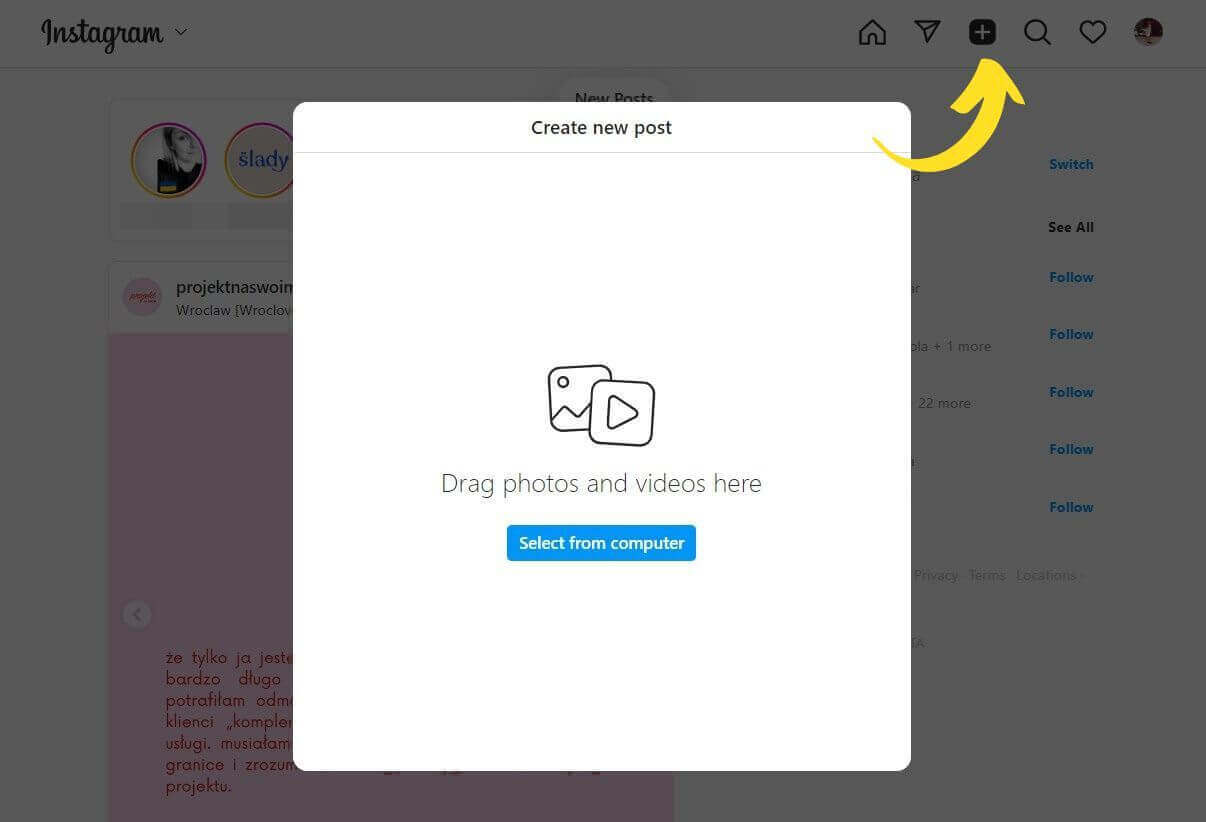 Now, you can either publish your post immediately or schedule the publication.
Speaking of…
Schedule your posts
Scheduling posts can save you a ton of time. Of course, you can do this in the Meta Business Suite via the posting calendar. However, opting to do it via a partner tool is better if you ask me. Why? Because you can simultaneously schedule posts for multiple profiles and platforms, not just Instagram, and add extra options like scheduling your first comments.
Create an account and connect your social media profiles to your social media management tool.
Go to the Post Scheduling option to see a calendar and add your first post, upload pictures or videos, write captions, save drafts, and come back to them anytime.
Use platform-specific features and play with other options like:
Scheduling the first comment
Tagging users and locations
Adding hashtags
Adjusting your image ratio
Selecting a video thumbnail
Schedule the publication for your preferred time. You can schedule one post to be published across multiple profiles and platforms.
Automatically hide or delete comments
An Instagram native app has an option to filter and hide comments based on words, but it is limited. Try setting up Auto-moderation rules in NapoleonCat to filter the spam and move the conversation in comments to a private message, flag the content, hide comments on Instagram or delete them automatically.
Any time your Auto-moderation rules are triggered, NapoleonCat can send an email notification to team members to let them know an essential issue was raised and needs immediate attention. No more searching in the chaos of Instagram notifications.
Manage comments and DMs for multiple Instagram profiles from one place
Being a social media manager means you often manage multiple Instagram accounts, and switching between them in the app is a drag.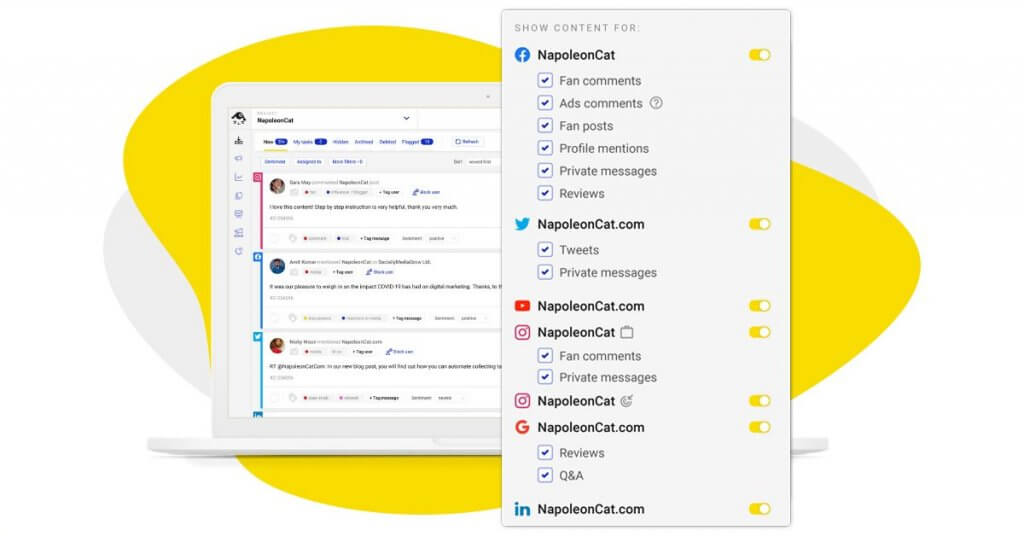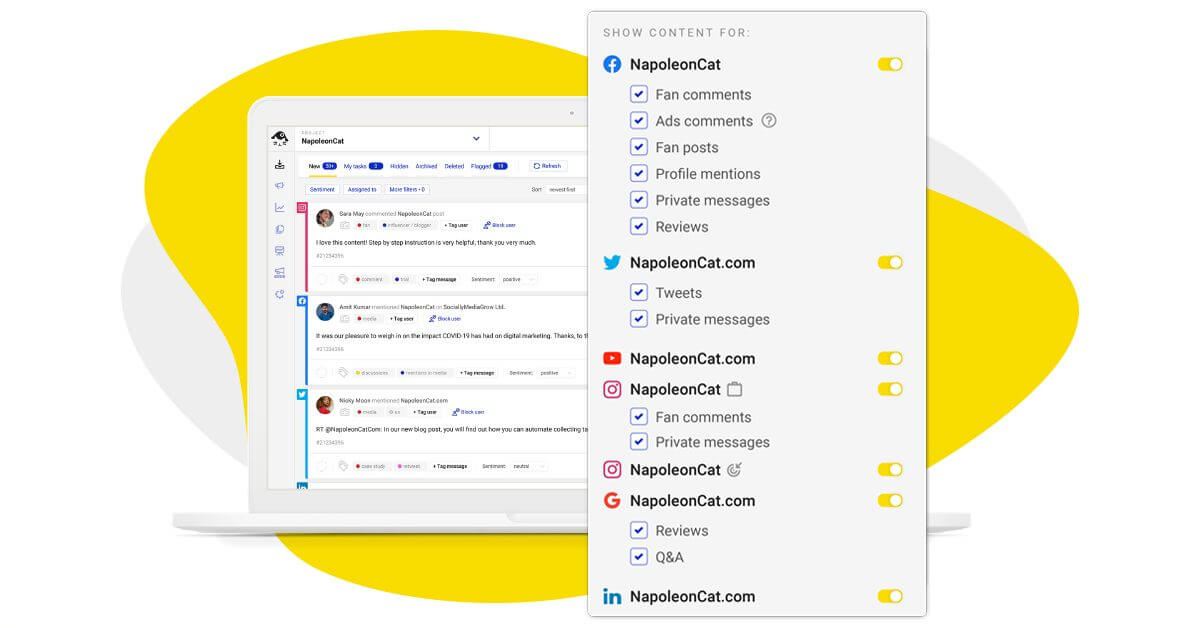 With tools such as NapoleonCat, you can link all your social media accounts and manage them from one place. Filtering the messages, scheduling posts, and moderating comments have become more accessible and faster than ever.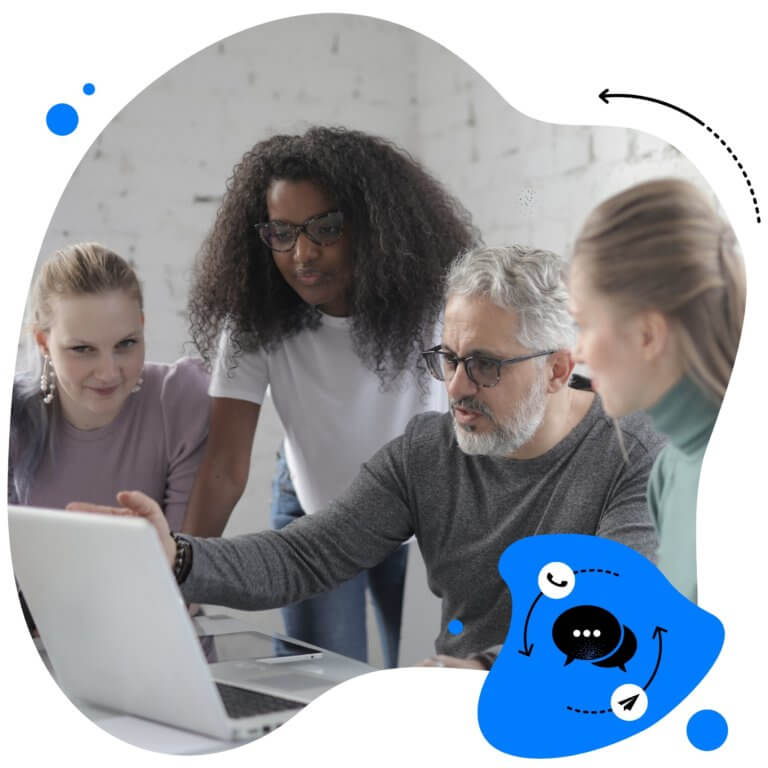 Manage multiple Instagram profiles in one place
Reply to all comments and messages from the unified inbox, schedule posts, and analyze your Instagram performance – with an all-in-one social media tool.
You may also like: