What is the secret sauce of effective social media marketing? Well, it has quite a few ingredients, but long story short: it comes down to reaching the right audience with the right message, at the right time and in the right place.
Today, we will guide you through a really important element of all social media marketing strategies – social media publishing. Keep reading to find out how to plan it right, automate some tedious tasks, and create a fully functional content calendar.
But, first thing's first…
What is social media publishing?
Social media publishing is the process of planning, creating, scheduling, and distributing content across various social media platforms. Breaking the process into steps improves workflow efficiency and can make content management significantly easier.
Good practices for social media publishing
With definitions out of the way, let's move on to some good practices that will help you get social media publishing right.
Plan in advance
When putting together a social media calendar, you should plan content in advance. Thinking about content in monthly or weekly categories will help you see the big picture – and simply save you a lot of time.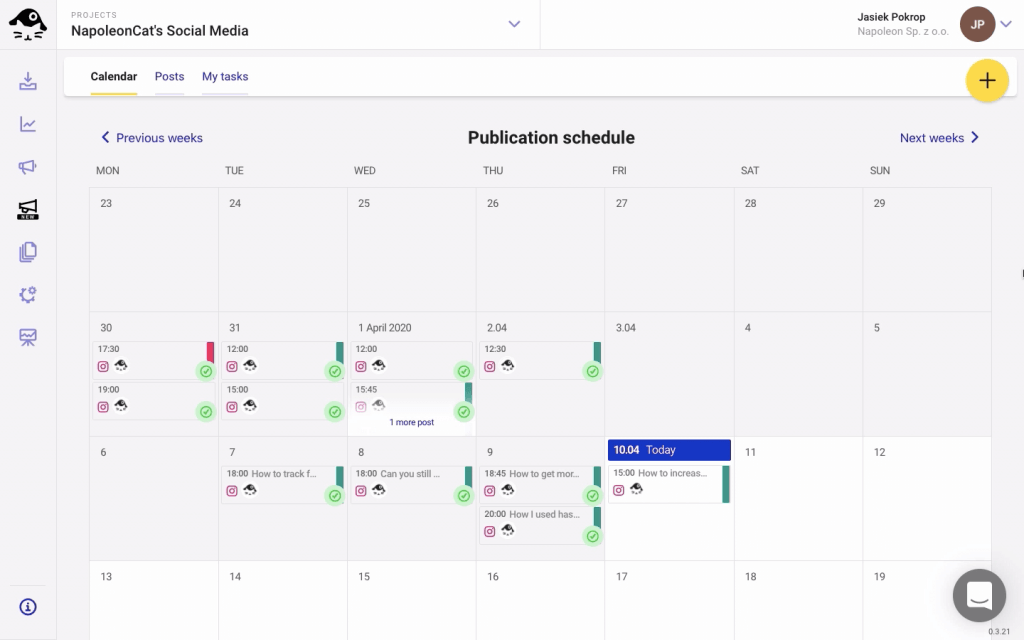 Don't limit yourself to only sketching posts that are fully conceptualized and ready to go – include drafts and loose ideas in your plan as well! This way, you will have a handy backlog of content to share when your team is low on ideas or when a campaign you had planned falls through.
Publish content relevant to each platform
Each social media network is different. Even if some of them have a lot in common, you should always create content that reflects the specifics of each platform. While Instagram is considered to be one of the most visual social networks, Twitter is all about copy. Facebook would welcome some longer forms with open arms, while there is more to show than there is to say on YouTube.
Keeping your content consistent in terms of tone of voice and style yet customized to each platform may seem troublesome and time-consuming at first. Get familiar with the file specs and content types that work on each of the platforms you're active on. Observation and analysis are the best ways to do this. Numbers don't lie – statistics will quickly show you what kind of content performs best and what doesn't deliver. This will give you a crystal clear idea about the types of content you should focus on for each platform.

Follow your audience's activity patterns
To make the most of social media publishing, you should align your content plan with the times of the day when your followers are the most active. This will increase your chances of being spotted and will help you serve your audience with content when they need it – and are waiting for it.
That's why checking and following activity patterns is so crucial. Fortunately, these patterns are easily accessible.
Facebook and Instagram both provide audience insights in their native analytics tools. This includes audience demographics and times of your audience's peak activity. Activity charts often resemble a whale (with a ridge reflecting the highest activity in the evening plus a tail at night and in the very early morning), but this is not always the case.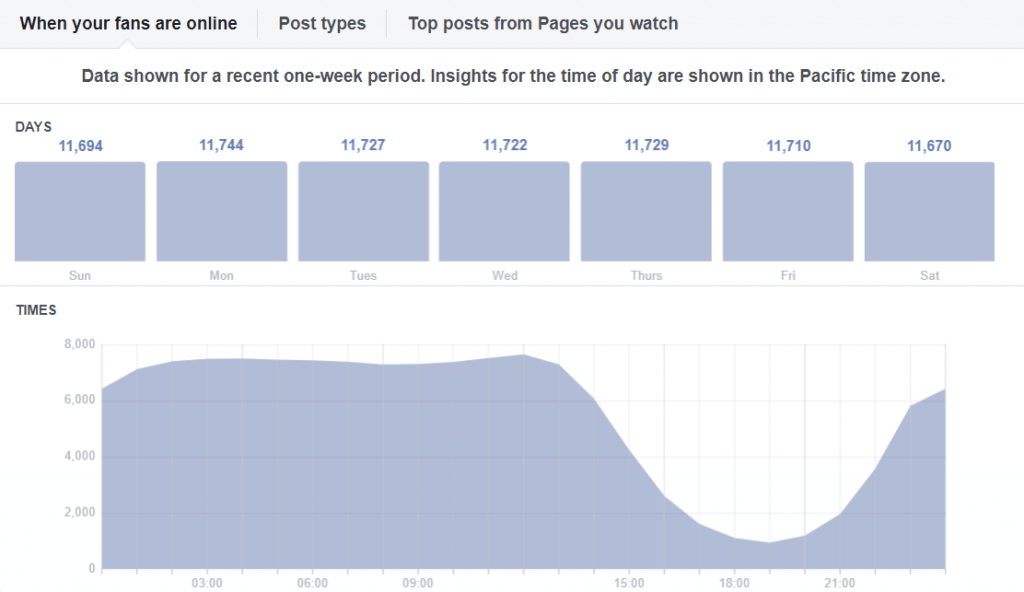 Below is an example from an FMCG brand's profile on Facebook. As this chart indicates, their fans are the most active around midday, but then there is a significant drop in activity between 3 pm and 9 pm PDT. What does it mean for that brand? In order for their content to be seen by as many people as possible, they should post in the first half of the day. Otherwise, followers may not interact as desired. If the brand ignored that chart completely and followed the typical "whale" chart instead, they may have posted some content in the evening and seen worse results.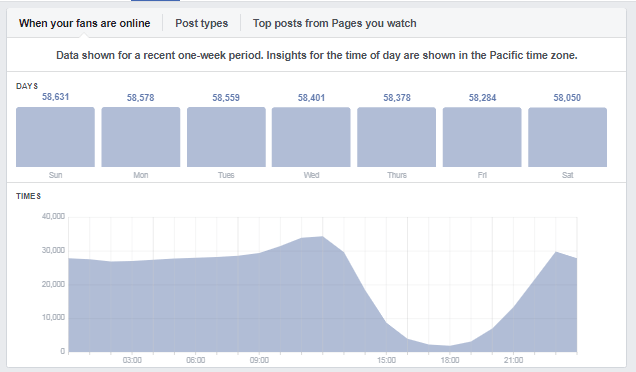 Why you should automate social media publishing
While posting to social media can be managed manually, in many cases it's better to automate it. Below, you'll find a few good practices on how to automate your social media publishing and why exploring automation solutions is worth your while.
It saves time
Smart social media scheduling can be a real time saver for your business. Let's say you're in charge of a few social media profiles, and you need to publish five posts a day on each of them. Without scheduling your posts in advance, you'd constantly be switching between the accounts to manually post content. That would be stressful, time-consuming, and, in the era of marketing automation, simply unnecessary. Automated scheduling can save you as much as a few hours per week on posting content.
By the way, if you wish to save time on coming up with a witty content's description, check out our well-researched Instagram captions.
It helps you better manage your content
With automated social media publishing solutions, you have more control over the content you publish. Not only can you schedule your social media posts, but you can also draft and duplicate them between content calendars. Since you are able to manage your content more efficiently, you will have a better overview of what has been posted, what is in the queue or scheduled, and what's in the backlog of ideas.
It shifts the focus to more complex tasks
Let's face it – manual social media publishing can be tedious and repetitive. By automating this process, you will gain precious time that you can spend on working on the creative side of the business. You can also put more focus on strategy, competitive analysis, or analyzing audience behavior. Use this time to master social customer service and community management instead, since you can't fully automate interacting with your audience and coming up with creative ideas.
Social media publishing automation tools
So now you know why you should look into automating social media publishing. Let's move on to the how. There are two ways of going about the process:
using native features offered by individual social media platforms
investing in versatile social media management tools
Below, we will explore these two categories in a bit more detail.
Native social media publishing tools
Some social media platforms offer native tools for scheduling content. Below you will find out a bit more information about the options available for Facebook, Instagram, and Twitter.
Scheduling Facebook and Instagram posts with Creator Studio
It's been a while since Facebook introduced post scheduling to Facebook Pages, but only recently scheduling has been moved to Creator Studio – a built-in solution for, well, creating content. With Creator Studio, you can schedule various types of posts, track analytics, and respond to messages across many Pages you manage. While it offers an impressive range of features for a free tool, teams may still lack collaboration options and content calendar overviews.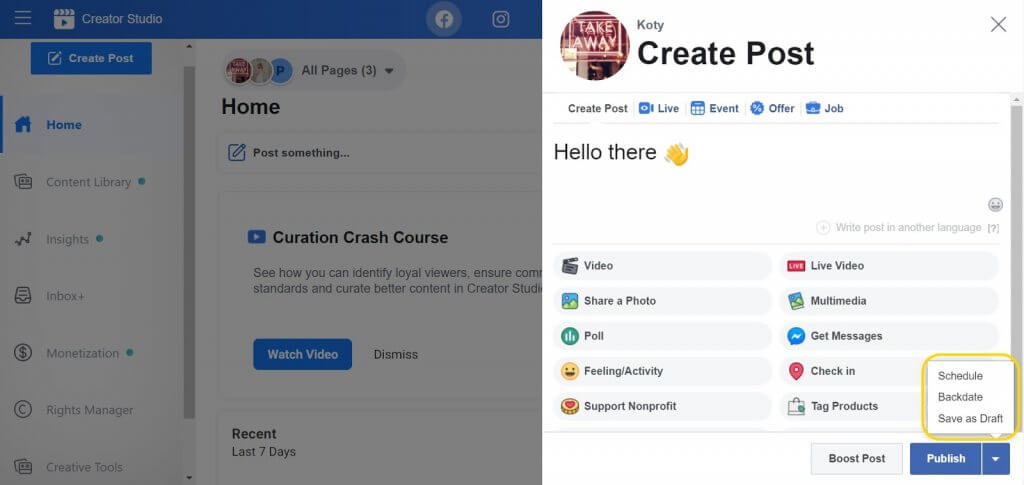 If you don't want to use Creator Studio but you still want to schedule some posts directly from the Page view level, you can do so via the Pages mobile app. This is where the previous version of scheduling lives now, allowing you to define the time and date of publication when you're creating a post in the app.
Creator Studio seems to be a cure-all for Instagram scheduling, too. Since Facebook and Instagram belong to the same family, Instagram publishing can also be automated with Creator Studio.
Scheduling Tweets
You may be wondering whether there's an easy way to schedule Tweets. Twitter does offer a scheduling solution, but the process is not as intuitive as it could be. It's not possible to simply schedule a later publication date for a tweet you're typing out – you need to compose your Tweets via Twitter Ads in order to have the option of scheduling them. While the name of the page might suggest that it only works for sponsored posts (aka Promoted Tweets), that's not the case – you can use the site to program regular organic Tweets as well.
Social media management tools for scheduling
Social media publishing tools native to individual platforms have one obvious advantage over more versatile, cross-platform solutions – they're free. But if you manage multiple social media accounts across networks, using a more advanced tool could be worth the investment.
How come? Here are some reasons why using external social media management tools makes sense:
Social media management tools can significantly improve your processes if your content plans require multi-level approval, if you work as a team, or if you have many profiles to keep an eye on.
Quality social media management tools support teamwork and collaboration. Content approval, sharing drafts, bulk publishing, and exchanging internal notes – all of this can streamline your team's work and help you facilitate transparent processes.
Tools make it easier to customize your content plans. With an overview of all of your platforms in one place, you don't have to jump between them and check whether everything is going according to plan.
You'll be getting way more than just scheduling options. Most social media management platforms also provide analytics, reporting, and community management features.
With NapoleonCat, you can make all of the above happen. Let's look into some details.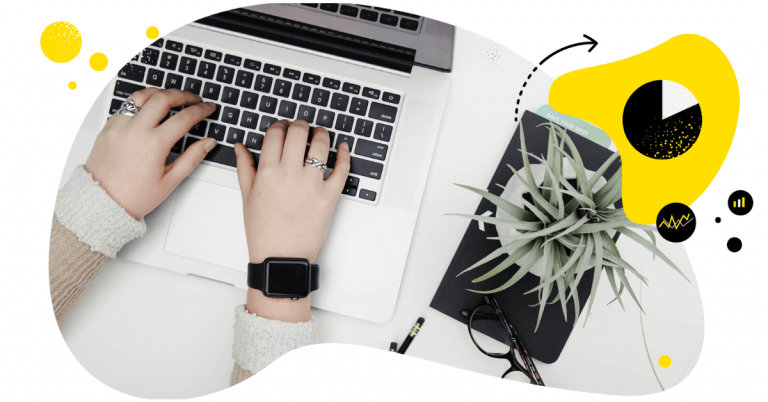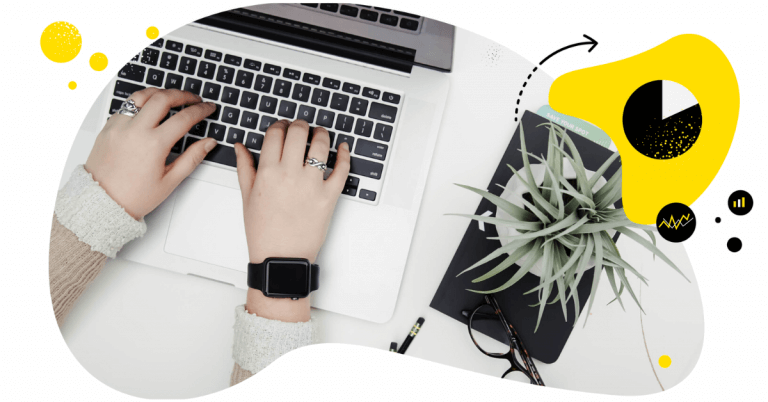 Easily manage multiple social media accounts
Schedule and auto-publish content to Instagram, Facebook, and Twitter. Engage your community and analyze your performance for actionable insights.
Try NapoleonCat free for 7 days. No credit card required.
NapoleonCat – your versatile social media management dashboard
Using NapoleonCat, you can schedule posts to Instagram, Facebook, and Twitter – all directly from one user-friendly dashboard available for Mac and PC.
As an official Facebook Business Partner, NapoleonCat offers safe automated publications directly to Instagram and Facebook. This means you can schedule your posts ahead of time, arrange them into an engaging content calendar, and sit back – your publications will automatically go live at the defined times. Using NapoleonCat, you can create and schedule photo and video posts, add locations, tag users, and use emojis and hashtags. Using our dedicated tool for Instagram, the Instagram Scheduler, you can even schedule each post's first comment.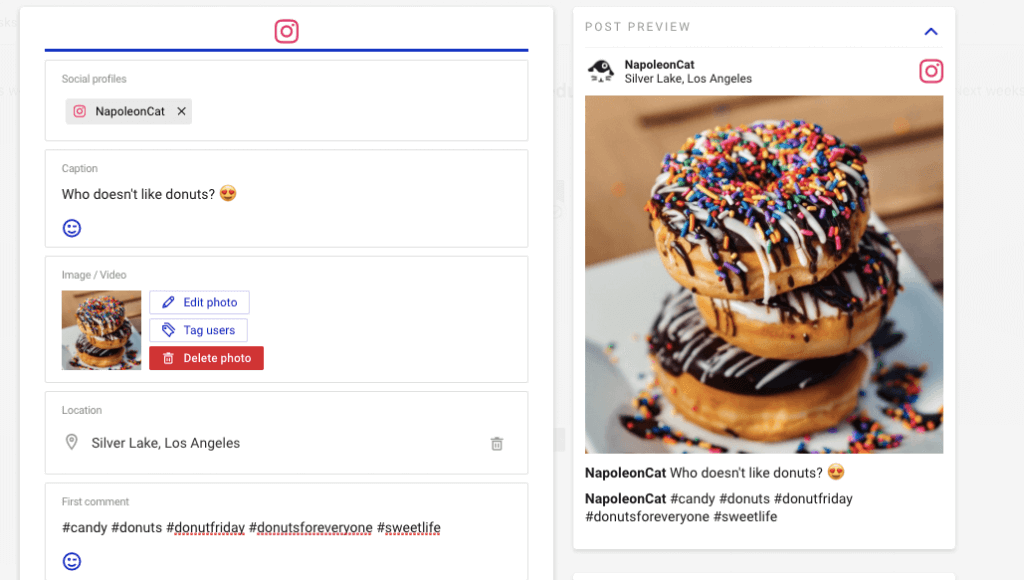 NapoleonCat is designed for teams – within the dashboard, you can assign tasks to team members, request reviews from supervisors or clients, and exchange internal notes.
Finally, NapoleonCat is much more than just a publishing tool – analytics, reporting, automation solutions, and an advanced social inbox are all part of the deal.
Key takeaways
We hope that this guide leaves you with no doubts as to the importance of social media publishing for effective content management. It can save you a lot of time and effort, effectively helping you focus more on the creative aspects of social media management. It can also help you achieve consistency in your communications and thus optimize your social media performance.
While the native tools offered by popular social media platforms are a great first step towards automating social media publishing, you might want to try out some external tools to streamline your work and enhance your social strategy with analytics, community management, and collaboration features. Just a small hint here – you can do all of this with NapoleonCat 🙂