Want your prospects to give you the time of day and consider your offerings? Step out of the way and let your customers do the talking. You need to leverage user-generated content (UGC).
User-generated content is more effective for one simple reason: Customers trust fellow customers more than they trust brands.
Let's face it. When people see you promoting your offerings on the web, this is what they see: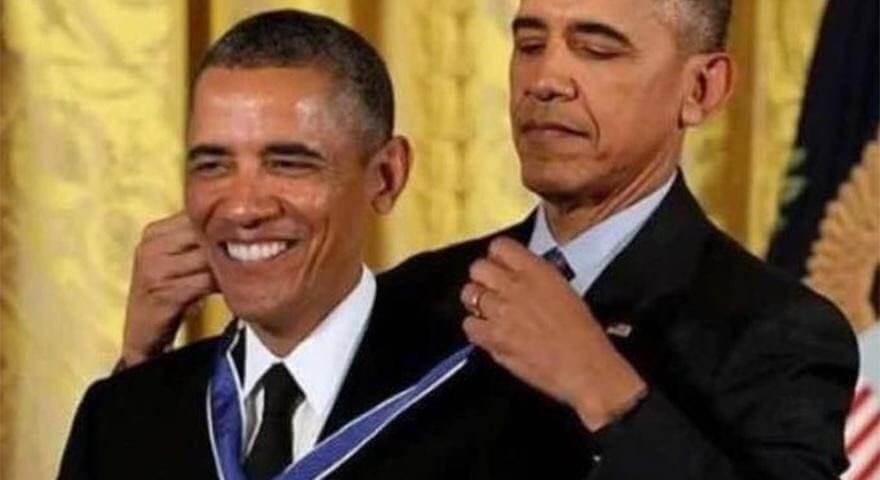 You may drop hints on how your "spacious" yoga studio makes yoga a fun learning experience. Or make a subtle boast about how your newly opened restaurant has the best wings in town.
But even if you're telling the truth and have people's best interests in mind, most prospects are not going to believe you right off the bat. To them, it's just selling…
And is that so surprising, considering that only 96% of customers don't trust ads?
In this blog post, you'll learn:
Why user-generated content is effective
How to find and gather user-generated content
How to use them effectively for your social media campaign.
But first, a refresher.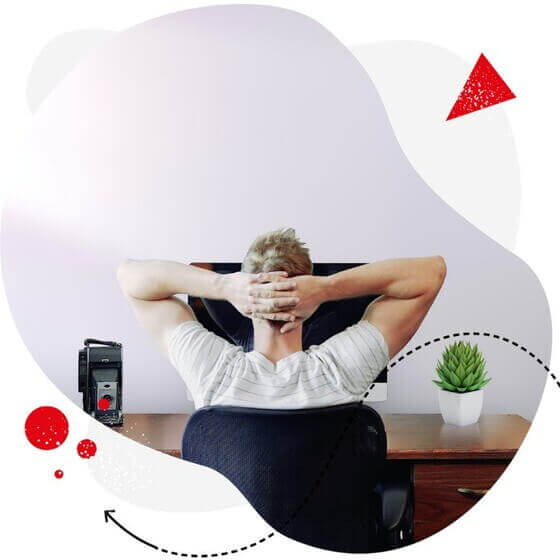 Manage all your socials with one tool
Manage comments and messages across all your accounts in one place. Schedule posts, get in-depth analytics and reports & more. Try it for free:
Try NapoleonCat free for 14 days. No credit card required.
What is UGC?
User-generated content (UGC) refers to online content produced, submitted, and published by a brand's audience.
UGC can be many things, from images and videos to blog posts, reviews, and social media posts.
Remember that unboxing video you watched that convinced you to buy your latest phone? That's UGC.
Or that Instagram food selfie your neighbor posted that finally convinced you to try the lobster noodles at the nearby Mandarin restaurant you keep hearing about? Yep, that's UGC, too.
As you can already tell, UGC is darn effective in convincing customers to try out a product or service.
If you're not using UCC in your social media marketing campaign, you're leaving money on the table.
Benefits of UGC
1. It gives you credibility
UGC is social proof in its purest form. It taps into the basic human instinct to take cues from others in deciding what to buy.
When a prospect sees one of your customers lose weight in a month using your four-week workout program, as opposed to an advertisement communicating that same benefit, the more likely they are to check out what you have to offer.
They can't help but think, "If it works for her, it will work for me, too!"
No wonder 84% of millennial consumers reported that user-generated content has an influence on what they buy.
2. It widens your reach
Research shows that 85% of customers are twice as likely to share UGC with their family and friends.
All the more reason why you need to leverage UGC in your social media marketing campaign.
After all, the more shares you get, the wider your reach will be, and the more opportunities to get your audience to talk about your brand.
That is why a winning UGC strategy is the perfect way to raise brand awareness. This builds positive associations with your brand, giving your marketing funnel a great foundation for acquiring clients or customers.
3. It increases engagement
Get this: User-generated content generates 6.9x higher engagement than brand-generated posts.
Why does this matter? Because highly engaged customers buy more, share more, promote more, and are more loyal.
In fact, a Gallup research shows that a fully-engaged customer represents 23% more revenue than average.
So, what makes user-generated content so engaging?
Simply because it's the fastest way to build an emotional connection between your brand and customers.
As already mentioned, UGC makes your brand more credible and authentic. But it's more than that. When prospects see content about you published by someone they can relate with, it gives them a taste of what's possible – how your offering can improve their lives for the better in some way.
UGC is visual proof that your brand can deliver the goods. And when it comes to selling, seeing is believing.
4. UGC fuels community building
If you want your audience to stay loyal to your brand, build a community around it.
As Seth Godin succinctly put it, "People don't buy goods and services. They buy relations, stories, and magic."
Leveraging UGC not only shows people your brand is the real deal, but it also lets them know there are others like them – people who share their struggles, values, and aspirations.
In other words, UGC fulfills our innate (and powerful) need to belong. It reinforces a narrative about themselves. Most importantly, it positions your brand as the major driver of that narrative.
How to run a UGC campaign
Okay, so it's settled. UGC makes your brand more credible, widens your reach, helps increase engagement (and revenue), and helps build a community around your brand.
But how do you run a UGC campaign?
To be more specific, how do you get your customers to rave about your offerings on social media? And once you've gathered enough UGC, what do you do with them?
As with any strategy, we take it step by step.
1. Set SMART Goals
First, define a goal so you can set a clear vision and keep track of how well your UGC campaign is performing.
To determine a goal worth pursuing, create SMART goals.
SMART stands for specific, measurable, achievable, realistic, and timely.
When setting a SMART goal, take the time to figure out your brand's positioning in the market and where you want to go from there.
Your UGC campaign's goal could be any of the following:
Increase brand engagement
Boost conversions
Heighten brand trust
Etc.
Once you've identified or defined a goal worth pursuing, you'll have a more specific idea of where to look for UGC and which types of UGC to use.
2. Consider the social media platforms you're using.
Different social media channels cater to different audiences and you need to tailor your UGC campaign accordingly if you want to get results. So, if you've been planning to run a photo contest on LinkedIn, think again.
To give you an idea, here are the best types of content for each platform:
Facebook: short videos, blog posts, and curated content
Twitter: news, GIFs, short videos
LinkedIn: blog posts, company news, and professional content
Pinterest: Infographics, step-by-step photo tutorials
3. Collect UGC for your brand
There are many ways to motivate your audience to create and publish content that will boost your brand. Let's explore them one by one.
UGC Contest/Challenge
Customers love to rave about brands they like. Doing it fulfills an innate need to give people a better sense of who they are and what they stand for.
Turn that sharing activity into a contest or challenge and customers will jump at the opportunity to participate. Why? Because people are competitive by nature.
Add an incentive into the mix and they're going to submit that UGC you've been hoping for before in no time.
As an example, A.C. Moore Arts & Crafts runs a monthly contest inviting customers to share their DIY arts and crafts projects they created using supplies from their store. They must include the hashtag #acmooreinspired to become an official participant.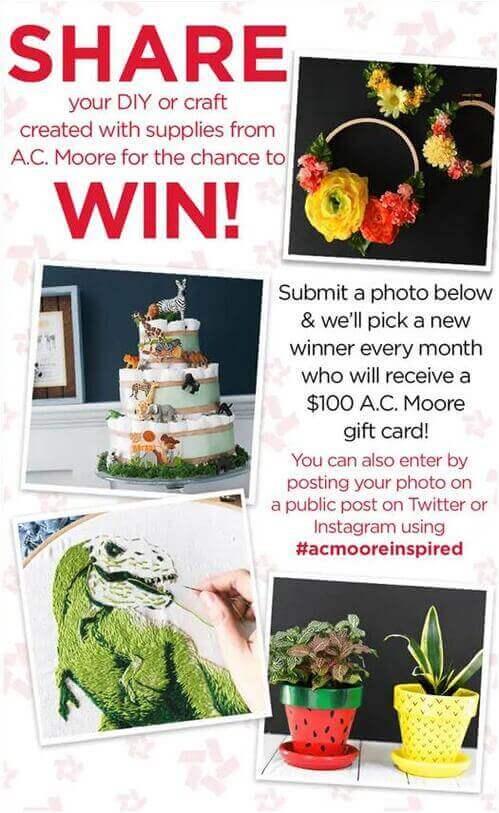 Here are specific steps on how to run a flawless UGC contest, as suggested by The Submittable Blog.
Identify your goals (see SMART goals section)
Focus your campaign. Define a theme and make sure it's aligned with your organization's mission.
Select a prize. Choose a reward that highlights your brand's value.
Hone partnerships and create a hashtag. Reach out to brands or influencers and invite them to collaborate with you in the UGC campaign. This will help expand your campaign's reach. Create a unique hashtag to be used as a promotional tool. The hashtag will also serve as a way to round up participants and choose a winner.
Decide how to pick your winner. There are many ways to do this. You can 1) Set up a review panel, 2) Let voters choose the winner, 3) Randomly draw a winner, or 4) Choose the photo internally.
Set up the campaign.
Spread the word. Leverage your social channels, blog, email list, and other marketing channels to spread the word about your UGC contest.
Announce the winner/s. Close submissions at the deadline and thank all participants for their participation. Reach out to winners privately before announcing the winners, tagging them, and giving out rewards.
Track results. Evaluate the impact of your UGC campaign by measuring metrics such as the number of submissions, votes per submission, engagement per submission, etc.
Rinse and repeat. Plan your next UGC campaign and get even better results.
Protip: Everybody loves a contest, and chances are you're going to receive a ton of comments every time you run one. To maintain a good reputation, you need to respond consistently and in a reasonable time frame.
And how to do that easier and in much less time?
By using a social media engagement tool like NapoleonCat, you can manage all social interactions (comments, messages, etc) from different social accounts and platforms – all from one customizable view.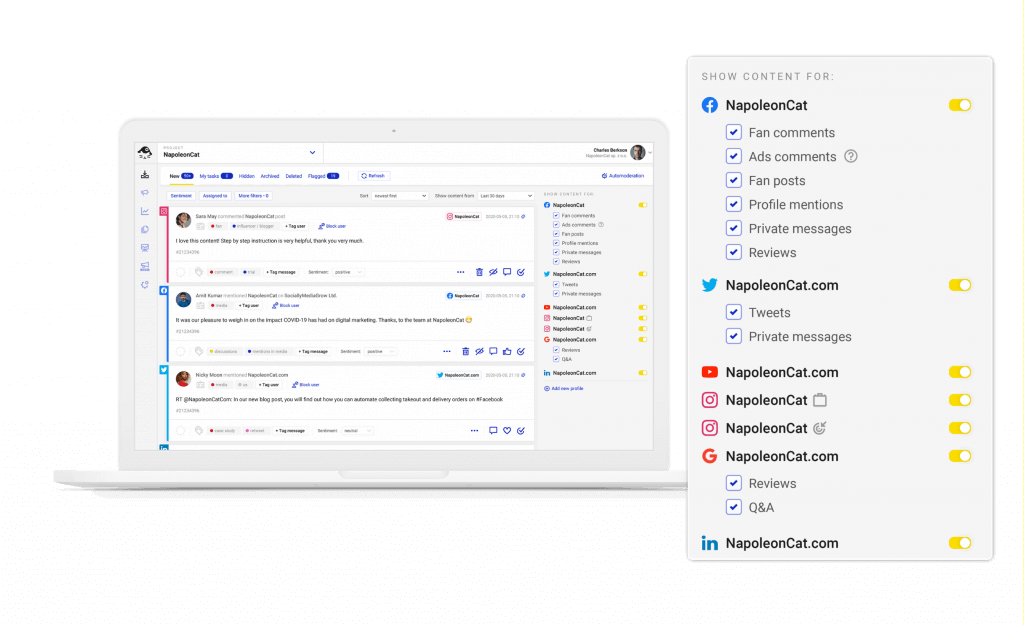 Leverage branded hashtags
You need to leverage branded hashtags to grow your social media presence over time. A branded hashtag can help communicate your brand's value to make it stand out from the competition.
Moreover, customers can click on your branded hashtag and access content published by other customers, which fosters a sense of community and makes them love your brand more.
Keds, for example, uses the hashtag #fanfriday to share Instagram photos of their customers who have been tagging the company in their feed. This not only gives customers a sense of community, but they're also able to take part in helping the brand gain more visibility on social media.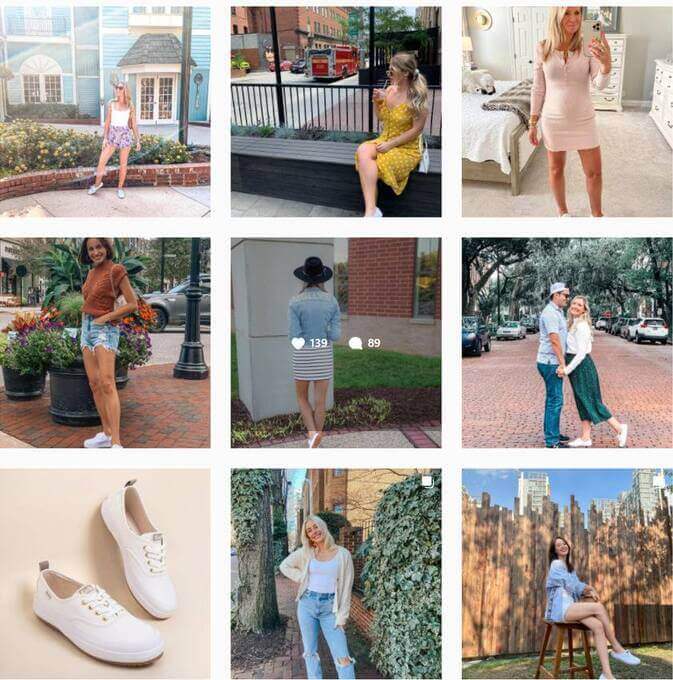 Here are a few tips for creating branded hashtags that help you stand out.
Keep it simple
Make it communicate what makes your brand unique
Make it memorable (use familiar words and catchy phrases)
Pick one that's easy to spell (prospects won't find you if your customers are making spelling mistakes)
If you're strapped for hashtag ideas, try using hashtag generators like inflact.com, all-hashtag.com, Ritetag.com.
For a deeper dive into creating successful branded hashtags, read this blog post.
Keep asking questions
Give satisfied customers the opportunity and they will sing praises about your brand.
All you have to do is ask.
By asking open-ended questions that will make them talk about how your brand made their lives better, you can get a ton of material you can later use as UGC in your marketing campaigns.
Here are some questions you can ask to gather material for your UGC campaign:
What are your thoughts on [your brand or product name]?
How has [your brand or product] improved your life?
What is your favorite [relevant topic] and why?
Protip: You will get the occasional spam, rude comments, or malicious links when you post questions on social media. Thankfully, NapoleonCat has an auto-moderation feature that lets you create an anti-spam rule to protect your social media from spam and hateful comments.
This feature automatically hides/deletes unwanted comments from your Instagram and Facebook posts (ad posts included). The automatic reactions are triggered by keywords and phrases that you define.
This way, you can keep the conversation going and be able to single out and gather incoming UGC.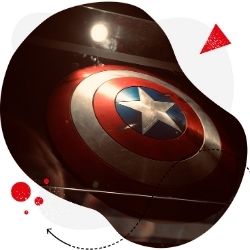 Protect your social media from hate & spam
Automatically shield your FB and IG content from hate speech, inappropriate language, and spam (ad posts included). Try it for free:
Try NapoleonCat free for 14 days. No credit card required.
Repurpose and cross-post your UGC
So, a happy customer announced on Facebook (along with an accompanying photo) how much she enjoyed your product. You get UGC!
But that doesn't mean that UGC should exist only on Facebook. Why settle, when you can post that same UGC on Instagram, Twitter, or even your website? The more opportunities to expand your reach, the better!
Care for an example? Here's the Croatian Tourist Board tweeting a UGC pulled from an Instagram photo contest.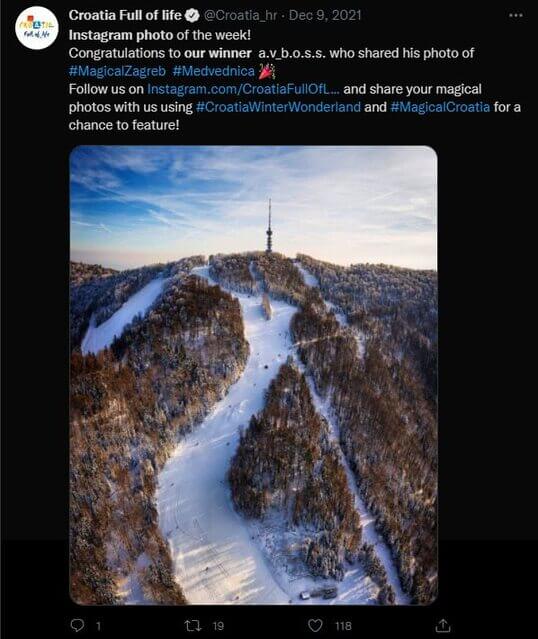 A word of caution: While cross-posting to other social media channels is a good strategy, you need to tailor each repurposed UGC to each specific platform.
With that said, repurposing UGC is as difficult and time-consuming as it sounds. Thankfully, using NapoleonCat's Publisher tool lets you schedule social media posts (not just UGC) across different social media channels in one place.
When you publish UGC, you need to think about how it fuels your overall social media content strategy. NapoleonCat's Publisher tool makes that part easy by letting you create a shared publication calendar for multiple social media accounts for a bird's eye view of your social media strategy.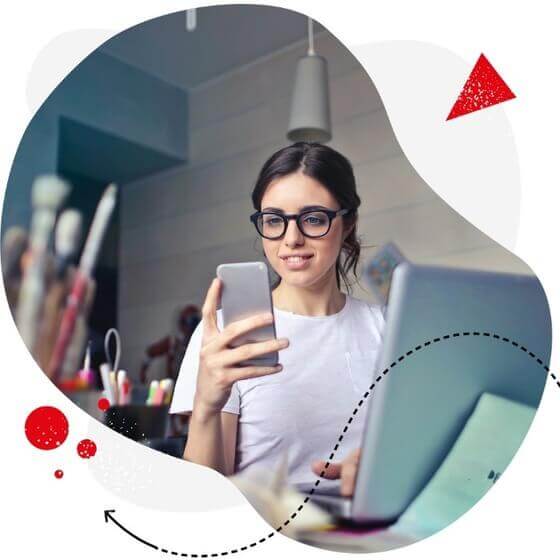 Best social media scheduler for small business
Schedule posts for Facebook, Instagram, Twitter, LinkedIn, and even Google My Business – using one simple tool. Try it for free:
Try NapoleonCat free for 14 days. No credit card required.
Over to you
As a brand, you can do better than to let your own content do all the talking. It makes you more credible in their eyes, expands your reach, and helps you build a community around your brand.
If you want to acquire more customers and cultivate a meaningful relationship with them in the long run, give them the platform they need to take part in your brand story. Make user-generated content (UGC) a part of your marketing strategy.