Stories on Instagram are used by more than 500 million people every month, while one-third of most-viewed Stories are made by brands. If you're not using them for your business already, you're missing out!
Instagram Stories have grown to be the real deal. They can help you drive user engagement, drive traffic to your website, interact with your fans, and even boost sales. The number of opportunities is only getting bigger. It's no accident that brands focus on Story content more and more nowadays.
Here is everything you need to know about Instagram Stories: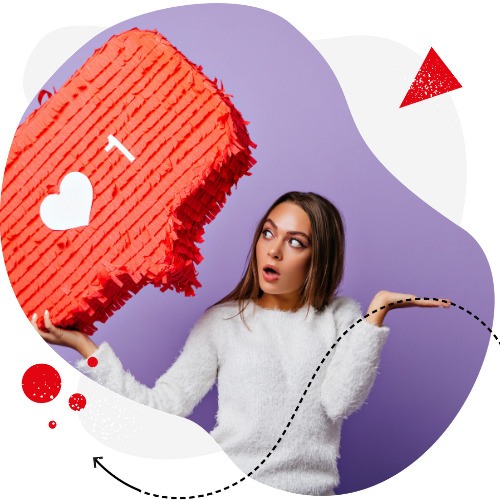 View Your Instagram Likes in 2023
Can't see likes on Instagram? Use NapoleonCat and check the number of likes under your posts and competitors' accounts as well. Try it for free:
Try NapoleonCat free for 14 days. No credit card required.
How to create Instagram Stories
Here's how to create an Instagram Story:
Open your Instagram app.
Click the camera icon in the top-left corner.
Tap the white circle at the bottom of your screen to take a picture, or press and hold to record a video.
If you'd like to post something from your gallery, swipe up anywhere on the screen, or tap the square icon on the bottom left.
Pro-tips:
Try and shoot your Instagram Stories content vertically. This way they will fill the screen and simply look better.
By pressing and pinching two fingers on the screen, you'll be able to rotate your content and change its size.
Once you upload your Instagram Story, keep in mind that your username will cover some portion of the content (unless the viewers will press and hold their fingers on the screen while seeing your Story).
You can play around with different Story formats, like the popular Boomerang. To choose a format, simply swipe left or right at the bottom of the screen before tapping the white circle.
Currently the formats include LIVE, CREATE, BOOMERANG, LAYOUT, SUPERZOOM, or HANDS-FREE. We recommend you get familiar with these formats, as they offer a wide range of cool features that you can get creative with.
How to check who viewed your Instagram Story
Did you know that you can not only see the view count, but also your viewers' usernames? Here's how:
Access your Story by clicking on your profile picture in the top-left corner. You can do it from the home page or your profile page.
In the bottom left corner, you'll see how many people viewed your Story. If you swipe up, you'll see their usernames.
You can only see the viewer list for the first 24 hours. After that, you'll only be able to check the view count. That includes highlighted Stories.
How to hide your Story from certain users
Sometimes we just don't want certain people to see our content. Sure thing, that's understandable. Thankfully, it's also super easy to do.
When accessing the viewer list, click on the three dots next to the person's username and click "Hide Story From..".
If the person you wish to hide your Story from is not on your viewer list, click on the 3 lines in the upper right corner from the level of your profile page.
Click on Settings -> Privacy -> Story -> Hide Story From
The people you choose to hide your Story from will not be notified of that and will still be able to view your profile and your regular feed posts.
How to mute people's Instagram Stories
Sometimes you may feel like the people that you follow post too many Stories. You can mute their Story posts without unfollowing them by clicking the "following" button on their profile page and choosing to mute their Stories. Same thing goes for muting their posts.
How to access Instagram Stories statistics
For an active Instagram Story:
Access the viewer list by swiping up and then click on the chart-looking icon.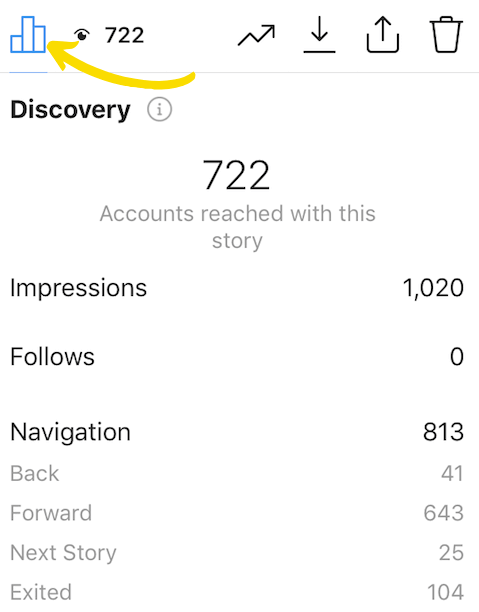 For an inactive Instagram Story:
From the level of your profile page, click on the three lines in the upper right corner.
Click on "Archive" once, and then click on it again to access your archived posts or Stories.
Click on the Story you wish to analyze.
Access the viewer list by swiping up and then click on the chart-looking icon.
For more in-depth Instagram statistics, check out NapoleonCat.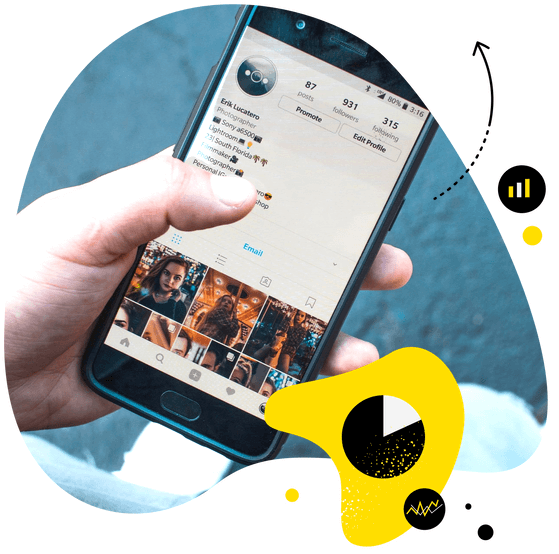 In-depth Instagram analytics
Measure your Instagram marketing results. Track competitors and improve performance using one simple tool. Try it for free:
Try NapoleonCat free for 14 days. No credit card required.
How to interpret Instagram Story statistics
The statistics will be broken down into navigation, i.e., the way people moved around your Story. Those who clicked forward or back exited your Story or swiped to see the next person's Story. These indicators will help you measure your audience's interest and engagement and figure out what kind of Story content performs best. For example, a lot of clicks forward or next Story swipes may suggest that your Story was not very appealing for other users.
Back clicks, on the other hand, show that some people may have gotten interested in your content enough that they wanted to see it again.
You'll also see other stats, for example:
Number of shares
Number of profile visits
Number of sticker taps
How to add a hashtag to your Instagram Story
Adding a hashtag to your Instagram Story may increase your reach significantly, since people who don't follow you will get a chance to find you through the hashtag browser or their Explore page. There are two ways of adding a hashtag to your Story:
Method 1 (simple text): Click on the "Aa" sign to add text to your Story and simply write a hashtag.
Method 2 (hashtag sticker): Tap the Sticker sign and choose "#hashtag". You can change the sticker's color by tapping on it.
Method 2 may look a bit more fancy, but will only allow you to include one hashtag per Story. Fortunately, method 1 makes adding multiple hashtags possible. Yay!
Your hashtags will look different depending on which method you choose, but they work just the same.
How to mention a person in your Instagram Story
You can mention others in your Story. This will allow the tagged users to repost your Story (if your own account is not private!). It will also drive user traffic to them since the mentions work somewhat like links to their profiles.
While creating your Story, click on the Sticker button .
Click "@Mention", type in the username, and click on the suggested account to add the mention. You can change the sticker's color by tapping on it.
You can mention others by adding text as well. It doesn't need to be a sticker.
You can also add multiple mentions, both as text and as a sticker.
IMPORTANT: Always make sure that whenever you tag another account, the mention is underlined. The underlining confirms that the mention is active and isn't just an empty text.
How to use other Instagram Story stickers

There are several more engaging features inside that magic Sticker button, and Instagram just keeps on adding more.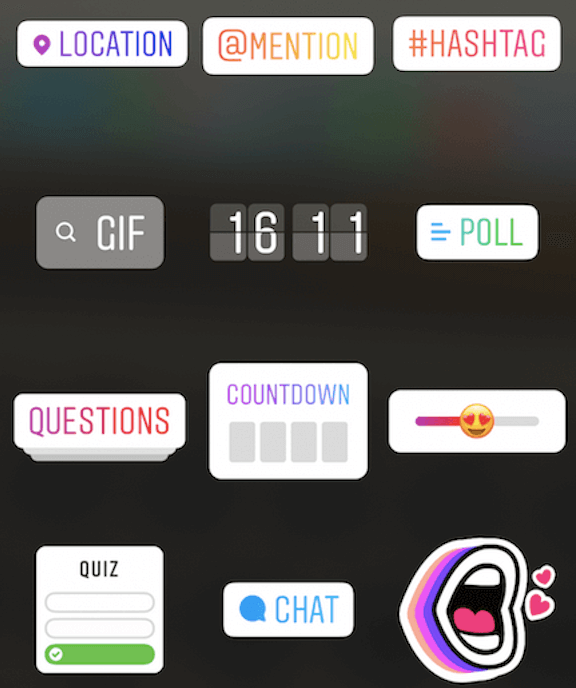 Location
If you're a small business focused on reaching local customers, you can use geotags to be more visible in your area. This works better in smaller cities with less "competition", however it doesn't cost you much effort to include a geotag regardless. Similarly to hashtags, sometimes the geotag will pick up and boost your reach, sometimes it won't.
GIFs
You can virtually find a GIF for anything. All you need to do is click on the GIFs sticker and search by keywords. You can use GIFs to add some humor to your content and showcase your brand's unique personality. However, beware that adding GIFs may lower the resolution of your photos and videos.
Polls
Polls are a great source of first-hand feedback and an organic way to engage your audience. Easy for you to create, and even easier for your audience to answer. Ask a question, provide two answers for your followers to choose from, and analyze the results. Use this feature to let your audience know you value their opinions.
Questions
The Questions sticker is another great feature you can use to interact with your potential customers. In a typical Q&A manner, they ask you questions, and you answer them. You can then share your answers publicly or in a private message.
This feature doesn't only give your audience the chance to get first-hand and up-to-date answers to FAQs. You can use it as a simple and free method to find out if your communication is clear to your audience and if any improvements are needed.
Sliders
You can use Sliders to measure how your customers feel about something. You simply pick an emoji and the rest is done by the people. Therefore, I like to call this feature the emotion indicator.
Countdowns
These can help you build anticipation for an event, product launch, the start of a seasonal sale, etc. Instagram users who come across your Stories will be able to set up a reminder for when the countdown is over, and you will be notified every time that happens.
Quiz, Chat
You can test your audience's knowledge with the Quiz feature. Write a question, design answers (you can add multiple ones), and you're all set.
Feel like not having enough conversations? You can add another call-to-action to encourage people to join your group chat.
Pro-tip*
Remember that you can place the stickers anywhere on the screen and adjust their size by a simple method of dragging and pinching your fingers.
How to change the font in your Instagram Story text
You can also customize your fonts in your Instagram Story. However, options are a bit limited.
Tap the Aa icon. Then, the middle button gives you the opportunity to pick from 5 different fonts.
You can highlight your text by clicking the A++ symbol on the left. If you wish to change text alignment, tap the button on the far left.

Again, the rule of pinching and dragging to adjust size and location applies here as well. However, it's better to change size by using the little scroll bar on the far left. This way you'll be able to include more words in a line.
How to add a filter to your Instagram Story
There are various animated filters you can apply to your Instagram Stories. Tap the emoji icon and simply swipe right to find what you like most.

If you switch to the front camera, you'll be able to apply those fancy face filters. You can also browse through thousands of different filters by tapping on a filter's name and then clicking "browse effects".
How to draw symbols in your Instagram Story

There are a few different brush tools you can use to draw virtually anything. Click on the brush tool icon and pick from different styles. You can adjust their sizes with the scroll bar on the left and change their colors using the bar at the bottom.
How to download your Instagram Stories

Access your Instagram Story.
Click on the three dots in the bottom-left corner.
Tap "Save".
You'll be able to save that specific piece of content (photo or video) or the whole Story in the form of a video. For instance, if your Story consists of 5 videos and 5 photos, and you click on Save Story, you'll download one video file with these 10 pieces of content.
How to add links to your Instagram Stories
In an ideal world, everyone should be able to add links to their Instagram Stories. Unfortunately, that's not the case. Only those with more than 10,000 followers can add direct, swipeable links to their Stories. Users with a smaller following can only add links to their IGTV videos, and dream about hitting that 10k mark.

To add a link, click on the link icon at the top of the screen.
Tap URL and enter your link.
Viewers will be able to go to your link by swiping up their screens while seeing your Story.
How to delete your Instagram Story
Let's say you posted a Story with a typo. Or you tagged the wrong username. Or maybe the GIF messed up the quality too much. Worry not, for deleting a Story is super quick and easy:
Go to your Instagram Story
Click on the three dots on the bottom left
Tap Delete
How to share your Instagram Story as a feed post.
Let's say you love your Story content so much that you decided to share it. For some reason it's not in your gallery. You can still share it as a feed post with just two clicks.
Go to your Instagram Story
Click on the three dots on the bottom left
Tap Share As Post
How to add feed posts to your Instagram Story
With the ever-changing Instagram algorithm, it's getting harder and harder to show up on your followers' feed. That's why you can set an additional reminder for them to check out your new post. This way more people will see your new content. Below is our ultra quick video tutorial on how to do that:
Go to any of your feed posts
Click on the arrow in the bottom left corner
Click on "Add post your Story"
How to repost an Instagram Story
In order to repost an Instagram Story the proper way, you need to be tagged (mentioned) in that specific Story post. There are a few ways to see whether someone tagged you. Sometimes you'll get notified, sometimes you won't (depending on whether you follow the person who tagged you). It's best to check in all the places:
Method #1
From the level of your homepage, click on the arrow in the top-right corner, then you'll access your inbox. The mentions from the people you follow will appear in the main view, however always check if there are any "Requests" on the top-right. The "Requests" inbox includes messages from accounts that you don't follow.
Method #2
From almost any level of the app, you can access likes under your content (by clicking the heart-shaped icon). Instagram recently introduced a new location for all the "Mentions" at the top of your Likes page.
How to repost your old Instagram Stories
Feeling nostalgic, in a mood for a #throwback Story post? Don't worry, your Story may have disappeared after 24 hours, but it's not gone. You can access your old Stories through the Archive and repost them.
Go to your profile page and click on the three lines in the upper-right corner.
Tap on Archive once, and then you may have to tap on it again to choose whether you wish to access archived posts or Stories.
Click on any given Story and then tap Share at the bottom of the screen.
How to add products to your Instagram Story
Any product shot can be tagged with a landing page of that specific product on your website. First, you need to add your product to your Facebook page, which you can do through business manager or simply go to Shop and Add Product (on Facebook).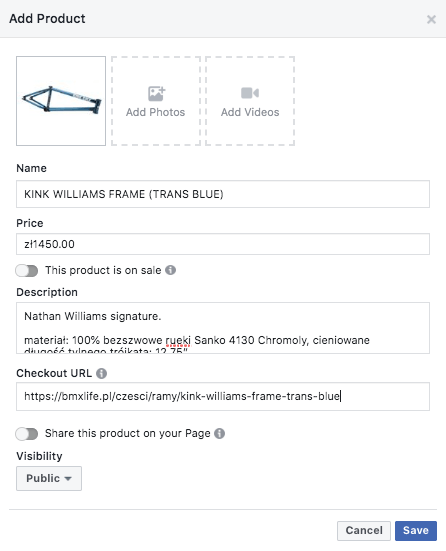 All you need are some photos, pricing, description, and a product URL.
If your product gets a positive review, it will be super easy to tag it on your Instagram Story. There's an additional Products sticker once you have any products added to your FB page. Click on that sticker, choose the right product, place it on the product shot, and you're all set.
What are the dimensions of Instagram Stories?
Here are the exact specifications for an Instagram Story:
Video or photo aspect ratio: 9:16
Video or photo size: 1080 x 1920 pixels
Max video length: 15 seconds
Pro-tip*
You can record/upload a video longer than 15 seconds. Instagram will automatically split it into parts.
If your content doesn't fill the screen, remember that you can always adjust its size and position by zooming with your fingers.
How to create Instagram Story Highlights
Making Instagram Story Highlights is basically a cunning method of making your precious Stories not disappear after 24 hours. It's also a great way of enriching your profile page.
To create an Instagram Highlight, follow these 4 simple steps:
Go to your Instagram profile.
Click +New in the Story Highlights section below your profile photo.
Select the Stories you would like to include in your Highlight – you can pick from all of your archived Stories and the Stories that are currently active on your profile, i.e. have been added less than 24 hours ago.
Edit the title and thumbnail.
Pro-tip*
You can set a thumbnail from your phone's gallery. If you're thinking of creating multiple Highlights, consider making same-style thumbnails for a sleeker look: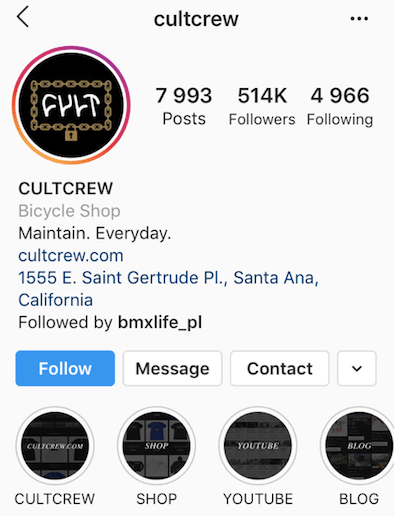 Instagram Stories – tips and tricks for marketers
1. We all love a good story
Social media users love to know more about a company than just their product. Stories give you a chance to show the human side of your business. With 15-second Story clips, you can, for example, make a day-in-the-life type video and you might get more views and user engagement than with regular feed posts. Stories give you a chance of creating more real-time content, which is what users love and crave more and more nowadays.
Storytelling on social media is an essential element of building a positive and cohesive brand image online. Try to think outside the box, get creative, and use Stories to produce content that binds all of your digital marketing actions together. Instagram Stories disappear after 24 hours – use this feature to your advantage.
Showcase your values and personality through fun, spontaneous content. Introduce your team members, make a tour of your headquarters, create a meme… The stage is all yours.
2. Connect with your audience through interactive stickers
Polls, questions, sliders, and the rest of Stories' interactive features give you some great leeway when it comes to interacting with your audience and engaging them.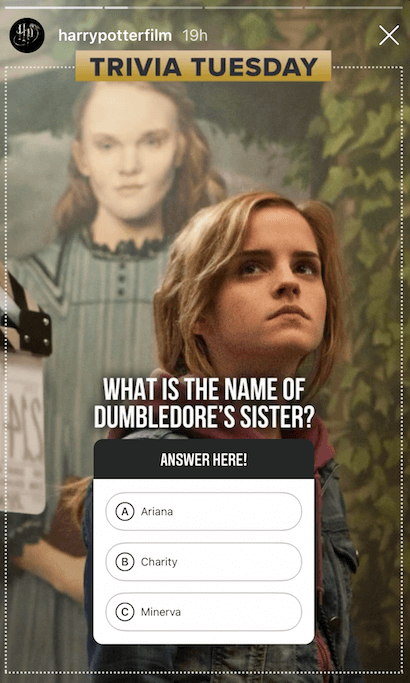 Pro-tip*
Sometimes people will not be able to respond to your Story or react to it. Make sure your settings are set to allow people for replies.
Go to Settings -> Privacy -> Story -> Allow Message Replies from Everyone
3. Use Instagram Stories Highlights as an extension of your profile page
Your Instagram bio is limited to 150 characters. That may not be enough room to convey an important message and show some brand spirit. To make things worse, you can only put 1 link in there. However, using the feature of highlighted Stories, you can squeeze in a lot more information for your Instagram audience.
You can add multiple Highlights that show different aspects of your business: specific lines of products, answers to FAQs, user-generated content featuring your brand, members of your team, etc.
Pro-tip*
If you have more than 10,000 followers, you can also create multiple swipeable links using Instagram Story Highlights.
Remember that you can pick a custom Highlights thumbnail from your gallery.
4. Use Instagram Stories to increase website traffic
Those "blessed" with over 10,000 followers have the luxury of being able to include a link in a Story. Stories with links feature a little "See more" arrow at the bottom of the screen. Anyone viewing the Story can swipe up around that area and will be redirected to the linked web address.
Remember that it's more than worthwhile to encourage your audience to swipe up. Add text, arrows, or GIFs to drive attention to the link, as the default "see more" option is rather small and can easily go unnoticed.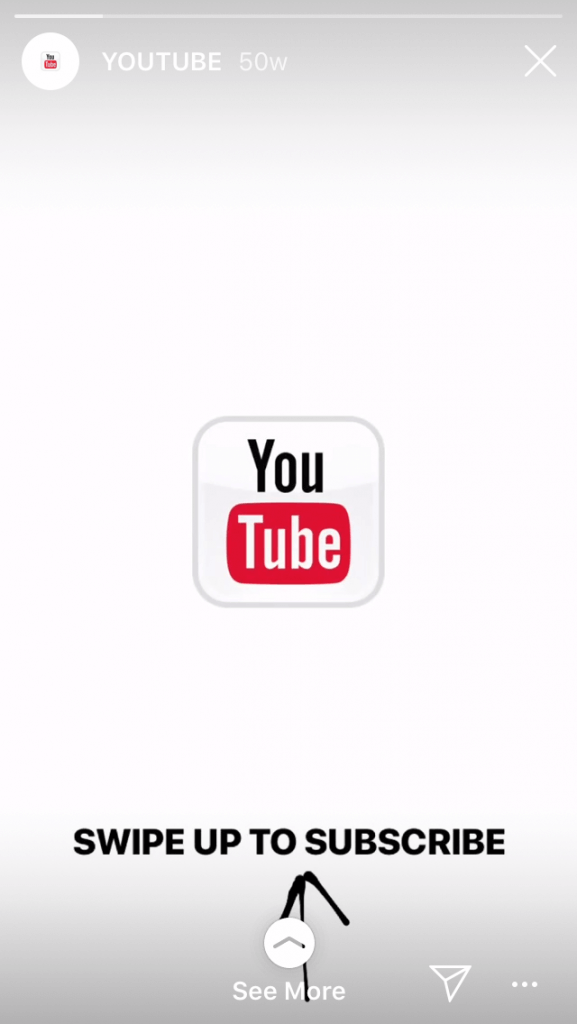 The 10,000 followers requirement sucks. We truly feel your pain. However, it's not the end of the world if you don't meet that 10k rule – you just have to get a little bit creative.
You can still include a link in your profile bio and let the users who watch your Stories know where to find it by adding text, GIFs, and other visuals.
One one hand, less direct links surely have their downsides. On the other hand, users who take their time and effort to make those few extra clicks may also prove more likely to make a purchase, as they're usually more interested in what you have to offer.
5. Use Instagram Stories tools
You can create a nice looking Story from within the Instagram app, sure. But why not make an even sleeker looking one with the help of some extra tools? Being visually cohesive, on-point with your brand's style, tone, and voice is what you should focus on when creating your Instagram content. Things like applying your brand's font, watermark logo, specific background color are oftentimes done with the help of external tools.
Here are our recommendations:
Canva Stories – Canva, a universal photo editing tool, has recently launched an app specifically for social media stories. You can access hundreds of story templates for free.
Instagram Story templates from Envato Elements – these templates will give your Instagram Stories a professional and consistent look. Each template can be easily edited. Envato's templates are available for Adobe Photoshop, After Effects, Premiere Pro and more.
Photopea – an online Photoshop clone. It's completely free.
HypeType – free iOS and Android app which allows you to create animated layers of text on your content.
VSCO & Snapseed are two great tools for when it comes to editing your raw photos. Adjust the color, brightness, contrast, and more to make your photos look special.
Lumen5 – Lumen5 is a free video editing app that's great for informational videos. It can also automatically generate videos from blog articles or text files, so your work is spared.
Unfold – Unfold allows you to create these stylish photo collages. You can also combine pictures and videos together and add text.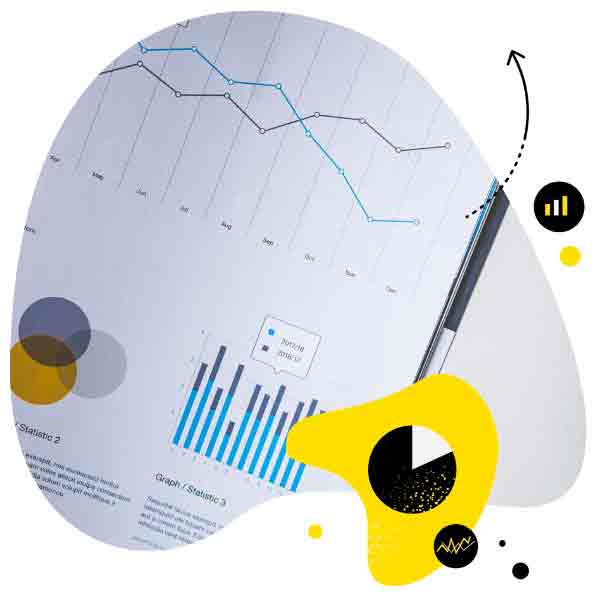 Track Instagram Follower Growth Over Time
In-depth Instagram analytics. Track competitors and influencers, and improve performance using one simple tool. Try it for free:
Try NapoleonCat free for 14 days. No credit card required.
It's a wrap!
Instagram Stories are here to stay and it's best for us to get with that program. This type of content really allows you to not only get creative but also interact with and engage your audience, which is something that businesses need nowadays. There's no time to waste, so get out there and take your Stories to the next level!
We also recommend you read some more Instagram tips: