Among many Instagram marketing strategies that a brand can undertake, there is one particularly magical. It's called user-generated content (UGC). It's the type of content known for driving engagement rates through the roof, generating ridiculous amounts of word-of-mouth, and eventually boosting sales.
What exactly is UGC?
UGC is any form of shared content that was created by consumers or end-users of a product or service and is publicly available to others. 85% of consumers find UGC content more influential than brand photos or videos. Placing user-generated content directly on product pages can improve conversions by up to 64%. Numbers aside, there are plenty of good reasons to start a user-generated content campaign:
No need to spend countless hours on creating your content
Your consumers are also your marketers who create and share content (on an unpaid salary!)
UGC campaign = word-of-mouth
A carefully executed UGC strategy will build brand loyalty and strengthen relationships with your fans/followers/consumers

Sounds interesting enough? Read on to find out how your brand can get the ball rolling and kick-start UGC on Instagram.
Determine what kind of brand you want to be perceived as
Here's the thing – Instagram, being the visually engaging platform that it is, allows your brand or your product to set a certain tone for itself. This means you need to decide what kind of content you'd like to share with your audience – and if we're talking UGC, then forget informative product posts aside. Focus on the people, and the cool things they can do – and it's best if they do those things with your product.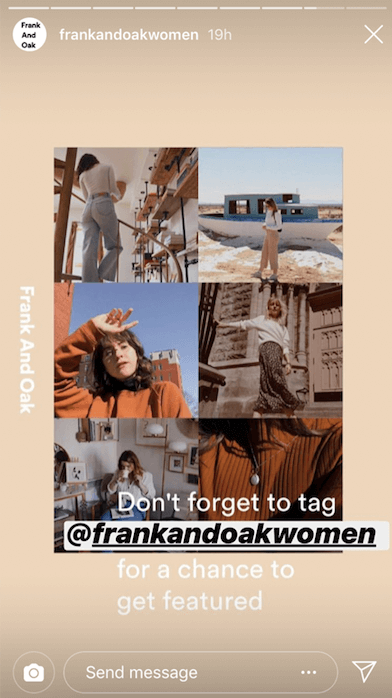 Frank And Oak, an apparel company, promotes their women's wear on Instagram entirely through user-generated content. They simply repost pictures of their loyal consumers wearing their sustainable clothing – both as feed posts and Stories.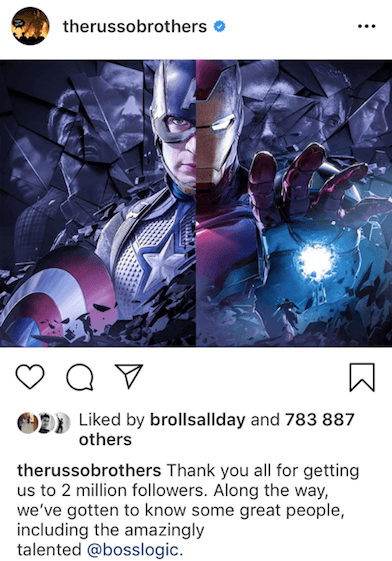 The Russo Brothers, who directed the highest-grossing movie of all time, like to ensure their fans that they're there for them – so they post compelling fan art regarding the Marvel Cinematic Universe. Fans love them.
Think of your own special hashtag
You can make your UGC strategy even more special by coming up with a special hashtag. How special should it be? Well, the rarer the hashtag, the better. Make sure it's rather short and has a ring to it. It also should be coherent with your brand.
Once that hashtag goes viral, you're pretty much set for success. Remember to follow the hashtag in order to keep track of the incoming content.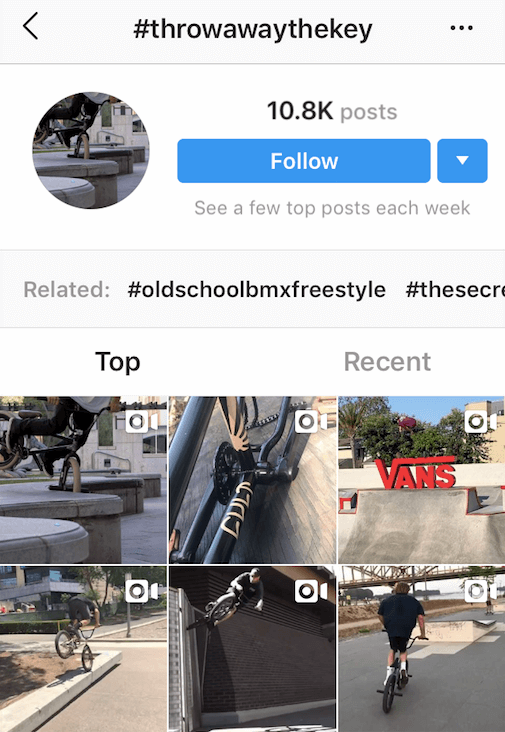 Cult Crew, a BMX company from the US, uses a set of hashtags that are now used by BMXers all across the world. It recently became the most followed BMX brand on Instagram.

Encourage people to use your hashtag
Once you have your magic hashtag, you need to encourage people to use it. The most common way is to give people a chance for a free repost on your Instagram page – a shout-out if you will. This technique works best if you already have some brand authority and fans.

However, if you're starting from scratch, think of doing some Instagram contests, or giving out discount codes, coupons, etc.

But that's not all. You should use this hashtag everywhere. Put in in your bio, your feed posts, and your Instagram Stories. Let it become an essential part of your Instagram account.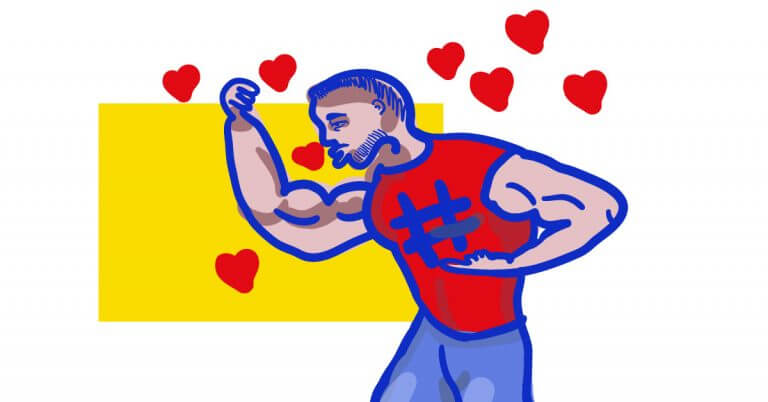 Monitor your hashtag performance
Measure your social media marketing results. Track competitors and improve performance using simple dashboards.
Try NapoleonCat free for 14 days. No credit card required.
Keep track of the incoming UGC
If you're going to pick the best UGC for your Instagram profile, you have to keep track of that whole stream of submitted content. As we mentioned before, follow your branded hashtags. What is also equally important is to regularly check who tagged you in their posts. This way you shouldn't miss a thing.
*It's much harder to track the posts in which your brand is only mentioned inside the caption, and not directly tagged. For that purpose, you can use some external tools that offer social media monitoring features.
Give people credit
Don't forget to always tag the content's rightful owners – let them feel rewarded and appreciated. It will also drive traffic to these Instagram users. Not tagging the authors of the source material may seriously mess up your reputation. I mean, why wouldn't you tag them?
How to have a killer UGC strategy – GoPro example
The main advantage that GoPro has with its UGC is simply their product. It goes very well with their social media marketing. It's a high-quality video camera designed to withstand extreme weather conditions, shaky rides, winds, etc. It's literally designed to take amazing shots. That's why when you come across some GoPro content online, it will probably consist of extreme action footage and a beautiful location. Add to that the point-of-view (POV) angle and you will understand why that content is doing such a great job in engaging other people.
On Instagram, the hashtag #GoPro is all it takes to have a chance to be featured on GoPro's Instagram account. With nearly 16 million followers, getting featured on their account for free is already a pretty strong incentive.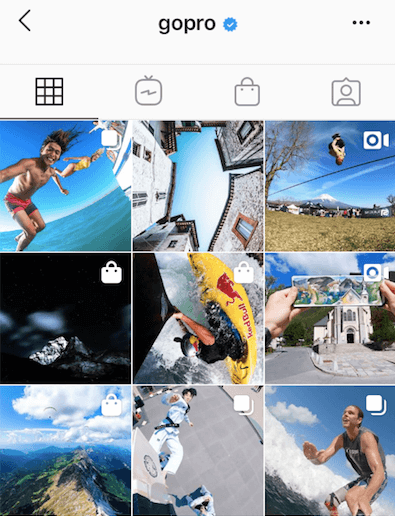 For more Instagram tips, check out our other articles: