There are 500 million users watching Instagram Stories daily. And 80% of all daily active Instagram users flick through Stories as often as they check their feed.
Big brands are investing more and more in Instagram Stories. Why? Because we all love a good story.
Instagram Stories can be a formidable weapon in the hands of a marketer. Think building anticipation before product launches and promotions, driving traffic to your website or store, showcasing your products, going behind the scenes of your business, and getting feedback from customers. Stories can help you do all of this – and more – in a casual, spontaneous way that will complement your carefully curated profile grid without interrupting it.
Here are all the ways Instagram Stories can help you build a more compelling presence on the platform and contribute to a successful social media strategy.
1. Tell a good story
Social media users love to know more about a company than just their product. Stories give you a chance to show the human side of your business. With 15-second Story clips, you can, for example, make a day-in-the-life type video and you might get more views and user engagement than with a traditional post.
Storytelling on social media is an essential element of building a positive and cohesive brand image online. Try to think outside the box and use Stories to create content that binds all of your digital marketing activations together. Instagram Stories disappear after 24 hours – use this feature to your advantage. Showcase your values and personality through fun, spontaneous content. Introduce your team members, make a tour of your headquarters, create a meme… The stage is all yours.
2. Utilize Instagram Stories' interactive features
Depending on your goals, you can enhance your Stories with several engaging features. To access them, simply tap the sticker icon in the bar at the top of the screen after you take a picture or record a video.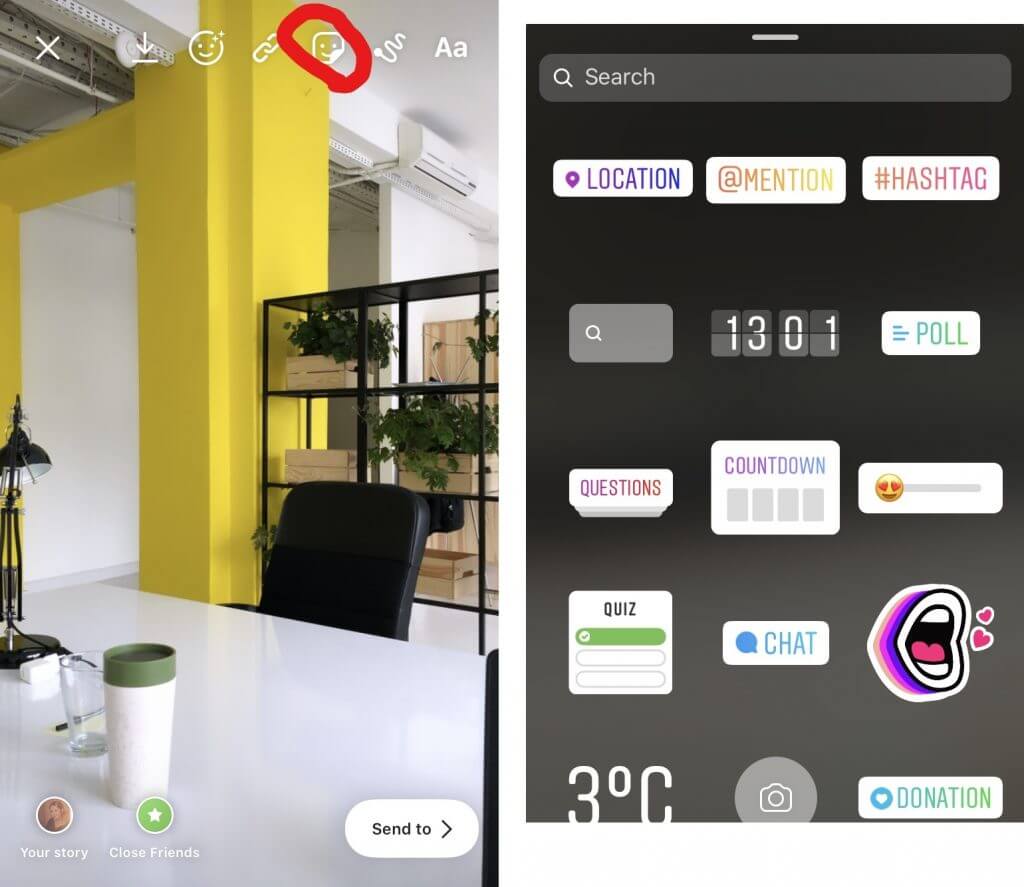 Location
If you're a small business focused on reaching local customers, you can use geotags and be more visible in your area.
Mentions
Tag people or other businesses in your Stories if you'd like to give them recognition, thank them for something, or they're featured in your content for any other reason. The tagged users get notified and are then able to easily repost your Story. This also works the other way around when others tag your company.
Hashtags
Instagram users browse the platform using hashtags, and that includes Stories. Use relevant and trending hashtags to get some more traffic.
GIFs
There's pretty much a GIF for anything. Use GIFs to add some humor to your content and showcase your brand's unique personality.
Polls
Polls can be a great source of first-hand feedback and an organic way to engage your audience. Ask a question, provide two answers for your followers to choose from, and analyze the results. Use this feature to let your audience know you value their opinions.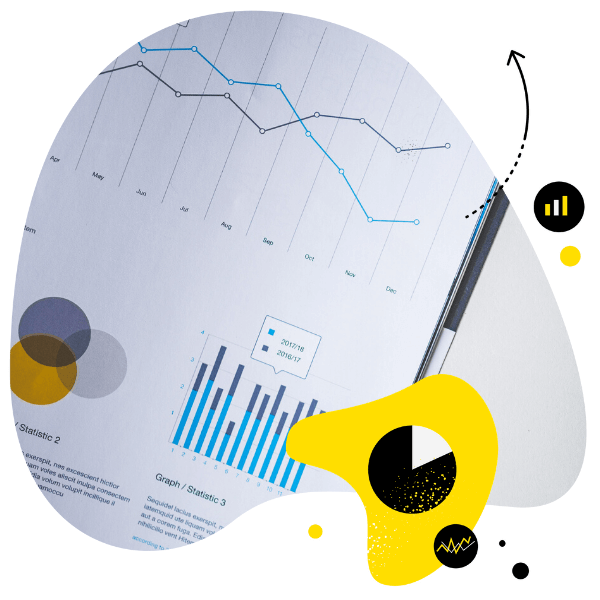 Social media analytics
Measure your social media marketing results. Track competitors and improve performance – with an all-in-one social media tool.
Questions
Questions are another great feature you can use to interact with your potential customers. In a typical Q&A manner, they ask you questions, and you answer them. You can then share your answers publicly or in a private message.
This feature doesn't only give your audience the chance to get first-hand and up-to-date answers to FAQs. You can use it as a simple and free method to find out if your communication is clear to your audience and if improvements are needed.
Sliders
Sliders are another great tool you can use to measure how your customers feel about something. You simply pick an emoji and the rest is done by the people. I like to call this feature the emotion indicator.
Countdowns
These can help you build anticipation for an event, product launch, the start of a seasonal sale, etc. Instagram users who come across your Stories will be able to set up a reminder for when the countdown is over, and you will be notified every time that happens.
Fonts, stickers, markers, emojis
Other available options will help you truly personalize your Instagram Stories and help them stand out.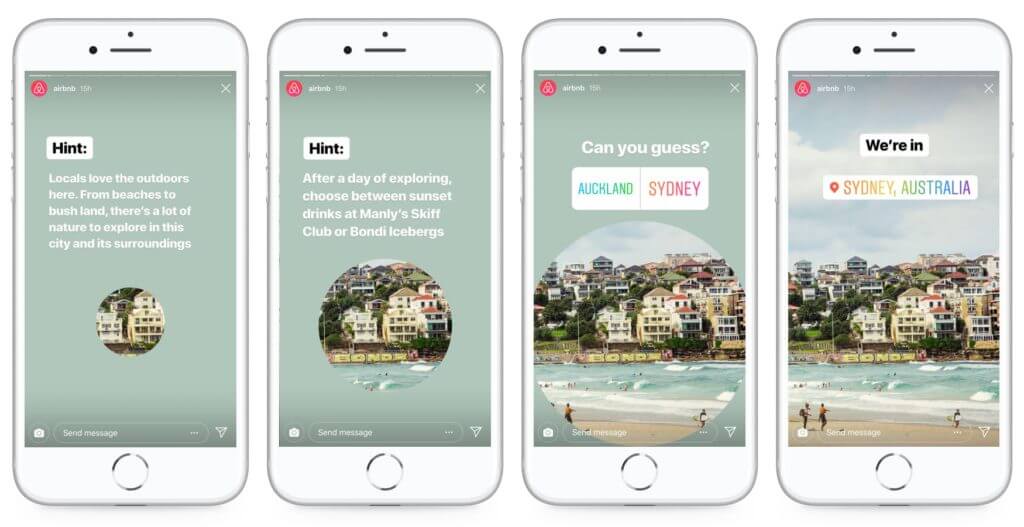 3. Use Instagram Stories Highlights as an extension of your profile page
Your Instagram bio is limited to 150 characters. That's really short. To make things worse, you can only put 1 link in there. However, using the feature of highlighted Stories (bundles of handpicked Stories added to your profile permanently), you can make a lot more information easily accessible to your Instagram audience.
You can add multiple Highlights that speak to different aspects of your business: specific lines of products, answers to FAQs, user-generated content featuring your brand, etc. You can pick a thumbnail for each Highlight directly from your camera roll.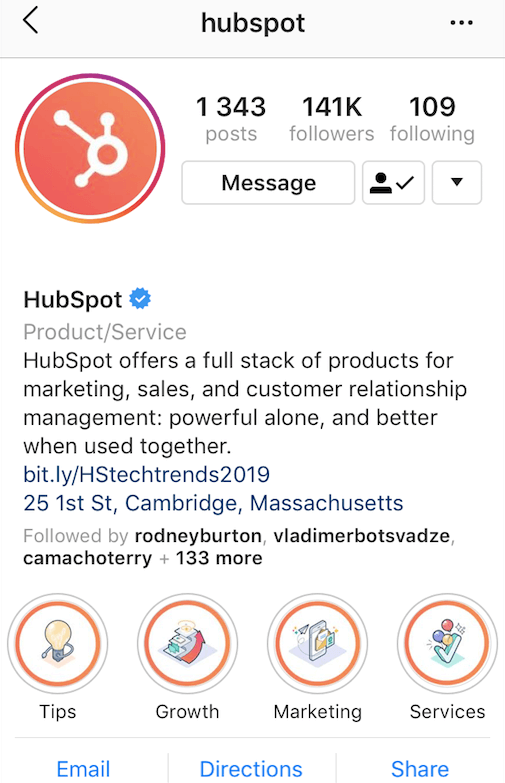 To create a Highlight, follow these steps:
Go to your Instagram profile
Click +New in the Story Highlights section below your profile photo
Select the Stories you would like to include in your Highlight – you can pick from all of your archived Stories and the Stories that are currently active on your profile, i.e. have been added less than 24 hours ago
Edit the title and thumbnail
That's it!
4. Use Stories to drive traffic to your website
If you have over 10,000 followers, you have the luxury of being able to include a link in your Story. Stories with links feature a little See more arrow at the bottom of the screen. Anyone viewing the Story can swipe up around that area and will be redirected to the linked web address.
Keep in mind that it's more than worthwhile to encourage your audience to swipe up. Add text, arrows, or GIFs to drive attention to the link, as the default "see more" option is rather small and can easily go unnoticed.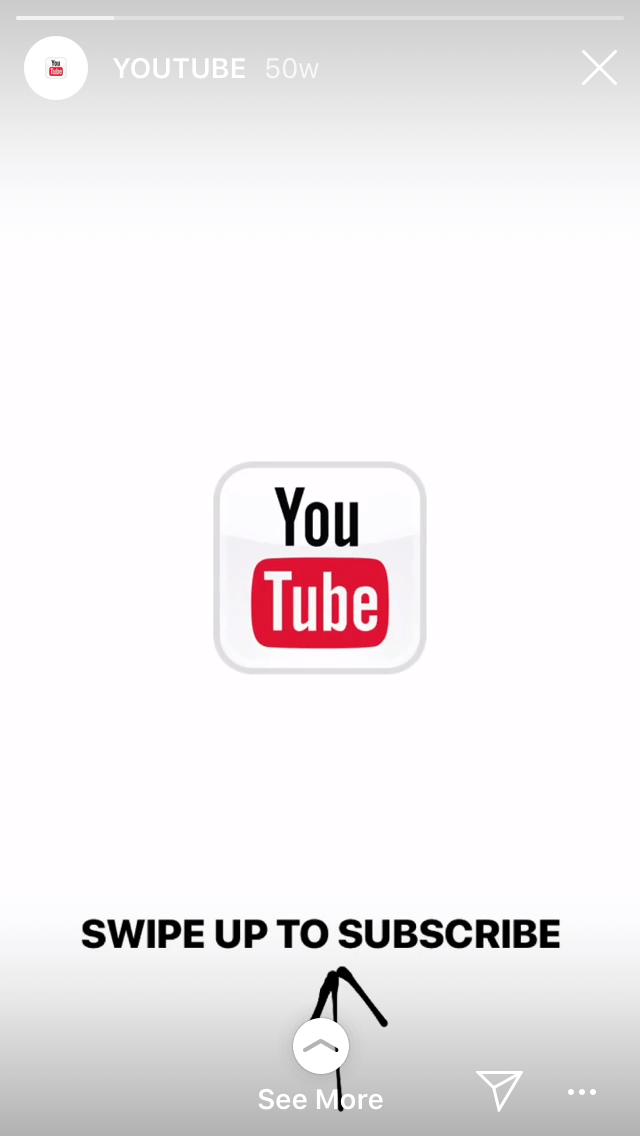 The 10,000 followers requirement sucks. We know that. However, if you have less than 10 thousand followers, it's not the end of the world – you just have to get a little bit creative.
You can still include a link in your profile bio and let the users who watch your Stories know where to find it by adding text, GIFs, and other visuals.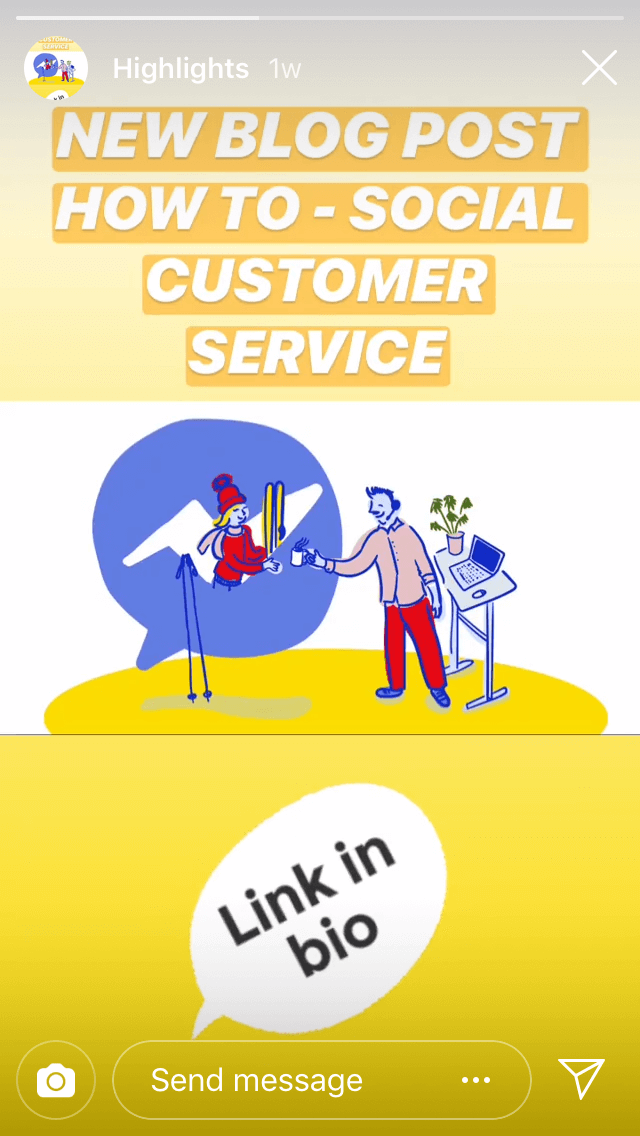 Less direct links surely have their downsides. However, users who take their time and effort to make those few extra clicks may also prove more likely to make a purchase, as they're usually more interested in what you have to offer.
5. Use shoppable stickers
The swipe-up links are a great way to drive traffic to a website or online store. But if you're using Instagram Stories as a sales tool, you might want to go a step further and create a shopping experience for your users embedded in the photos and videos you share.
As of last year, product stickers are available for select approved accounts. They are quite similar to other Instagram Stories stickers. If the feature is available to your brand, you can place a sticker anywhere in your Story to imply that the content is shoppable. Users will be able to view product details and the price as soon as they tap the sticker. Include a link to your store for a streamlined experience and watch your numbers soar!
And that's it! As I said, the stage is yours. The possibilities are virtually endless with Instagram Stories. You can get as creative as you'd like – and that's the beauty of it. Don't miss out!
For more Instagram knowledge, check out our other articles: