If you're a full-time (or even part-time) content creator, finding new ways to monetize social media content is probably on your radar all the time. 

And if you're into short-form video lately (like half the world on Instagram), here's how to get paid for Instagram Reels while you're at it.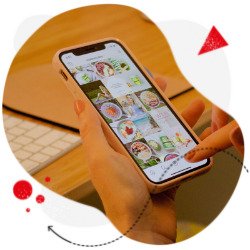 Schedule unlimited Instagram Reels
Seamlessly schedule your Instagram Reels to multiple accounts at once. Try NapoleonCat for free:
Try NapoleonCat free for 14 days. No credit card required.
What's all the fuss about, a.k.a. why create Reels?
Instagram Reels are short videos you're bound to see an influx of on Instagram lately. And especially since TikTok took off and TikTok trends started being picked up by Instagram creators as fun ways to engage their audiences.
And it seems that the Instagram audience responded pretty well. According to Influencer Marketing Hub, Reels get 22% more engagement than regular Instagram posts (that have since been turned into Reels, by the way.)
Plus, Reels are a great way to help the content get discovered and increase its reach. They appear in the Explore tab of the Instagram app, where it's estimated that 50% of Instagram users go to find new content.
Besides the Explore page, Reels appear in the Reels tab on your profile, and they'll appear in your feed if you share them in a post (which is a good idea if you want your followers to see your Reels.)
Speaking of which.
How to get more views for your Instagram Reels
Apart from appearing in the Explore tab, Reels won't get automatically posted to your followers when you publish them. But there are a few ways to increase their chances of reaching your audience (including your target audience that's not yet following you.)
As mentioned before, share your Reels in your Instagram posts and in your Stories. Your followers won't get notified about a new Reel if you don't do that – unless they specifically visit your profile and the Reels tab.
Add trending hashtags and trending audio and filters to increase their chances of getting discovered by people outside of your following. To find trending sounds, look for the upwards-facing arrow next to the name of the sound on the Reels you see when scrolling through Instagram.
Collab with other creators to increase the reach of your Instagram content. You can read more about how collabing works on Instagram in this article.
Find an original idea for your Reels. It's not enough to just lip-sync to trending audio – at least not in the long run. Find a format that people will recognize you by to increase your chances of going viral instead of just jumping on a random viral bandwagon. And if you're looking for some ideas, check out this step-by-step guide on how to create Instagram Reels.
Post your Instagram Reels consistently. By now, everybody knows that all kinds of social media algorithms love consistency – and the Instagram Reels algorithm is no different. It's not enough to have one trending Reel, then go quiet for a month and expect the next one to go viral again. To keep that engagement going, you need to be feeding it with consistently posted content.
To make the above easier, it's a good idea to get a tool that will help you schedule Reels in advance and post them automatically. This way, you can create a number of Reels in one session and then schedule them across a period of time, for example, over a week, and play around with the timings for the best engagement.
(If you go for NapoleonCat's Publisher, besides scheduling your Reels along with other social media content, you can also manage and respond to comments in the Social Inbox and even use Auto-moderation to save yourself some time replying or removing spam from your Reels comments.)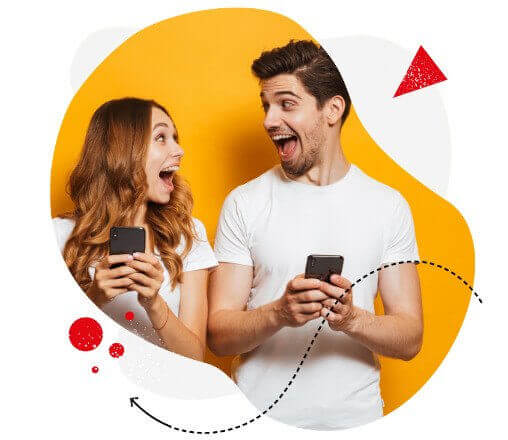 Instagram marketing made easier for teams
Instagram automation, analytics, reporting, scheduling, and more. Try NapoleonCat and save 90% of your time spent on marketing tasks. Try it for free:
Try NapoleonCat free for 14 days. No credit card required.
Speaking of timings – post your Reels at the right time (duh!). You know what, let's make the entire timings discussion a separate section of this post.
When to post Instagram Reels for the best results
Though you should always check your own Instagram analytics and adjust your schedule to your own audience, there are some general guidelines on posting content on Instagram, including Instagram Reels.
According to Influencer Marketing Hub's own research, the best times to post Reels on Instagram are the following (in EST):
Monday: 6 AM, 10 AM, 10 PM
Tuesday: 2 AM, 4 AM, 9 AM
Wednesday: 7 AM, 8 AM, 11 PM
Thursday: 9 AM, 12 AM, 7 PM
Friday: 5 AM, 1 PM, 3 PM
Saturday: 11 AM, 7 PM, 8 PM
Sunday: 7 AM, 8 AM, 4 PM
And here's a nice graphic if you're more into visual stuff, also courtesy of the Influencer Marketing Hub.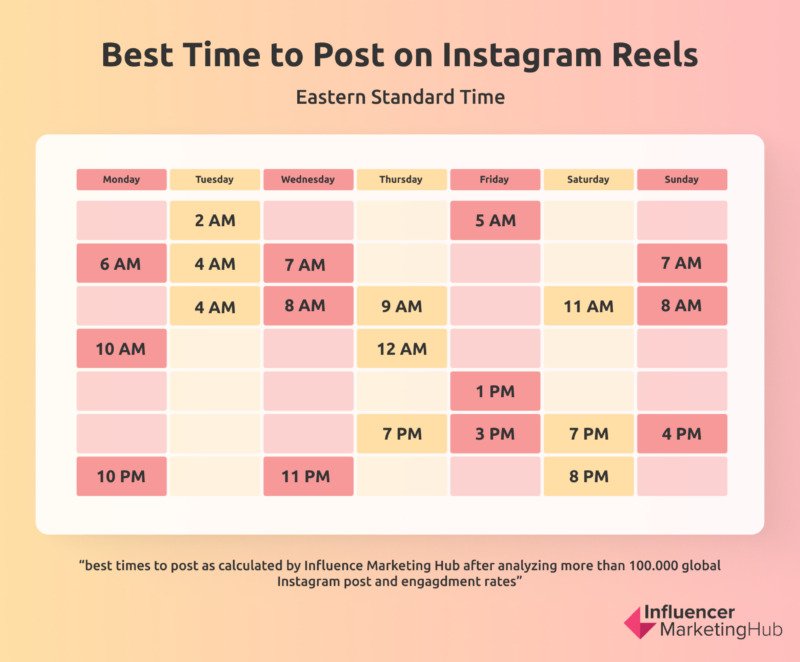 You can also check out this post on the best times to post Instagram Reels. And, of course, always refer to your engagement statistics to know how your audience responds and what times are actually working for your content. (They might be similar, but they also might not.)
By the way, you can also analyze your Instagram content's performance (and your competitors) in NapoleonCat, which makes it a great all-around tool to handle not just your Reels, but your entire Instagram content and the different aspects of it.


Now, timings are one thing, but we were going to talk about how to get paid for Reels on Instagram, right? Which is why we also need to talk about the Instagram Reels Play bonus.
What is Instagram Reels Play bonus?
It's exactly what you think – how to get paid for Reels on Instagram, earning money from Instagram directly. In short, Instagram pays you for people playing your Reels according to the number of views your Instagram Reels get. The more people play them, the more money you can earn as a creator.
Of course, you still need to get those views and plays – but if you've read so far, you should already have a few ideas on how to do that. And with Instagram's incentive for creators to earn money, you'll now probably be much more motivated to make these ideas work for your content, right?
Who can get an Instagram Reels Play bonus?
It's not something that's just for large accounts. In fact, the Instagram Reels Play bonus was designed for smaller accounts and content creators who want to grow their reach and their audience. And there are a few rules when it comes to eligibility (as these change, since the program is still in development, make sure to consult Instagram's official channels, too):
You need to have less than a million followers on Instagram.
You need a business or creator account.
You need to follow Instagram's Partner Monetization policies.
Your Reels can't be branded content.
They also can't have other platforms' marks or logos (so no TikToks posted as Reels.)
The engagement has to be authentic, with no artificially boosted views such as coming from sponsored content and ads.
How does the Instagram Reels Play bonus work?
Instagram Reels Play is an invite-only bonus program. This means that to start earning, you need to have an invite that will appear as a pop-up notification in your Professional Dashboard on the Instagram app.
Note that as of now, Instagram's not issuing new invites, looking into the future of the program, so you're lucky if you've been invited and can get the bonus. And to get one, you would've had to enable your bonuses for your account and select a bonus opportunity before sharing new content.
How much money can you make from the Instagram Reels Play bonus?
When you've set up your bonuses, you can get paid for your Reels on a monthly basis with the following bonus options:
Based on your Reel performance. The amounts earned per one Reel play may be different. For example, you might earn more at the beginning and less as your Reels get played more and more.
Based on the number of Reels you create.
Based on creating a themed Reel in response to a prompt you receive to create a Reel for an upcoming holiday or moment.
You can see how much you earn in your professional account's dashboard on Instagram. And you might have to earn a minimum amount first to be eligible for a payout within 30 days.
As the program is still in development, the rules are still being changed, and the amounts might be different for individual Instagram accounts. But if you're looking for some specific numbers, you can, for example, go to this article which dissects the Instagram Reels Play bonuses in detail based on actual examples.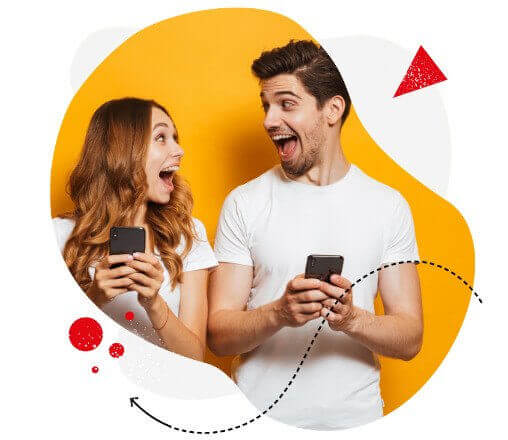 Instagram marketing made easier for teams
Instagram automation, analytics, reporting, scheduling, and more. Try NapoleonCat and save 90% of your time spent on marketing tasks. Try it for free:
Try NapoleonCat free for 14 days. No credit card required.
Over to you
The Instagram Reels Play bonus program is definitely worth keeping an eye on if you're serious about making money on Instagram – though it's still developed and evaluated and currently closed for new participants.
I'm sure, though, that Instagram will keep looking for new ways to incentivize Reels creators, so definitely stay tuned and watch out for further announcements – their Creators account on Instagram is an excellent place to do that.
To learn more about Instagram Reels, check out our other articles: