Instagram is a video app now. No matter what Adam Mosseri, the head of Instagram, says in his many regular updates.

The company's shift to video is apparent to Gram users. In 2023 everyone has seen how a single video Reel can make or break views, reach, and engagements, especially for accounts with a lesser number of followers or for new up-and-comers.
Yes, you can post a photo, but the video content can significantly impact your Instagram account's stats.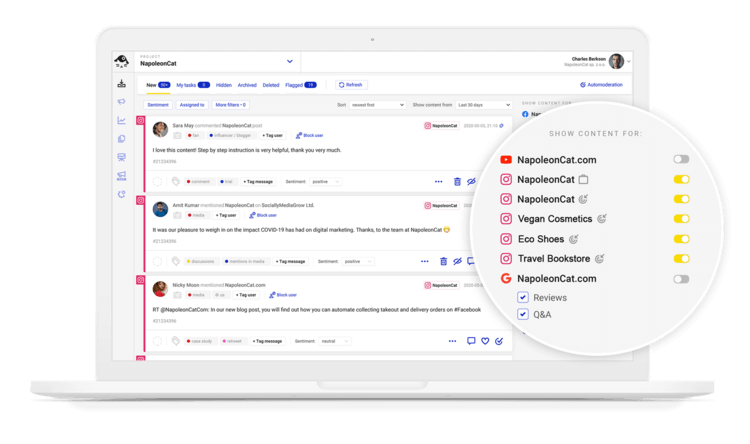 Simplify Instagram Business
Management with One Tool
Manage & reply to comments and DMs in one place.
Monitor ad comments from multiple accounts.
Automate answers to repetitive questions.
Schedule posts to multiple accounts, on desktop.
Analyze performance and monitor hashtags.
Keep track of your competition.
Create or schedule in-depth reports in seconds.
Try 2 weeks for free (no credit card required)
Why Instagram had to shift to video over photo content?
The simple answer: to stay afloat, be relevant and be used by Gez Z and millennials. Instagram had no choice but to step up its video game.
GenZ e-commerce trends and market value
We live in a world where TikTok just jumped over Netflix, becoming the number one video platform in the States, used by people 35 and under.
Instagram early adopters and trendsetters love to vote with their wallets. Gen Z likes to spend cash by making in-app purchases. The latest research shows that in the US alone, "65% of GenZ uses their phone 1-4 times a week to shop". The same source estimates "there's an over $75 billion revenue opportunity for e-commerce apps to tap into in their app growth strategies".
Instagram knows it.
The platform has to appeal to a younger audience to fight for a piece of the estimated revenue mentioned above. Ads, in-app shops, subscriptions, creator marketplace to connect brands and users, and soon-who-knows perhaps a social commerce tool to host virtual in-app live sales video sessions…
These parts bring money already or could bring money-making opportunities in the future.
Video Reels tend to keep users inside the Instagram app for longer
Therefore, the company has better chances to segment the audience and use the data to present better-performing ad campaigns. And in more places, not only sponsored posts in the feed.
Reels are an excellent tool for the platform and its business model to keep Instagram users within the app for longer. At first, the reel length was just 15 seconds. With many updates, Instagram announced that Instagram Reels length is extended first to 60s, up to 90s, and in special cases, even to 15 minutes. More on that later.
Being between a rock and a hard place for too long did not do Instagram any favors.
This is why Meta's platform is shifting the focus to video content fast. Even faster than the majority of users can adapt to the changes.
Eventually, we all adapt to Instagram's growth strategies. No matter which part of IG's audience: e-commerce businesses, content creators, or personal brands.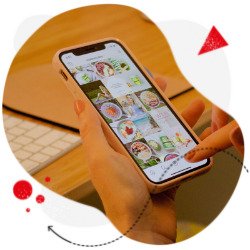 Schedule unlimited Instagram Reels
Seamlessly schedule your Instagram Reels to multiple accounts at once – with an all-in-one social media tool.
Back to the basics: Instagram Reels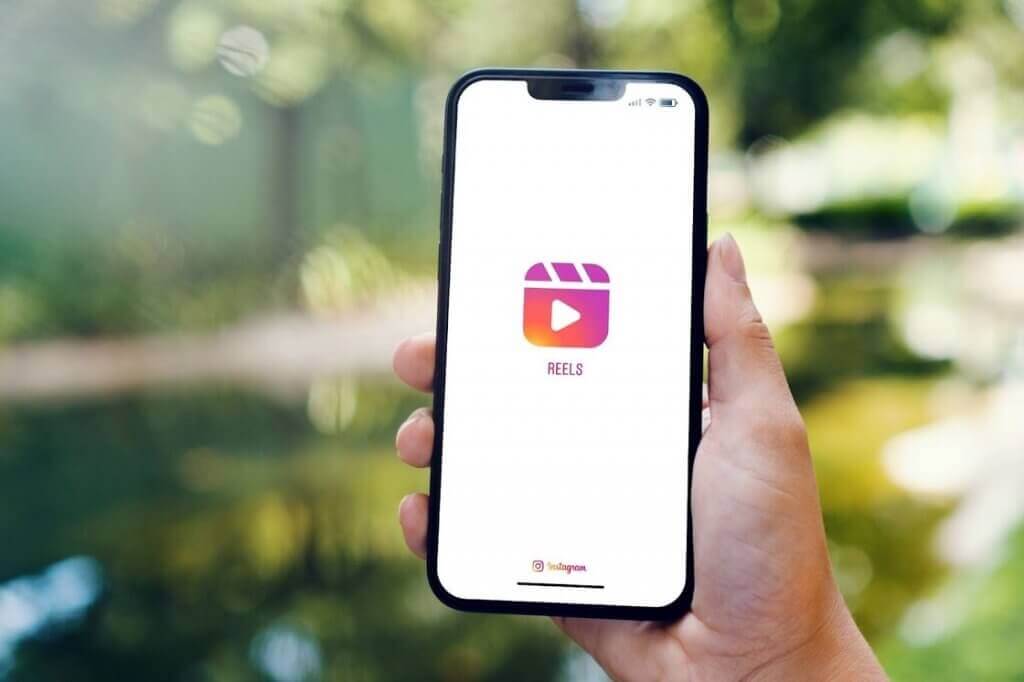 What are Instagram Reels?
Instagram reels are short videos that need to be fun, light, and entertaining. This piece of content appears in two places in the user's profile: the user's feed and the Reels tab.
How to make Instagram Reels?
You can make Instagram Reels in several ways:
by swiping right on the home screen to see the Instagram Stories tool and then choosing Reel at the bottom of the screen, or
by tapping the (+) icon at the top of the screen and then choosing the Reels option.
by using the option to remix any Reel you see on Instagram and make your own version.
by using the option of Reel template that already includes the most important technical parts, you only add video content to fill the template in.
by uploading a video post to your Instagram account. If the video lasts 15 minutes, it will be changed into Reel.
We have a complete guide focused on how to make reels on Instagram. Highly recommended for any social media manager or e-commerce business owner who wants to start creating video Reels.
What is Instagram Reels length?
Instagram Reels length may be up to 90 seconds or up to 15 minutes, and it depends on how the Reel is created.
If the Reel is created via Instagram Reels tool in the app straight from the Instagram camera, the length is up to 90 seconds.
The default Reel length users can create via the IG camera is 15 seconds. Users can increase the Reel length and music length on Instagram in two ways. One, by adjusting settings while recording the Reel via an in-app camera. Two, by uploading a video as a post, which is later shared as Reel.
As reported by TechCrunch, Instagram announced that any video shorter than 15 minutes posted to the app would be shared as Reel automatically. All videos posted before Instagram introduced the new functionality remained as videos and were not affected.
Instagram achieved its goal of consolidating video format in the app in 2023. There was a change to video post uploads, which is why some Reels are now longer than 90 seconds.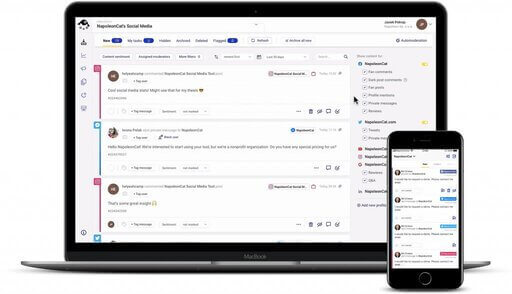 Manage and automate comments from Reels
Use NapoleonCat to manage (and automate) comments from your Reels across multiple IG accounts – with an all-in-one social media tool.
How to determine the best Instagram Reels length?
Let's look at the best Instagram Reel length from the goals perspective.
Goal: stop and get attention
If your goal is to create a hook for the user to stop and pay attention to your video now, then the recommended Instagram Reel length is 2-10 seconds. The content should be short and sweet.
Your intro in this case should be energetic, for example, someone knocking on the camera and directing their words straight to the user, looking straight into the camera, aka the viewer's eyes.
The Reel should also have an interesting cover with a hook that clearly states its content. Clickbaitish titles work here well. Also questions and funny-sounding titles.
Break this rule: if you need to record a longer Reel, educational or focused on activism over climate change, for example, the first 3-5 seconds are the most important. The hook and the dynamism have to be there. After that, the video can be of longer length, up to a minute, minute and a half.
Goal: increase views
Shorter content works well if you want to increase the views. Post a Reel of 3-10 seconds.
But!
The video has to have a sort of gimmick that either makes the user want to watch it again:
Element of surprise
Include an element of surprise at the end of the video that makes the user rewatch immediately consciously deciding to rewatch the Reel.
Fast paced video with text
Fill in your video content with a background image and add text that you know is important, but will go by too fast for the user to read after only one watch. This is a dark pattern, but it will make some users tap and stop video to read during a second watch.
Infinite loop
This technique is interesting because it works in every niche. By posting a short video Reel with fast paced images or snappy transitions, the users will more likely stay till the end of your video because it is dynamic. They may also realize after a second or third time that they watched the same video a couple of times. The key here is music. It needs to be cut smoothly connecting the end of the video with its beginning.
Goal: get more comments or shares
For this goal, the Instagram Reel length can be 15-30 seconds. Your main task will be to keep users' attention until the end, where you post the CTA, directly asking viewers to complete a specific action:
comment now!
share this with your friends!
leave an answer in the comment!
comment on your best tip!
share your worst experience!
Bonus tip: In the Reel, you can ask a question or start a conversation about any subject but… don't share your views immediately in the video. Your call to action can also look like this:

Want to know my thoughts?
See the first comment and share yours!
Goal: build a connection
Create an Instagram Reel that tells a story. Stories can move us to the core and build positive or negative connotations with the brand or person. Tell a story that builds the first type and the connection is almost automatic.
A story cannot be told in 5 seconds (at least not every story), so you will need a longer video of 60 – 90 seconds. Uploading the video as a post would also work.
I would not go up to 15 minutes, though, as that is too long to keep the user's attention.
Make your Instagram (and other social media) grow faster
Do you want to have better control over your Instagram account and Reels? Would you like to grow social media accounts organically without any hiccups? Be sure to check NapoleonCat.
With our tool (specifically designed for social media teams), you can manage Instagram Reels: scheduling, managing, commenting, you name it.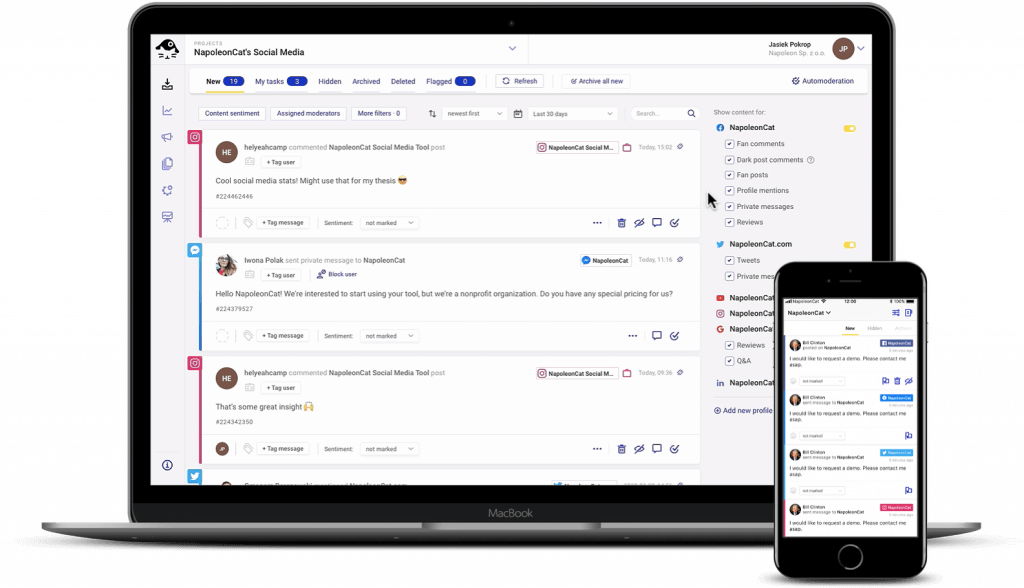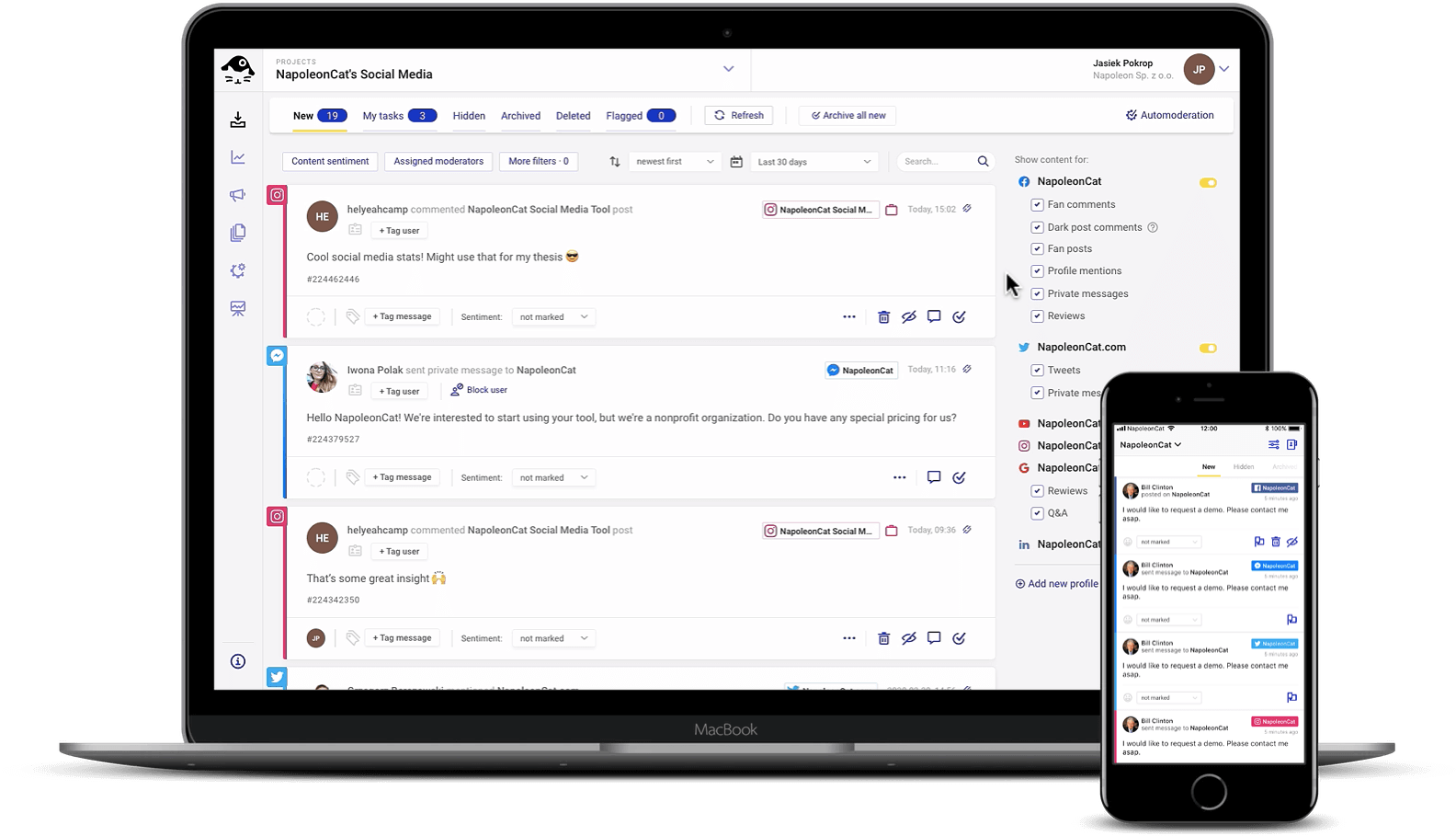 Do you have or work on multiple Instagram accounts? Then use the convenient option to share Reels across multiple IG accounts in one place.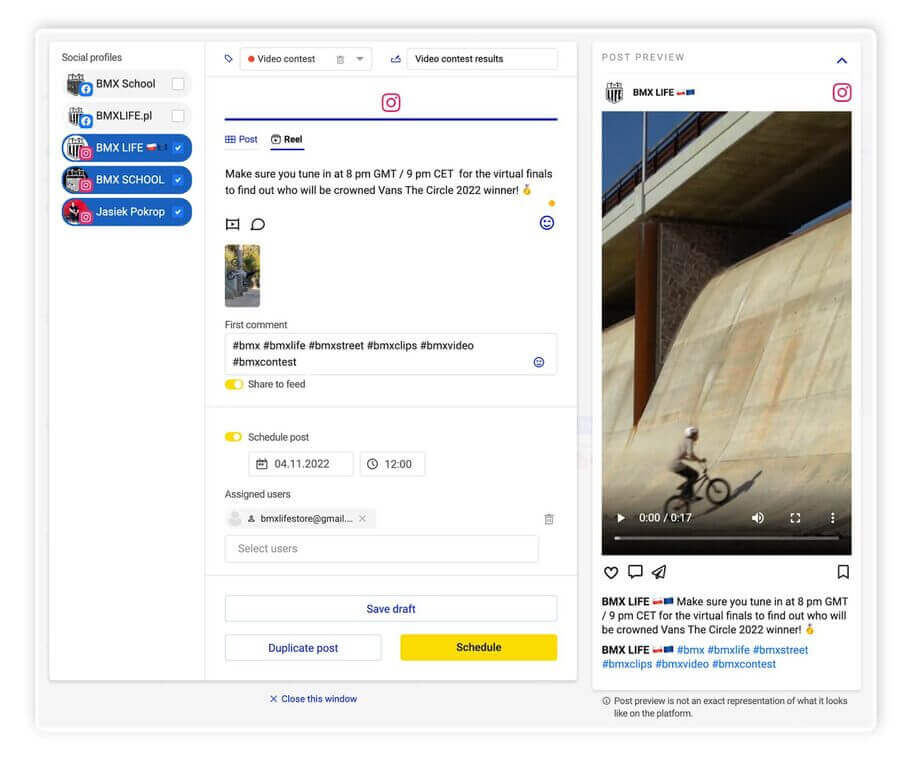 You can even automate comments from Reels. No bot actions. Legit marketing automation to keep your answers consistent and your comments tidy. Set up auto-replies in the comment section and automatically hide or delete inappropriate statements.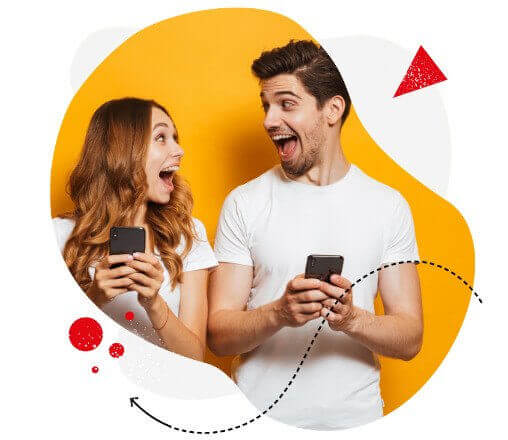 Instagram marketing made easier for teams
Instagram automation, analytics, reporting, scheduling, and more. Try NapoleonCat and save tons of your time spent on marketing tasks.
Curious to know more about Reels? You may also like: