Missing being able to schedule Instagram Reels in advance and along with your regular feed content? I got you.

NapoleonCat's Publisher now has the option of scheduling your Reels and your Instagram posts (and content for other social media platforms) using the same social media scheduler. Let me walk you through the new update real quick.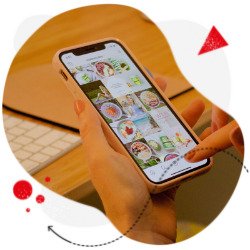 Schedule unlimited number of Instagram Reels
Seamlessly schedule your Instagram Reels to multiple accounts at once – with an all-in-one social media tool.
Instagram Reels have taken the social media world by storm
Instagram has been pushing Reels content for quite a while now, following TikTok's success in the format. And for a good reason – according to statistics, Instagram Reels get 22% more engagement than regular video posts on Instagram.
And it looks like they outdo all other short-form video apps when it comes to engagement, too, with an average of 53 minutes of viewing time per scrolling session globally.
No wonder it's content like Reels that's now the direct competition for streaming services like Netflix. (I mean, 53 minutes is at least one episode of a Netflix show, if not two.)
Even when you look at how the user interface has changed for the Instagram app over the past months, it's clear Instagram creators are encouraging people to consume content, and Reels in particular. Where content creation used to be – bottom center, easiest to reach with your thumb – is now how you can (yep!) access your Reels feed and start your Reels binge.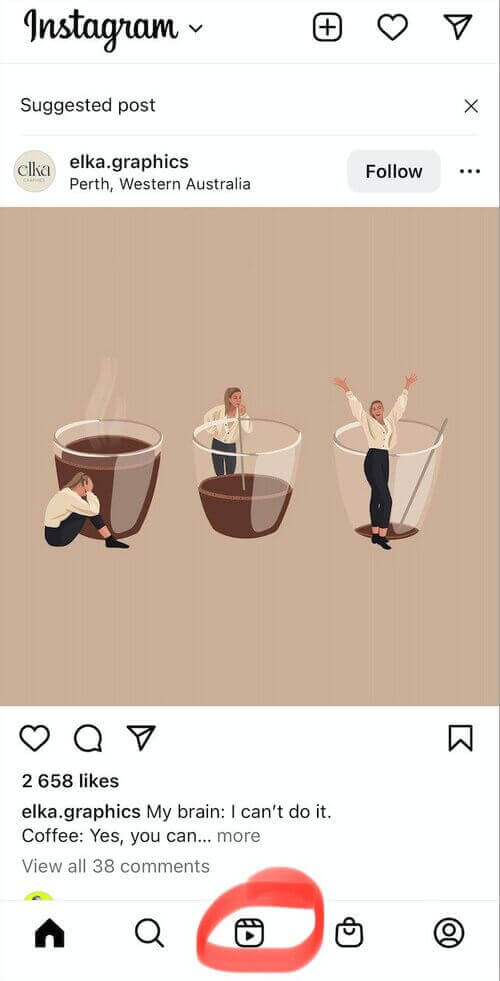 And, just like TikToks, Reels have been getting new updates, like longer videos (up to 60 seconds), drafts, and more. This content format has clearly been getting more and more traction on Instagram, especially among younger demographics.
So, if you've been into creating Reels for your audience, manually posting them always from the app might have been a little bit inconvenient. And those who lose their drafts every time the app crashes definitely know something about "inconvenience."
But that's all in the past now. You can now switch to scheduling Instagram Reels from the same tool you use for your other Instagram content as well as posts for TikTok, Facebook, Twitter, LinkedIn, or even Google My Business. And that's NapoleonCat's Publisher.
How to schedule Instagram Reels using NapoleonCat
Well, that's pretty simple. From now on, when scheduling Instagram content in the Publisher, you can choose between a post (which can be an image or a video, or a series of images or videos) AND Instagram Reels.
And when you select a Reel, the rest looks pretty much like always:
You upload your Reel video
You add the caption and your Reels hashtags
You choose the cover image for your video
You schedule your Reels and select the days and times to post
You can also decide to share the Reel to your Instagram feed (if you don't, it'll only be available in your profile Reels tab and also discoverable via the explore tab).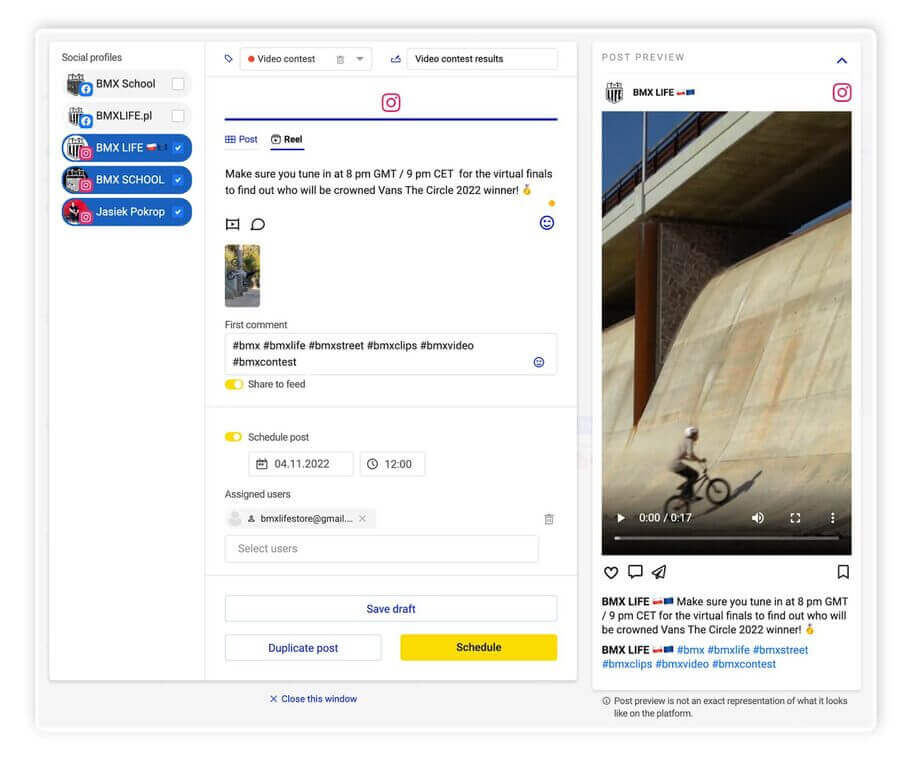 You can also preview your Reel before posting and use the team collaboration features, including exchanging feedback with other team members or assigning posts to other people to review and comment on your Reels.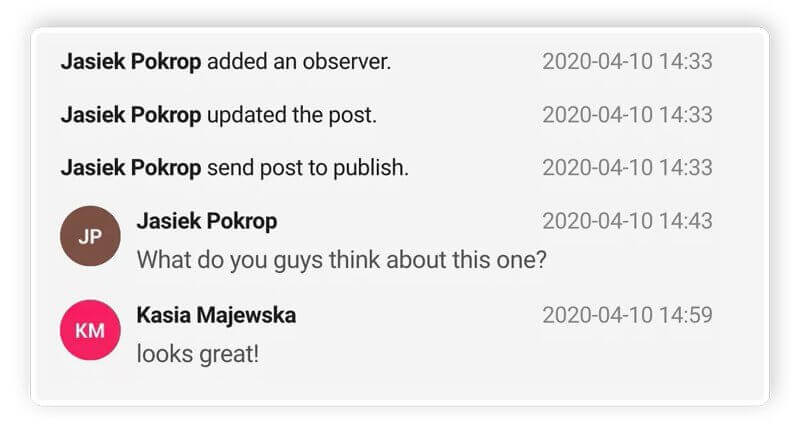 And you can organize your social media content calendar by adding post titles and color-coded labels to get a bird's-eye view of your strategy.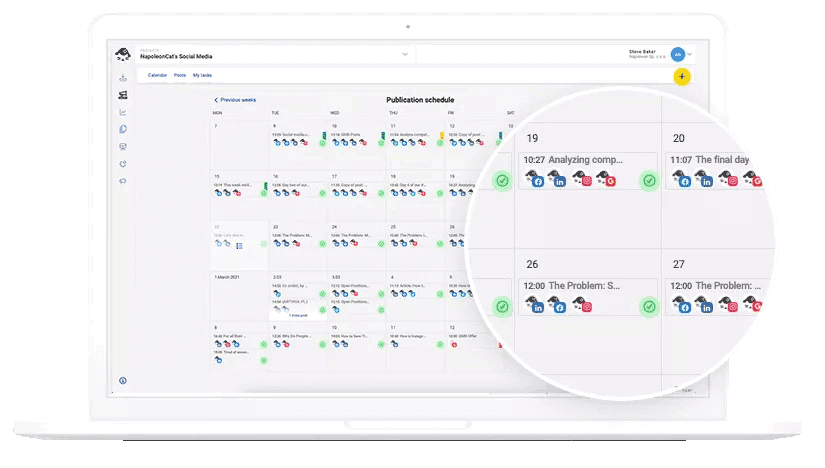 This means that everyone on your team can now see and post Reels as part of the entire content plan. Everyone knows what gets posted when and can also fit other content pieces into the bigger picture for a cohesive content strategy – and even more engagement.
Manage your entire Instagram presence (and more) in one tool
And speaking of one tool for social media management, NapoleonCat is not just content publishing (and not just Instagram.)
Apart from being able to plan and schedule Reels and posts on Instagram along with your other social media profiles (and doing all the extra things like scheduling the first comment with your Instagram posts or selecting the cover image for your Instagram videos), you also get all the other Instagram management tools for business:
So, as you can see, scheduling Instagram Reels is just a tiny part of the whole thing (though today, it's definitely an important piece of the puzzle.)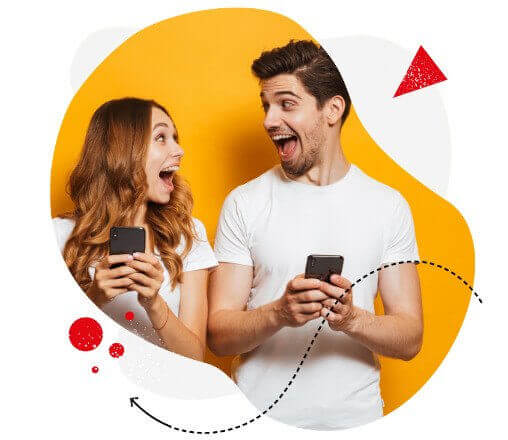 Instagram marketing made easier (especially for teams)
Instagram automation, analytics, reporting, scheduling, and more. Save tons of your time spent on marketing tasks – with an all-in-one social media tool.
Yes, you now have a Reels scheduler (finally!)
With the new update, scheduling Instagram Reels becomes much easier, especially if you post on Instagram a lot and also create content for other social media channels. So go on, auto-publish your next Instagram Reel using NapoleonCat's Publisher. And then repeat for all your Reels going forward.
And if Reels haven't exactly been your thing, maybe it's time to try them out now? Who knows, maybe you'll actually like it. (And – what's even more important – your audience might!)
You won't know if you don't try – and 14 days for free might just be enough time to see for yourself.
Here are some other articles that you may like:
Curious to know more about Reels? You may also like: