If you're using Meta's Instagram DM auto-reply feature but could use something more efficient, here's an idea: a more comprehensive social media automation tool that can do the same and top it with much more helpful features.

And if you're cringing at the very thought of automated Instagram replies, read this article to see why you should give it a chance.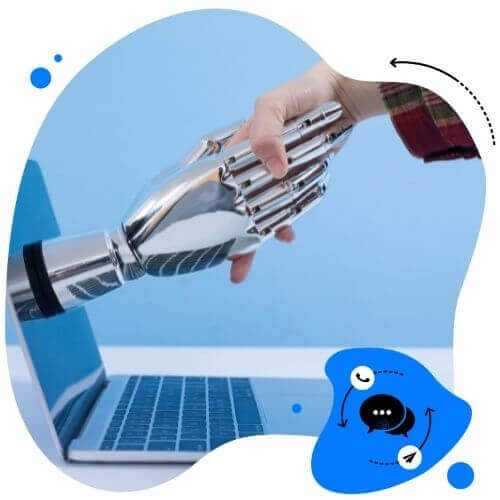 Smart Instagram Auto-Reply (DMs, comments, ad comments)
Set up smart auto-replies for your Instagram DMs, comments, and IG ads comments – even for multiple accounts at once. Automatically hide or delete comments containing spam and hate speech – with an all-in-one social media tool.
Let's talk about customer service, social media, and automation
We all know that good customer service is one of the foundations of a successful business. A great product is suddenly not that great if its customer support sucks. That branding you spent so much of your marketing budget on won't do much if your customer service is not up to par.
There is simply no way to bypass building an excellent customer service experience if you want to be successful.
And it's also true for social media customer service – to use the classic phrase from pandemic times, now more than ever. People contact brands on social media, and they expect at least the same level of customer service they get on other channels (assuming you already provide excellent customer service elsewhere.)
But the reality is that some companies still have a gap between social media customer service and their other customer support channels. Some also still struggle to effectively communicate with customers on social media, including Instagram, in the first place. Especially if they have multiple social media accounts to handle.
Now, you might be worried that automation can lower the quality of your customer service on social media. So let me tell you how it can actually improve it instead.
And for that, let's focus specifically on Instagram.
How the Instagram DM auto-reply feature works
You might have heard – or even used – Meta's auto-replies to Instagram DMs. If you haven't, let me outline really quickly how it works.
For a couple of years now, Instagram business users have been able to set up an auto-reply on Instagram in response to people's direct messages. And they can do it for free, without any third-party autoresponder tools involved. At least technically (I'll get to that part where third-party tools can improve on that experience in a short while – because that's actually what I'm here for.)
You set it up through the Meta Business Suite, and there are two options available:
An instant reply you can use to instantly reply (I know, shockers) to someone's first direct message to you. For example, you can thank them for their message and send some content links for starters. (In no more than 500 characters.) You can think of it as a welcome email you send to someone after they subscribe to your email list.
An "away" message for when you are not online and can't respond. You can turn it on manually or on a schedule (e.g., outside your business hours.) It does replace the instant reply, so don't forget to switch it off when you're online.
By the way, you can select to send these on Facebook Messenger and Instagram – they're now merged into one solution.
To do that, you need:
A business account on Instagram,
A Facebook business page linked to it
And permission to manage Instagram messages turned on in your Instagram account privacy settings.
And that's about it. It's pretty straightforward and doesn't allow for much variation or customization.
But there are social media engagement tools out there that can build on that ability, making it much more versatile and customizable.
Why use a third-party Instagram auto-reply solution like NapoleonCat's Auto-moderation
Well, this is actually going to be "why use NapoleonCat's Auto-moderation" specifically. And the short answer is: because it gives you many more advanced options around Instagram auto-replies, letting you seamlessly include them in your customer service workflows (that wasn't that short, I know.)
And I mean many more than just setting up instant replies or away messages for your Instagram DMs. But let me get a little more precise and give you a few specific reasons.
Reply instantly every time someone sends you an Instagram DM – and not only
First of all, the Auto-moderation works for Facebook, Messenger, Instagram, and Facebook and Instagram ads. It's a helpful moderation tool for customer service and marketing teams, helping you auto-moderate comments and DMs within one Social Inbox.
And that inbox includes all your direct messages, comments, and reviews on all your accounts on Facebook, Instagram, Twitter, LinkedIn, Google My Business, and YouTube. All in one place.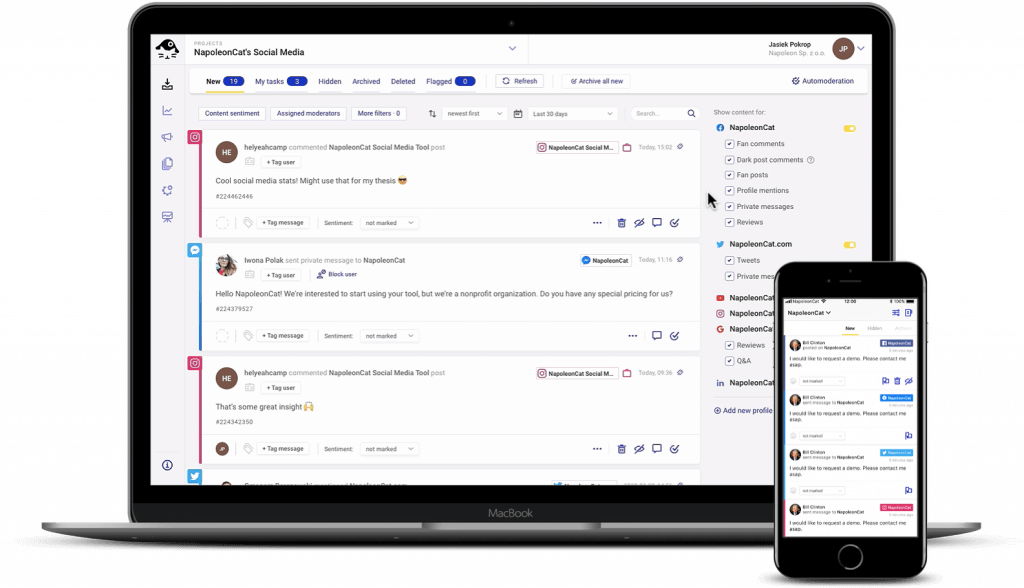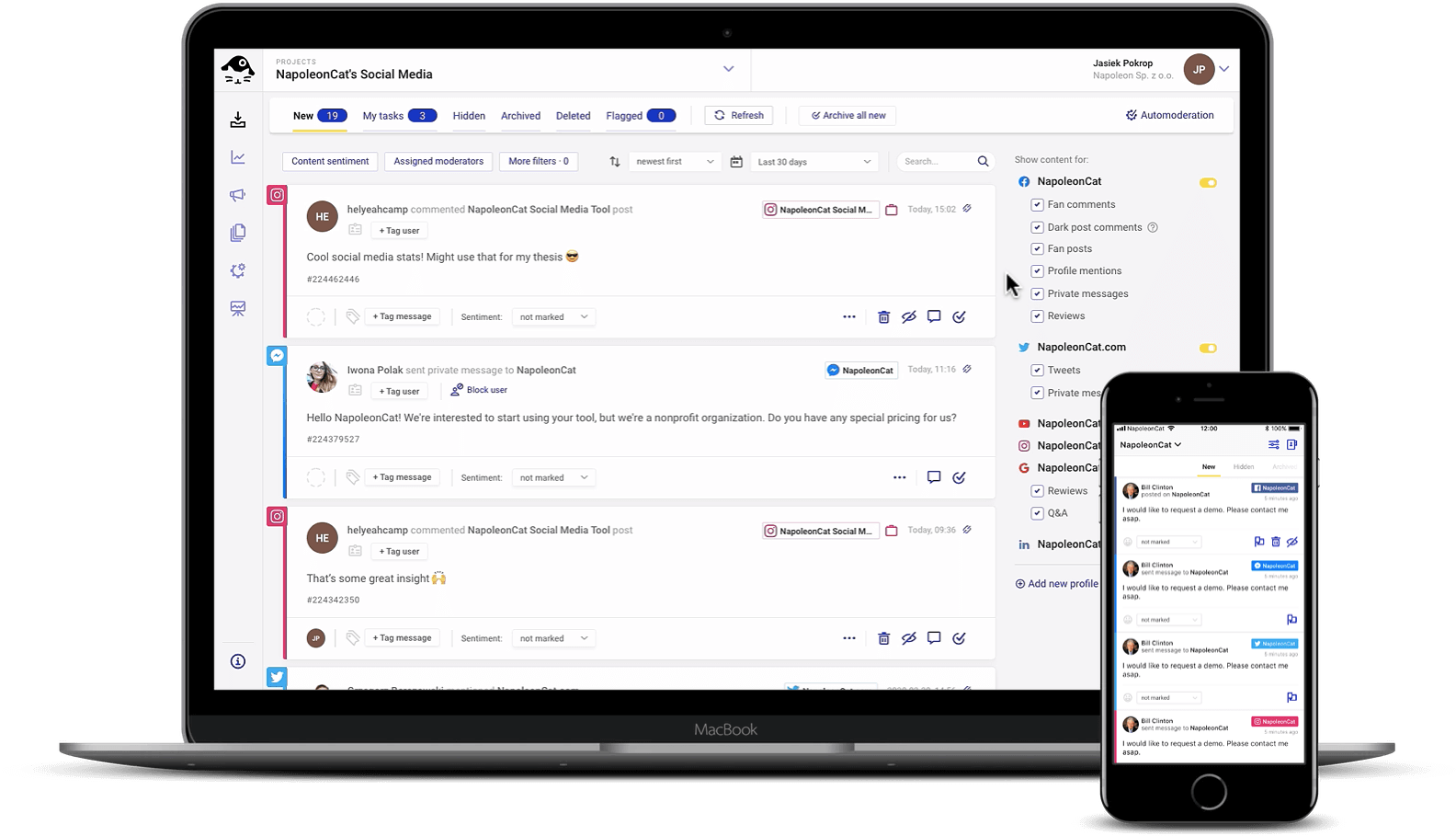 When you have your social media accounts connected in your Social Inbox, you go straight to Auto-moderation from the main menu, where you create your Auto-moderation rules.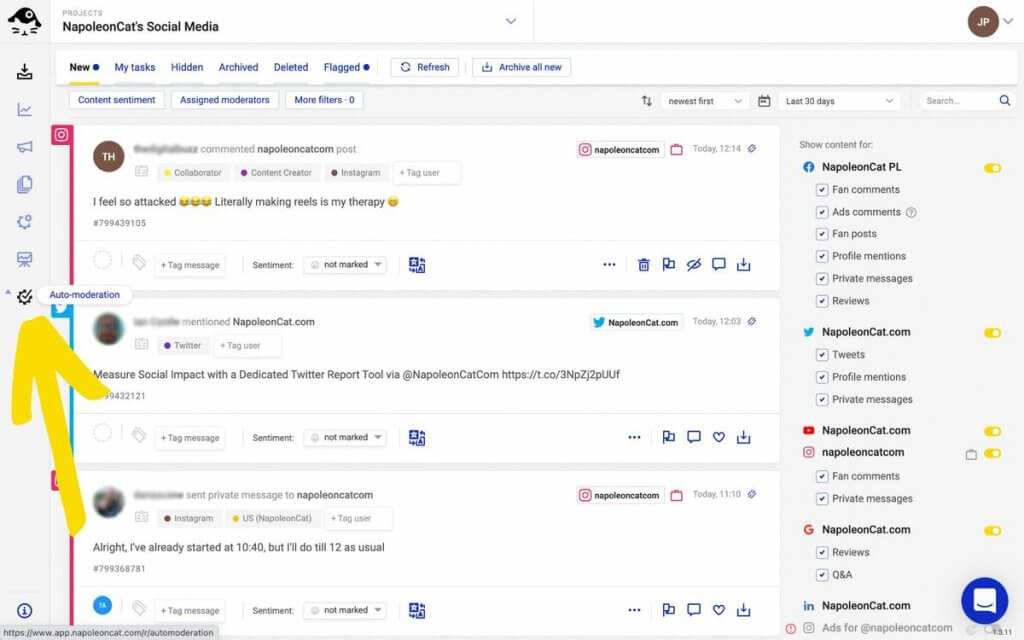 Rules are simply automatic reactions that will get triggered every time a condition is met, for example, someone sends a message that includes a certain keyword.
Auto-moderation lets you automatically respond to Instagram DMs (and also comments and ad comments) based on the keywords you specify for a given rule. You can use it for every Instagram direct message and comment to:
Automatically reply to frequently asked questions, for example, about your opening hours, product prices, or issues that keep coming back.
Automatically redirect a message to a dedicated customer support member.
Delete spam and hide comments on Instagram.
And you can create auto-moderation rules for many Instagram accounts at once – and many social media accounts in general.
You can easily test Auto-moderation here, no credit card required during signup 😉
Be more precise with your replies
With the native Instagram auto-replies, you have just two triggers for your reply that send the same message to everyone – whether that's an automated response to their first message or your away message.
With Auto-moderation, you can have several responses that you can rotate so that not everyone gets the same thing. Plus, an Auto-moderation rule can be triggered by up to six different triggers (e.g., sets of keywords), and each of them can activate a different set of Instagram auto-replies.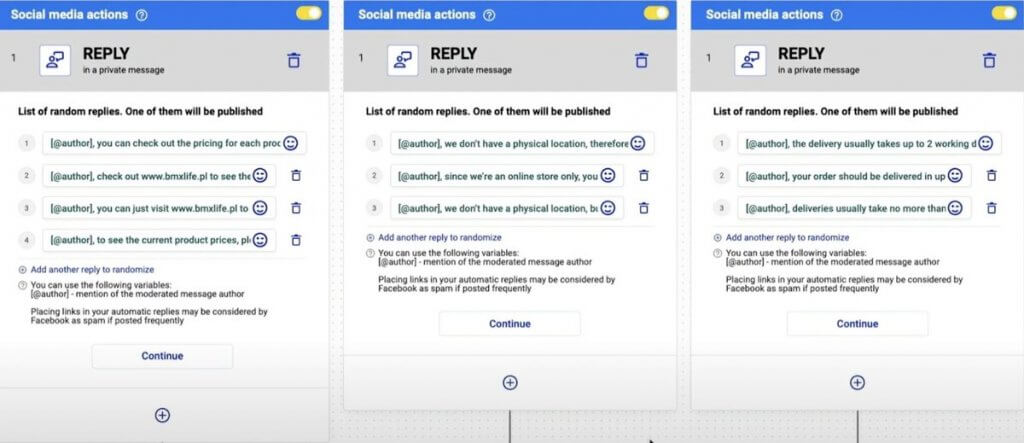 This means you can design your Instagram auto-replies to be more personal and relevant – and being impersonal and irrelevant are both common concerns when it comes to automated messaging on social media.
You can see how it works in detail in this video (the video shows Messenger auto-replies, but the setup process is the same):
What's more, you can reply to a comment in a private message if the conversation includes sensitive information like login info or order number.
And you can even get an Auto-moderation rule to reply both in a comment and direct message at once.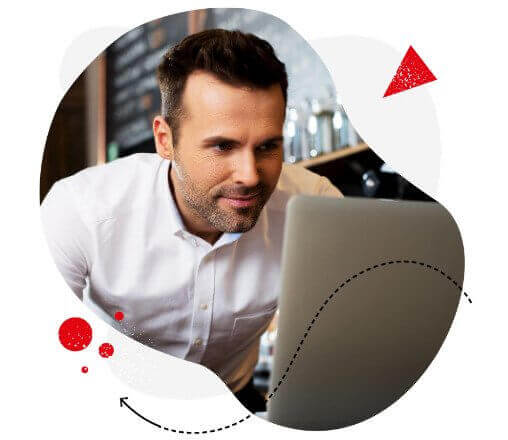 Customizable Instagram auto-replies for DMs, comments, and IG ads comments
Quickly set up smart Instagram auto-replies for DMs, comments, and IG ads comments – even for multiple accounts at once. Automatically hide and delete offensive comments – with an all-in-one social media tool.
Be quicker to help your customers
Auto-moderation also lets you automatically forward sensitive customer issues to designated customer service team members. This way, you're saving time (again!) and prioritizing issues that need immediate attention.
And that can make the customer service experience much smoother for your customers – and also much easier to handle for your customer service and marketing teams. (Or for you, if you're an all-in-one kind of social media superhero or a solo business owner.)
You can also tag users within the Social Inbox to quickly tell engaged community members from trolls and spammers. And so that every team member knows the status of a customer and their history with your company. That way, you can give your customers a more personalized treatment.
What's helpful (and also, what a surprise, time-saving) about Auto-moderation is that it can do many things at once with just one rule. So, for example, when you get an Instagram DM from your customer, you can tell the rule to:
Tag the message
Assign it to a moderator
Mark the message sentiment
And flag it, all at once.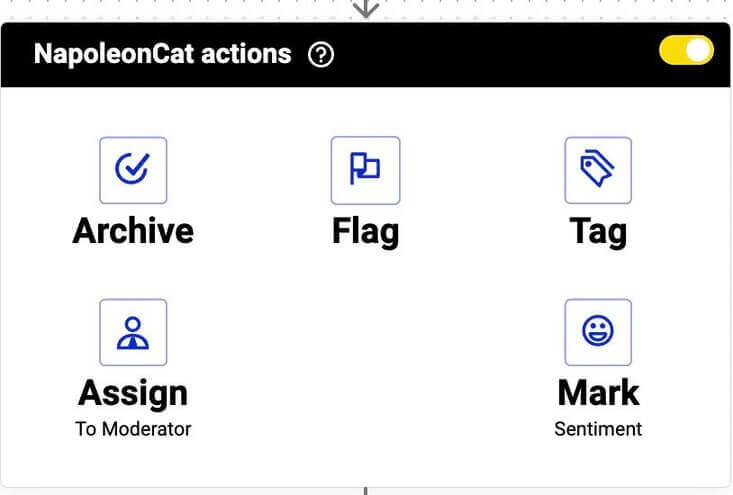 All that's done automatically, without taking the attention and time of your customer service team members.
With all its versatility, it's really easy to apply
Automation rules might sometimes feel complex. And if you've had experience with marketing automation software, you might have seen some really complicated automation flows that might look scary at first glance.
Well, that's not the case here at all.
Creating an Auto-moderation rule is pretty straightforward. You fill in the missing elements following a sequence of steps that form a coherent flow. Things you need to fill out include:
The platform and profile(s) you want the rule to work for.
The trigger, which can be, e.g., just a text message or a comment with a link.
Custom keywords and phrases that will trigger your rule.
The action(s) you want to take, e.g., reply in a private message.
The actual message content, with different variations.
You can also add an email address to get a notification every time the rule is triggered.
The schedule for your automated reply. The rule can run 24/7 or, for example, be active only when you're not online (acting as your "away" message), in selected time slots, and on specified days of the week.
You can also stop Auto-moderation after the rule has been triggered.
You also get ready-made Auto-moderation templates that are already pre-defined for you – and that you can customize. That way, setting an auto-moderation rule requires hardly any effort at all.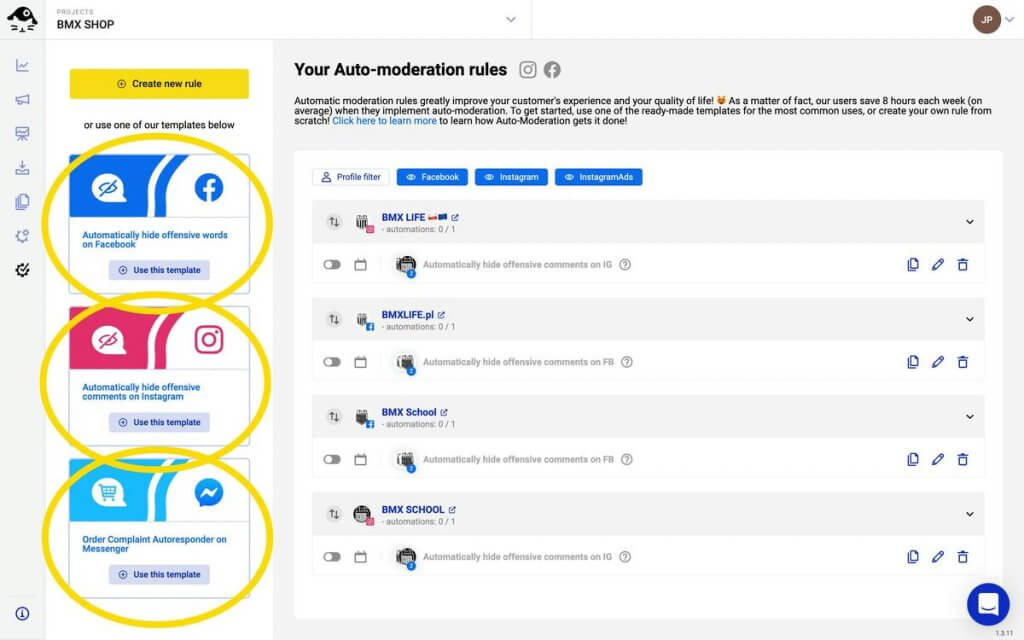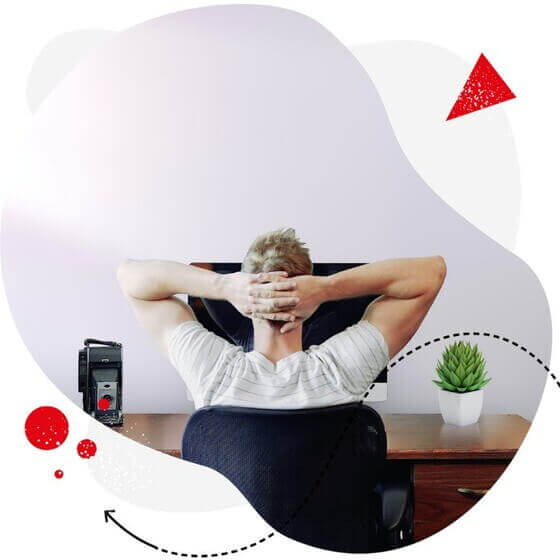 Smart Instagram auto-replies for DMs, comments, and IG ads comments
Tired of repetitive questions on Instagram? Automate your Instagram replies with NapoleonCat
Automate your Instagram replies to provide a better customer experience on Instagram
It all boils down to essentially this: by automating your Instagram replies, you simplify the initial contact with your customers. Sometimes, you can direct them to an FAQ file instead of starting an entire conversation. Or you can let them know when to expect a response if they write outside of your operating hours. Or you can just let them know you're there, even if you can't respond immediately (which, by the way, many customers will actually expect.)
And that's just replying on Instagram. Add Facebook automated responses, keeping track of what's going on under your ads on Facebook and Instagram, and keeping all your customer inquiries coming from social media in one multi-user dashboard, and suddenly social media customer service becomes much easier to handle, and less of a burden for you and your team. If you've been doing it manually, you'll probably be amazed by the difference the right tool can make. (Not to mention the benefits your business will quickly see.)
Which is why testing NapoleonCat for free should be a no-brainer – you can do it here (no credit card required during signup ;))
And if you already have an account, go straight to the Auto-moderation tab (P.S. you no longer have to access Auto-moderation through the Social Inbox) and see exactly how much time you can save by doing some automating.
If you'd like to learn more about social media automation, we recommend the following articles: