By now, people who work with social media daily already know automation is their friend (a robot friend is still a friend). It helps make social media management less time-consuming, sometimes more accurate, and definitely faster.
In this post, we're looking at Facebook marketing automation and the tools you can use for your business to take some weight off your shoulders (we all need that, right?)
But first, let's set the scene.
You have an e-commerce business – or maybe work for one. You or your team manage many brand accounts on Facebook, with multiple conversations with customers and prospects happening every day. And I mean tons.
Sometimes, it's hard to keep up (maybe even most of the time).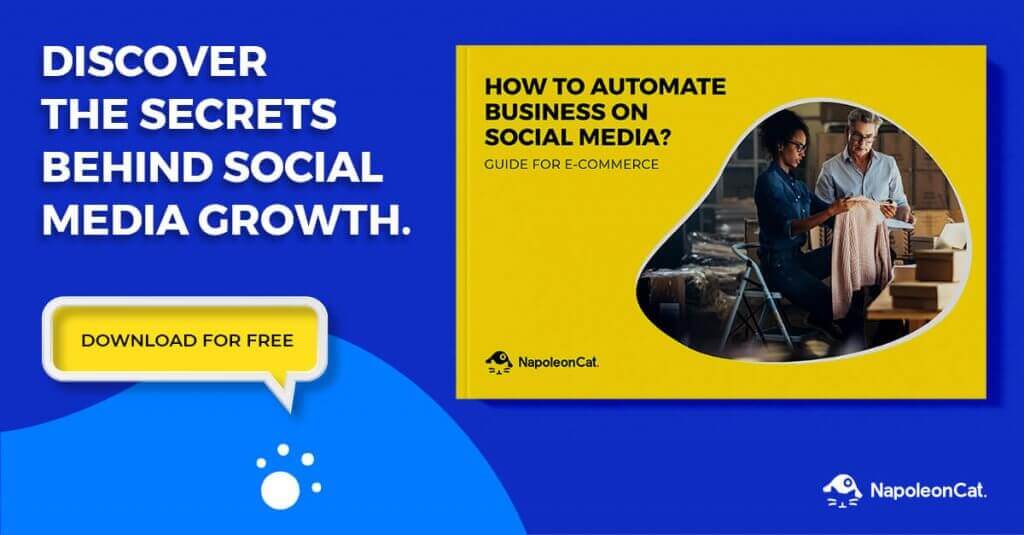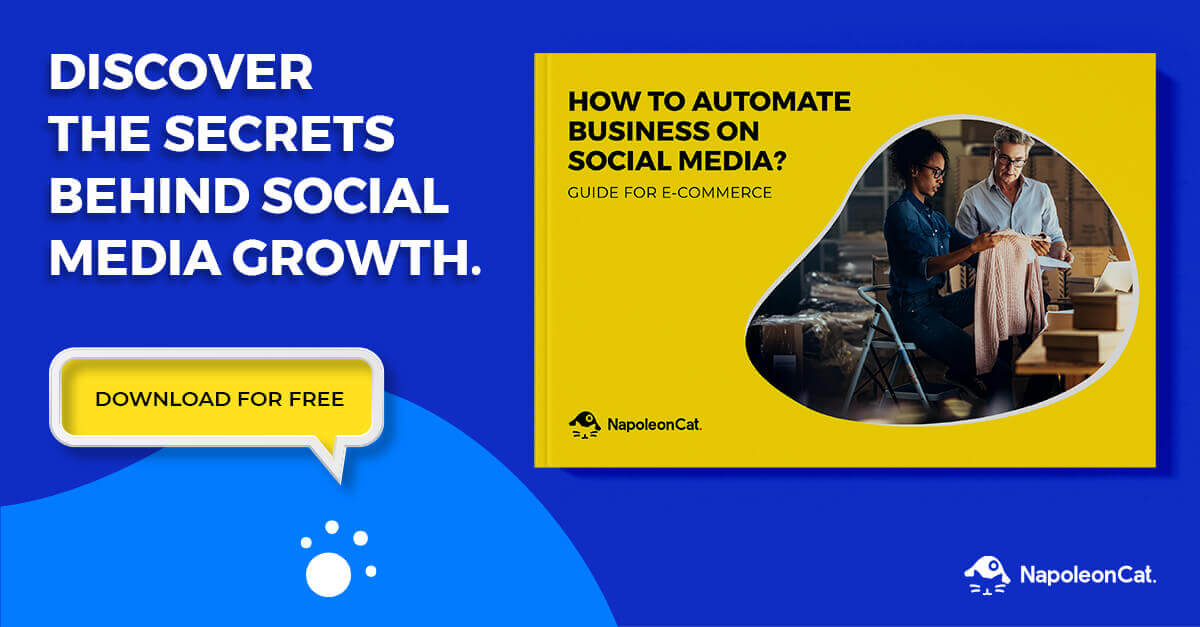 People are asking questions about your products, want to know the price, have a problem with a product they want to be solved in private conversations. Maybe you're selling worldwide and people keep engaging around the clock, while your team needs to sleep.
You're scrambling to respond to all the questions and messages, while you still miss the ones asked below your sponsored content. Then you're still supposed to find time to come up with ideas for new posts, do research, and figure out ways to engage your audience (and sell your stuff on Facebook and other channels).
And then your boss keeps asking you for that Facebook engagement report?
All while you're in charge of the company's profiles on Twitter, Instagram, Google My Business, and other popular social networks.
Anyone would get overwhelmed without resorting to Facebook automation software. Which, luckily, can give you back some of your precious time – if you know how to use it.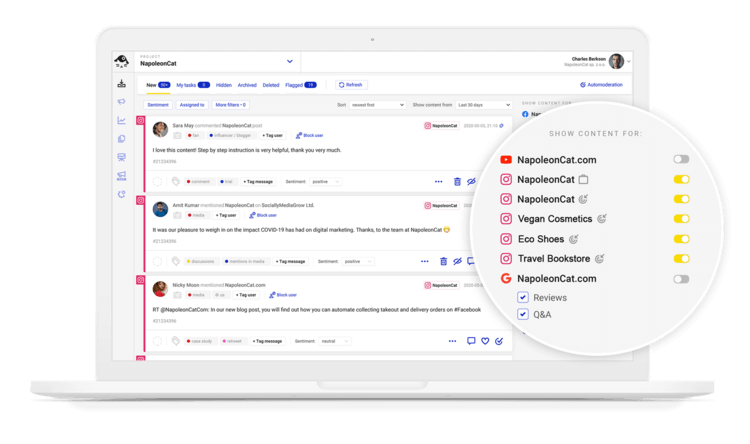 Simplify Social Media
Management with One Tool
Manage & reply to comments and DMs in one place.
Monitor ad comments from multiple accounts.
Automate answers to repetitive questions.
Schedule posts to multiple accounts, on desktop.
Analyze performance and monitor hashtags.
Keep track of your competition.
Create or schedule in-depth reports in seconds.
Try 2 weeks for free (no credit card required)
So, let me show you.
Let's start with…
Automating Facebook post moderation
Or what NapoleonCat calls (surprise!) Auto-moderation.
Things Auto-moderation can do:
Automatically reply to comments and private messages based on specific keywords,
Automatically delete or hide comments based on keywords or other conditions,
Automatically redirect sensitive issues to your customer support,
Organic posts & ad comments included.
You could also call it "the way to save time, reclaim hours in your day, and keep up with all the messages and comments on Facebook, Facebook ads included."
But for it to do that, there are some things you have to do first.
Start with figuring out what to automate on Facebook (and when)
Do you have customers asking similar questions all the time, like "How much is this piece?" or "Is this dress true-to-size?" You probably already have at least some in mind.
If people ask you the same questions repeatedly, you don't have to engage your team in responding to them (especially while other customers are waiting with more complex issues or complaints that need your attention). Automating responses to questions like that could save you a considerable amount of time.
Do you have many customers sending questions or commenting while no one's there to moderate them in person? Or maybe you're on vacation (even business owners and social media people are entitled to a break, you know) and don't want to ghost your customers or prospects?
Auto-moderation is one of your options. Sometimes it's enough to just let people know you're off and will be back at 9 am. That way, they won't feel ignored and will know when to expect a response.
Get tons of comments on your Facebook ads and never seem to get notified? This is very common, especially if you're outsourcing your Facebook ad campaigns to someone else who's responsible for targeting the right audiences and optimizing campaign costs, but not for engaging in conversations with your audience.
In NapoleonCat, you can track and respond to ad comments, too, along with all your other interactions – all from one simple dashboard. So not only will you not miss any comment, but you'll also have easier access to them and will be able to respond – and also hide or delete a comment automatically when necessary.
This comes in handy if you get many spammy links, people trolling you or complaining under an ad, or when your competitors are trying to leverage your paid reach and squeeze in their links. (A horrible business practice, btw.).
Trying to manage a crisis situation? While your team is struggling to recover from the recent DDoS attack or service outage, and your customers flock to your page with complaints, you can keep them informed about the situation, again, by setting auto-replies (they'll appreciate it, even if some of them are really upset at this point).
Then, set up your Facebook automation rules
You can choose from many conditions that will trigger an automatic action, like:
defining a keyword or phrase that will trigger the automated comment or message
defining the time you want your Facebook automated responses to be posted, like the weekend or out-of-office hours
deciding to send a response, but also automatically hide or delete a comment, e.g., comments containing profanities or all comments with links in them when they're under an ad
defining a specific post you want to reply to with automated responses
and many others.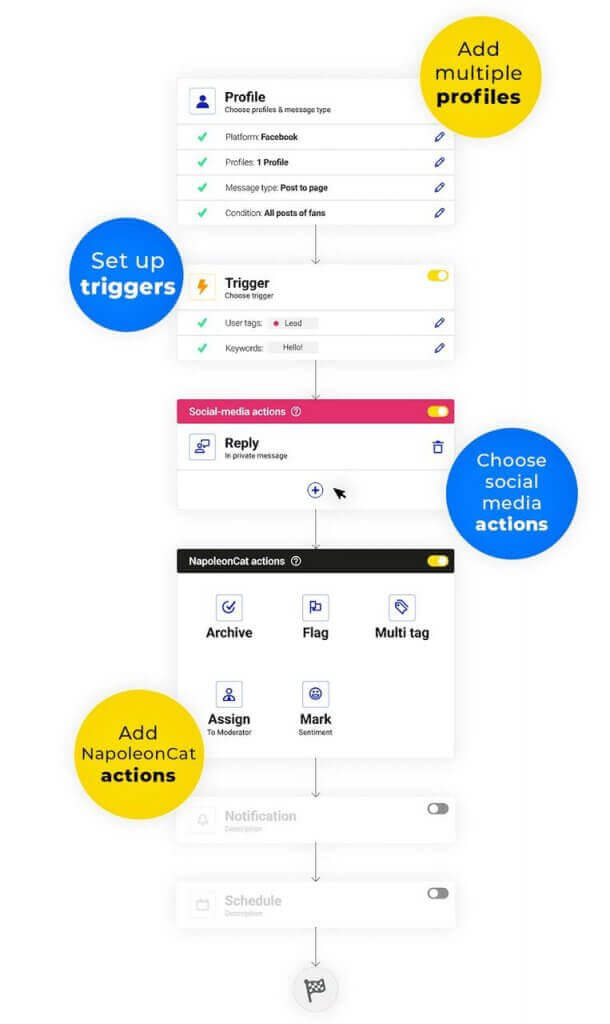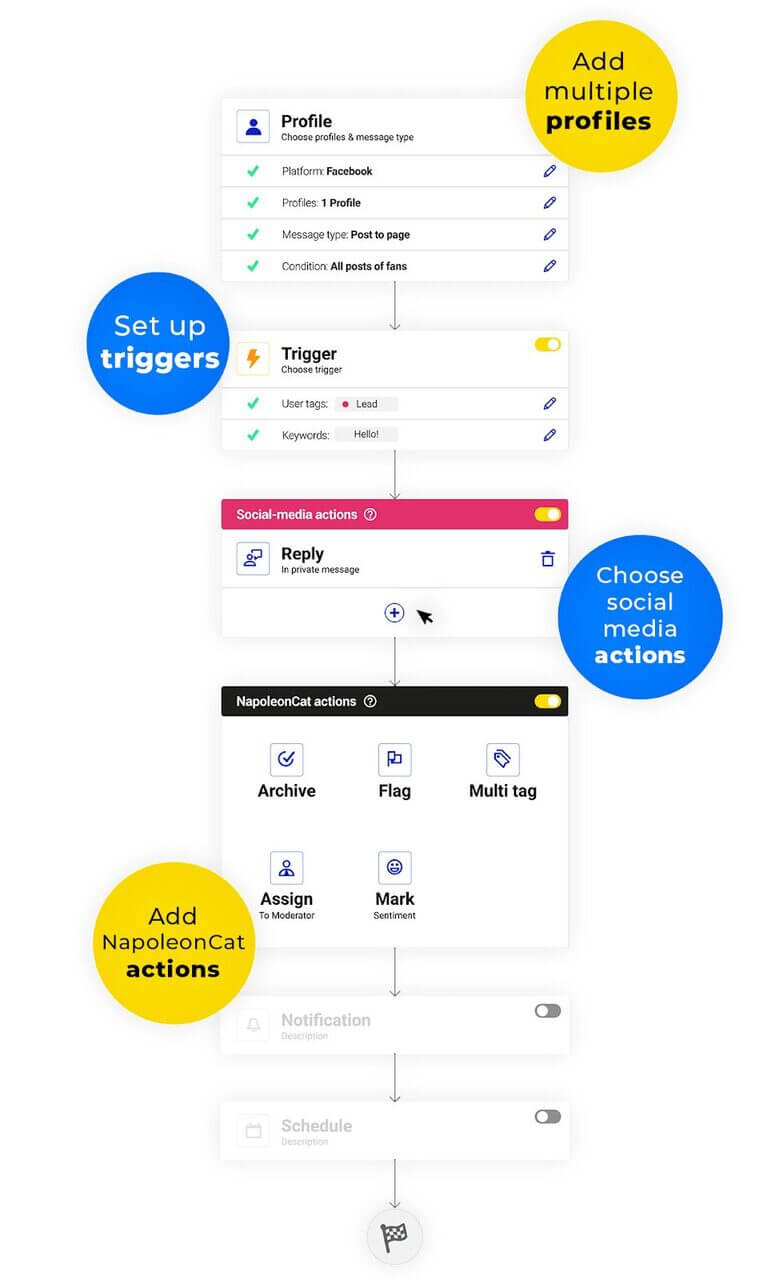 By the way, Auto-moderation can also automatically delete any incoming comments on specific posts. This works very similarly to disabling comments (which is not doable on Facebook, btw.).
All you need to do is set the automatic reaction without entering any keywords 😉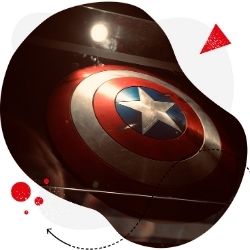 Protect your social media from hate & spam
Automatically shield your FB and IG content from hate speech, inappropriate language, and spam (ad posts included) – with an all-in-one social media tool.
Then craft your automated response
And keep in mind that:
You're writing to actual people, so write a post that sounds like an actual person wrote it. Don't sound robotic or formal – people don't like that, and they might get frustrated instead of feeling pleased you've gotten back to them so quickly. There's a fine line here, and it's your job to find it. After all, you know your customers best.
Create several versions of your response. That way, if your Facebook wall is busy with complaints coming in by the minute, people won't be seeing the same answer all over again (which, again, will probably make them even more frustrated.)
Make your responses genuinely helpful. It doesn't matter that they're automated. Even automated content should – and can – be valuable. Don't treat these as placeholders. Imagine what your customers would like to hear and write it down.
And to figure out what to write, don't just rely on your gut feeling – and memory. (You know your brain might be overwhelmed with all the back and forth happening every day). To stay on point with your responses, analyze previous customer activity – not just on Facebook, but also on your customer service chat or in emails. That'll give you a better idea of what people ask about and help you come up with relevant responses and the right scenarios and rules for your auto-moderation.
Keep an eye on your auto-responses
Facebook automation can be super helpful. But it needs a human behind it to set the tone and then monitor people's reactions. So, see how people are responding and if your automated responses actually do their job. Modify them as needed.
Sounds pretty straightforward, right? You will need to set aside some time to build the rules, so get ready to do that. But once you're done, it's going to be so worth it.
And if you want to see how Auto-moderation works in NapoleonCat, take a look at these two videos to learn how to automate comments on Facebook:
Automating Facebook post publishing
When you have comment moderation under control, you'll have more time to focus on content creation. The good news is that you can also automate part of the process – and get even more time!
While you probably still need to write your content (machines still don't do it as well as people, though there are some pretty successful attempts), you can automate its publishing to save yourself some trouble.
Like having to organize your posting schedule in a spreadsheet (is that still a thing?) and then copying every single one, pasting to Facebook, and manually publishing. Phew, that's a handful.
In NapoleonCat, you get a calendar for all your Facebook posts to wait for their publication date (along with all your other social media posts). It'll help you:
Create your posts ahead of time. It's like your spreadsheet, but without all the manual work.
Color code them for all your marketing team to see inside the calendar. This way, if you have more people working on your social media content, everyone will know what's going on and what topics are in the pipeline.
Delegate individual posts to your team members so that everyone knows what to do. And then exchange comments and feedback until the posts are ready for publishing.
And then schedule your posts ahead of time. This means all your content sits in the calendar with photos or videos until it's their time to shine. And you can be doing something completely different at the time (like researching a new exciting topic or maybe engaging in a conversation with one of your customers who needs help with something.)
Seriously, it's 2023. There's no reason to keep doing manual social media scheduling (and stay up at weird hours of the day and night just to hit "publish". Especially if you have customers in other time zones.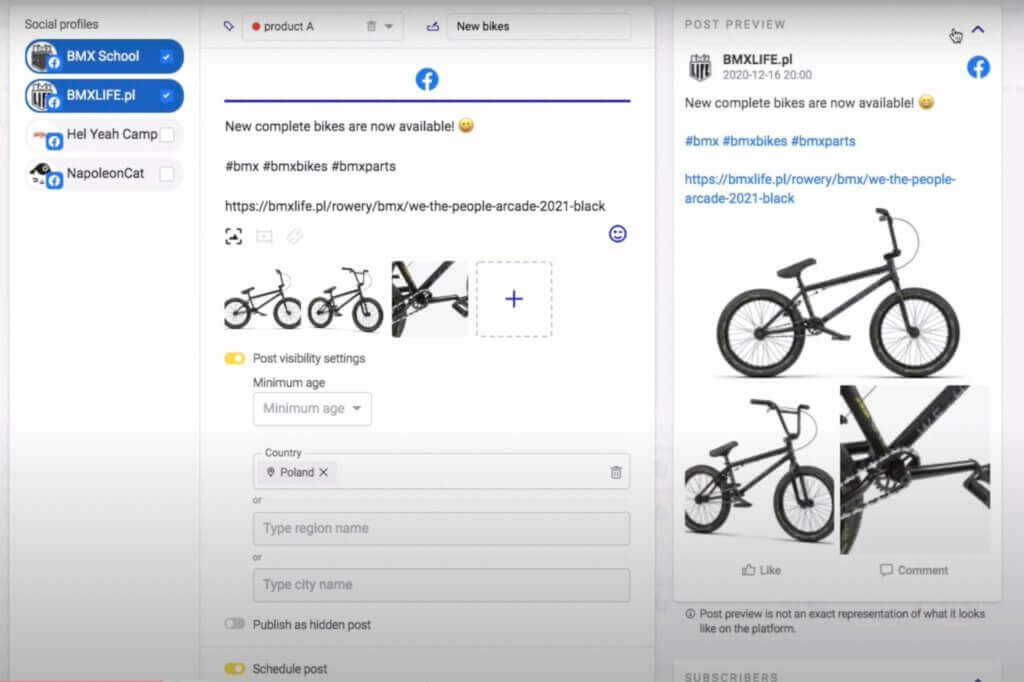 Here's how to automate Facebook page posts [video].
Pro tip: To help find the best times to schedule your content for (the best as in, days and times when people are most likely to engage with your posts), monitor your Facebook analytics.
You can do that in NapoleonCat, too. This way, again, you won't have to solely rely on your gut feeling but will be supported by precise data. Analytics will also help you decide what content to post and how often.

And speaking of analytics…
Automating Facebook reports
Tracking and reporting on your Facebook performance are essential to getting better results in the future. And guess what? You can automate some of it, too.
And do I have to mention that it'll save you time (again) and will take a repetitive task off your shoulders? Incredibly tempting if creating reports is always the last thing to cross off your to-do list.
(But generally, applicable to anyone who wants to get serious with their Facebook brand communication).
And you can do that with your NapoleonCat account, too. (Convenient, isn't it?)
All you have to do is choose:
the Facebook pages you the report for,
the social media metrics you want to report on (by default, all available metrics are selected in NapoleonCat).
Additionally, you can set:
the frequency of your report (only if you're scheduling reports – weekly, monthly, or quarterly).
the branding (a.k.a. your company's logo).
and the emails of the people you want the report automatically sent to.
The keyword here: automatically.
This means you, your boss, your client (if you work at an agency), and anyone else interested can get the report straight in their inbox, generated automatically.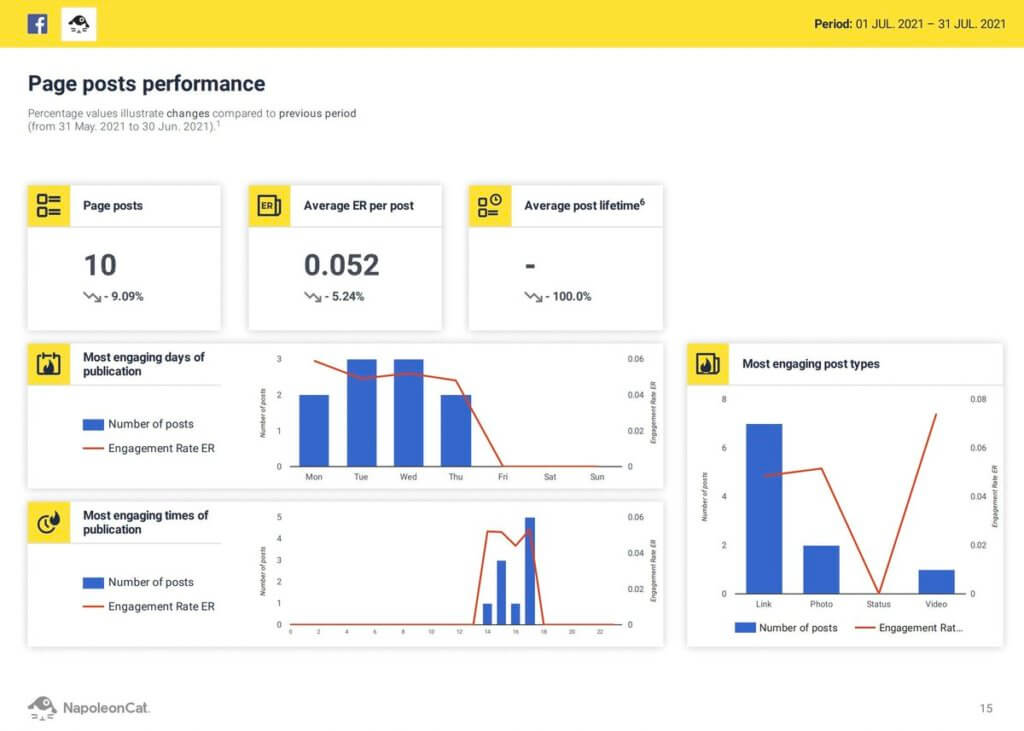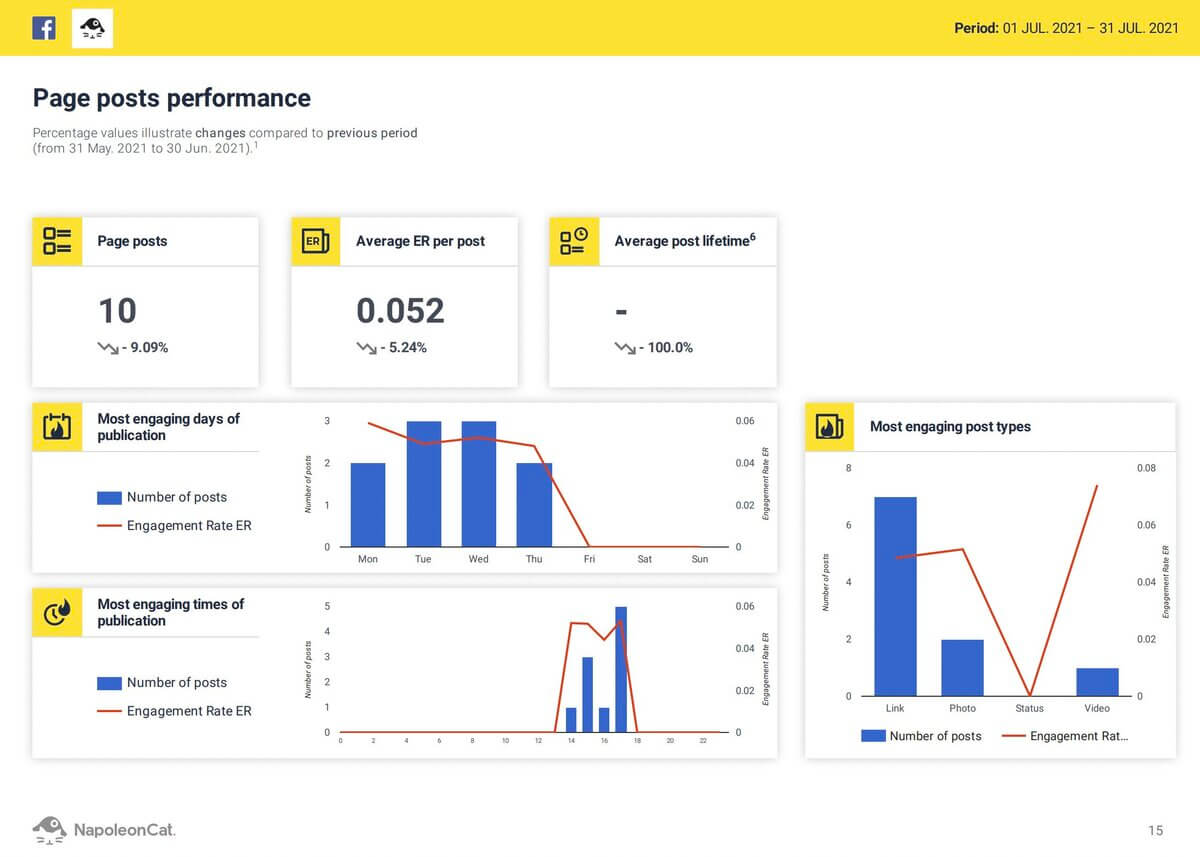 As a matter of fact, you can create one report for up to 8 Facebook Pages, and that includes your competitors' profiles: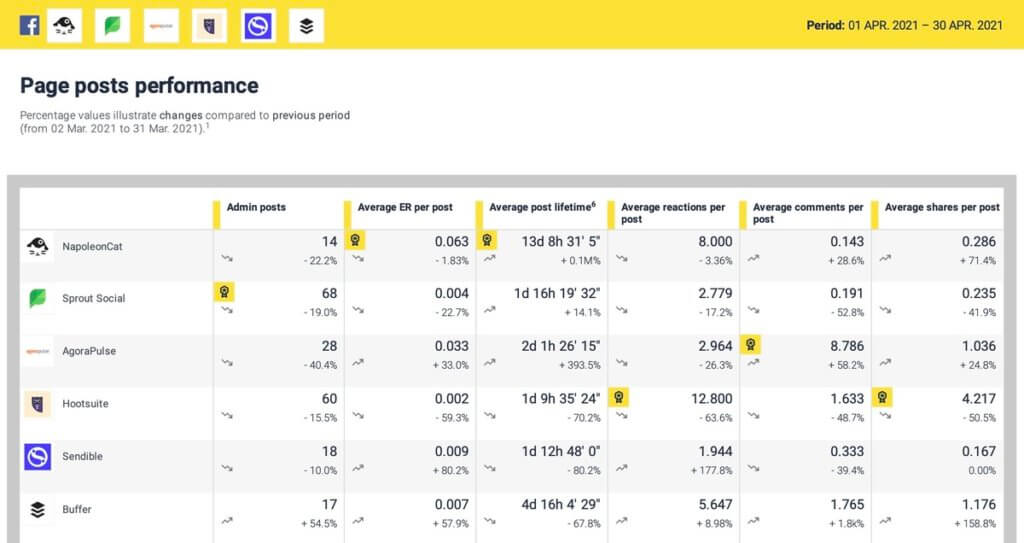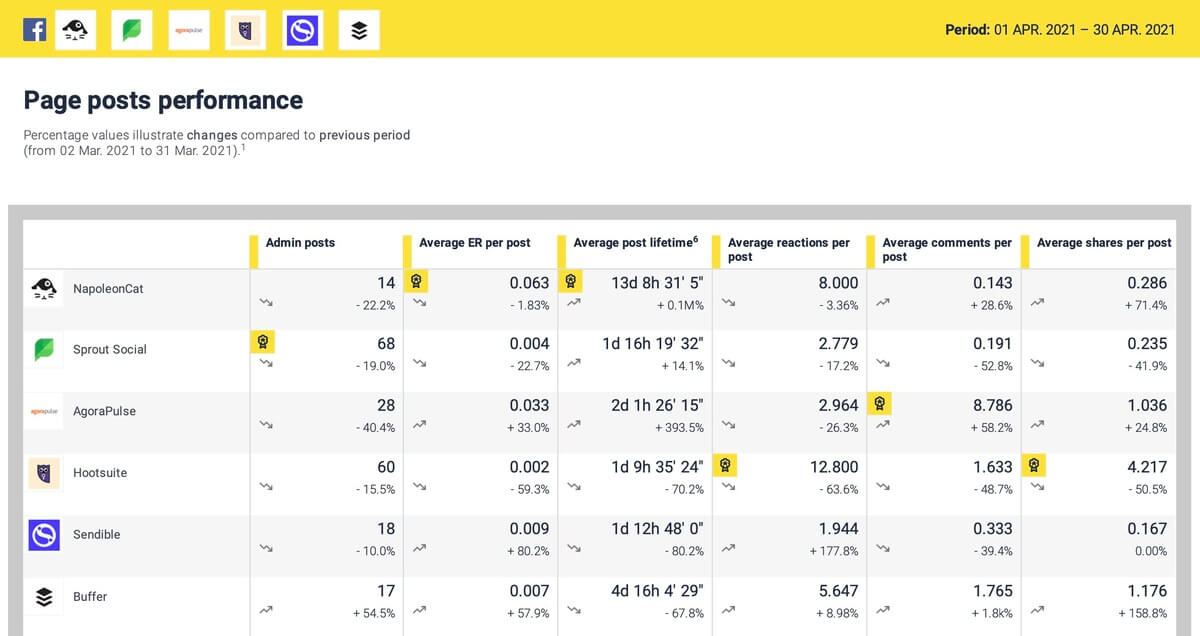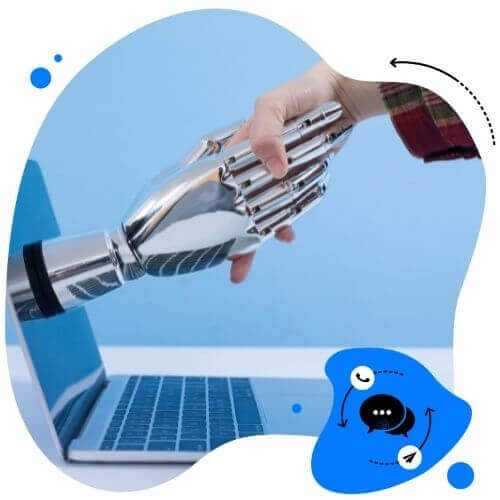 Facebook Marketing Automation Software
Automated Facebook moderation, analytics, reporting, publishing, and more. Save time on petty marketing tasks with an all-in-one social media tool.
You don't have to do all the social media work yourself. Well, you kind of do, but you get help with some tasks that are easily automated. And you might be surprised how much that can change in your day – and for your business.
The easiest way to try? Sign up for the free trial with NapoleonCat here (no credit card required).
If you want to learn more about social media automation, we recommend the following articles: